Danny Wild is someone who is hard to both pin down and describe accurately, because he really does so many different things. I first saw him perform from within a Zonk Vision exhibition, with a camera strapped to his head, engaged in a kind of super-concentration often not seen.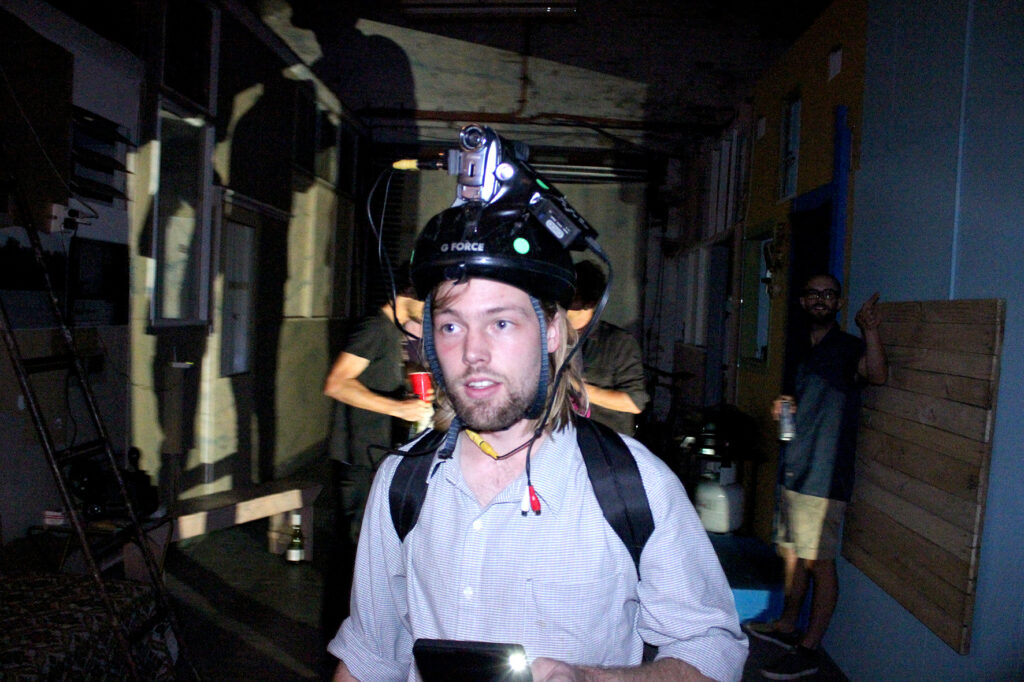 He's probably most known for his label Moontown Records and his musical project Low Flung – Which often takes the form of healing ambient music.
Lately, he's been focusing on a myriad of fascinating educational, musical and curatorial projects, and The Aither thought it was time to catch him to discuss it all with us.
I first heard about your work when you were involved with the video collective Zonk Vision.
For people who don't know, what was Zonk Vision?
Did you achieve what you set out to do?
Zonk Vision was an AV art collective started by Jason Galea (King Gizzard and the Lizard Wizard's main artist), Greg Holden (Holden Hands / Greg Cooks) and myself.
It was a massive colourful mess of video, animation and sound.
We ran sensory overloaded multimedia events all over Australia over the course of about 5 years (roughly 2010-15). Eventually we expanded out to a small group of people making quite direct, colourful abstract video art and music.
Honestly it was just about having fun presenting something unpolished and raw and I think we had fun with it.
It was so raw you could see the scaffolding, the structure, the exterior and the interior simultaneously.
When we started, we had no idea what we were doing, obsessed with Paper Rad and Peter Burr's Cartoon Xprez DVD series.
Over the years I went through art school and gained a bit more context as to what we were doing and by that point things had started to slow down.
Maybe one day it will return.
I made some solid friendships over that time. Some people who still remind me of the ZV flavour are Ben Jones, No One Special, Horse MacGyver, Brainbeau and Sarah Byrne.
Your label, Moontown Records has been very prolific over the years, and tends to announce a collection of releases at once.
How do you go about choosing what to release?
Is it a kind of serendipitous or more organic process?
Everything happens in a very organic way.
For me, there needs to be a bit of connection and friendship there, it is a labour of love. Sometimes I want to end it, other times it's all I can think about.
Because it is just me running things, momentum can be unpredictable at times. It happens, life and work gets in the way. For releases it's hard to predict.
I think if it flows naturally, it works.
The process of releasing music can take a long time. I like it to be as transparent as possible with releases and give the artists priority, assisting with things like getting their music onto streaming services and encouraging artists to have as much control as possible.
Due to the nature and scale of Moontown, I feel it has become a stepping stone for artists to move to bigger things and I like that.
You create music under many aliases, Low Flung being the main proponent of you working solo.
How does working alone compare to that of your more collaborative projects?
I feel like all of my output is loosely connected, it often becomes hard to draw lines in the sand. But once again it comes down to capacity and energy.
Working solo means things can progress quickly, but there is less critical dialogue with collaborators. So in some ways the process of making an album might be quick, but to pull back with a critical eye can become time consuming.
I think Low Flung is my most personal output, more intimate. I treat the Low Flung output the same as my other projects however. Very fluid, overlapping and merging.
More and more this happens, and more and more I don't mind.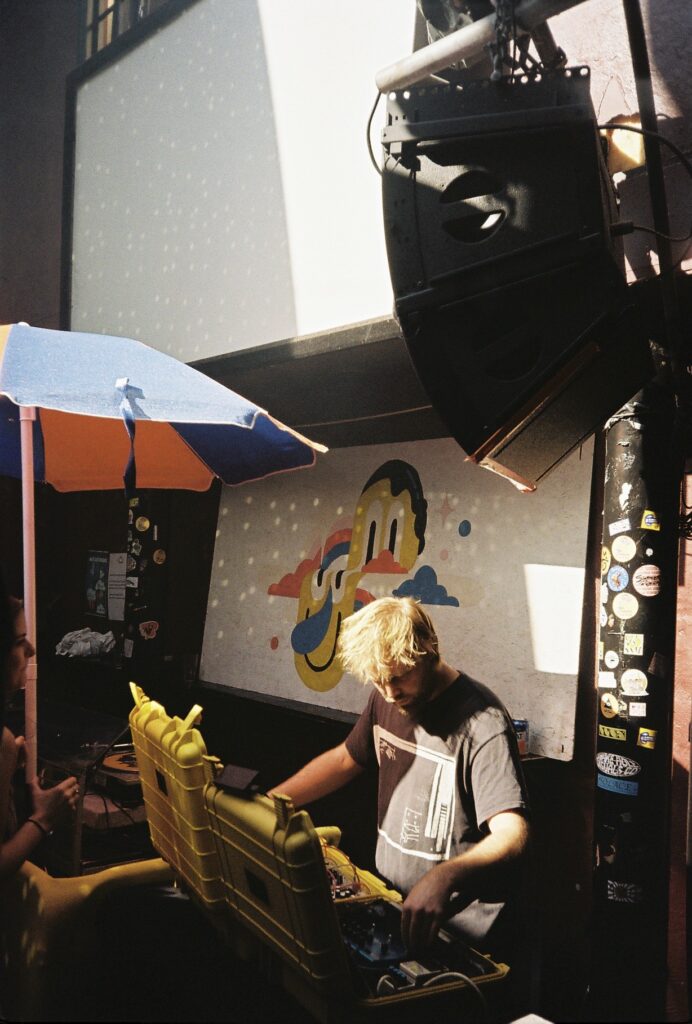 You're from Canberra originally but now live and work in Sydney.
How has your creative life and output changed since you moved cities?
The move from Canberra to Sydney came at a quite difficult time for me personally, but looking back it was the best thing I could have done.
My practice is concerned with mood and environment, so Sydney brought on some new spaces creatively.
Sydney is a strange and potent beast, the heart of the colony. It is very diverse depending on where you are. Lots of wealth, and plenty of poverty.
There is a pulse underneath the slick oil ocean air, and if you work hard enough to find it, it will stay with you forever.
Much like Canberra, people from different subcultures work together because they almost have to. I feel like Sydney and Canberra are unique like that.
So for all of the above reasons, sometimes I love Sydney and sometimes I hate it. A healthy balance.
I've been really interested in seeing how artists have been adapting during COVID where they are unable to exhibit or perform.
I noticed you've been doing a few workshops online. How did that come about and how did it go?
What was the impetus for this? Were you keen to share your knowledge about technology with interested parties?
Covid has been very strange and difficult for most.
If there has been one solid positive takeaway for me, it would be the seemingly endless time to evaluate everything I do and ask why. Purpose, priority, future, past and present.
I think this time has led me to realise that community is key.
Knowledge should be shared, not kept. Which has led me to starting the Campsie Centre For Electronic Music Research, to bypass the gatekeepers of knowledge and demystify audio visual production.
Here at CCFEMR we produce audio, video, run live streams, do some graphic design and our latest initiative has been running tutorial sessions (Ableton Live and Modular Synth so far.)
I love old tech and utilizing it has always been my priority (mostly due to not having money).
I have been using analogue/digital audio and video equipment for almost 15 years. A whole lot of mistakes were made during this time and I thought I could give people who are new to the space a leg up.
I just started a Discord server to create a skill-share community which is connected to a Patreon. These launched Friday in an attempt to work towards a self-sustaining practice for my Low Flung output and the Campsie Centre For Electronic Music Research alike.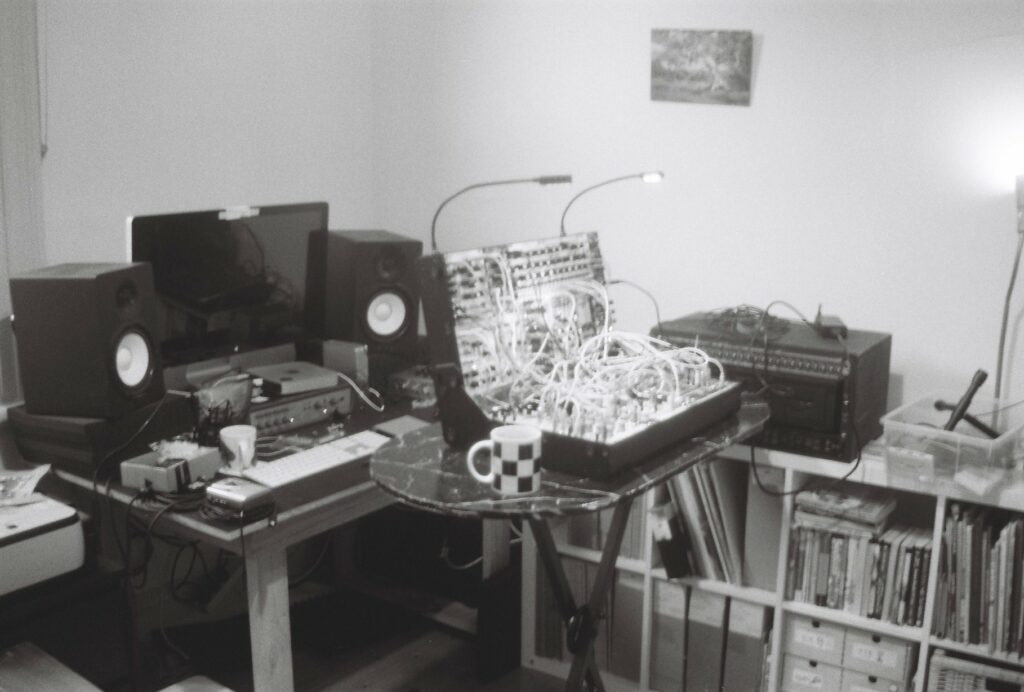 Moontown TV is launching this Sunday, would you be able to tell us a bit more about that?
Over the pandemic I have seen a bunch of online streams and gigs. While these have been great to watch and engage with, I found that many don't experiment with what you can do with the medium.
I created Moontown TV to fill a gap in live streams that features live sets, video art, short animations, performances and even takes on the classic cable TV format.
Season 1 Episode 1 features Brainbeau, Carolyn Hawkins, Sky Chariot, Prophets, Scraps, E Davd, Troth, Splinter Orchestra, YSK, Peter Farrar, Vape Dadz and Bogweed Tape Club.
Moontown TV will live stream at 5pm on Sunday 24/10/2021 on the Moontown Records Youtube Page.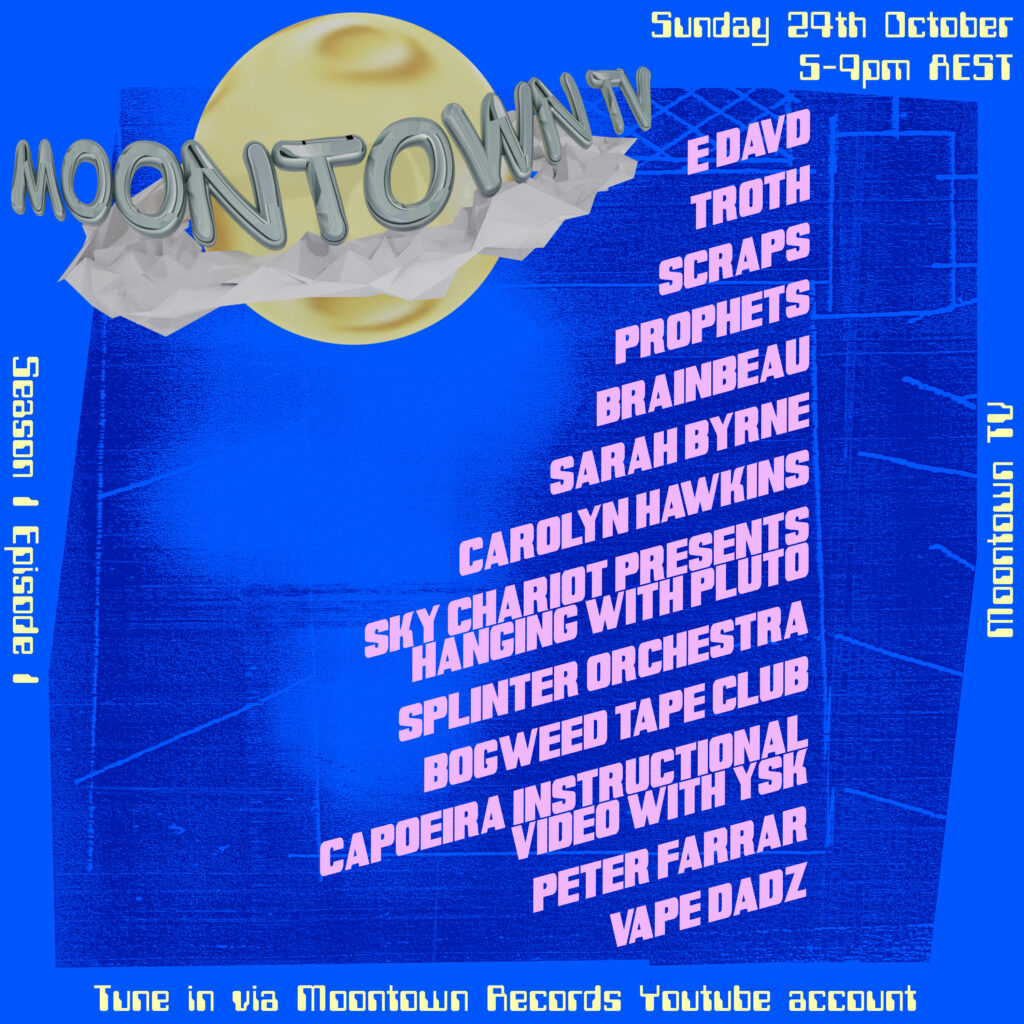 Links