Toby Zoates' solo exhibition 'Misfit Situationism in the Rock and Roll Gutters of Sydney' was a fantastic explosion of colour, movement, and passion. Hosted by Australian skateboard company 'Pass-Port' at their shop and gallery space on Oxford St. The anarchic and fun world of skateboarding provided a perfect setting for Toby's provocative, in your face, humorous and often political art.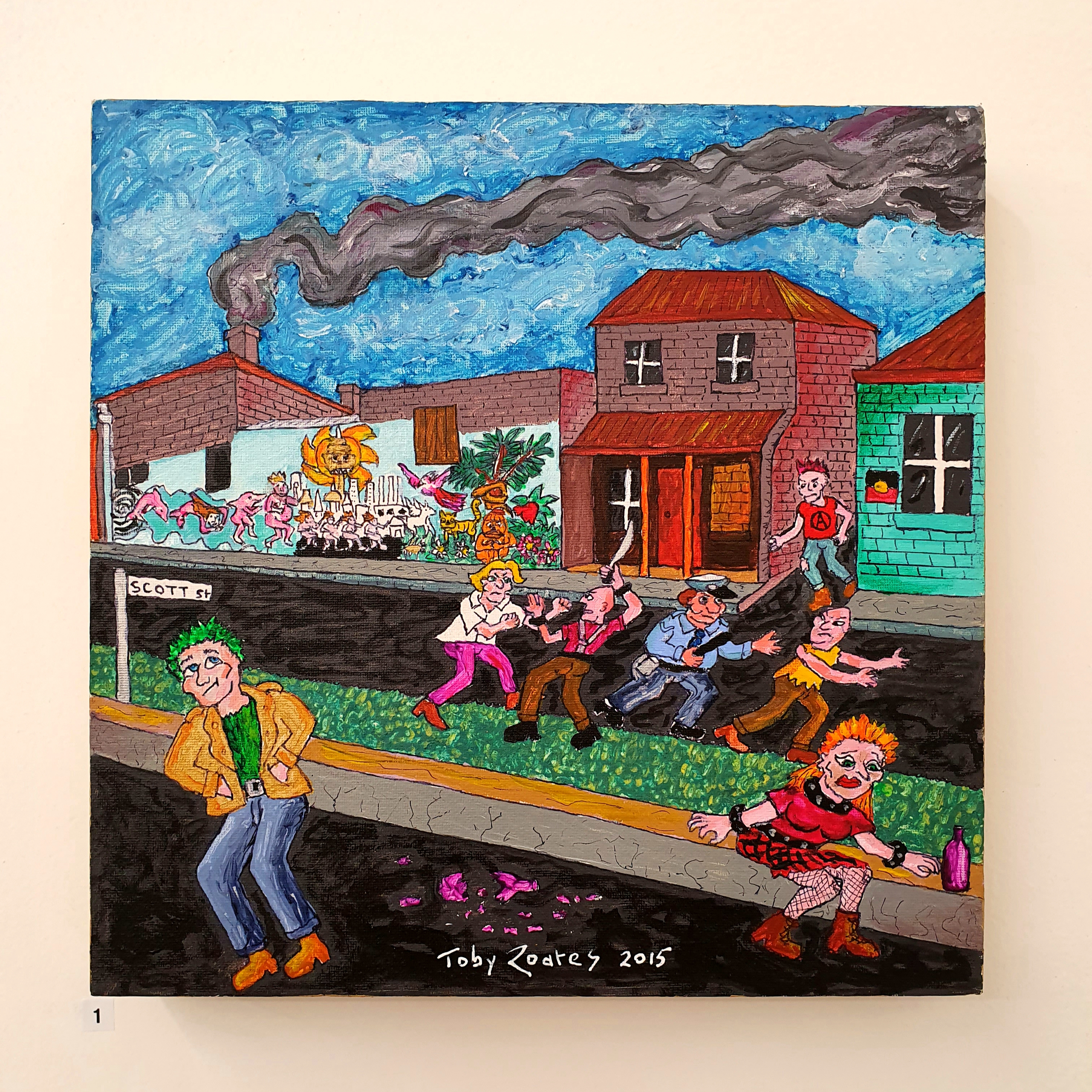 Featuring over 20 works spanning Toby's 40 years as the art punk poet of the Australian underground, the show included paintings, digital prints, and screen printed posters. All imbued with Toby's unique talent and artistic vision.
Such as a large number of recent canvas and paper paintings by Toby depicting iconic moments from Australian underground culture, as well as pivotal moment's from Toby's vagabond life.
Including a vibrant work showcasing the infamous 1978 incident when some punks spat on 'Cold Chisel' singer Jimmy Barnes during the bands' performance at Sydney venue Frenchs'.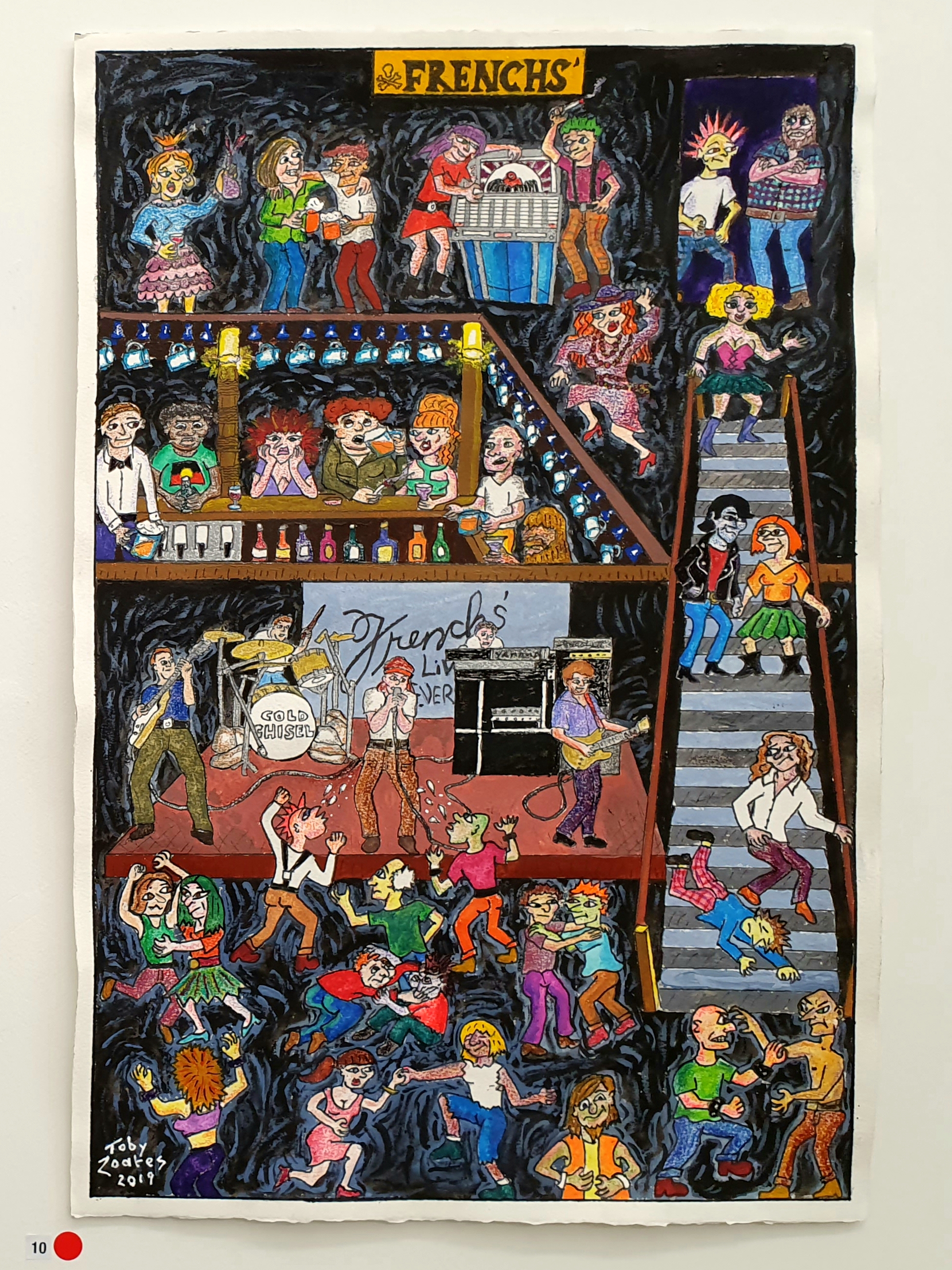 A large three panel work depicting 'The Butthole Surfers' playing live at Selina's pub in 1991.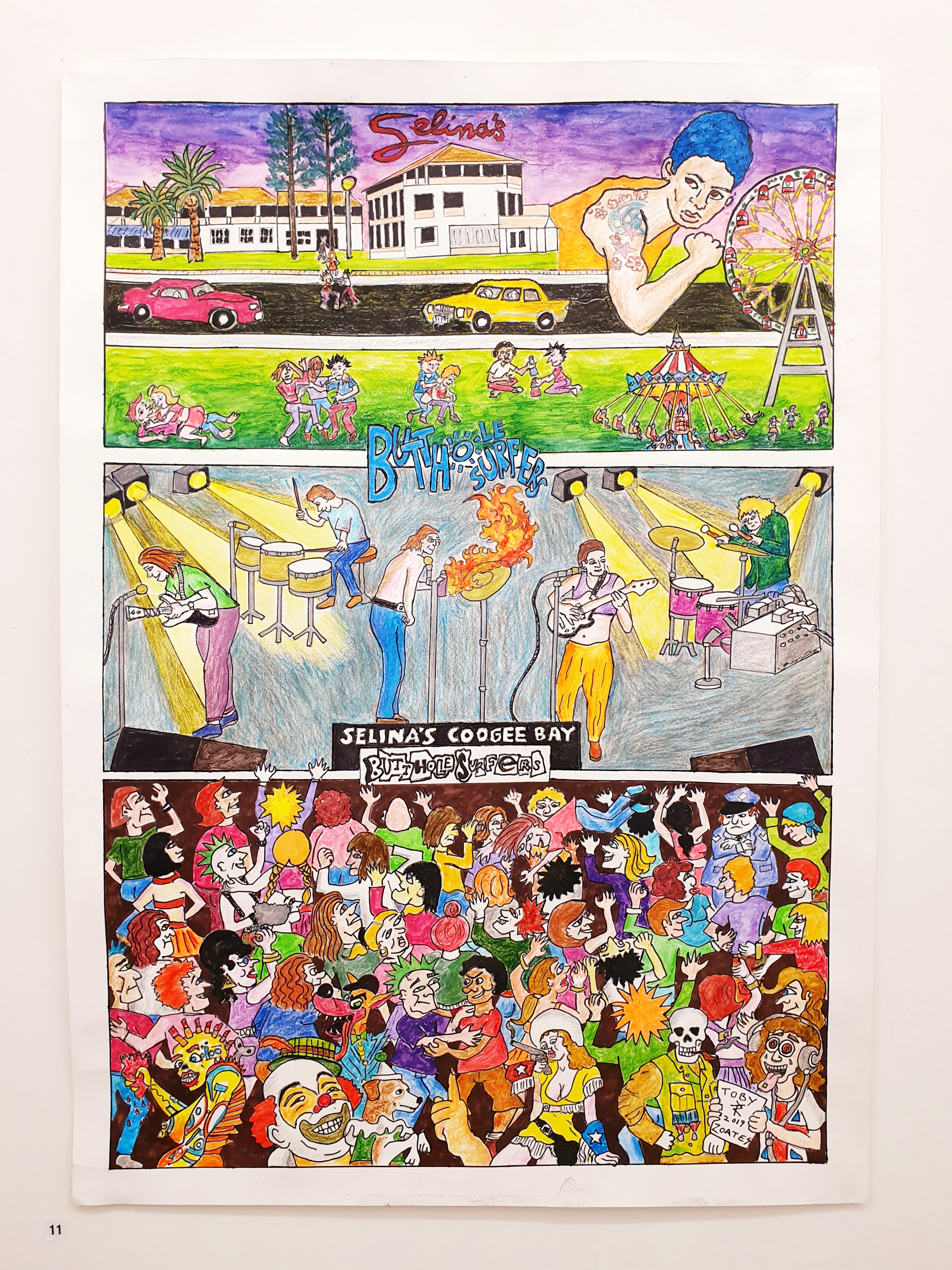 As well as a touching work in memory of the 1979 The Star Hotel Riot which occurred in Newcastle on the Star Hotel's closing night. A sudden closure forced upon the venue due to it's run down status and misfit patrons such as homosexuals, sailors, criminals and general larrikins. With the riot lasting hours and involving free beer, music, the eventual arrival of police, along with an exploded car and total chaos.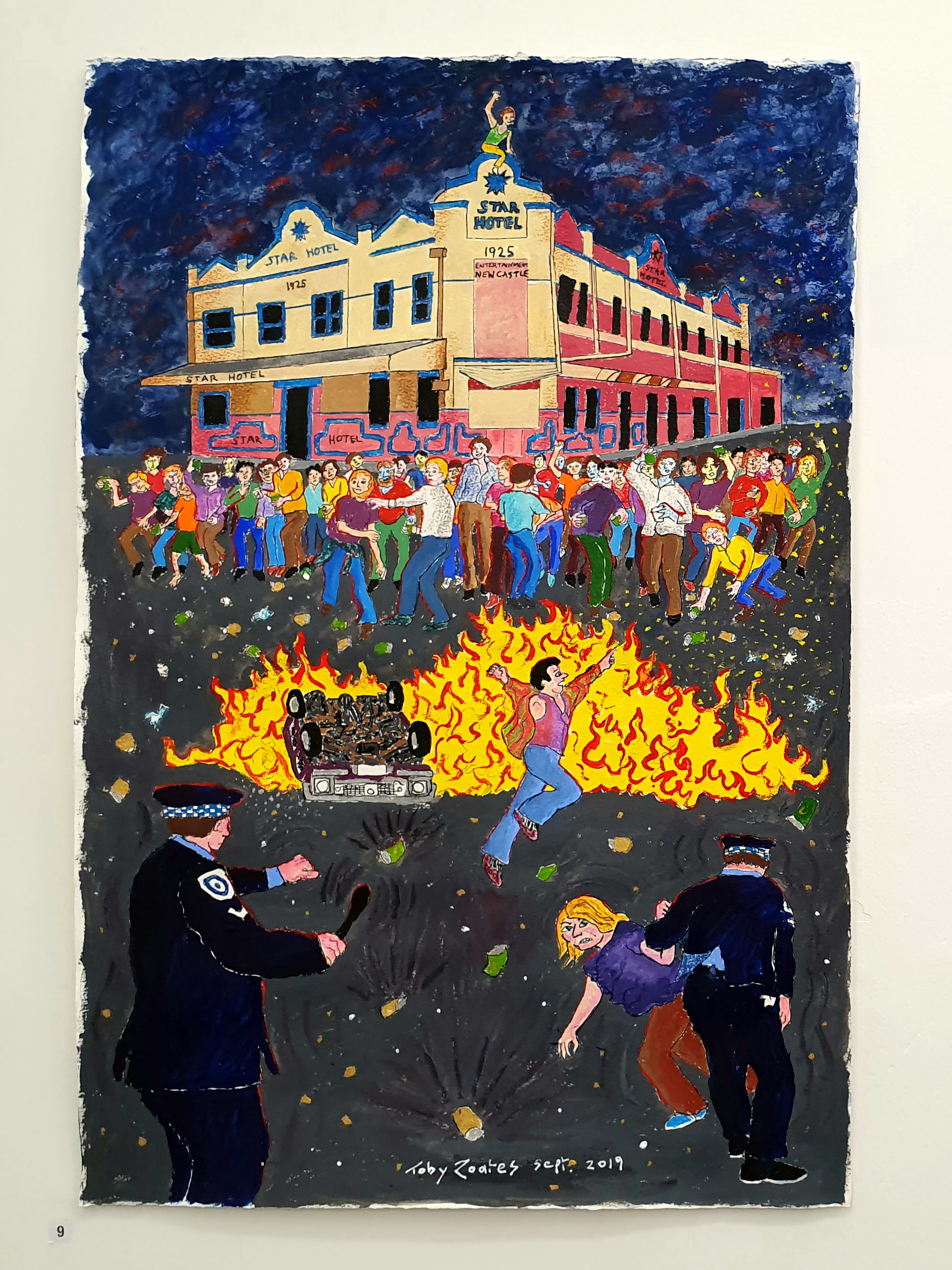 Also included are vintage screen printed posters for events, concerts and protests made by Toby during the 1970's, 80's and 90s. Along with black and white works, which prove Toby's talent is apparent whether in monochrome, or technicolor!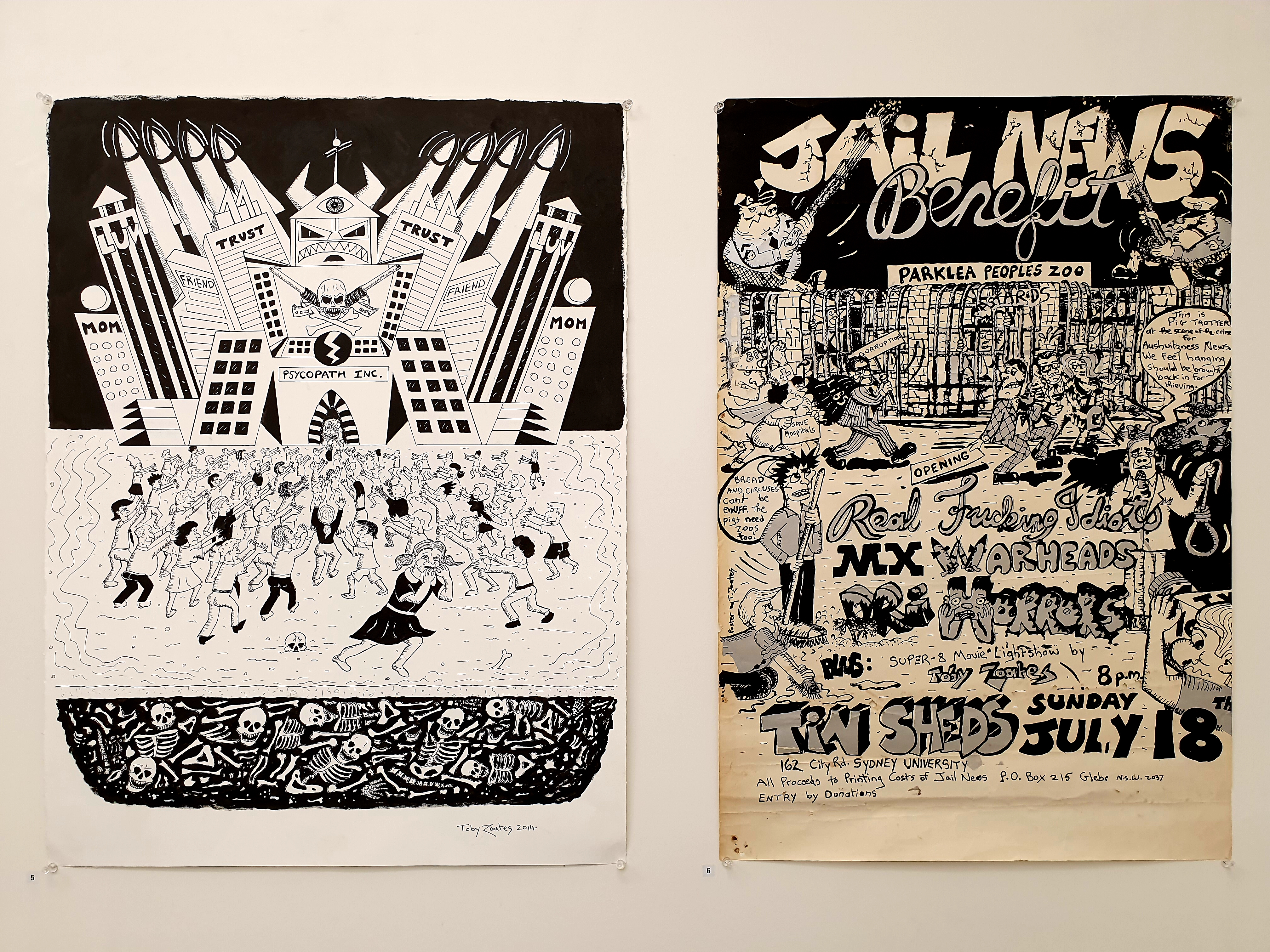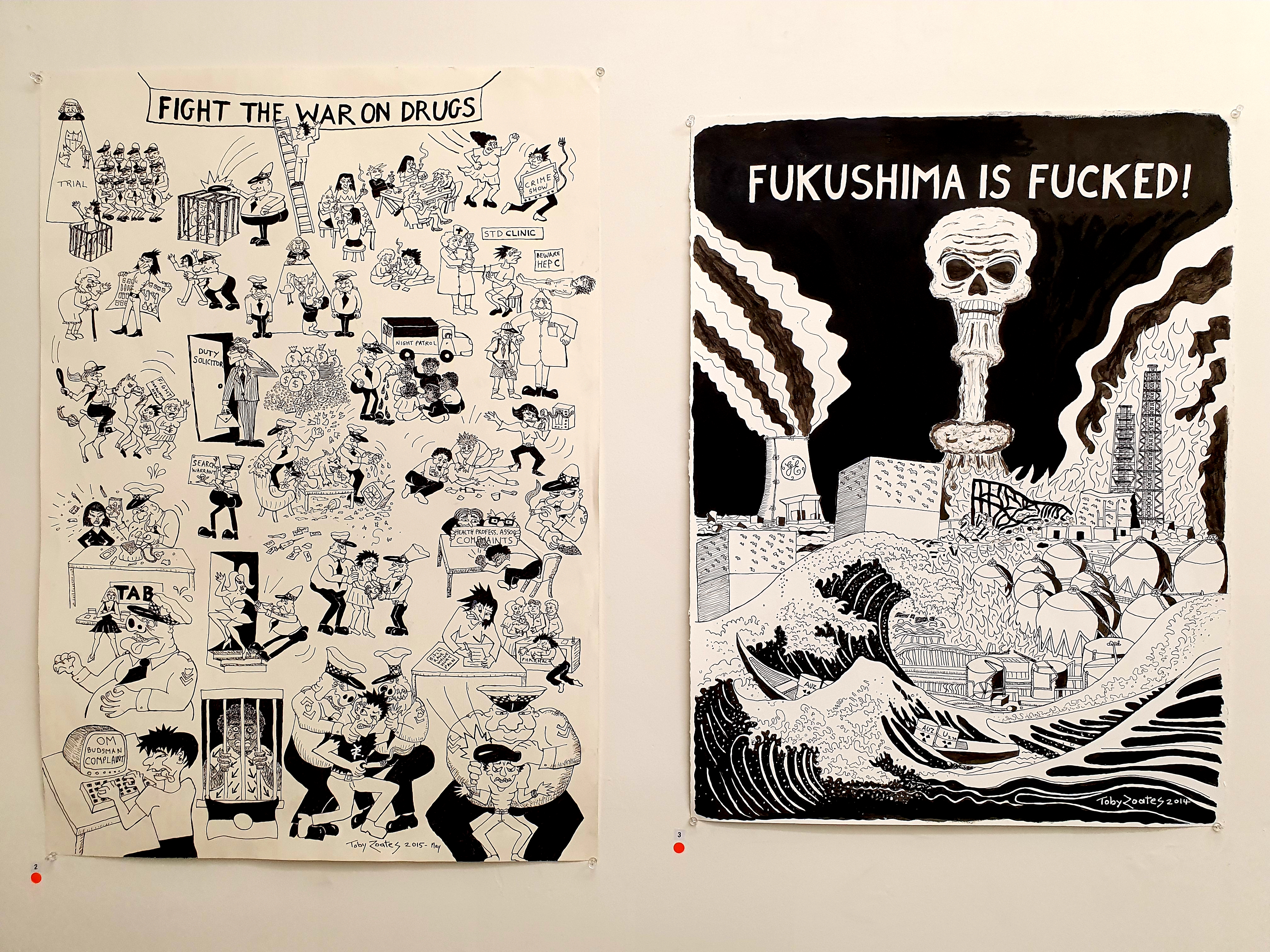 The only weak point of the show was the lacklustre digital prints which were on sale. Lacklustre not due to the art itself, but due to the poor quality of the prints (pixelated and blurry) as well as their high price – costing $75 each, as opposed to the originals from Toby which were priced at a very affordable $200 to $700.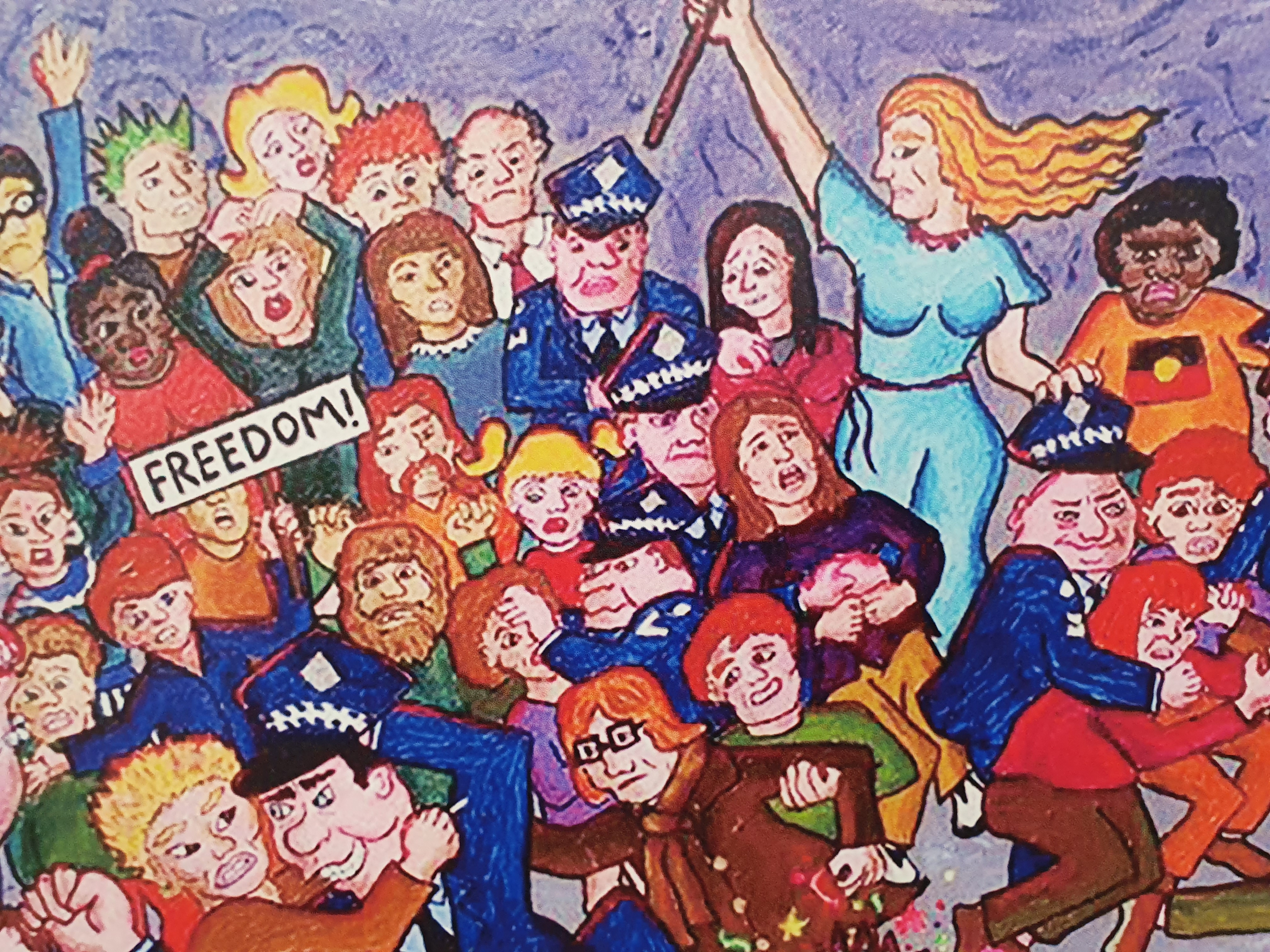 'Misfit Situationism in the Rock and Roll Gutters of Sydney' was an almost perfect show – from an iconic Australian artist, who is rightfully gaining the exposure he so deserves.
… oh – and 'Pass-Port' – you better be releasing that Toby Zoates range soon! His work is perfect for skateboard and apparel graphics after all.
(Editor: If you would like to find out more about Toby, his art, and his life – you should read our extensive interview with him from earlier this year.)
Links