Dálida aka Gorgeous Hell Dálida is a Spanish artist creating highly detailed, cute and macabre works that combine the visual aesthics of Art Nouveau, Manga / Anime and Comics; with Dálida's interest in the occult, serial killers, eros and myth.
As a child, Dálida was inspired creatively by her passion for horror films and the talents of her mother – who drew and told stories to a young Dálida to calm and soothe her.
With Dálida elaborating,
"I started to draw too much fantastic imageries, inspired by fantasy/horror movies and tales that my mom and grandma told to me.
…I was a tiny, very skin little girl, I really didn't like to eat much of anything, I just loved chocolate – mom was very worry about me and my health, so she started drawing for me all her stories and tales in the dinner/lunch time and it was the only way I ate all the meal.
I started then to participate and drew too, this helped me a lot in my artistic vocation."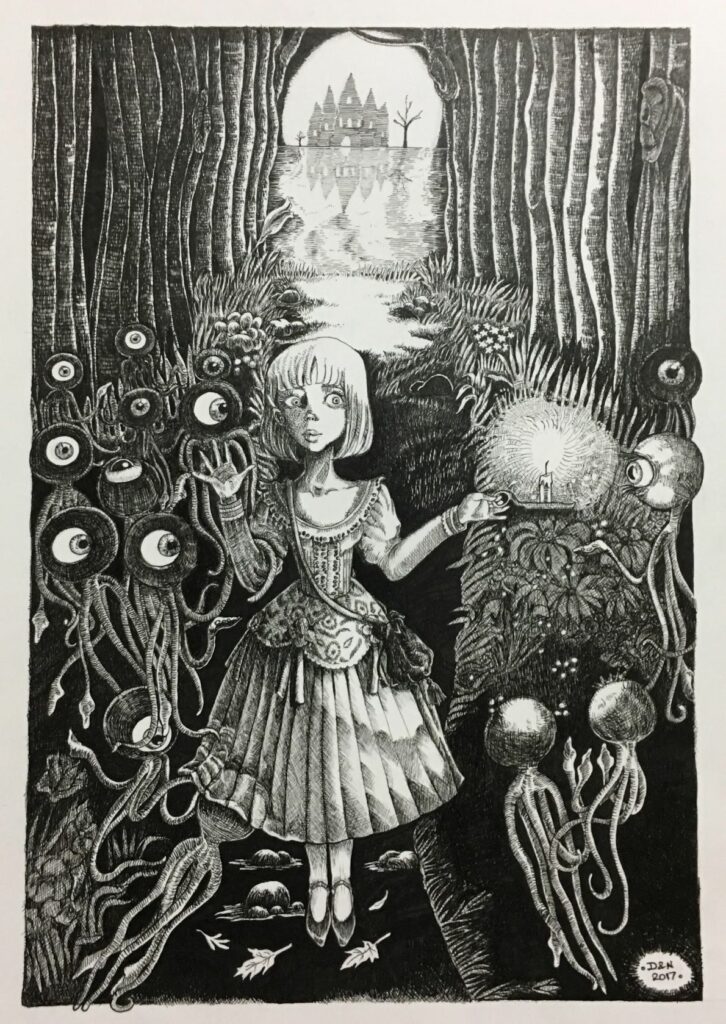 Wanting to know more about Dálida and her approach to art we sent her some questions to answer over email. You can read our interview with Dálida, and see more of her work below…
Getting Acquainted
Name + D.O.B?
Dálida.
26th of April.
City, State and Country you currently call home?
Barcelona, Spain.
City, State and Country you're from?
A place… somewhere.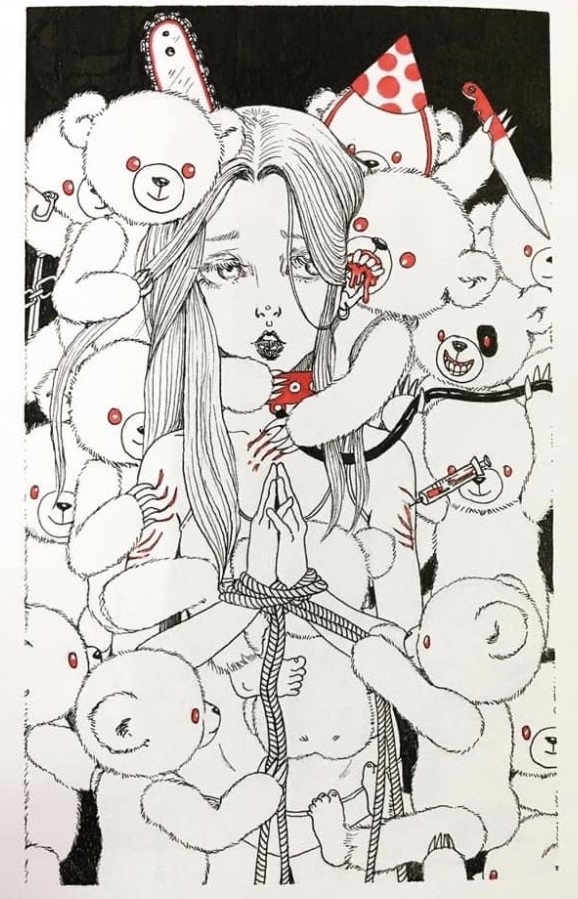 Please describe some memories from key stages of your life: concerts, art, toys, romance, comic books, hunting, school, politics, crime, religion… ANYTHING really!
* Age 5 – beginnings:
I used to watch anime and fantasy movies, it help me to grow my imagination.
I went every weekend to cinema with parents.
* Age 10 – continuations:
Already in love with horror movies and I appreciate it so much that my mom understand it and let me watch any that I could – I remember I wrote in a paper all the horror movies titles pending to watch, I asked everyone about a watched horror movie and I was so excited to write it and wait the opportunity to watch it to.
At this age I read already 'Iliad' and 'Odyssey' (by Homer) and also 'The Decameron' (by Giovanni Boccaccio), so epic fantasy, erotic and mysterious/dark tales was always a must for me since these years…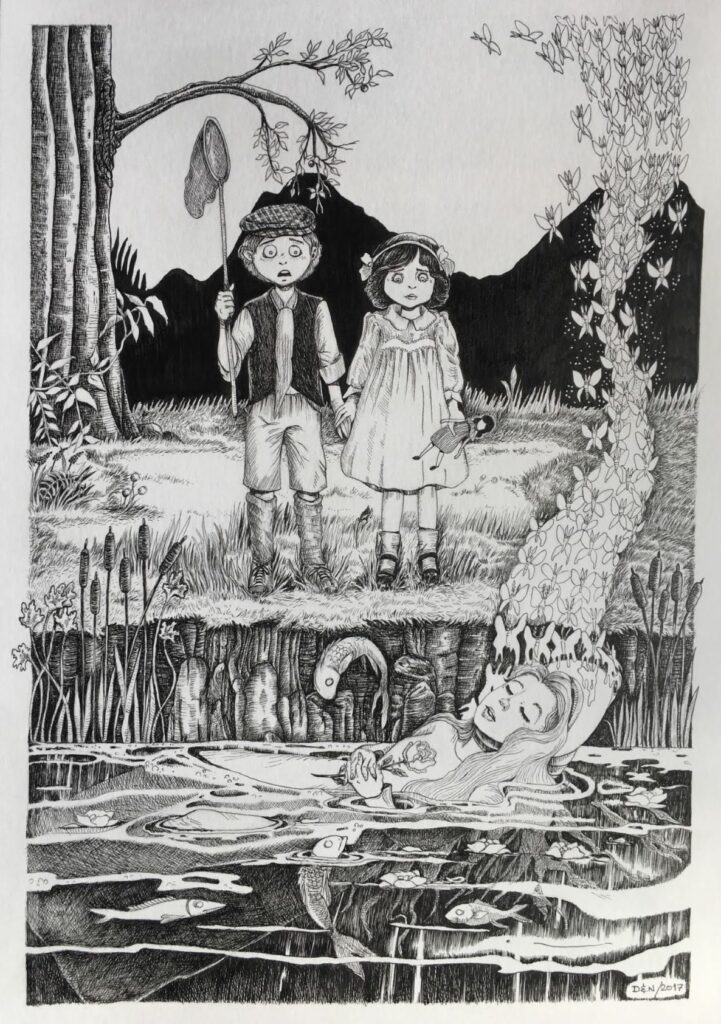 * Age 15 – getting serious:
I wrote my own stories and drew them too, the most popular were the romance one, until I start to kill the characters and it become sad romantic stories – I enjoyed seeing my friends crying at the end of the stories, they requested me always to change the end, but I don't like sweet/happy ends, life it's so…
* Age 20 – young adult:
I suffered surprisingly the loss of my best friend, this changed a lot the philosophy of my life. From then on I regret and mourn all the losses of young people even though I did not know them. It is very painful and if you can live with it, it never goes away.
I began to attend regularly to a library near the university academy where I was studying the degree in German language, a universe opened up for me to know more about the gypsy people, Tolkien's elves and in general all his literature but especially occultism and mythology books…
Guess what freak stayed on December 31st reading and looking for information with Montague's book 'The Vampire, His Kith and Kin'? Me, of course!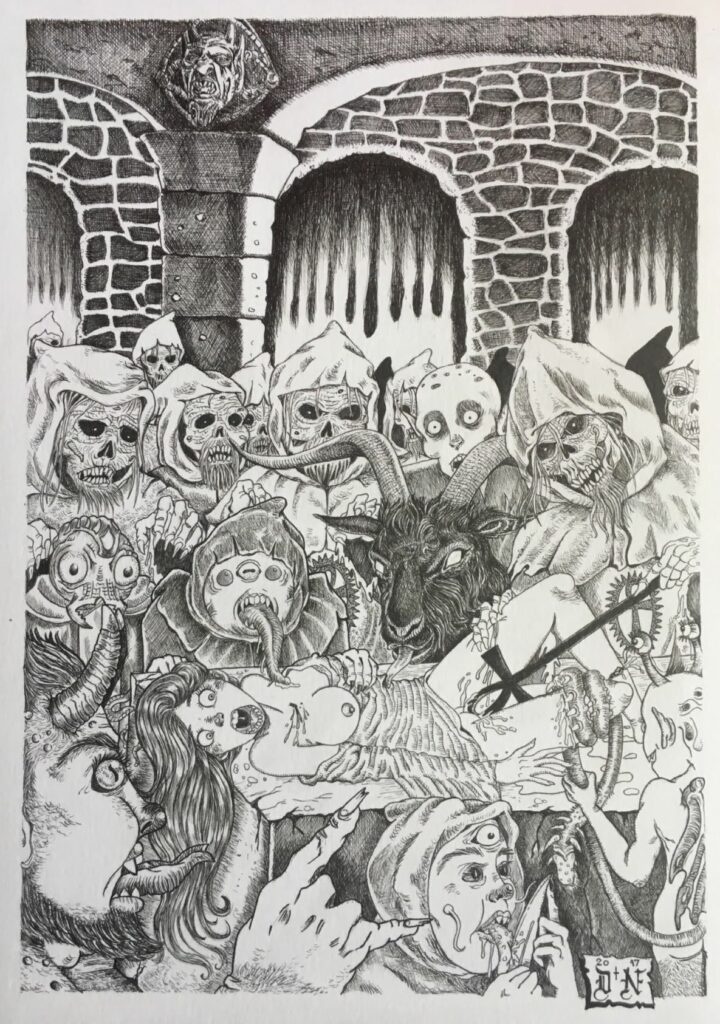 * Age 25 – adult mode:
I continued my university career but added more foreign languages (I love languages!) I studied Italian and French in parallel. It took a lot of effort but I love the sacrifice if it's worth it.
At this stage I set aside all possible love relationships and focused only on gaining knowledge.
* Age 30 – fully formed:
I started working on cruise lines and thanks to that I got to know and visit 32 countries, among which were Greece and Egypt, which I had been longing to visit since I was a child, so it is true that sometimes dreams come true.
I really enjoyed that stage even though the work was quite hard.
I continued my obsession with fantastic, epic and erotic literature, I used to read books about the Marquis de Sade and his works too. I began to "open up" to all kinds of gender and understand them.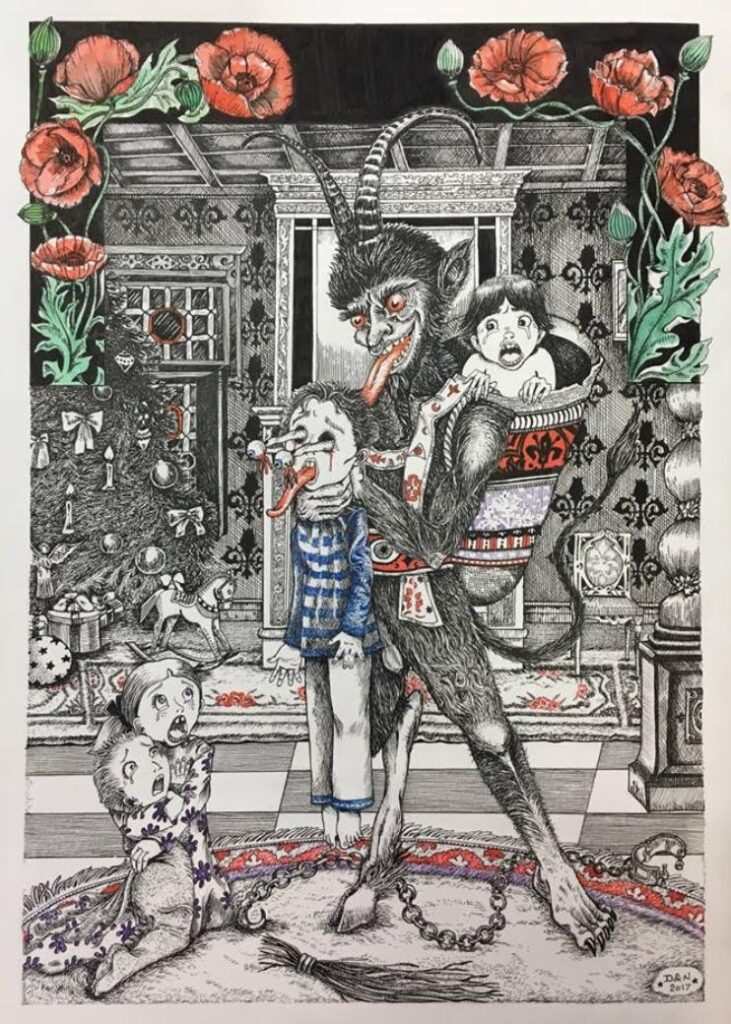 * Age 35 – meanderings:
I started to compulsively fill my bookshelves (I have 3 full of books and 2 full of DVDs) with mangas (shonen, seinen, eroguro and horror), literature about occultism, fantasy, mythology, erotic art and also boxes in my attic with my collection of about 1000 books with the illustrated Hans Christian Andersen "The Little Mermaid", first editions, hard to find books from many parts of the world.
I don't know, maybe the lack in my personal life dragged me into it.
* Age 40 – adult meanderings:
I am a proud mother of my daughter who was already 2 years old, even though combining work outside the home and caring for my daughter brought me deep depression, but I tried to control it myself without the need for doctors or medication to idiotize me, we always have the power to get ourselves out of situations.
Meditation, ketogenic diet and interaction with other artists filled my universe with positivity and optimism.
I am grateful every day for this wonderful connection.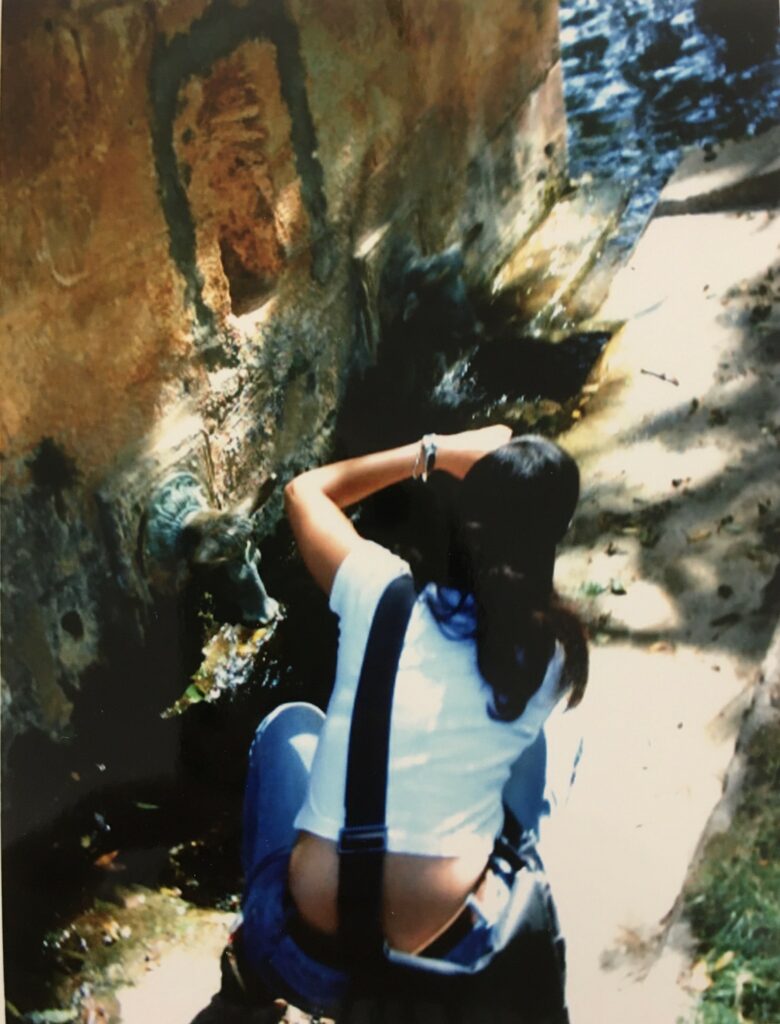 Personal motto(s)?
"Life goes on!"
Art Questions
When and why did you first start to make art?
Since I was 3 y.o.
I started to draw too much fantastic imageries, inspired by fantasy/horror movies and tales that my mom and grandma told to me.
I was a tiny, very skin little girl, I really didn't like to eat much of anything, I just loved chocolate – mom was very worry about me and my health, so she started drawing for me all her stories and tales in the dinner/lunch time and it was the only way I ate all the meal. I started then to participate and drew too, this helped me a lot in my artistic vocation.
… and any pivotal artistic moment(s) / influence(s)?
I contacted one of my cartoonist idols when I was around 20 y.o. to show him my own "shitty" drawings, the meeting between us was like my dream comes true, I was very shy but I really don't know where I got so much courage but I did.
At that moment he was the director in one famous magazine for children and he liked my works and the cleaning in my lines and the way I colored it, yet another cartoonist criticized my drawings saying that now all of us young people imitate Japanese manga lines, but all of them (old cartoonists) maybe imitated the Walt Disney's lines…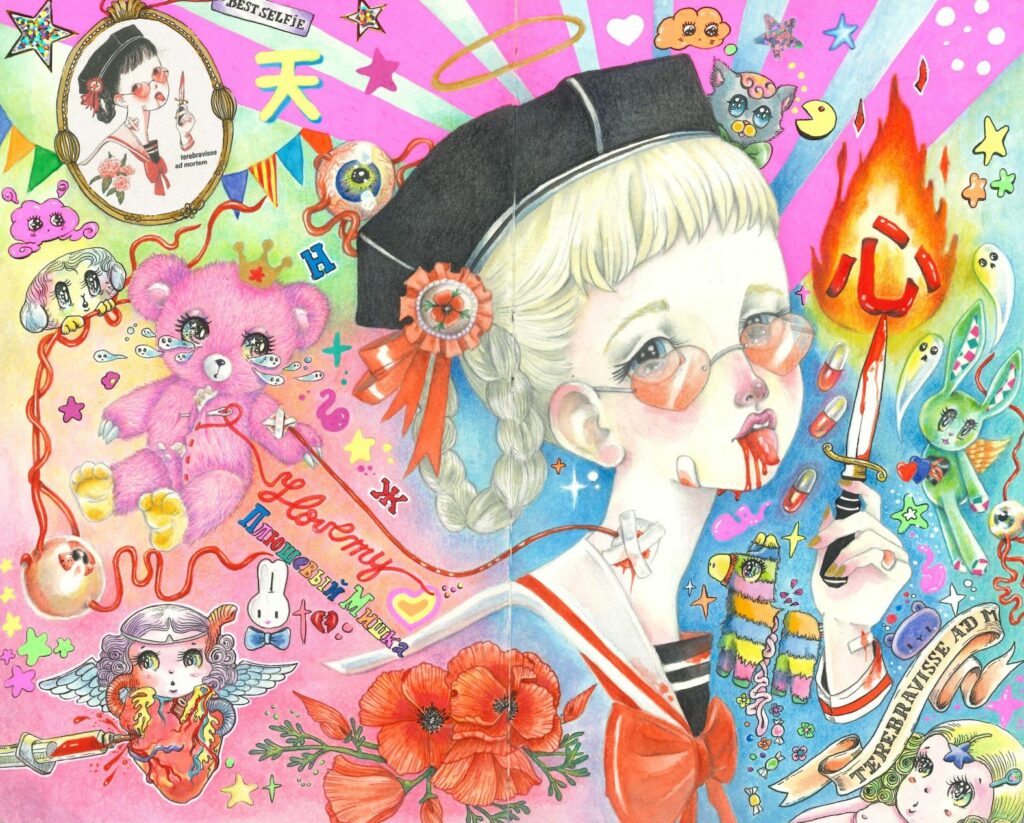 Please describe the usual process involved with producing your various art – from initial idea, to creation and finish?
I think it works the same for me in all media, both painting, drawing and comics, I have an initial idea, but I keep it in my mind until it wants to come out and manifest itself in the form of a drawing – it may even take days before I try to shape it.
I visualize the characters in my mind too, I rarely make sketches about them. That's why when I draw through an initial idea I tell myself that I'm making up a story, the ideas come up as I draw.
When I create a comic I also shape it in my mind, but I always develop the idea and, very importantly, I always know how to finish it. I don't blow it up like a balloon as many authors do, who then get lost and don't know how to finish the story and fill us with incomprehensible volumes to entertain them while they think of a worthy ending.
I know my method is uncommon and unconventional, but no one is perfect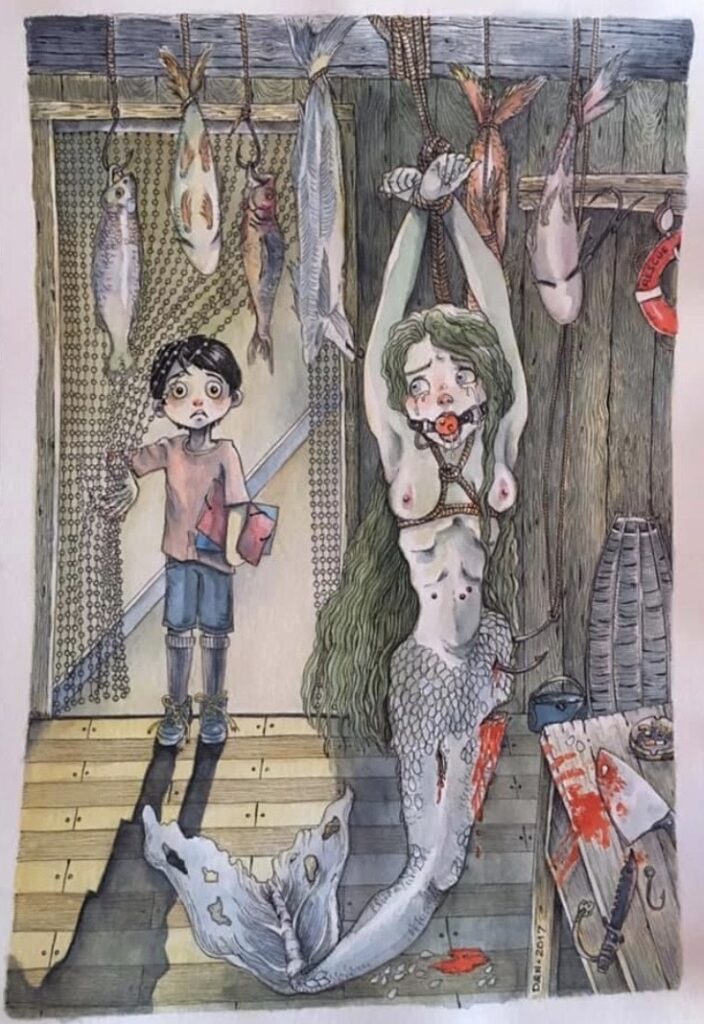 Favorite other artist(s)?
Oh, I have many artists that I love and they help me to go ahead in my projects, I think it's not fair just mention one, so, better don't mention any, if you don't mind.
Any projects you want to hype?
Preparing for next year a group exhibition theme and a duet exhibition with my art twin, also I'll participate in one collective book and one fanzine.
If people wanted to work with you, have a chat or buy something – how should they get in touch?
Via facebook or instagram/s chats, few through e-mail.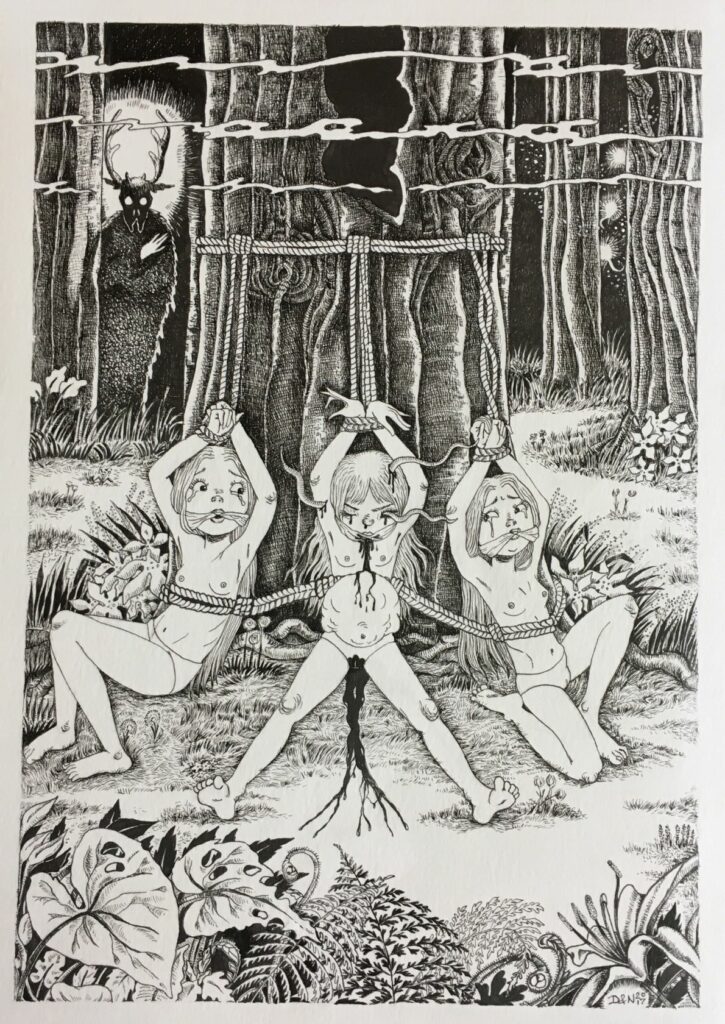 Odds and Ends
If you could live in any place, during any historical era – where and when would that be? …and why would you choose that time and place?
I think I would love Victorian/Edwardian Era, yes, absolutely! I love clothes, literature ,believes, even the post mortem photos!
It was a very important era and of course live in UK!
What role did toys play in your childhood?
I had really few toys, but it was not a problem for me, I mean, it don't create any trauma in me, I could create my own toys and I was a very happy girl, the most precious toy was a Teddy Bear my father brought back from one of his trips from Germany.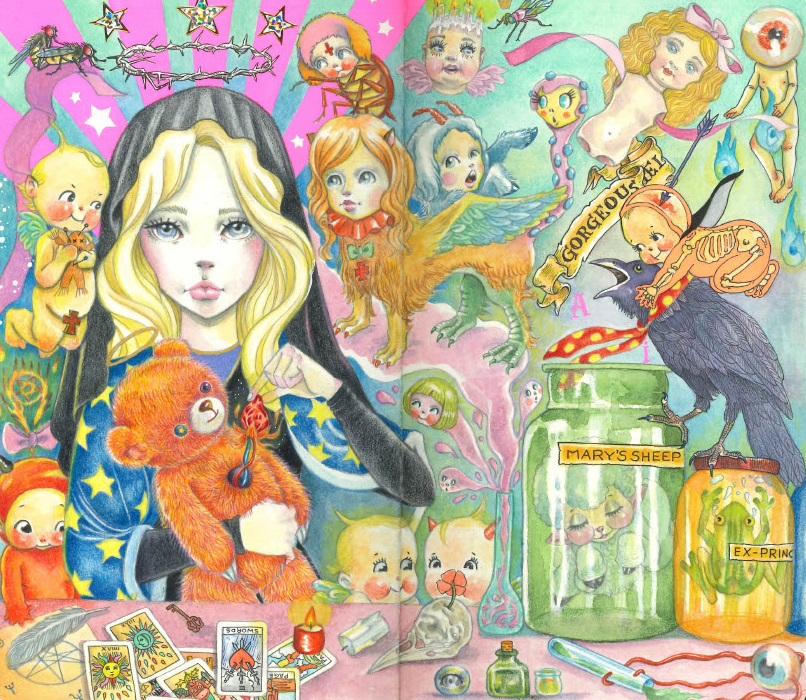 Drugs – waste of time or gateway to the universe?
No drugs, smoke or alcohol in my life.
I love waste my time thinking in new ideas, hearing rock music (in any sense/style ) or documentaries on YouTube about serial killers, sects, ocultism, history…
Who was your 1st crush and why?
It was in first grade, when I was 7 years old, in my classroom there was the boy with the most beautiful blue eyes I had ever known and beautiful blond hair, I dreamed of hugging him and holding his hand but he never listened to me… until we were 11 years old, and he asked to be my boyfriend, but by then I had no interest in him, he seemed too girlish for my taste.
Does sex change everything?
Everything and nothing.
What are the top 3 items you own?
A Teddy Bear, he, he, he… and 2 artbooks that were some of the most expensive that I own, very hard to find them less than €100.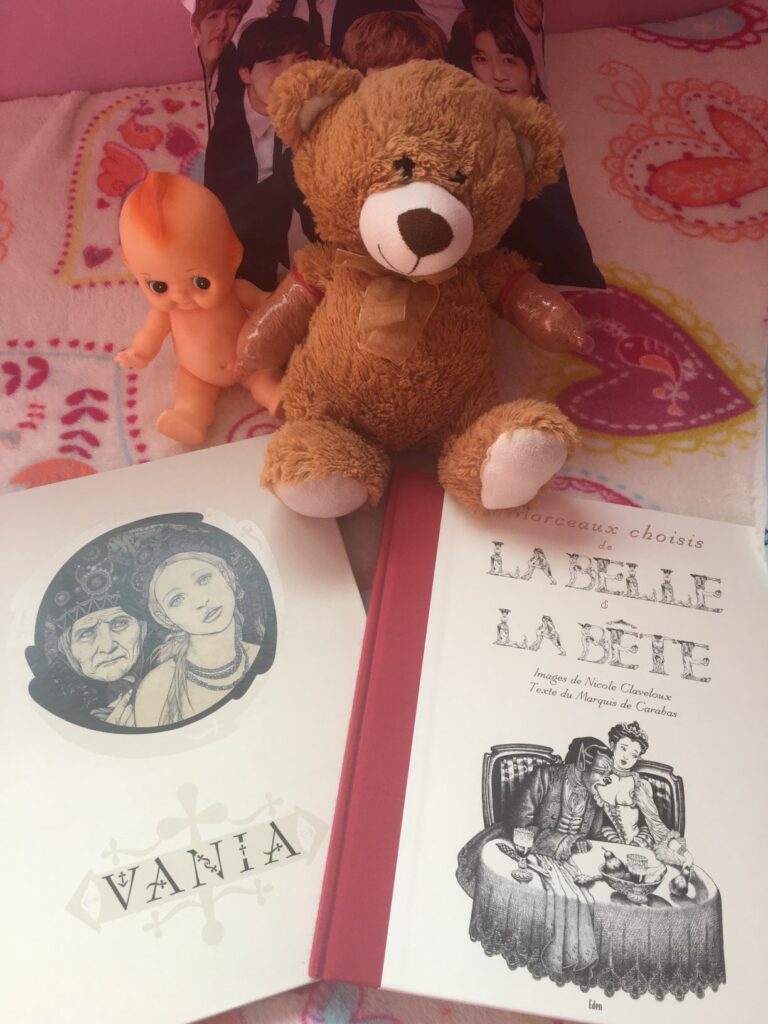 In a fight between the following two iconic toys – A Kewpie Doll (created by Rose O'Neill) Vs. A gang of rowdy Billiken (created by Florence Pretz) – who would win and why?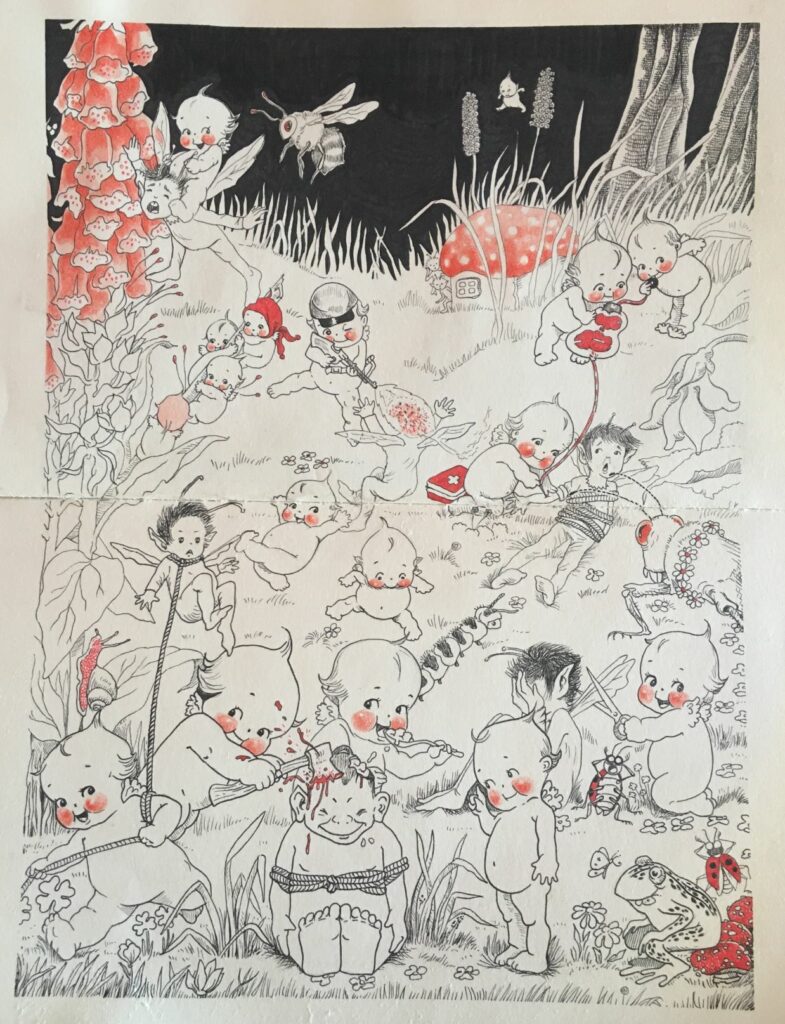 Please describe your last dream in detail…
I never remember my dreams, but I remember a lot of my nightmares. The last one was recently…
I found the bodies of my parents in-law and my stepchildren, I never knew if I had killed them or if I had already found them like that in that state. I buried them very superficially in a cave, that's what I remember, but they were discovered by my husband and his ex, who made salami sandwiches and told me ironically that if I knew how delicious freshly buried human flesh tasted, I knew that they knew it and I fell apart – I was very distressed, I knew that I had already lost my freedom forever.
I don't know if this nightmare was because of the documentaries about crimes I see or the bad experience in confinement due to the COVID-19 pandemic.
Of everything you have done what would you most like to be remembered for and why?
The birth of my daughter. It was the most emotional, funny, expected… strange…
I lived with a lot of uncertainty until I saw her face for the first time and I saw that it was almost perfection… for me, of course!
It is my best creation without a doubt!
Links
Gorgeous Hell Dálida – Instagram
Gorgeous Hell Dálida – Facebook
Gorgeous Hell Dálida – Etsy
Gorgeous Hell Dalida – Email: schwarzeeinhorn@hotmail.com