Alanah McKellar is a formally trained – having studied time based art at the College of Fine Art – artist, writer and actor creating collages, films and music. Having worked on a multiple of self-directed and experimental films since she was a young child, Alanah premiered her latest film 'Real Bad Idiot' in 2019. A trashtastic, R rated, 40 minute teen film that feels like the demented wet dream of your local neighbourhood wasteoid – complete with punky musical numbers, gratuitous sex, sleaze and rampant drug use.
Similar to her film work, Alanah has also been creating music for most of her life. Beginning with playing the flute as a small child and then going on to form her debut band; Galaxy Pants whilst in her teens at her all girls Catholic high-school.
The band were mentored by the only cool teacher at the school and played a few concerts until it all came crashing down due to blackmail – An experience that taught Alanah at a young age about the nefarious power of authority and the need to stand your own ground when it comes to artistic and personal integrity.
With Alanah noting,
"I started singing and guitar lessons and formed the first rock band at the all-girls catholic high school I attended. We called ourselves Galaxy Pants and would play at school assemblies wearing rather outlandish pants. The "cool" music teacher used to coach us during lunchtimes.
One week the authorities wanted us to play at a particular event, but we didn't want to.
They threatened to take away our rights to be coached and to use the music rooms.
We didn't stand for blackmail, so we said, "Fine!" and that was it!"
In her late teens and early twenties Alanah continued to play and sing in a variety of bands – such as The Banditos of Funk and Scrotal Vice. Then, in 2018, Alanah formed her latest musical project – Traditional Company. Who will be releasing their debut EP on the 28th of August this year!
Wanting to get to know Alanah better, we sent her some questions to answer over email.
You can read our interview with Alanah and see a range of her work – including the trailer to 'Real Bad Idiot', below…
Getting Acquainted
Name + D.O.B?
Alanah Jane McKellar.
24 September 1992.
City, State and Country you currently call home?
Sydney, NSW, Australia.
City, State and Country you're from?
Sydney, NSW, Australia.
Please describe some memories from key stages of your life: concerts, art, toys, romance, comic books, hunting, school, politics, crime, religion… ANYTHING really!
* Age 5 – beginnings:
I was in Kindergarten and had started dance classes – Jazz and Ballet. I remember being the only kid in my class at school that didn't know how to spelt. My teacher didn't bother to help me learn. She sat me at the back of the room with a pencil and paper and said, "Try to spell some words."
Then she went to play the guitar and sing to all the other kids. I remember thinking, "How is this teaching me?" I thought it was so stupid. So, I sat there, staring at the roof and wrote random letters on the page, without ever looking down at them.
Four days into Kindergarten, I fell off the monkey bars and broke my arm. That same teacher didn't believe that I'd hurt myself. She thought I was a drama queen, and let me cry about it until mum picked me up at the usual hour. The following day when the
principal asked what had happened, I told him that he should have designed the playground with Soft Fall!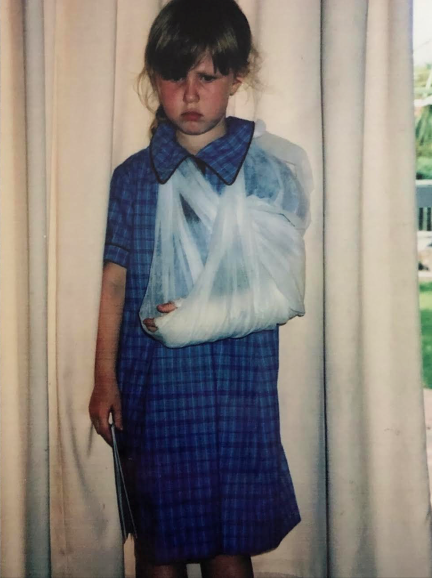 * Age 10 – continuations:
By this stage, I had picked up funk dancing and tap dancing classes. Tap became my specialty, and I was dancing in advanced adult classes.
I also started playing my first instrument – the flute. My friends and I used to bash them over our music stands because we hated playing in the school band. They ended up looking like bananas. One day, however, I decided that I did want to be an excellent flautist, so with mum's help; I did my homework for the first time. I went into class the next day, and to my teacher's
surprise, I could play all the things that I hadn't been able to play for months! I ended up playing with girls two years my senior and my friends were not impressed.
In year 4, a few of us discovered the classroom door. We used to play behind it in the morning before class started. It was the perfect location to pretend to have sex, scream and bang, and then come out with our dresses unzipped and our hair messed up. One morning we were acting out a wild scene when our teacher rushed up screaming, "Girls! You can't play behind there!" She was showing an influential businessman around the school grounds, and we had utterly embarrassed her. It was fantastic.
It was during primary school that I started making home movies, and by the time I reached high school, I was participating in the 24/7 Film Festival with my filmmaking partner in crime, Harley. All we did was make movies!
(Two Stills from "Eastwood High: The New Class" – a 2006 Film that Never Got Completed by Alanah McKellar & Harley Page.)
* Age 15 – getting serious:
I started singing and guitar lessons and formed the first rock band at the all-girls catholic high school I attended. We called ourselves Galaxy Pants and would play at school assemblies wearing rather outlandish pants. The "cool" music teacher used to coach us during lunchtimes.
One week the authorities wanted us to play at a particular event, but we didn't want to. They threatened to take away our rights to be coached and to use the music rooms. We didn't stand for blackmail, so we said, "Fine!" and that was it!
In year 11, I moved to a co-ed school and joined The Banditos of Funk as the lead vocalist. The bass player recruited me from music class, and none of the other members heard me sing until our first gig. I was dressed as a blood-covered nurse, wearing a trench coat and a stylish silver helmet. I was so drunk that I buckled my knee as soon as I stepped on stage.
The feeling was atrocious, but there was no way I was walking off the stage! I did the whole set in agony, and it was a complete success.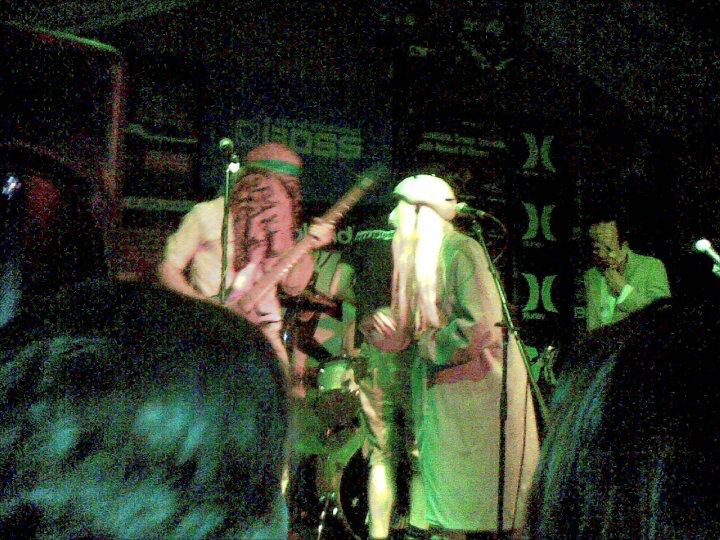 * Age 20 – young adult:
I was at university majoring in Time Based Art at COFA. I learnt how to use video-editing software properly and how to record music in the studio. It was during this time that I got experience working on professional film sets within the art department as well as
acting in a few friends' short films.
I started screaming in the grind-core band Scrotal Vice and shortly after began writing my film Real Bad Idiot.
In 2014 I completed my honours at COFA. That year got a bit much for me, and I decided to quit. After I made that decision, however, I felt all the pressure go away! I realised I could finish the year without caring, and receive my piece of paper to prove to the world that I'm an artist by the end of it. It would also look good on my resume!
My graduate multi-screen audiovisual installation showcased at the Museum of Contemporary Art in
2015 as part of an exclusive event titled The Future of Art Innovation. So, it was worth it in the end.
After I graduated, I started acting classes for the first time. That was a real shift. Emotions were what the craft was based off, and I had to be in touch with mine. I'd sat at my computer years before deciding not to ever worry about my emotions again because I believed they only ever got in my way!
(Expert from Flash Narrative by Alanah, circa 2015)
* Age 25 – adult mode:
By 25, I was making Real Bad Idiot and had landed myself a job in the advertising industry – shortly after I saw my first psychologist! She told me that there was nothing wrong with me. That blew my mind!
My band Traditional Company was born in 2018, and we spent the following two years writing and recording our first EP "Physical Fluid Chess".
In 2019 I completed Real Bad Idiot, left advertising and experienced my Saturn Return – it was a very intense year. So, I began shamanic counselling, and finally, life began to make a bit more sense.
In 2020 I took a different approach to life – prioritising self-care, diving further into music and learning to trust my process. The work will never end! Life is so funny, mystical and strange!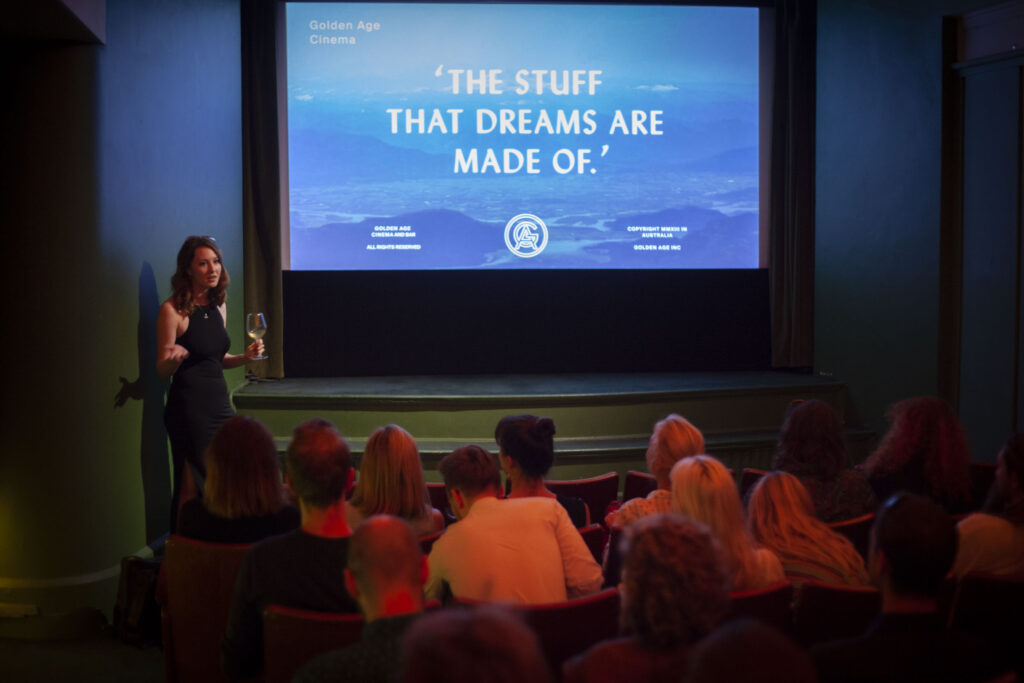 Personal motto(s)?
"Trust your intuition."
"Listen to your body."
"No technology in the bedroom."
"Fuck me gently."
Art Questions
When and why did you first start to make art?
… and any pivotal artistic moment(s) / influence(s)?
I first started making films with my best friend, Kai, in primary school. We had a cooking show that we filmed every weekend.
It was called Chefs in the Cookchen. Together we prepared gourmet breakfasts, baked cookies and spoke in English accents. We used to "accidentally" drop ingredients on the floor. It took us a long time to get those shots right because Kai's mum had OCD and no tolerance for mess.
Strategically, we dropped things onto hand towels, so crumbs didn't go everywhere. My signature move was to pick at the food before it was ready – continually. "I'm just going to sneak a snack!" is what I'd always say.
We had another show called Cornelia that we'd film in the backyard. It was an educational wildlife show. We'd plant stuffed toys in bushes and Cornelia, played by me, would discover them and educate the viewer as to what creature they were.
She wasn't very good at it though. She strangled birds and would try to convince the audience that they liked it. Kai played the producer who would film and interact with her from behind the camera.
Our favourite skit was filming "behind the scenes" when the camera wasn't supposed to be rolling. Cornelia would drop her accent, become her rough Aussie self and chain-smoke, complaining that she'd "had enough of this bullshit show!"
I couldn't tell you where Kai and I got our inspiration, but two of my favourite TV shows at the time were Round The Twist (1990) and Batman: The Animated Series (1992).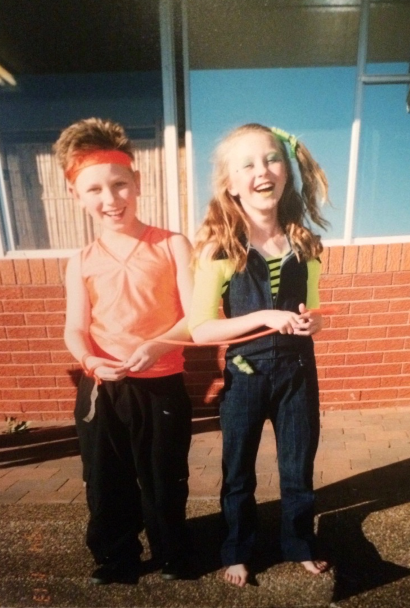 Please describe the usual process involved with producing your various art – from initial idea, to creation, completion and eventual public viewing?
* Your films and directing work?
I'm a bit backwards and usually have the title figured out first. It could be sitting there for a while before I figure out what the story will be. Once an idea sparks, I'll lock myself in my room and drive myself crazy for a while – it could be years! I usually read my masterpiece to a few trusted associates to gauge their response.
Then there's more editing, a table read, it goes on.
When it comes to figuring out my shots, there are some scenes I can visualise shot for shot. Others I like to improvise on the day because that's how I always did it growing up. Nothing ever goes the way you hope it to anyway.
Sourcing actors is always special. I write some roles for specific actors; then I find others will enter my life with significant synchronism. It's spooky!
Some scenes I like to rehearse, other's I like to improvise.
After shooting, I usually take a break before editing. I like to get the cut started by myself, and then I'll have a co-editor join. When Nicole and I cut Real Bad Idiot, we took it in turns then polished it up together.
It took us a year to cut Real Bad Idiot.
Once we'd finished, I went out and got so drunk that I buckled my goddamn knee again and ended up in the hospital. Mad.
Real Bad Idiot premiered at The Golden Age Cinema in 2019.
I am yet to organise another public viewing, but it's on the cards!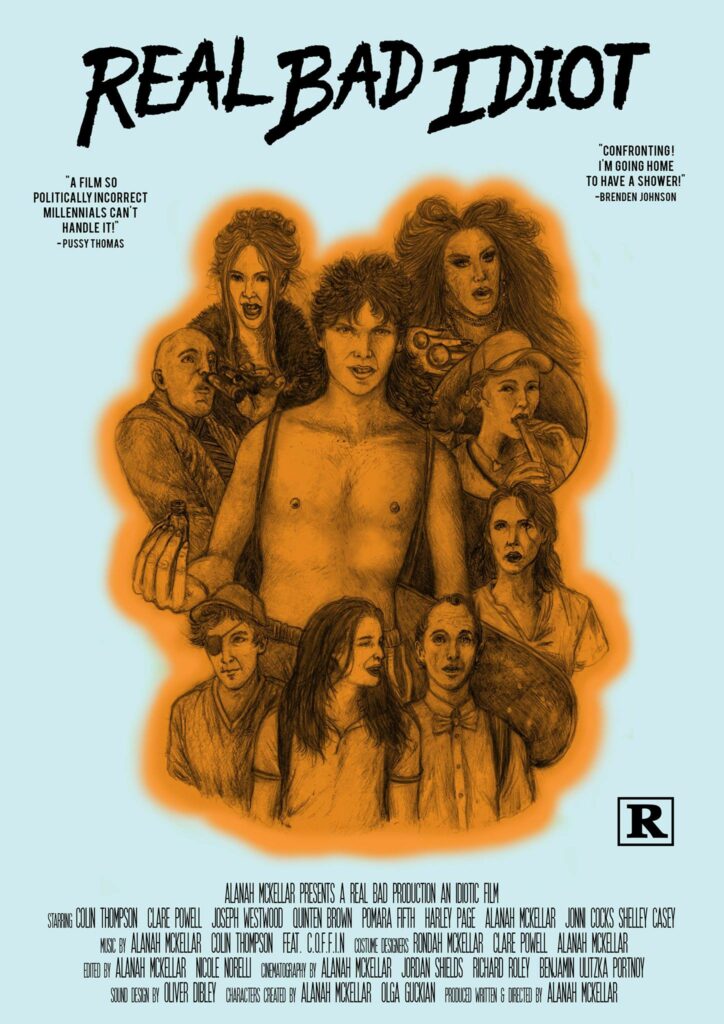 * Your music?
Usually, I'll sit down with my guitar or keyboard and start mucking around until I like the sound of something. Then I let the words flow out.
Sometimes they come out perfect, other times the idea and melody will be there, but I'll have to spend a bit of time getting the lyrics right.
Sometimes I can write a song in one sitting. Other times I'll have to sit with it for years. I find writing music incredibly cathartic, and I like doing it alone.
Once I've got something down, I'll take it to my bandmates and transform it with them. I love hearing where other people take my songs.
If we're writing something together, we'll improvise until something sticks out and then take it from there.
Songs are always transforming, and sometimes I find the most magic happens when you leave them alone for a while.
In terms of recording, I've recorded in studios but have recently opted for the lo-fi DIY option with Traditional Company. The sound quality isn't as slick, but it's a vibe.
I haven't released music before now, so this part of the process is new to me. We'll be releasing "Physical Fluid Chess" online this August – so we'll see how it goes!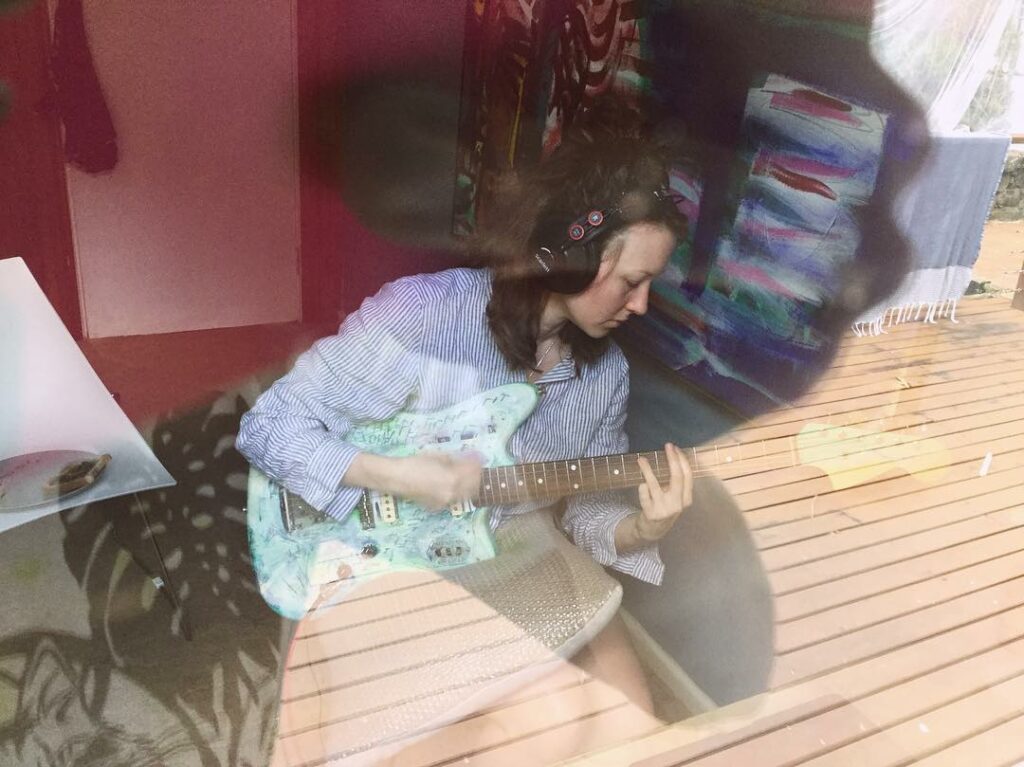 * Your collages?
Collage is the only medium that I can start and finish in one sitting, which is super rewarding and unlike film or music, where I dedicate years to a given project.
I like collage because I never sit down knowing what I'll make. I just get lost in the flow, and within an hour or two, I have a subliminal message screaming at my face.
(Some of Alanah's Collage Work.)
If you had to explain your film 'Real Bad Idiot', to some recently crash-landed aliens, what would you tell them?
I'd tell them that it is a mere account of growing up as a teenage human on Sydney's Northern Beaches – nothing out of the ordinary and I don't know what all the fuss is about!
"Dirk Harrellssonn, a freckled teenage virgin sporting a mullet, is determined to lose his virginity to his high school crush, Tiny Beth. When the spunky and relentless Chad Groper interrupts his feeble attempt at seduction, Dirk seeks revenge in the most perverted way possible."
… and how can people watch 'Real Bad Idiot' anyhow?
The film isn't available online yet but you can check out the trailer below.
If you're dying to see it, reach out and I'll arrange something for you!
(The trailer to Real Bad Idiot.)
Favorite other artist(s)?
5 films:
+ Funeral Parade of Roses – Toshio Matsumoto (1969)
+ The Rocky Horror Picture Show – Jim Sharman (1975)
+ Tales from the Tube – Bob Cording & Jerry Humphries (1975)
+ Suspiria – Dario Argento (1977)
+ Bottle Rocket – Wes Anderson (1996)
5 albums:
+ Ora – Ora (1969)
+ Close to the Edge – Yes (1972)
+ Darkness To Light – Sweet Smoke (1973)
+ Tin Drum – Japan (1981)
+ III – BadBadNotGood (2014)
Any projects you want to hype?
Traditional Company's "Physical Fluid Chess" is out on 28th August 2020!
We've coined the genre "Soap Punk" and you can follow us on Instagram to keep up to date with our release; and pre-save our EP to Spotify and iTunes here: https://snd.click/TCPhysicalFluidChess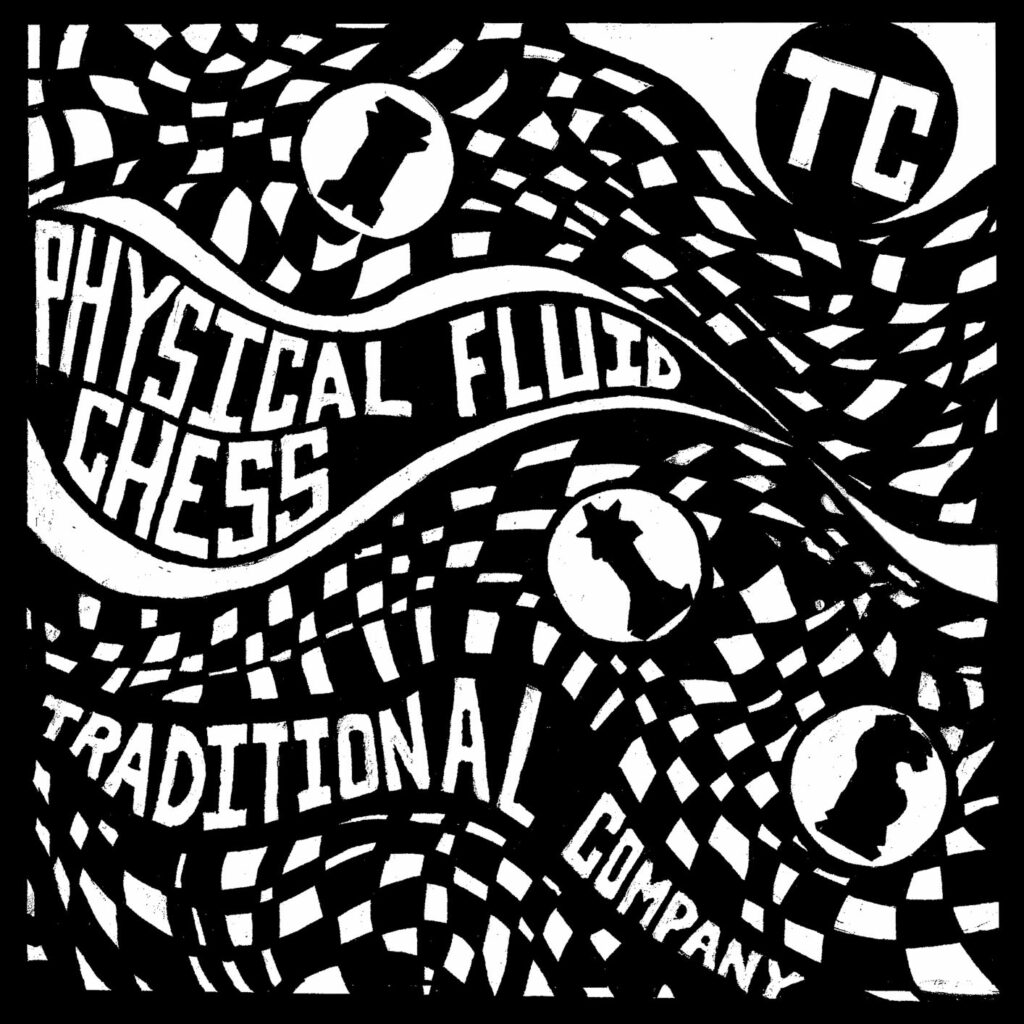 If people wanted to work with you, have a chat or buy something – how should they get in touch?
Send me an email [alanahmckellar@gmail.com] or message me via Instagram!
Odds and Ends
If you could live in any place, during any historical era – where and when would that be?
I'd live in Japan during the early Edo period, and I'd be Miyamoto Musashi's apprentice.
What role did toys play in your childhood(s)?
Toys played a massive role in my childhood, and I was lucky to have many.
Tommy, the cat, was my favourite stuffed toy. I've still got him. Once I left him in Fiji on a family holiday, and Mum and Dad had him flown back for me. That was an ordeal.
My sister and I played with dolls a lot. They were either in lockdown, hiding from a murderer, or naked and having a massive orgy. We had over thirty female dolls and only one male doll – lucky him.
Mum would sew us costumes too so we were always dressed up as different characters. I've kept the dress-up box and Mum still sews my costumes – Real Bad Idiot is full of handmade originals!
I spent a lot of time with my green Furby. Kai had one too, and we used to make houses for them. We'd go on Aldi missions to find the perfect cardboard box to use for each room. Then we'd have sleepovers and stay up all night handcrafting every detail. We spent so much time on those bloody houses; I wish I had a photo.
I loved the Nintendo 64. Banjo Kazooie, Super Mario 64 and Diddy Kong Racing were my favourite games.
I also loved playing The Sims, especially The Sims 1. I'd live vicariously through my Sim – designing my ideal spy home, building my career as a superstar, drowning fellow Sims in the pool and naturally being a massive slut.
Then, for my 14th birthday, Kai bought me the Playboy: The Mansion PC game.
I'll leave it at that.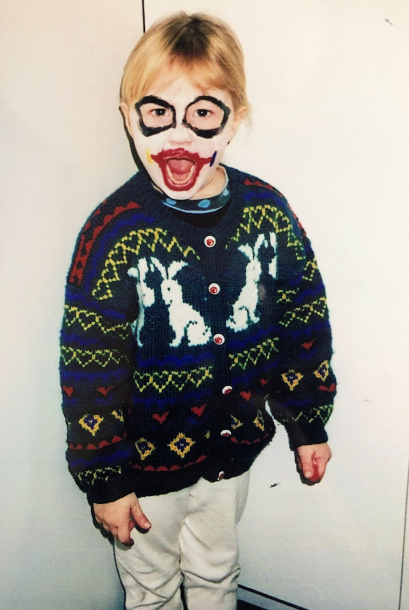 Drugs – waste of time or gateway to the universe?
Both.
It depends on what you're using, and you're intention behind it.
Who was your 1st crush and why?
Billie Joe Armstrong. I was obsessed with him.
He was eccentric, full of energy, a punk and a complete romantic – the sexiest guy in the world.
Does sex change everything?
No. Sex can change a lot of things, but I don't think it shifts how you truly feel about someone.
Sometimes it doesn't change anything at all!
What are the top 3 items you own?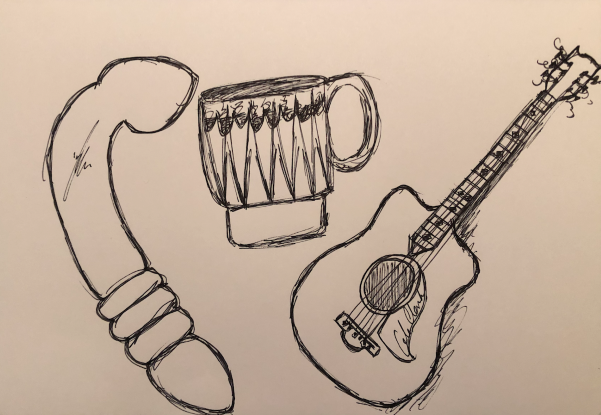 In a fight between the two iconic fictional Australians: The Magic Pudding (from Norman Lindsay's classic 1918 children's novel) Vs. Blinky Bill (created by Dorothy Wall) – who would win and why?
The Magic Pudding cause he's a little psycho.
He offers Blinky a slice of pudding, laced with a razor blade. Blinky's been adventuring all day and is hungry! He thanks The Magic Pudding, swallows the razor and slowly bleeds to death from the inside out.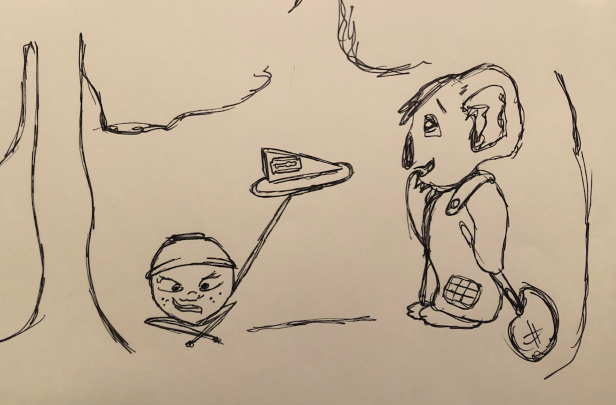 Please describe your last dream in detail…
The dream started as a wide overhead shot, looking down on three characters sitting in a dark and wet, navy coloured basement.
An injured man – who had a deep cut across his left nipple – was lying on an operating chair. Another man, his ally, and a woman with short black hair sat on either side.
Neither the injured man nor his partner had met this woman before, but instinctively they knew she could be trusted.
In a hurry to save the injured man before he bled out, his ally attempted to stitch him up. The dark-haired woman stopped him instantly, insisting that he didn't know how to deal with the situation appropriately. She began to stitch him up herself, slowly pulling a needle and thread through his skin; however, instead of pulling the thread tight, she left the cut slightly open.
They sat and waited for him to heal.
When his skin began to grow over, the dark-haired woman took a blade and tore him open again, digging deep into his skin flesh. Each time he began to heal, she would reopen his wound, and the process continued until something began to emerge from it.
It was another nipple.
The dark-haired lady continued to pull nipples out of his injury until the scene cut to another wide overhead shot that panned from left to right, re-revealing the basement but this time from the opposite angle.
Piles of categorised skin sacks belonging to different body parts – hands, arms, ears, nipples, legs, and feet – covered every inch of the room.
The lady with black hair said, "We have over nine hundred pieces, and he still hasn't healed," and the dream ended.
Of everything you have done what would you most like to be remembered for and why?
I don't know!
At the moment, I feel inclined to say my writing. I think it's one of the things I do best – no thanks to my kindergarten teacher!
Links
Alanah McKellar – Vimeo
Alanah McKellar – Instagram
Alanah McKellar – Email: alanahmckellar@gmail.com
Traditional Company – Instagram
Traditional Company – Facebook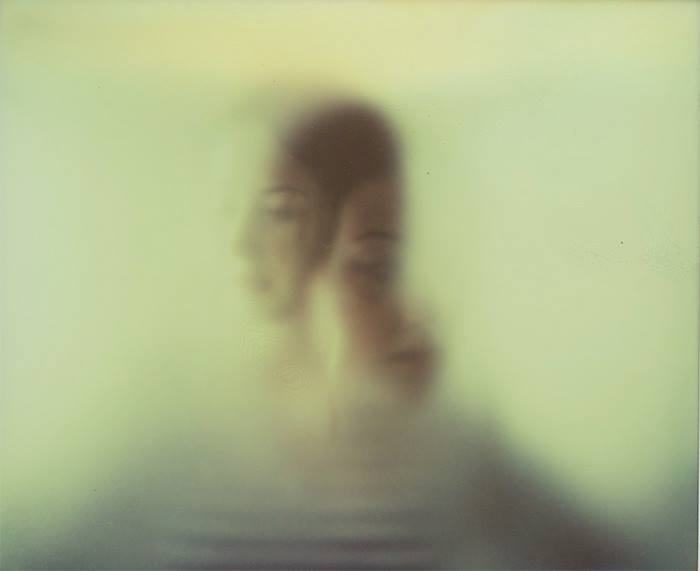 N.B: The interview header photo of Alanah was taken by Emily J Miller.