Gina Skwoz aka Gina Rutmanis (nee Afentopoulos); creates hyper detailed, haunting, & gory paintings, illustrations, & other works that often incorporate geometric patterns. Along with erotic & violently charged collages, were photos of tied & bound women are juxtaposed against clean photographic backgrounds. A unique aesthetic which has seen Gina exhibit her art all over the world to much acclaim; as well as finding her work admired by many fellow creatives. With Gina's art appearing on records from groups such as Void Manes, FOAM, Caïna, & Kollapse; to name but a few.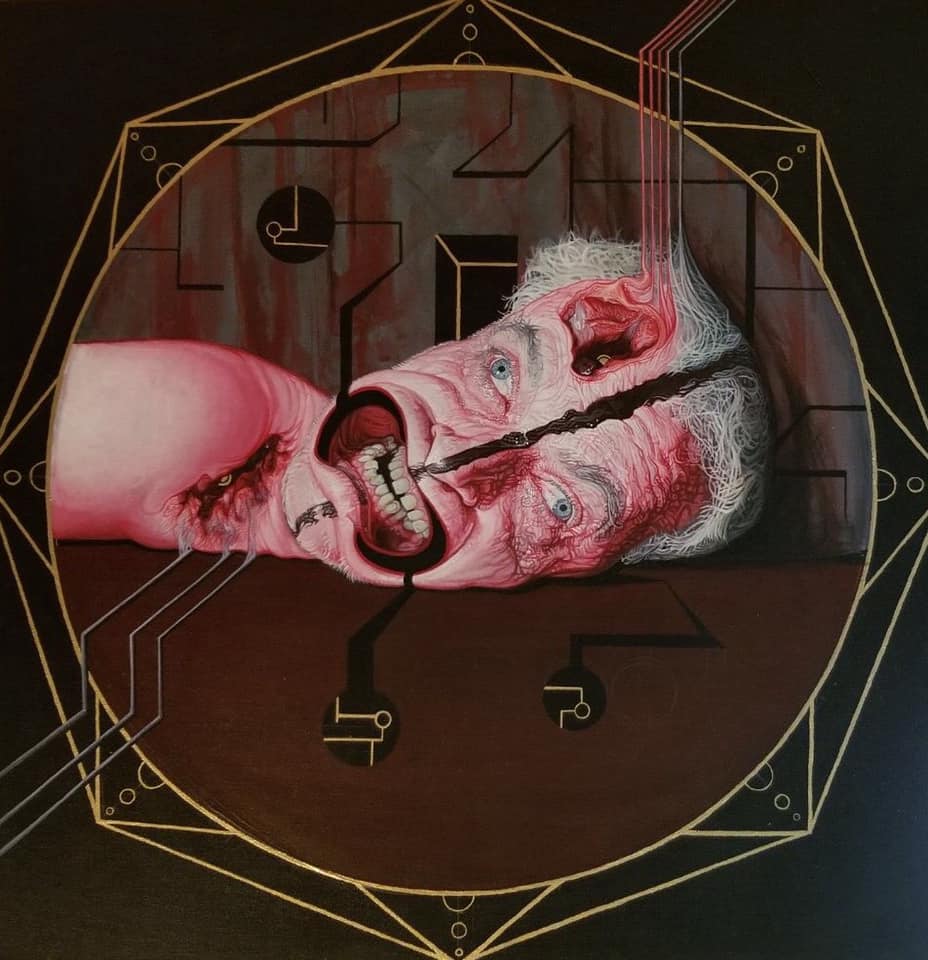 Born in Australia during the 1980s, Gina spent her childhood in the town of Perth playing music, smoking weed, & getting up to mischief. Only really focusing on art in her early 20's, inspired by what she saw in magazines such as Hi Fructose.
Then, in her late 20s, Gina began communicating with Tom Hazelmyer of Amphetamine Reptile records & Halo of Flies fame online. A pivotal moment which eventually led Gina to meet her now husband, oft collaborator, & friend of Tom's – musician Kevin Rutmanis. With whom she now resides in America.
Since then Gina has continued to paint, create, & embed herself further in the international culture scene – as well as getting back into music. Forming the group Lord(s) & Lady Kevin with her husband in 2020; who have already self-released various LPs.
Wanting to get to know her better, we sent Gina some questions to answer over email.
Explore her world, below…
Getting Acquainted
Name + D.O.B?
Gina Skwoz
City, State and Country you currently call home?
Los Angeles, California, USA.
City, State and Country you're from?
Perth, Western Australia, Australia.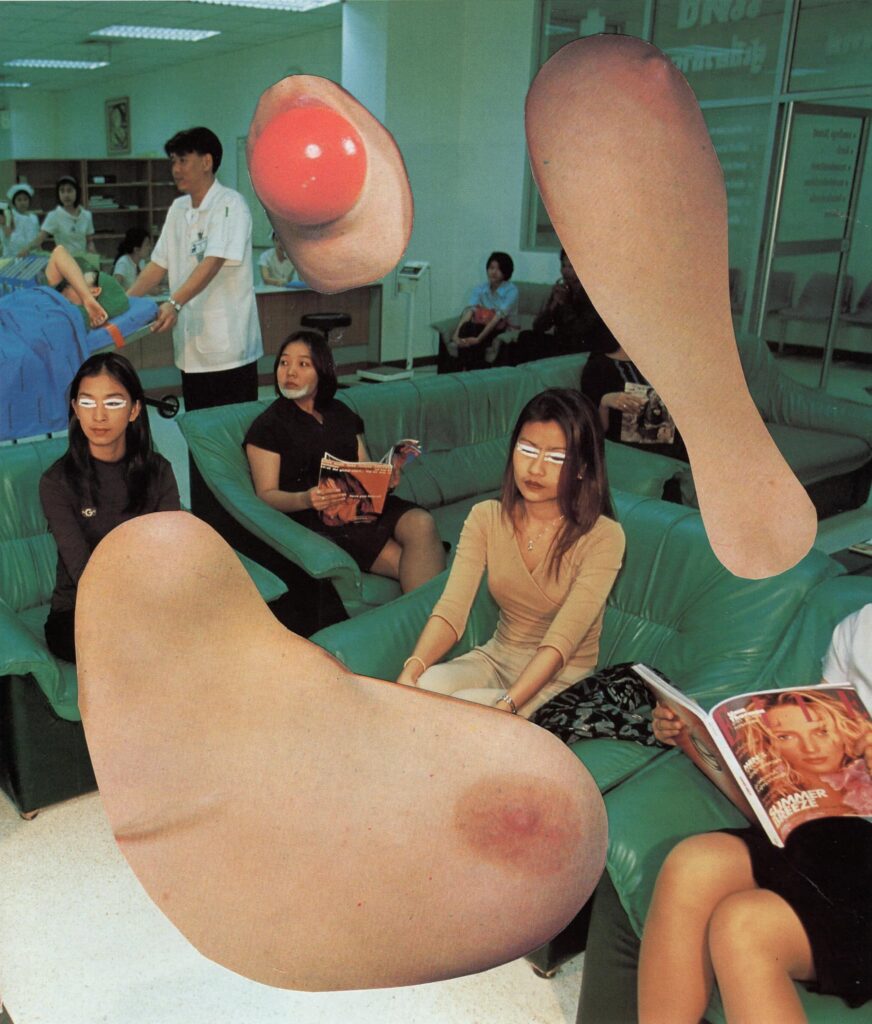 Please describe some memories – such as art, music, friendships, adventures, study, romance, politics, work, religion, crime …anything really – from the stages of your life noted below:
* Your childhood:
Doing weird imaginary games with my brother.
Running around with a video camera making movies in Margaret River.
Drawing cartoons.
Got hit by a car when I was 12.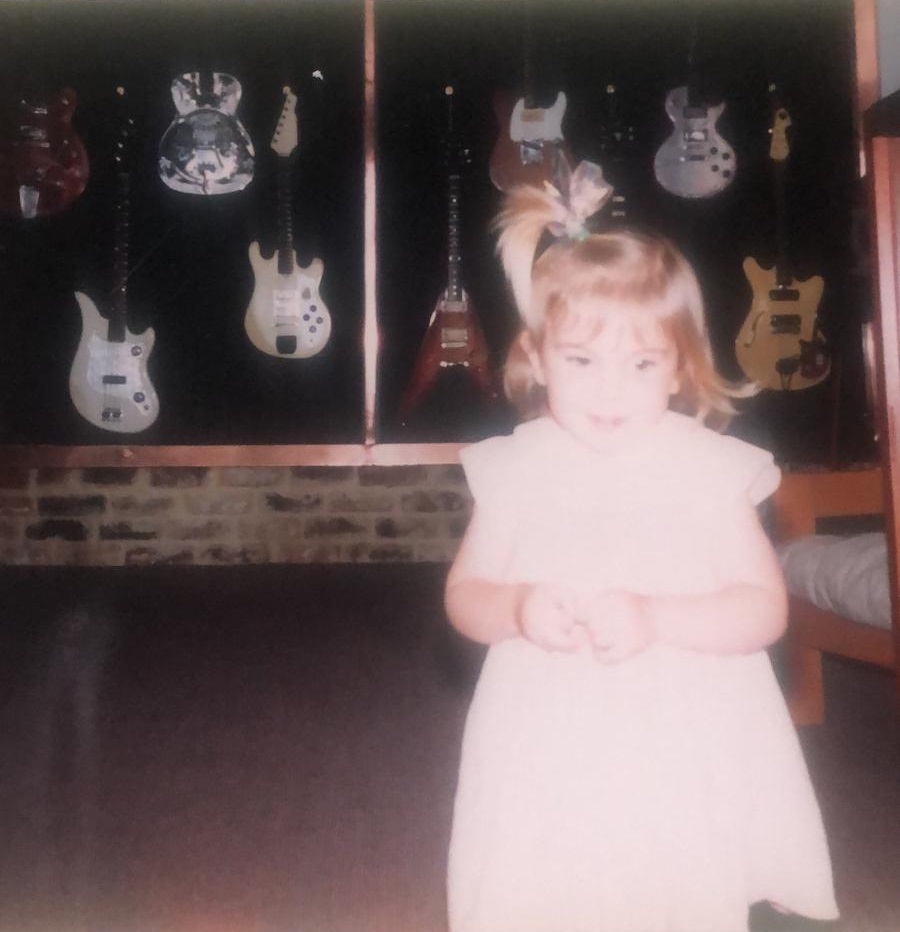 * Your teenage years:
Playing music, smoking ciggies and bongs hahahhahah.
I was in a relationship with an abusive cunt from 14-21 so that kinda ruined teenagehood…
Stopped drawing and playing music
* Your 20s:
Travelling alot to the USA, started painting and drawing again.
Got married twice.
Met Kevin when I was 26.
Moved to Los Angeles.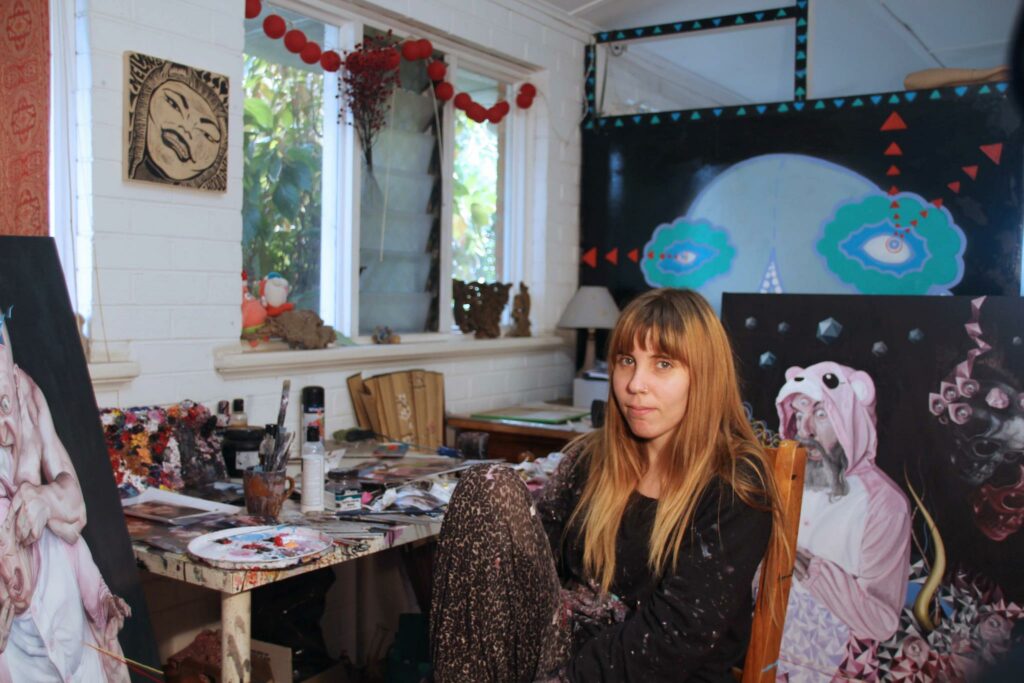 * Your 30s so far:
Painting, started playing music again, got into photography, explored abandoned buildings.
Personal motto(s)?
I dont really have a motto but I pray alot.
What role did toys play in your childhood?
Mostly used my imagination. Used to make up characters with my brother and pretend to be them, draw them.
I don't remember a lot of toys. Had Sega and Playstation.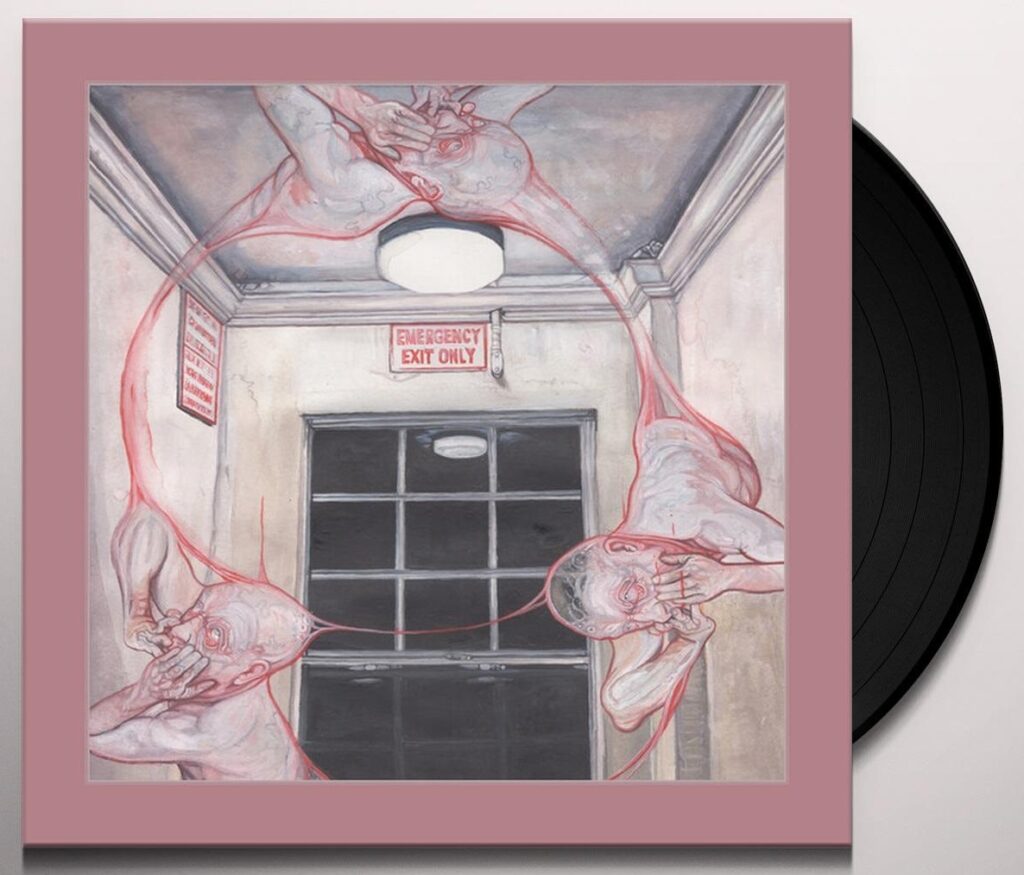 Creativity Questions
When and why did you first become interested in art, music and everything creative?
… and any pivotal creative moments / influences?
Since I was little I loved drawing.
Ren and Stimpy was my first major influence.
I started looking at Hi Fructose magazines in my early 20s and taught myself to paint.
The influences changed over time.
One of the major influences is the Vienna Actionists (Otto Muel, Gunter Brus etc) also Roger Ballen, Francis Bacon.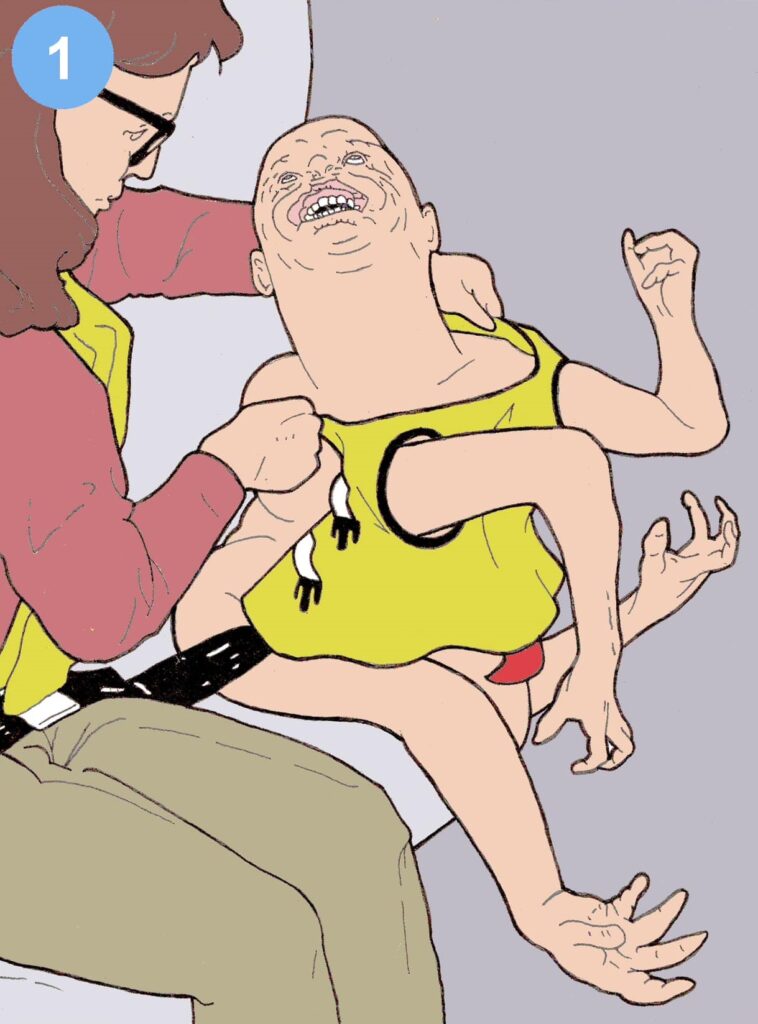 We know you are a member of group Lord(s) & Lady Kevin, with your husband Kevin…
Care to elaborate on your musical career and work with Lord(s) & Lady Kevin for those at home?
I started playing music again with Kevin's encouragement in the pandemic 2020. We would record synth, bass, vocals etc on our phones and drop them in audacity and build tracks. We ended up putting out a 10" every month or so.
David Livingstone (God Bullies, Teenage Larvae) joined us in 2021 and we would send things back and forth and build songs. David was a beautiful addition to the group. Truly a genius. Unfortunately he passed away at the beginning of this year, leaving a hole in our hearts.
I recently started playing the drums and Kevin and I are working on an abstract free blues set.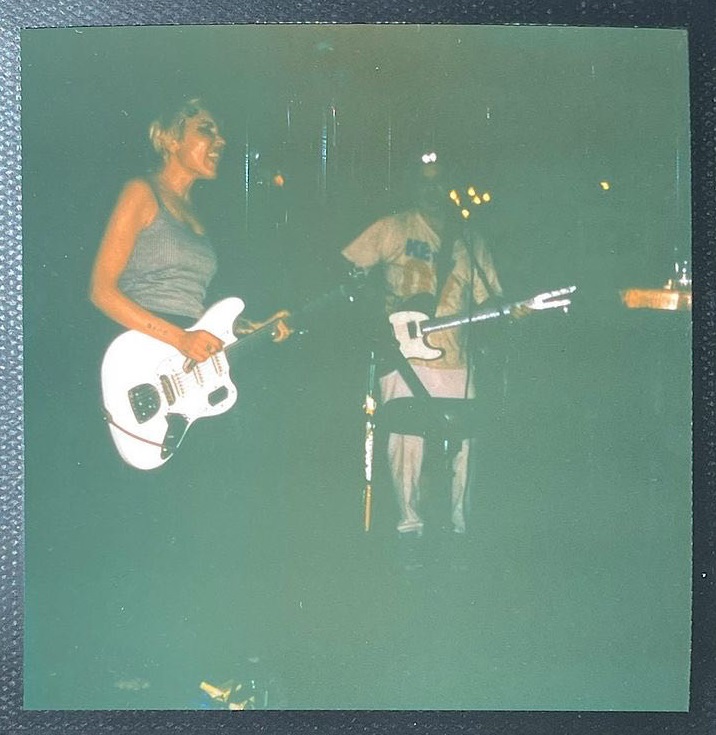 Who are some of your favourite artists, writers, filmmakers and musicians?
…and what is it about their works that so inspire and move you?
Roger Ballen, Francis Bacon, Vienna actionists, Charles Burns, Al Columbia, Flannery O' Connor, Hubert Selby Jr, JD Salinger, John Waters, Fassbinder, Throbbing Gristle, Pere Ubu, DNA, Jandek, Enno Velthuys, Salaried Man Club, Coil.
All seem to have a despairing quality that I relate to.
I enjoy the uncomfortable and when artists don't give a fuck what people think.
If people wanted to check out your art, listen to your music, work with you or buy some of your wares – Where should they visit and how should they get in touch?
Mow Skwoz on Facebook and @mmowskwozz on instagram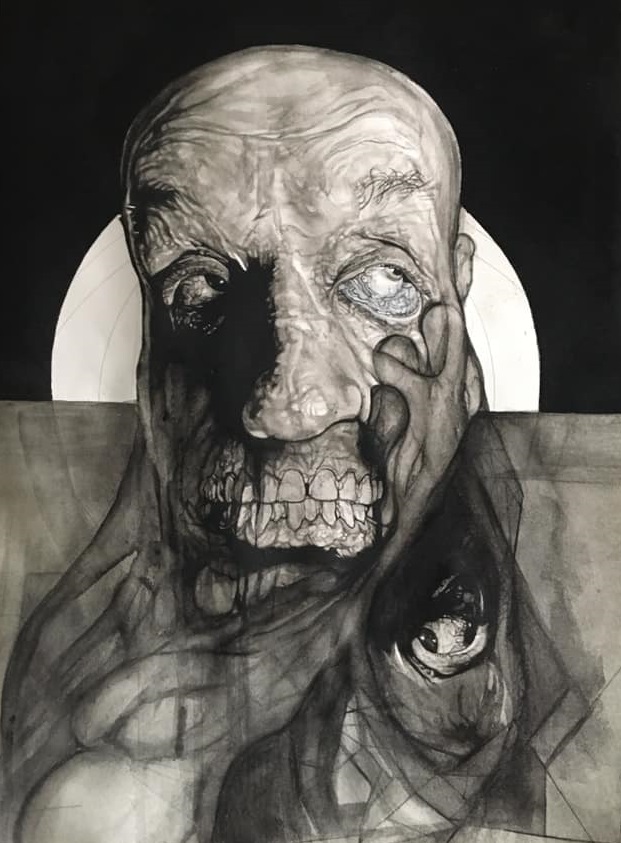 Odds & Ends
If you could live in any place, during any historical era – Where and when would that be?
…and why would you choose that time and place?
Probably anywhere in the late 60s early 70s.
I feel like there was a huge upsurge in anti music/art that I find really inspiring now. People really let it all out and said fuck you and I love that.
Does sex change everything?
Yes. It makes things glorious.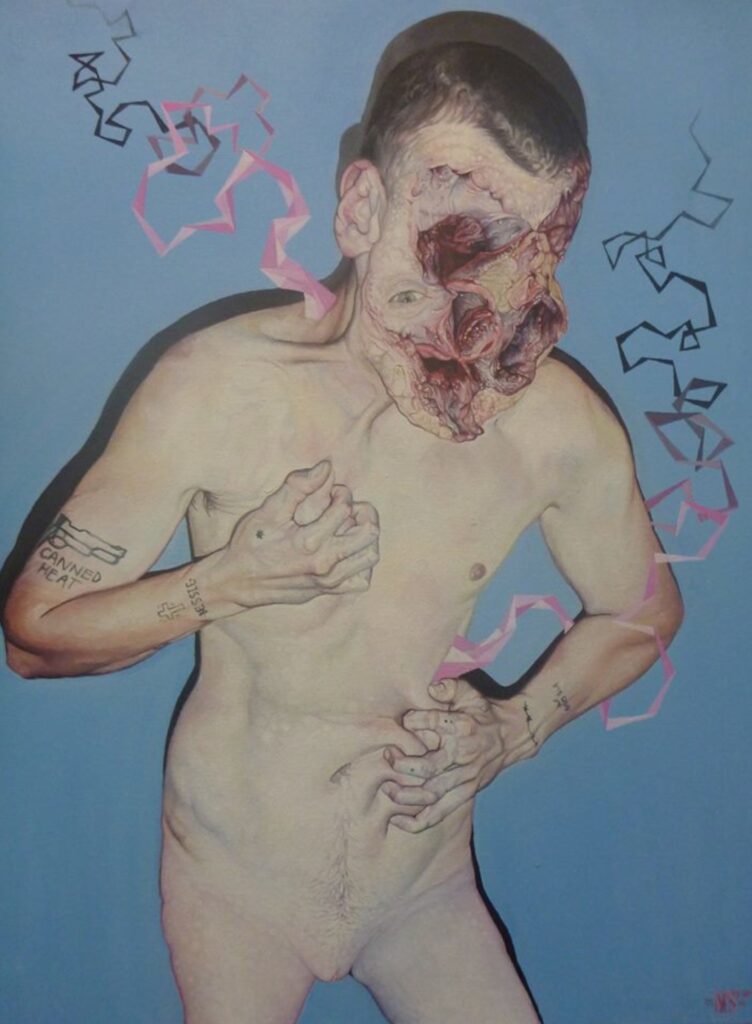 What are the top 3 items you own?
… and what is it about each of them that you so love?
I have many items I love but right now it's:
My cat Egg, he's a living item.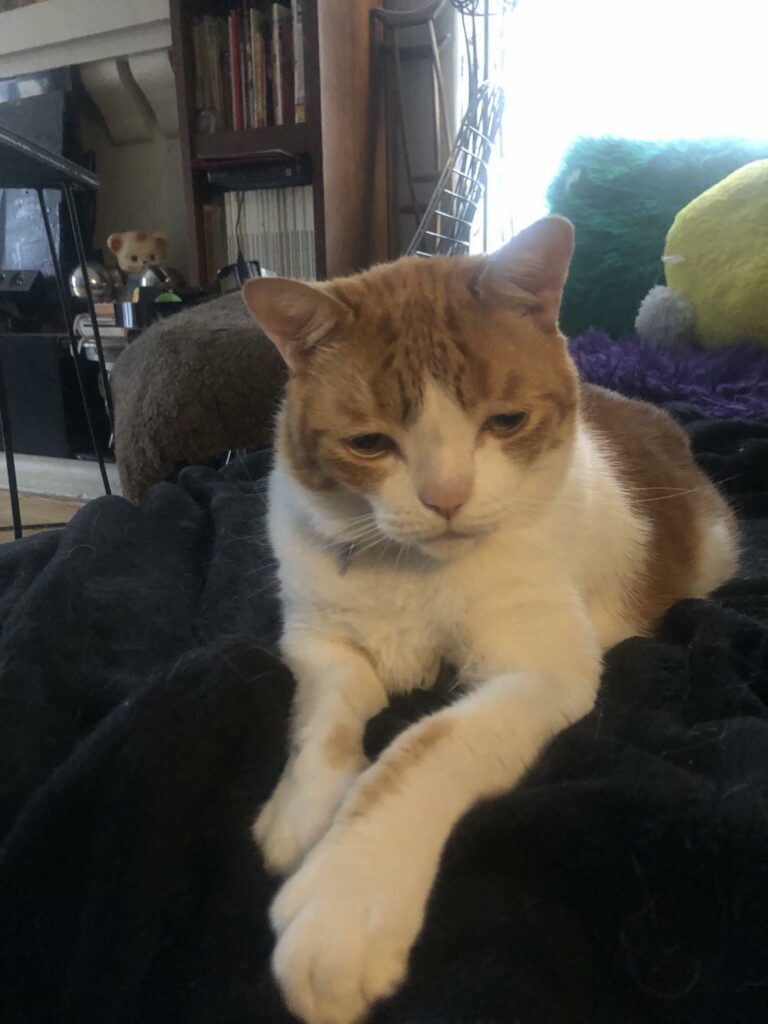 This toy brings me a lot of joy.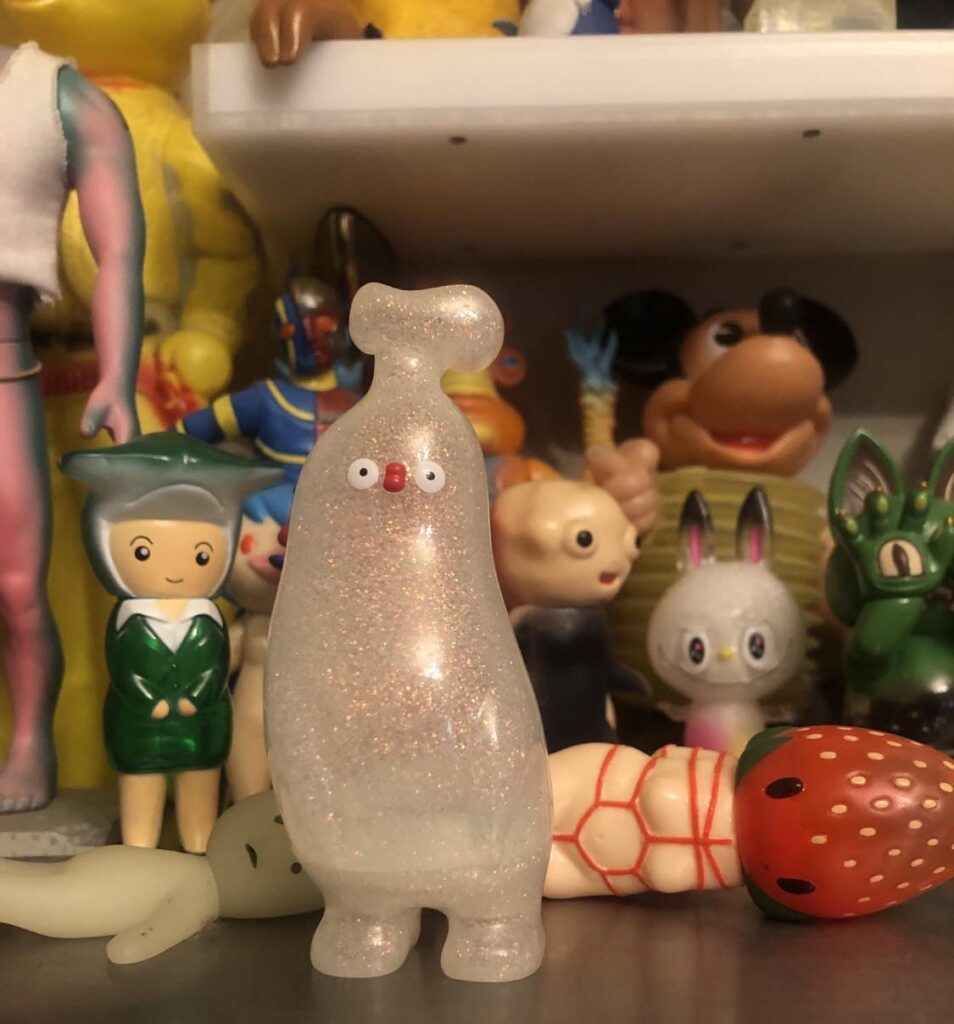 My practice pad my brother gave me. He got it when he started playing drums at 13 and wrote a Derek and Clive skit on it.
It means the world to me.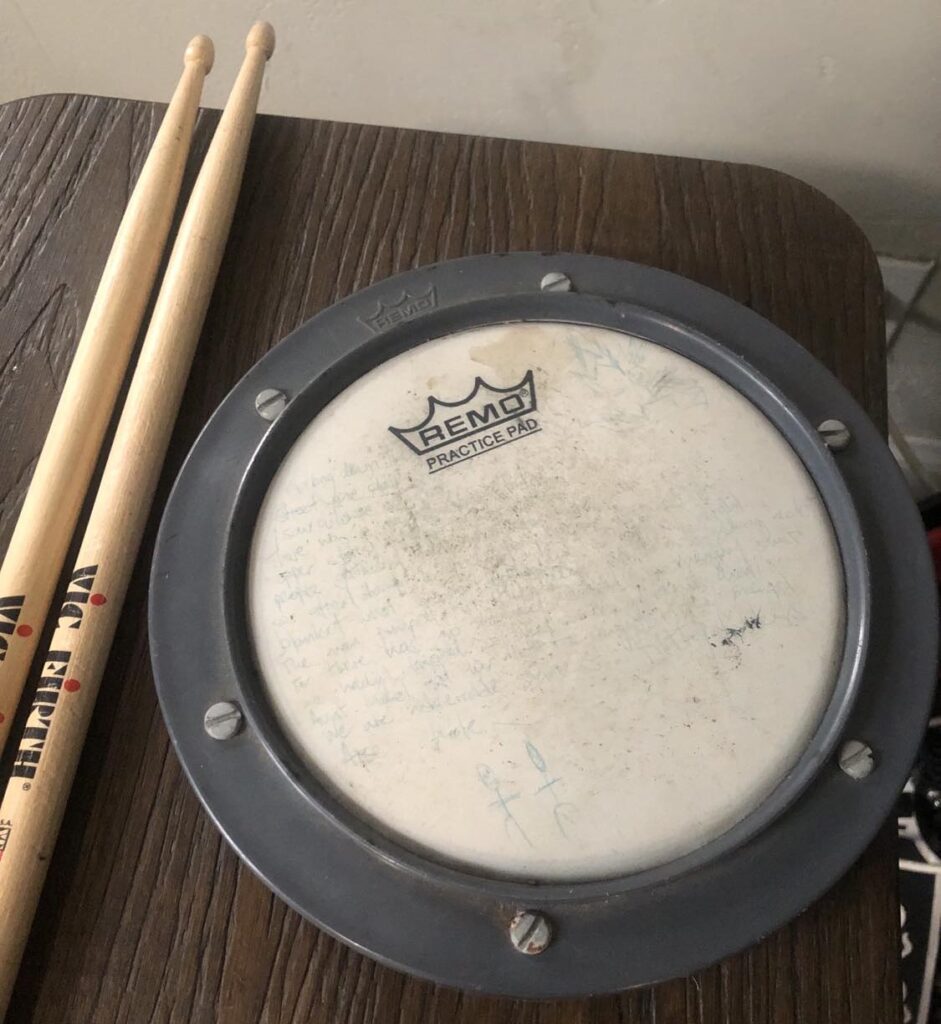 Please describe your last dream in detail…
I take an anti nightmare medication so I don't remember my dreams a lot. Most of them are nightmares!
The last dream I remember was shortly after David died…
I dreamed I was in heaven but it was a huge stadium area with tiered seating and was kinda stressful. I was looking for David and Kevin but I couldn't find them anywhere.
When I finally found our seats there were some orthodox Jewish men sitting in them and they wouldn't move, then I woke up.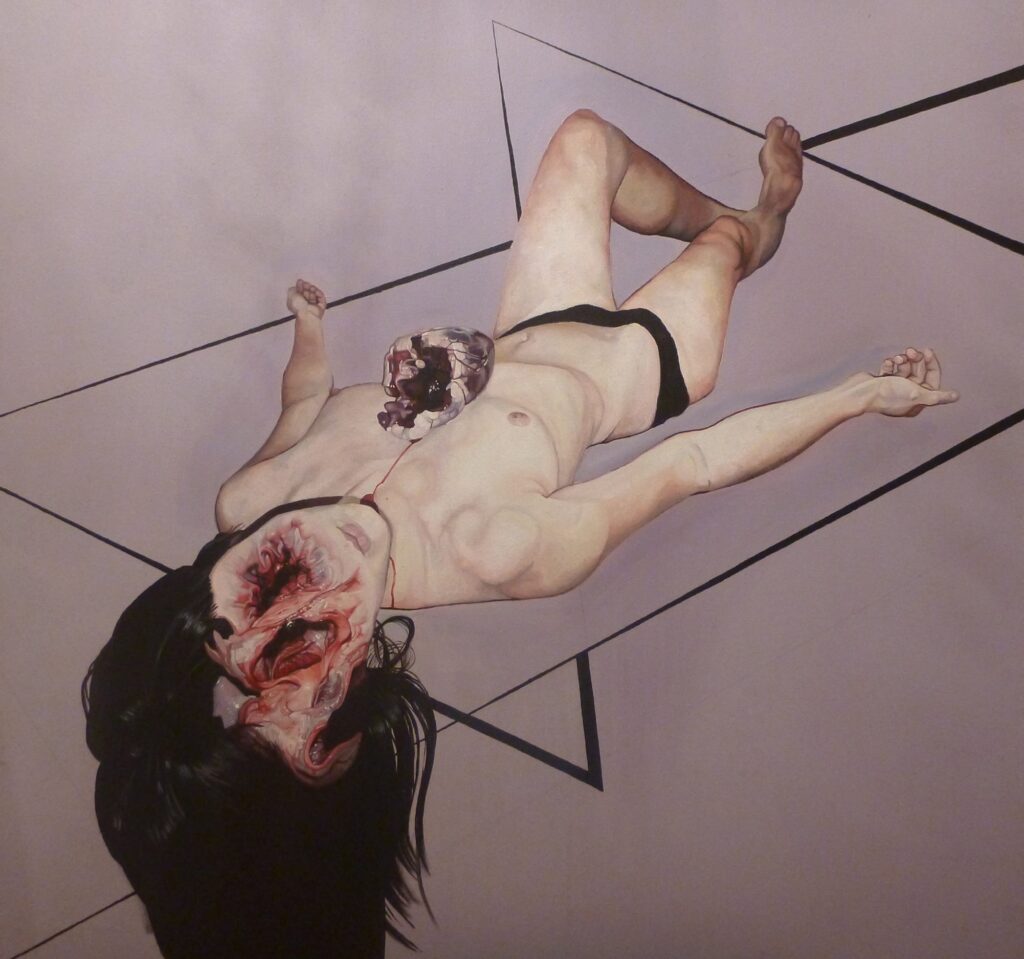 What impact has your husband Kevin had on your artistic and personal life?
… and how exactly did you guys come to connect anyhow?
Kevin and I connected through Facebook when he saw a painting I did of Tom Hazelmyer and messaged me about it.
We connected immediately and started sending each other music and talking everyday. We eventually met for the first time in Japan, and have been together ever since.
He's had a huge impact on me creatively and really encouraged me to start playing music again. He's attitude towards music is really inspiring and quite egoless which I admire. He really understands my aesthetic and we have very similar tastes and objectives.
He also doesn't give a shit what I do or try to control me musically which is really encouraging.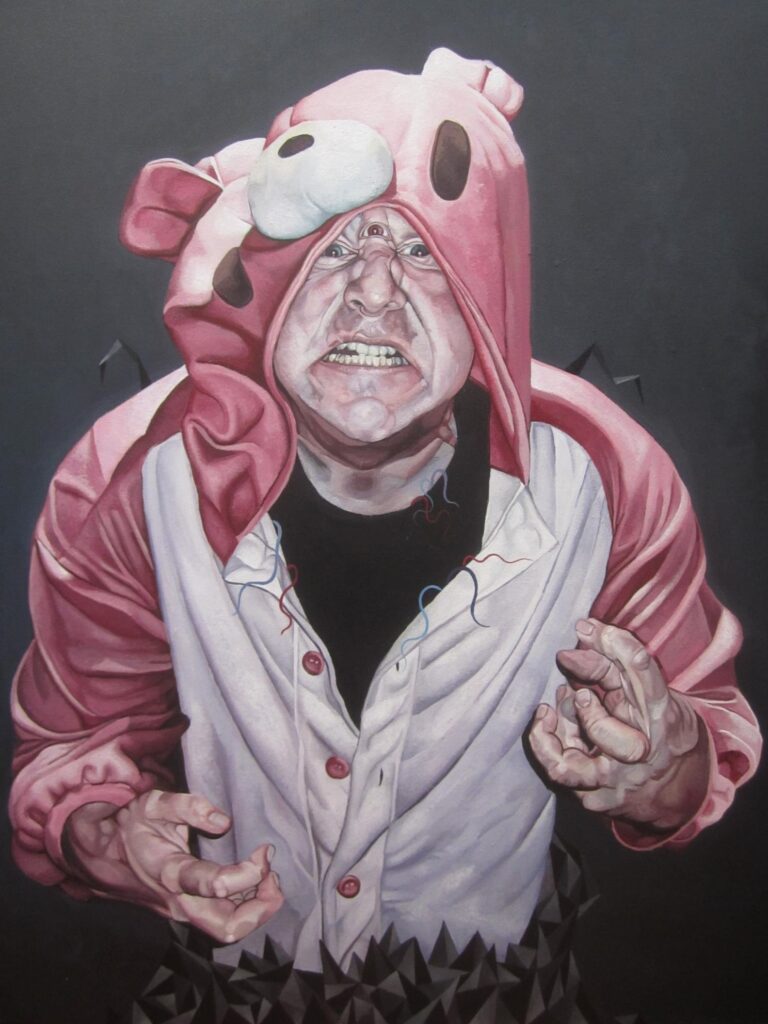 In a fight between the following Australian pop culture icons: Crocodile Dundee (from the film franchise) Vs Agro (the puppet and media personality) – Who would win?
…and why would they be victorious?
I've never seen Crocodile Dundee…. so I guess I'd go with Agro.
There are blooper reels of him where he says sexually inappropriate things to the chick who was the presenter, so I guess he's kinda dangerous.
Of everything you have done so far, what would you most like to be remembered for?
Hmmmm I don't know, people tend to like this painting so maybe that.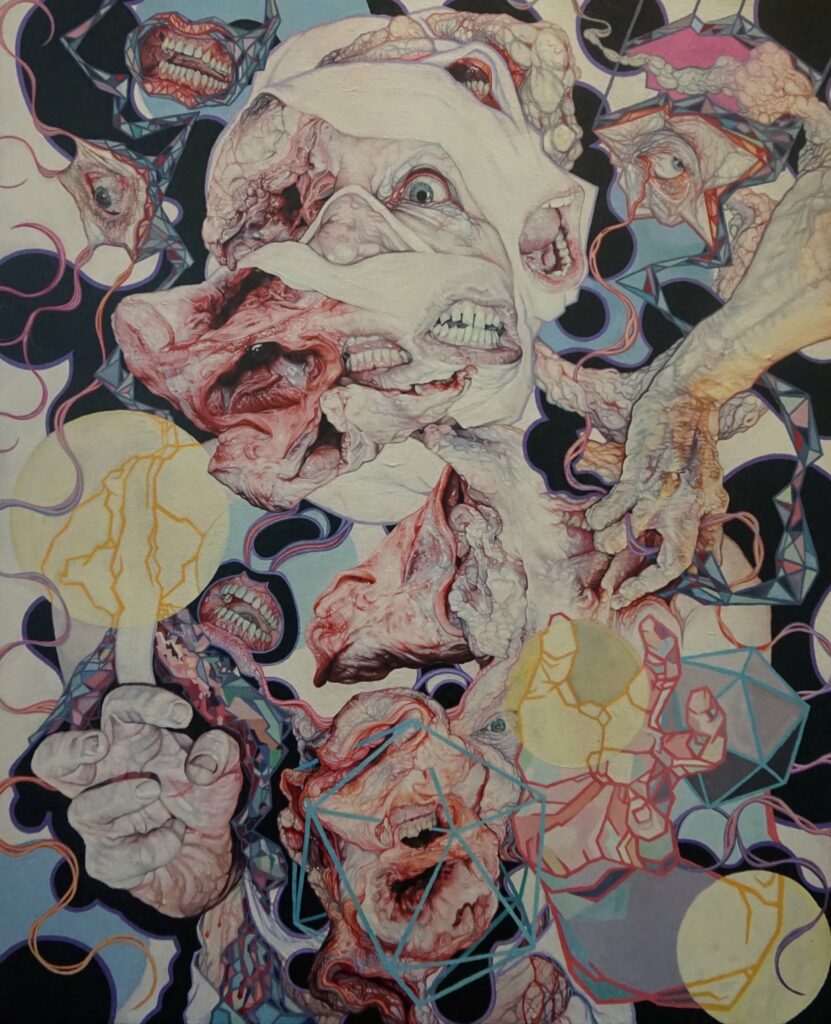 Links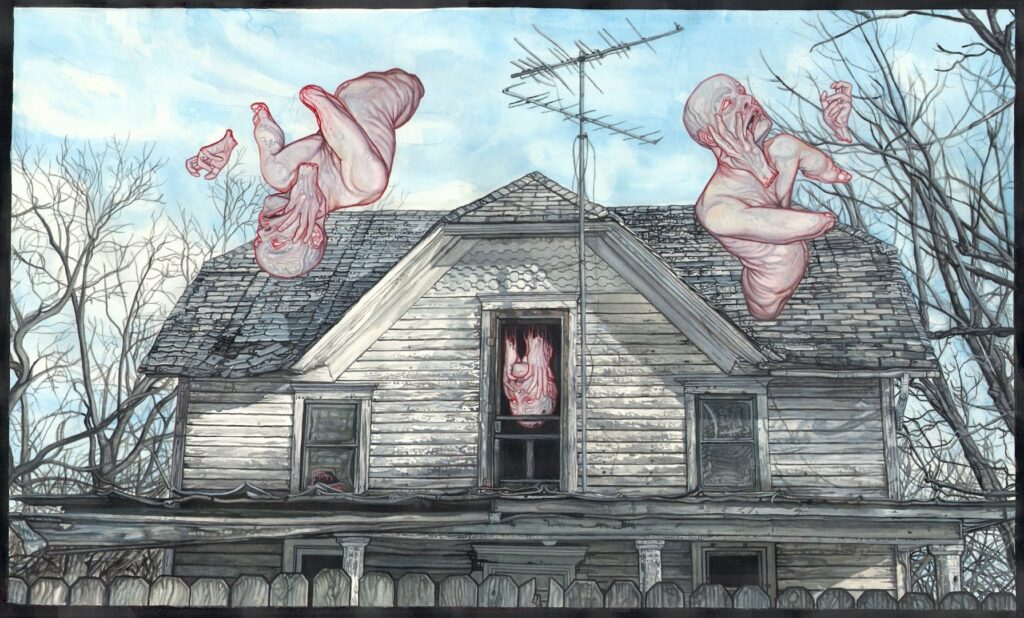 All images provided by Gina or sourced online.