Nicholas Price is a Spanish based, British born artist and musician who came of age during the late 1970s and 80s. Growing up Nic was exposed to and inspired by horror movies, cartoons, skateboarding and comic books. Whilst also spending much of his time developing his talents with the piano, drums, electronic music and his own art practice.
Interestingly, Nic has also spent much of his adult life in Asia – With 10 years spent in Japan and almost as many on and off in Cambodia. Counties that have inspired him creatively and helped him to develop his career and pursue his interests freely.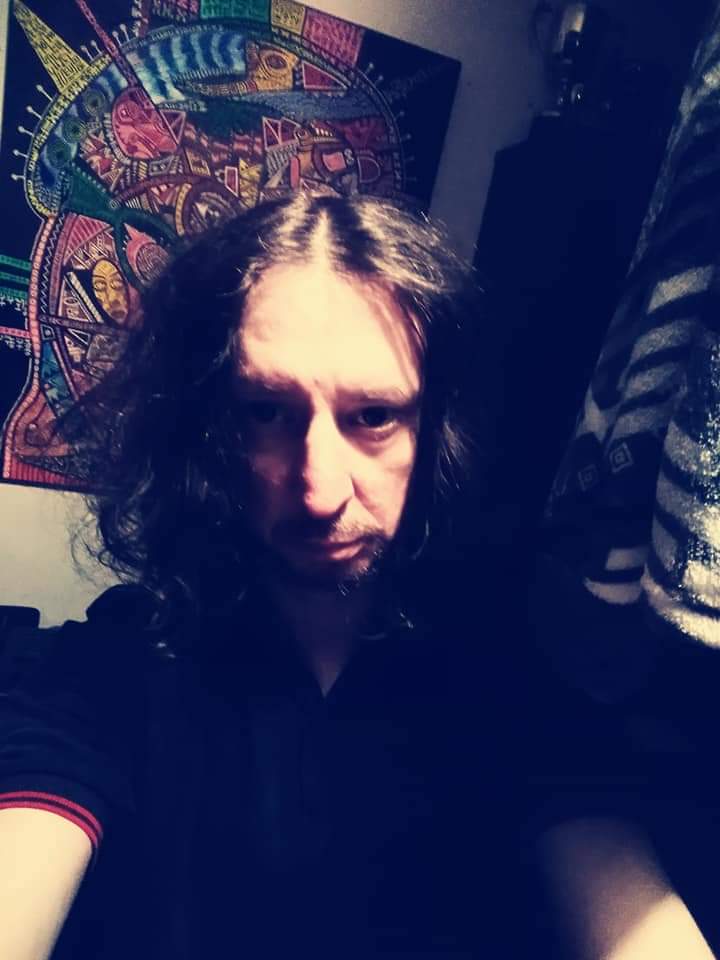 Wanting to get to know Nic better, we sent him some questions to answer over email.
You can read our interview with Nic, below…
Getting Acquainted
Name + D.O.B?
NICHOLAS JAMES PRICE
27/09/1973
City, State and Country you currently call home?
MENORCA ISLAND BALERICS SPAIN.
City, State and Country you're from?
LONDON CHELSEA UK.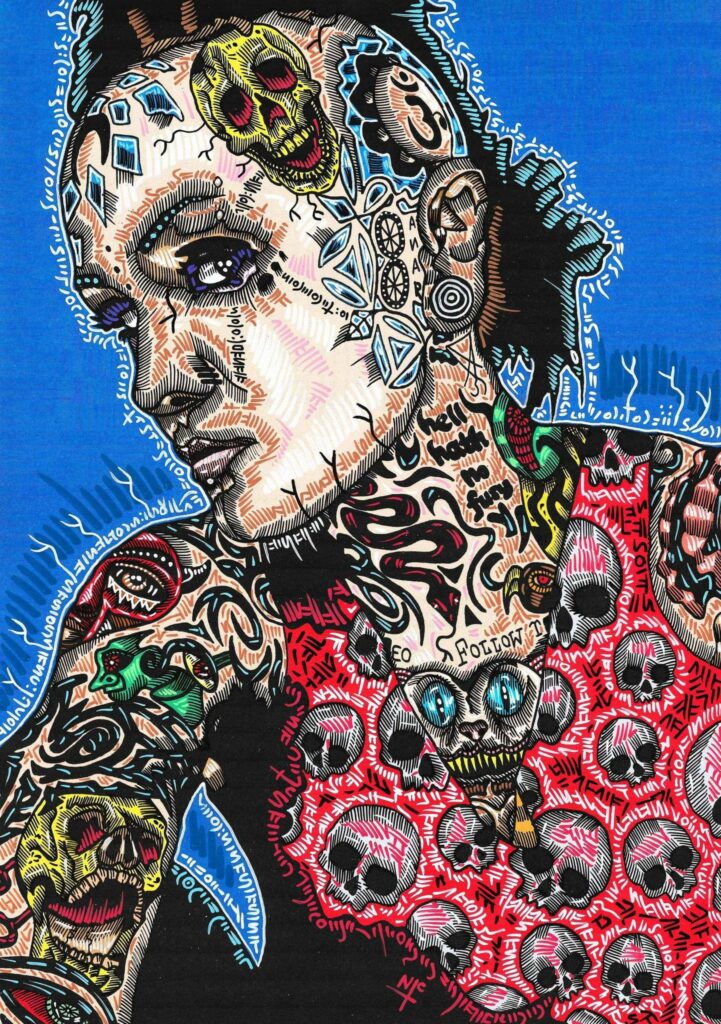 Please describe some memories – such as art, relationships, adventures, study, concerts, romance, politics, work, crime, religion… ANYTHING really – from the stages of your life noted below:
* Age 5 – beginnings:
I STARTED PLAYING DRUMS ON POTS AND STUFF AND ALSO GOT INTO HORROR FILMS AT AN EARLY AGE WHICH INPSIRED ME TO DRAW.
I ALSO LIKED COMICS AND CARTOON SHOWS.
* Age 10 – continuations:
I STARTED DRAWING MY OWN COMICS AND MAKING UP CHARACTERS.
I GOT OUT OF RELIGION HERE AS I THOUGHT IT WAS UTTER RUBBISH EVEN AT THIS AGE AND WAY TO STRICT.
I LIVED IN SCOTLAND AT THIS POINT SO I WAS INTO NATURE AND THE COUNTRY SIDE I ALSO STARTED TO LEARN PIANO AND CONTINUED WITH DRUMS.
WAS REALLY INTO HORROR MOVIES AT THIS POINT – 80S.
* Age 15 – getting serious:
MOVED TO LONDON WHERE I WAS BORN.
I LEFT SCHOOL AT 15 AND WENT INTO GRAPHIC DESIGN AS A JOB I LEARNED QUITE A LOT AND WAS GETTING PAID, I STARTED TO GET INTO BANDS AND JAMMING WITH DRUMS I ALSO STARTED TO WRITE ELECTRONIC MUSIC VIA OLD SCHOOL AMIGA AND SAMPLER STUFF.
STARTED DATING AND ALL THE USUAL STUFF AND GOT INTO SKATEBOARDING – RAMP STUFF TRICKS AND GENERAL PISSING ABOUT.
* Age 20 – young adult:
I JOINED COVER BANDS AND GOT PAID TO PLAY THE PUB CIRCUIT WHERE I STARTED DRINKING AND GETTING INTO GIRLS. IT WAS THE ROCK AND ROLL TIMES FOR A YOUNG ONE.
I TRAVELLED WITH THE BAND IN A VAN TO EUROPE PLAYING DRINKING AND GETTING PAID AND LAID LOL.
I WAS MORE FOCUSED ON THE MUSIC AND THE ART TOOK A BACK SEAT FOR THE TIME STARTING GOING TO GIGS LIKE TOOL, PRIMUS, INCUBUS AND FESTIVALS.
* Age 25 – adult mode:
JUST KEPT ROCKING.
WENT TO ART COLLEGE FOR A LAUGH SO I COULD USE THEIR EQUIPMENT THEY TOUGHT ME BUGGER ALL – I JUST HUNG OUT WITH THE CREW AND DID MY THING.
STARTED TO GET BACK INTO ART AND WENT TO QUITE A FEW GALLERIES AND STUFF.
I WAS ALSO DOING THE LONDON SCENE IN MY ORIGINAL BAND CALLED LIQUORSTORE.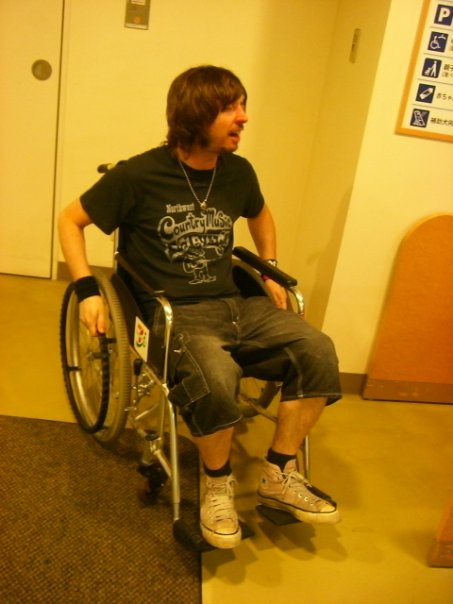 * Age 30 – meanderings:
MOVED TO JAPAN. STAYED 10 YEARS.
THIS IS WHERE I REALLY TOOK OFF WITH THE ART BECASUE THE MUSIC SCENE WAS A LITTLE CRAP OVER THERE. I STILL JAMMED AND STUFF BUT HAD NO DRUMS SO I STUCK TO ART AND LIVED WITH MY NOW X GF MAYUMI.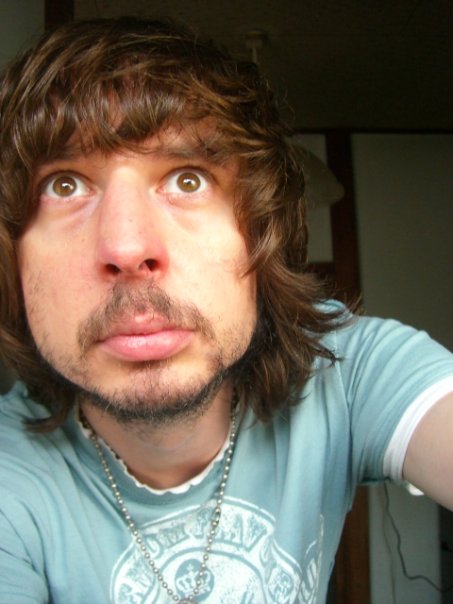 * Age 35 – fully formed:
STILL IN JAPAN AND GETTING REALLY INTO INK PENS AND POP CULTURE ART.
ALSO WRITING MUSIC AND ADDING VOCALS.
I WAS ALSO TEACHING ART AT A JAPANESE SCHOOL FOR MONEY.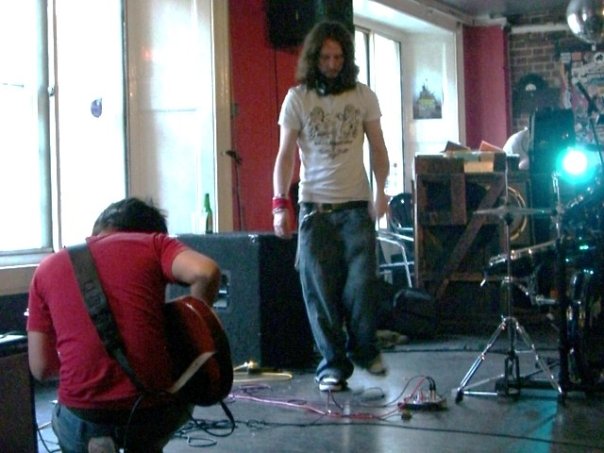 * Age 40 – adult meanderings:
MOVED TO CAMBODIA, SPLIT WITH THE X AND THEN WENT WILD AND STILL DID ART AND IT STARTED TO SELL ON FB AND OTHER SOCIAL MEDIA.
SO I COULD LIVE IN CAMBODIA REALLY CHEAP AND HAVE FUN WITH NOT MANY RULES – I LIKED IT A LOT.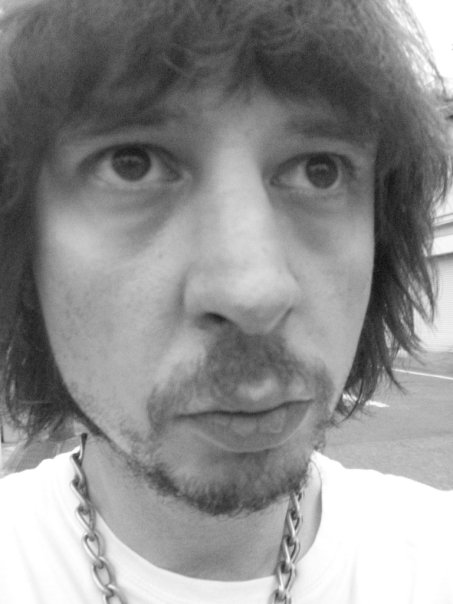 * Age 45 – middle age approaches:
AGE IS NOTHING TO ME BUT THIS IS WHERE I REALLY HAVE DEVELOPED MY STYLE OF ART AND TECHNIQUE.
I ALSO DO A LOT MORE ELECTRONIC MUSIC PRODUCTION AND CURRENTLY LIVING AT MY PARENT'S IN MENORCA BUT PLAN TO GO BACK TO CAMBODIA WHEN COVID CALMS…
Personal motto(s)?
ALWAYS GET BETTER
NEVER GIVE UP
ROCK AND ROLL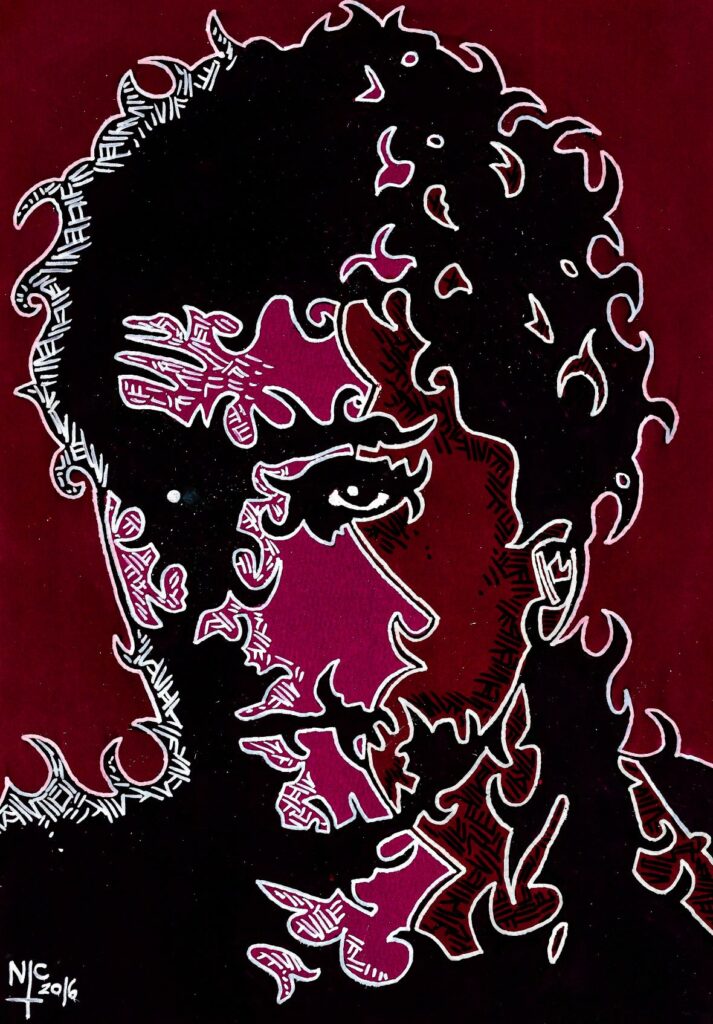 Art Questions
When and why did you first become interested in everything creative?
… and any pivotal artistic moment(s) / influence(s)?
WHEN I STARTED TO WATCH HORROR MOVIES AT AROUND 3 – THE VISULAS HAD A BIG IMPACT ON ME: MONSTERS, DINOSAURS. EVERYTHING.
Please describe your usual artistic process – from initial idea, to creation, and eventual completion?
SOMETIMES STRAIGHT OUT ORGANIC NO PLANNING JUST FEEL AND SEE WHERE IT GOES.
POP ART I CHOOSE THEMES – CLASSIC FILMS CARTOONS OR FAMOUS PEOPLE – AND THEN I DRAW, INK AND FINISH.
I DO NOT USE PAINT ONLY FAST DRYING MATERIAL.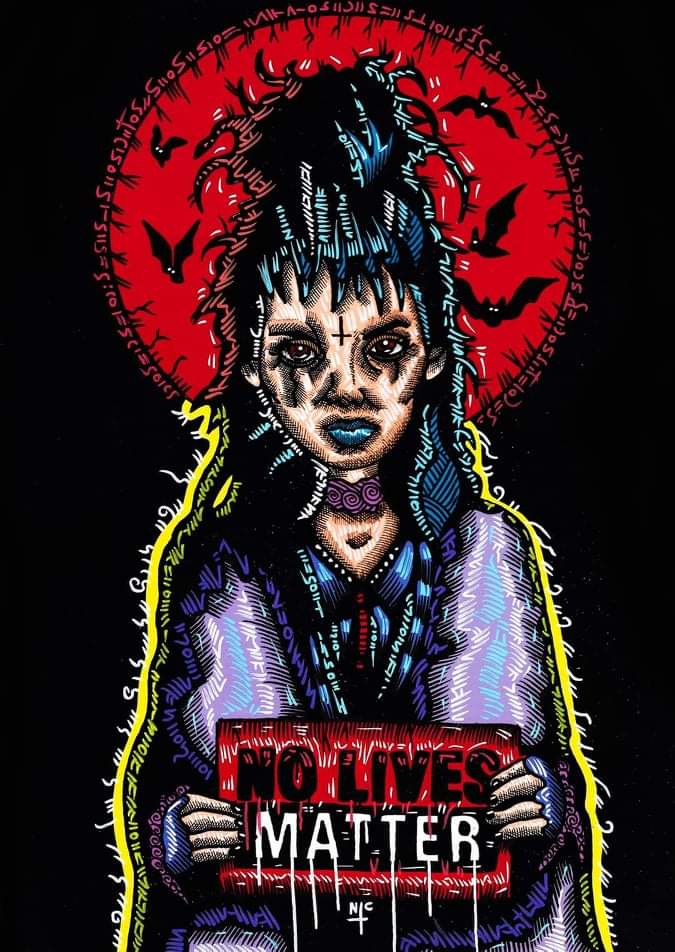 Favorite artists, musicians and writers?
PICASSO, DE KOONING, POLLOCK, BASQUIAT AND GIGER.
BUDDY RICH, MILES DAVIS, KEITH MOON, JOHN BONHAM, DENNIS CHAMBERS AND VICTOR WOOTEN.
HUNTER THOMPSON AND ROALD DAHL.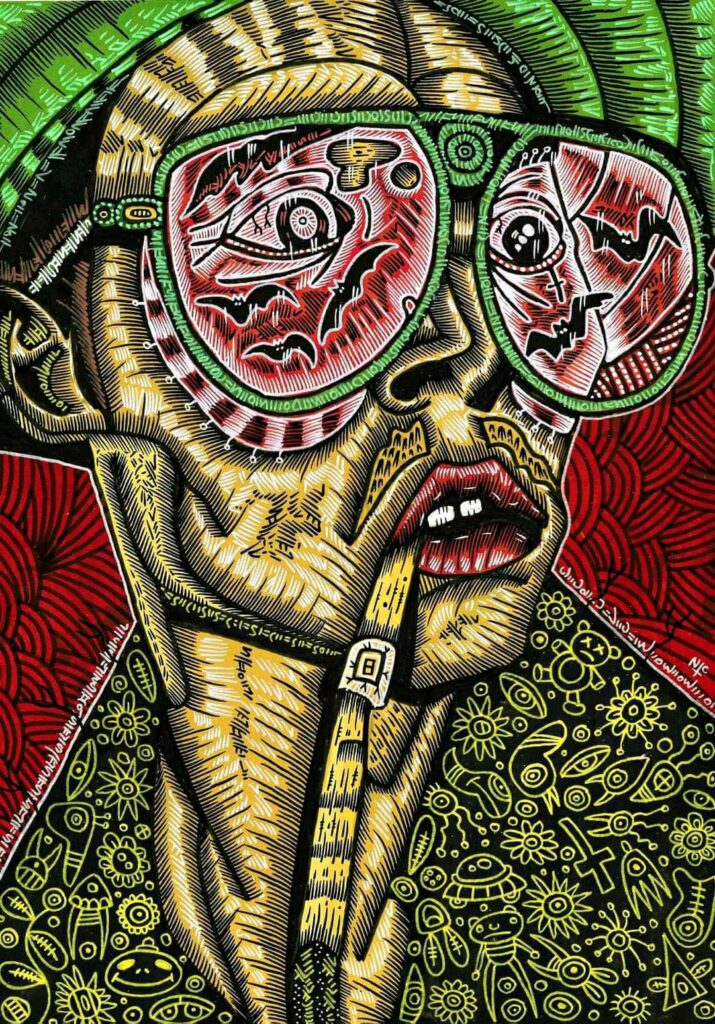 If people wanted to work with you, have a chat or buy some of your art – how should they get in touch and were should they visit?
https://www.artpal.com/NICPART OR ON FACEBOOK AT JOHN HAMPER.
…and any upcoming projects you would like to mention?
TAROT CARDS.
MORE GARBAGE PAIL KIDS AND REMAKES OF MOVIE POSTERS.
(Some recent Garbage Pail Kids tribute art by Nic.)
Odds and Ends
If you could live in any place, during any historical era – where and when would that be?
…and why would you choose that time and place?
EARLY 1900S START OF MOTION CINEMA AND COOL JAZZ MUSIC – ALSO THE ART WAS GREAT THEN.
I WOULD BE PICASSO 2.
What role did toys play in your childhood?
I LOVE TOYS ESPECIALLY LEGO WHICH I COULD CREATE MY OWN THINGS.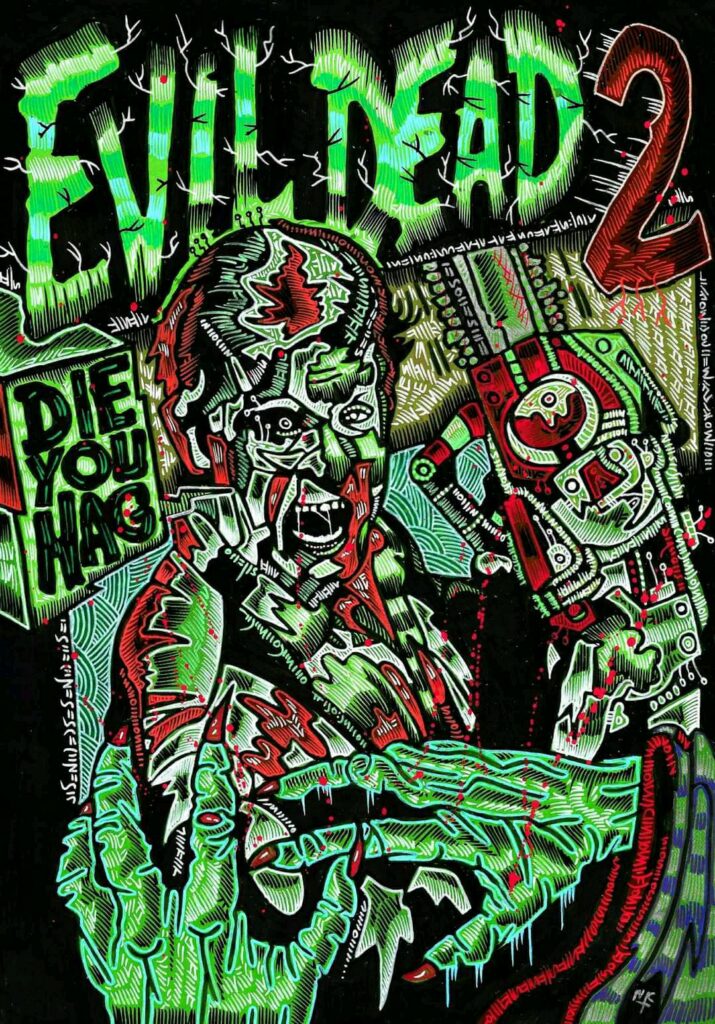 Drugs – waste of time or gateway to the universe?
VERY GOOD, ESPECIALLY DMT.
Who was your 1st crush?
…and why were you so infatuated with them?
KATE BUSH.
SHE WAS AMAZING IN HER YOUNG TIMES AND THE MUSIC WAS SO COOL.
Does sex change everything?
DOES IT; FUCK.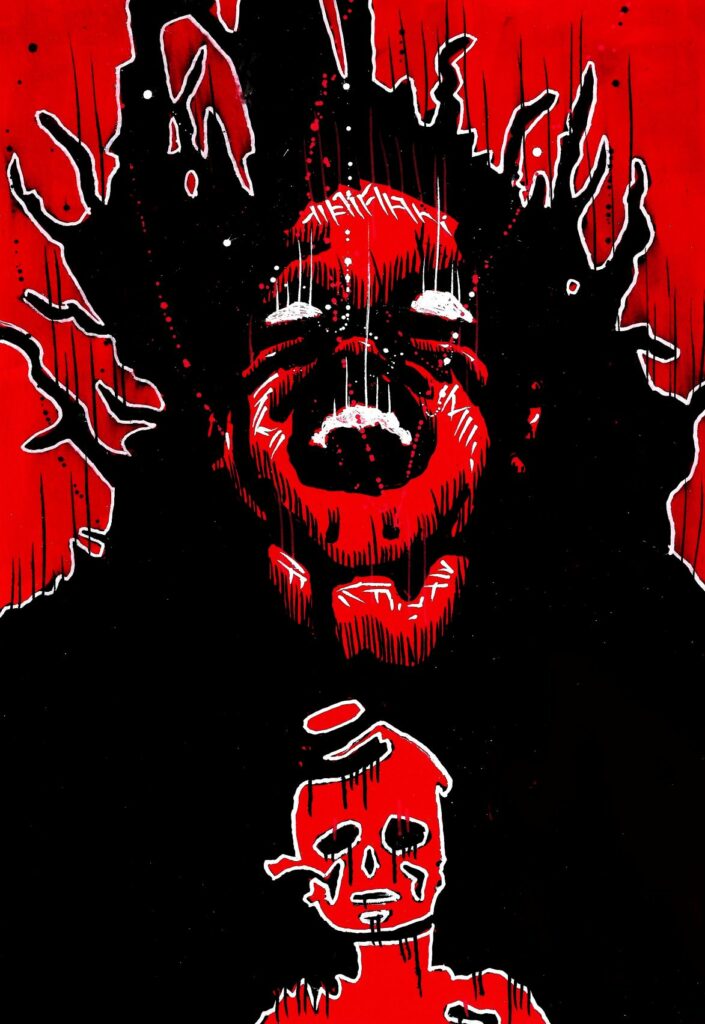 What are the top 3 items you own?
A GOOD PRINTER.
COOL GLASSES.
MY POSCA PEN COLLECTION.
In a battle between the two British pop culture icons: Judge Dredd Vs. Rupert Bear – who would win?
…and why would they be victorious?
CANNOT DRAW IT LOL BUT RUPERT PROB HAS A DARK SIDE AND A TWISTED DARK BEAR PAST SO HE WOULD RIP DREDD TO BITS.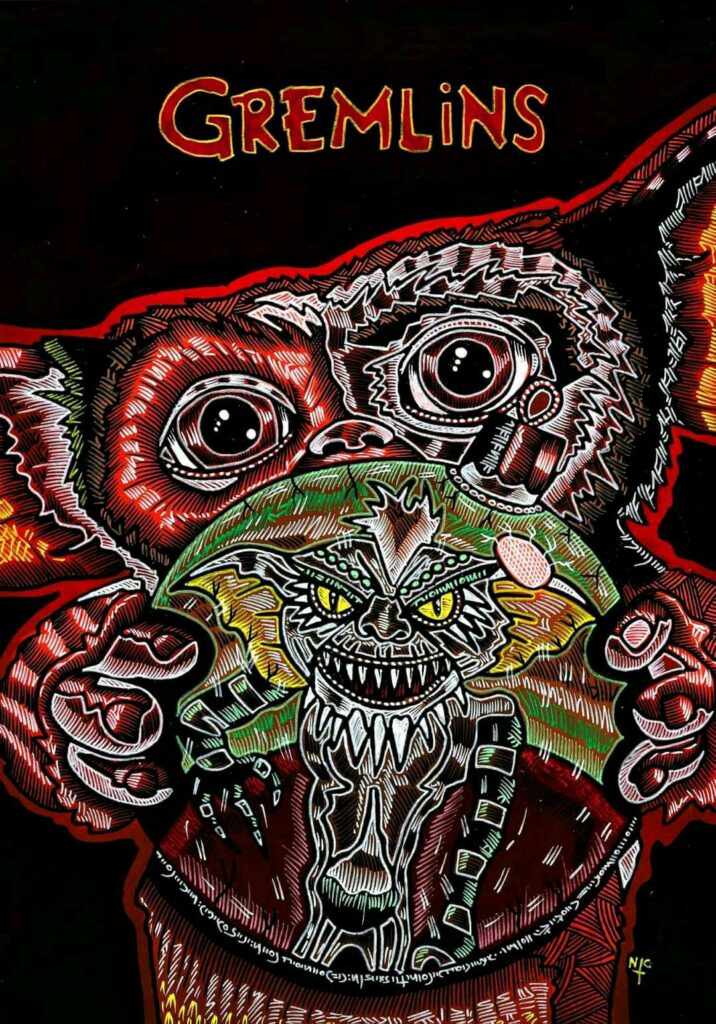 Please describe your last dream in detail…
WAS ME GOING TO THE USA BUT I LOST THE TICKET – 800 POUNDS – AND COULD NOT GO.
HMMMMM.
Of everything you have done what would you most like to be remembered for?
MY UTTER MADNESS AND CREATIVE GENIUS.
Links