Born during the late 1980s in the seaside town of Montpellier, France, Nils Bertho has spent his whole life embedded in the international underground culture scene – Creating art, releasing music and tattooing.
Growing up Nils was enamored with comics, computer games, Japanese culture and underground music. Influences that can be found in all of Nil's creative endeavors.
His art is a gorgeous cavalcade of clashing lines, hyperdetail, gore, cuteness, lust and rage – Jumping from one style to the other, whilst remaining thematically coherent. Gaining him fans all over the world.
Importantly, Nils is also a part of the Le Dernier Cri stable of artists – A French publishing house and gallery – and has also had his work exhibited by Dutch gallery and publisher Sterput. Two groups who have worked with many artists we at The Aither adore!
His music, via Adolf Hibou which Nils sings in, is punky, experimental, rock and roll influenced noise rock. Which Nils and his bandmates use to sonically pummel the world.
With Adolf Hibou's sound evoking bands released by much loved record labels Amphetamine Reptile aka AmRep and Load – Such as Boredoms, Lightning Bolt, Arab on Radar and King Snake Roost.
Recently, Nils has also branched out into tattooing – A way for him to send his art out into the world, as a living sculpture, inked onto the bodies of his clients.
No matter their form or genre – All of Nil's creations are playful, in your face, and expertly crafted.
Chaos meeting refinement.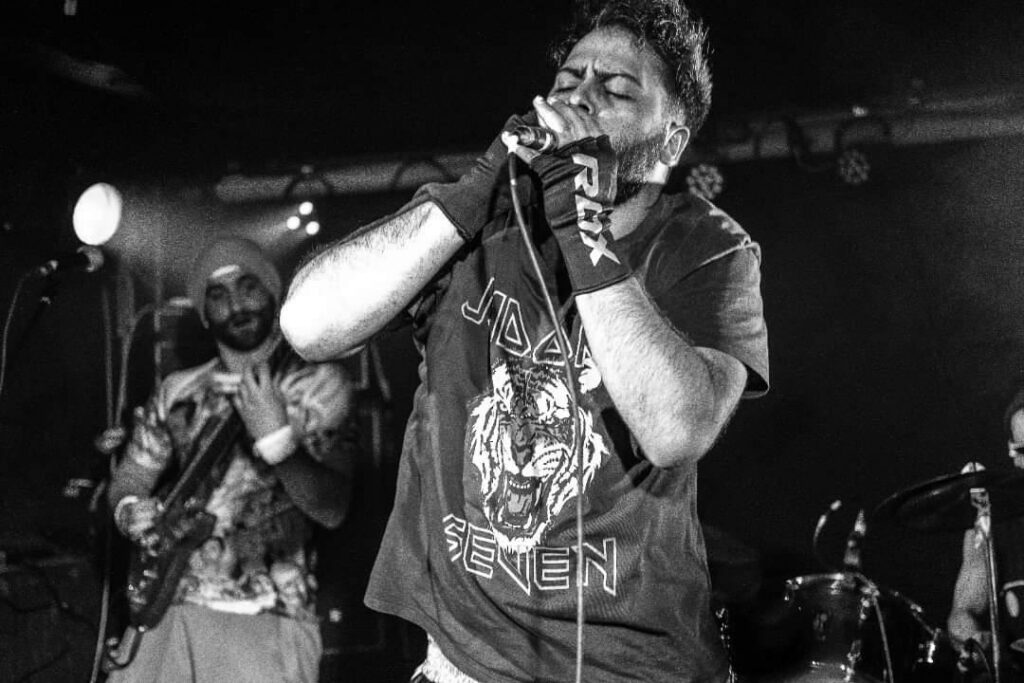 Wanting to get to know him better, we sent Nils some questions to answer over email.
Explore his world, below…
Getting Acquainted
Name + D.O.B?
Nils Bertho
20/07/1987
City, State and Country you currently call home?
Montpellier, France.
City, State and Country you're from?
Montpellier, France.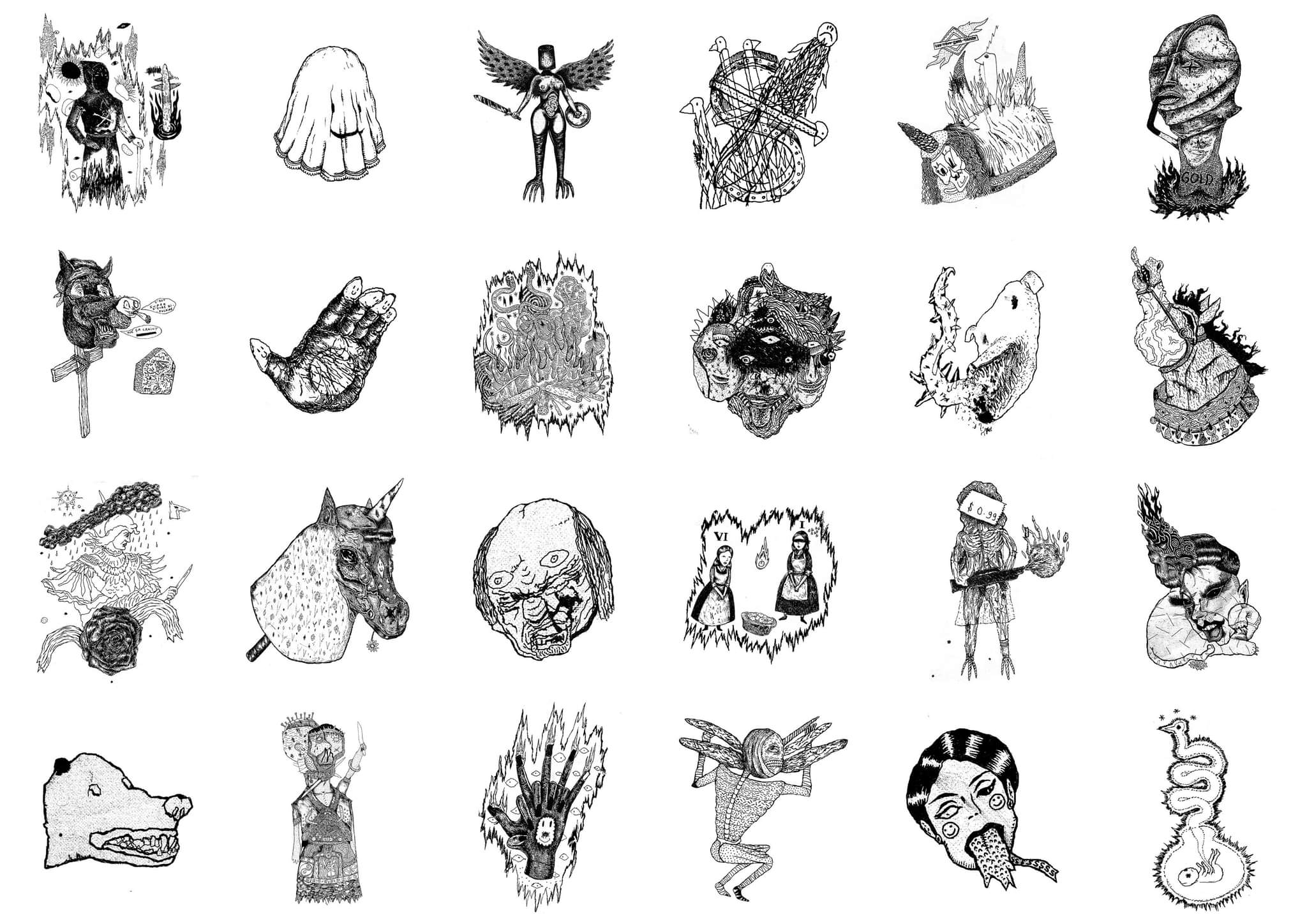 Please describe some memories – such as writing, music, relationships, adventures, study, romance, politics, work, crime, religion… anything really – from the stages of your life noted below:
* Age 5 – beginnings:
I notice the bottle full of the pretty blue liquid under the sink and swallow the contents of the laundry which burns my windpipe.
I end up in the emergency room.
The same year I went on a kindergarten ride on a dwarf pony, I got itchy, swollen and fainted.
I was diagnosed with an allergy to ponies.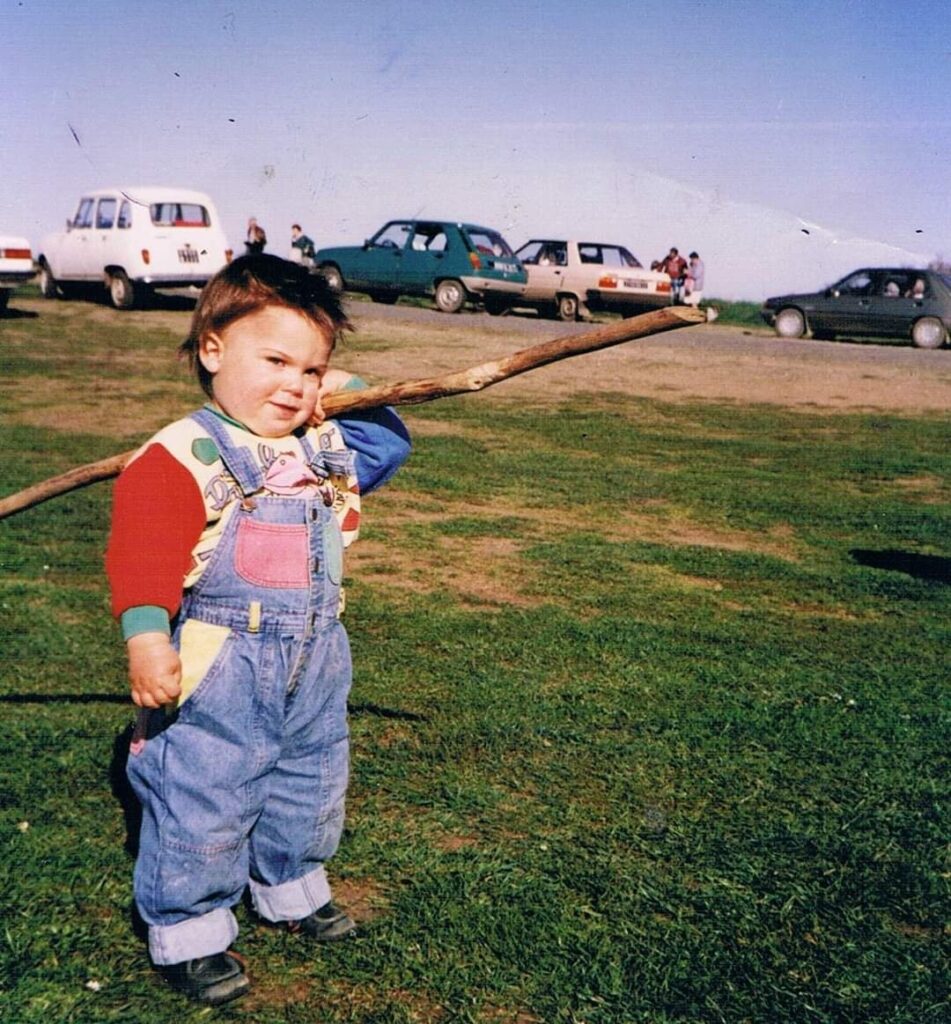 * Age 15 – getting serious:
During a conference for peace a crown of olive branches is placed on my head, I swell up, scratch myself and am repatriated.
I am diagnosed with an allergy to olive trees.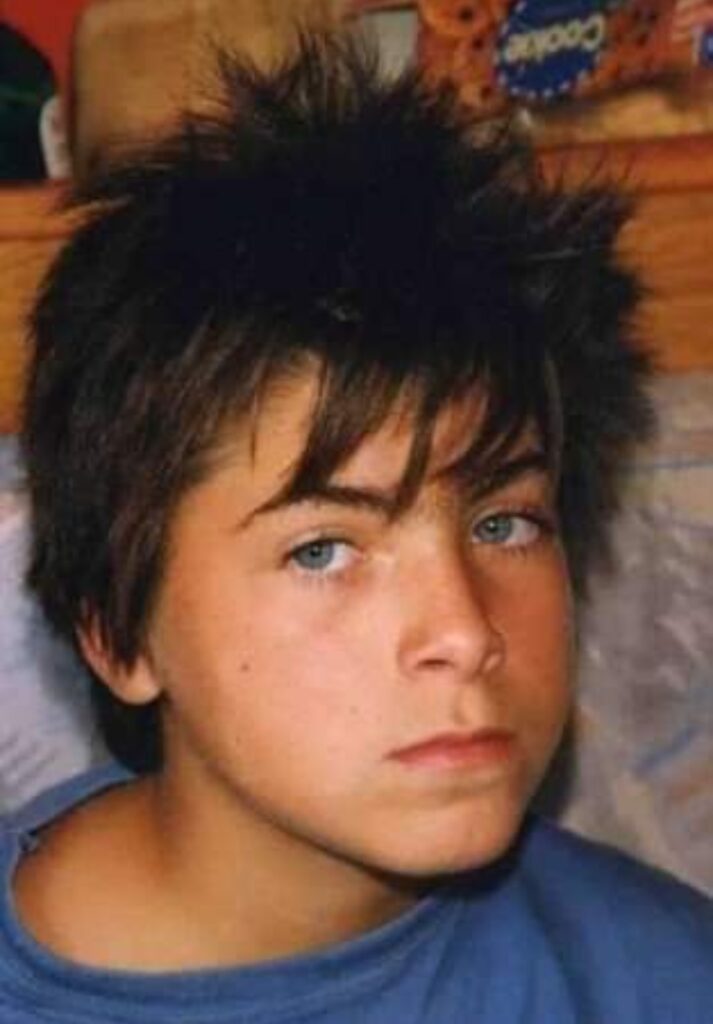 * Age 20 – young adult:
Smoke explodes in my hand.
I end up in the emergency room.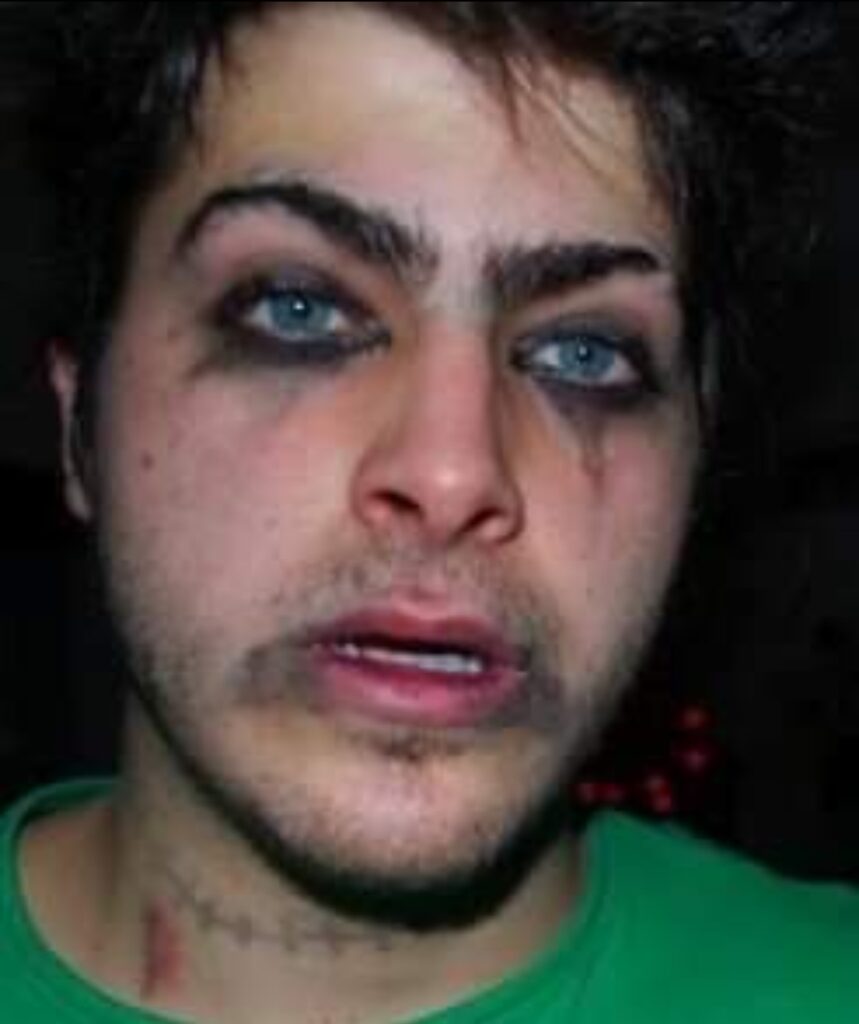 * Age 25 – adult mode:
I spill a boiling coffee pot on my face.
I end up in the emergency room.
* Age 30 – meanderings:
I eat a bunch of tulips and get poisoned.
I end up in the emergency room.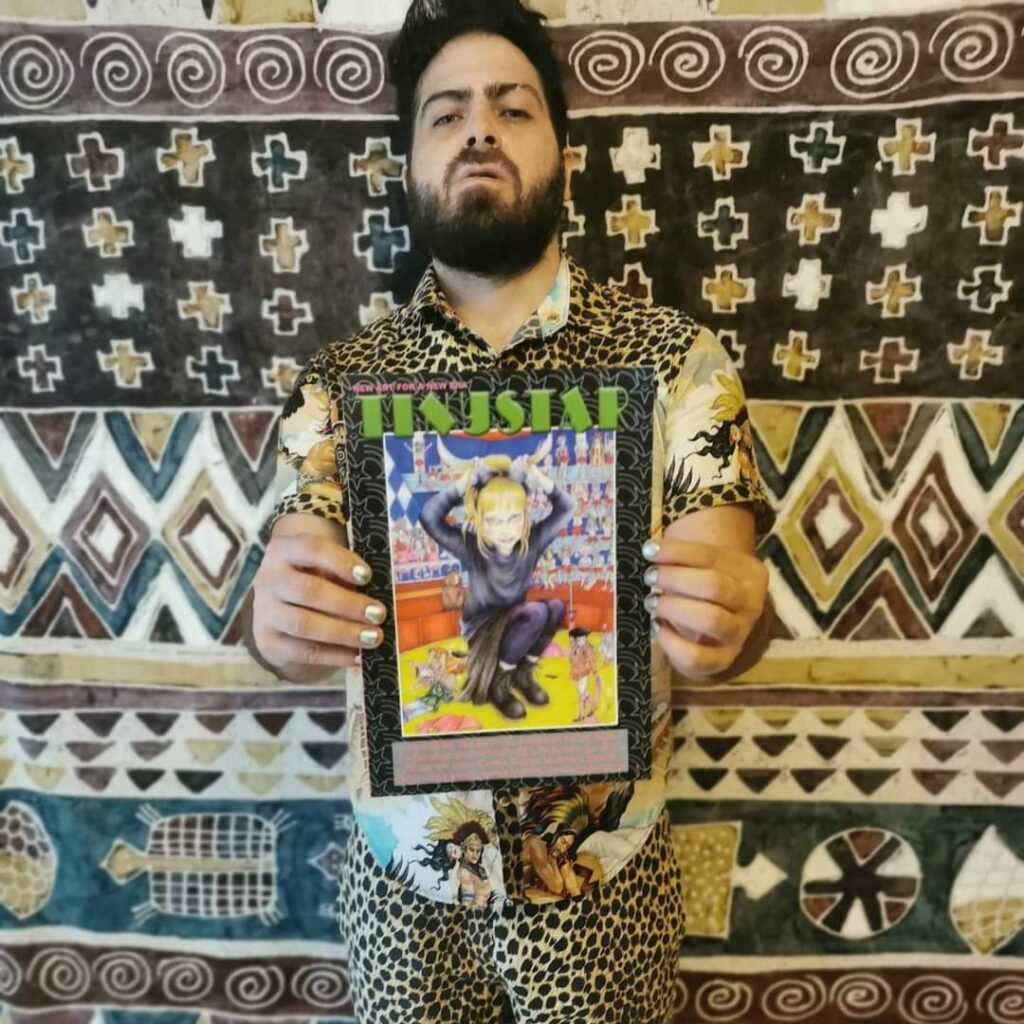 Personal motto(s)?
"I will take your soul and put in your ass."
"if you can't you won't."
Art and Music Questions
When and why did you first become interested in art, music and everything creative?
… and any pivotal creative moments / influences?
I've been drawing since I could hold a pencil, I've always wanted to draw before anything else, I've never stopped since.
Fine arts school was a lot of fun, I got to touch a bit of everything and get interested in a lot of things.
Before all that as a child and teenager I watched a lot of cartoons and manga and I played a lot of video games, RPGs like Final Fantasy 7 my favourite. I was already making little heroic fantasy comics inspired by these games and I was already making fanzines without knowing it.
I knew very early that I wanted to live from drawing, at 20 I was a permanent artist in a Brussels gallery, after a thesis on bad taste in contemporary art and a master degree in alcoholism in my pocket, I tried to get in touch with the artists I like, I had my first publications in magazines, drawing books and I started to publish my first stuffs, organize exhibitions, concerts, found collectives and music bands.
I like to say that I'm a drawer before anything else because it's the backbone of everything I do. I can't stand it graphically, when I spend dozens of hours rotring on a large format in details, I like to be able to take a big gross felt-tip pen and go crazy on something else.. like a horse poster… and that's why it's complementary for me, mastered line, angular or loose line, who cares, the alternative drawing is that, to allow oneself a total graphical freedom, without limits.
I'm passionate about underground cultures. I choose very early to blossom in a form of chaotic profusion to better claim an instinctive production.
In my work we can often see different series, it is often carried by the pleasure to always surprise, which is a big challenge.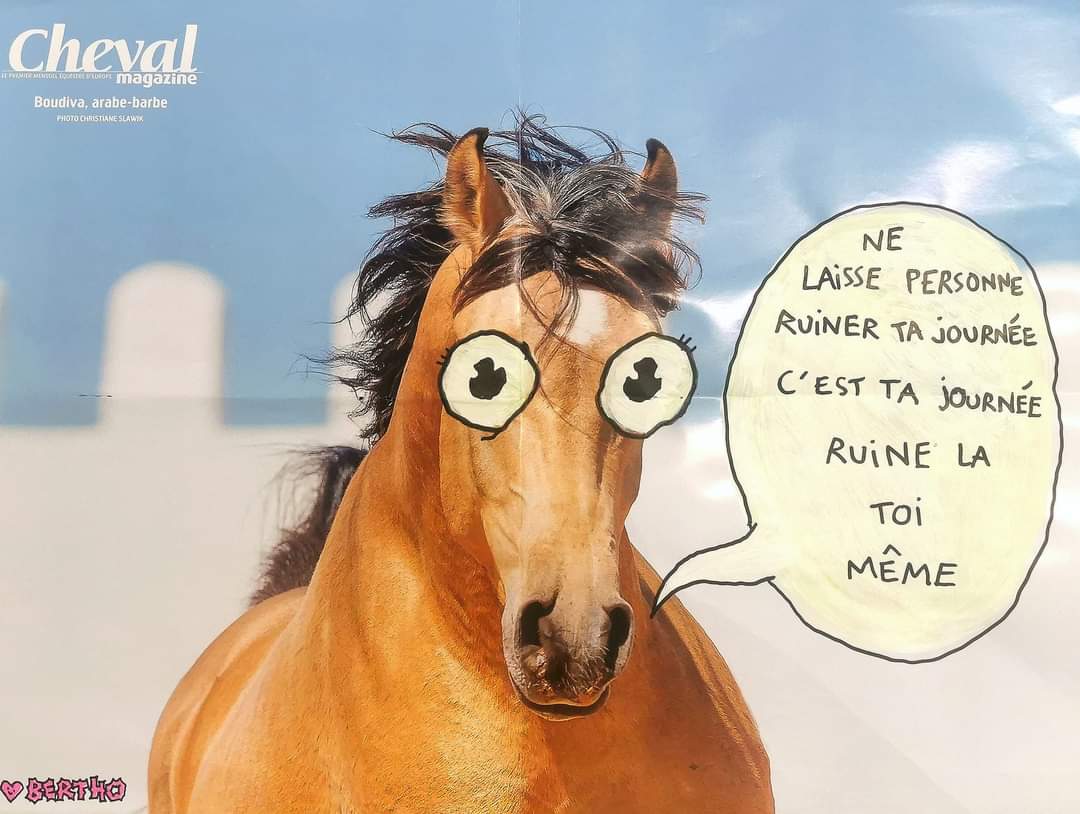 If you had to explain your art and music to some recently crash-landed aliens… What would you tell them?
"Coucou"
Please describe your usual creative process – From initial idea, to creation and eventual completion?
As far as my paintings are concerned: I tell on large canvases the tension-filled legends of a world populated by hybrid creatures who clash and engage in strange, improbable and esoteric rituals. For this, I search for inspiration in medieval frescoes and mythology, Japanese prints, the "dark-fantasy" manga universe, cartoons, comic books, video games, kaijus, cinema bis, art history or even voodoo rites… and inevitably in my imagination and my personal bestiary in perpetual mutation.
All these references form a collection of internet images from which I constantly draw to create my own universe. My hands then take care of the rest in a process of more or less unconscious contamination of the space-toile.
I do not make any layout or construction line beforehand. Preferring to leave a lot of room for improvisation.
I like to balance the composition as it builds up and I like to write my notes and ideas on the edges of the frame.
My paintings are all several hundred hours in the making. I consider them finished when they are fully saturated with detail and I want people to be able to dive in, to lose themselves completely and rediscover new things over and over again, playing with the limits of photographic memory.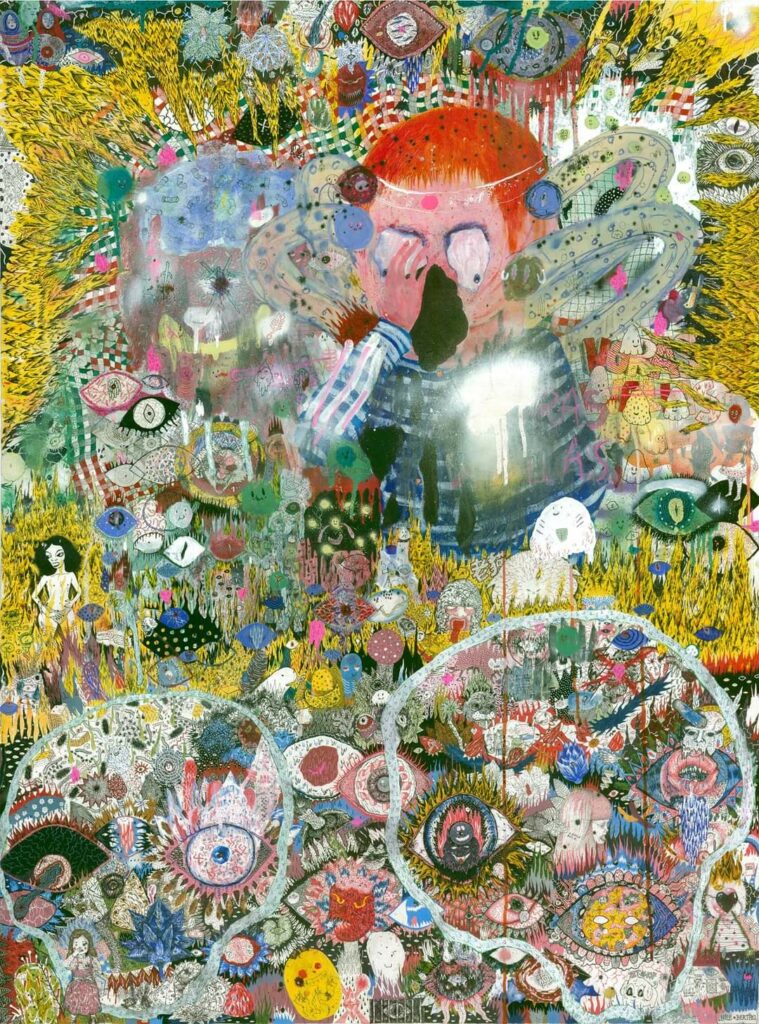 If people wanted to work with you or buy some of your wares – How should they get in touch and where should they visit?
My online store: https://shop.nilsbertho.com
My website: https://www.nilsbertho.com
My Instagram: https://instagram.com/nilsbertho
My Facebook: https://www.facebook.com/nilsbertho
My band, Adolf Hibou's Bandcap: https://adolfhibou.bandcamp.com
Any upcoming projects you would like to mention?
A very dark comic book I draw and Adam Stone (usa) on the texts
Several books to be published in the year
A video-concert of Adolf Hibou in animation video in collaboration with several artists of the international graphic scene
A new album for my band Adolf Hibou and some featurings
Exhibitions:
– The Abbey of Auberive for the 25th anniversary of the Arts Factory gallery,
– The Galerie Vidourle at Sauve with Robert Crumb and the Crumb family.
– A special exhibition in October at Tropisme at Montpellier
– The Paris Outsider Art Fair
– An exhibition in Denver, USA with my friend Adam Stone for 2023.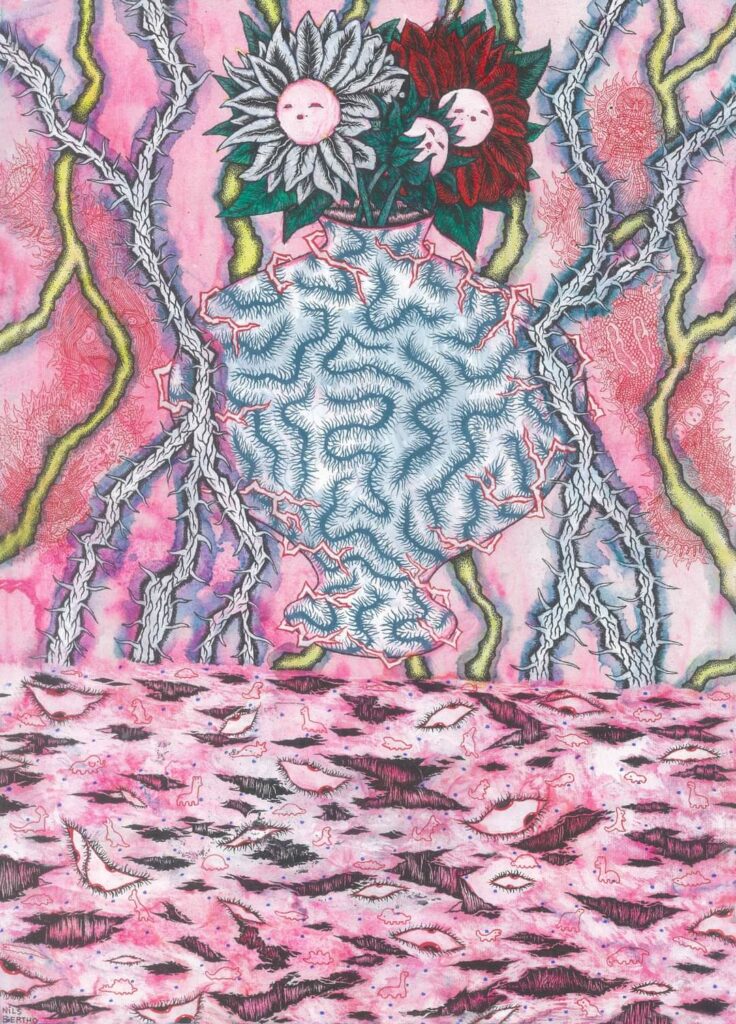 Odds and Ends
Who are some of your favorite artists, musicians and writers?
…and what is it about their works that so inspire and move you?
The music I listened to the most was 90's noise rock like Flipper, Pixies, Nirvana, then The Moldy Peaches, Beastie Boys, The Vaselines and the bands that inspired me the most for my band Adolf Hibou are Lightning Bolt, Boredoms, Sun City Girls, The Make Up, Electric Wizard, Death Grips of course and one of my favorite artists is Daniel Johnston for his whole work.
I have a passion for Japanese horror authors and their relationship with ghosts, nightmares and death: Toshio Saeki, Daisuke Ichiba, Kentaro Miura, Suehiro Maruo, Junji Ito, Shintaro Kago…
I like artists who combine violence and poetry like William Kentridge, poetry is everywhere and I like the fragility that is hidden behind it all.
…and… my favorite artists, it's a bit like asking a cook for his favorite dish isn't it ?
To quote some timeless artists who created their own universe: Henry Darger, Philippe Druillet, Moebius, Winsor McCay…
I read a lot of comics, magazines, fanzines, I have a lot of books but I only read one book per year: last year it was "Consumed" by David Cronenberg, this year it will be "The house of leaves" by Mark Z. Danielewski.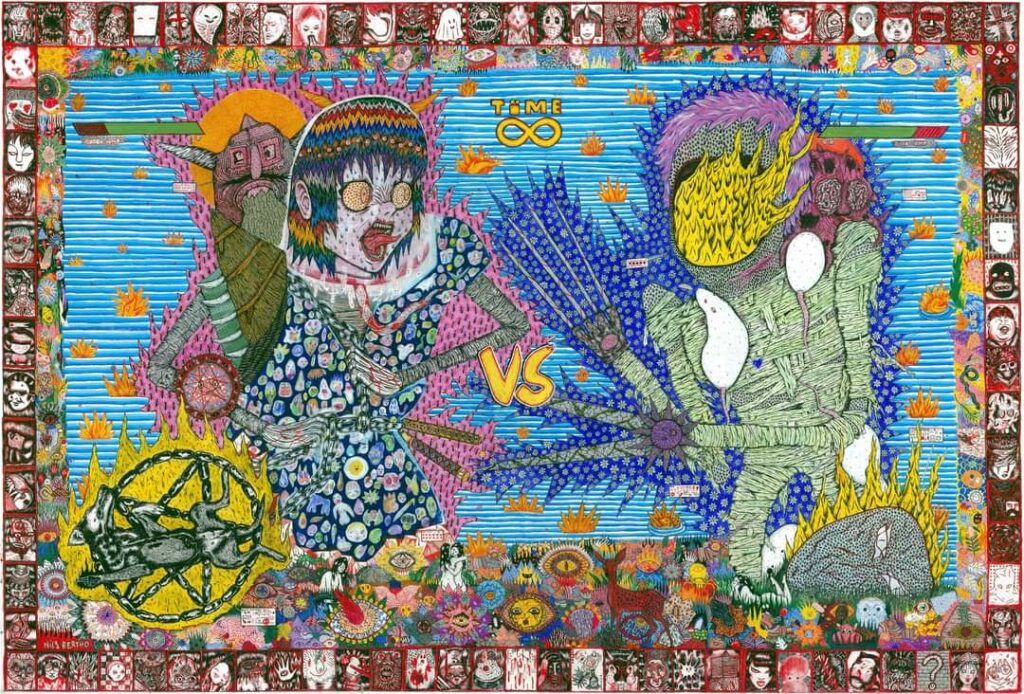 If you could live in any place, during any historical era – Where and when would that be?
…and why would you choose that time and place?
1990's so I could skateboard with my brother.
What role did toys play in your childhood?
I remember the crates of toys that my childhood friend and I used to draw from to create the "base" in which our figurines would evolve. It was the best time, the most exciting time and the rest was a little less important.
Today I don't have any toys, so I paint toys and the epic battles I stage today are directly related to my memories, they somehow pick up the stories where I left them in my childhood bedroom, it's my way of staying in childhood.
Who was your 1st crush?
…and why were you so infatuated with them?
As far as I can remember it was maybe my kindergarten girlfriend.
Because she had black hair and blue eyes and was allergic to everything just like me.
And graphically it was the movie "Akira" at 7 or 8 years old maybe, my visual first love.. and first trauma with wide open eyes and this reflection for myself "ah but ok we can really do that !?" which must have triggered this will to draw too.
The passion for Japan may come from there.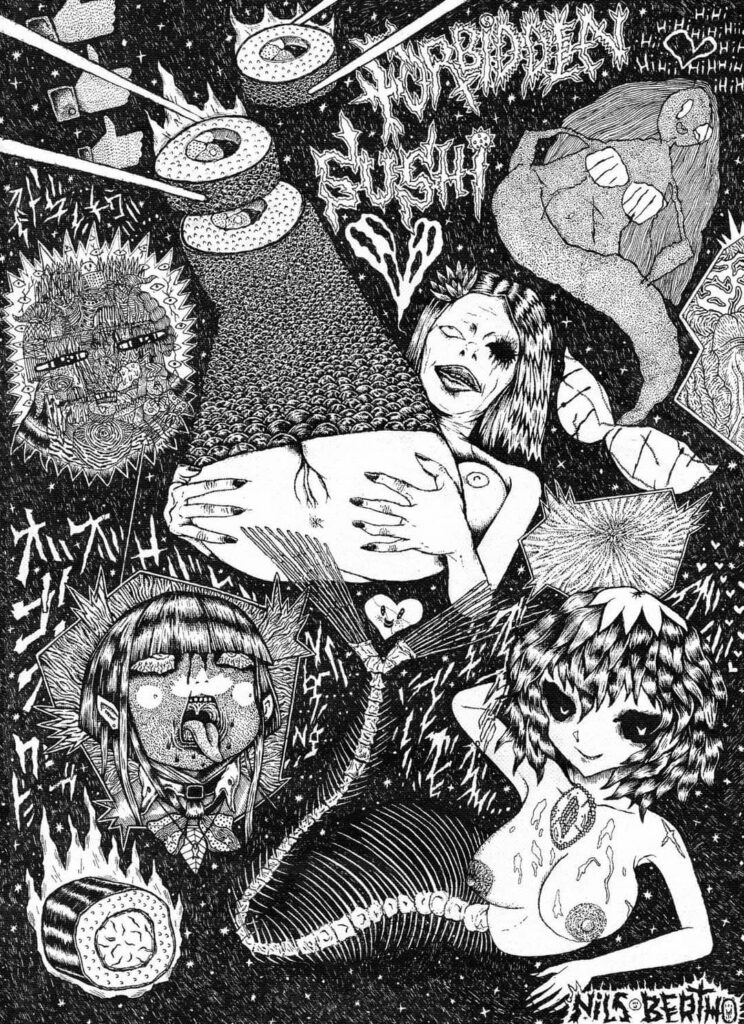 Does sex change everything?
Yes.
What are the top 4 items you own?
Rex my dinosaur.
"Rex" because when I was 6 I thought it was a T-Rex but it's a velociraptor in real life it's a fact. I found out too late.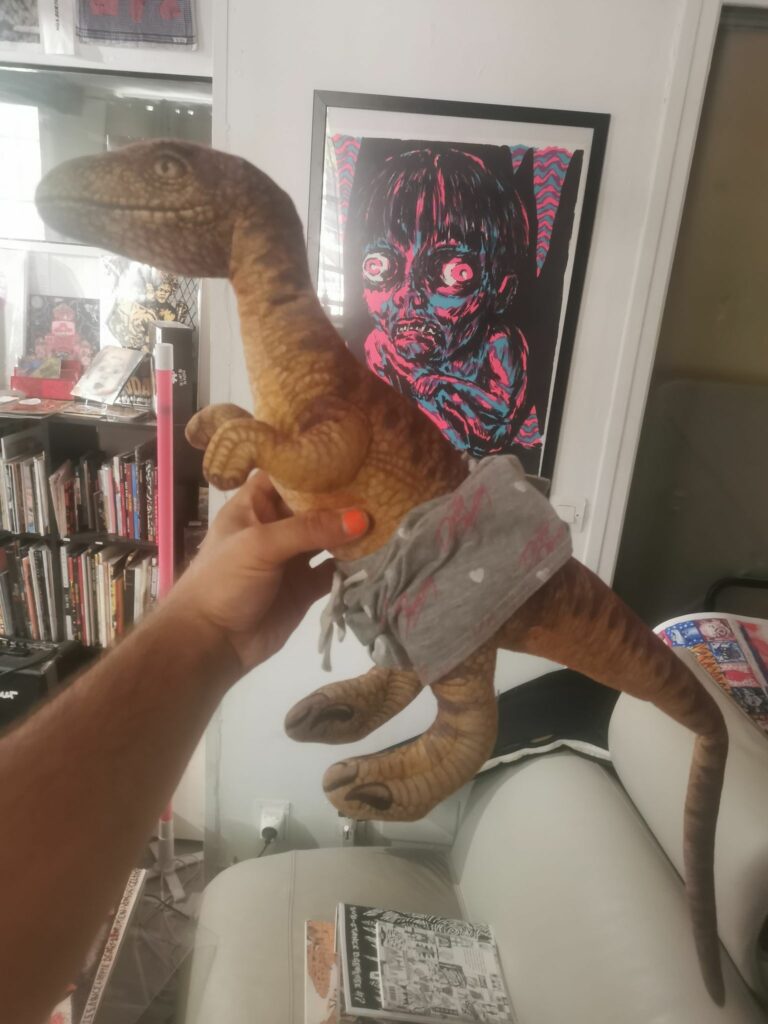 A Demis Roussos' vinyl EP with a Zinedine Zidane dedication on the face of Demis.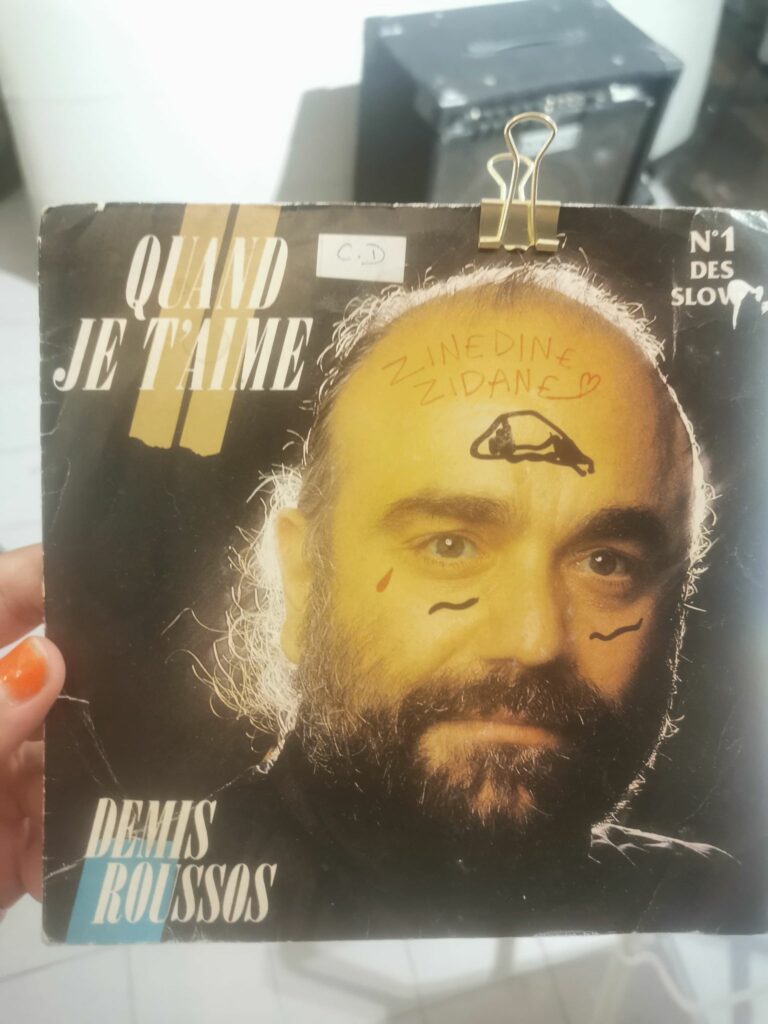 A detective costume to dress up my hamster.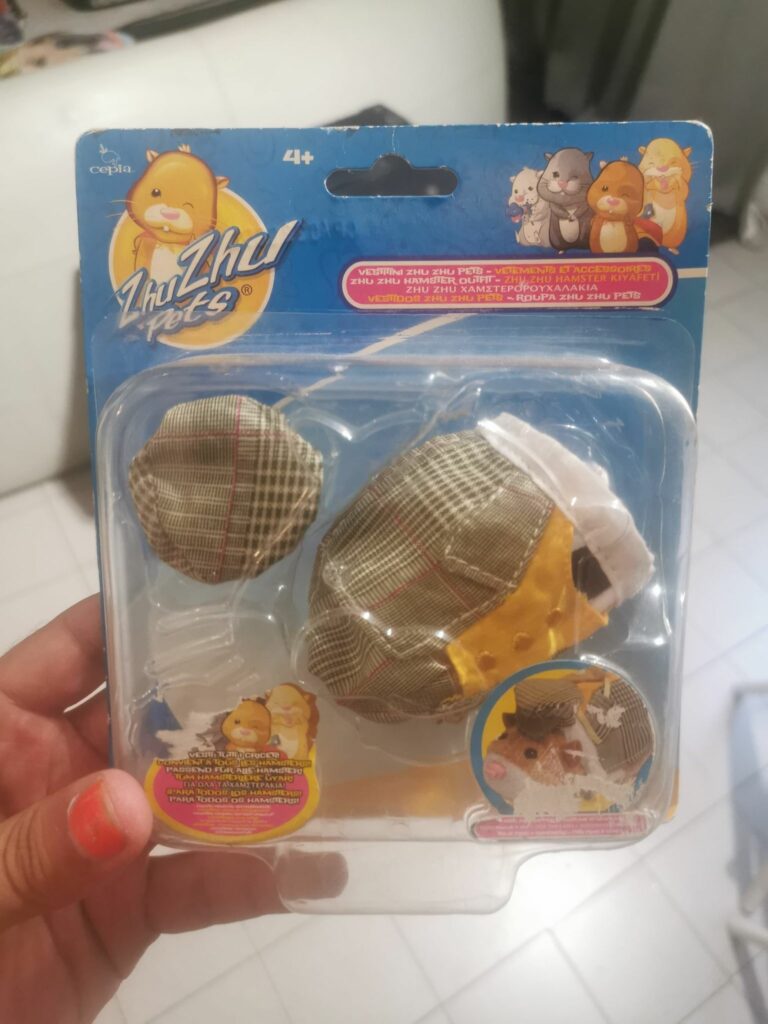 I love my plate 'Buffy the Vampire Slayer'.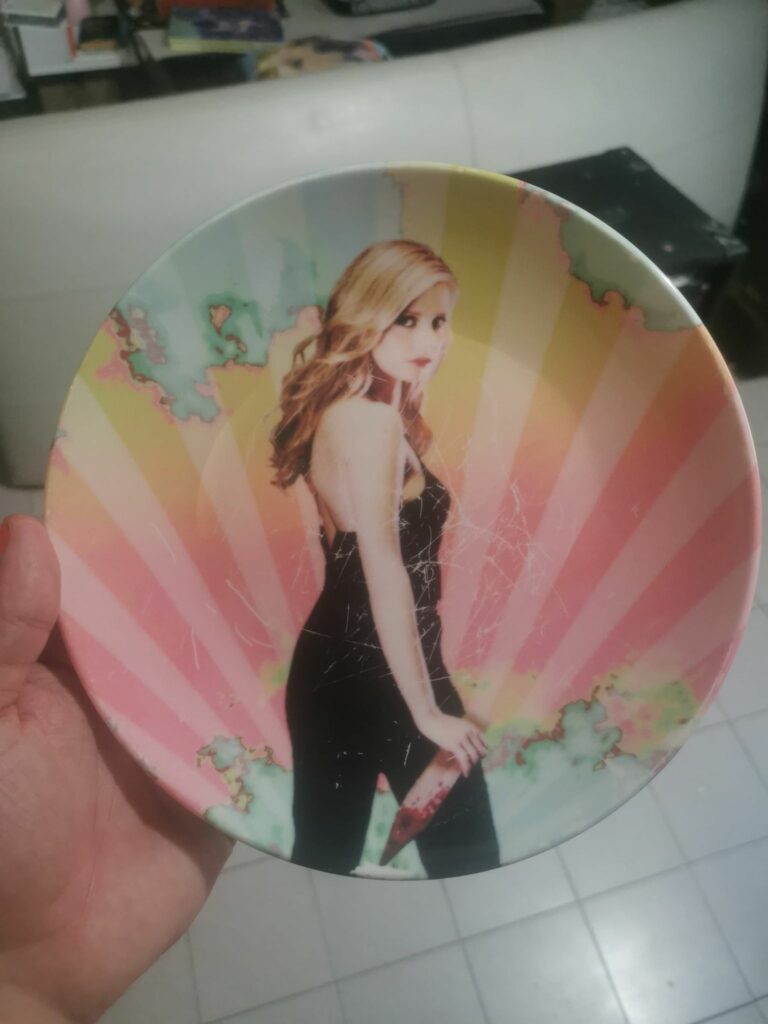 In a fight between the following French icons: Serge Gainsbourg Vs. Babar the Elephant – Who would win?
…and why would they be victorious?
It would be a battle of big ears so logically Babar wins… unless Serge is sneaky…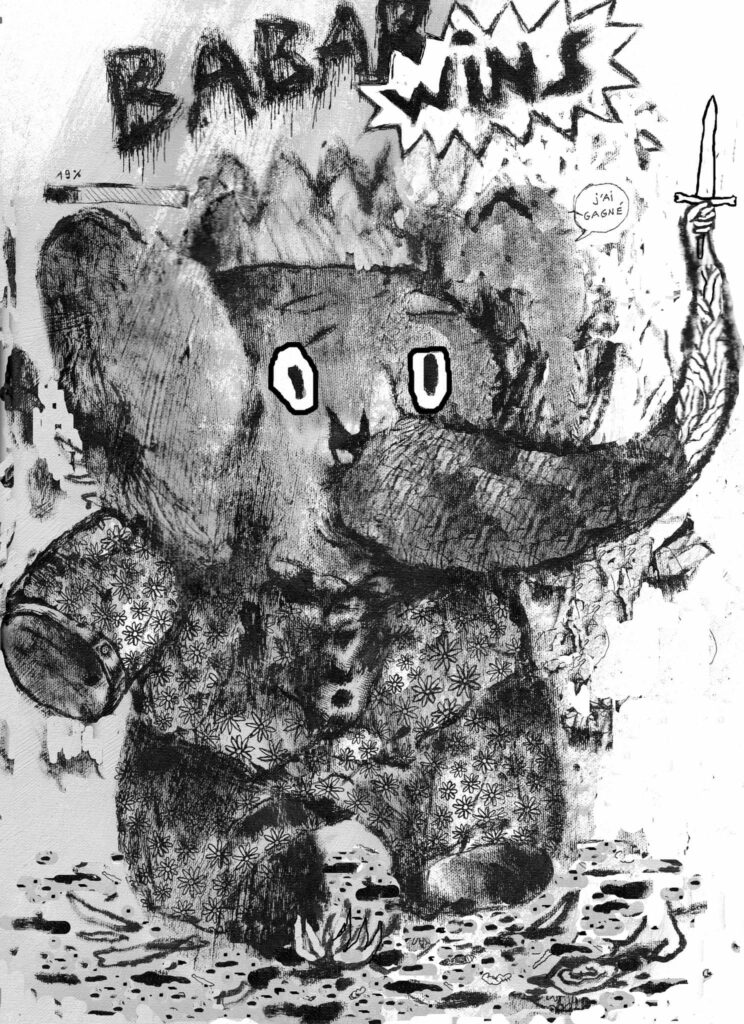 Please describe your last dream in detail…
I have to leave the front door of my apartment open because I have the last toilet in town.
Of everything you have done, what would you most like to be remembered for?
My drawings.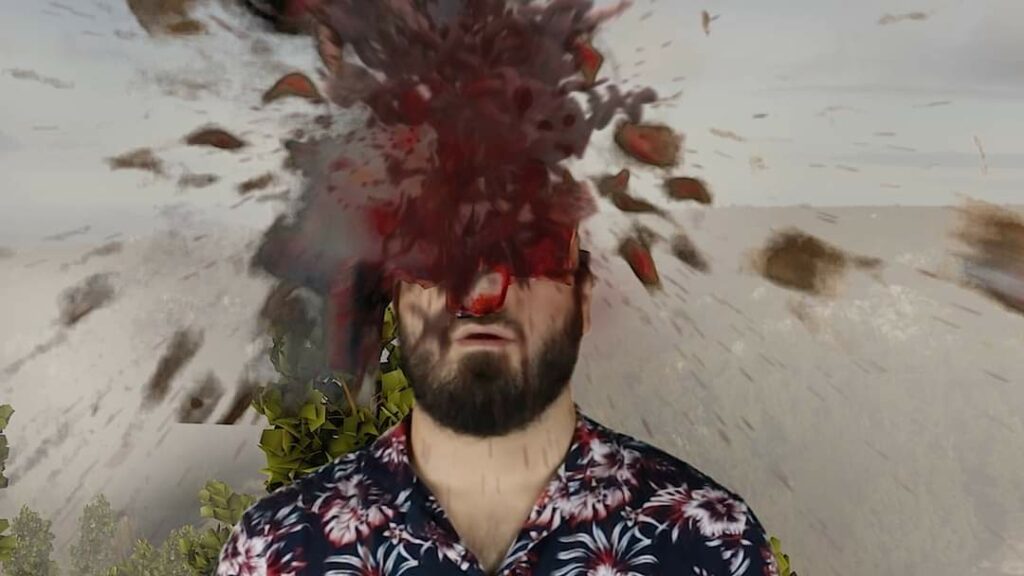 Links
Please note that the interview answers have been translated from French to English.
All images supplied by Nils Bertho