Born in Scotland during the mid 1960s, and formally trained in printing and textiles, Heather Nevay has spent her whole life exploring her artistic and creatives muses – Through art, gardening, renovating houses, travel and collecting.
Inspired by artists and schools such as the new Glasgow Boys, Paula Rego, Bill Brandt, Indian Miniature Art, Otto Dix and Ancient Chinese painting – Heather is most well known for her highly detailed, figurative paintings and illustrations. Which touch upon themes of whimsy, dread, play, the subconscious and the heightened emotions of childhood.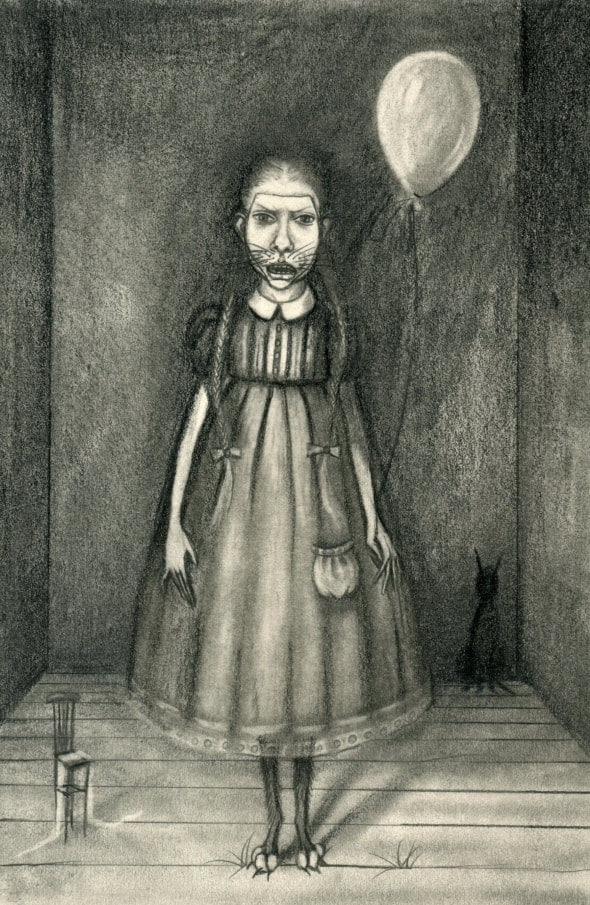 Waning to get to know her better, we sent Heather some questions to answer over email.
Explore her world below…
Getting Acquainted
Name + D.O.B?
Heather Nevay
13 01 1965
City, State and Country you currently call home?
I live and work between Glasgow and Tighnabruaich, both West coast of Scotland, UK.
One being a city, one being rural.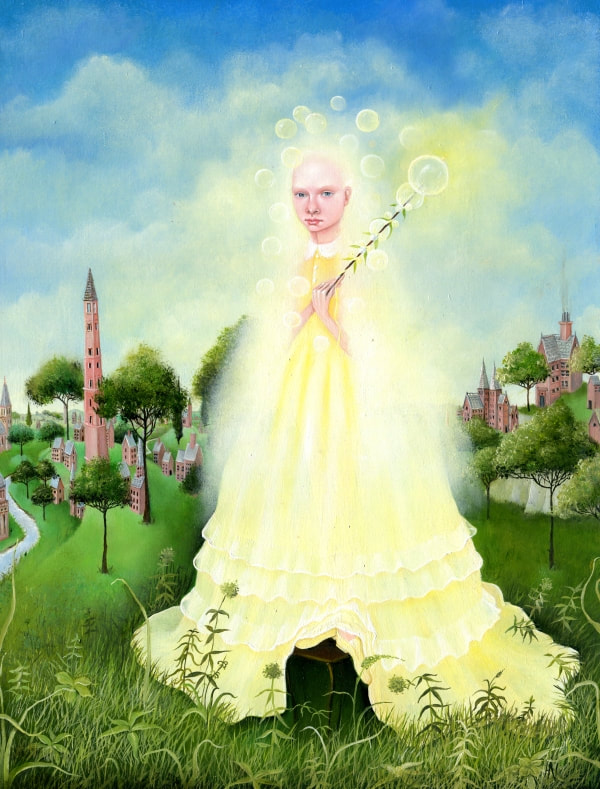 Please describe some memories – such as art, music, comics, friendships, adventures, study, romance, politics, work, crime, religion… anything really – from the stages of your life noted below:
* Your childhood:
Most vivid tv memory from childhood is a Czechoslovakian film – "The Singing Ringing Tree". It was full on technicolor, allowing a glimpse of a world from the past and one I wanted to visit.
I had a really happy childhood in a very small family unit in Glasgow. My sister and I were (mostly) allies in a pretty easy going home and are still best friends now.
Kelvingrove Art Gallery in Glasgow was pivotal for experiencing art and making it accessible to a working-class girl.
My first film was Bambi, then Sound of Music and Where Eagles Dare (my dad had influence there.)
* Your teenage years:
I had a close group of friends – Around 10 of us socialized mostly and again it was an angst free time. We had a very conventional upbringing of going around each other's houses, parties when parents were out and enjoying sport, singing and going out.
I didn't really travel abroad until I was 15/16.
I got into Glasgow School of Art straight from school at 18. A big mistake as I was not mature enough to get what I should from the experience. But I do know it was a special time and privilege to have been taught in such beautiful surroundings.
I graduated in Printed Textiles and immediately started painting from a studio set up in my kitchen.
* Your 20s:
My 20's were a time of hard work trying to develop my work and hone my style, skill and find out what I was interested in, in painting. My imagery was always figurative and living in Glasgow at that time seeped into my work with the rise of new Glasgow Boys and the energy in the city .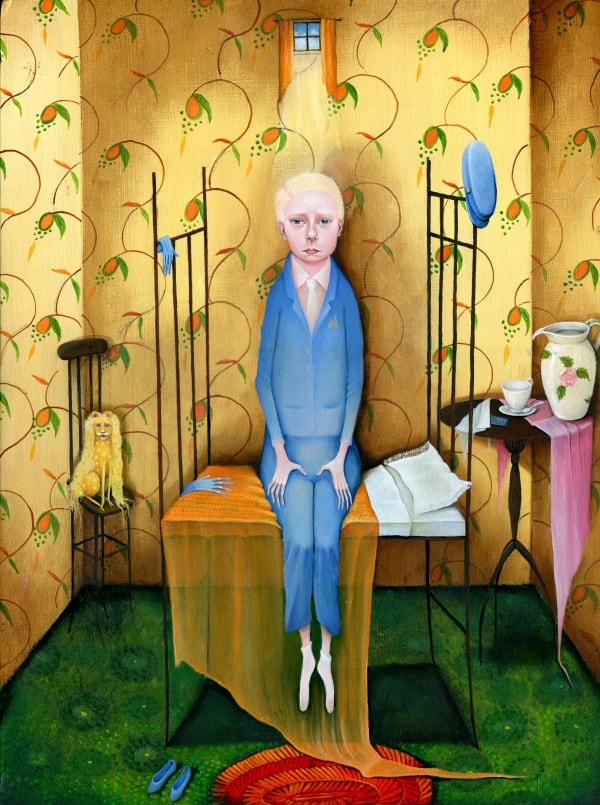 * Your 30s:
I built a house!
My partner and I bought 2 derelict buildings and 1.5 acres of woodland and started a very long process of building and creating 2 homes. It took my attention away from my work a bit, but gave a balance to my life.
It was the best thing I have ever done .
* Your 40s:
Still building those houses and developing the garden.
A solo exhibition in Miami was a highlight too as I had more time again to focus on developing the technique and focus of my work.
It was an exciting, challenging and special time.
* Your 50s so far:
All good. I was asked to join a group of women to learn etching at the fabulous Glasgow Print Studio, which I've enjoyed more than I would have thought.
It's a great time in life, both personal and professional, to learn a new skill and leave your comfort zone. I'm continuing to learn the basics of technique and what can be achieved using this beautiful method of printmaking.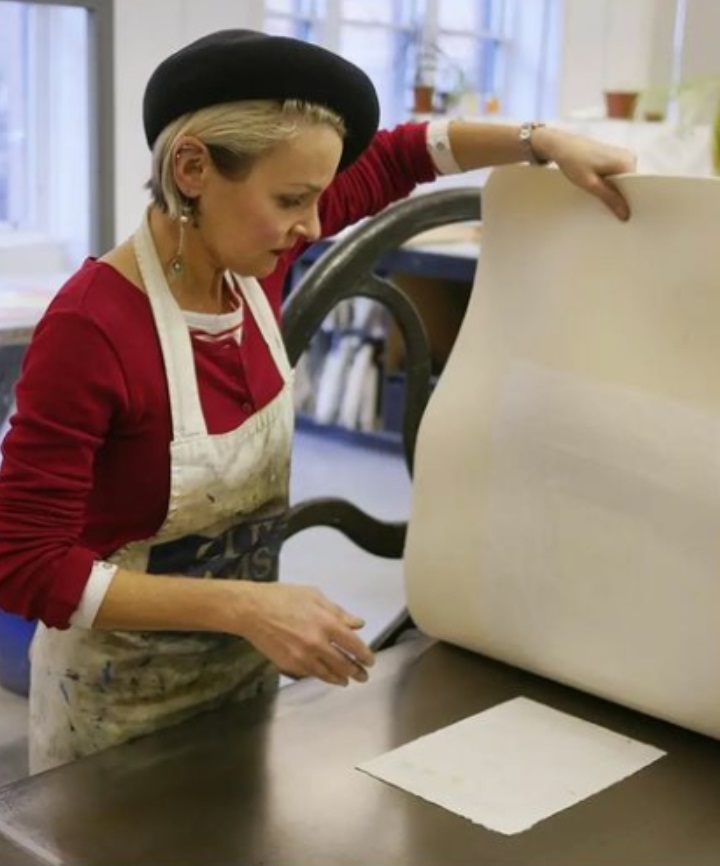 Art + Creativity Questions
When and why did you first become interested in art and everything creative?
… and any pivotal creative moments / influences?
My art teacher Eddie McMillan was pivotal in getting me into art school – I don't think I even knew there was such a thing before I did a crash course in higher art in 6th year.
I was influenced by the very figurative tradition in Glasgow/West coast art.
Who are some of your favourite artists, writers and musicians?
…and what is it about their works that so inspire and move you?
Paula Rego, Frida Kahlo, Italian Renaissance, Bellini, Bruegel, Van Eyck, Rousseau, Bill Brandt, Indian Miniature Art, Cranach, Otto Dix and Ancient Chinese painting.
I have listened to talking books exclusively for about 25years. I listen as I paint and that takes up a lot of books and authors when I'm on a roll. I like plot, not description in my listening.
Music is very eclectic; but to create mood when I'm painting, pieces by Handel, Purcell and many early classical composers. Peter Greenaway and Michael Nyman get me in the zone too.
My personal listening when not painting is too wide to go into but includes Goldfrapp, Moloko, John Grant, Nina Simone, Boards of Canada and lots of dance classics and chillout stuff too.
The artists all have a beauty to their work, whatever the content of the imagery. Lush colour, luminosity, interesting composition. I look and wonder at the skill of all the Italian masters and the creative powers they have.
I like to aspire for work to pull me forward and all of the painters I've mentioned do that. I guess they are all figurative too.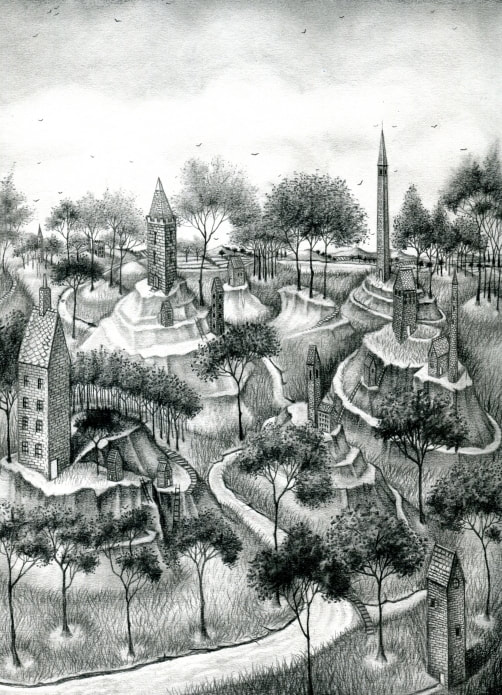 If people wanted to check out your art, work with you or buy some of your wares – Where should they visit and how should they get in touch?
I only produce about 15 paintings a year and have been enjoying the relaxation of drawing through lockdown and beyond.
My work can be bought through Portal Painters in January of every year at London Art Fair.
I give various galleries I like pieces to sell throughout the year as well, and sell my drawings privately through my website: www.heathernevay.net
Odds and Ends
Personal motto(s)?
None.
What role did toys play in your childhood?
They were very important – Like most kids I guess. My sister and I would play make believe games and imagination on a very long Sunday afternoon with nowhere to go was very important.
I had the usual Sindy dolls, and dress up dolls.
I drew a bit too, but nothing that everyone else wasn't doing.
I had a farm rather than a doll's house – My dad made it and I had animals and paraphernalia to build scenarios around it.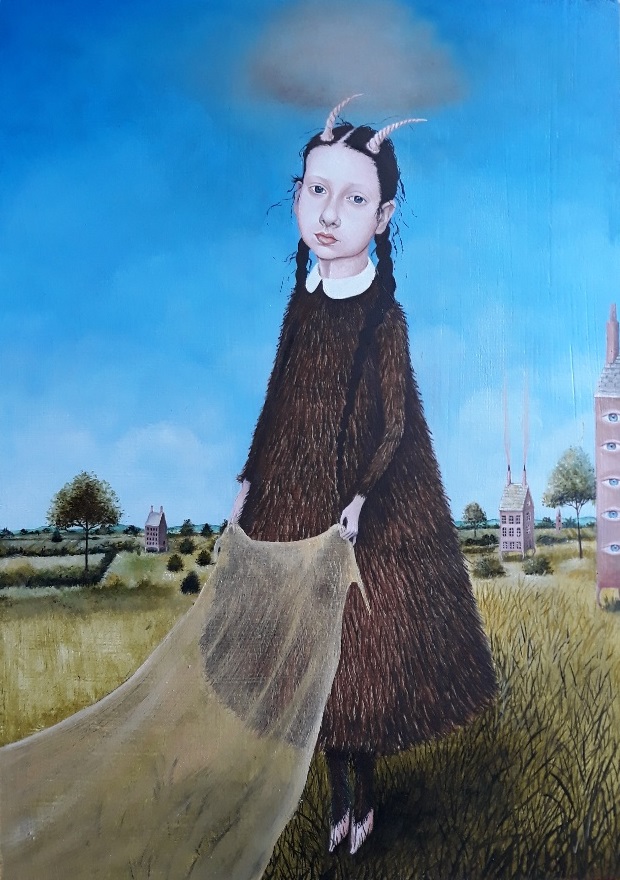 If you could live in any place, during any historical era – Where and when would that be?
…and why would you choose that time and place?
In a purely romantic vision, I'd love to live on a wee Scottish Island in the 1900's – All reading at the fire, big country walks, growing your own food and keeping some livestock, catching fish from a wee boat and living a simple but beautiful life.
…But I'd probably die from TB or starvation if my rose-coloured spex were removed.
What are the top 3 items you own?
… and what is it about each of them that you so love?
A campervan, a big garden and a collection of 17th century wood carvings.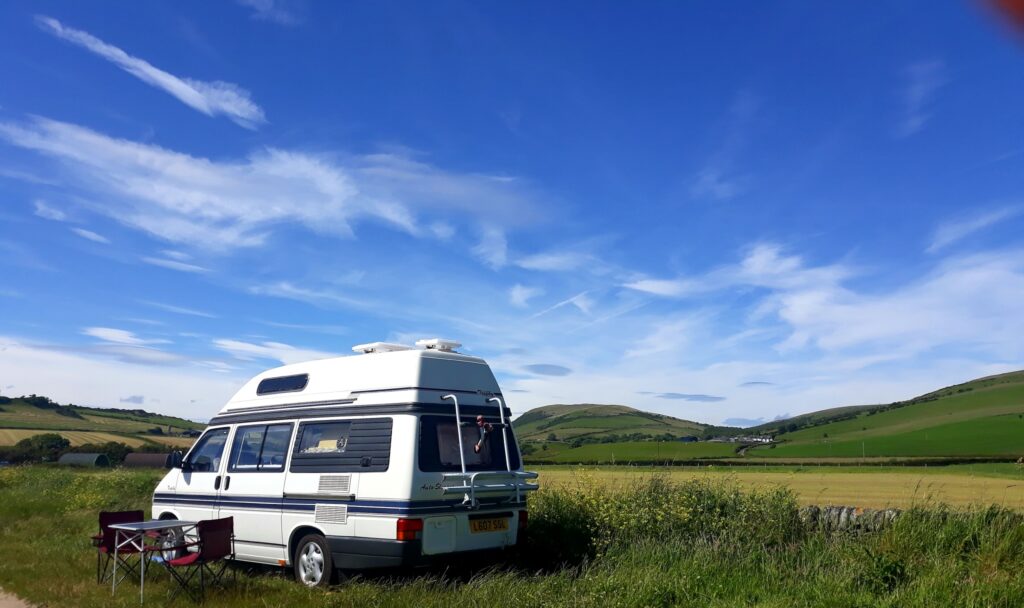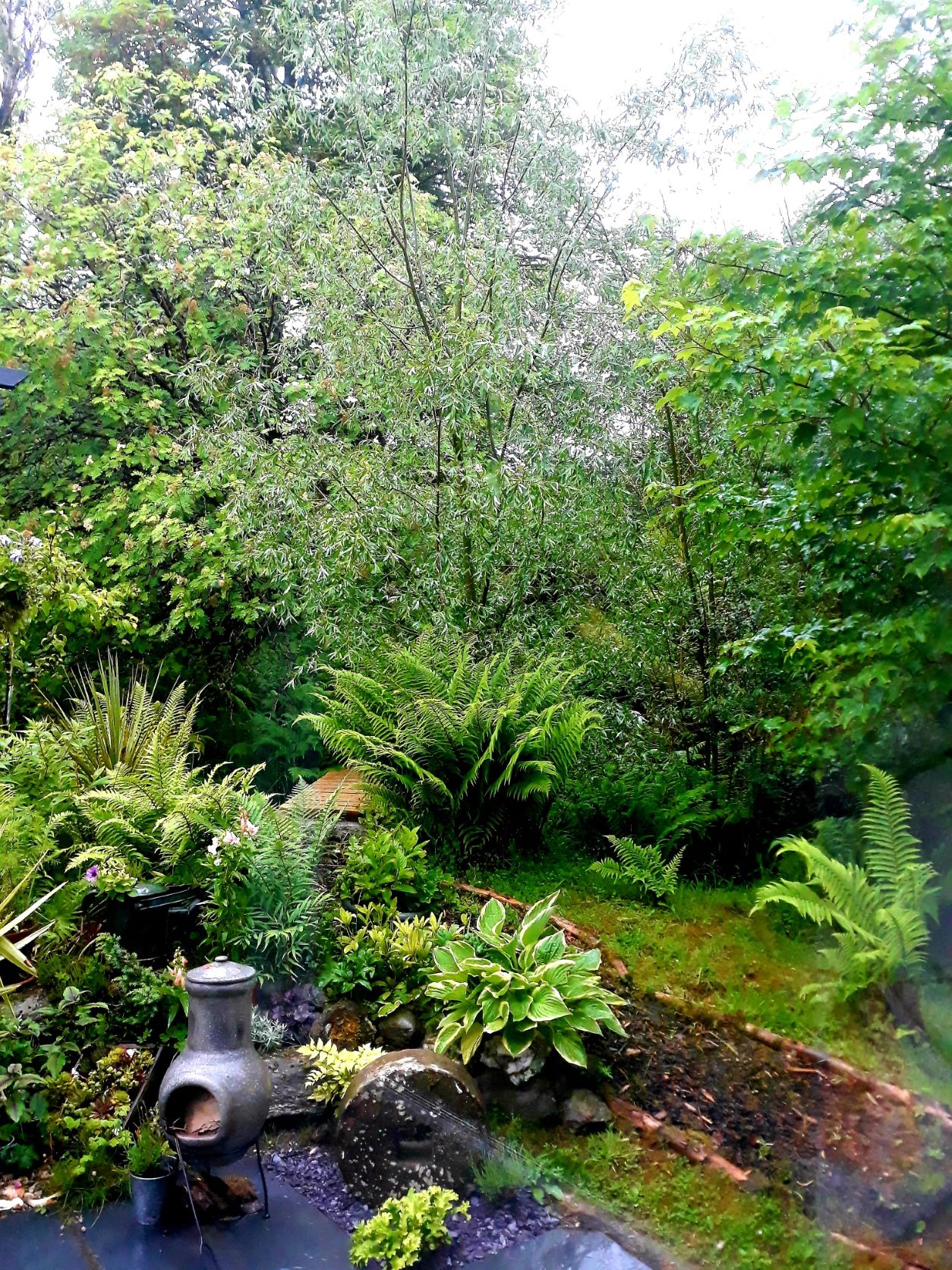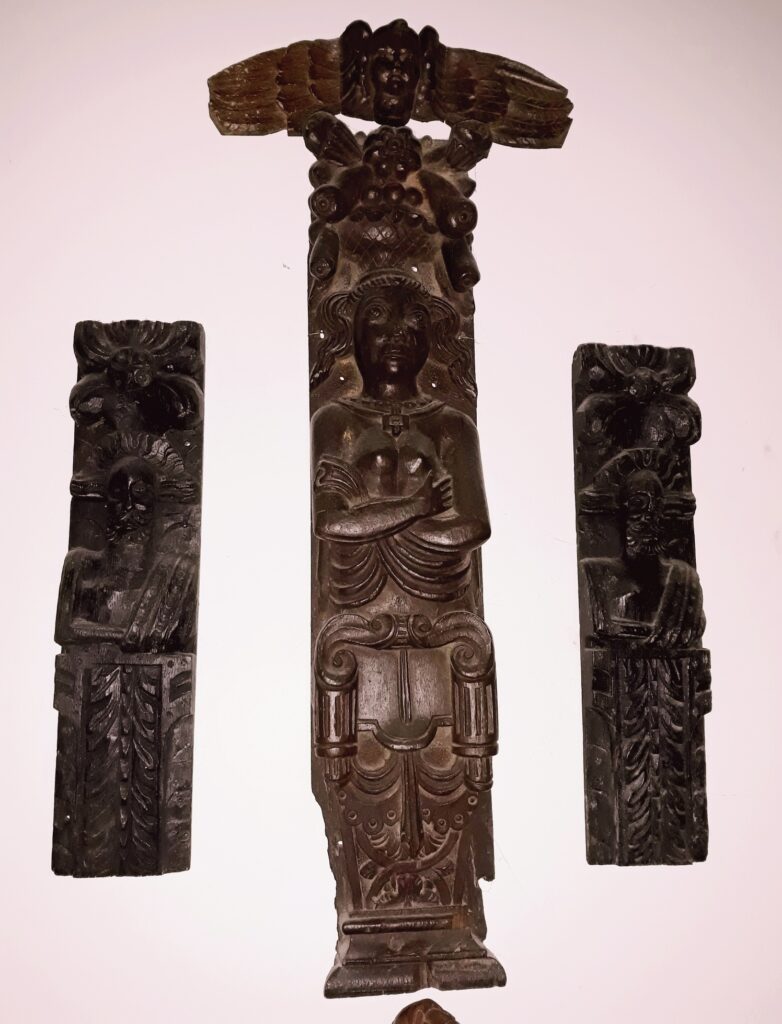 The campervan gives me freedom to just get up and go.
The garden gives me joy every day and is great exercise. I love eating food I've grown from seed.
The carvings have existed for such a long time – A touch to the past and are beautiful aesthetically too.
Please describe your last dream in detail…
No, it wouldn't make sense to you, but most are enjoyable and I love having them to ponder over when I wake.

Of everything you have done, what would you most like to be remembered for?
I've not done very much so I guess it would be my work.
My friends will remember me for who I am, the work can hopefully go on far beyond my own lifetime.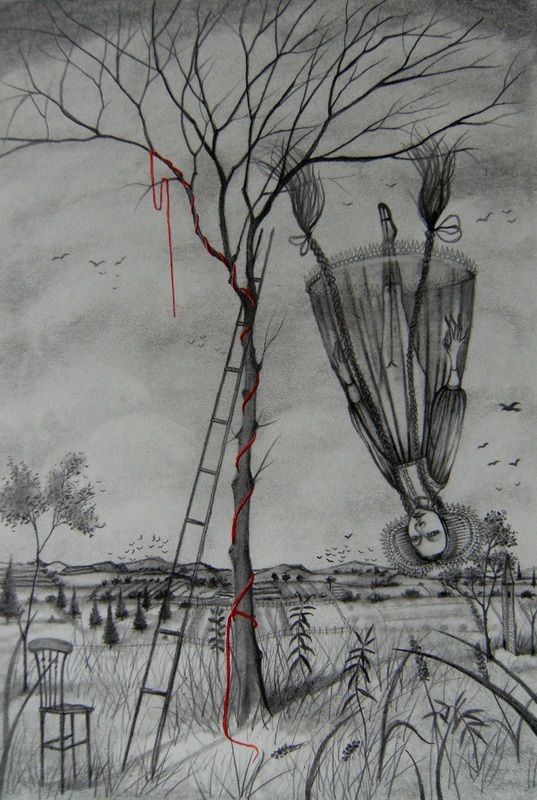 Links
All images supplied by Heather or obtained from her website.