Title = Seraphim Sighted Cherubim Delighted
Date of Release = October 2020
Publisher = Self Published
Artist = Fergus Nm
Number of Pages = 12 pages plus printed covers
Format = Zine digitally printed in full colour
Print Number = Edition of 40
Paper type = A4 on 250gsm, arcoprint
Printed In = New Zealand
First edition sold out, second edition coming soon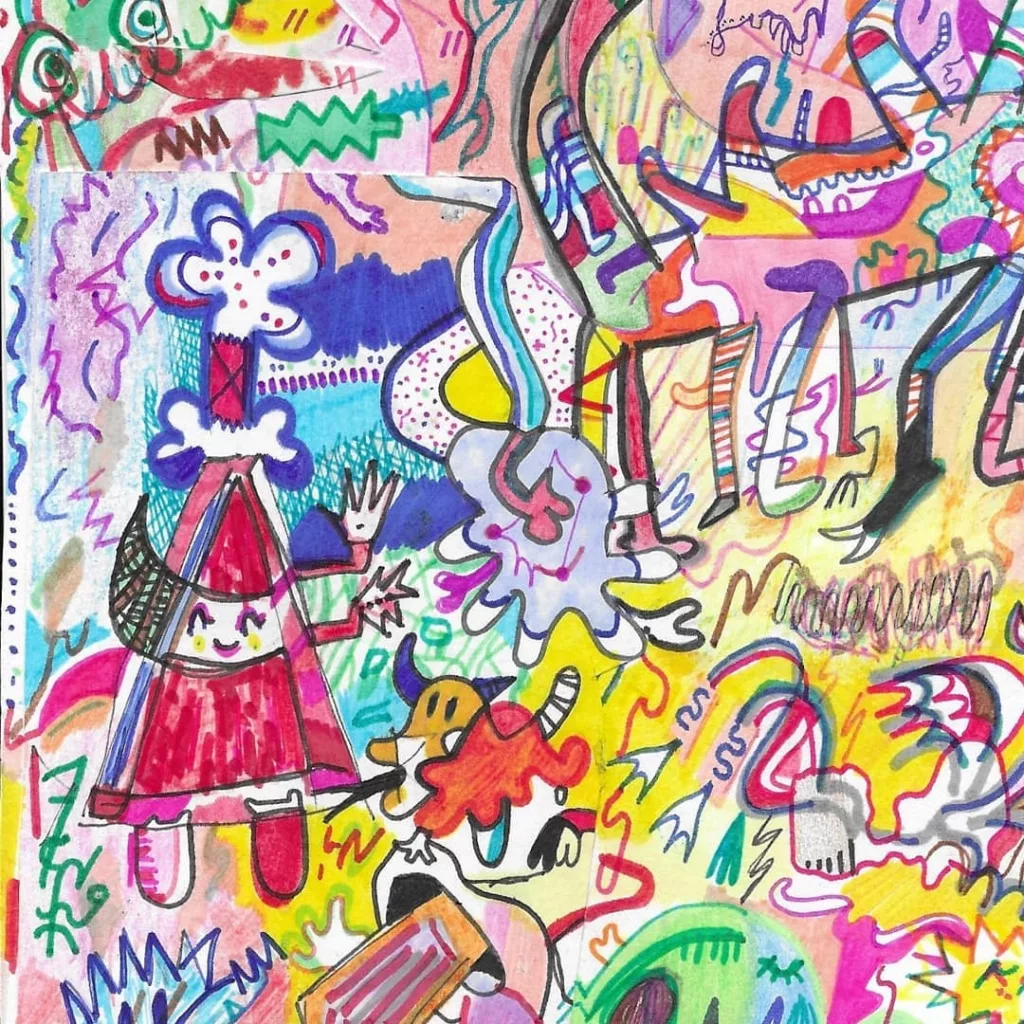 Surrealism and symbology is explored in lush vibrant tones in the work of Fergus NM, a style he lightheartedly refers to as "Messyism".
His latest zine 'Seraphim Sighted Cherubim Delighted" collects the most representative pieces of his style in a large format that allows the observer to navigate through chaotic worlds and otherworldly beings. Blurring the line of form and a madness that can be envisioned by picturing the artist drawing in a feverish style to create the right layer of colours to capture the intended texture.
Each piece leaves the impression of chaos, but one that is controlled and purposeful. This is exemplified in the two different approaches to working with collage that appear in the work.
While always following the format of collage, the creations of Fergus can act to either make a landscape or have the creatures draw inward to form a single entity. This creates a rhythm flow of inward and outward perspectives to the art, offering some variety to flow which elevates the book as a whole.
With both approaches offering a different perspective, it becomes hard to really pick a favorite piece. Personally, I am partial to the panel that has two Fleischer-esque dapper looking ghosts caught mid conversation. This piece kind of best encapsulates the energy that Fergus is able to capture in the varying approaches to collage work.
However, each page sprinkles plenty of secrets to be found, making it easy to become enamored to a collage based on the cute or terrifying creature staring back at you. Consequently, the book is given a great longevity as I found myself picking it up many times and getting caught up in a certain image I had overlooked previously.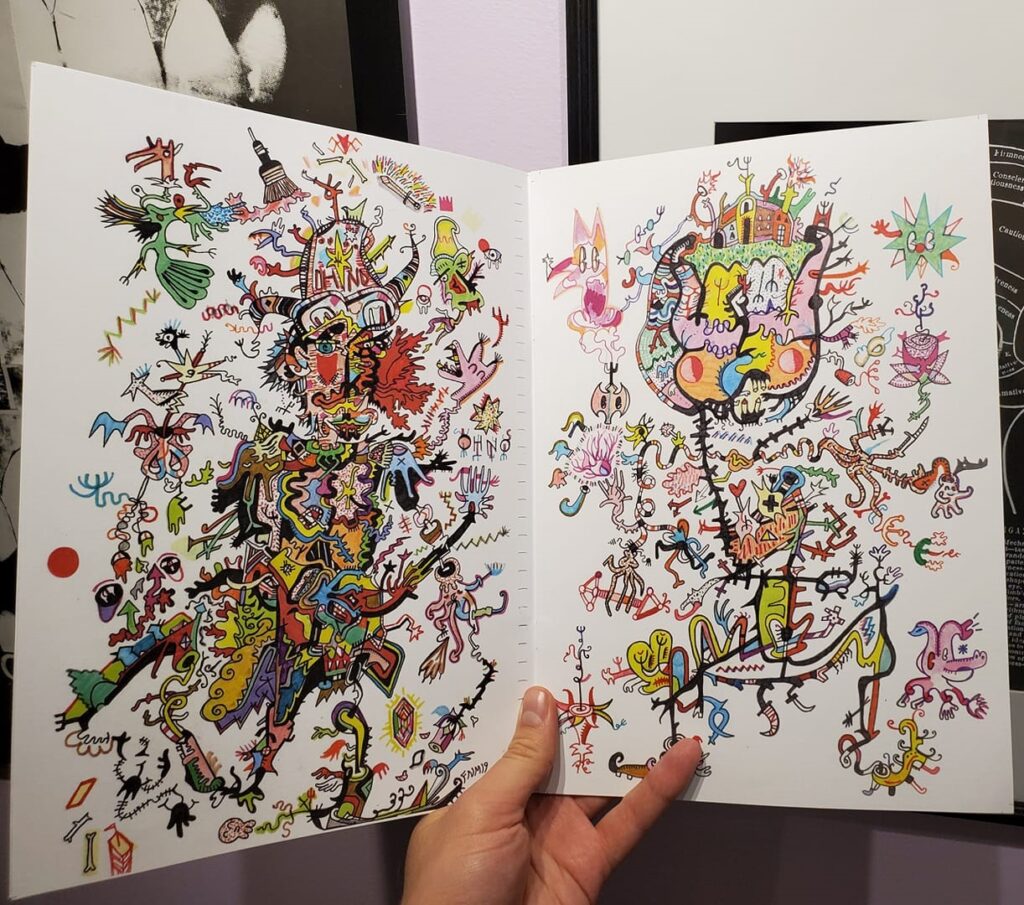 The use of colour and marker also speaks to the idea of a calculated chaos as purposeful saturation in some of the work – to evoke the impression of violence or fear. At the same time various delicately drawn and cute creatures surround the violent spectacle as casual observers.
Despite the contrast , each page manages to co-exist in a wonderfully giddy fashion.
The inspiration of Egyptian symbology, in the form of hieroglyphics, comes across in a handful of the creatures, albeit with a modern and surrealist twist. There are additional grounding elements in the work, including text and found art.
The zine is certainly a product of Fergus's influences and each piece offers a degree of familiarity to help guide through the vibrant landscapes.
While the visual cacophony certainly works as an initial draw into the work, it is apparent that it is not just chaos for the purpose of confusion or celebrating excess. The style, on a base level, may seem to be the product of self indulgence, but time spent combing through every nook and cranny reflects an artist who also seeks to entertain his audience.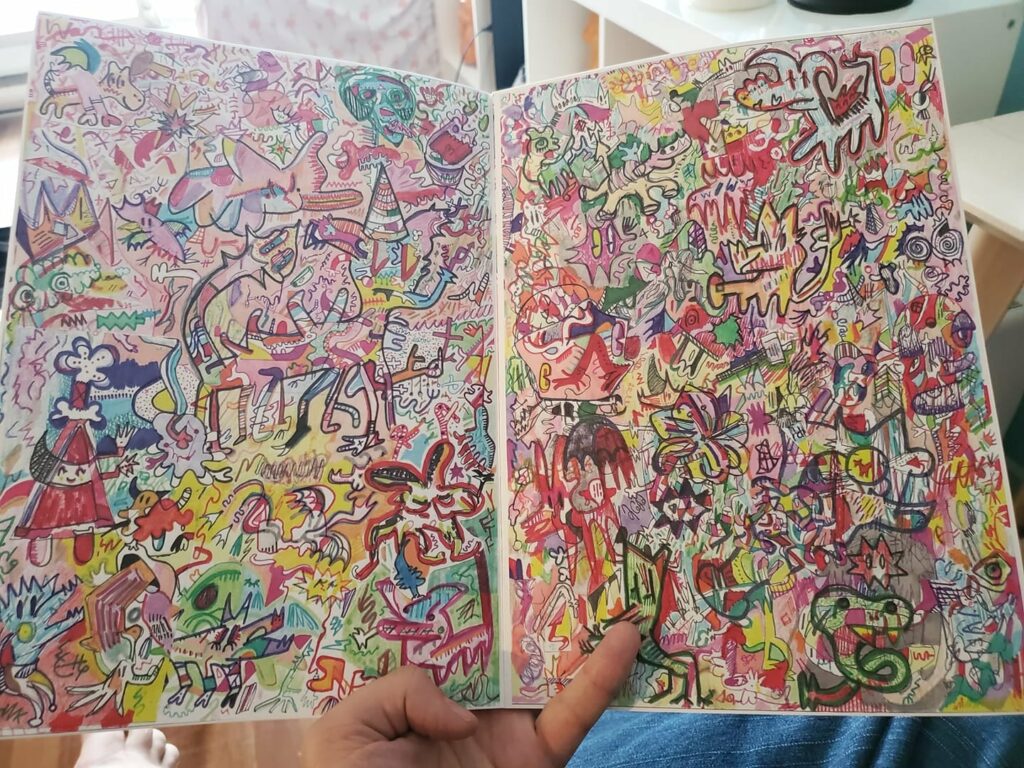 Perhaps the work can best be summarized as playful, in both tone and aesthetic, but it also feels like a joyous secret between two travelers as they explore strange landscapes. The cathartic reaction when one chooses to indulge in the art is not an experience to be understated, it is undeniably a fun and uplifting adventure.
At only 12 pages 'Seraphim Sighted Cherubim Delighted' gives an initial impression of being tragically short, but the amount of content and mini works of art within each page gives the work a fascinating depth.
It is work I will certainly cherish and be able to come back to again and again, an ideal release to indulge in some escapism by diving headlong into the pastel abyss Fergus NM wonderfully crafts.
Links