Markella K
26th November 2019
The Living Installation: Welcoming, inventive, daring, new, and reminiscent of a time that has passed.
I went to see the Living Installation's "Female Joker" and I haven't been able to stop thinking about it since. I've been watching the recording of their live show over and over, and I felt compelled to write about it. It transformed the way I think about performance, and more importantly how art is made. The naturally talented female wonder, Jadda Cat showed me an emotional performance process piece, an intense journey that came from the heart. She is fearless, raw, pure and tied into the zeitgeist.
The performance was surreal for a lack of a better word, wacky, unworldly and extremely joyful. It was daring as I watched Jadda climb up and down a rickety old wooden ladder that looked like it came from a Hogwarts broom closet, with her face wrapped in plastic and limbs tangled in lights and strings.
Jadda is a vibrant celebration of what it means to be a woman, a human being who is a happy genius, playful, and just downright cheerfully bizarre. She goes in and in and in, and what am I looking at? I was looking at something I needed in my life, and I know we all need. She could be similar in a vein of a Mr. Rogers mind state, on acid. She was splashed up, her body and face painted and painted again, incorporating everything she can find and make a part of herself and give to us.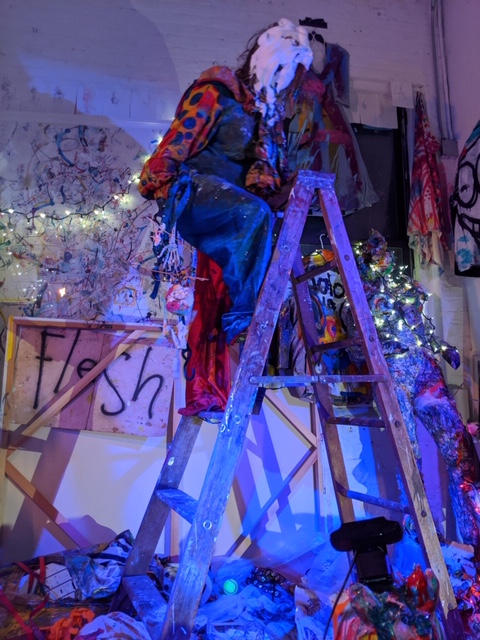 When I, and the world, think about performance art that's on the same level of intensity as Jadda Cat, from a woman's perspective, I think of Marina Abramovic. Her art is masterful, isolated. serious, and empowering. Her performances explore a singular concept, that create challenge. I love that aspect of it.
Jadda the joker is similar with aspects of a strong, present, female hero but Jadda Cat removes any difficulty for us to endure. She replaces it with welcoming charm.
I kept seeing her eyes filled with a super far out vision, but at the core I could feel her kindness. She and her partner Michael Alan greet you into their space, they give all they can and more because they want to, not because they need to. This is lacking in today's time. It's the change I needed.
The Living Installation is the New York based 20 year performance art duo of artists Michael Alan and Jadda Cat. The performance took place in Bushwick, Brooklyn, (New York's hot new art neighborhood) at their studio.
Bushwick is the birthplace of Alan and his ancestry. His Mom and Mom's family have deep roots there going back to the Great Depression, before there was an art scene. I always wonder, did Alan come back to Bushwick to bring his family back, and to touch on what is lost now in NY? Is that art in itself?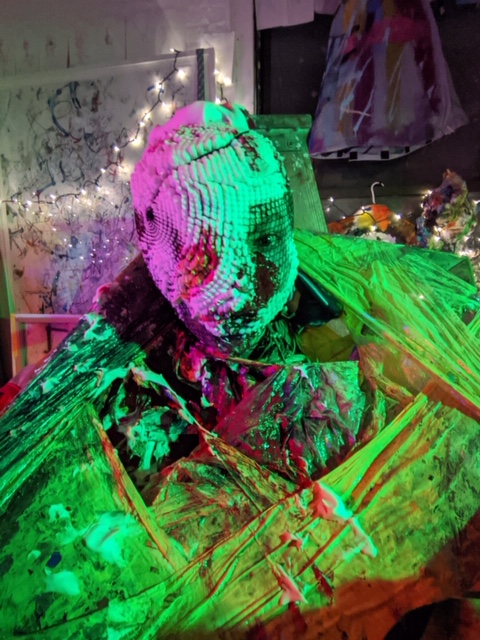 What I saw there was a four hour epic performance, where Jadda Cat engaged in a series of amazing physical transformations using make up, paint, tape, handmade props, glitter, wire constructions, puppets, toys, glue, ribbons, prosthetics and sculptures she created on the spot, among other things; to build herself into multiple beautiful, scary, funny and bizarre manifestations of human sculptures. This was based on the idea of the Female Joker, a Joker that doesn't kill but actually jokes about herself and life, and is just outrageous. How is she not a famous actress?
She created a handmade, on the spot, cinematic level experience, fueled by pure talent. Jadda created the characters, performed as all 100 or more of them, ran the live feed and even answered the door, welcoming viewers into the space without breaking character. She was everywhere at once. There were no breaks and everything evolved seamlessly. Wowie!
How is this not in Rolling Stone?
Why are we fascinated with with negativity online verses positivity?

We need this as a civilized population. That's how I felt every second. I didn't want to leave and go back to the mean streets of Brooklyn and stumble onto the evil arms of the subway.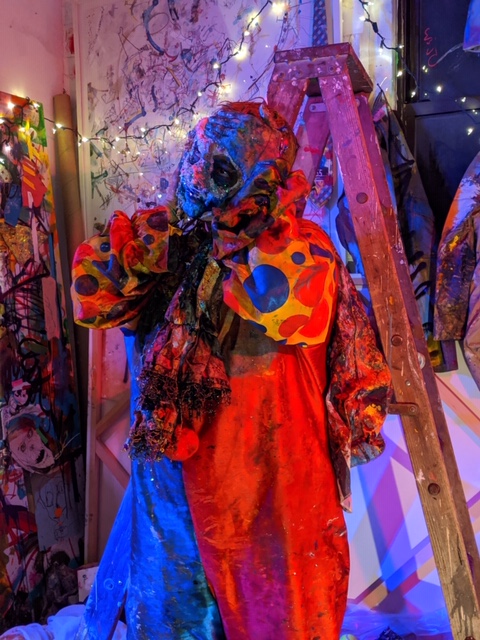 The performance at its core was about the power of transformation. While inspired by the well known comic book character of The Joker, it went way beyond that into deeper existential questions. If there was never an origin story, maybe now there is.
The Joker is Jadda. She lives so we all can laugh.
What does it mean to be female in our times? How do you transform what you experience in life, both negative and positive into art? The simple act of putting on makeup was morphed into a series of terrifying and humorous Tableux Vivants that spoke to the way we see ourselves and how we are seen in society.
Jadda Cat was relentlessly fluid, shifting effortlessly into new states to the point where one transformation flowed into the next, and the next, like a wave of different selves. In our digital society we all possess an endless ability to transform our public image. Jadda Cat takes this to the next level using the digital medium to connect us all together, taking the technology and the artistry directly into her living room and yours. Engaged in a form of fearless play, she shows us that we can be anything or everything, without the use of filters or CGI.
The audience was transfixed, laughing, and gazing in awe at Jadda as she incorporated clowning and puppetry and singing, and applauding in pure wonder as she covered herself with a truly epic variety of diverse substances and emerged from a womb like wrapping to peer out as something completely alien.
She has a unique genius.
The ability to engage in these transformations with no script and unassisted speaks to a natural talent that has no ulterior motivation other than engaging with her audience and making them happy. She just wants to play, and invites you to share her inner world.
I want more.
Please!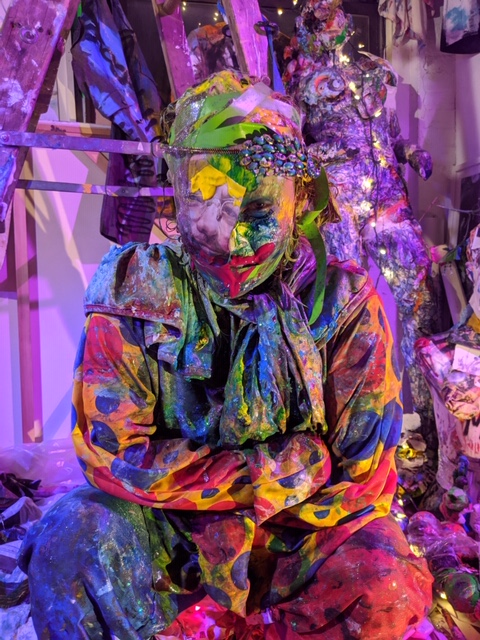 Jadda is helped in this process by her partner / photographer / fellow performer and the founder of The Living Installation, artist Michael Alan. She cites him as her favorite artist and uses his drawings as an influence and point of departure for her performance pieces. Alan has been running The Living Installation for twenty years in New York, but in Jadda Cat he has truly found his partner.
Their life is a true art romance, which is reflected in the work they do, and also their spontaneous performances around the city. They are the art couple, painted in Vogue, literally. The shows stage settings are all built out of Michael Alan's masterful artworks, paintings and sculptures, and he also creates hand crafted music for the shows. It's taken years of work but together they create a totally immersive environment and a feast for the senses. They do this on a shoe string budget, helped by donations from friends, or what Alan pulls together from his amazing painting career. Let's not forget this guy is the NYC artist. It's just the facts girl.
They are creating movie level interactive effects in the true spirit of DIY.
Do yourself a favor and go see the video of the performance online while it's still available at www.michaelalanart.com/thelivinginstallation!
Links
All photos courtesy Michael Alan / The Living Installation.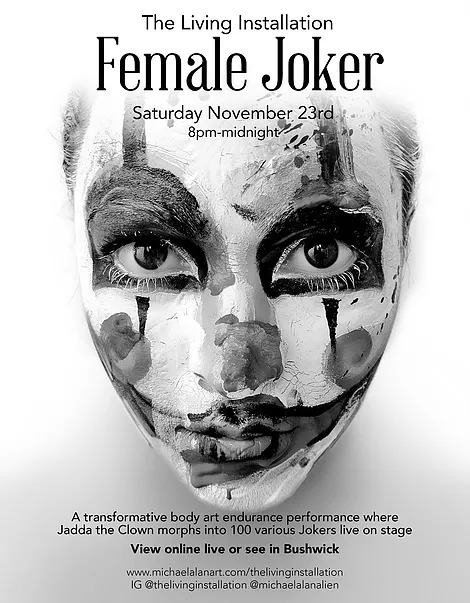 About the Author
Markella K. is a freelance writer, New York art enthusiast, and art collector living in East New York. Vegan, dog lover, English major, and worked in graphic design before taking an interest in journalism.
You can reach Markella at: markellak78@gmail.com