Released By = BinBizii aka Ben Farnam via his company 'Phobia Toys'.
Figure Name = TV Head.
Edition Size = 50 orange coloured blanks were made, with an as yet to be determined number to be left blank, and others used for custom purposes.
Material = Made in China soft vinyl plastic.
Country of Production = Designed by BinBizii in America and produced by Hong Kong based company Interccept in China and Hong Kong.
Height = 10.5cm (base to top of tv).
Depth = 4.25cm (front to back of head).
Width = 6.5cm (hand to hand).
No of Parts = 6 (2 legs, 2 arms, body and head).
No of Extras = Our orange blank came bagged in a header with 3 stickers.
Character Debut = the TV Head sculpt debuted in January 2019 and was first produced in vinyl in July 2019.
Release Price = US$ 35.
Genre = Designer Toy.
Read the full review and pics after the jump…
Back Info
TV Head is released by American artist Ben Farnam aka BinBizii and his 'Phobia Toys' brand – a relative newcomer to the designer toy world who debuted on the scene in July 2018 with his Rowlii soft vinyl figure.
TV Head is manufactured by relatively new Hong Kong based company Interccept. With the wax and jointing work being done in Hong Kong, and the figure itself being produced in China.
It was released during Ben's highly productive 2019. A year that saw Ben release a flurry of figures – for himself, others and also in collaboration.
Namely:
– The Cherv soft vinyl figure in collaboration with Russian artist Acid Ma, released in January 2019.
– The Ugly Twins duo of soft vinyl toys released in March 2019.
– Sculpting the Party Freak figure, released in September 2019, for fellow American toy maker John Cook Dooley aka Video Vomit and his 'Bad Omen Toys' brand.
– The Viewer figure produced in resin by American toy crew BogXSquad for Ben, released in October 2019.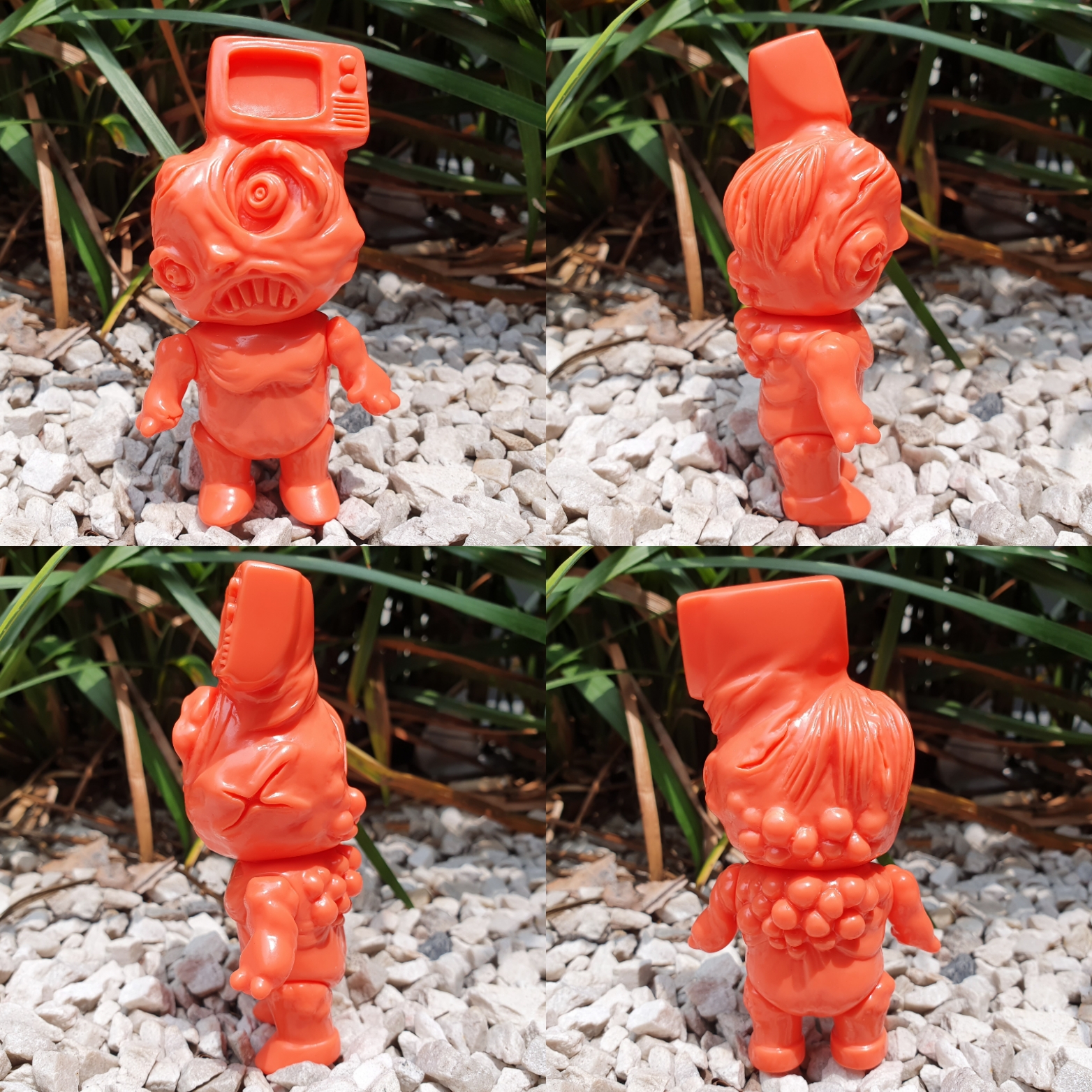 The Sculpt
You begin to slowly wake after a long night of inebriants and binge-watching TV – unsure of the time. Eyelids gently acclimatising to the early morning light that shines on you as you lay on your old busted-up and heavily stained couch.
"I really need to get some new blinds," you think to yourself as you begin gently rubbing your eyes.
Hmmm… Your face seems to feel kinda weird. But you shrug it off as the side effects of the booze, weed and half a gram of shrooms you consumed last night.
You begin to stand, steadying yourself on the arms of the couch, when your eyes suddenly lock onto your right hand… That seems to be missing a finger. Specifically, it's thumb.
My thumb?
MY. THUMB!
"WHAT THE FUCK HAPPENED TO MY THUMB."
Instinctively, you rush to the bathroom, were you keep your bandages and other first aid supplies – primed and ready to play nurse.
You hastily grab some bandages, gauze and tape from the bathroom drawer, and anxiously look again at your right hand. Confirming that, yes, indeed, you are missing your thumb.
Oddly, however, the wound seems to be already healed.
And to even have a scar.
Your brain reals as you take in this information.
You vomit.
You wash your mouth out with water.
Looking up your, you quickly open your bathroom cupboard to grab some mouth-wash. As you notice your reflection in the cupboard mirrors. Your reflection… it seems… different. Your normal face appears to have vanished… Replaced with something strange. Something grotesque.
Misshapen and misplaced eyes stare back at you from the mirror as you begin to take in the totality of the horrors: facial scars, sharp pointy teeth, bumps and boils on the back of your neck…. and…. and…. an old CRT TV seemingly growing out of the top of your head.
You begin to crumple over and faint just as the CRT TV growing from your head clicks on, and the unmistakable sound of the 'Twilight Zone' theme starts to play from its built-in speakers as the TV's soft glow starts emanating around you…
——————————————————————————————————————–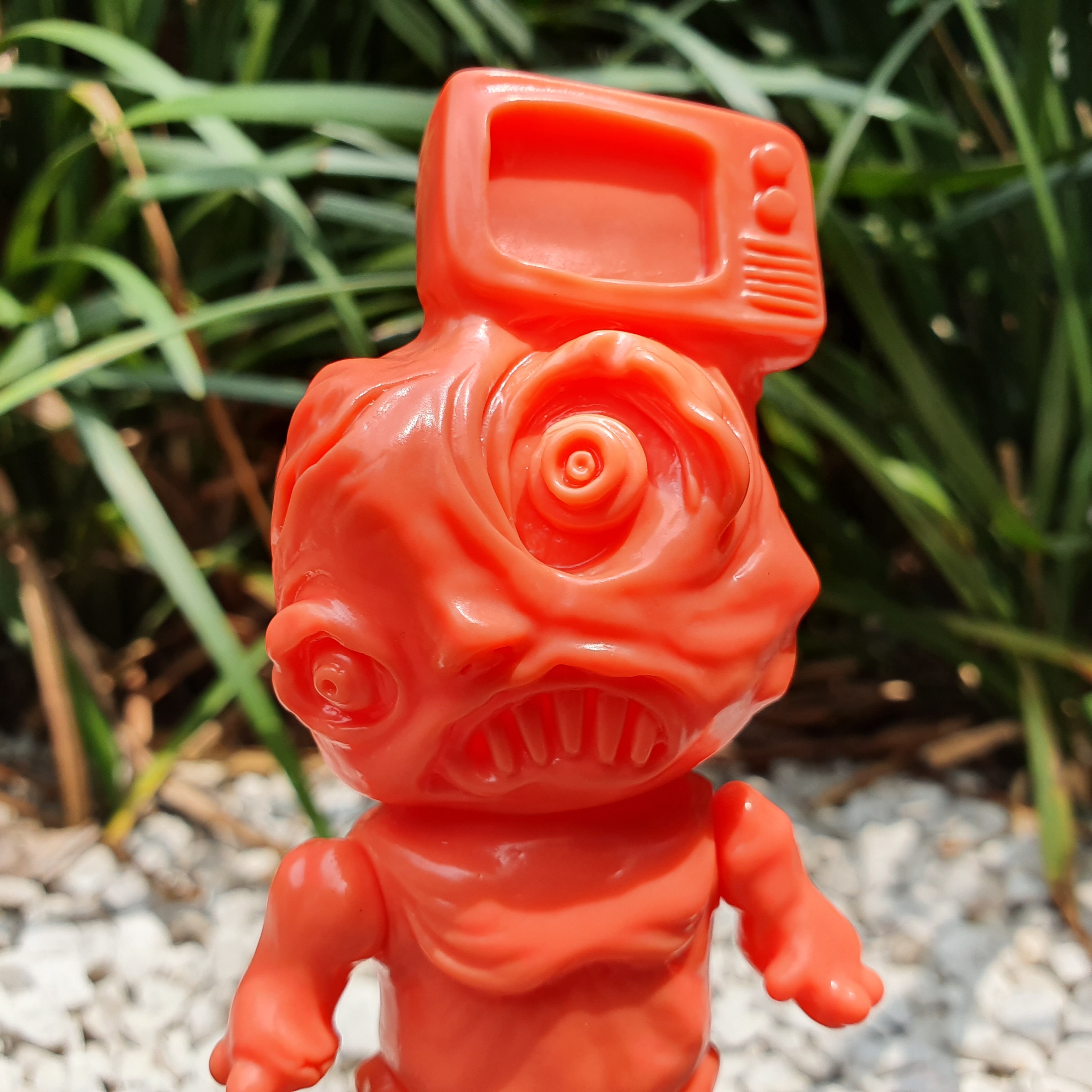 TV Head is a perfect mixture of cute, creepy and downright cuddly; with both intricate and cartoony sculpting styles being combined to create a perfect unified whole:
An intricately sculpted head with scars, scraggly hair, no ears, sharp teeth, boils, eyes at 45 degree-angles and an old CRT TV sprouting from its top.
A torso covered in delicately sculpted folds of fat and skin. A back covered in large, round boils.
Highly detailed aspects of the figure that are contrasted by its smooth and symmetrical appendages. With the legs, arms, shoes and hands of TV Head featuring only the occasional delicate bump or line for texture.
TV Head is also lovingly finished with branding stamps on the underside of each foot: a 'Phobia Toys' logo on the left, and Ben's "bin" signature on the right.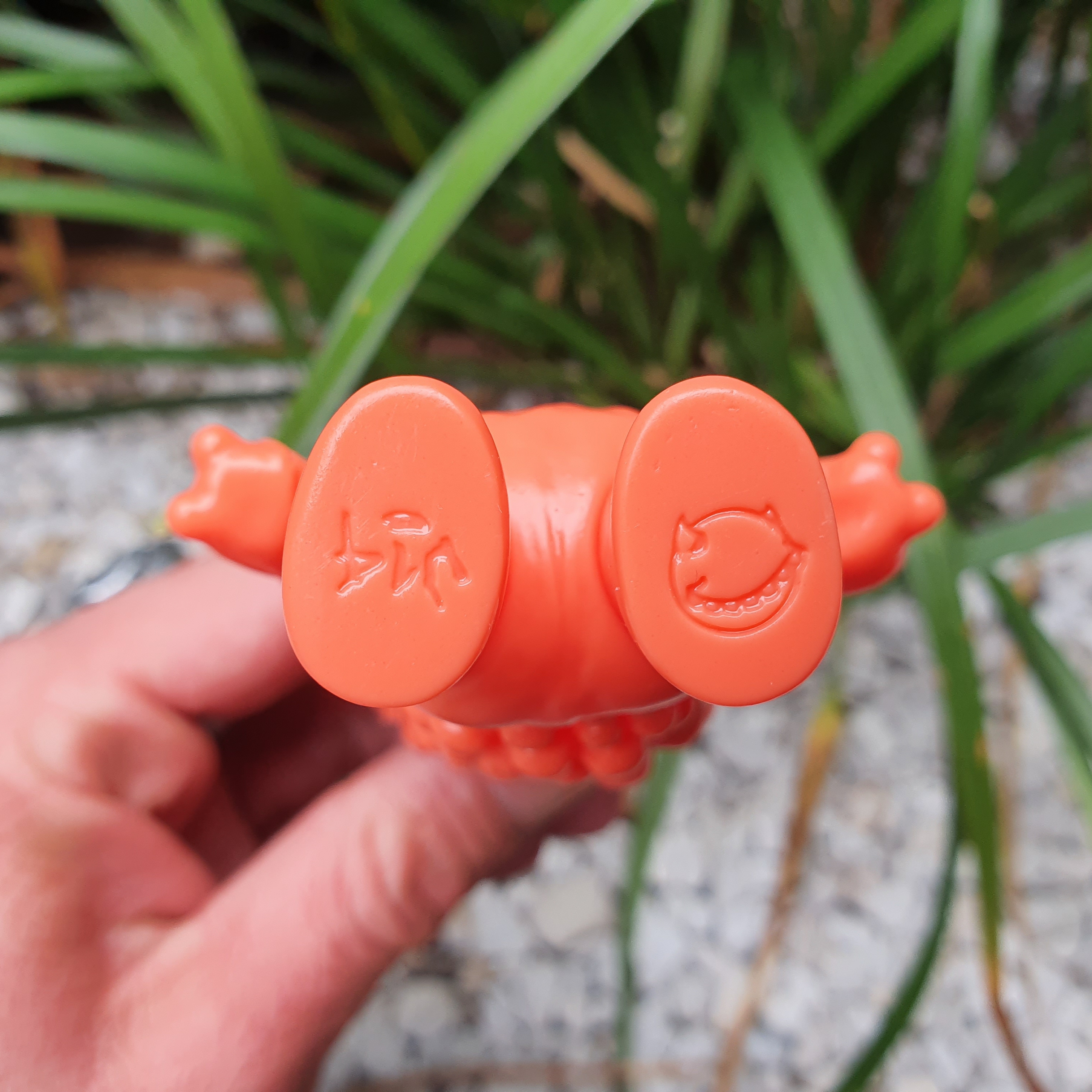 The Material
Unpainted orange made in China soft vinyl.
The Smell
No matter how hard or how long you smell TV Head smells like nothing – a common feature of Chinese soft vinyl toys.
Simply put – Chinese soft vinyl toys smell like the cold power of the current Chinese Government.
They smell like the clean, glistening steel of a Hong Kong police officer's gun used to shoot at pro-Democracy protestors.
Like the cold metal and concrete used to make the cages and buildings of the internment camps used by the Chinese Government to house ethnic minorities.
Chinese toys smell inhuman.
(Editor: political jokes aside – we at 'The Aither' really want to know why it is that Chinese toys soft vinyl toys smell like nothing, whilst their Japanese counterparts are bursting with a lovely organic smell.
So, if any of you reading this know the answer – please do get in touch!)
The Custom Work
None – It's pure, unpainted virgin made in China soft vinyl!
Playability
* Can it Stand = Yes
* Can it Sit = No
* Can it Be Placed Level on a Flat Surface = Yes
* Is it Easily Breakable = No.
* Accessories = None.
* Size = A perfect fit for the human hand, and small enough to be easily carried on adventures.
HOT DAMN is this figure fun! Small in size yet packed full of articulation – making TV Head a perfect toy to play with, pose and take on adventures.
The fact that this version is unpainted really adds an extra layer of playability – you can really throw it around, get it wet and not worry about chipped, or scratched paint. And if you do get it dirty, it's an easy figure to clean!
Our only issue? It can't be posed to sit.
But that's a very small issue with a figure that just asks to be played with!
The Packaging
In timeless soft vinyl / Sofubi style, our TV head came bagged in a plastic zip-lock bag, with a cardboard header stapled to the top, featuring art by American artist Blingaling / @blingalingading.
Adding a nice touch, included inside the packaging for TV Head was 3 stickers: a 'Phobia Toys' logo sticker as well as stickers of Ben's Rowli and Ugly Twins creations.
All up, TV Head is packaged perfectly: a nice header to keep, some stickers to use, a bag to store them all in, and most importantly, no annoying boxes or unnecessary packaging to take up space.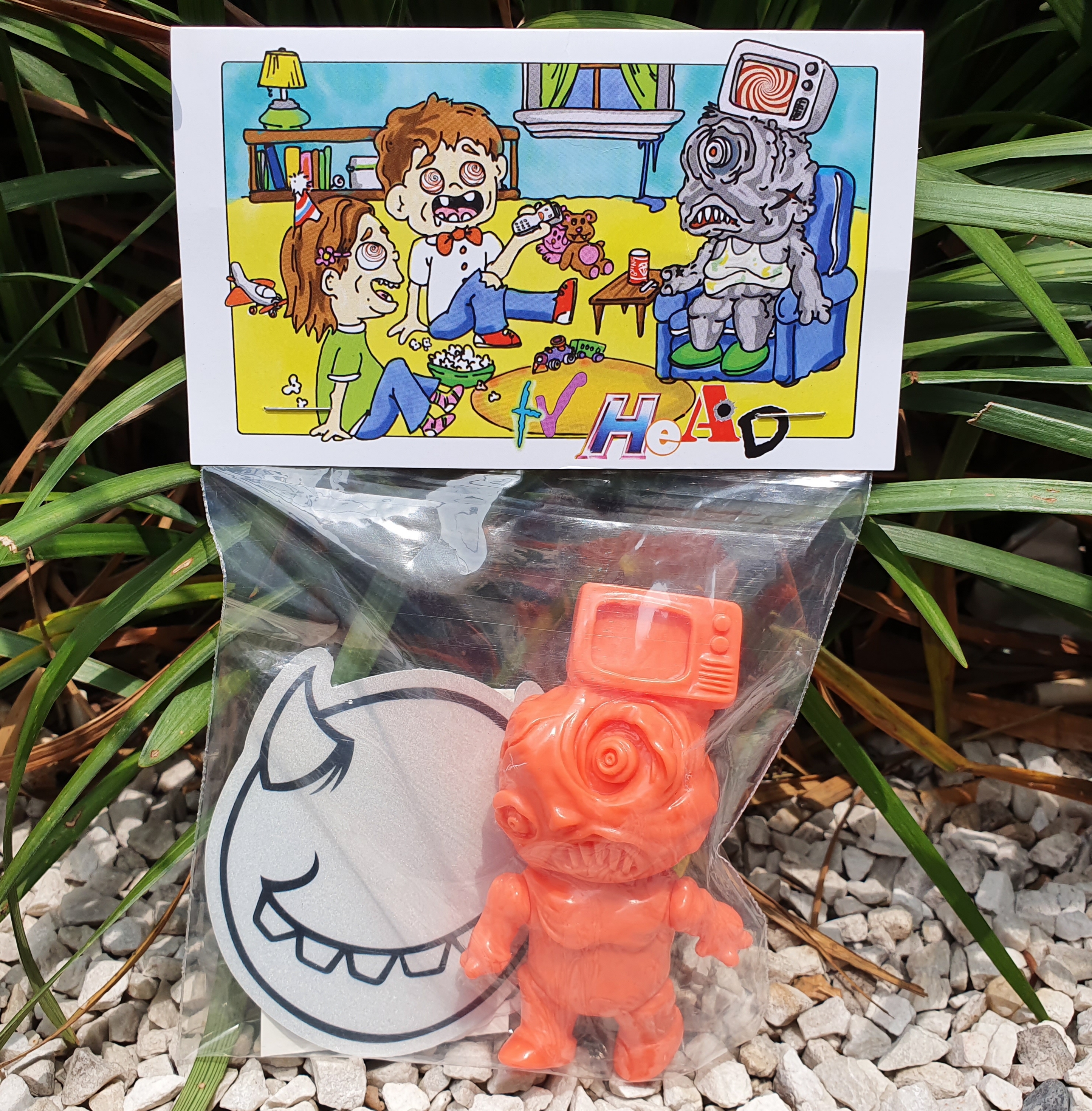 Flaw(s)?
None.
A beautifully designed and manufactured soft vinyl designer toy that really illustrates the level of quality that can be found today in made in China soft vinyl toys.
Summery
TV Head is a whole lotta fun! Pocket sized, epically crafted, bursting at the seams with personality whilst also being chocked-full of articulation and playability – we just love it.
A brilliant release that illustrates Ben's skill in character creation, unique eye, sculpting abilities, quality control, and desire to present to fans and consumers a complete and flawless finished package.
We tip our hat to an amazing soft vinyl designer toy, from an immensely talented artist!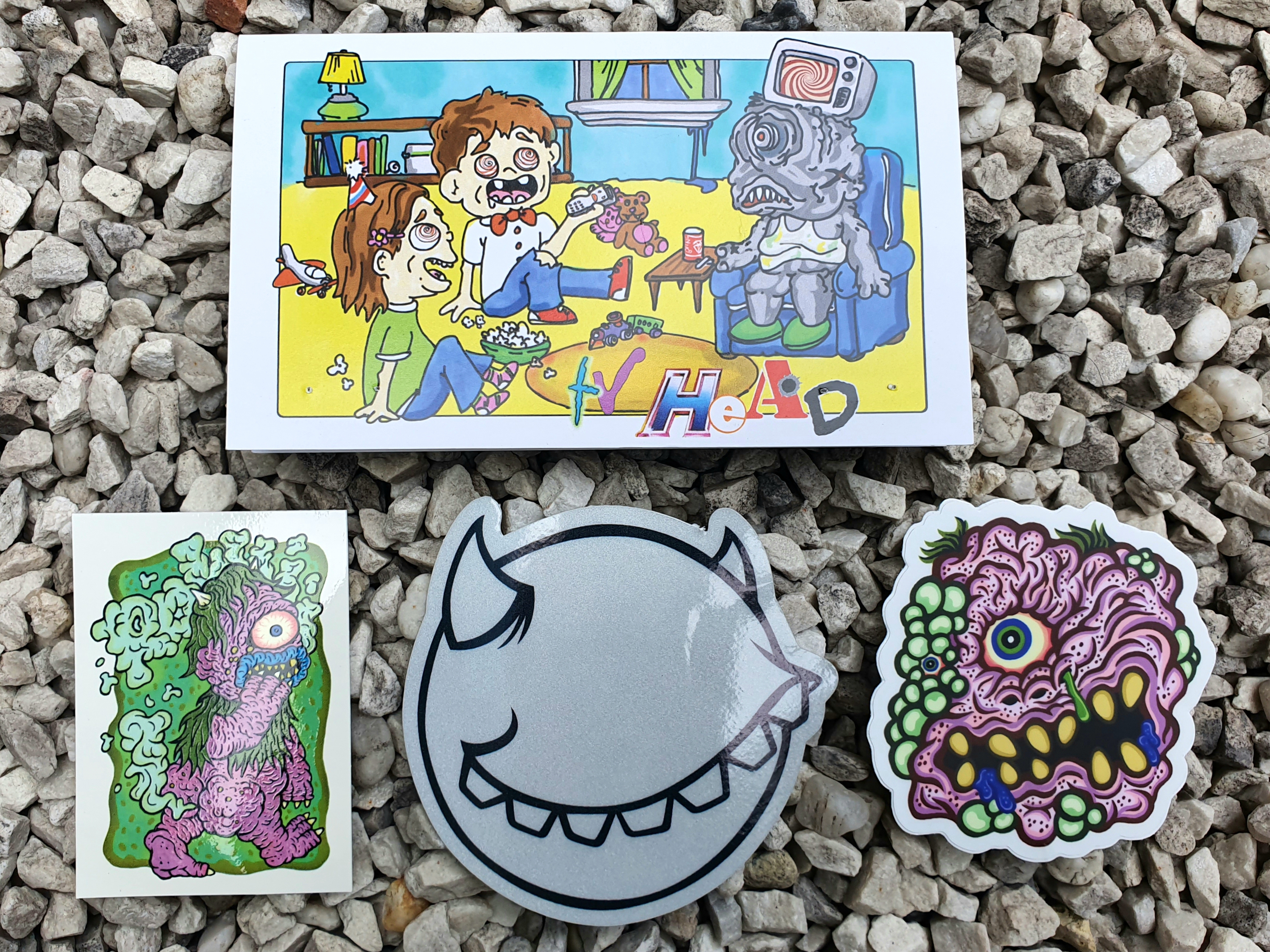 Links