Coyote is an American artist working in the long-established lowbrow tradition. Earning his living creating tattoos, paintings and sculptural works inspired by icons of Americana – such as monster films, fast-food, car-culture, pulp-novels, rock and roll, early 20th century animation, and underground comic books.
Pinpointing the event that sparked his love for art, Coyote remembers a pivotal encounter with the Robert Williams cover art for the 1987 LP 'Appetite for Destruction' by Guns and Roses.
Stating,
"I can recall a single spark that changed my 10 year old world completely and blew my mind! I was at a friends house in 1988 when I was looking through his big brothers records when I came across 'Appetite for Destruction' by Guns and Roses.
The picture on the front was a painting by Robert Williams. That day I must have stared at that picture for hours.
Robert Williams artwork has had a huge impact on my life and it all started at that moment."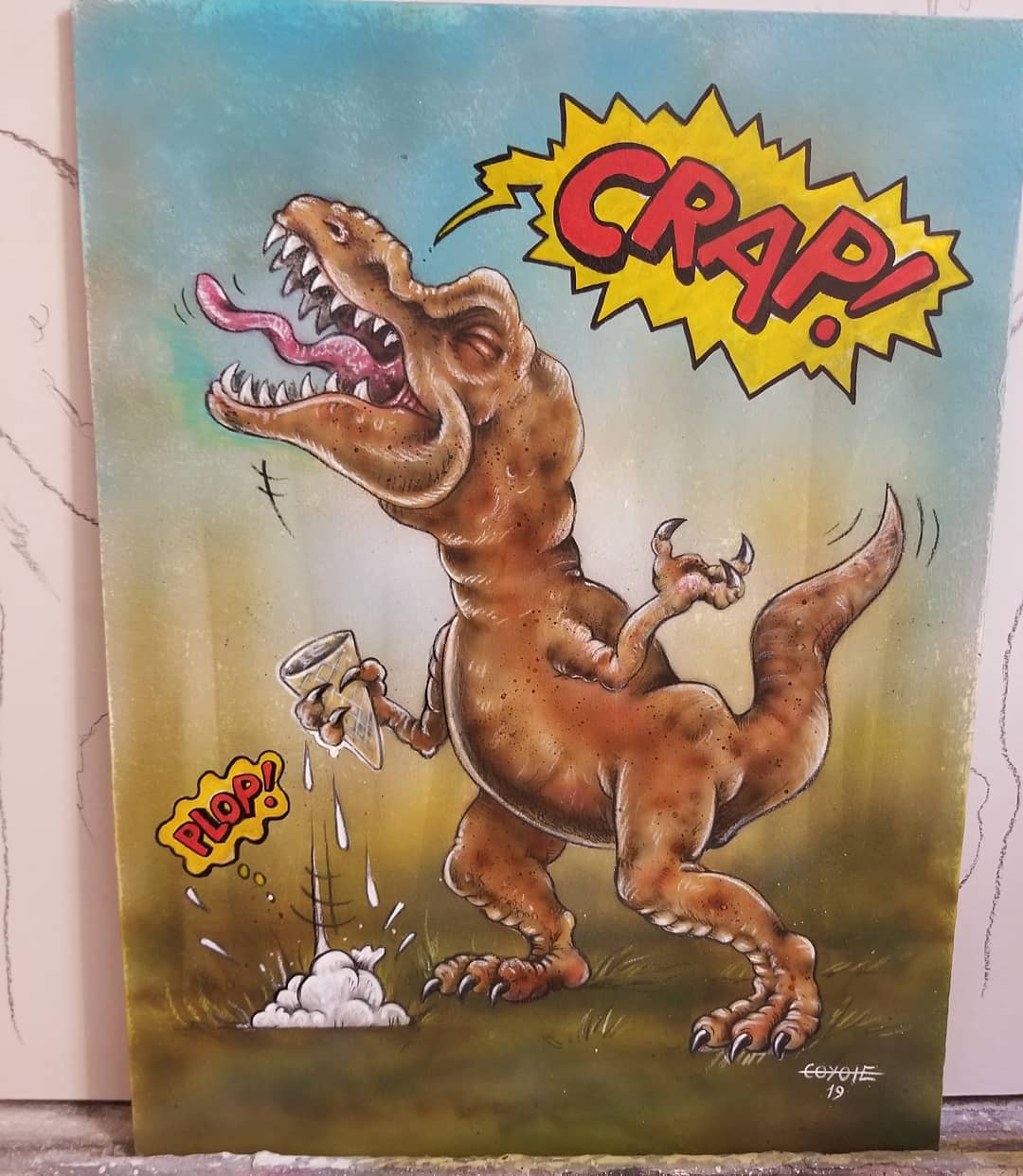 Having recently joined the resin toy scene, gained his formal tattooing license in Oregon, become an official 'Rat Fink' artist, and about to launch his new website – 'Dity Ol Dog' – we thought now was the perfect time to ask Coyote some questions about art, life, tattooing, toys and a whole lot more!
Read our interview with Coyote, below…
Getting Acquainted
Name + D.O.B?
Coyote.
I was born on the 12th of the 2 1978.
City, State and Country you currently call home?
I currently live in Troutdale Oregon in the United States.

City, State and Country you're from?
I'm originally from Virginia Beach, Virginia on the east coast of the United States.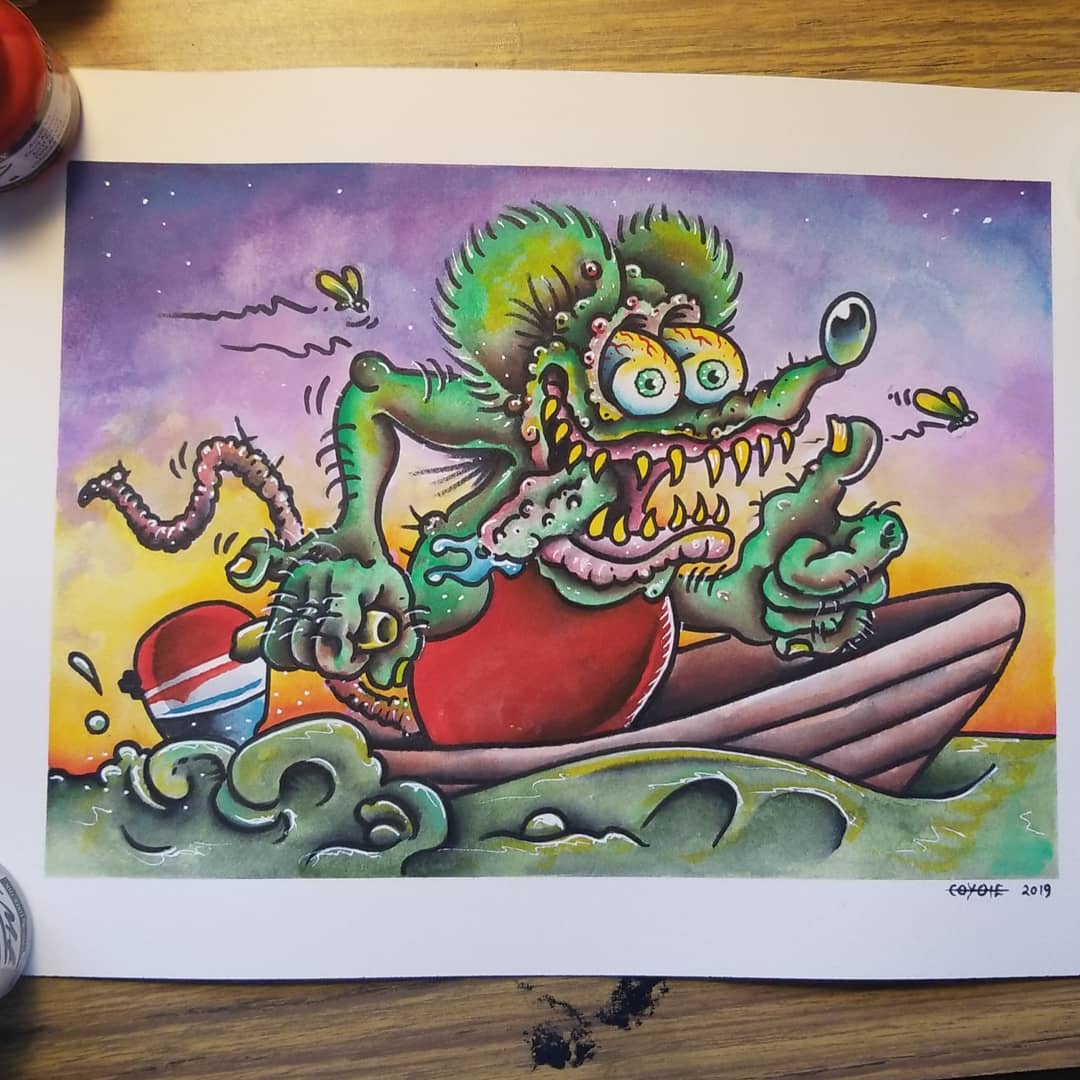 Please describe some memories from key stages of your life: concerts, art, toys, romance, comic books, hunting, school, politics, crime, religion… ANYTHING really!
* Age 5 – beginnings:
From a young age I can remember growing up in a gritty trailer park in Virginia Beach. I had young parents, and under the circumstances of having a kid so young, they really pulled it together and worked hard to give my little brother and myself a great childhood in the 80s.
My grandmother worked in an old honky Tonk bar and my mom or my aunts would take us kids for a visit or to just drop us off, where we were exposed to fantastic day drinkers tales and a colorful vocabulary of amazing new curse words, tattoos and all the Shirley temples I could drink!
* Age 10 – continuations:
Around the age of 10 I was forced to go to church with my mom even though it clearly wasn't my bag.
But I was also exposed to album art, Sears catalogs, half smoked cigarettes, heavy metal, skate and surf culture and the occasional yet highly coveted nudie mag us kids seemed to find in the woods in the 80s.
* Age 15 – getting serious:
By the time I was 15 I had been a veteran stoner for several years and had experimented with psychedelics. I had hood rat friends and did hood rat shit.
It was around that time I got the name coyote. Around that same time I was getting into travelling, seeing dead shows and chasing tail at the beach.
* Age 20 – young adult:
By the time I was 20 I had been tattooing for a few years with no real artistic skill, I just did it! I jumped right in and did tattoos – had my first job in a shop in northern Virginia by showing them a few pictures of ugly tattoos I had done, that job was short lived though after a guy came back looking to shoot me for messing up his tattoo…
They told me I should probably go find something else to do instead of tattooing, but that just pissed me off and strengthened my resolve to be a better tattooer, so a few months later I was working in Yorktown Virginia at the famous Ancient Art Tattoo.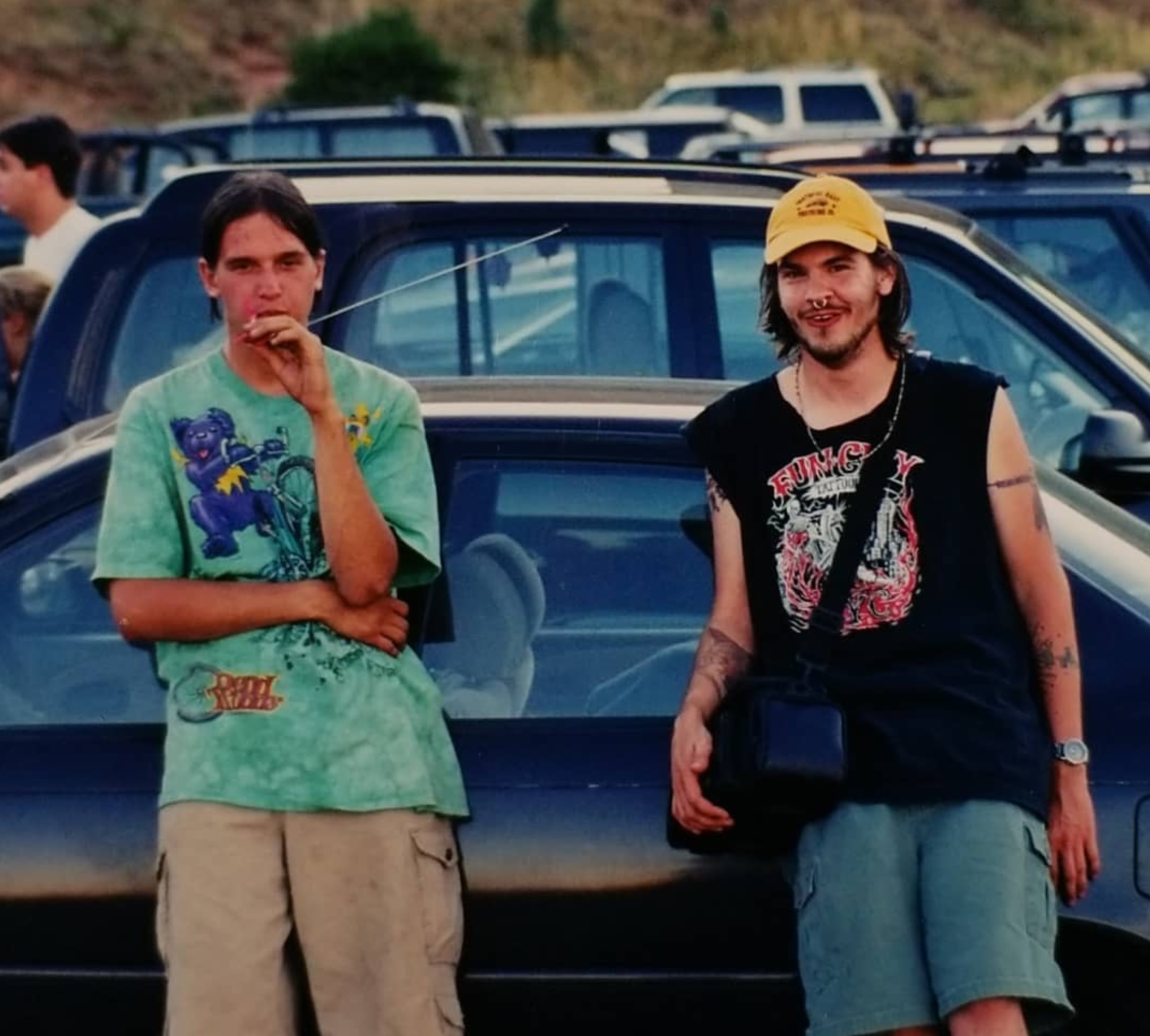 * Age 25 – adult mode:
By the time I was 25 I had been tattooing for 7 years and I had moved out to the West coast to Olympia and worked for little Bryan at Spider Monkey Tattoo for a few years. That was the first all custom shop I had ever worked at and Brian can draw his ass off!
At that point I was able to grow as an artist, I started painting and travelling overseas then I moved to Seattle to work at Apocalypse Tattoo where I became one of the 4 horsemen of the apocalypse, that's when I started getting magazine coverage and awards at tattoo conventions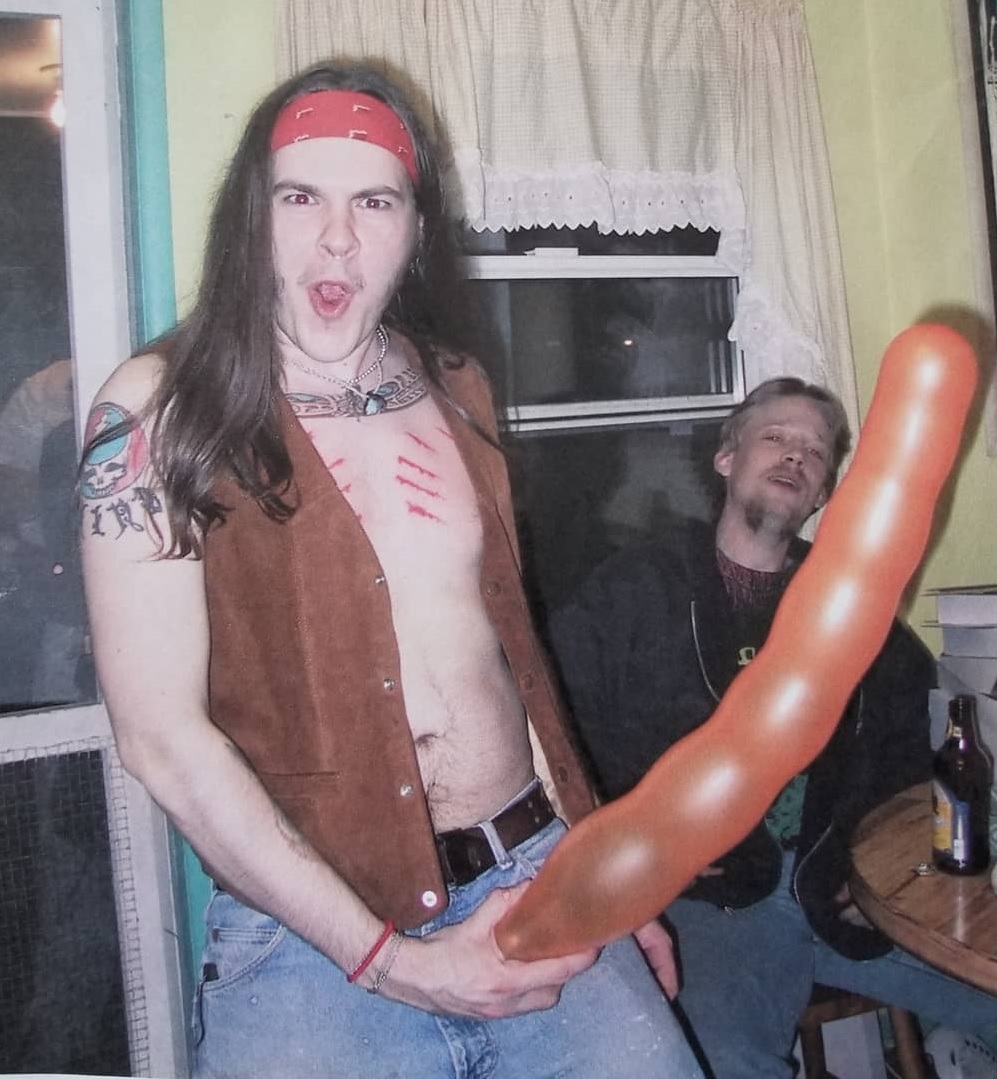 * Age 30 – fully formed:
By the time I was 30 I was burning out honestly! Seattle chewed me up and spit me out, I had done it all, I had seen it all… the thrill was gone.
So I got married and became a dead man walking, I had no business getting married just because I turned 30 but I had some valuable lessons to learn about life I suppose.
After a few years of despair I picked myself up and put the work in to be a better artist and businessman, effectively ending my marriage and revitalising my spirit.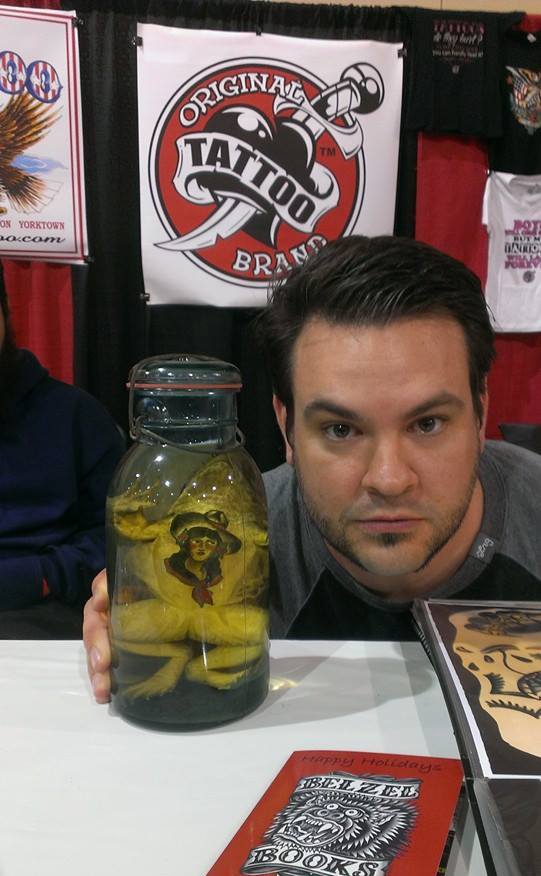 * Age 35 – meanderings:
Around the age 35 I rekindled my relationship with the one that got away, my Erin! Who I am still deeply in love with.
At that point I devoted myself to being a better artist ,working hard, experimenting with new mediums and more world travel.
* Age 40 – adult meanderings:
Now I'm in my 40s and I've found myself in Oregon with my sweetheart. I've been travelling like a vagabond for a few years now and I've produced more art in this phase of my life than any other.
Just this past year I taught myself to sculpt, mold, cast and airbrush.
It feels good to be in my 40s.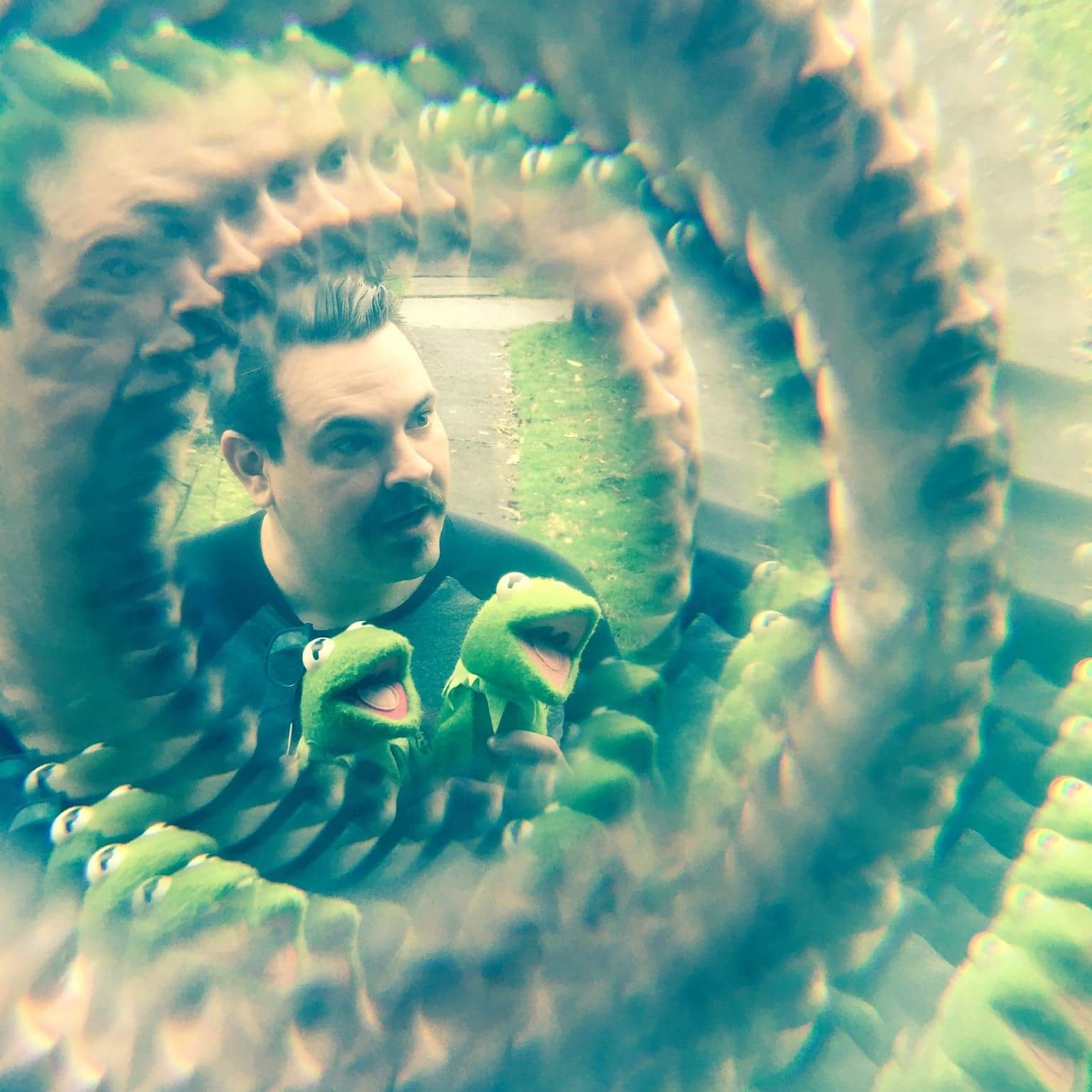 Personal motto(s)?
"I've learned more from twenty one hour paintings than one twenty hour painting."

+
"It ain't gonna paint itself."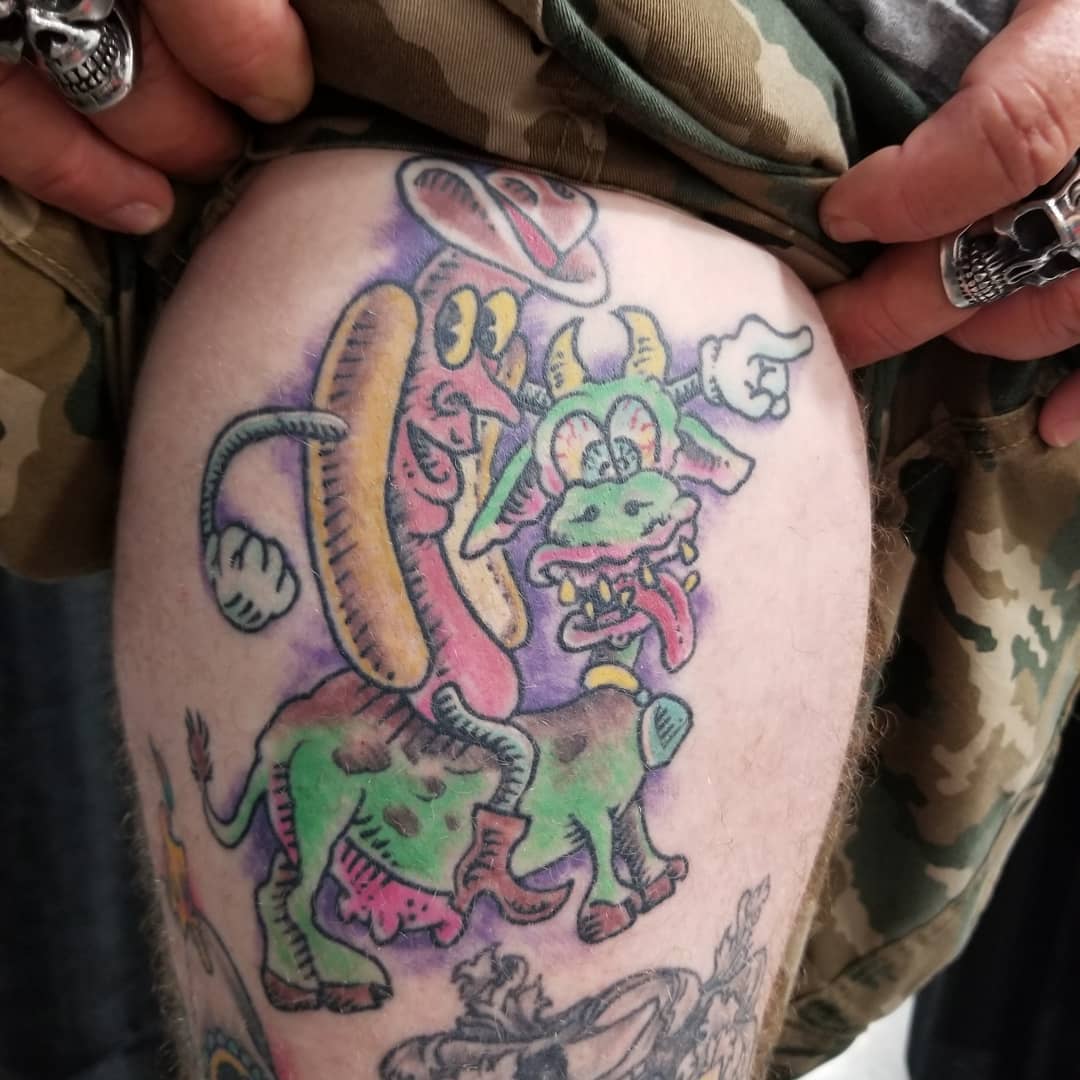 Art Questions
When and why did you first start to make art?
I started making art at a very early age mostly monsters, but I didn't get serious about it until I was in my later teens.
… and any pivotal artistic moment(s) / influence(s)?
I can recall a single spark that changed my 10 year old world completely and blew my mind! I was at a friends house in 1988 when I was looking through his big brother's records when I came across 'Appetite for Destruction' by Guns and Roses.
The picture on the front was a painting by Robert Williams. That day I must have stared at that picture for hours.
Robert Williams artwork has had a huge impact on my life and it all started at that moment.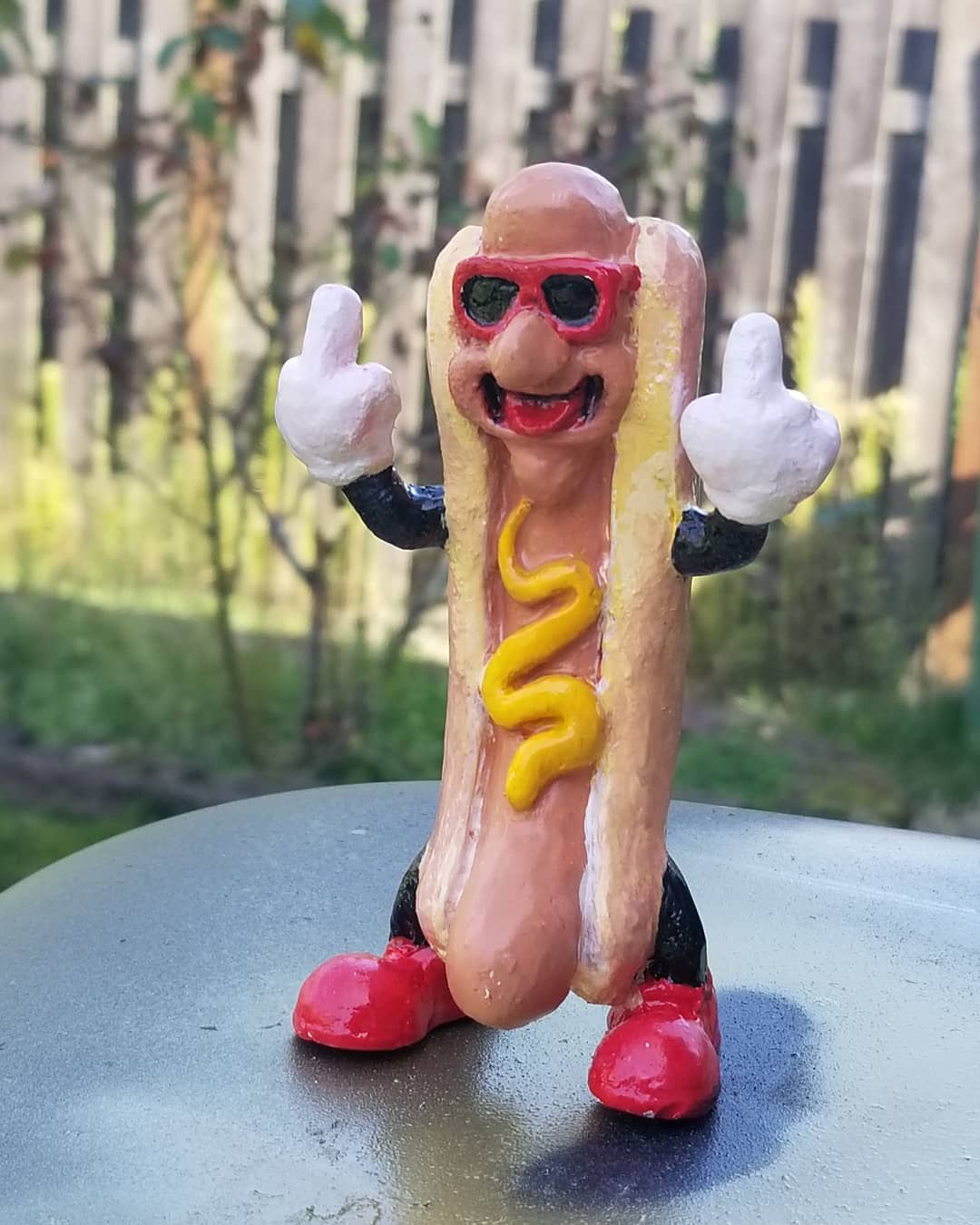 Whilst we know you through your tattooing, toys and art – care to share with those at home the details of your other creative endeavours… if any?!
I do a lot of other activities and try to learn as many crafts and skills that interest me. I've kept bees, raised chickens and rabbits, invested time and effort into the field of mycology and making beer, wine and white lightning.
What do you do for a day job at the moment?
At the moment I'm a working artist, I'm making ends meet by doing tattoo conventions and selling my art.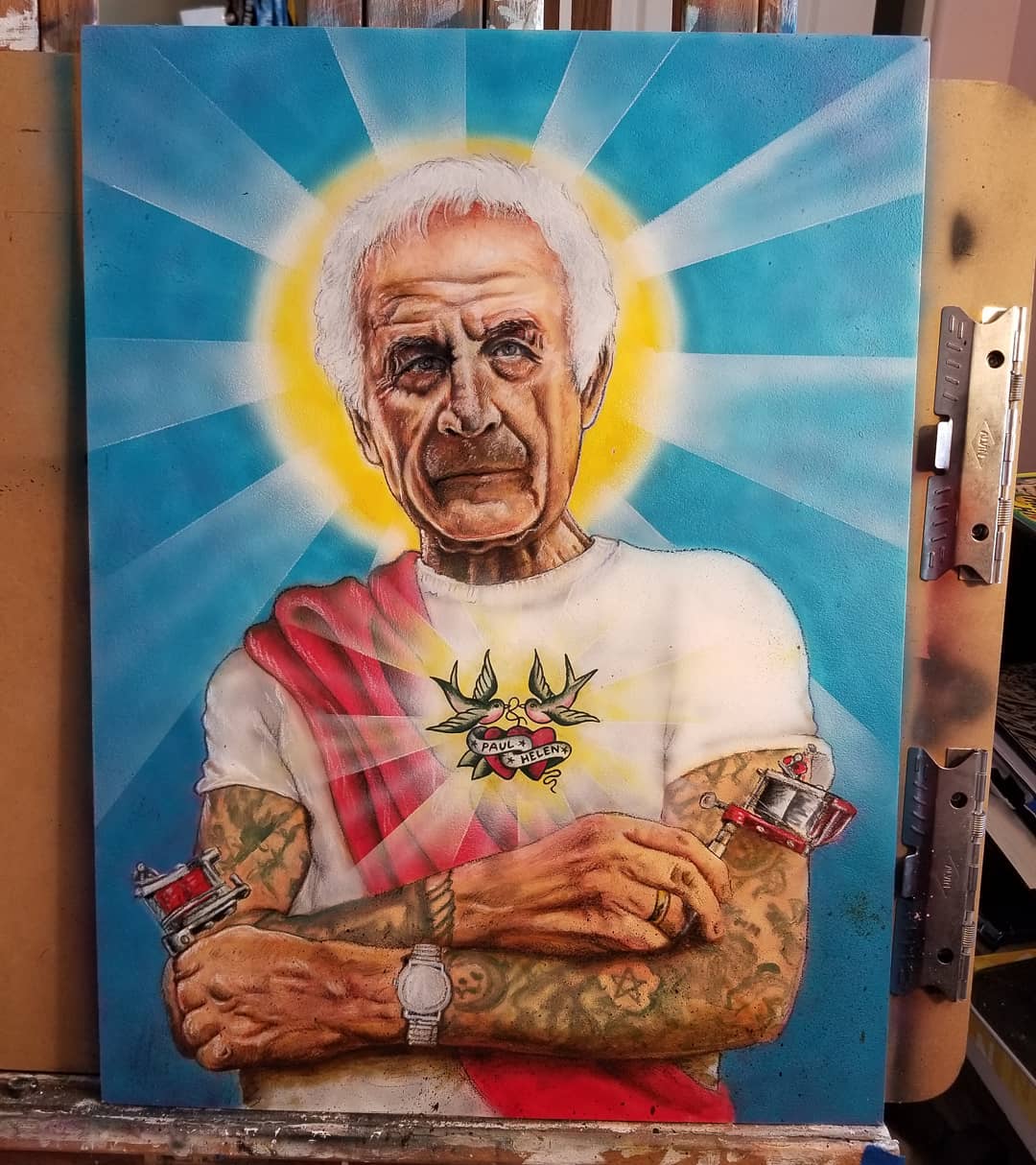 … and how does your day job impact / influence your artistic practice?
My day job consists of making sure I have created that day, all I have to do is stay motivated and produce art.
Please describe the usual process involved with producing your art:
Usually I'll have a concept or a running gag going on in my head, then I do a small thumbnail sketch or a full on rendering of what I want to do, then I leap!
– your tattoos?
Tattoos always seem to come together much easier these days in my 23 years of experience.
By listening to the clients I always insure that they walk away with something that they will love forever.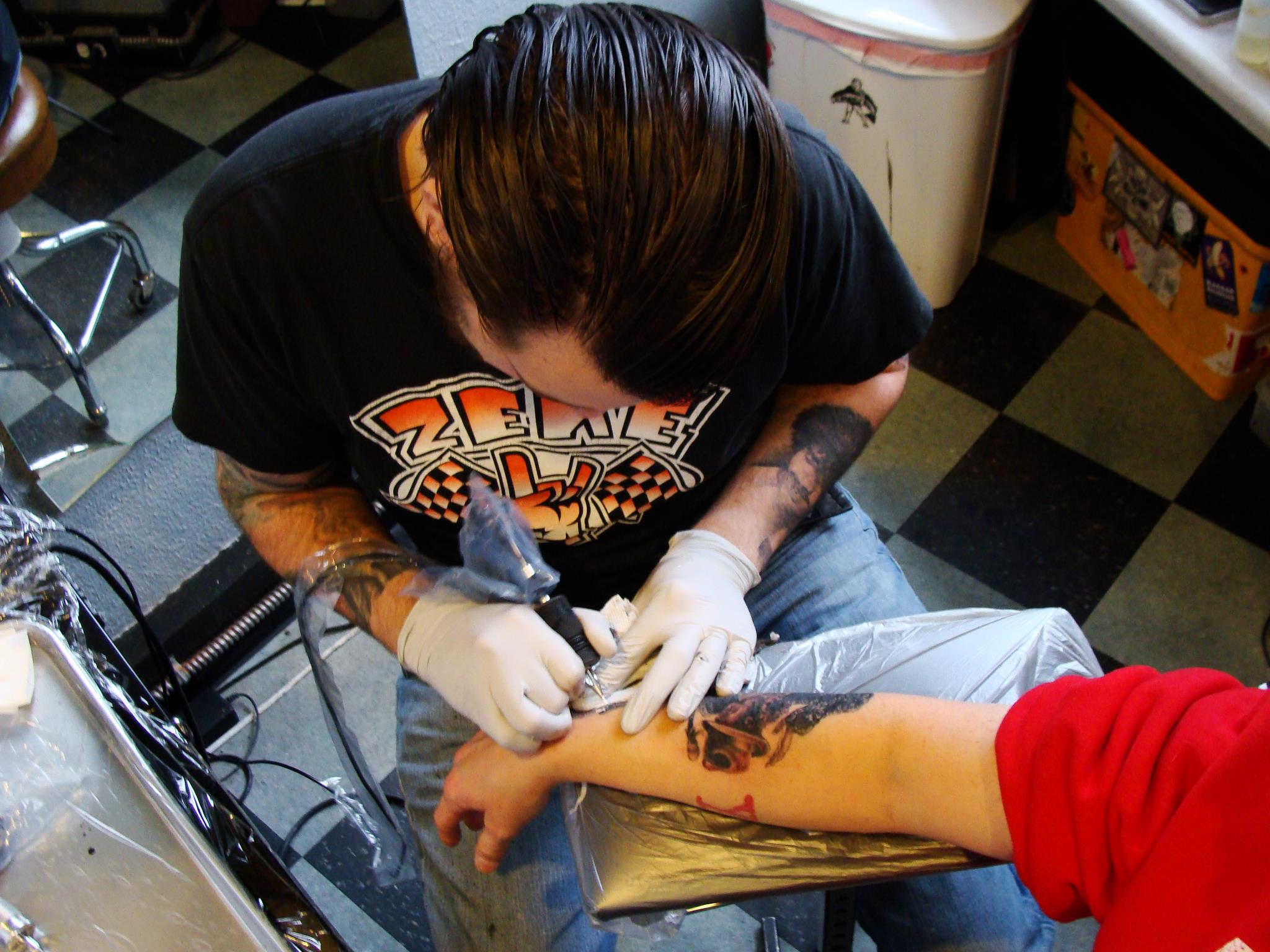 – your toys and sculptural works?
Sculpting is something new to me actually, I've only been doing it for about a year now.
It's something I've been exploring due to my love of wacky toys and replicating cool stuff that needs to get made.
(Photos below of a mediating hippie character by Coyote – in both sculpted and painted form.)
– your traditional art, such as painting and illustration?
I started oil painting when I lived in Seattle and I did a lot of them, but I like to work as fast as it's coming out so I switched to watercolor, then airbrush.
Although I don't have one standard medium. I like to mix it up a bit with whatever the the piece needs to come alive.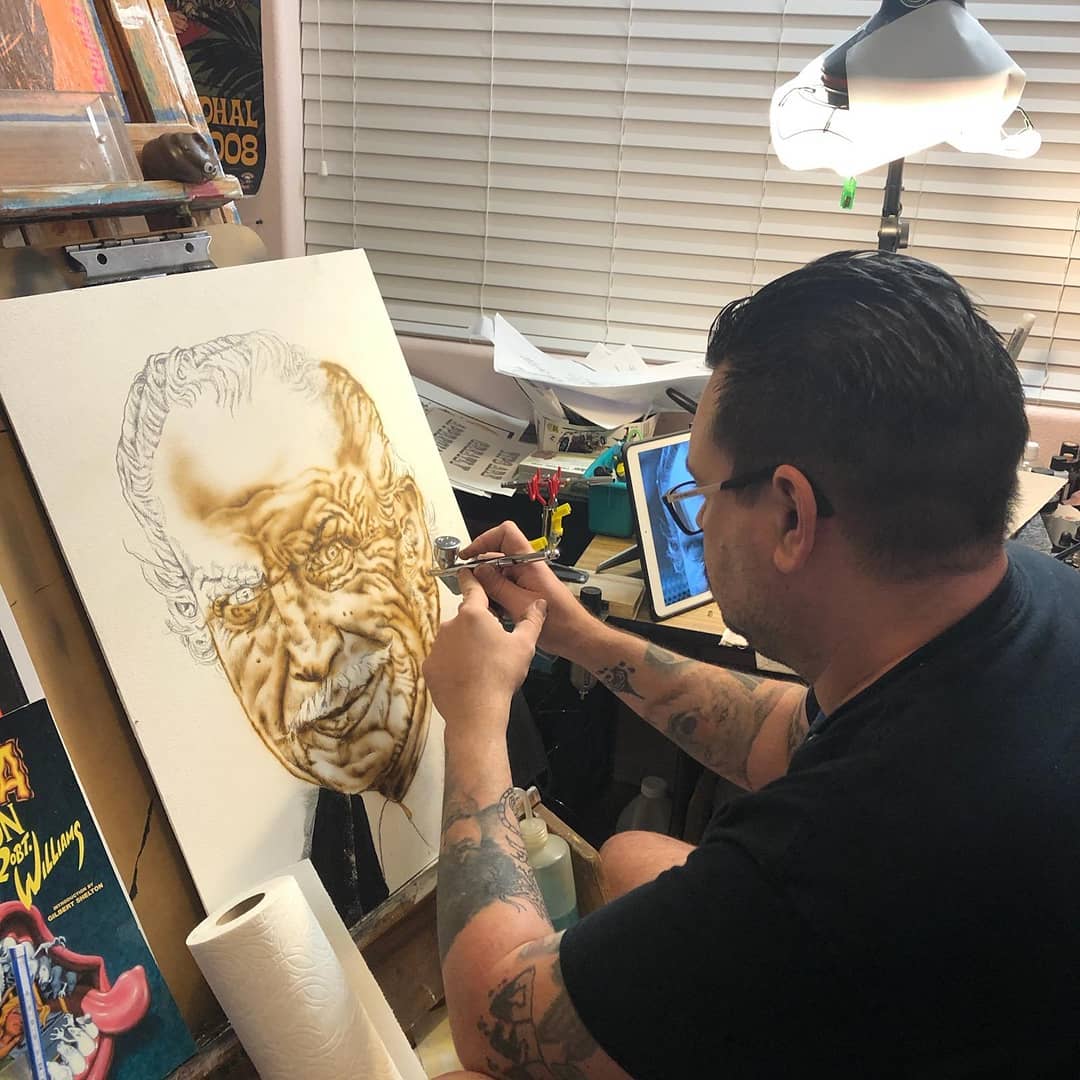 Worst aspect(s) of the art hustle?
The worst part of the art hustle is the part where I have to market my creations, I could make a lot more cool stuff if I didn't have to worry about that.
Best aspect(s) of the art hustle?
The best aspect of the art hustle is definitely when you get a buzz going about a new work you create and it speaks for itself, it literally sells itself and gives you a better idea of what to make more of.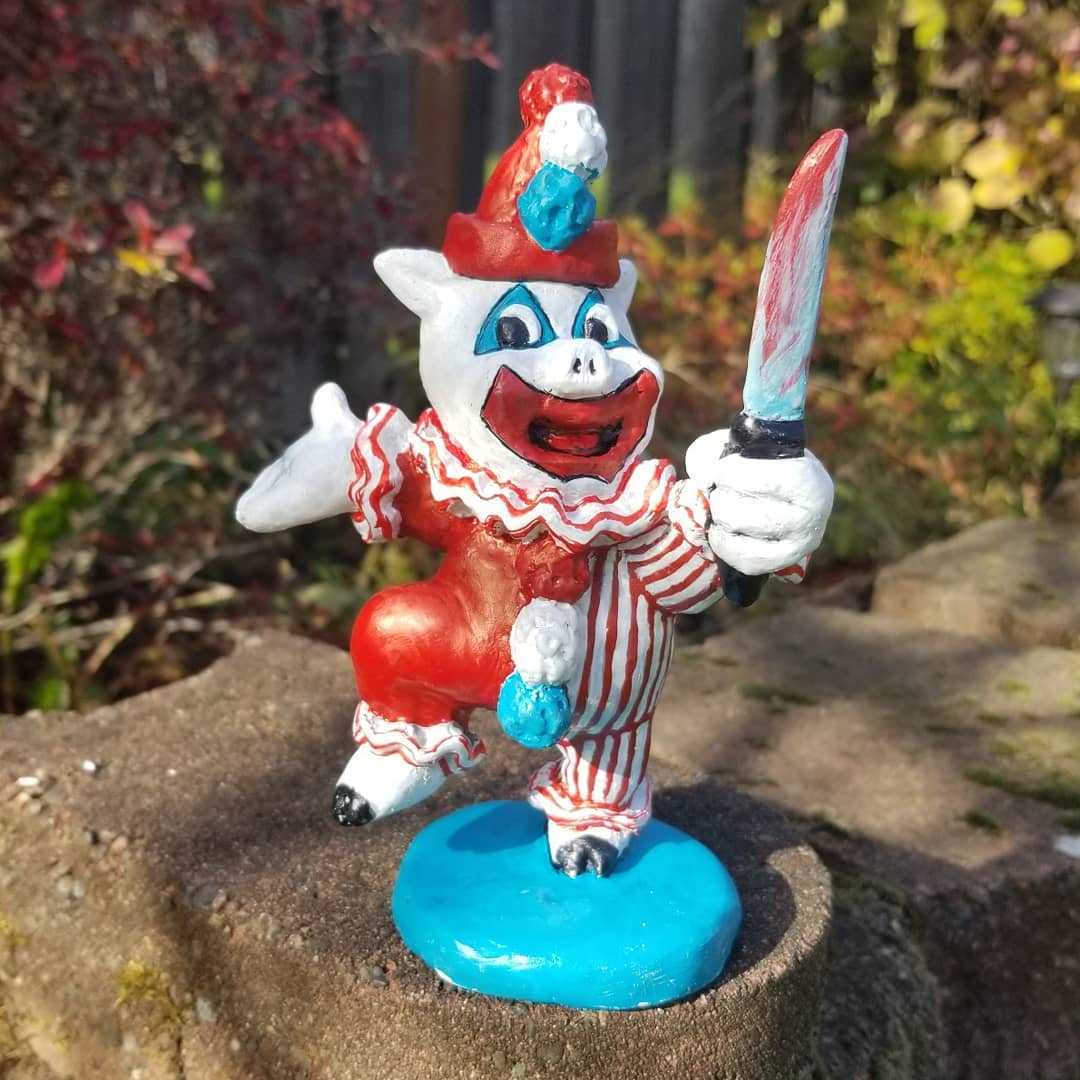 Favourite other artist(s)?
I have a list so long I could go on for days, there is just so much amazing talent out there.
To name a few of the greats in my opinion that have inspired me the most are: Robert Williams, Rockin Jellybean, Pusshead, Frank Frazetta, Ed 'Big Daddy' Roth, Bernie Wrightson, Basil Wolverton, Bill Campbell, Dave Stevens, Greg Irons, Will Venton, Chuck Jones, Shawn Dickinson… and the list goes on.
Thoughts on the current status of the tattoo scene?
I'm fine with the way it's turned out minus the regulations imposed by people that aren't a tattooer.
I also see a lot of kids coming into the industry that don't know and don't care about those that came before them, so it's my duty as a senior journeyman tattooer to do what I can to educate the ones that are receptive.
We have a rich history in the tradition of tattooing and a romantic connection to the dark underground that will always excite me. I love tattoos and I love tattooing.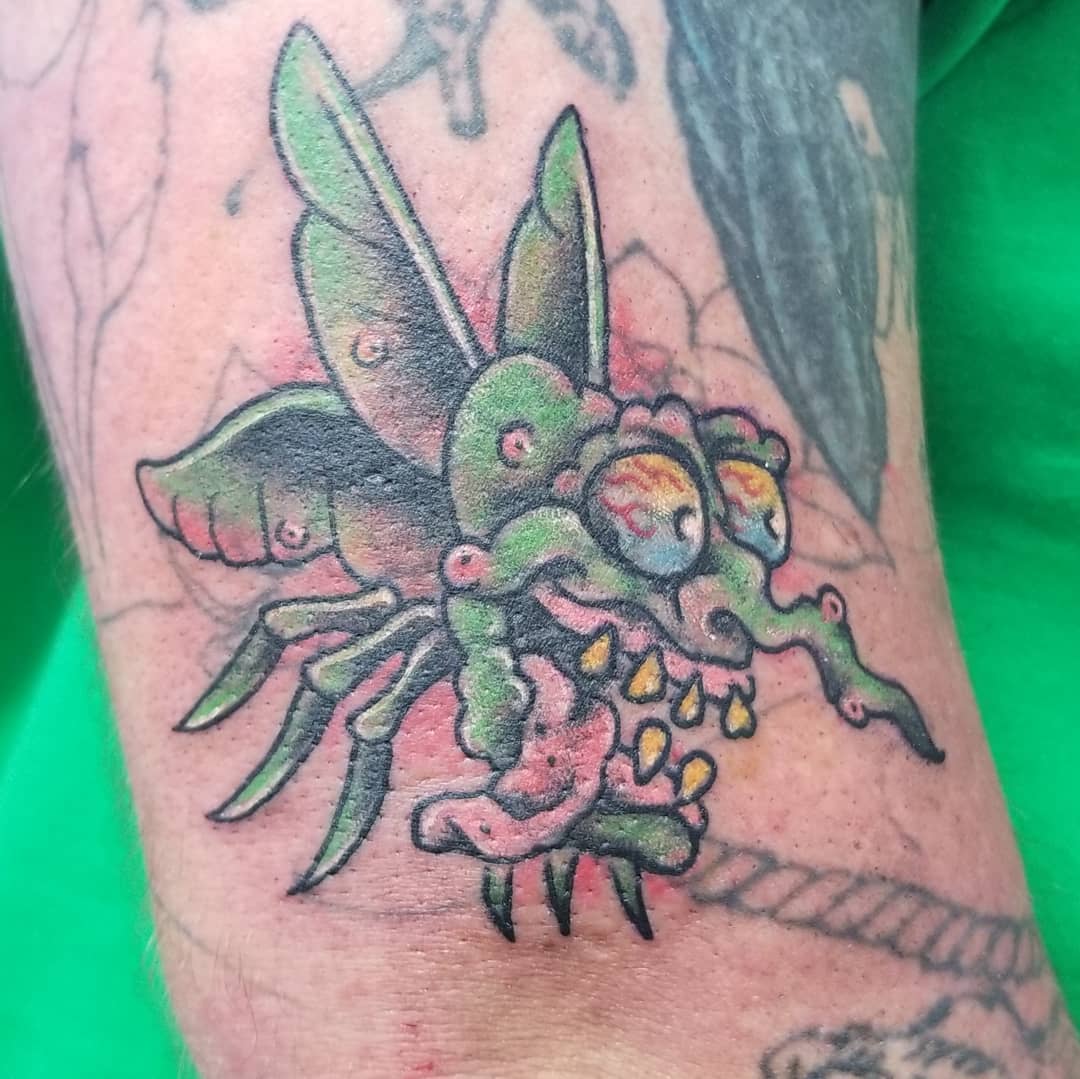 Any projects you want to hype?
I have so many project's underway right now that I'm exited about, at the moment I have my pazuzu replica I sell through Etsy linked on my Instagram page.
I also have a series of horror icons 36in x 48in I'm painting for a show here in Portland Oregon, just looking for the right venue for now.
I recently got licensed to become an official ratfink artist. So fink merchandise is coming soon with my flare of course!
Also I have a few posters that I have been sold out of for a while that I will probably do another run on.
And one last thing … I have a brand new website coming soon dirtyoldog.com – so keep yer eyes peeled for updates!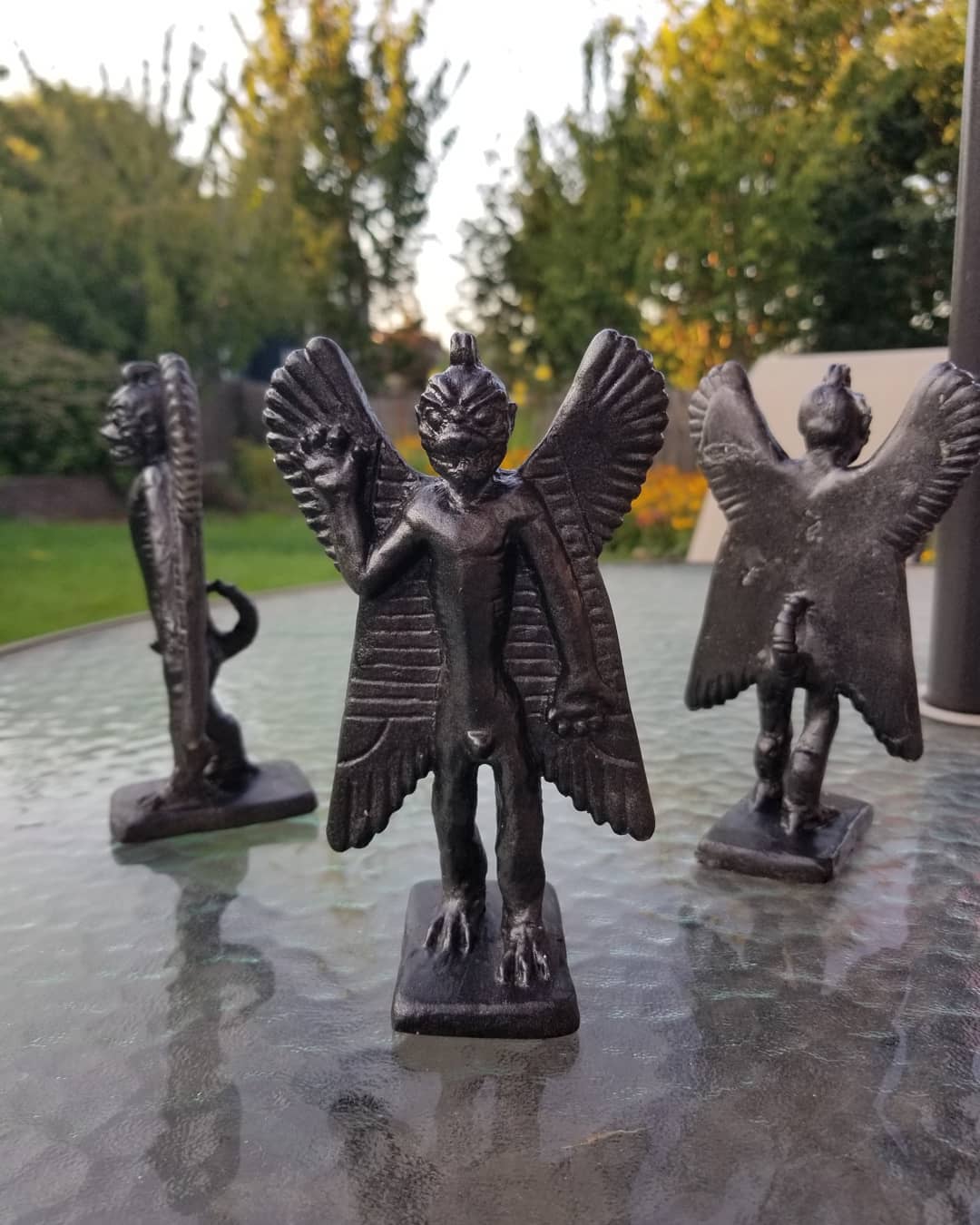 If people wanted to work with you, have a chat, buy something or get a tattoo – how should they get in touch?
I can always be reached through email: whoznutz@hotmail.com
I also have an Instagram page @coyotetattooart. And of course my new website DirtyOlDog.com coming soon!
So feel free to drop me a line, discuss commissions, or if you just want to say hello.
Odds and Ends
If you could live in any place, during any historical era – where and when would that be?
I have no problem with living here and now. I love it, shit's just getting good!
What role did toys play in your childhood?
I grew up in the 80s and the toys that came out at that time had bulging eyes and oozing slime like Boglins, Madballs, Mad Scientist and He-Man.
I wasn't allowed to have any of those amazing toys but that just fuelled my imagination and I drew pictures of them.
Drugs – waste of time or gateway to the universe?
Personally, I stay away from drugs but I have no problem with folks that wanna feel a little better, they just legalised smoking grass in this state but this stuff nowadays is just too strong for me and it slows me down.
I did in fact have many psychedelic experiences in my younger years that I can definitely say has impacted my sense of humour.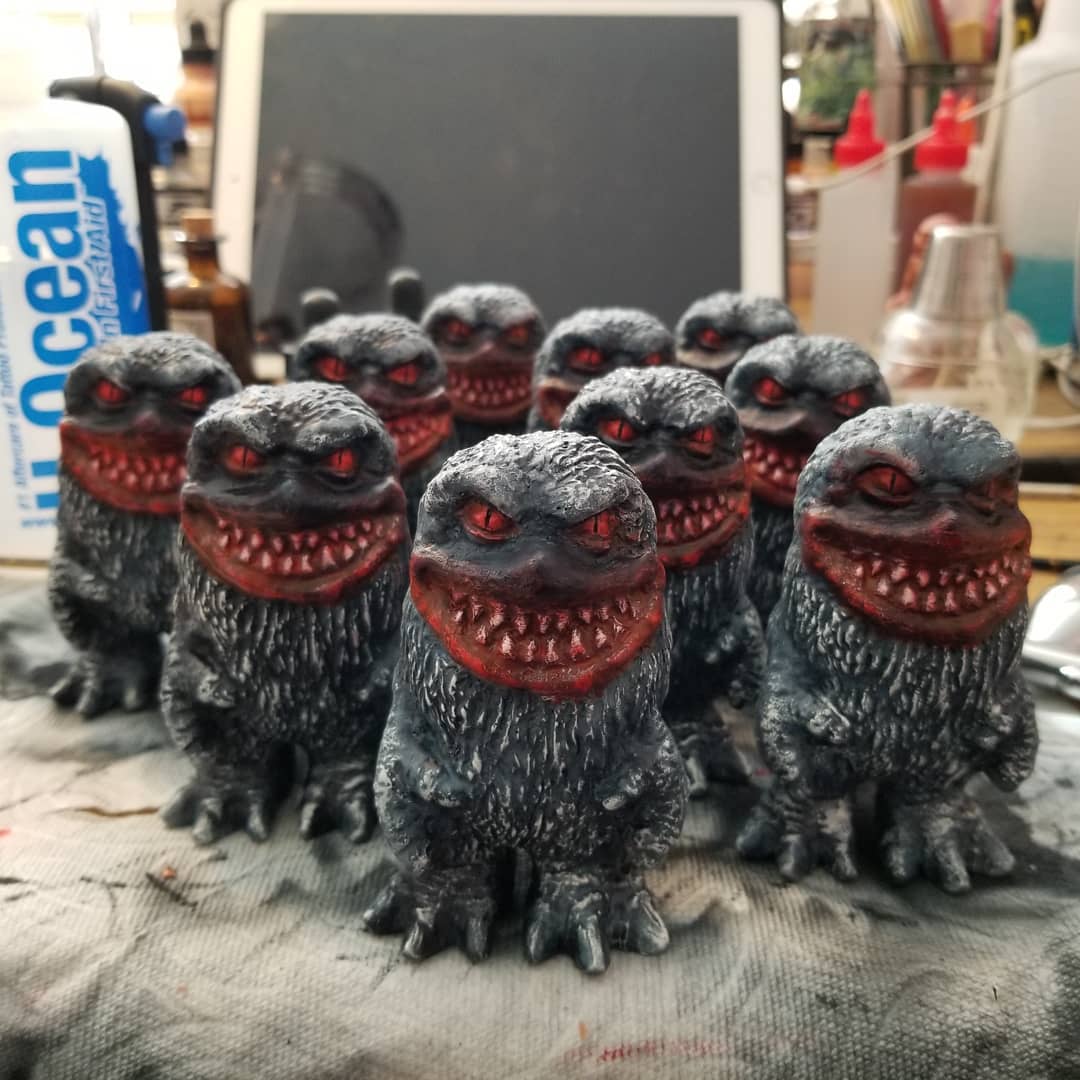 What do you think the American zeitgeist is today?
Too much social media and the kids are talking to robots.
Who was your 1st crush?
My first crush Was little orphan Annie in 1982 movie when I was 4, "because she was singing to me!"
Does sex change everything?
Yep!
Screw responsibly folks!
What are the top 3 items you own?
I own a small collection of nutty mads from 1963.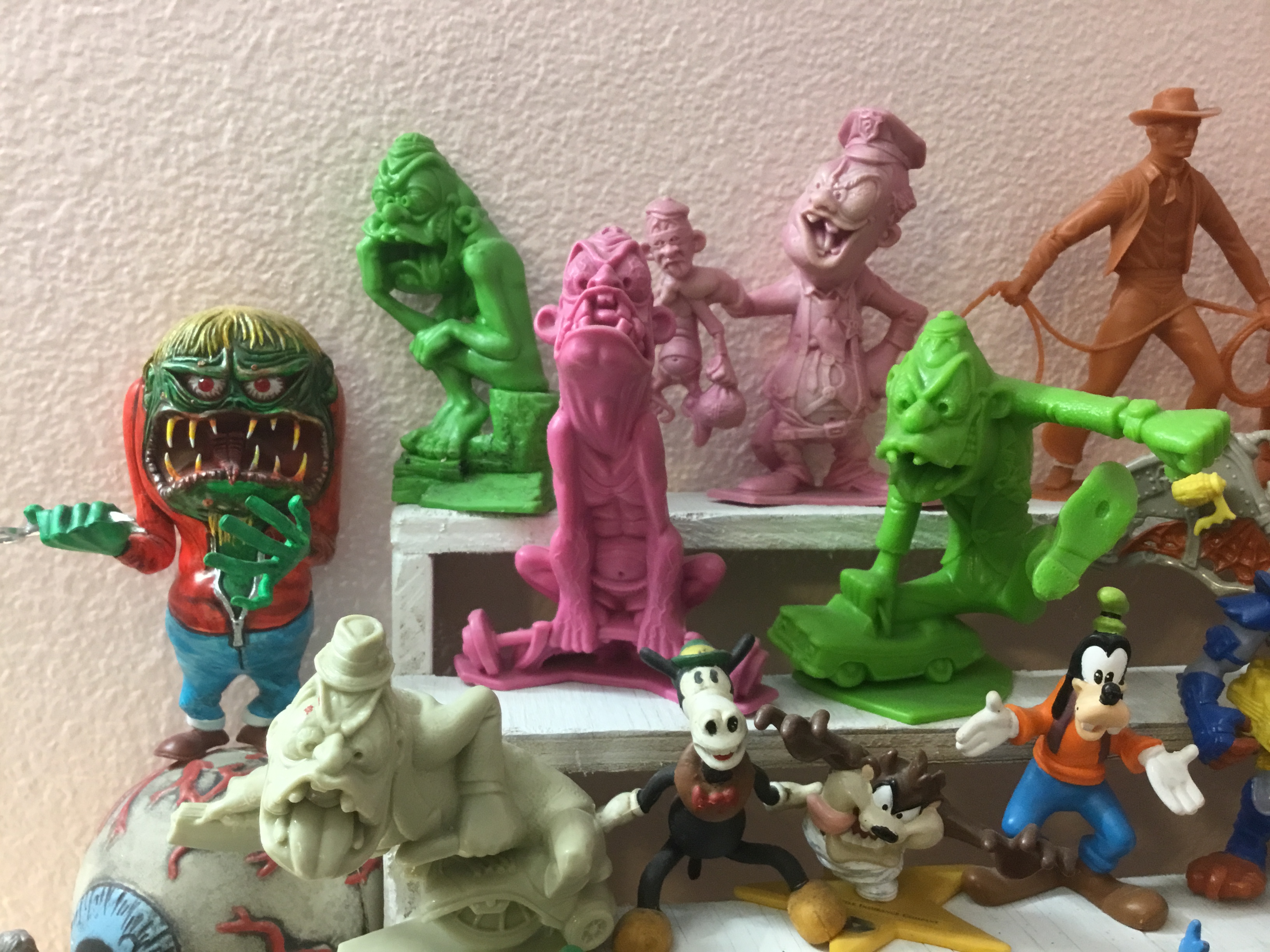 A fantastic underground comic book collection.
The new Robert Williams book.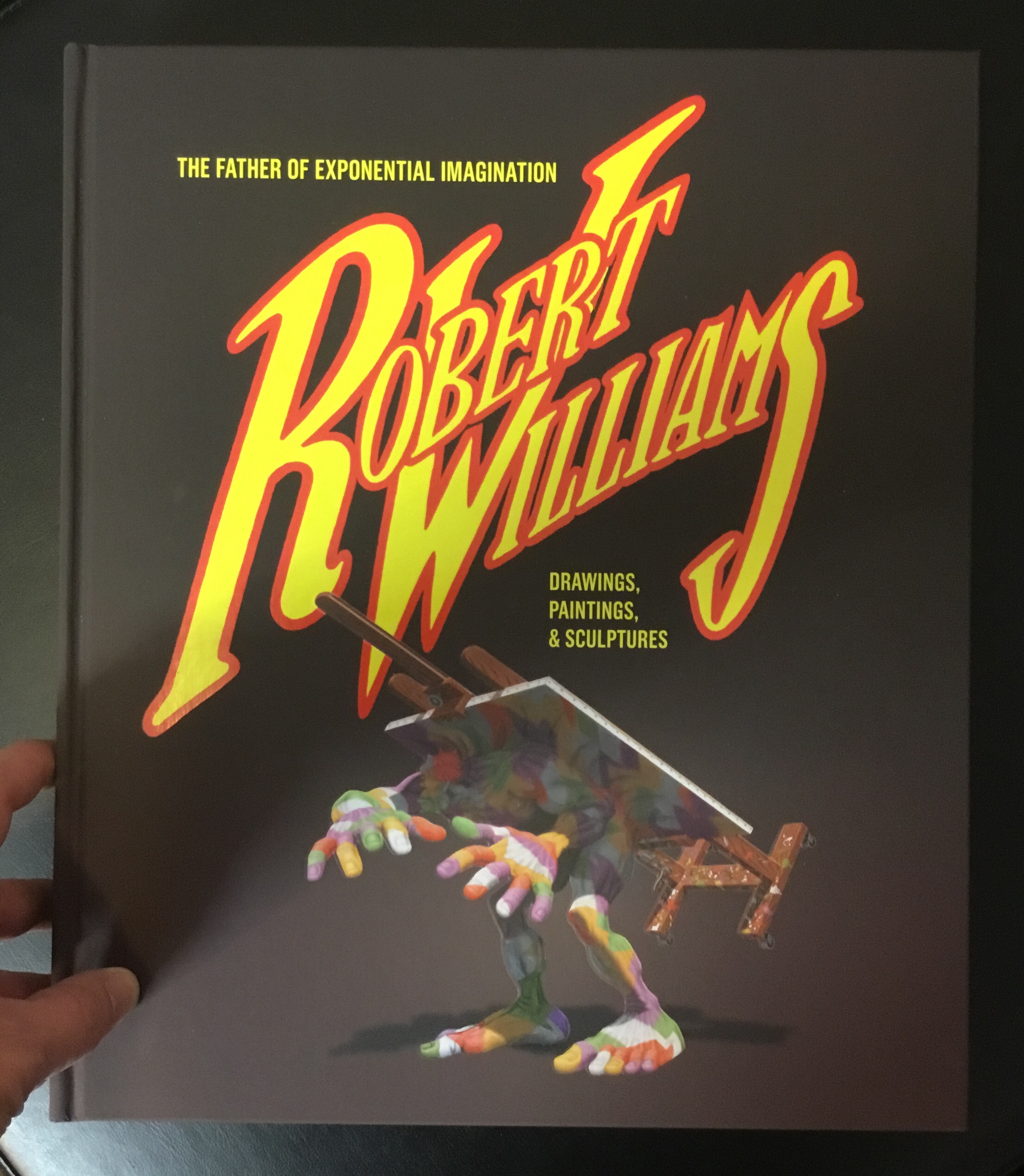 In a battle between the two iconic monsters: a gang of rowdy Mogwai / Gremlins (from the 'Gremlins' film franchise) Vs. Count Chocula (from the Monster Cereals line originally released by the General Mills Corporation in 1971) – who would win?
That's a tough one , I would like for Count Chocula to win but I just can't envision a chocolate vampire walking away unscathed from a group of Gremlins.
They eat him.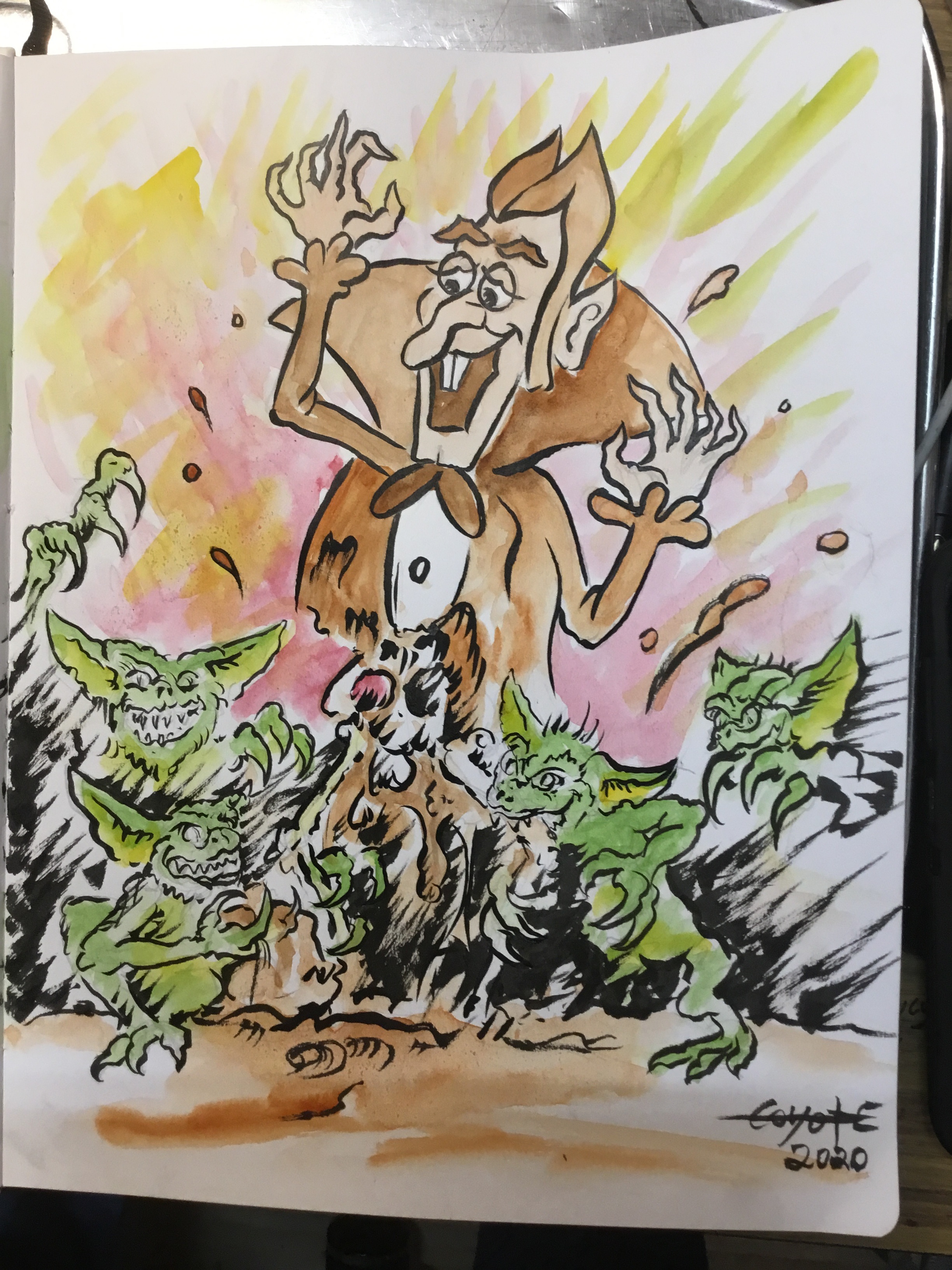 Which cartoon character would you most like to see in a tribute sex toy?
A Popeye fist butt plug, because it would be fuckin hilarious and it would sell for the comical novelty, and just for the record, you asked for it!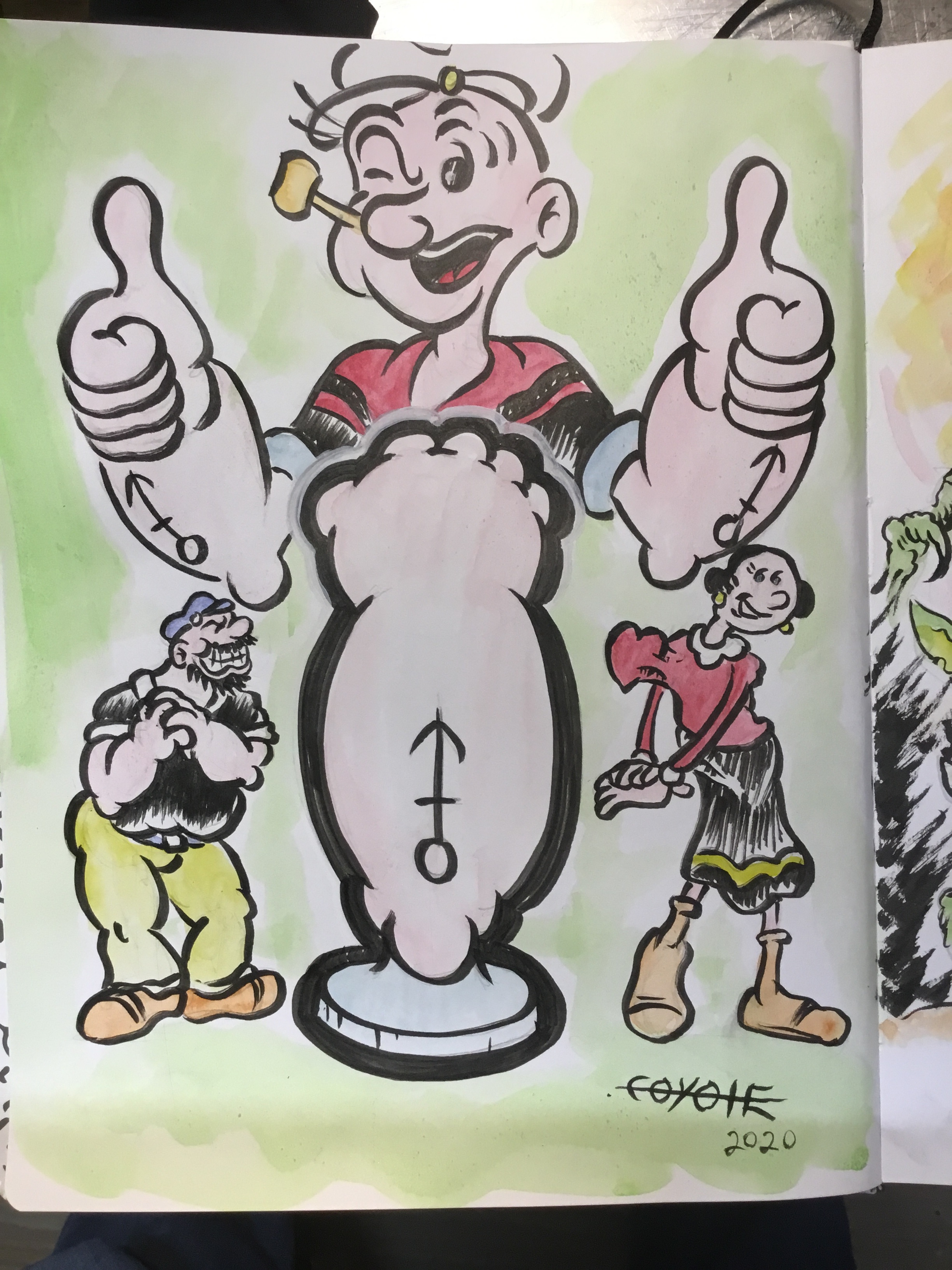 Please describe your last dream in detail…
I don't do much sleeping.
Of everything you have done what would you most like to be remembered for?
I would like to be remembered as the guy that rose through the ranks with diplomacy and a humble disposition.
Links