The art of Coop is iconic. His red Devil Girls and Naughty Nuns have adorned the walls of countless tattoo parlours and record stores around the globe. Bold-lined cartoons of zaftig Bettie Page-esque women manipulating their labia; and cigar chomping lounge lizard Devils usher forth from his pen as well.
His style pulled elements of the '50s and '60s underground into the heavily tattooed and pierced alternative world of the '90s and 2000s. Often imitated but never equalled, you know his work immediately when you see it.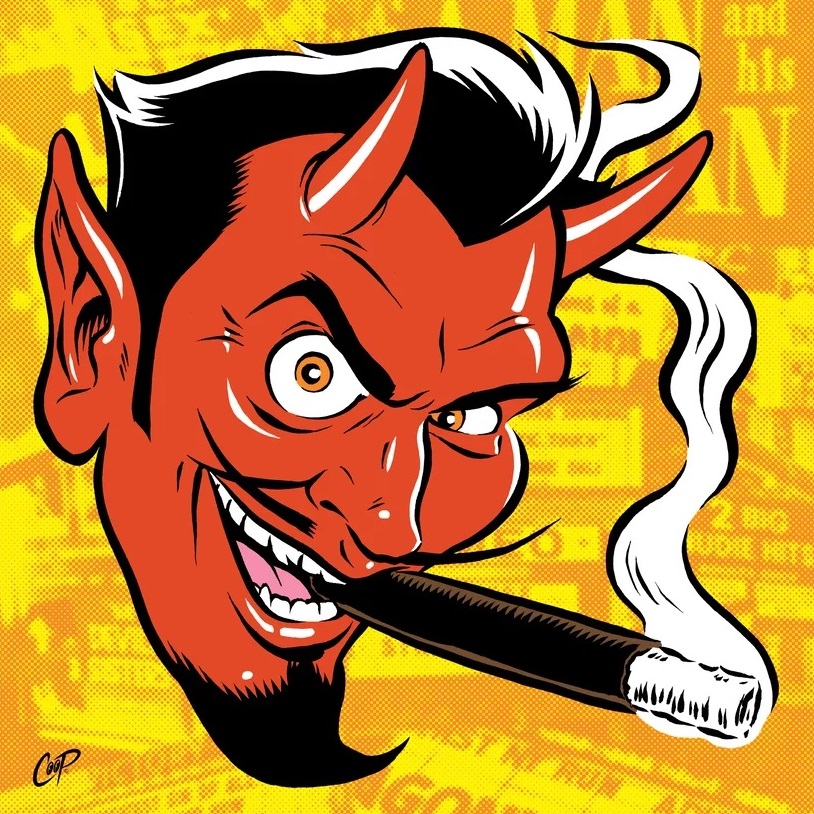 Coop got into the concert poster design world in 1991 at the suggestion of the late pop artist, Frank Kozik. It didn't take long for his distinctive style to become appreciated and he subsequently designed posters for notable groups such as White Zombie, Reverend Horton Heat, Lords of Acid, MxPx, Green Day, Nirvana, Soundgarden, Foo Fighters, and more.
He is also an avid hot rod enthusiast and well known amongst the Kustom Kulture car community.
Besides these things Coop is (or was) also friends with a variety of fellow underground luminaries, including late Church of Satan founder, Anton Szandor LaVey. He has also collaborated with notable designers such as Shigeru Arai aka NagNagNag, and is well known in the toy collector community.
Coop is also a keen record collector, keeping an interesting and eclectic mix of musical styles on rotation at his home, showcasing his music collection via Instagram posts.
I am thankful that Coop took some time to answer my questions about his interests and more; providing a rare peek into his lurid red den of iniquity!
Check out Coop's interview below…
One of your most famous images is of a crazed but dapper looking Devil smoking a cigar.
Occasionally booze is represented in your art as well.
Are you an aficionado of fine tobacco and/or whiskey?
If so, what are your current favourites?
I used to smoke cigars, but I gave it up after 9/11 – I was in Manhattan for an art show the weekend before, and had run out of cigars. I was going to buy more when I returned to LA, but the morning I was due to fly out, 9/11 happened (I was scheduled to fly on the American Airlines NYC to LA immediately after the one that hit the towers!)
I had to take a train to Philly, then rent a car to drive back to LA.
By the time I'd returned, after all the stress of that week, I just decided to quit smoking cigars.
I still have a pipe every now and again.
My preference for drinking is Scotch, neat. I usually drink Balvenie or Aberlour.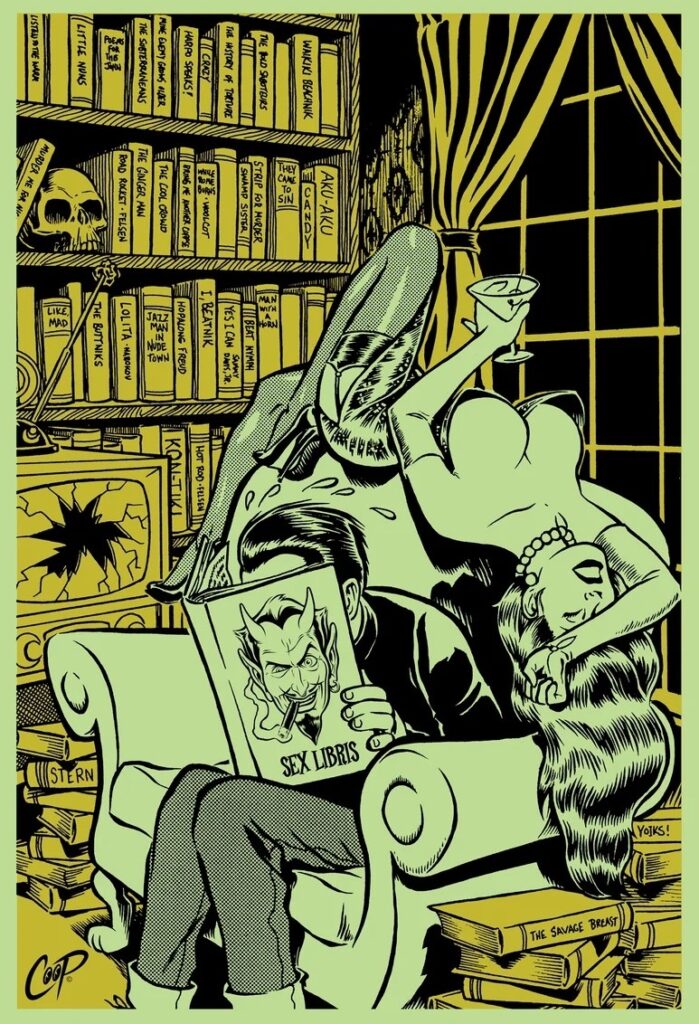 I understand that you are currently a resident of the Austin, Texas area.
Austin is quite unlike other cities in Texas. Many Texans (including Austinites) have a love/hate relationship with the city.
What are some of your favourite, & least favourite things about Austin?
We've been in Austin since the end of 2018. I like it a lot – We moved here to get out of the grind of life in LA, and raise our son someplace a little more laid back.
Austin is a great town for music and food, two of my favourite things. The record stores here are incredible, some of the best digging I've had in years, and the big record fair twice a year always empties my wallet.
The worst thing in Austin is definitely the drivers here, such bad drivers…
The famed Austin, Texas artist Frank Kozik passed away recently…
I've read that you were friends and that he urged you to start making poster art.
Do you have a story or particular memory about Kozik that you might share?
I was introduced to Frank at San Diego Comicon in 91 or 92. He was the person who encouraged me to start making silkscreen concert posters, back when he was about the only person doing it.
His company published my prints for a few years after that as well.
We had a falling out after a certain point and stopped working together.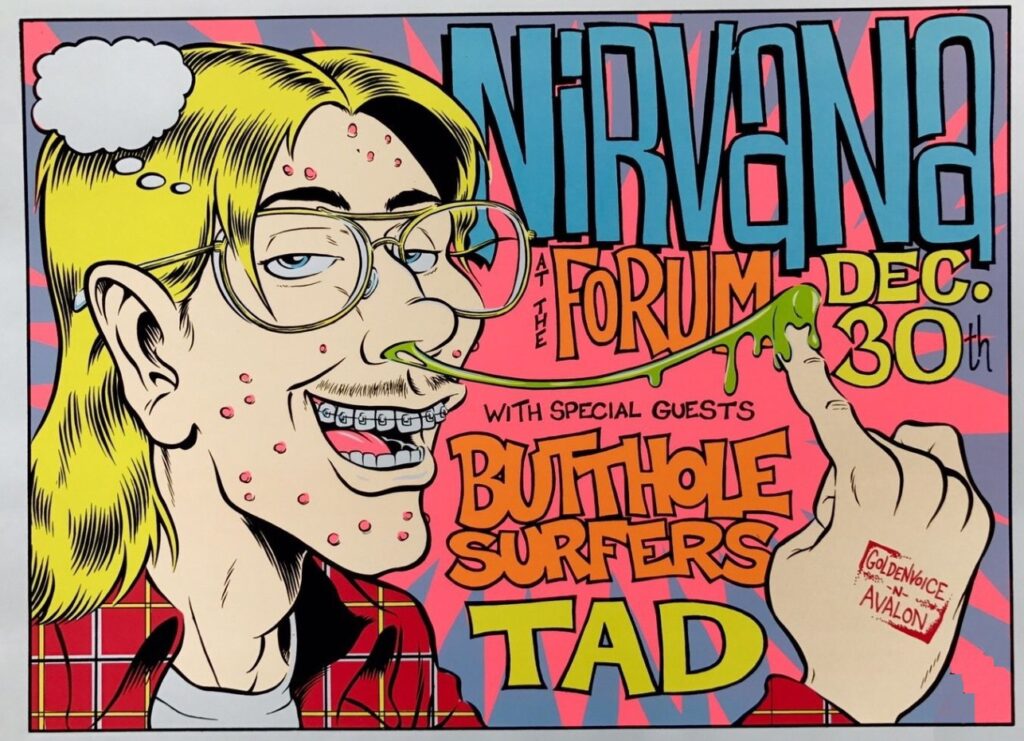 Hot rod cars figure heavily in a lot of your work and I understand that you are also an active participant in that culture, collecting and working on classic cars and even participating as a driver in a race in Mexico!
Have you participated in other races?
Do you have a current hot rod car project you are working on?
I've always had weird old cars in my life – currently I have my 1929 Model A Sedan hot rod that I got on the road in 2003, a '46 Ford Tudor Sedan that was hot rodded in the fifties and found in a barn in Wisconsin by my friend Bob Bleed, and my 1929 Model A Phaeton – I'd always wanted a Phaeton, inspired by the Phaeton that Jim 'Jake" Jacobs built in the 80s. I collected parts for 20 years, and finally built one when I moved to Texas, thanks to my friend and fellow Kontinental, Ben Thomas. It's on the road now, with plans to finish it this winter with shiny paint and interior.
I haven't been able to go racing since 2009 – it's an expensive hobby.
I'd love to go race in Mexico again – That was some of the most fun I've ever had, and Mexico is an incredible, beautiful place. I've gotten to see pretty much every part of it through racing there.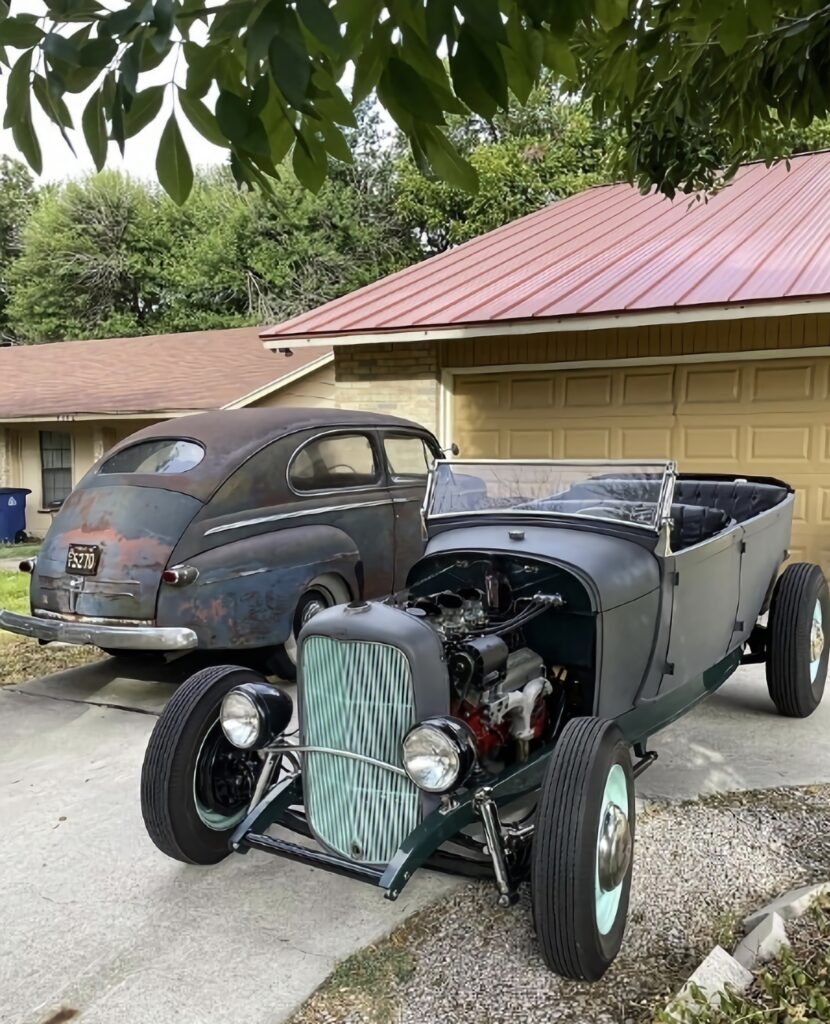 The artist-as-car-nut strikes me as something you have in common with another famous artist, Charles Addams (the creator of The Addams Family).
He was a noted classic race car collector and driver as well.
Are you a fan of his?
Of course. His book Dear Dead Days is a big influence – it's not a collection of cartoons, but a collection/scrapbook of all the weird things he obsessed over – very inspiring.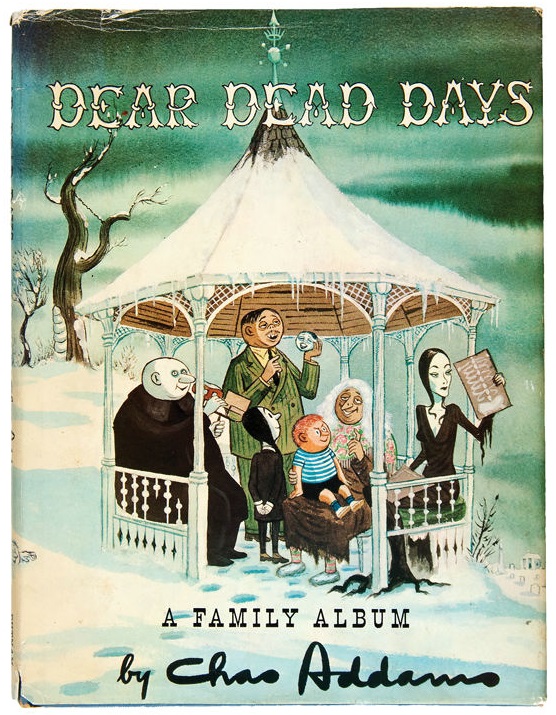 I read that you made a deal with the toy company Hot Wheels to produce a line of Coop car toys! I can see that as being beneficial to keep a new generation of kids (and adults) interested in that style of car, especially these days.
How did that deal come about?
I talked to Mattel several times in the late 90s/early 2000s about making Hot Wheels, but my stuff was always too much for them.
What finally happened was this guy who put together Hot Wheels collector shows in Japan made a deal to produce a set specifically for Japanese collectors, and brought me to Japan for a Hot Wheels convention.
He ended up being a bit of a hustler, but I was able to do a two-car set of custom Mercury lead sleds with a custom display case. They still turn up on eBay sometimes, with a hefty price tag.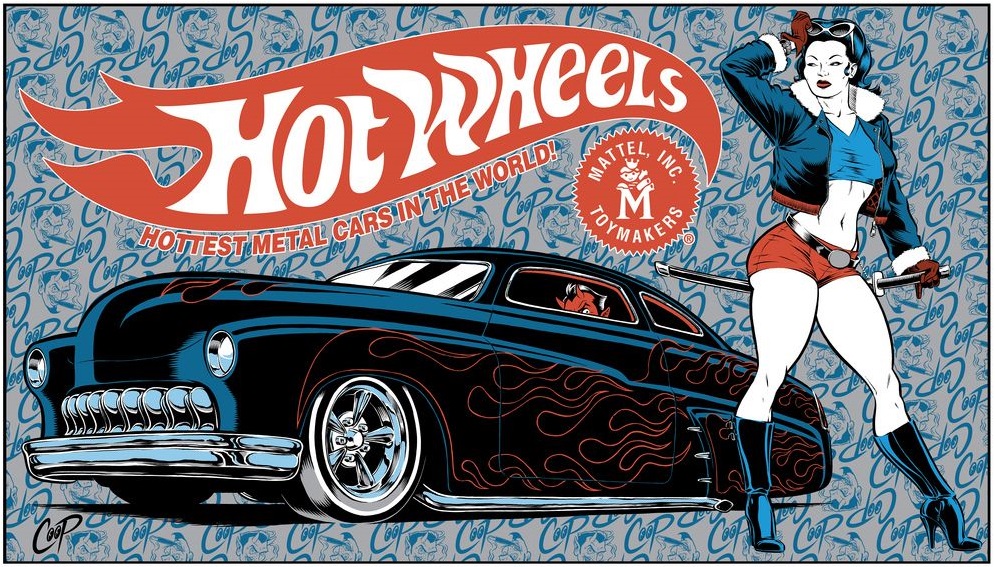 I hear you are an enthusiast about Mid-century Modern design and have a collection of furniture and decorations from that era.
What are your favourite pieces in your collection?
What is it about that style that draws you to it?
Honestly, I lost pretty much all my vintage designer furniture when I got divorced, and now that I have a kid, I'm not in the market until he's old enough to not wreck the furniture!
I gather that the artists Ed "Big Daddy" Roth and Robert Williams were very influential for you.
Can you remember which pieces of theirs you first saw that struck a chord with you?
Did you ever get the opportunity to meet with them?
I'm pretty sure the first place I saw Robert Williams' work was in Hustler magazine in the early 80s, but I grew up with Rat Fink and Ed "Big Daddy" Roth's work.
I met Roth several times, but unfortunately this was in his later days when he'd become a Mormon, and he was not a fan of my kind of work at all.
Robert Williams, on the other hand, I met pretty much as soon as I moved to California in the late 80s. I mentioned Jim Jacob's phaeton hot rod, which made a big impression on me because it was the first "real" hot rod I saw in LA, parked right next to Bob's "Aces & Eights" '32 roadster at one of his art shows in the late '80s in Beverly Hills.
Bob became kind of a mentor, and I became friends with him and his lovely wife Suzanne, an incredible artist herself. We've known each other now for more than 30 years.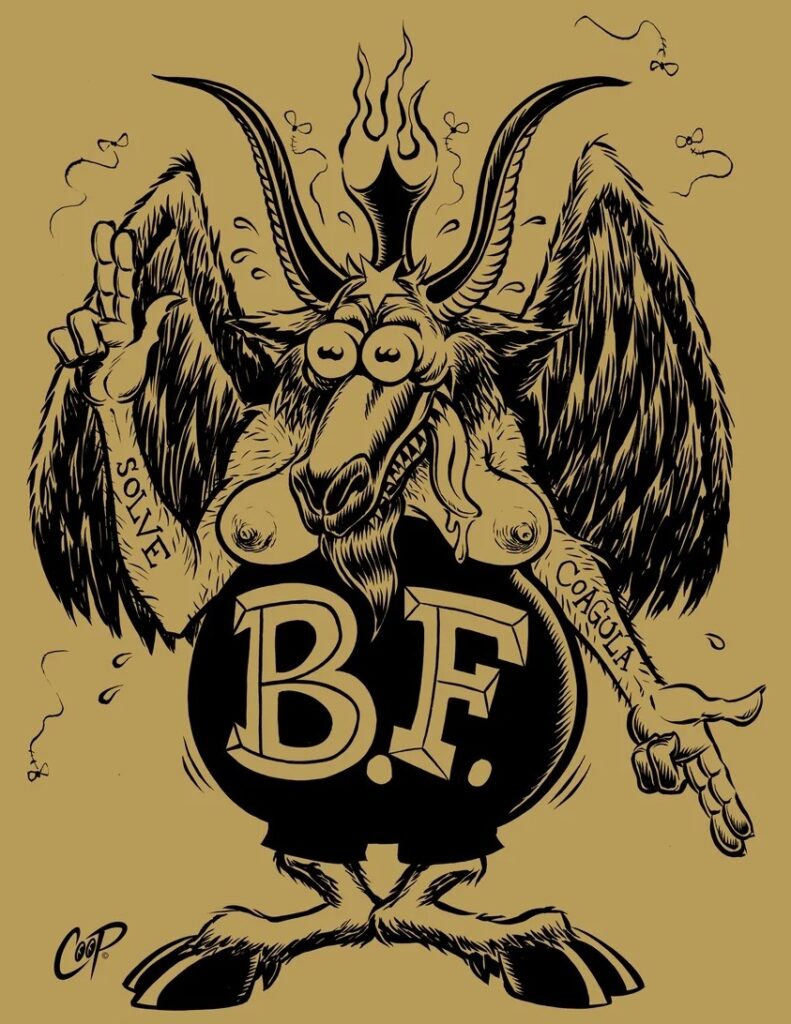 Our mutual friend Boyd Rice mentioned to me that you were good friends with the late Church of Satan founder, Anton LaVey. Everyone who was friends with him seems to have great stories about their times together.
Is there a particular memory or story about your time with LaVey that you might relate here?
Boyd was the person who introduced me to Doctor LaVey! He was an amazing person, and I was very lucky to get to spend a lot of time at the Black House before he passed away.
At the time, Kozik's company in San Francisco was publishing my prints, so I would be in San Francisco every two weeks or so. I would usually visit Doctor and Blanche whenever I was in town, even sometimes staying overnight at the Black House.
I cherish every second that I spent with him, especially now that he and the house are both gone.
The first time that I visited them, we ended up spending the evening talking about old country & western music – Doctor had encyclopaedic knowledge of pretty much anything musical. Most times that I visited; we would sit in the kitchen all night drinking coffee as Doctor played music for us.
One trip, just after his son Xerxes was born, we all went to the Fairmount hotel, to have dinner in the Tonga Room, the old tiki bar in the basement. Afterwards, we were walking out of the hotel, Xerxes in a stroller, when two old ladies walked up to ooh and ahh over the baby.
One of the ladies actually said "oh, he has his father's eyes!" and it was all we could do to not start laughing!
Magical things like that happened every time I was with him.
We would always go out to dinner at his favourite places in San Francisco, like Westlake Joes, or a French restaurant on Geary whose name escapes me now, even Mel's Diner!
Everywhere we went he was recognized and loved.
The most magical night we ever spent together was also the last time I saw him. I had asked many times about seeing the Den Of Iniquity, the roadhouse bar built in the basement of the Black House, and finally one night, Blanche said they had been downstairs making it ready for visitors.
We went down, and it was incredible – just as I'd heard it described!
There was a bar with Doctor's custom mannequins in vintage clothes, a real bubbling Wurlitzer jukebox full of 78s, and a Hammond B-3 organ with Leslie speaker, and a drum kit. Doctor sat down behind the organ and started playing the kind of songs you would hear in just such a place, stuff like "Night Train" and other tunes from that era. It was incredible.
We were there until the sun came up, and I couldn't sleep after leaving, I was so charged up by the whole experience. It was only a couple of weeks later that he passed away, so I count myself incredibly lucky to have had that experience.
I miss him every day.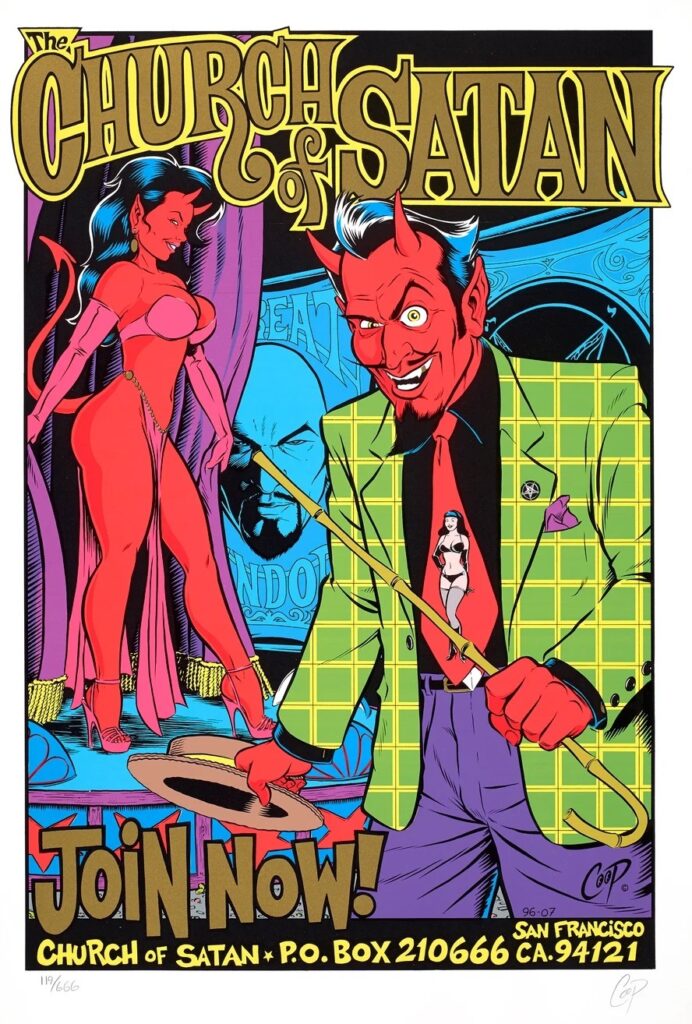 Some of the classic Universal Studios Monsters are featured in your pieces, often in a sexy or 'rock-n-roll' style.
Are you a fan of horror films in particular?
If so, what are some of your favorites?
I love all the classic Universal horror films, but particularly Bride of Frankenstein and The Black Cat. I'm a huge Mario Bava fan (Lisa & The Devil, Blood & Black Lace, Black Sunday) as well as Dario Argento – Suspiria is one of my all-time favourites.
I also love Jess Franco.
I grew up with all the classic Hammer horror movies, those are all great, but The Devil Rides Out is my favourite.
A great one I saw only recently is Viy, a Soviet-era Russian horror movie, based on the same source material (a short story by Gogol!) as Black Sunday, but very different, with some incredible practical effects and a very sexy dead witch!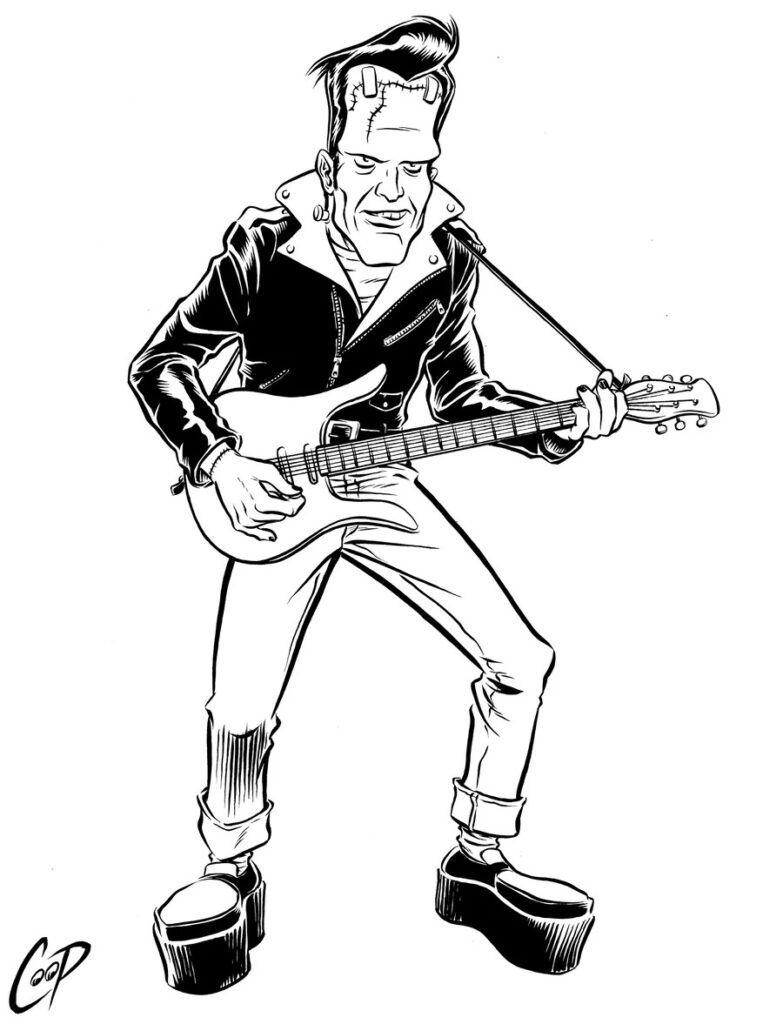 I follow you on Instagram and always enjoy your posts featuring obscure records from your collection. You have a varied taste in music with a lot of Garage Rock, Punk, and Dub Reggae records featured.
Have you done any DJ gigs, or would you be interested in DJing?
Before I moved to California, I was a radio DJ in Oklahoma – I took over a friend's late night show, and played all my own music, before shutting down the transmitter each night. I had to get an FCC license and everything.
I almost stayed in Oklahoma to pursue that career; I'm glad I didn't.
I got back into DJ'ing in the past ten years or so, I need to find another regular spot to do it here in Austin.
I collect 45s, and that's what I like to DJ with – the 45 is the perfect musical format, especially for rock & roll.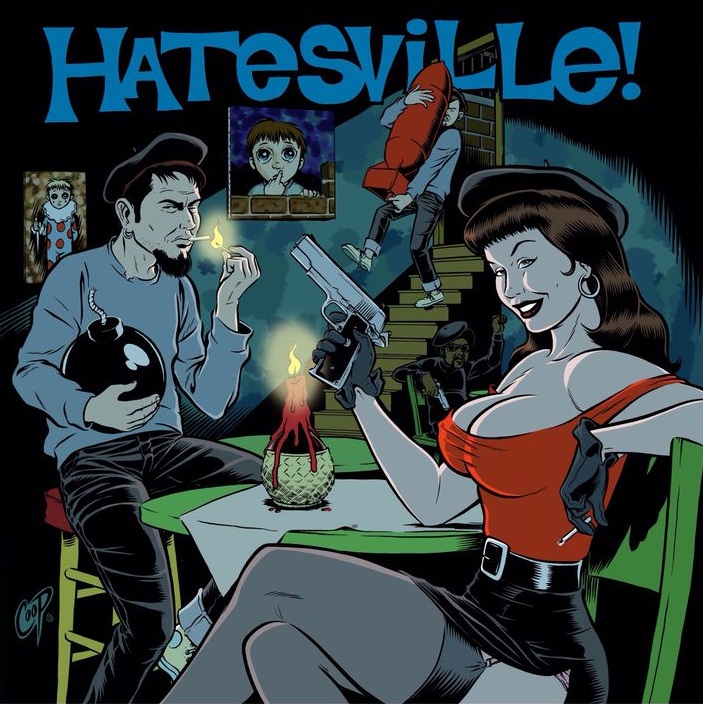 You have had an array of beautiful women pose as models for your drawings and photography over the years.
How does a lady become a Coop model?
Do you have women contacting you with interest, or do you search them out?
They find me!
I've been around long enough now that I've had models show up for a shoot and tell me that THEIR PARENTS collected my work, which only makes me feel slightly ancient.
I've known more than one woman with a tattoo of my signature, because they thought they were a "Coop Girl!"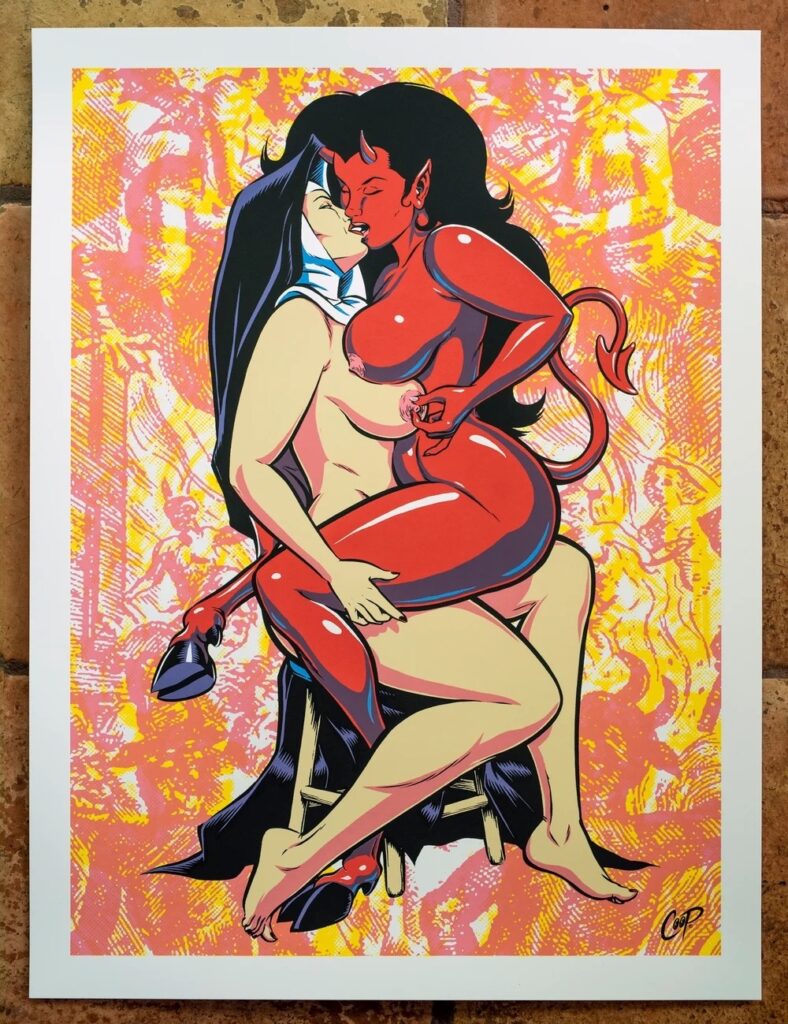 What's new with Coop art?
Are there any current projects in the works that readers should be on the lookout for?
I'm just continuing to make stuff – drawings, paintings, silkscreen prints, photos, etc.
It's compulsion.
I'm beginning to work on another book collection of my work, but it's still early days, putting together material and getting stuff photographed and scanned.
Part of the reason for moving to Texas was to live somewhere less expensive than LA, so I could just make things for myself, and not be required to take on commissions or commercial work.
Thank you for participating.
Do you have any parting words for the readers?
Please keep supporting artists, especially ME!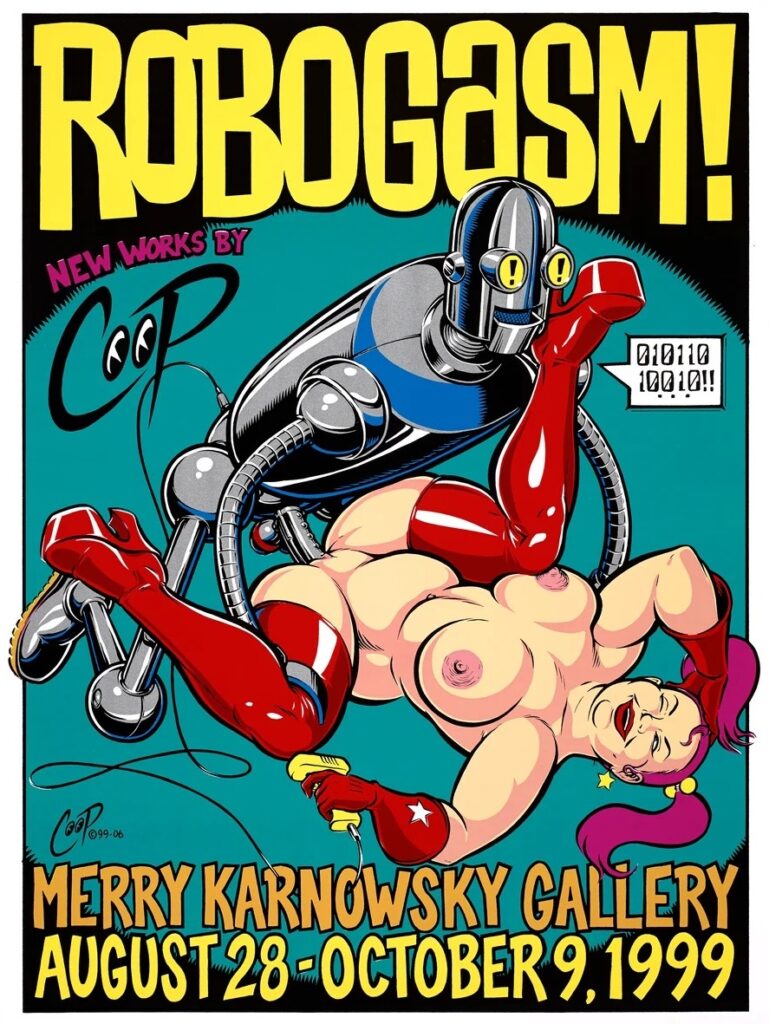 Links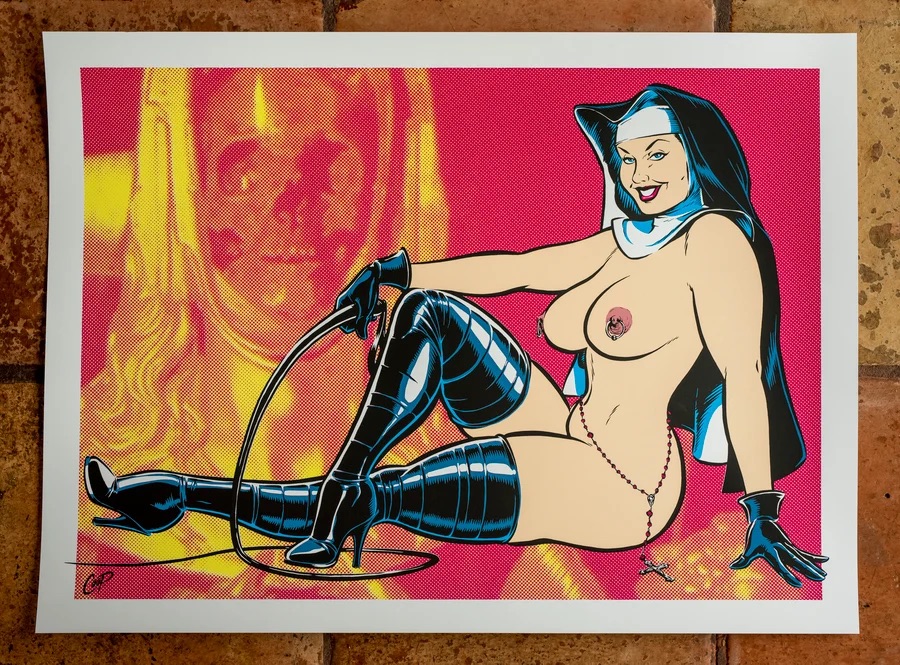 All images supplied by Coop or sourced online.