After a hugely successful first show at 'Pass.Port. Gallery' in 2019, Toby Zoates is back for round two. More art, more protest, and importantly now with his own 'Pass.Port.' range of apparel and skateboards being stocked in skate shops all-round the globe!
Where Toby's first 'Pass.Port.' show worked as a career retrospective, covering Toby's work from his 40+ year career and featuring a wide range of styles and mediums – Such as screen prints, paintings and illustrations; along with original posters for various musical and political events. 'The Politics of Survival' showcases 31 of Toby's recent works responding to both local and global political issues.
(A selection of paintings from the show.)
With the show including a range of small, medium and large-scale cartoon-strip-like paintings commenting on issues such as: the recent Sports Grant Saga that engulfed the NSW State Government, the global Black Live's Matter protests, the Australian Federal Government's controversial university fee hike and more – all depicted in Toby's unique line and vibrant colours.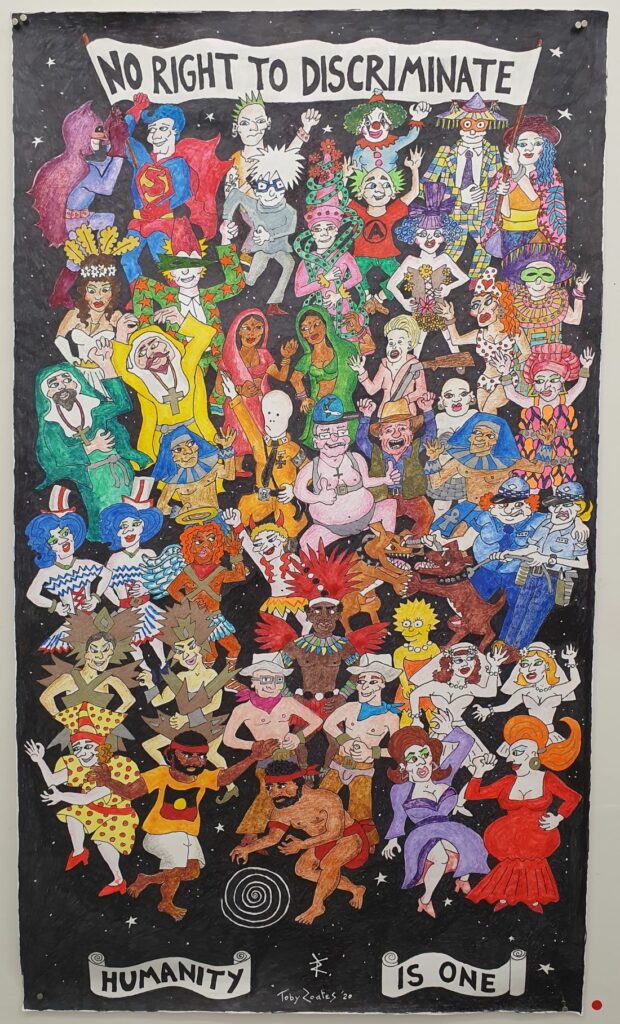 Additionally, a restored version of Toby's 11minute, 1984 short film 'The Thief of Sydney' was also on display in the gallery playing on a continuous loop. It was truly wonderful to see Toby's ground-breaking film – a mixture of animation and live action – restored and in full high definition!
I can't wait for its wider release and to see Toby's other films – all of which have recently been restored by The Australian National Film and Television Archives – being enjoyed by new and future generations.
(Screenshot photos from Toby's 11minute, 1984 short film 'The Thief of Sydney'.)
Importantly – and true to his from the streets and for the people ethos – Toby made the effort to appear at the show in person on many of its open days; and even went as far as to include his personal mobile number on the price list!
Want to ask him what his work means? You could. Want to roast him for his political views? You could. Want to ask him about his wonderful life of protest, music, art and travel? You could and absolutely should.
Toby doesn't hide behind his dealer or his name, indeed, Toby literally put(s) himself out there with his art. Negating any of the usual barriers and pretention that can often be found in the art world.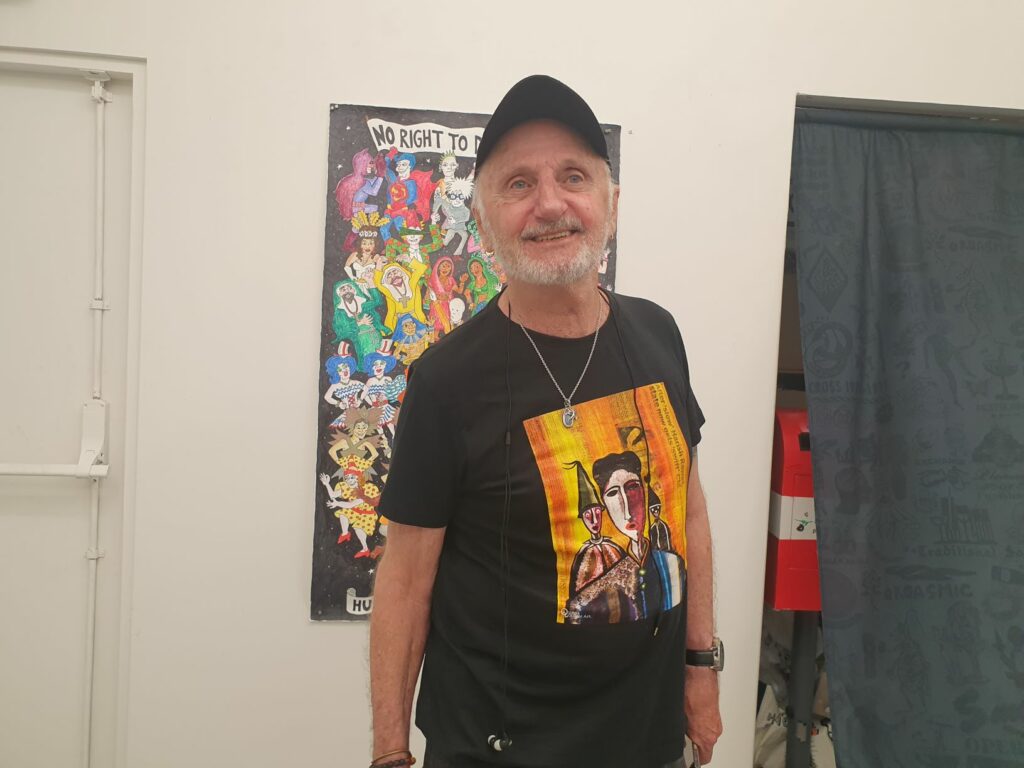 With Toby's films being restored by The Australian National Film and Television Archives, multiple successful gallery shows and his works being transformed into apparel and skate decks – it is clear to see Toby is gaining the recognition and appreciation he truly deserves; and finding a new generation of fans and admirers.
Further – what better way to honour Toby than turning his transgressive art into apparel and skateboards that will be taken to the streets that Toby and his art embody.
(Details of Toby's 'Pass.Port' apparel and skateboard range.)
Overall, the show was a colourful, multimedia delight – and it's great to see Toby getting renewed and increasing recognition for his many talents.
Links