Based out of Milan, Italy; comic artist Tommaso Dispigna aka Spugna's work comes from a love of monsters and weird stuff.
His first graphic novel, 'Una Brutta Storia', published by Grrrz Comic Art Books in 2014, won the Boscarato Award for Best Emerging Artist. His second and subsequent works – 'The Rust Kingdom' and subsequent 'Tales from The Rust Kingdom' – 'Gnomicide' and 'The Wizards Hat' have all been published through prominent purveyor of the underground, Italian publisher Hollow Press.
His most recent work 'Fingerless' is a textless tale about the invasion of a town by an otherworldly army.
We review it below…
The Specs
● Title = 'Fingerless'
● Date of Release = 2020
● Publisher = Hollow Press
● Artist = Spugna
● Number of Pages = 184
● Format = 17x24cm format
● Edition = First Printing
● Print Format = Full color cover with strips and embossed effect stitched binding
● Paper type = 140g Fedrigoni ARCOSET paper
● Printed In = Italy
● Language = None (textless)
● Release Price = €19.00
The Narrative
Two inhabitants of a nameless town witness an invasion that wraps their town in fingers.
As the two try to stay hidden, they witness the horror of the creatures that steal the faces of the townsfolk and turn them into mindless zombies.
With danger at every turn, the chance of survival appears slim.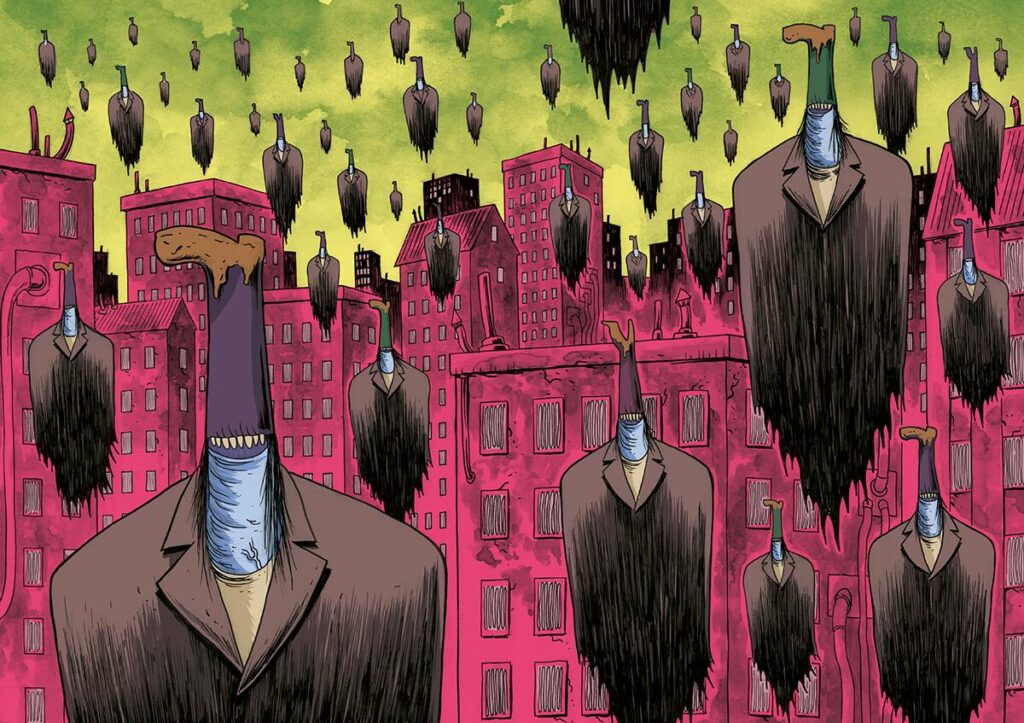 The Art
Feeling inspired, in part, by western animation of the 90's and reminiscent of artists such as Michael John Kricfalusi (The Ren and Stimpy Show) and Joe Murray (Rocko's Modern Life) – Spugna uses bright colours to capture both horror and comedic, gross out imagery. To this extent, the art reflects the guilty pleasure of a youth spent indulging in gross subject matter, that would draw in friends whilst repelling adults and those of a sensitive disposition.
Where Spugna's approach differs from the aforementioned American animators is within the finer details of his artwork, as textures and backgrounds are key to the artist's aesthetic – Wonderfully muddied backgrounds using black paint give the work a grimy feeling. With Spugna's details on veins, wrinkles and other details providing his world and its bizarre creatures with defined, realistic features.
A particular highlight comes in Spugna's monster designs; which warp familiar forms to create something otherworldly. Such as the tower made up of finger tendrils and hundreds of breasts.
A perfect mix of the perverse and the absurd – it is easy to get lost in Spugna's expertly depicted visions.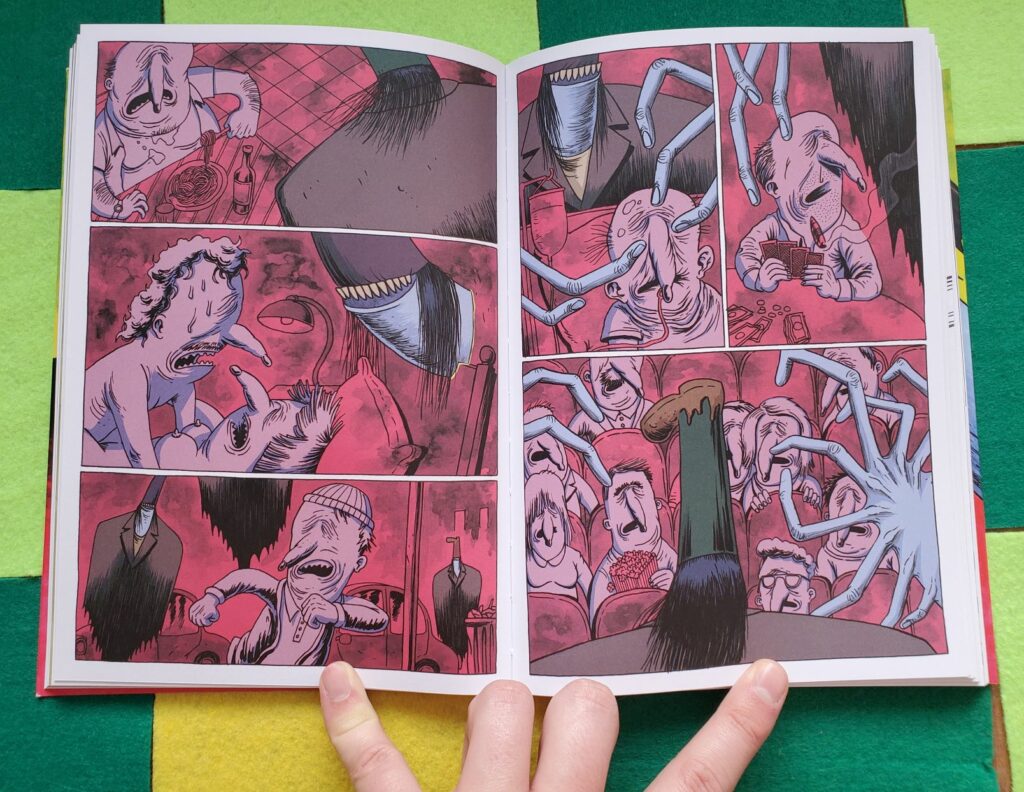 The Paper and Print
Italian Publisher, Hollow Press, thrives on presentation and gives each of the creators it works with an additional sense of artistic identity through their psychical releases. Spugna is no exception, with 'Fingerless' following the same format of his 'Rust Kingdom' series: a glossy, embossed cover that makes the art pop; the use of high quality paper and the 17×24 format.
An ideal platform for Spugna's art.
The details of the background and textural work are highlighted by the quality print; and the weight of the paper adds a sense of class. Making 'Fingerless' an ideal comic for collectors and those who relish in the printed medium.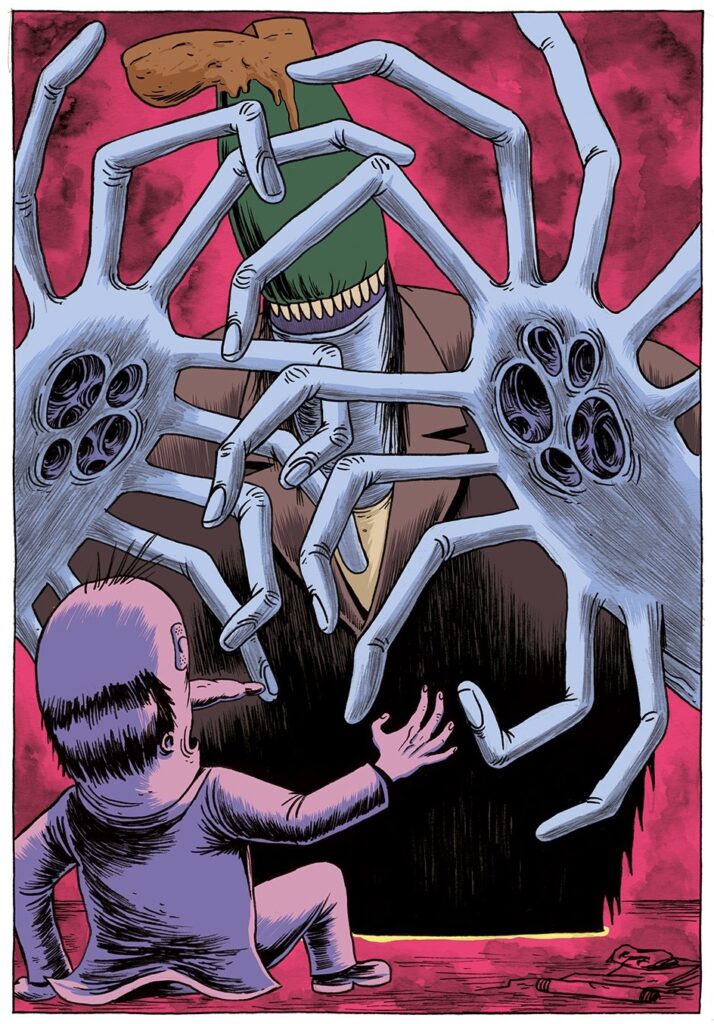 Overall Impression
Digits are tricky things, used as a means of pleasure, touch and connection but also a part of us that can be contorted to horrific effect. Our sense of touch being a comfort that can quickly switch to horror and unease due to someone or something using their fingers to reach out with mysterious intent; or even with outright violence.
Worse yet, the idea of losing fingers is enough to induce anxiety in anyone.
In this regard, 'Fingerless' captures the unease and terror of a landscape contorted by a loss of identity, feeding into the fears of many.
There is more to the release than just extremity horror, as 'Fingerless' also has a comedic vibe brought on by its over-the-top, almost cartoonish violence.
My personal favourite sequence being a round of tennis by the alien creatures, using the bloodied bodies of faceless citizens. The mix of humour and horror makes for a fun amalgamation that provides Spugna with his definitive style.
Overall, 'Fingerless' is a fun ride that left me giddy, by tapping into my love of outlandish violence and body distorting horror. Add the high quality of the release and you have a wonderful addition to any bookshelf.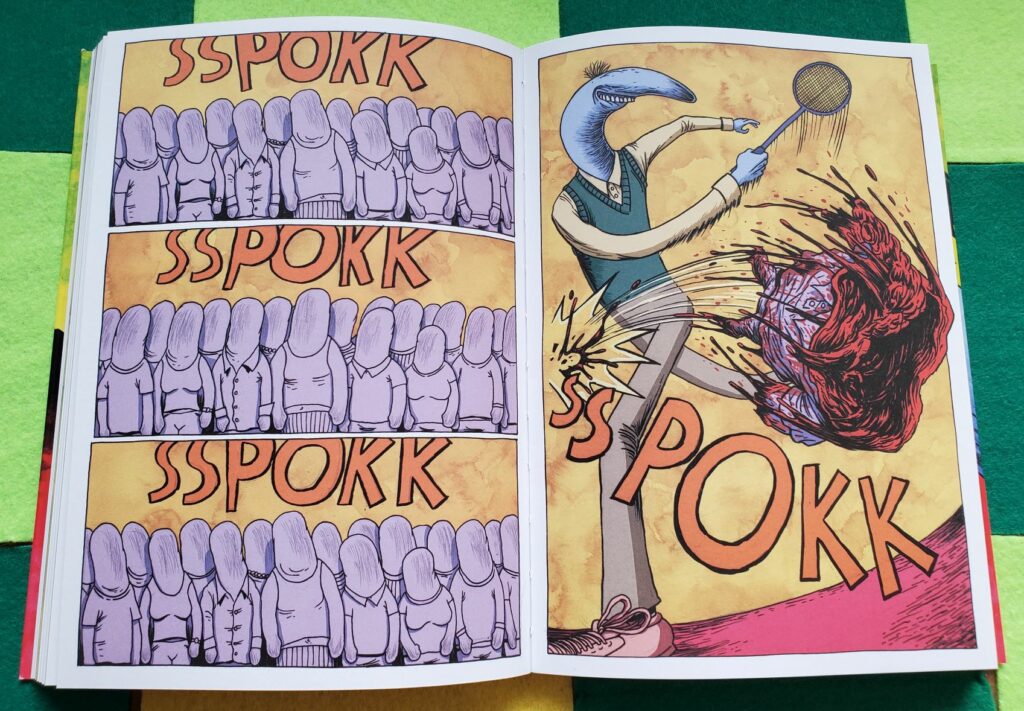 Links