Review by Amanda Carter.
(Lifelong, but now retired social worker; wife, mother and grandmother.)
The Specs
Title = 'The Grot: The Story of the Swamp City Grifters; Book One'
ISBN = 978-1-60309-466-5
Writer = Pat Grant
Artist = Pat Grant
Colorist = Fionn McCabe
Date of Release = Trade Paperback Launched November 7th 2020 ('The Grot' was originally releases as a series of 3 standalone self-published comics.)
Publisher = Top Shelf Productions
Number of Pages = 200
Format = Colour
Printed In = Latvia
Language = English
Release Price = AUD $34.99 / USD $19.99 / CAD $24.99
I have just completed the newly published 'The Grot', which is Book 1, of a planned series of The Swamp City Grifters. It is the story of a family, a mother and two sons, who have had a successful business making yoghurt, but are now travelling north to a city called Falter, to try and make their fortune.
A lot of people are travelling north, with the same purpose, as there is a swamp up there which contains green algae, which people can collect and sell for a huge amount of money. The problem is, that the swamp also contains many unhealthy organisms, which make people really sick, "anyone willing to get filthy can also get rich".
The physical environment has also been destroyed, there is nothing left of beauty in this world.
This then is a parable ('a story used to illustrate a moral or spiritual lesson') that in seeking riches people can be sullied and anything positive in their character can be destroyed.
They can also destroy the place in which they live and which of course gives them life.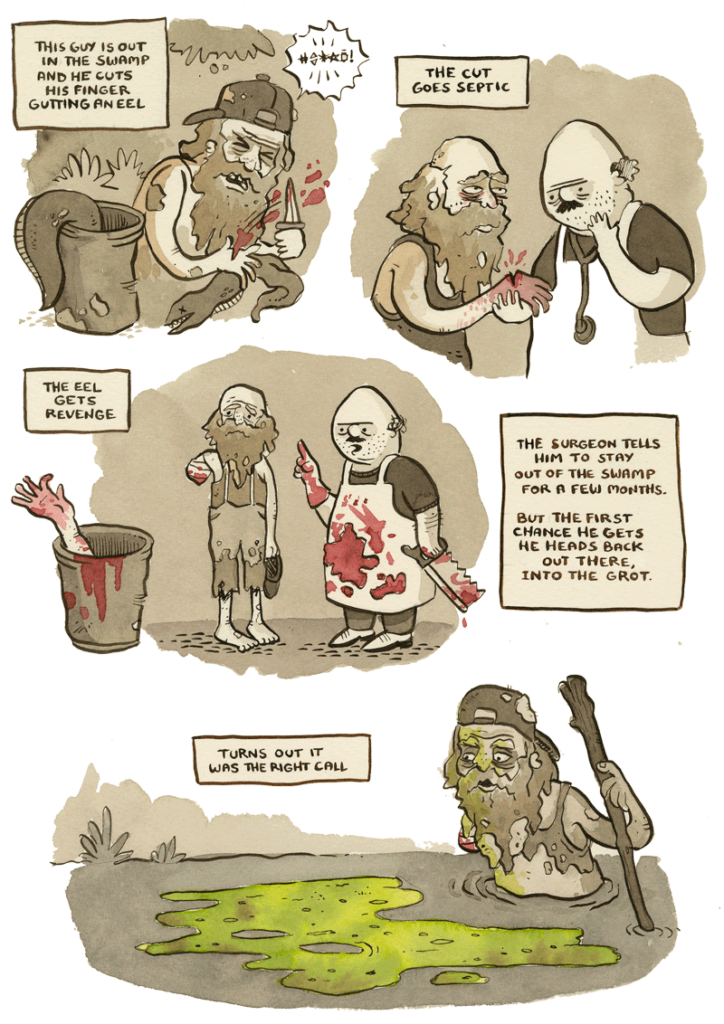 "The Grot" is well written and skillfully illustrated, the drawing adds an enormous richness to the story, both in the depiction of character and the physical environment. The colouring by Fionn McCabe is fantastic.
The whole book is in gloomy colours, as the story is extremely bleak, there is very little positive or hopeful in this description of the world and its people.
My personal reading of this book means that I cannot view the world in such a negative way, I am not so despondent about the possible goodness of people.
Here, I have to declare that I am 65 years old, and have worked most of my life as a social worker. Admittedly, I started off with a pretty Pollyannerish outlook, but working with people who have had very difficult lives and suffered through experience and from other people's treatment, has meant that I know life can be terrible and humans can be despicable.
(Just look at the the current inquiry into ICARE, an Australian government body set up to look after the Workers Compensation claims of workers. It has been found that injured workers have been underpaid by up to $80 million dollars, while the salaries of executives have been extremely high).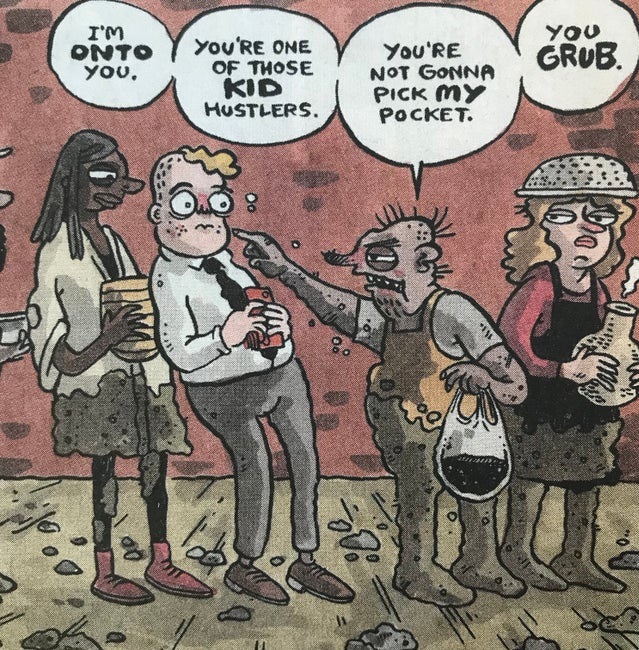 This book has the same effect on me as 'Armadale', by Wilkie Collins, the famous nineteenth century English novelist. I could not finish that novel, the heroine treated other people so horribly, even people whose innate goodness she cared about.
I did finish "The Grot", but I could only find two possible instances of positive human relationships – This is a book full of conmen and conwomen: A young conwoman is unable to deceive one of the brothers in the story because she likes him. But even this moral young woman is then treated appallingly by the brother she cares about.
At the end of the story, this same brother is able to look after his younger brother , who he has always tried to undermine and felt jealousy towards.
Two small sparks of hope!
If you can maintain a sense of equanimity reading "The Grot", it is certainly a story for our time, and a warning that we need to treat each other well, instead of with a sense of morality that uses other people to our own advantage.
It also depicts the destroyed world man has created by continually exploiting the physical environment.
It would be a very worthy high school text.
A young man has written this book. I don't know how he copes with his view of the world.
This is a clarion call to all of us.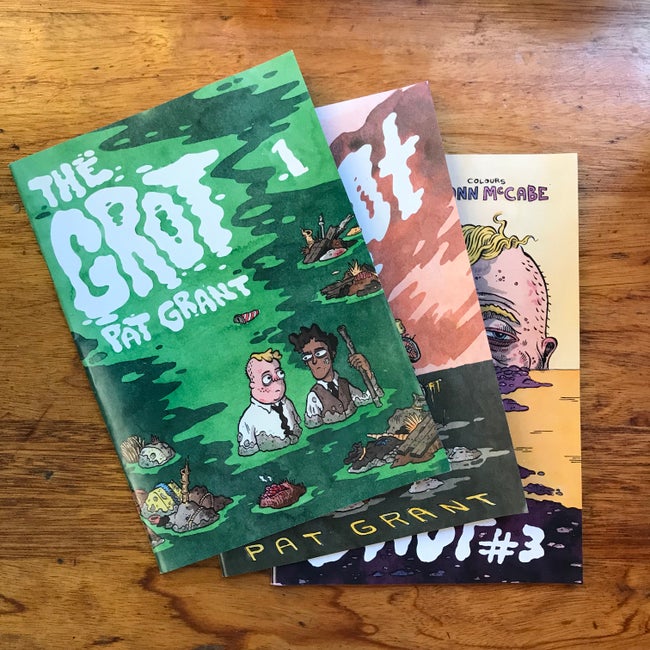 Links