Jim Tozzi is an American artist, sculptor, filmmaker, musician, animator and puppeteer creating works that are lovingly crafted, absurd, irreverent and a little bit sexy.
Formally trained – having studied at the Rhode Island School of Design – and also an accomplished painter; Jim has spent his whole life immersed in the creative sphere and is best known for his work on the much loved television shows Wonder Showzen (2005 – 2006) and Xavier: Renegade Angel (2007 – 2009 + 2020).
Artistically, television and early morning cartoons played a pivotal role in Jim's life – helping to define his aesthetic and lead to his initial pursuits in drawing, film-making and world creation. With Jim noting Sesame Street, Mister Rogers' Neighborhood, The Electric Company, Three Stooges, Our Gang, Warner Brothers cartoons from the 1940's/50's, Star Wars and Liquid Television as major influences.
Recently Jim has turned his considerable talents to the world of vandalism – joyously covering all manner of public surfaces with his various characters; such as Bert's Tit. A depiction of Bert (from Sesame Street) raising their jumper and defiantly revealing a single breast to the world.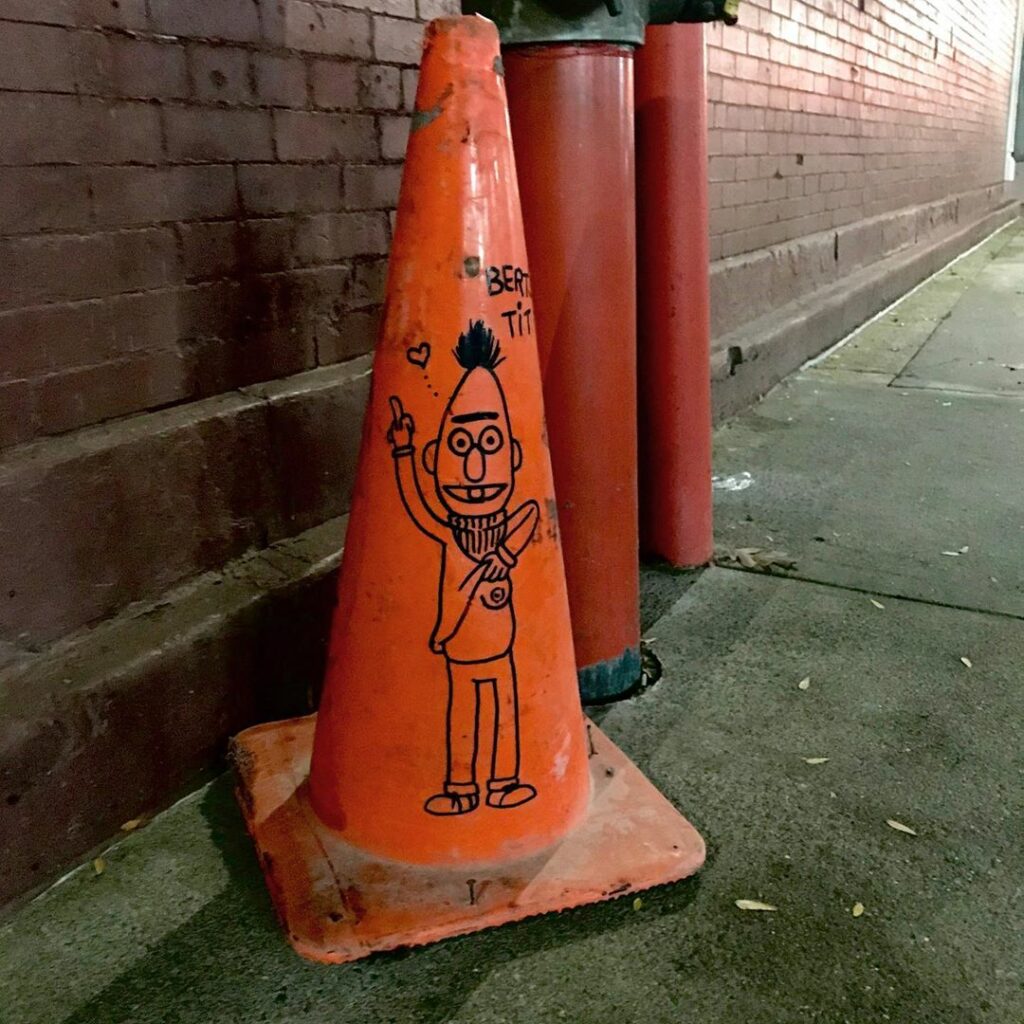 Wanting to get to know Jim a bit better, we sent him some questions to answer over email.
You can read our interview with Jim via the link below…
Getting Acquainted
Name + D.O.B?
Jim Tozzi born October 19th 1967.
City, State and Country you currently call home?
New York, New York, USA.
City, State and Country you're from?
Everett, Massachusetts, USA.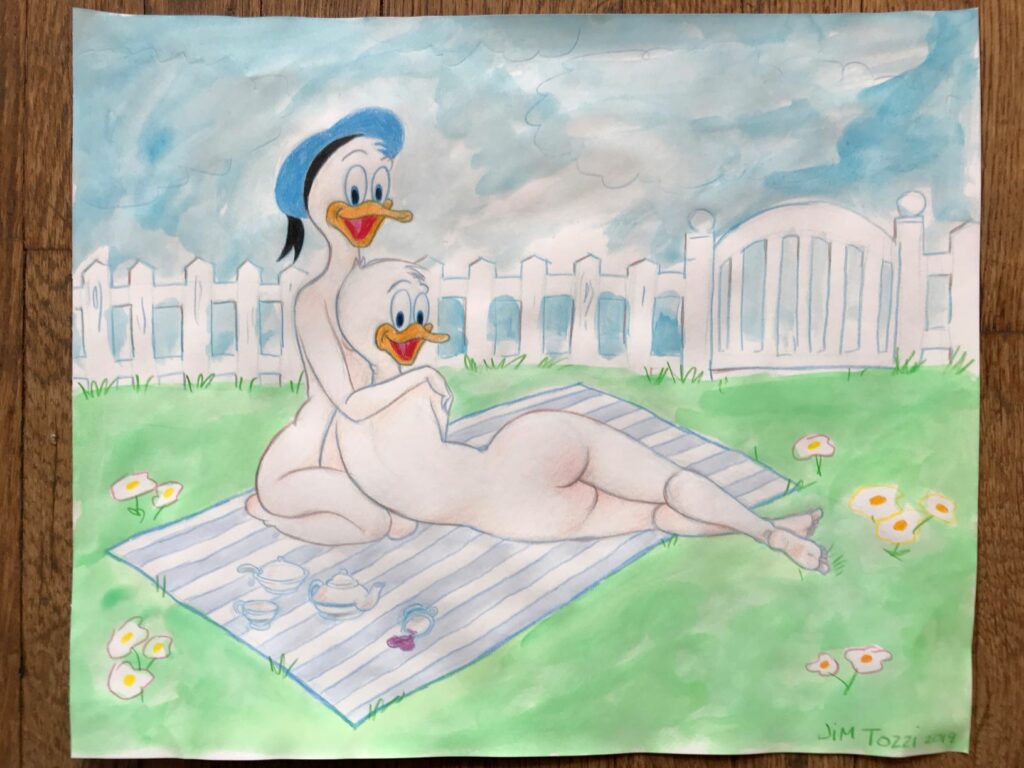 Please describe some memories from key stages of your life: concerts, art, toys, romance, comic books, hunting, school, politics, crime, religion… ANYTHING really!
– Growing up fascinated by Bugs Bunny cartoons, Sesame Street puppets and anything with monsters and dinosaurs or reptiles.
– Drew my first monster at age 2.
– My grandma passes away when I'm 3, Mom tells me she's not coming back.
– The art/design of Warner Brothers cartoons of the 40's and 50's.
– Obsessed with the Little Rascals, made me want to dress in a sailor suit and learn how to tap dance.
– Terrified of the TV ad for the movie "It's Alive" also would run screaming out of the room whenever the TV ad for "Night Gallery" came on.
– TV was curse and a blessing.
– The much anticipated Charlie Brown Christmas and The Rankin Bass Rudolph the Red Nosed Reindeer.
– Raised catholic but lost interest when I found out the priest wasn't really turning water into wine during Sunday mass.
– Liked building models but only to blow them up with fireworks.
– Had a pet garter snake that had babies that escaped and wriggled away in the basement. Mother snake eventually escaped and was found dead after the snows of the Blizzard of 78 melted.
– First concert was the Cure at Boston Garden, REM opened for them.
– First music love was the Beatles.
– Introduced to punk rock in 1986 by my friend Eric, who played me the Sex Pistols for the first time.
– Discovered underground comics through Crumb's Weirdo which filled the gap between my childhood love of MAD magazine and weird drawings.
– Saw Star Wars at age 10 in 1977, became obsessed with anything related to Star Wars, lusted after Star Wars figures. Became completely dejected when I lost my storm troopers gun.

And more specifically… What about some memories from the following ages?
* Age 5 – beginnings:
Obsessed with animation, cartoons, dinosaurs, frogs.
Have been drawing since age 2 – drawing dinosaurs, frogs, martians and monsters.
* Age 10 – continuations:
Obsessed with Star Wars, drawing a lot of Darth Vader heads, space vehicles, weirder monsters.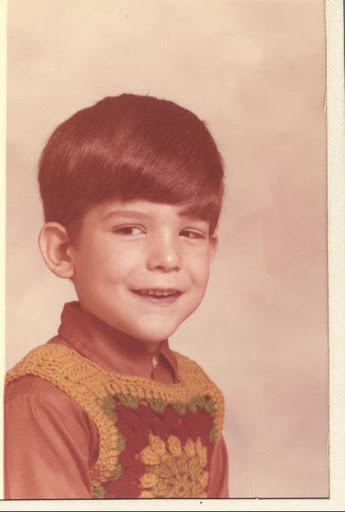 * Age 15 – getting serious:
Drawing cartoons mostly, more graphic monsters but also horror type stuff after reading Tom Savini's book on horror movie effects.
Also start creating my own animation with a super 8 film camera. Inspired by Liquid Television on MTV – makes me want to do that kind of stuff.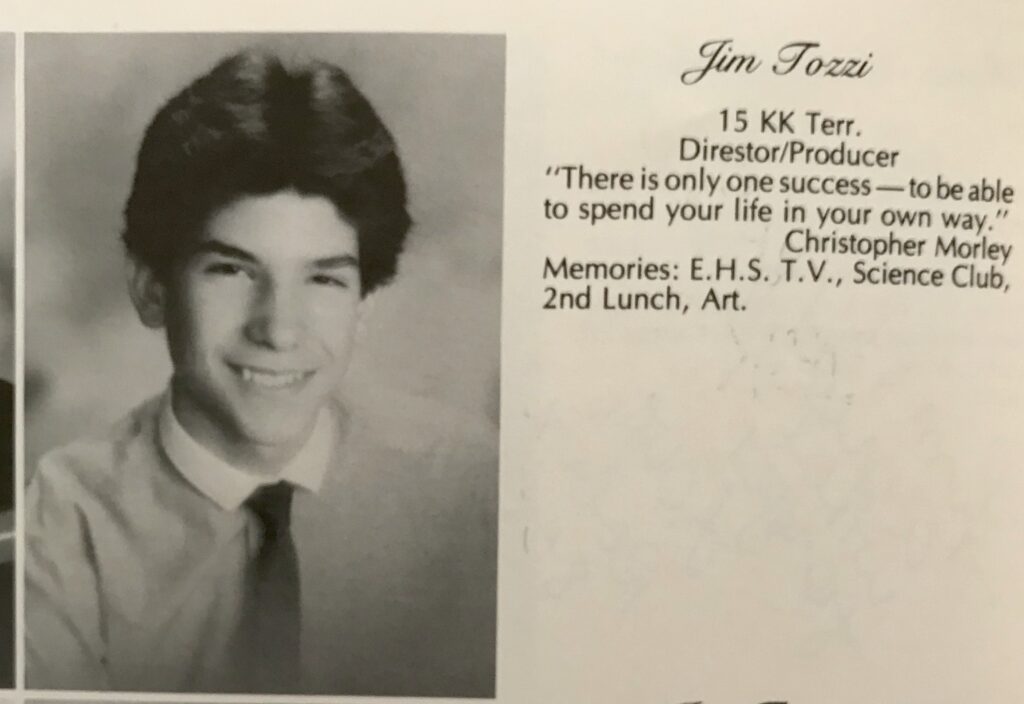 * Age 20 – young adult:
Start getting more into film and animation with super 8 camera.
Go to RISD to study animation and illustration.
* Age 25 – adult mode:
Move to NYC, working freelance at Broadcast Arts (editor: known as curious?ictures since 1993), an animation production company that produced the first season of Pee Wee's Playhouse and did all kinds of animation for advertising. Work as a cel painter and animator.
Purchase a Bolex 16mm camera, start shooting music videos.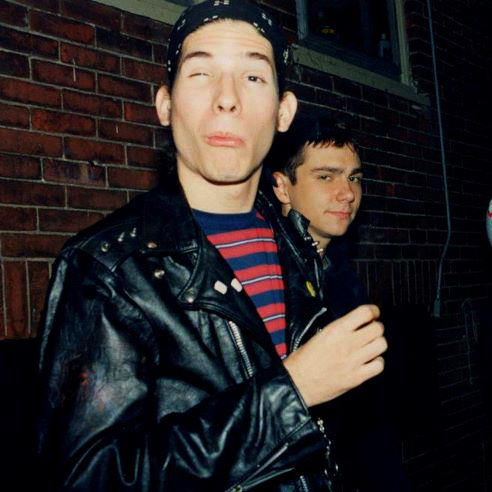 * Age 30 – fully formed:
Still doing some cartooning, painting but mostly working as a commercial director for TV.
Join PFFR, move to LA for 18 months, move back to NYC to start working on Wonder Showzen, concentrate more on art and animation.
* Age 35 – meanderings:
Learning about making TV, working on WonderShowzen and then Xavier Renegade Angel.
Drawing and painting more.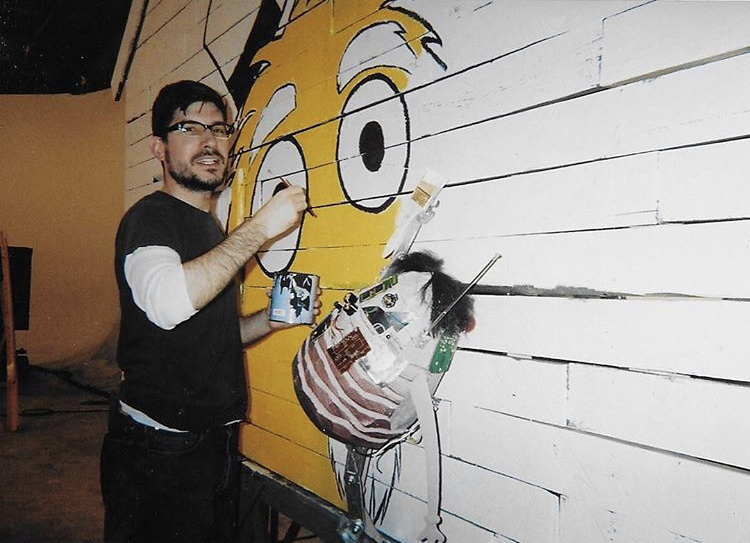 * Age 40 – adult meanderings:
Focusing on painting, still painting monsters, start painting erotic ducks still no idea what I'm doing in life.
* Age 45 – middle age approaches:
Evicted from my sublet, broke, move back to Everett to live with my parents.
Realize my only constant in life is drawing and painting.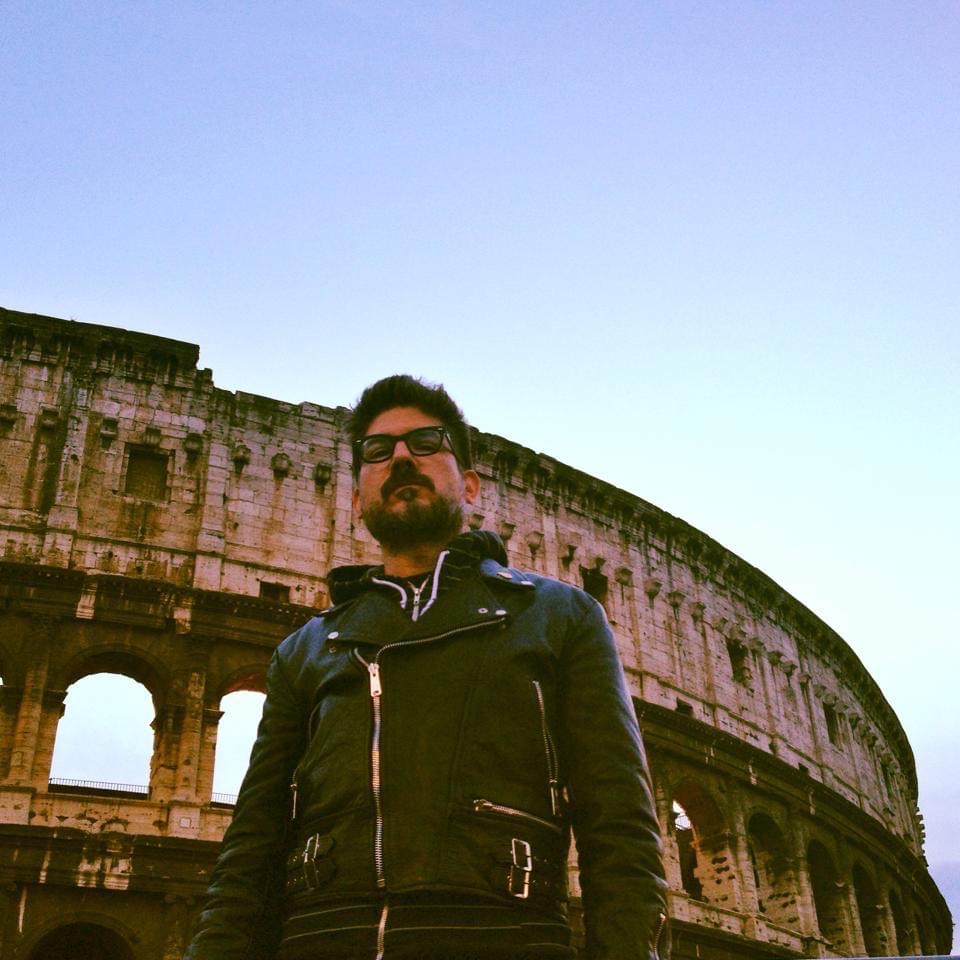 * Age 50 – middle age:
Creating street art, Bert's Tit, the culmination of all my experiences to date, still no clue as to why I'm here.
Personal motto(s)?
Gratitude and Positive Mental Attitude.
Art Questions
When and why did you first start to make art?
… and any pivotal artistic moment(s) / influence(s)?
Not sure why I started.
Influenced at an early age by television: Sesame Street, Mister Rogers' Neighborhood, The Electric Company, Three Stooges, Little Rascals. It was also a world that I could create and control when I felt like I wasn't in control.
Please describe the usual process involved with producing your various art – from initial idea, to creation and finish?
– your paintings?
The painting usually will start as a drawing, sometimes a drawing that isn't particularly good but there's something unusual or different about it that I'll want to expand upon.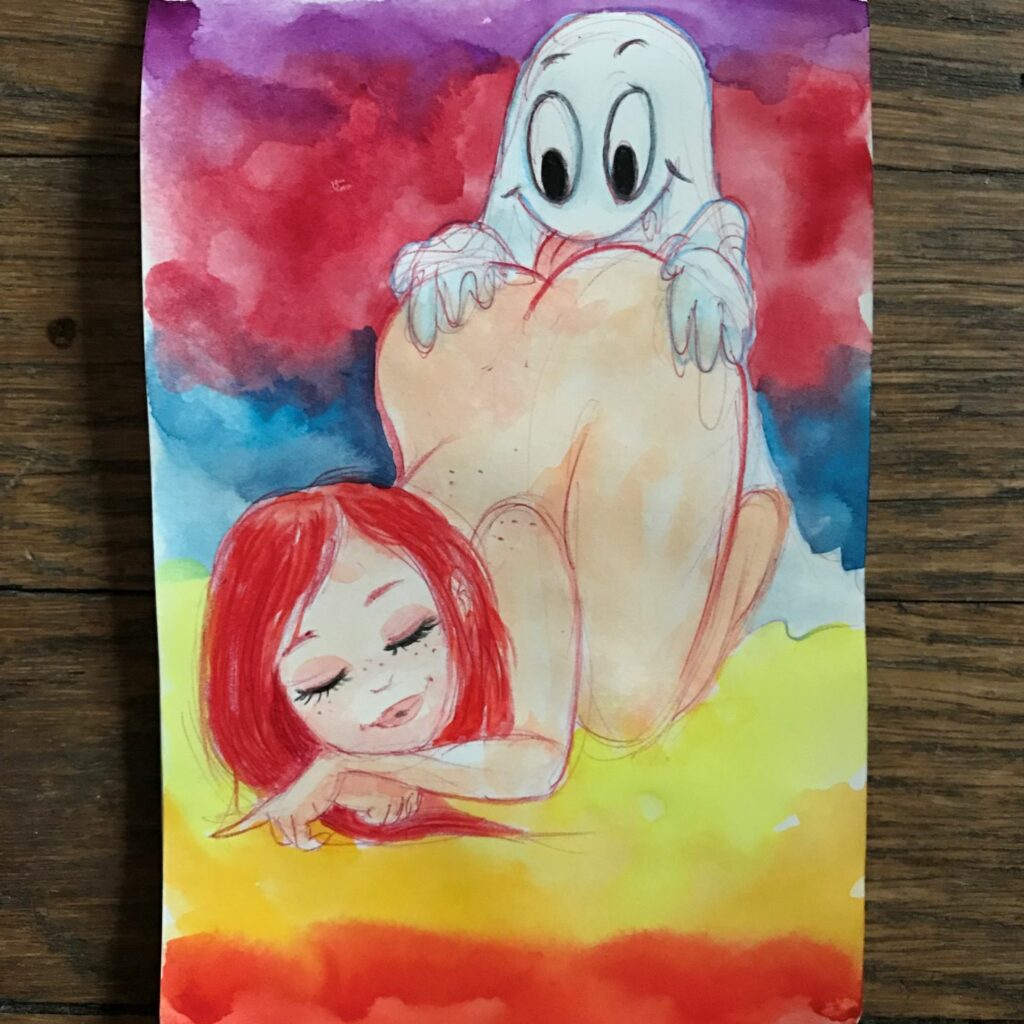 – your drawings and illustration?
Drawings will usually start pretty randomly, If I have any idea about what I'm about to draw it's pretty vague. I will start off with light pencil sketching and then define that light pencil sketch and gradually move on to color pencils or paint.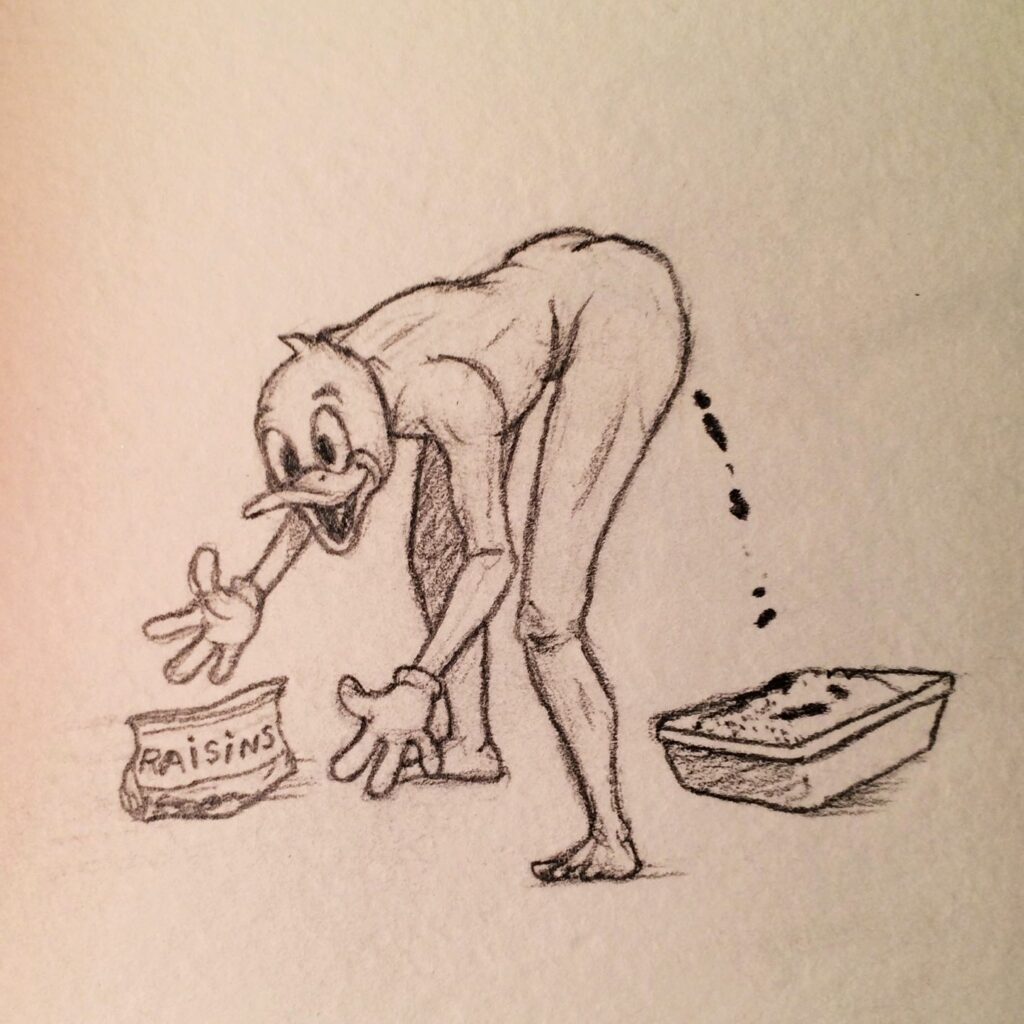 – your street art?
Usually start with a blank 228 priority mail label as canvas, besides Bert's tit I have a few other designs that I'll usually return to, like ass eating ghost or Life loving farting duck.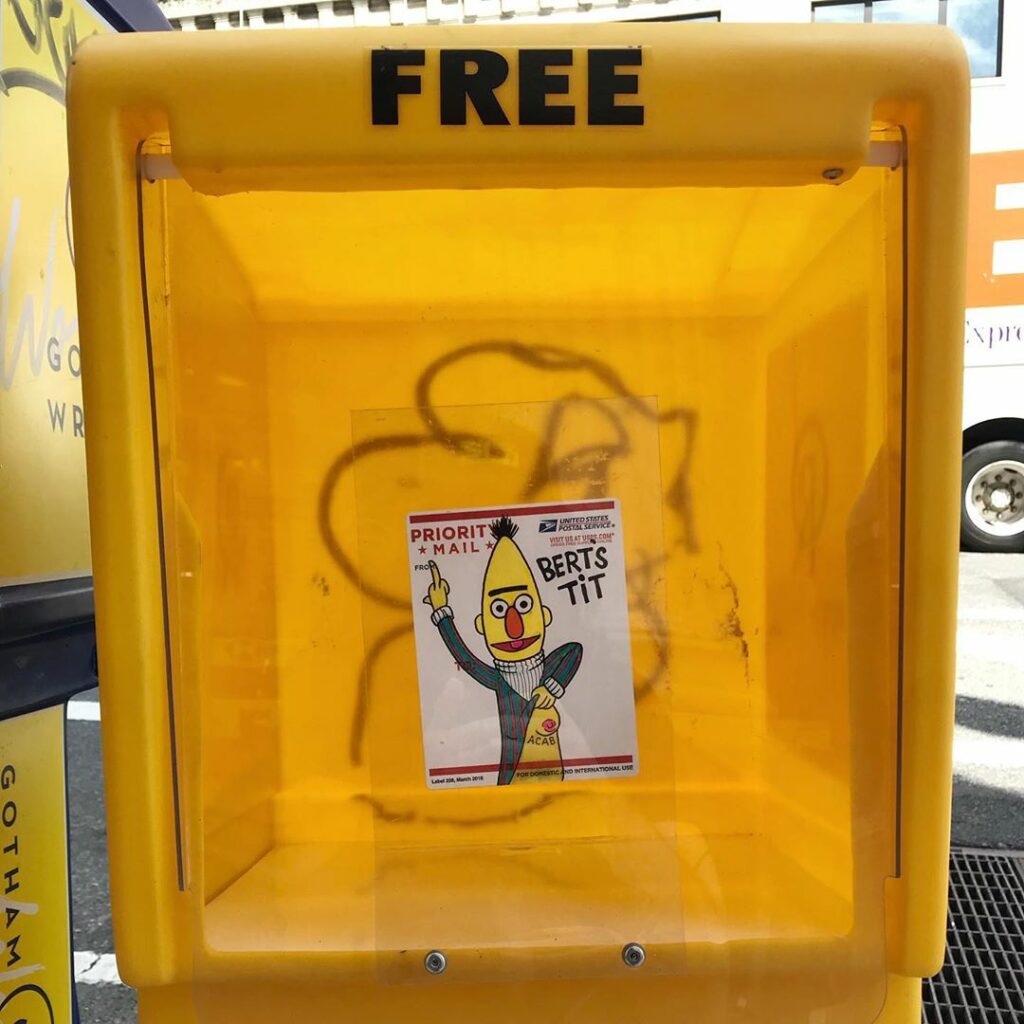 – your puppets and soft-toys?
Puppets are made from a basic pattern that I have. Variations will be in fabric, eyes teeth etc. So unless I'm recreating say a Chauncey puppet most times it's just exploring doing what I feel like, trying to make something new and different.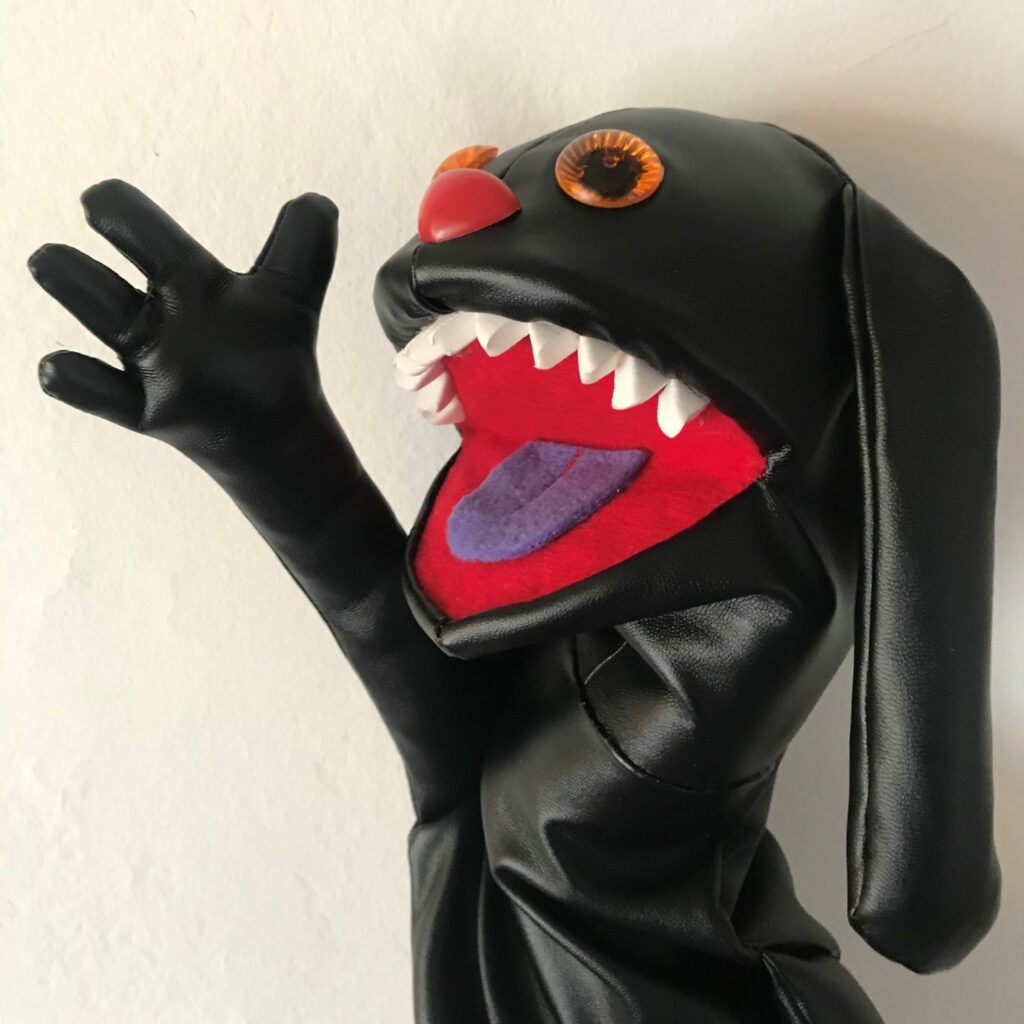 – your sculptures, such as your resin Bert's Tit figures and wall plaques?
The Bert's tit resin figure came from the drawing. I made the figure out of sculpy clay which you can harden in the oven and from that I made a silicone mold and from that mold I make the resin figures and paint them.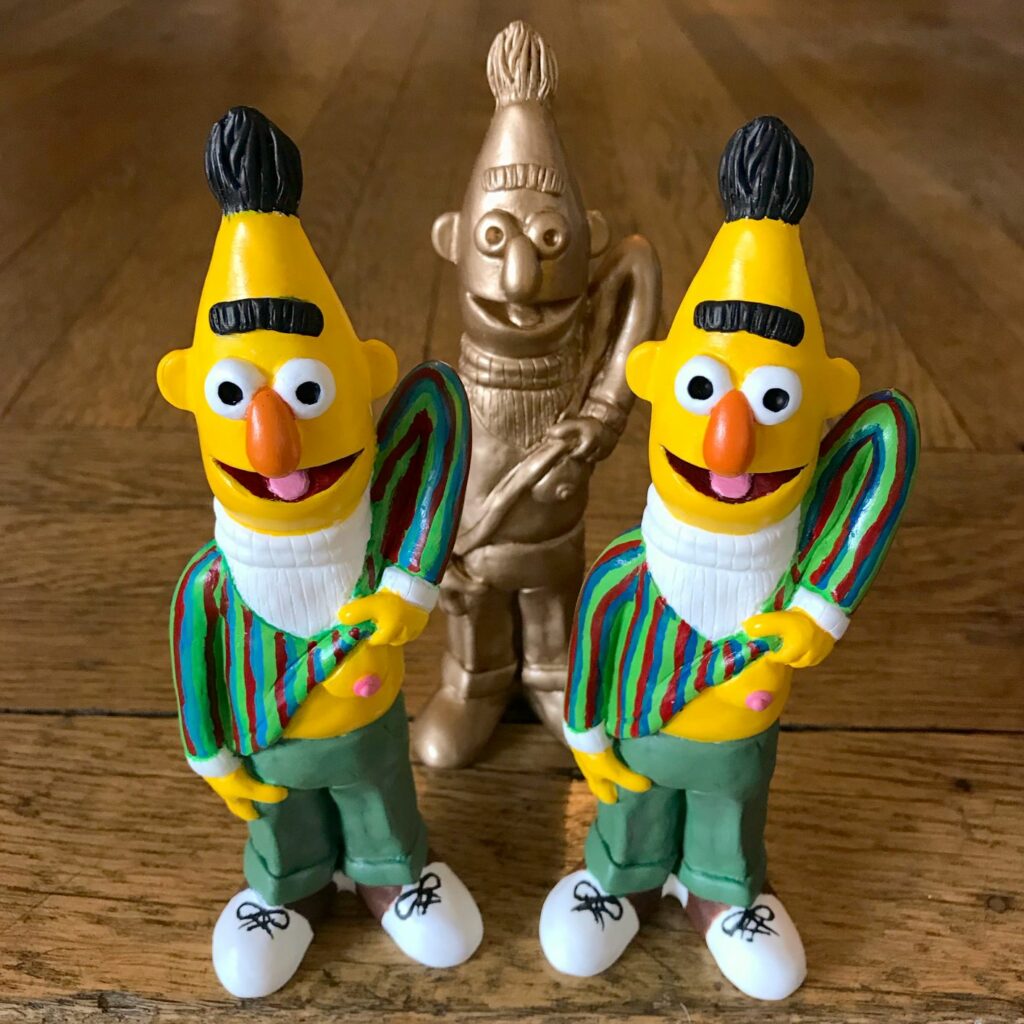 Favorite other artist(s)?
Lisa Yuskavage, Neo Rauch n Kenny Scharf.
Any projects you want to hype?
No.
If people wanted to work with you, have a chat or buy something – how should they get in touch?
Best way is through Instagram there's also a link to my Threadless in my bio for shirts, shoes and masks etc.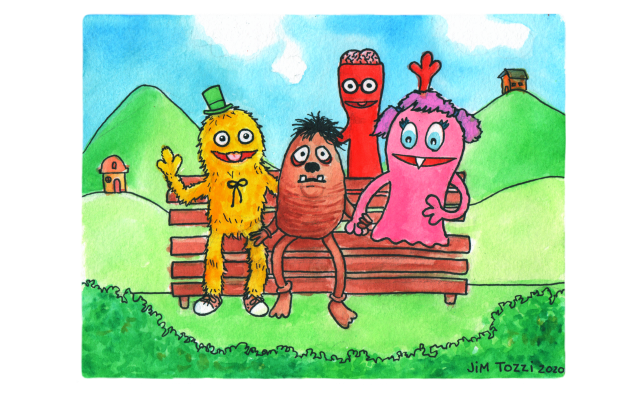 Odds and Ends
If you could live in any place, during any historical era – where and when would that be?
…and why would you choose that time and place?
If I could just visit for a little while it would be Vienna, September 30th 1791 to go see The Magic Flute conducted by Mozart.
If I had no way of getting back probably just go back to highschool in 1985 and fuck shit up that I didn't the first time around.
What role did toys play in your childhood(s)?
Toys where always something I lusted after. They played a large part in my childhood in someways maybe even defined who I was at the time. Toys felt like real possessions, if they where lost or broken I would feel heart broken.
I think my favorite toys where ones I could build with and create little worlds with like Legos, I remember having a lot of various little animal and monster figures that I would build little environments for using Legos or used milk cartons.
Drugs – waste of time or gateway to the universe?
I had never smoked weed before my first year of college, but loved it for a few years until it would start giving me anxiety so I stopped. Did some mushrooms and LSD which were both interesting experiences but haven't done them for a long time.
So maybe not so much a gateway but beneficial as far as giving one a new perspective.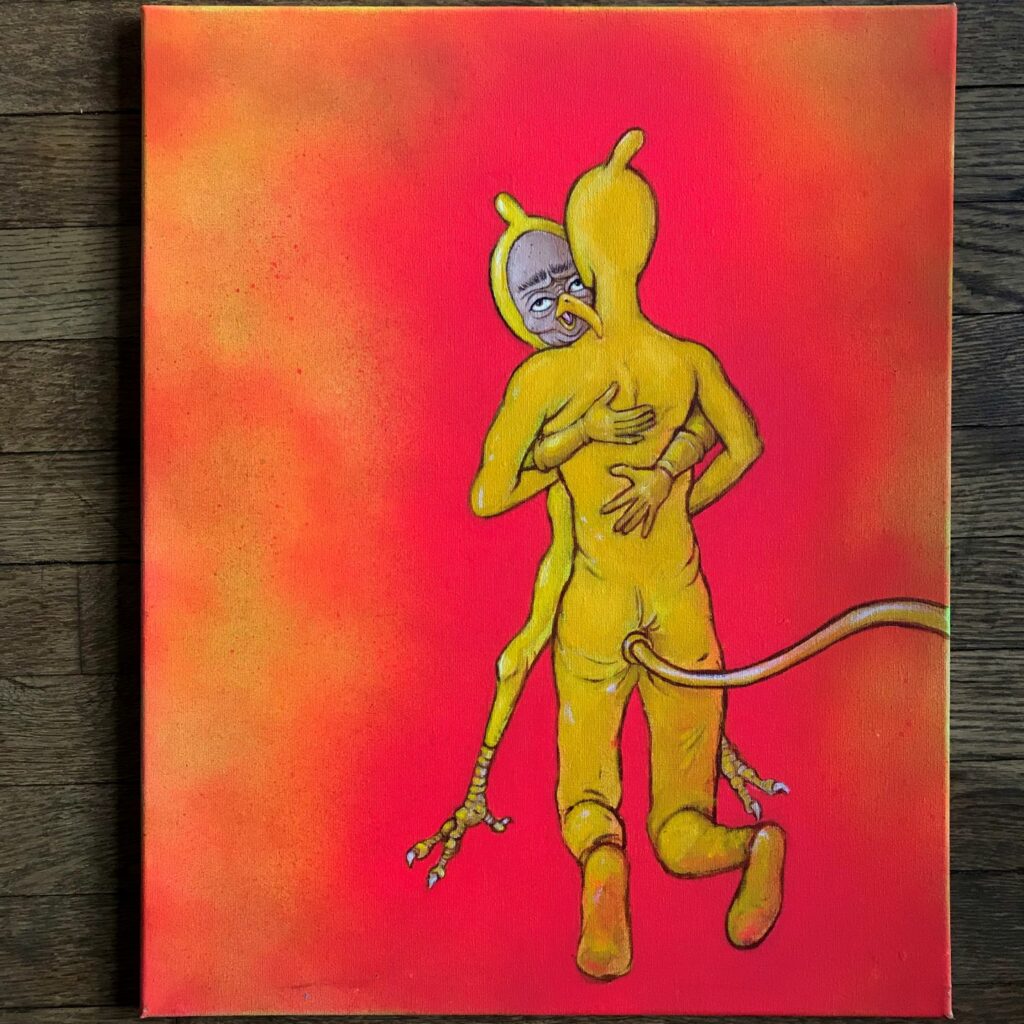 Who was your 1st crush and why?
First real crusher was a girl named Maria, we worked together as telemarketers and she knew all about the underground music scene in Boston and was beautiful and I did all the goofy thing a first crush makes you do, like making her drawings and buying her punk rock t shirts. We would drive to the Burger King in my mom's Dodge Dart and eat whoppers.
I bought her a Johnny Rotten t-shirt from Newbury Comics and fixed her robot watch, She moved away and phoned me weeks later to say she'd gotten married to a guy in the navy.
Does sex change everything?
Yes, always.
What are the top 3 items you own?
Matt Furie drawing.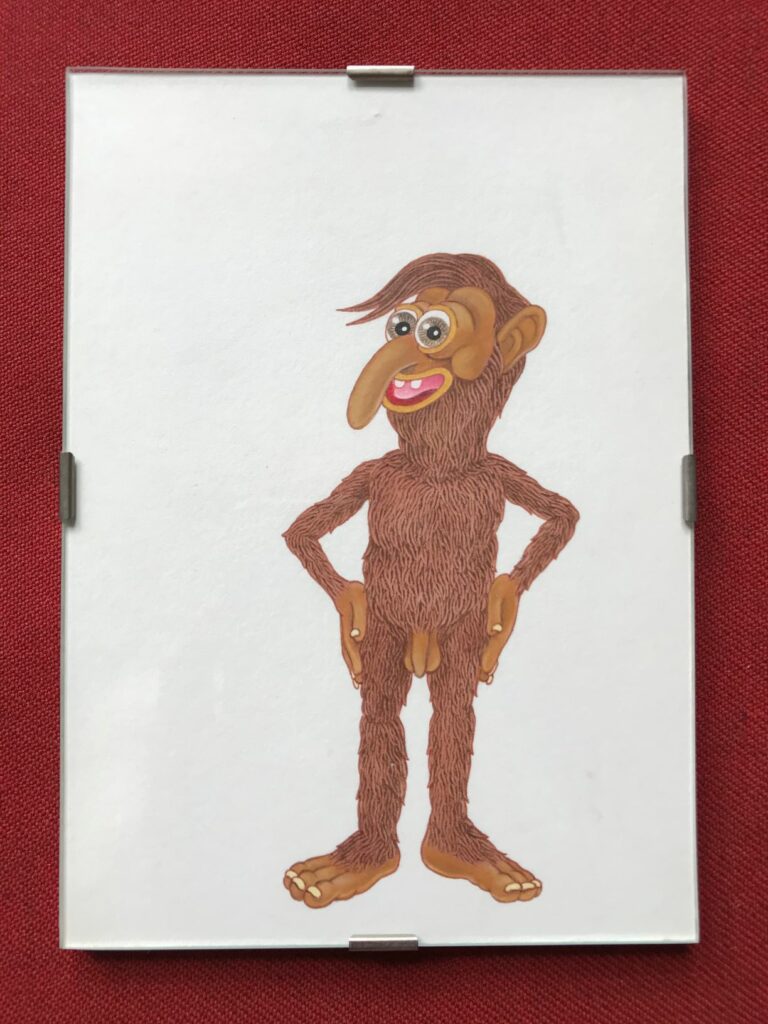 Music box that plays the Glokenspiel song from The Magic Flute.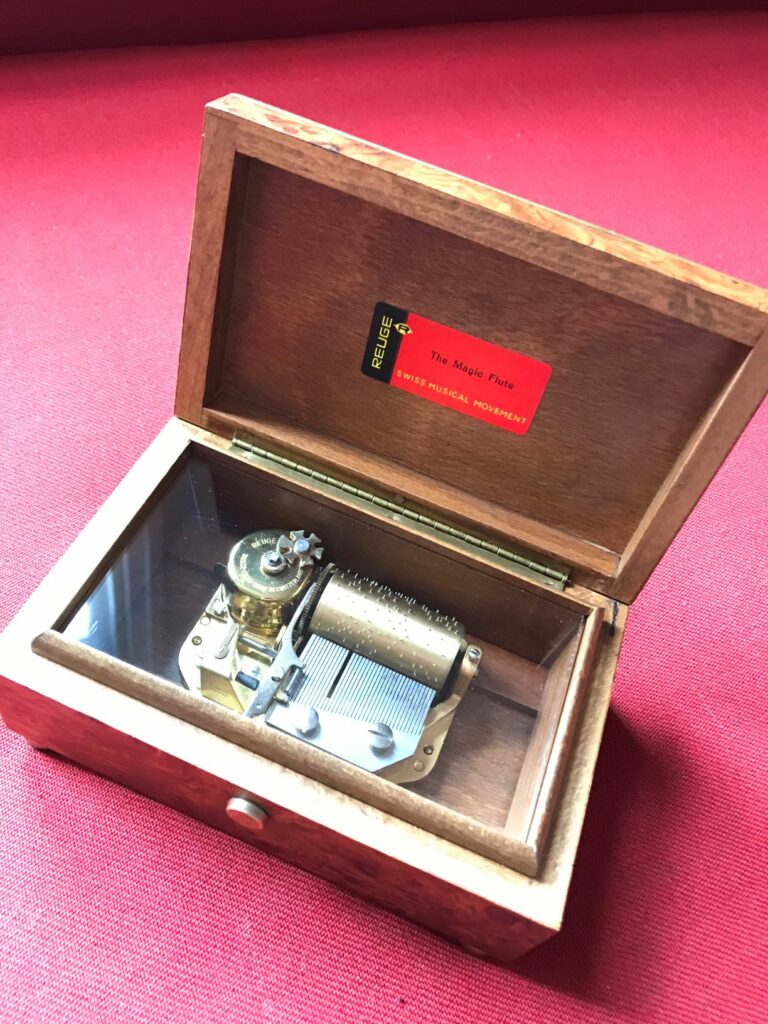 Pfaff Sewing machine from the 70's.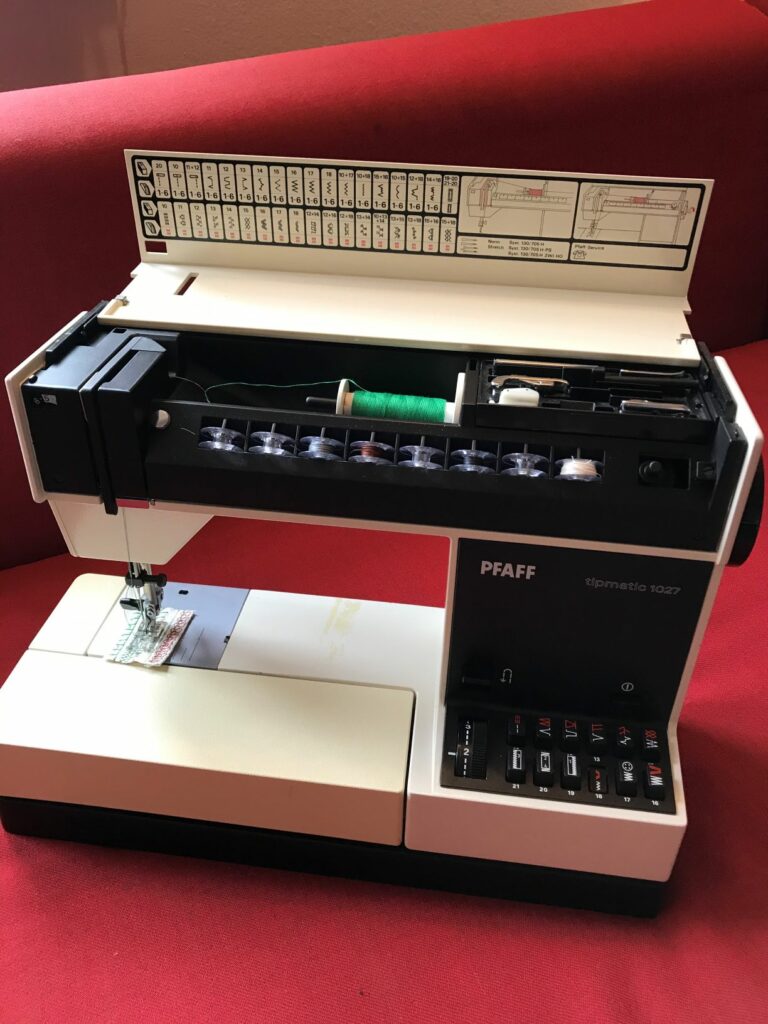 In a fight between the two iconic mascots: Ronald McDonald (from fast food chain McDonald's) Vs. The Kool-Aid Man (from flavored drink mix Kool-Aid) – who would win?
Please describe your last dream in detail…
Painted a blue rectangle on the bottom of a bathtub, it washes off with water, it's the second time it's happened, Tom Brokaw reminds me.
A fuzzy orange puppy loves lemons, I keep feeding it lemons, walk into my bedroom interrupting my older brother as he practices his Dean Martin impression in white shirt and black tie.
Of everything you have done what would you most like to be remembered for and why?
I would be most happy if anything I've done brings some momentary joy to someone and that in turn inspires that person to strive to create something.
The fantasy is to have people 200 years from now, still scratching their heads over something I created.
Links