Freya Jobbins is a South African born, Australian artist whose life reads like a classic fantasy tale – albeit with distinctively modern twists: Born with artistic talent, Freya was pushed by her parents both artistically and practically. She was encouraged to create art as a child and teenager but only under the assumption that she would eventually get an 'adult job'.
And that she did, with Freya eventually becoming a police officer, getting married, becoming a parent, getting divorced, working as a weapons instructor and competing in the International Police and Services Olympics in America. A joyous period of time that also saw Freya practically abandon art in any meaningful way.
This all changed when Freya was 28 and driving home from work – she was involved in a violent head-on collision. Resulting in Freya suffering traumatic injuries and spending the next 2 or so years in and out of hospital.
However, this accident also saw Freya return to art – with drawing and creating becoming an important part of her rehab, both psychically and psychologically. With Freya elaborating,
"Art crept back into my life via drawing as my hands were the only thing that were not damaged/affected by the car crash so it's something I could do. It helped so much retraining my brain with fine motor skills which are used when drawing.
It all catapulted from there, I think it never went away."
Along with rediscovering art, Freya also married the man who pulled her from that fateful wreck – a caring and loving fireman who Freya would go on to have more children with.
Today, Freya creates art in a multitude of mediums, and has gained fans worldwide for her surreal, somewhat dark, often introspective; yet universally relatable works.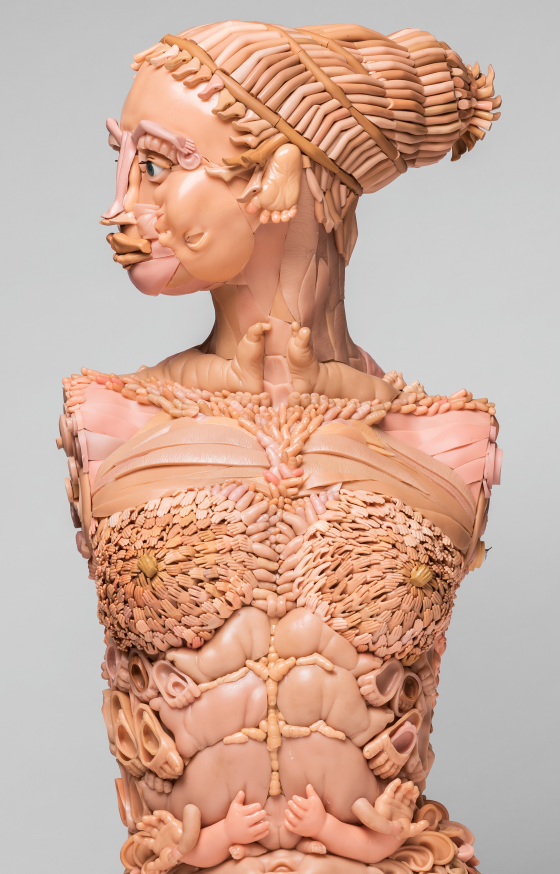 Wanting to know Freya more, we sent her some questions to answer over email.
You can read our interview with Freya, below…
Getting Acquainted
Name + D.O.B?
Freya Jobbins
1965
City, State and Country you currently call home?
Picton, NSW, Australia.
City, State and Country you're from?
Johannesburg, Gauteng, South Africa.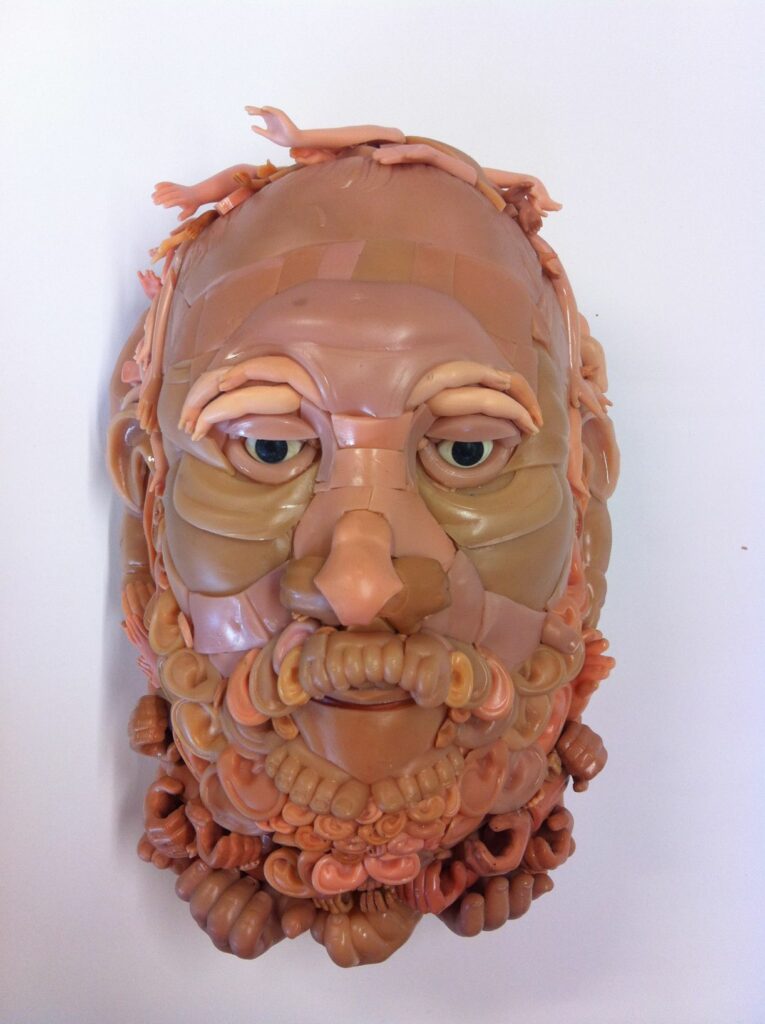 Please describe some memories from key stages of your life: concerts, art, toys, romance, comic books, hunting, school, politics, crime, religion… ANYTHING really!
* Age 5 – beginnings:
Living in Johannesburg where I had just started school. Great childhood, drawings begin here.
We had a custom made Wendy House (cubby house) and a go cart with breaks and you could lift the hood up……………….. so cool.
At age 7 my first international flight to Germany to visit family. Meeting my grandparents and family for the first time.
Only memories through photos and smells though.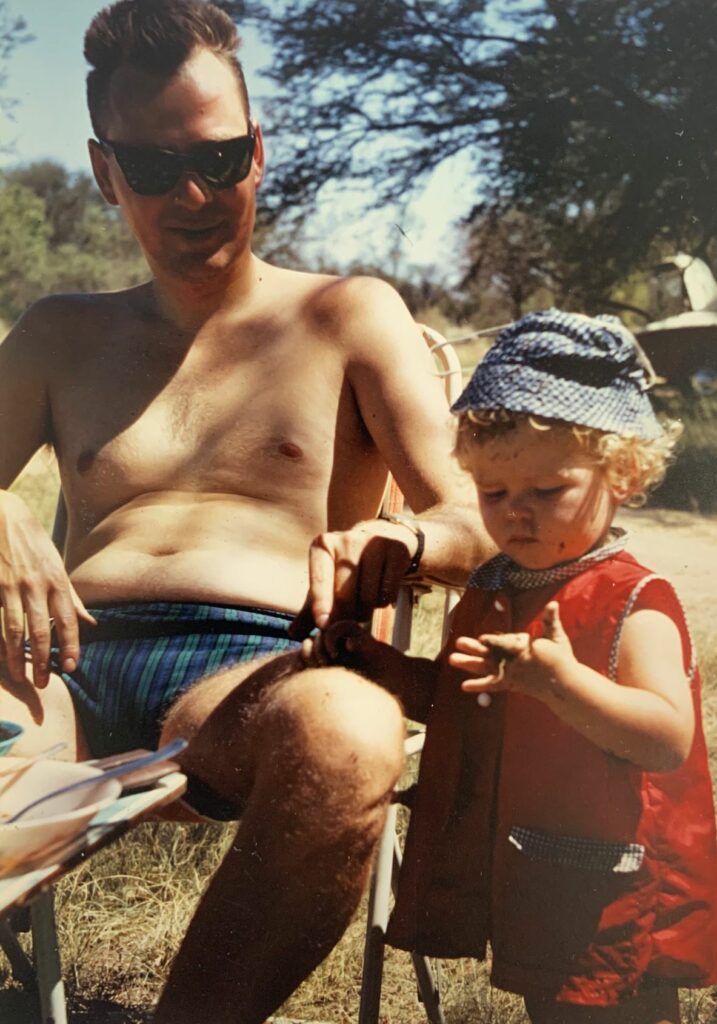 * Age 10 – continuations:
By ten I was in year 5 here in Australia, living in South West Sydney in Campbelltown.
We immigrated to Australia in 1974 three months before Cyclone Tracey hit Darwin. All I remember is the flight over where I continuously drew pictures and gave them to the flight Attendants.
I did draw a lot as a child, I did well with all art lessons and my parents supported me by buying me oil paints, an easel and an artist case which I still have, I am hoping to give that to my niece one day who is showing great promise to be an artist as well.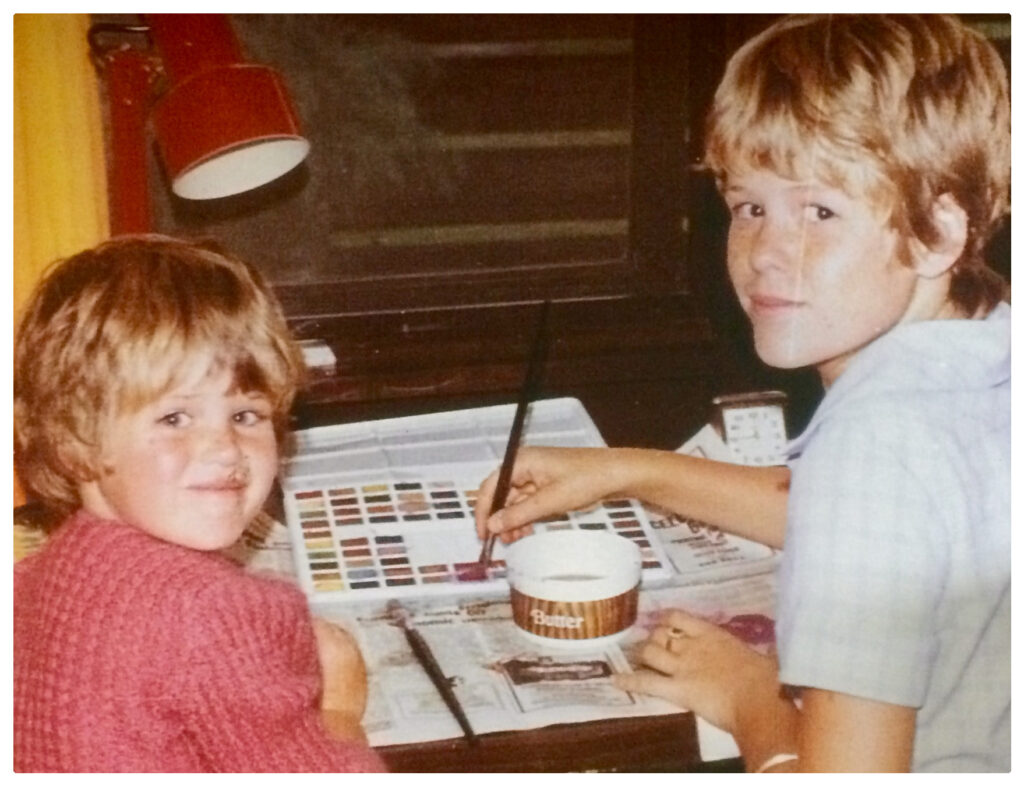 * Age 15 – getting serious:
No was not really getting serious about anything to do with academia but I loved art, basketball and friends.
I completed my school certificate and went on to complete Higher School Certificate on the proviso I could take Art, History and German and definitely no maths.…….. I loved art and wanted to study art after school but I was advised by my parents to get a real job to support myself as art would not.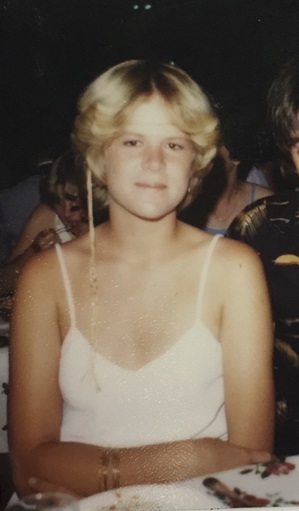 * Age 20 – young adult:
By the time I was 20 I was riding motorbikes, and engaged for the first time and I was in the Police College working hard at passing all the law exams to become a Police officer.
After graduation we had another family holiday to Germany in 1987, again to visit family, and here I fell in love with Berlin. The Berlin Wall was still up and East and West Germany still existed, an amazing city full of history, great to visit my country of heritage.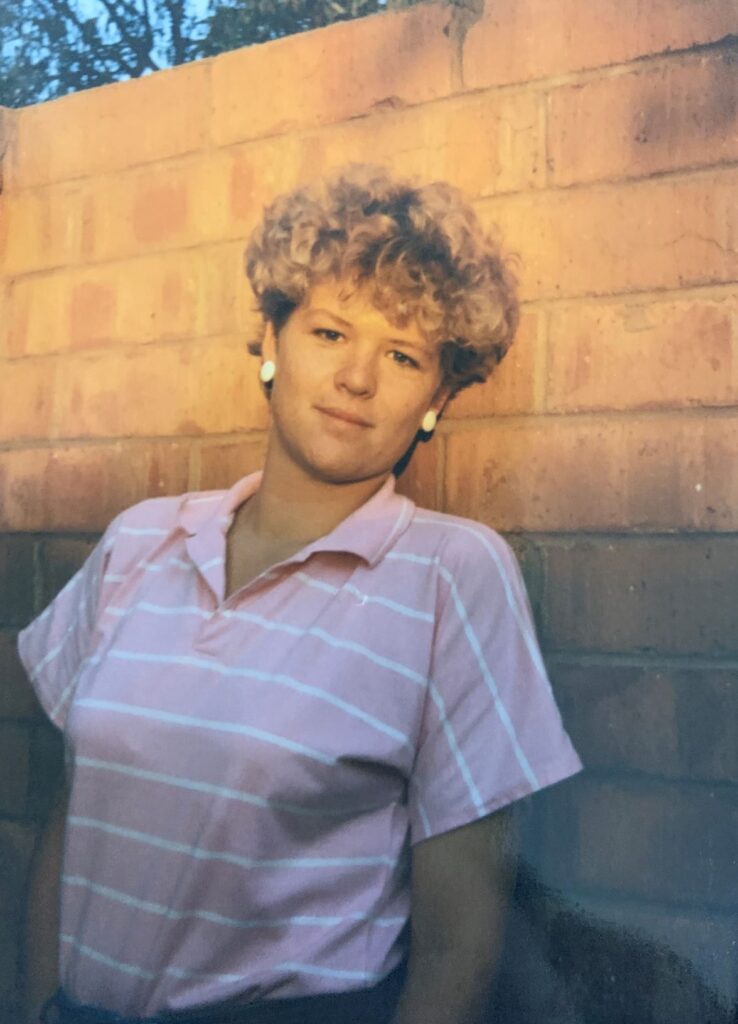 * Age 25 – adult mode:
By 25 still in the Police Force, I was married then divorced shortly after and was a single parent.
The only art I did in all these years since leaving school was painting and drawing with my toddler.
I loved my job, becoming qualified as a weapons instructor and where I really enjoyed target shooting which led to competing Nationally and Internationally. I travelled to the US to Washington to compete in the International Police and Services Olympics, had a hell of a time. I crammed in so much in 3 weeks, competing and then was billeted with other police officers in New York and doing a shift with a Detective, unbelievable, what an experience.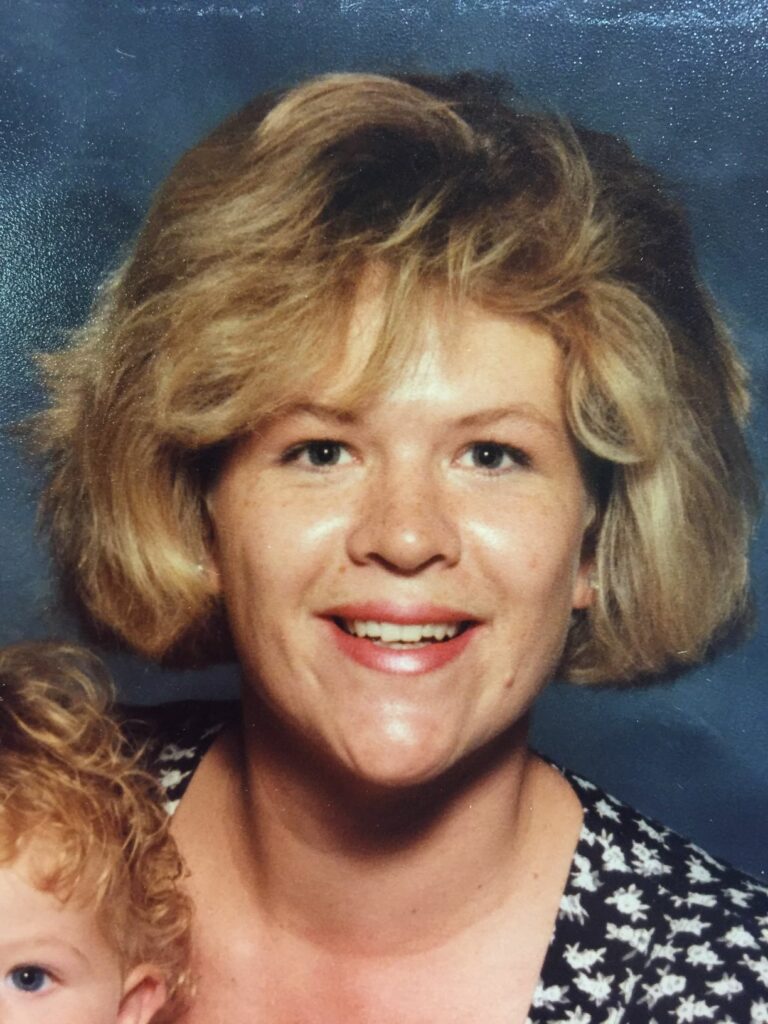 Back in Australia shit hit the fan at age of 28 when on the way home from work the car I was in was hit head on by another car head on. No air bags then in the older cars, so we were trapped in the crumpled car for a while before they got us out. So, the next two years were a right off really, just rehab and more rehab.
No more shooting as my left-hand side was not what it used to be and my reactions had slowed down so I had to give up competitive pistol shooting. I started drawing again here as I was bored and it helped retrain my fine motor skills.
After 14 surgeries I was feeling human again physically but then mental health issues became a slight issue.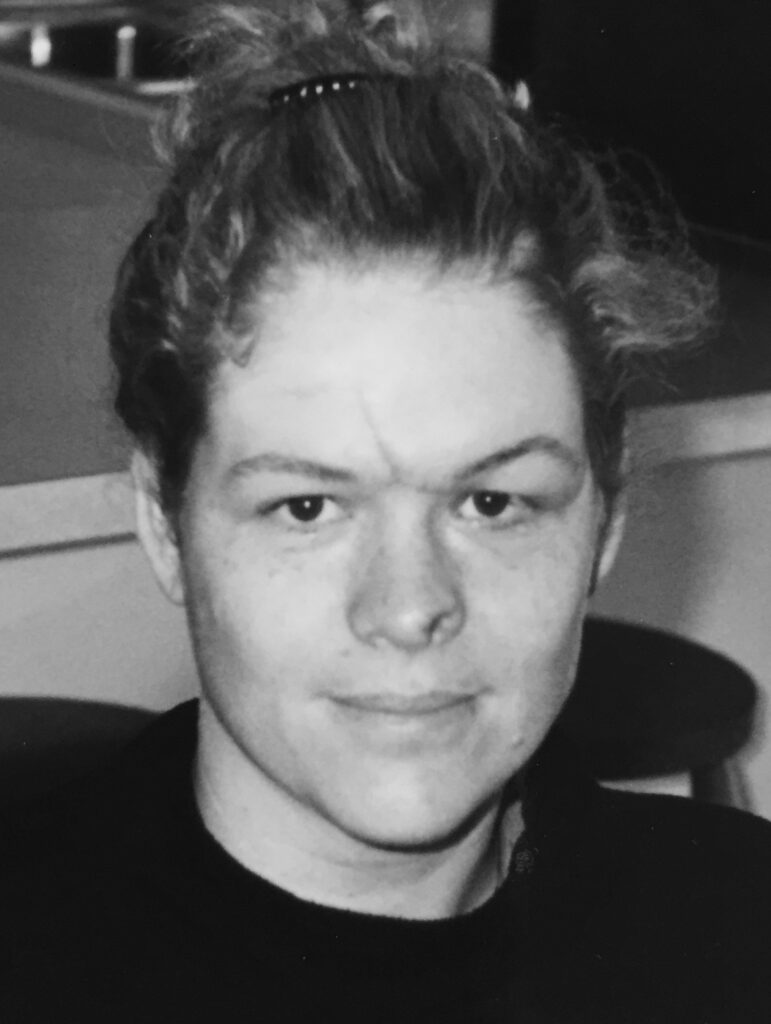 * Age 30 – fully formed:
Fully formed, funny statement here. Anyway, by the time 30 hit I was marrying the Firefighter who had extracted me from what was left of the car I was trapped in.
And a year later we had our first child, then moved to the Picton area. A year later our youngest child came along.
So I was flat out there for a while, still having the occasional surgery, a remnant from the crash.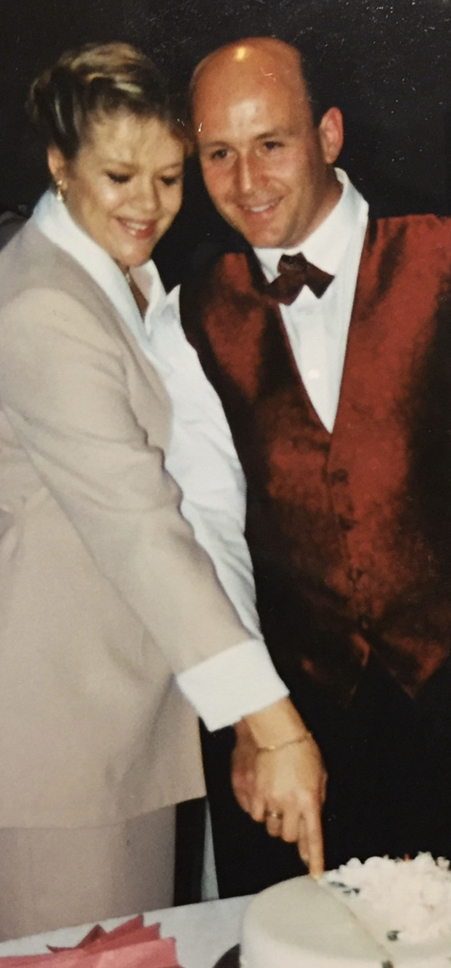 * Age 35 – meanderings:
Around aged 37 at home with 3 kids being a good hausfrau, not much time for anything else until they were all walking and talking and no longer in nappies and happy to go to kindergarten.
Then after a few local art classes (which bored me to tears) I was off to TAFE and started some single unit courses in art which eventually led to a Diploma of Fine Arts.
* Age 40 – adult meanderings:
At 40 (2005) I had stopped smoking, had my first solo show and the art career was off and running.
Kids were independent, all at school so I had more time to create art during school hours. I had continued at TAFE as I was loving it so I continued to study and complete the Diploma in Fine Arts, part time. I continued and did another full year certificate in printmaking as well.
By this time, I had taken over the lounge room corner with my art paraphernalia, so a designated space was created as my studio and I was off.
This is where the toy assemblages started.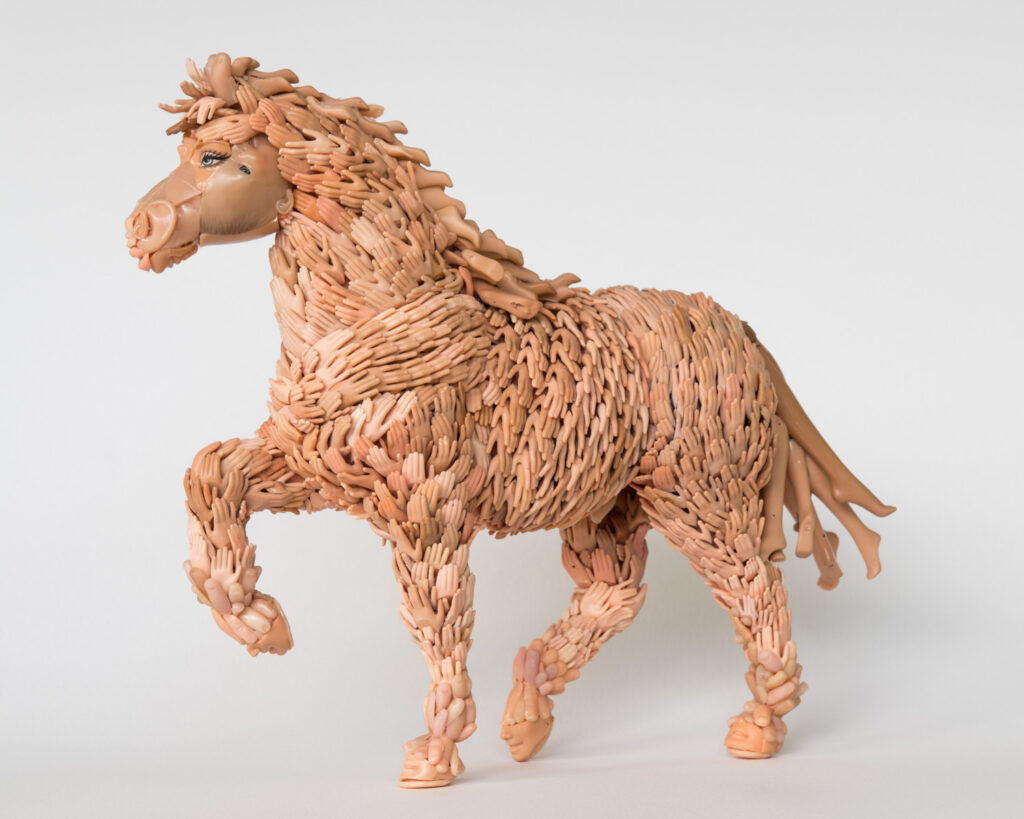 * Age 45 – middle age approaches:
I had completed my diploma, so I was navigating the artworld with an extremely naive approach but worked through it all and learnt so much through experience and rejection after rejection. But I persisted and realised that I was mostly interested in printmaking and sculpture so I continued with my toy assemblages but as I did not have a press, the printmaking died down a bit during this period.
Second hand toys were so cheap at Vinnies, so access to materials was not expensive, and using unwanted plastic materials was great in the fact that I was reusing so my practice was sustainable.
My art practice was limited by budget and the space to work in.
* Age 50 – middle age:
Fifty and firing, more shows, exhibitions and competitions – loving the artworld and what it meant to me.
Working as a facilitator, curator and taking public art commissions started to become regular work, plus working from home was a bonus. I did travel to Italy and France on an art tour which was bloody brilliant.
Then at age 52 I completed a Bachelor of Visual Art, so in December of 2018 I graduated in Ballarat Victoria, in full graduation gear with a BVA with distinction ………………………yes.
It was hard work, not only for me but my youngest was doing his HSC that year and my middle child was finishing her degree all in one household at the same time. A mad time but worthwhile for all of us.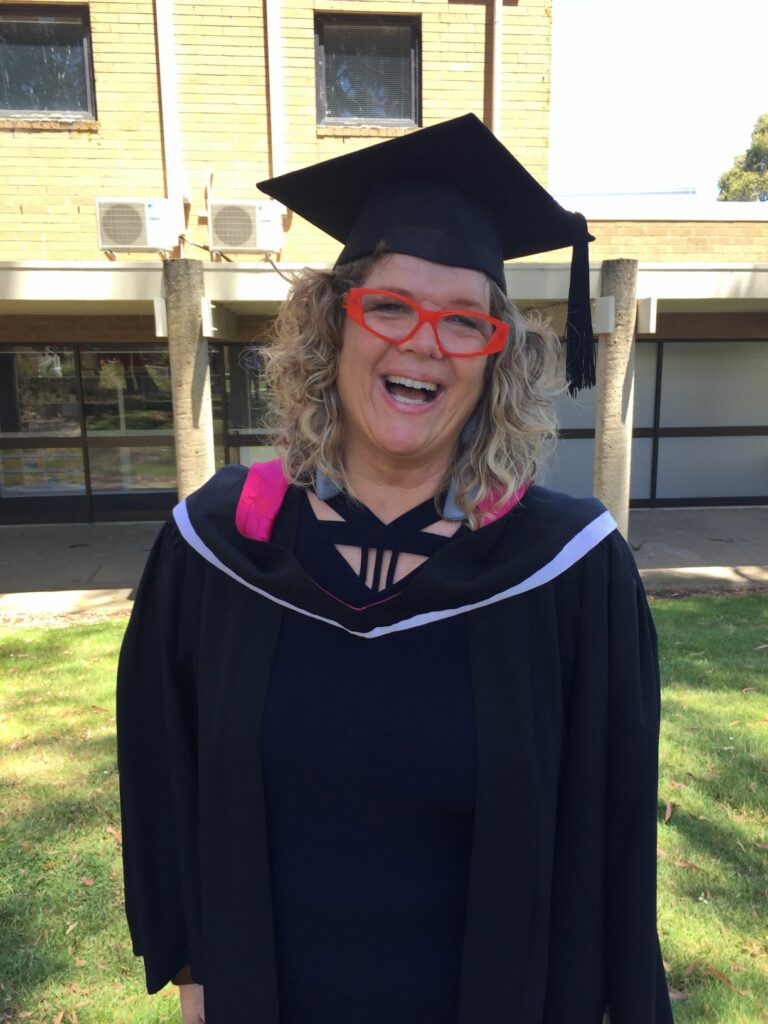 * Age 55 – middle age meanderings:
Not 55 yet but close. I feel the most empowered right now in my life than I have ever been. As a woman and as an artist, I am supported everywhere, family and friends and by my art tribe. I have finally found my tribe which is wonderful.
For me I cannot give up producing, making, creating, whatever you want to call it. I am a solitary type person, extrovert to most but I know I am an introvert who fakes it. At openings (especially my own) I am off the scale when it comes to nerves, and that the focus is on me. I have acquired some issues, I have with crowds; a lot of people makes me feel too overwhelmed so I hang on the edges or just leave or don't go.
I have learnt to avoid triggers, be aware of times that my depression may take over and I have learnt coping mechanisms for these situations (I think). I had been diagnosed with PTSD after the crash and accepting that was a difficult time.
But now I am more aware and again I have learnt coping mechanisms without medication.
Occasionally things become too much and I am back in therapy.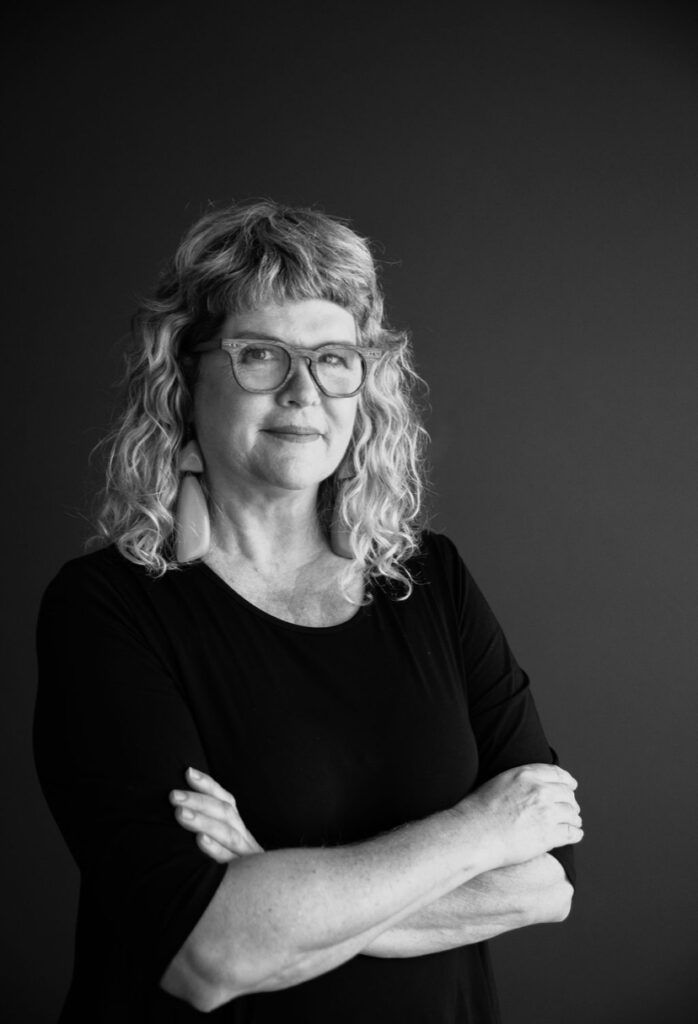 Personal motto(s)?
"Shit happens – move on."
"Prior preparation prevents piss poor performance."
"Not everyday is the perfect day – you need to experience the crap to know when you are having it good."
Art Questions
When and why did you first start to make art?
… and any pivotal artistic moment(s) / influence(s)?
Being aware I was making art at a young age is something I remember as it's the only place I got good marks at school. The title pages in my books were in themselves an artwork absolutely over the top.
For me the language in my brain is visual, pictures and diagrams explain so much to me. I am allergic to anything related to maths and numbers, my brain lies with art, history and reading so I feel it has always been there.
My god father is a photographer and he always sent me images and birthday cards with images and he was so supportive too, I think when adults pick up that a child has a passion at an early age they need to support and nourish this passion.
Adults influenced me, my art teachers and well as my history and language teachers and having the support of parents is great too.
Art crept back into my life via drawing as my hands were the only thing that were not damaged/affected by the car crash so it's something I could do. It helped so much retraining my brain with fine motor skills which are used when drawing.
It all catapulted from there, I think it never went away.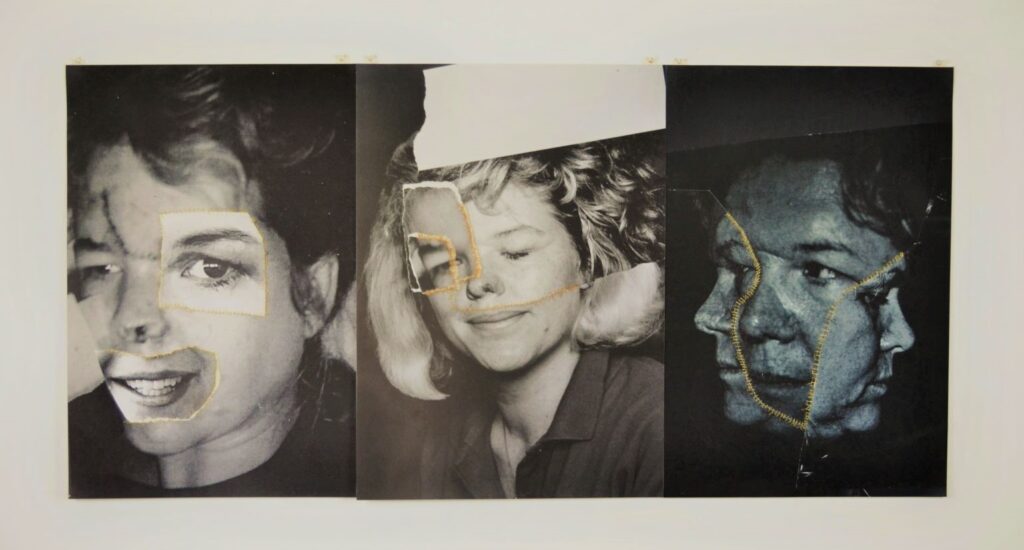 Please describe the usual process involved with producing your various art (sculptures, etchings, linocuts, drawings, illustration, photography, collages etc) – from initial idea, to creation and finish?
Everything starts with a stimulus. Either a verbal que or thought. I write notes, words, drawings, I have sketchbooks all over the house so I can write an idea or thought down quickly.
My sculptures, my etchings and linocuts are all created in this method.
Sometimes I respond to artworks I see, artists I love, contemporary moments, personal moments, it all stems from the mad idea you get in the shower or at 3am in the morning.
I imagine the finished piece in my head, then I have to find ways to get there, but things change quickly so nothing remains the same.
All of the mediums above relate to each other. From sketching ideas and designs, which I create in 3D, then photograph and then print. They are linked to me, I vary my mediums as I feel I can not have one without the other.
My sculptures are becoming a lot smaller and focused on masking which is linked to me PTSD and mental health issues plus physically, I find I need to work smaller and chronic pain is getting worse with age.
I am currently making more work using photography and I am hoping more video works. With the renovations to my studio I feel my work will take a different direction due to new environment and the need to become gentler in my practice. I am wanting to move away from so much plastic and more towards paper.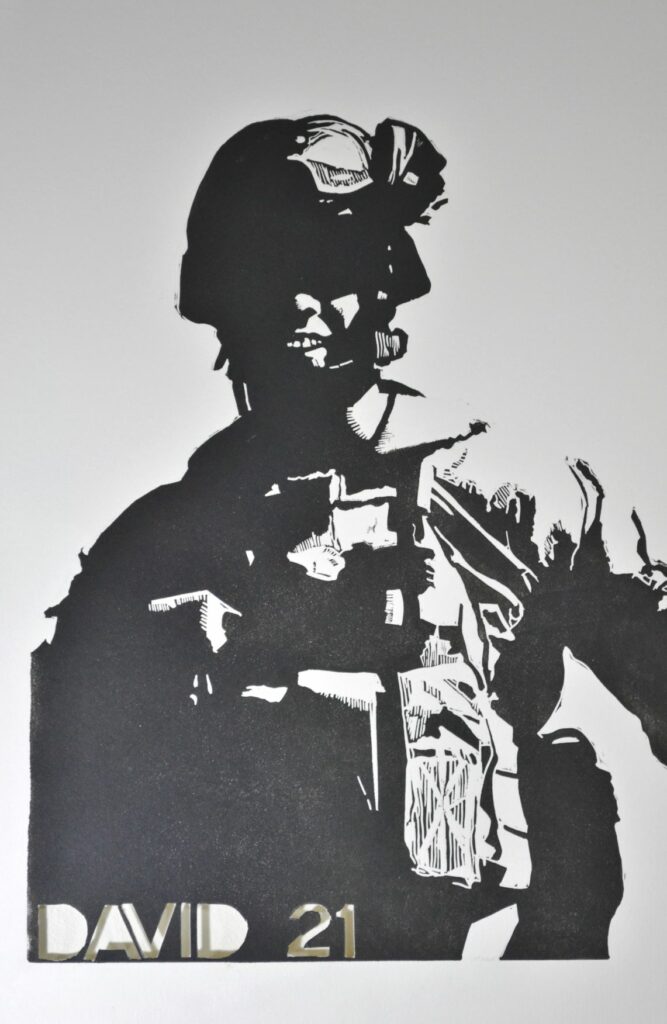 Favorite other artist(s)?
Most are female contemporary Australian artists like: Catherine O'Donnell, Robyn Rich, Annette Bukovinsky, Dr Julie Dowling, Polly Borland, Penny Byrne, Ebony Russell, Prudence Flint, Stephanie Jane Rampton.
International Artists I like and am influenced by: Giuseppe Arcimboldo (of course); German artists Annegret Soltau, Hannah Hoch, Kathe Kollwitz; Japanese collaborator Ken and his Australian wife Julia Yonetani; Julia Malkova, Daisy Collingridge, Jym Davis, Qimmy Shimmy too many to mention.
Any projects you want to hype?
My solo show at Wagga Wagga Art Gallery just closed on July 19th, I am in a group show in Melbourne at Off The Kerb gallery 24 July-7 August and a small solo at Goulburn Regional Art Gallery called FIRWALL August -September 2020.
Also in the hidden exhibition spaces at MAMA (Murray Art Museum, Albury NSW) October till December 2020.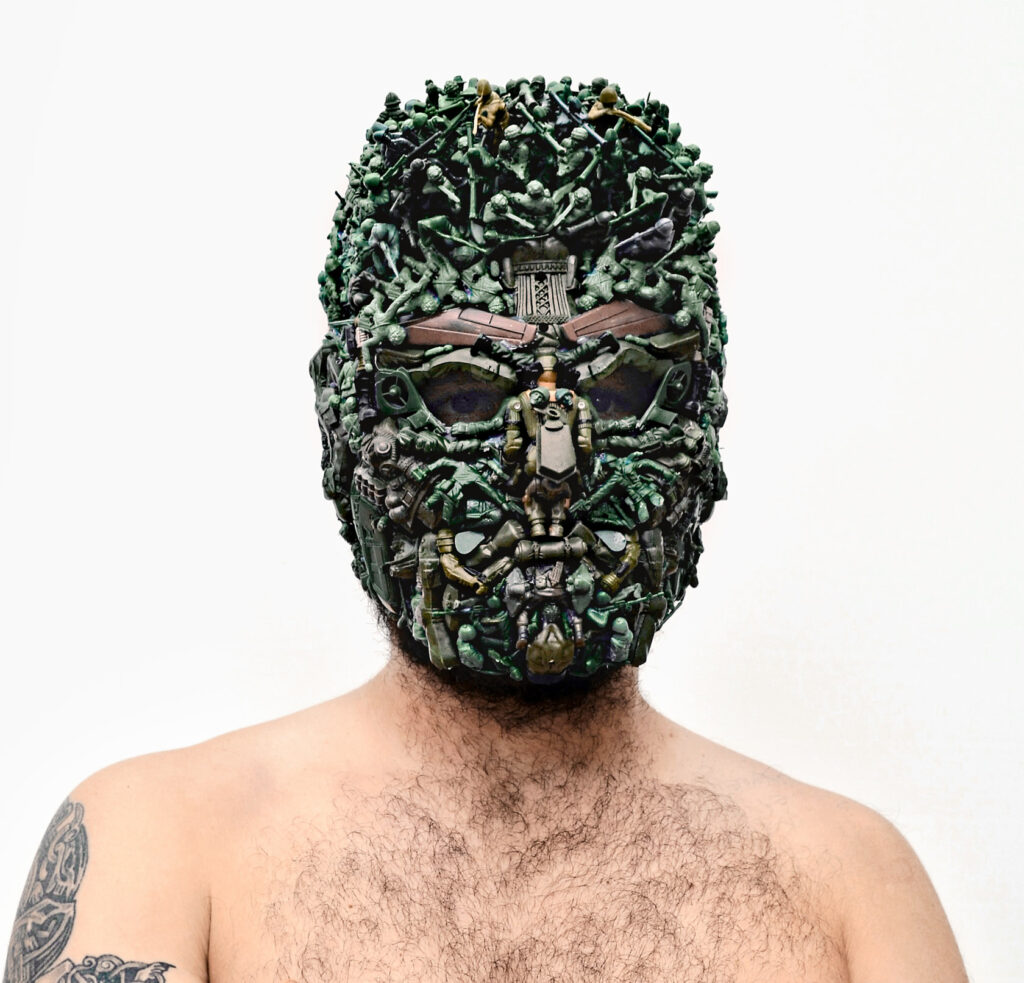 If people wanted to work with you, have a chat or buy something – how should they get in touch
Email me through my website www.freyajobbins.com or DM via Instagram FreyaJobbins.
Odds and Ends
What role did toys play in your childhood(s)?
Um not a big roll as we played outside so much.
We did not see TV till we came to Australia, we did spend most of our time playing on the cu-de-sac island, riding our bikes.
We were not spoilt with plastic toys except for LEGO. That was a big thing in our family, as having an Engineer as a father he approved……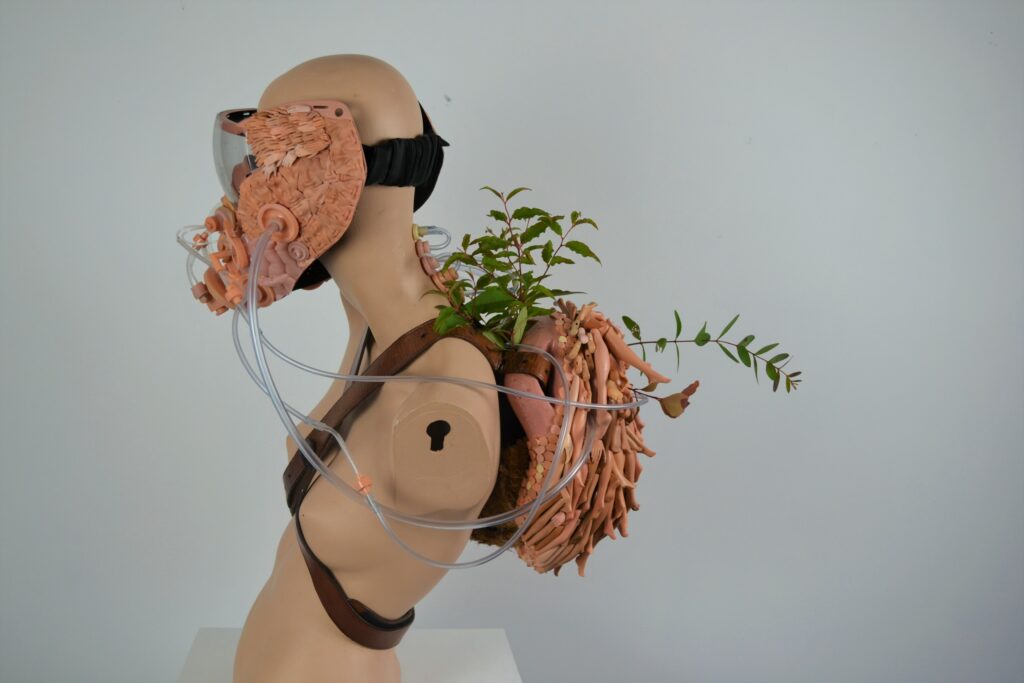 Drugs – waste of time or gateway to the universe?
Um did not dabble too much, as I thought it was a waste of money actually, all I learnt here was do not mix alcohol and grass…………….
Who was your 1st crush and why?
Bjorn from ABBA – cause I loved ABBA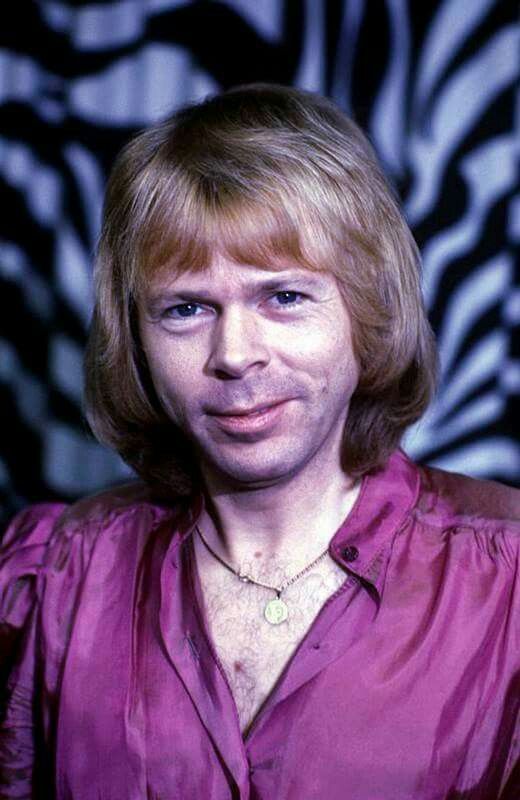 What are the top 3 items you own?
You could look at materiality here or sentimentality – I have never been one to spend big on material things – I like to spend on experiences especially travel. So currently I am buying artwork for my art collection – no not mainstream high flying artists I buy art that I love, from artists I like, artwork that resonates with me and affects me emotionally.
My wedding ring means the world to me, nothing flash or expensive but divine to me and our home I love it.
(Highlights from Freya's recent additions to her art collection – Featuring (i) Wash your hands by Ebony Russel, (ii) bandaid by Mechelle Boundpraseuth, (iii) canogram bunny by Camille Gillyboeuf, (iv) angry man print by Freya, (v) black and white plate painting by Nicole Law, (vi) barbed wire mask by Jym Davis, (vii) record mask by Chris Lee and (viii) dolphin painting by Maz Dixon.)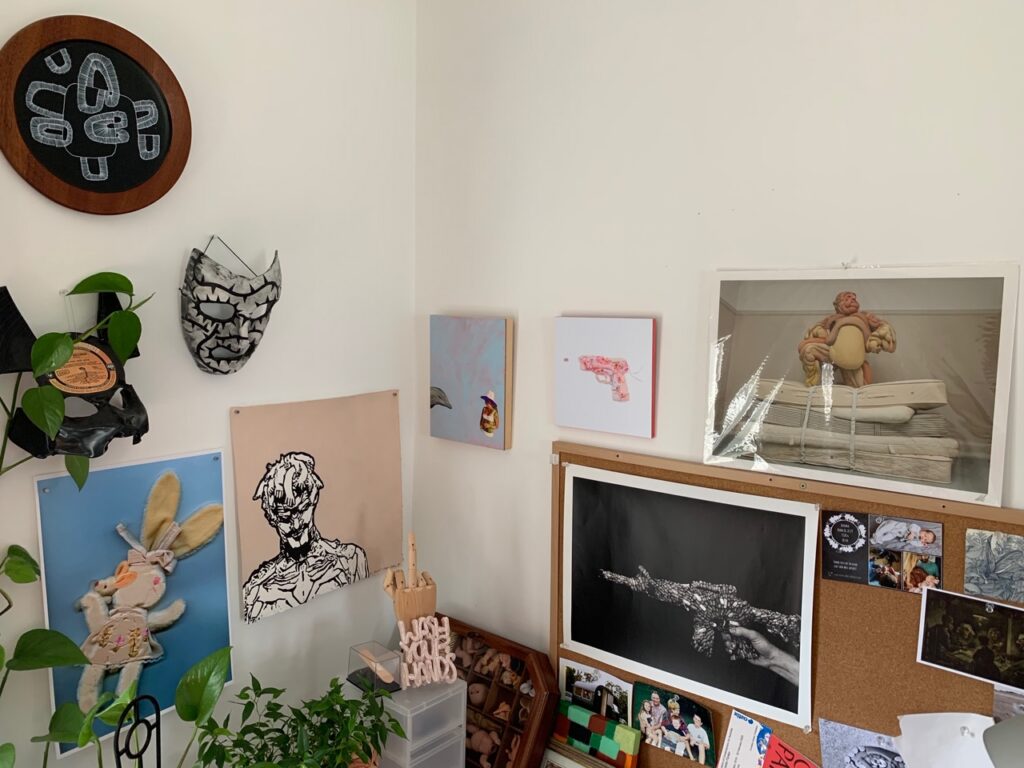 In a fight between the two iconic dolls released by Mattel in 1959: Barbie Vs. Chatty Cathy – who would win and why?
Sorry I don't give a damn. Barbie for me is really only something I look upon as a material, and this other Chatty Cathy I have never heard of. She has nice ears, and I am drawn to her fingers – I could use them in a work that I currently have in the studio.
Of everything you have done what would you most like to be remembered for and why?
I think I am a remarkable person, people tend to remember me, but I think that has a lot to do with my name.
I would like to be remembered as a positive and interesting person who had the ability to self-deprecate with style.
Occasionally I can be a bitch but can't we all?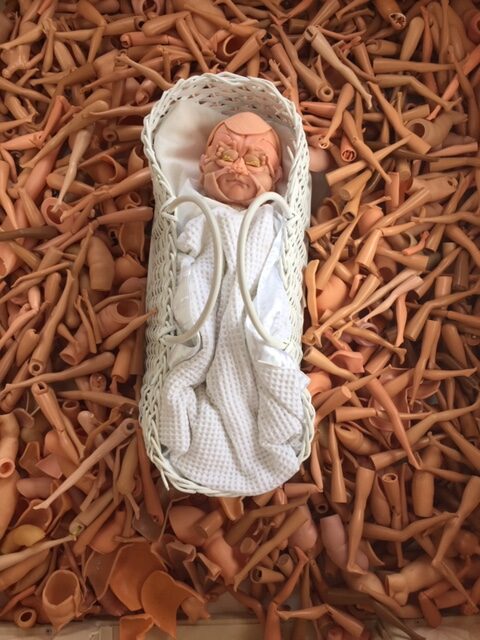 Links