If you were a child, or the parent of a child in Australia during the early to mid 1990s you were aware of 'Lift Off' – the children's television show
produced by the Australian Children's Television Foundation (ACTF) which aired for two seasons in 1992 and 1995, on government-owned, free-to-air television station the Australian Broadcasting Corporation (ABC.)
Thematically, 'Lift Off' was based on the theories of children's developmental psychologist Howard Gardner (born 1943) – specifically his Theory of Multiple Intelligences which posits that humans and children have up to 10 types of intelligence, and associated ways of learning, namely: musical-rhythmic, visual-spatial, verbal-linguistic, logical-mathematical, bodily-kinesthetic, interpersonal, intrapersonal, naturalistic, existential and moral.
As a result 'Lift Off' incorporated acting, puppetry, cartoons, documentary footage, songs, dance, a face-less asexual doll, able bodied actors, actors with disabilities and more – In order to satisfy the various ways children learn and engage with media, and represent the vast spectrum of people who make up Australia. Creating a children's television show unlike anything else before it.

Or, to put it in the words of Mario Filintatzis, who Played Marco Ponti On Series 2 of 'Lift Off',
"Lift Off was an educational kids TV show about a group of children, some closer than others, who all lived in the same apartment block and would go on adventures… some being fantasy-driven and others not!
The show was best known for some pretty weird elements like the faceless EC doll and talking backpacks.
If the conversation of Lift Off ever comes up these days, the topic of EC had a big impact on kids who watched the show (people would tell me they had one of them when they were young) and when they got older the character would scare them!"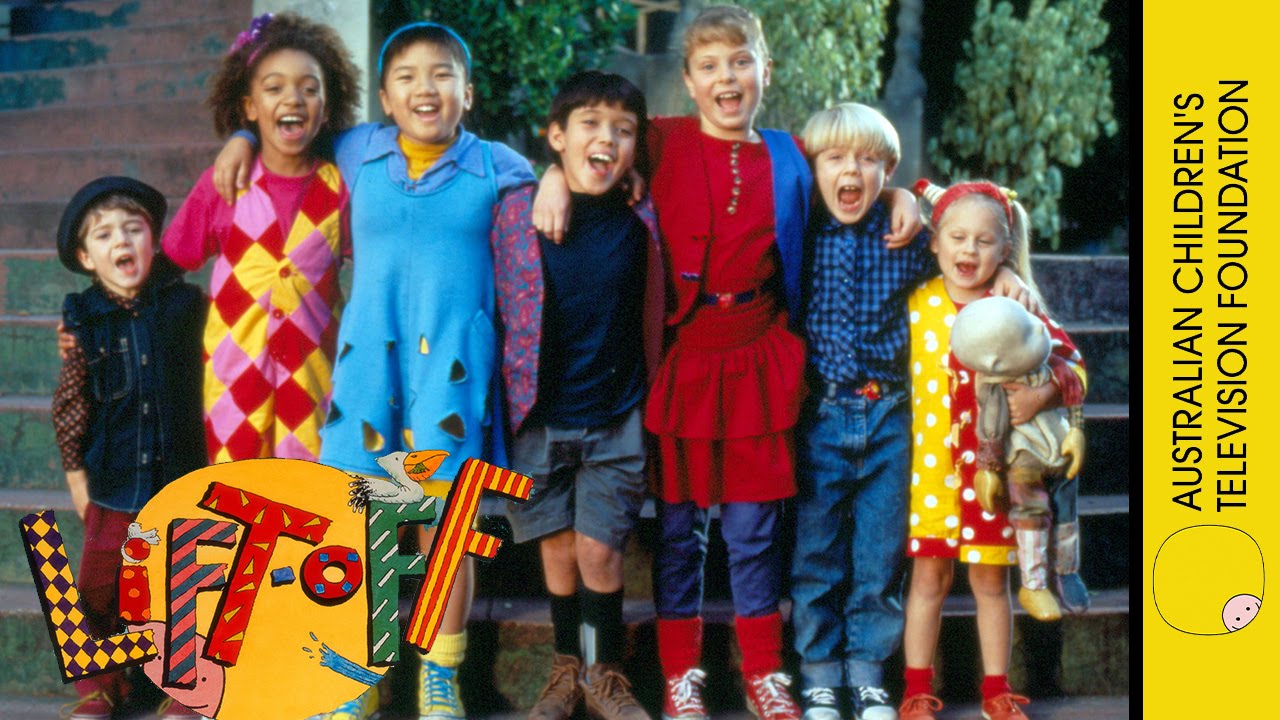 With EC (Every Child) being the aforementioned face-less asexual doll that was used in the show as a vehicle for it's young audience to project themselves onto – no matter their gender, age or race.
Aside from it's pioneering themes and visuals, 'Lift Off' also helped to launch and establish the careers of well known Australian artists such as sculptor Ron Mueck, illustrator Terry Denton, and puppeteer Peter Wilson – further cementing 'Lift Offs' position in the Australian culture cannon.
In order to learn all about the show, we were lucky enough to sit down with Mario for an extensive interview about his experiences acting on Season 2 of 'Lift Off' as a child.
Read the interview, below:
Getting Acquainted
Name + D.O.B?
Mario Filintatzis
16/9/1983
City, State and Country you currently call home?
Melbourne, Victoria, Australia.
City, State and Country you're from?
Melbourne, Victoria, Australia.
My sister and I were first generation migrants as our grandparents came to Australia in 1971 with our mother and her brothers.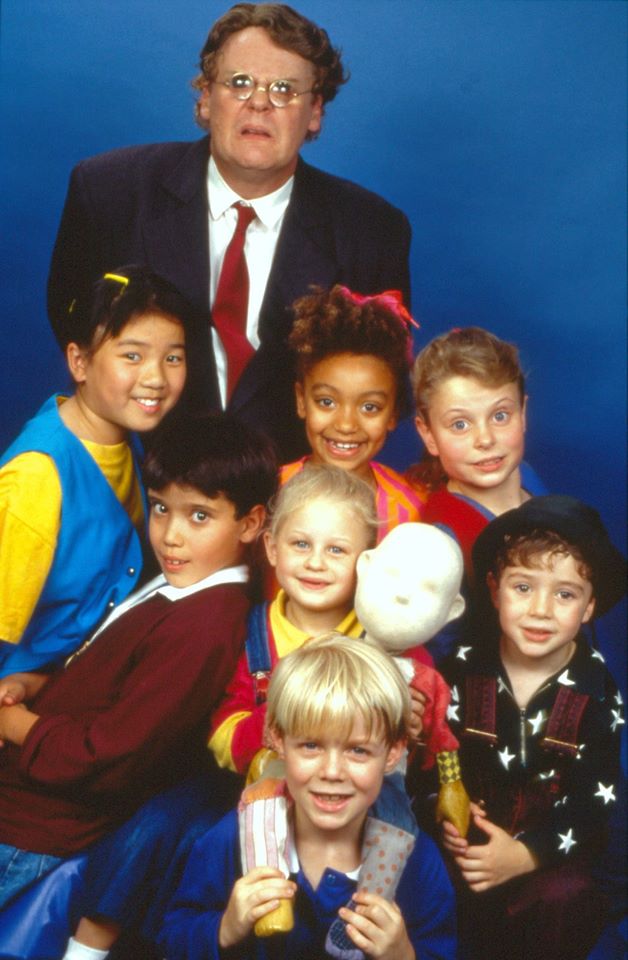 Please describe some memories from key stages of your life: music, art, toys, romance, comic books, hunting, school, politics, crime, religion… ANYTHING really!
* Age 5 – beginnings:
I started primary school around this age. This was a big deal as I attended a mainstream school instead of a special school which was rare back in those days.
One of my biggest passions began around the age of 5 and that was my love/obsession for the Collingwood Football Club. My uncle (who was like a father figure to me) made sure I had someone to go to the games with.
His only rule was that I supported the mighty Magpies.
I'm 36 now and I still live and breath for Collingwood!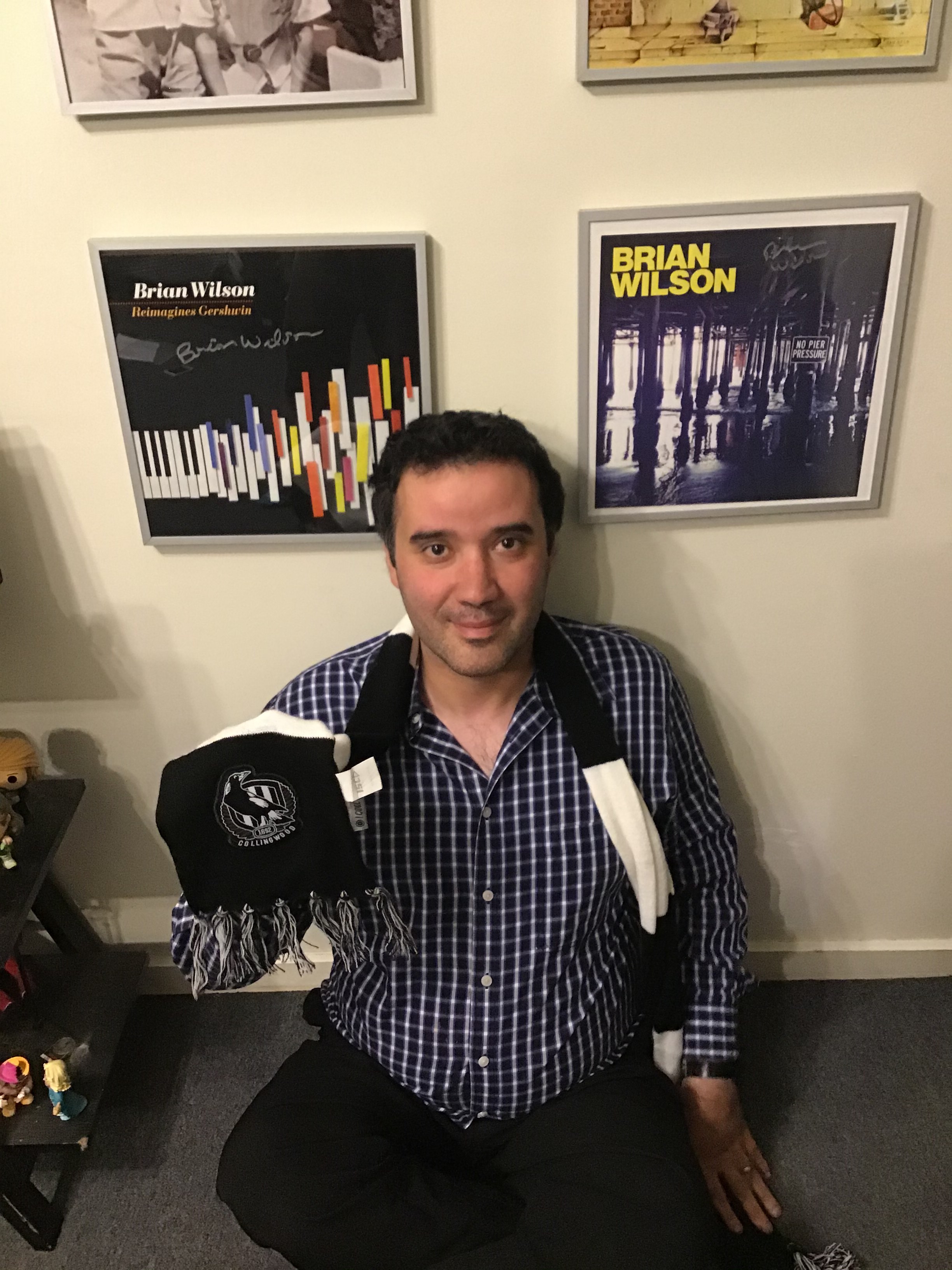 * Age 10 – continuations:
WWF wrestling was a big love of mine from a very young age (around 5 years old) and this led to meeting a classmate at school who also loved wrestling and from there we became best friends.
Unfortunately he supported Geelong but you can't win them all.
The next chapter of my life was probably my biggest when I got an offer to audition for Lift Off series 2. I had never acted professionally before but when it came time to audition I surprised myself and managed to get the role of Marco Ponti.
This lead to 5 months of filming and it was an experience I will NEVER EVER forget.
* Age 15 – getting serious:
I was in Year 9 when I was 15. My high school was well known for its music program and from there, I decided to start playing piano even if it was in small doses.
On an academic level I was never going to be a mathematician but humanities like politics, English and history were always going to be subjects I had a passion for.
I'm 36 now and those topics are still things I'm interested in.
Because of the age I was at I started to have more independence like going to the football or the movies with friends.
* Age 20 – young adult:
I started a band called Archibald and Son with some friends from high school, I was lead vocalist / occasional keyboardist. The five of us had eclectic taste but we all also had a love for Radiohead and therefore would do our best to have a similar sound.
The band lasted about 2.5 years and we did plenty of gigs around Melbourne in that time.
* Age 25 – adult mode:
Nothing interesting to add here!
* Age 30 – fully formed:
I had just gotten married (November 2013) to my wife, who I have been with since 2005, so we are about to celebrate our 15 yr anniversary.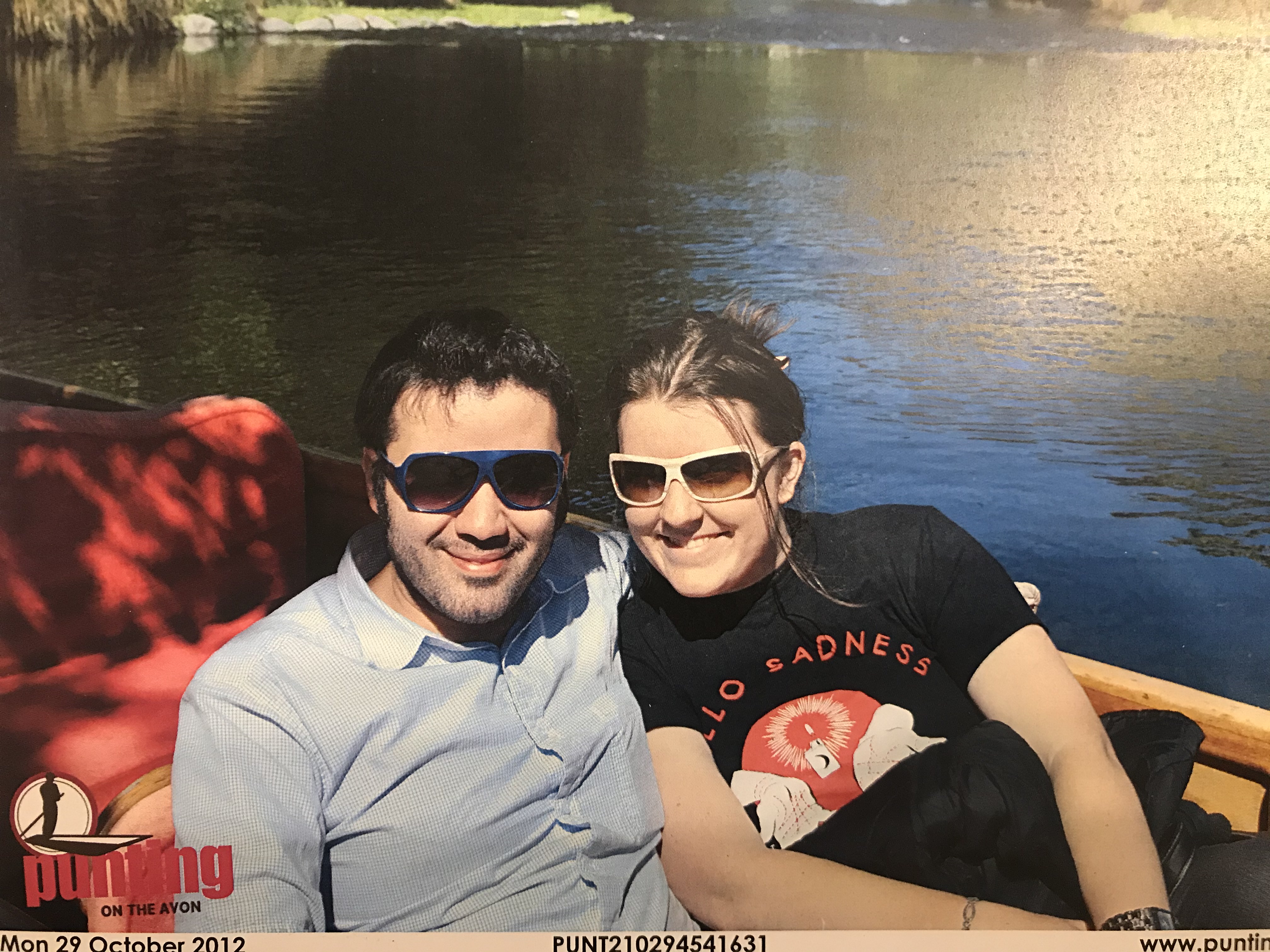 * Age 35 – meanderings:
Nothing interesting to add here!
Personal motto(s)?
When and why did you first start to act and perform?
… and any pivotal acting / performance moment(s) / influence(s)?
When I was young, I did not have any intention to act. As as a primary school aged kid, I would sing all my favourite artists and attended singing lessons for about three years which I loved. I had a big passion for music and artists I adored included Michael Jackson and John Farnham!
The first concert I ever went to was John Farnham on the Gold Coast, with my family. By the age of six I performed at Dallas Brooks Hall (defunct venue in Melbourne) in front of over 500 people.
As mentioned, when I was in my late teens/early 20s I also played in a band with some school mates for about three years.
The role in Lift Off came about by fluke which I will explain later.
Whilst we know you through your work with 'Lift Off' – care to share with those at home the details of your other creative endeavors… if any?!
… and are you still acting / performing at all these days?
I was never interested / there was never an opportunity to pursue acting much after Lift Off especially as I was so young. However, as an adult I've been involved in a couple of short films to promote disability awareness and advocacy.
Being an advocate for people with disabilities is something I am very passionate about.
I was involved in a short film called Eskimo Kiss through the Youth disability Advocacy Service (YDAS) which I won an award for at the Bondi Short Film Festival, that was about 10 years ago I think, and last year a good friend of mine made a short film about me for the Focus on Ability film festival.
Any projects you want to hype?
Nope, not involved in anything creative at the moment.
If people wanted to work with you or have a chat – how should they get in touch?
Happy for anyone to shoot me an email at Mario.filintatzis@gmail or find me via Facebook.
'Lift Off' Questions
Please share some of your favourite memories or tales about your experience on 'Lift Off' with our readers?
… and if you have any memorabilia, photos or props from your time on the show – we'd love to see them!
Lift Off involved a lot of rehearsals which I wasn't familiar with, not having any previous acting experience. For weeks before we started filming, the cast including me would work with drama teachers to ensure we were ready to go when filming started.
They were such happy times and they got us all excited for what was ahead, so when we started filming it wasn't so daunting because we'd been taught by professionals.
We had gone through so much so when Lift Off had been filmed, promotion began. It was not long after that were told we were going to Sydney not only to promote the show but we all stood up on stage and performed a number of songs for the media. It was a great experience – when you're 10 years old and you get to go to Sydney for the first time in your life and spend time with other kids your age it is pretty awesome.
Lift Off was filmed all over Melbourne but one thing I'll never forget is when we started filming at the ABC studios in Elsternwick. This was exciting for me because we had full studios with amazing props – plus on a personal note I would always get excited when I would see an ABC celebrity around.
The first person I met was Mary Delahunty who was a newsreader, at this stage of my life I thought it would never be beaten but it was then that I got to meet all members of Working Dog (Frontline, The Castle, Utopia, The Late Show etc).
Their makeup room was right next to ours and I'd always have a chance to talk to the team. Eventually I found out they were filming their own show Frontline. I was too young to properly understand it but as I got older, I developed more and more love for the show and that led to it being my favourite TV show of all time.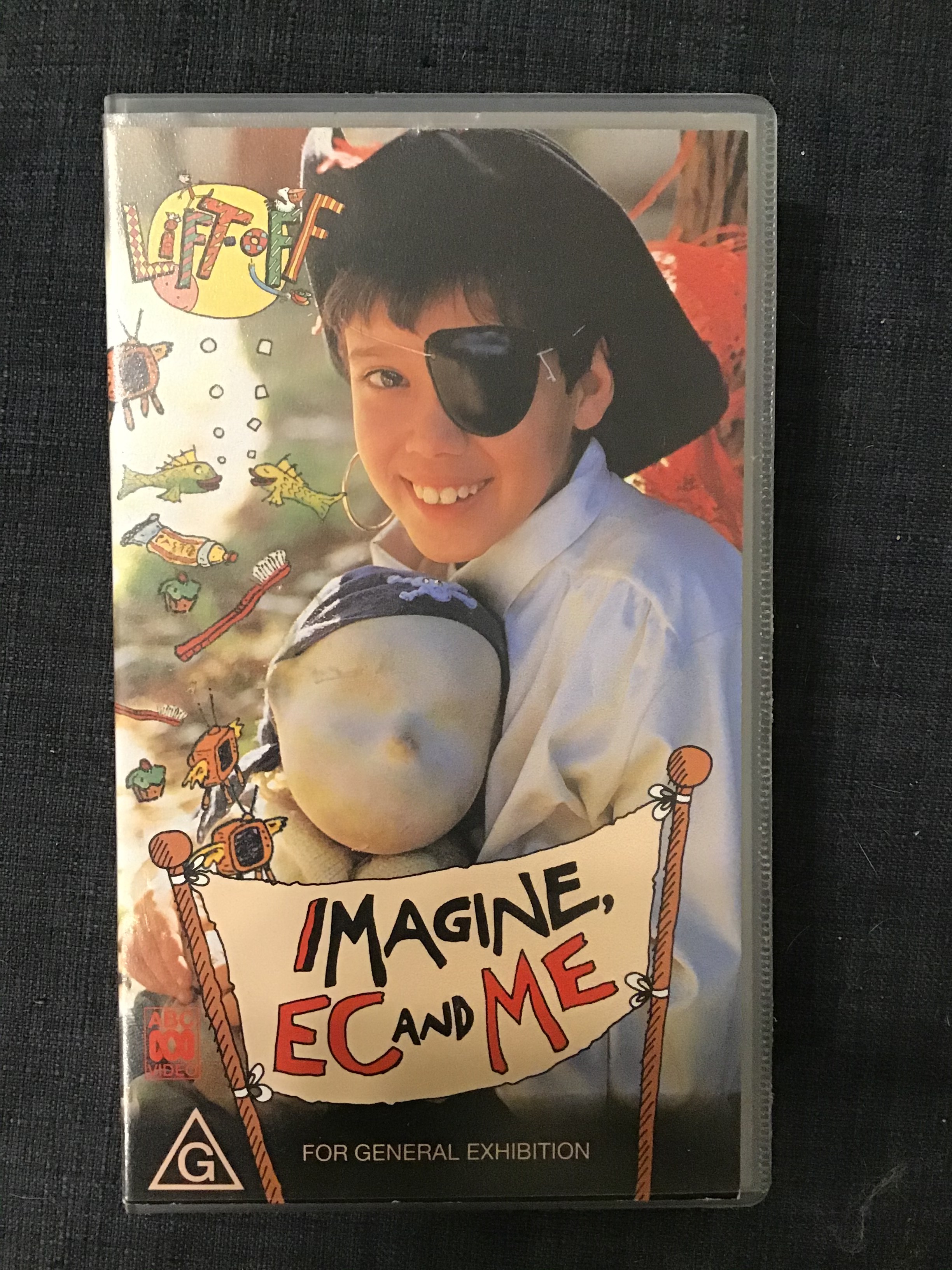 How did you get the role of Marco?
My older sister, who was 3.5 years older than me, was involved in a modelling agency. At least once a year she had to go and get headshots done at an agency and me being too young to be left alone at home, my mum would take me along too.
In 1993 I followed my mum and sister to another annual headshot photography session. During this period my sister was getting some catalogue work which excited the whole family especially when the latest KMart catalogue was delivered and my sister became a family celebrity!
One day my sister was at the agency and the owner of the agency went up to her and asked her out of nowhere if her brother always used a manual wheelchair. At this point in my life I was using a wheelchair from time to time because I had had a lot of physical orthopaedic operations which would often result in numerous encounters where I had casts on my legs which restricted my mobility until I recovered.
My sister said that I was often able to walk around, that I used crutches but like I mentioned earlier, sometimes I had no choice but to be in a wheelchair. The owner sounded very interested and told my mum about a children's TV show that would potentially be something I could audition for even though I had no acting experience whatsoever.
About three weeks later the agency called to confirm the audition which was very unexpected for us all especially as it happened a fairly quick fashion. I will never forget from that evening seeing my mum jump up and down from excitement and there I was, still not 100% sure what I was getting myself into.
(Cover art for the 8 'Lift Off' related albums which were released during the height of 'Lift Off' mania – including the rare 'Lift Of: the Musical' cast soundtrack.)
What role did your parents play regarding your work on 'Lift Off'?
I've always been very close with my mum and still am. It is never easy for a single mum but to have her in my life, whether it was during the time of Lift Off or supporting me through health issues and many hospital stays, she has always been there.
In terms of filming Lift Off, ABC arranged drivers for the cast so I would be picked up often at about 6am and driven to the set and then driven home at the end of the day. Some days I was able to leave in the afternoon after I had finished my scenes but there were also times when I saw the sun come up and then come down and I was still working.
If you were forced to explain 'Lift Off' to some recently crash-landed aliens, what would you tell them?
Lift Off was an educational kids TV show about a group of children, some closer than others, who all lived in the same apartment block and would go on adventures… some being fantasy-driven and others not!

The show was best known for some pretty weird elements like the faceless EC doll and talking backpacks.

If the conversation of Lift Off ever comes up these days, the topic of EC had a big impact on kids who watched the show (people would tell me they had one of them when they were young) and when they got older the character would scare them!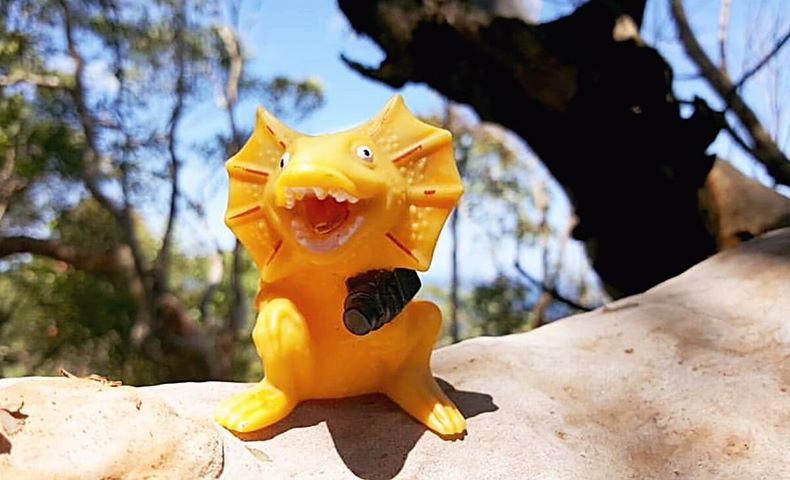 What are some of your memories of working with Australian actor and comedian Mark Mitchell who played both Mr. Seymour Fish and Mumsy Fish on 'Lift Off'?
Mark Mitchell was possibly the busiest actor on Lift Off. His characters were in every episode, and none of us kids worked on every episode.
Despite being so busy and focused, Mark was one of the most pleasant people.. he always gave his time to the Lift Off kids whether we were working on a scene together or taking a break. Mark was always there to put a smile on all our faces.
From my perspective, he was one of the friendliest people I'd ever met and when Lift Off came to wrap, I can remember cast and crew saying goodbyes with tears in their eyes because we wouldn't be seeing him every day anymore. I too was one of those, in fact it took me a number of weeks to get over it.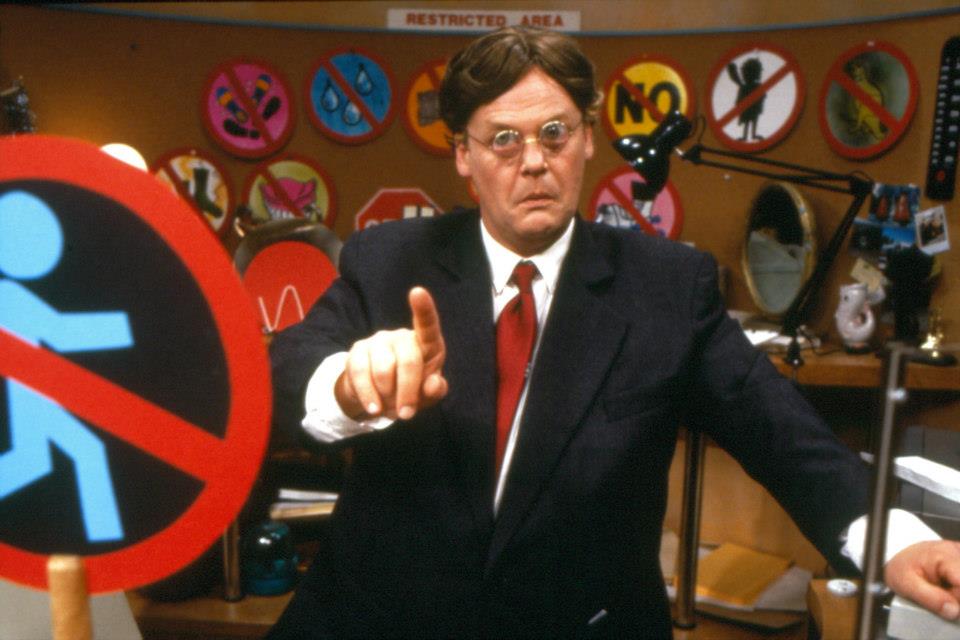 How did the scenes work that involved you interacting with the various puppets and puppeteers on 'Lift Off'?
It's funny that this question is being asked, as puppets and puppeteers were a fascinating part of the show. The amount of effort that the puppeteers went to to make a scene work for TV was out of this world.
Seeing the puppeteers often having to tangle themselves into the walking legs of a Lift Off kid or maybe kids looked quite dangerous but they never, ever made a mistake.
There were always two or three of each puppet and also, there was a massive need for puppeteers on the show because another main character was the EC doll which was always featured in every episode.
The puppeteers were moving on a stationary ladder on the ground and had a second puppeteer pulling them, happening in the background of the scenes.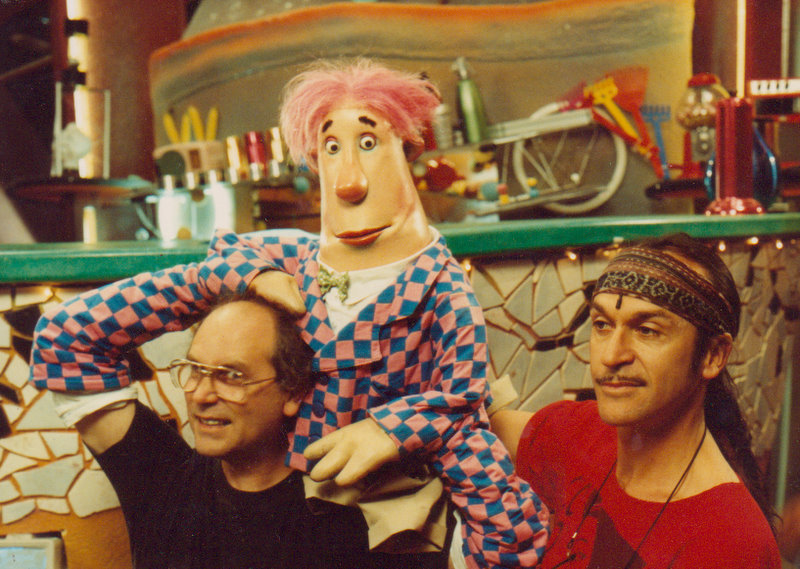 What was your off-screen relationship like with Jared Daperis – who played your younger brother, Raph Ponti – when you were filming 'Lift Off'?
One thing I will ever forget about Jared was when I was asked by the casting group that I auditioned through to show up at a certain time – They wanted me to read lines with Jared and the directors. From my perspective even though he was 4-5 years younger than me, I was very impressed with his ability to act at such a young age.
As far as off-screen relationship goes, some of the younger actors were in more scenes with him than I was, so they probably got to know him better than I did. That said, any time we did a scene together we always enjoyed each other's company.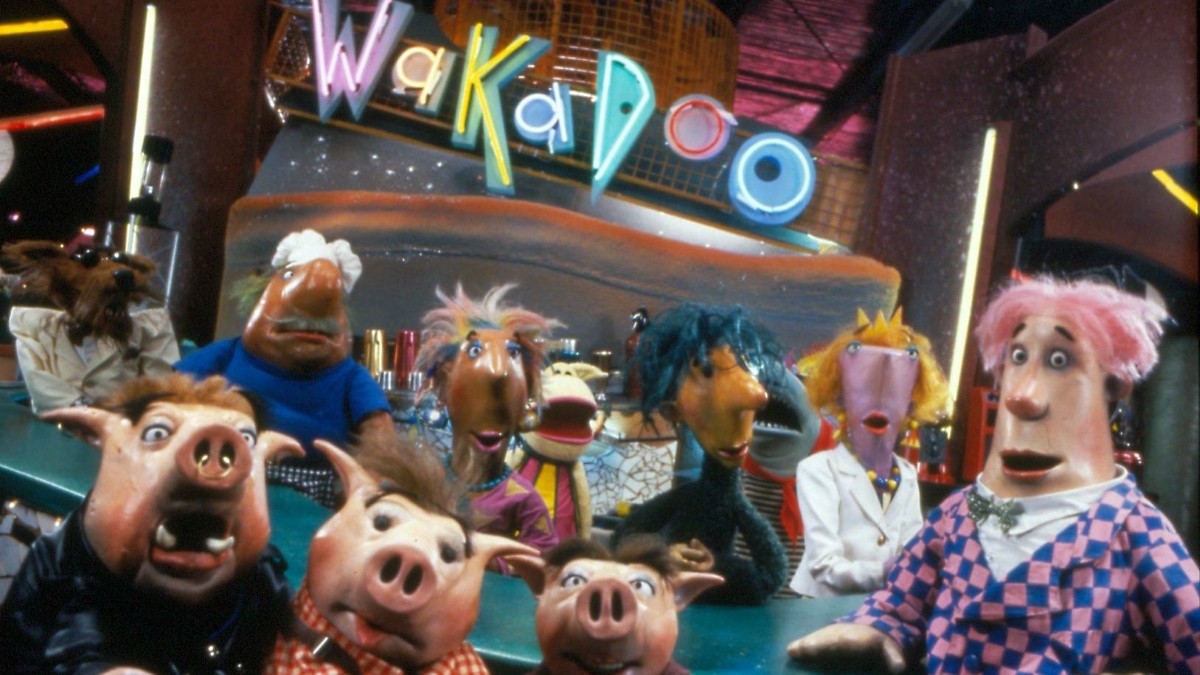 Do you know what any of the other kids from Season 2 of 'Lift Off' are up to today?
… and do you still catch up with them?
Funnily enough, I ended up going to high school with one of my other cast-mates years later and it was good to catch up. Generally though, no I don't, we were all so young when we filmed the show, too young to really socialise or make strong connections.
Also, a lot of the cast lived in different parts of Victoria so they weren't overly close by.
I tried my best to meet more members of the cast and crew as I got older but it's always difficult… more recently I've connected with a couple of people via social media and hope to catch up with them one day.
It was great to reunite and share each other's memories. She is doing well for herself.
(Covers of some of the 'Lift Off' books released during the height of 'Lift Off' mania – many of which featured art by Terry Denton.)
Did you ever watch 'Lift Off' yourself as a child?
… and what are your memories of watching the show?
I didn't watch the first season but I was aware of the program. Maybe the fact that it was so colourful and had so much going on with special effects and puppets so it might have confused me a bit!
I was a huge fan of Play School so maybe I didn't have time to watch both!
I definitely watched series 2 which I was in though and when I went back to school after finishing filming the show, I may not have realised at the time but I was being treated like a celebrity! Everyone wanted to know what the experience had been like.
I liked watching it myself because it reminded me of the experience of filming each scene and how much fun it had been.
(Some of the 'Lift Off' DVD collection.)
The E.C aka Every Child doll on 'Lift Off' is a divisive character – loved by some, whilst haunting the nightmares of others…
What were your thoughts of EC at the time of filming 'Lift Off', and have your thoughts on EC changed at all today?

Even though I may not have seen too much of the first season of Lift Off, like a lot of young kids I was aware of EC and that he was an integral part of the show.
My first experience with EC made me realise that me being on Lift Off was a big opportunity. EC was known by a lot of people and there I was, carrying him on a regular basis. Even though he was a puppet, I felt that I was accepted by the crew as a new cast member and as silly as it sounds it felt like I was meeting a celebrity.
The only time that I didn't think about putting together a scene with EC was during the latter stages of filming or I was just simply exhausted after a long day on the set.
I still find myself talking to people about Lift Off which is a nice feeling as it was such an unforgettable experience. These days, the most popular topic that people want to talk to me about is the EC doll. I am also often asked questions that involved what it was like to carry EC, was he real and most commonly why EC didn't have a face.
Almost everyone who spoke to me about Lift Off would tell me that when they were kids they had an EC doll which you used to be able to get at the ABC Shop. That's one of many reasons why EC was the star of the show and many people who used to watch the show still remember him.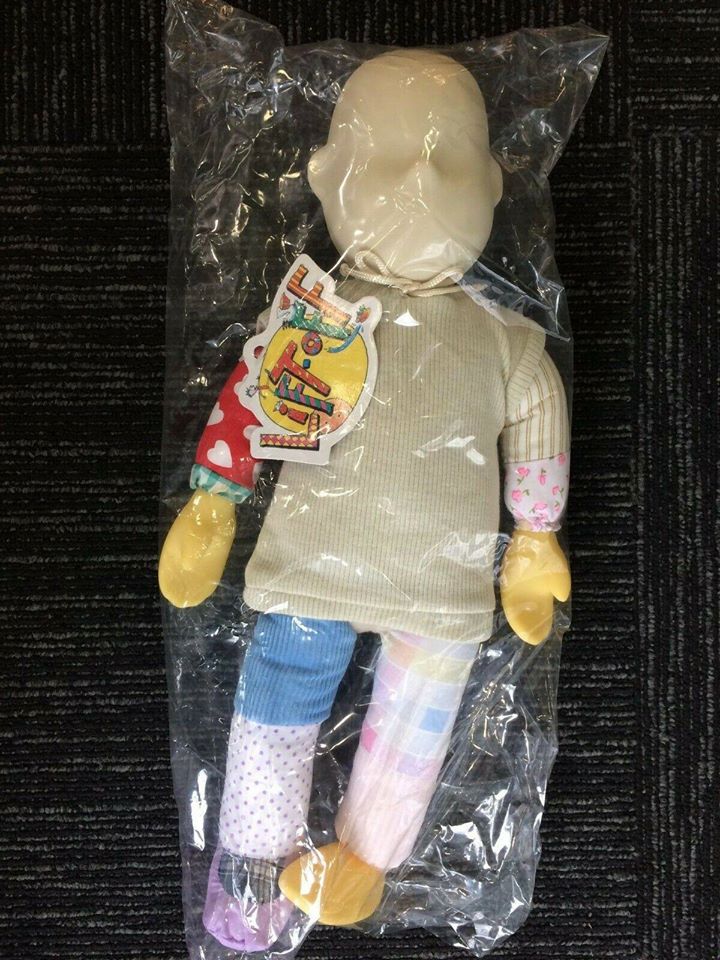 Both seasons of 'Lift Off' featured characters with a disability – Max Garcia, played by Robert Peschel in Season 1, and yourself in Season 2…
How important was it at the time, and in reflection today, for a person with a disability such as yourself to be (re)presented as a major character, on a television show?
Being a young boy with a physical disability (Spina bifida) always made me self conscious whether it was on Lift Off or not. I didn't think overly about my disability when we were filming but the reason for that was because, just like everyone else, I had work to do on the show. I even remember the crew on Lift Off always made me feel comfortable with what was going to eventuate in scenes where I was in a wheelchair.
What I loved about Lift Off is that it was authentic – my disability showed that I was not able to walk in a straight line like everyone else and sometimes my character was in a wheelchair. Having said that, my experience with Lift Off never, ever let me bring myself down.
Here I was, as a 10 year old boy, going to work almost every day and being treated like everyone else.
What I did love about Lift Off and the portrayal of disability in both series was that it taught young viewers to never discriminate towards people who might seem different, because we weren't.
In terms of authenticity, the characters who had disabilities were played by young people who had disabilities themselves. As I got older, and quite a few years after the show, I realised how important it was to have given these opportunities to us.
We are a minority and it would have been easy to go for the easier option and give the roles to people without disabilities.
What are your thoughts on the theories and works of developmental psychologist Howard Earl Gardner – whose theory of multiple intelligences inspired much of 'Lift Off's' production and ideas?
Interesting question, to be honest I don't know of him but now I am curious!
Did the kids get to pick which Backsack they liked, how did that work?
No, we did not get to pick which backsack we each used during the filming of the show. The cast members who were part of series 1 got to keep their backsacks for series 2, and the backsack I was given (grumblesack) was used by another actor in series 1 who didn't return for series 2.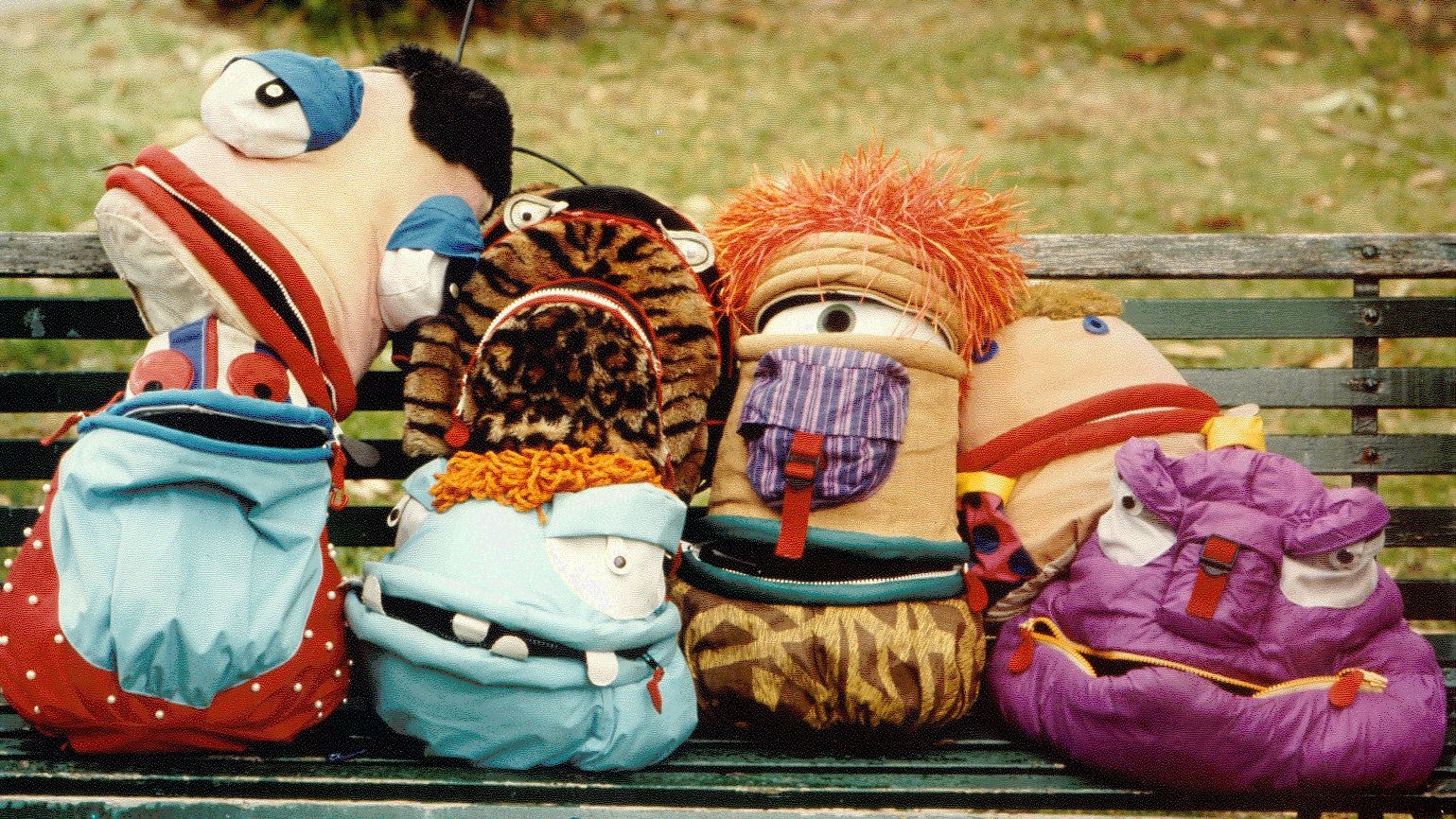 What sort of direction were you given during scenes involving E.C. and his magical active imagination?
… And were these scenes challenging to perform in any way?
The series was 100% scripted and rehearsed so there was no room for improvisation.
Some of the scenes were challenging to perform because in scenes where the puppeteer was present they would be tangled up around your legs to stay out of shot. We got used to it but it could be difficult.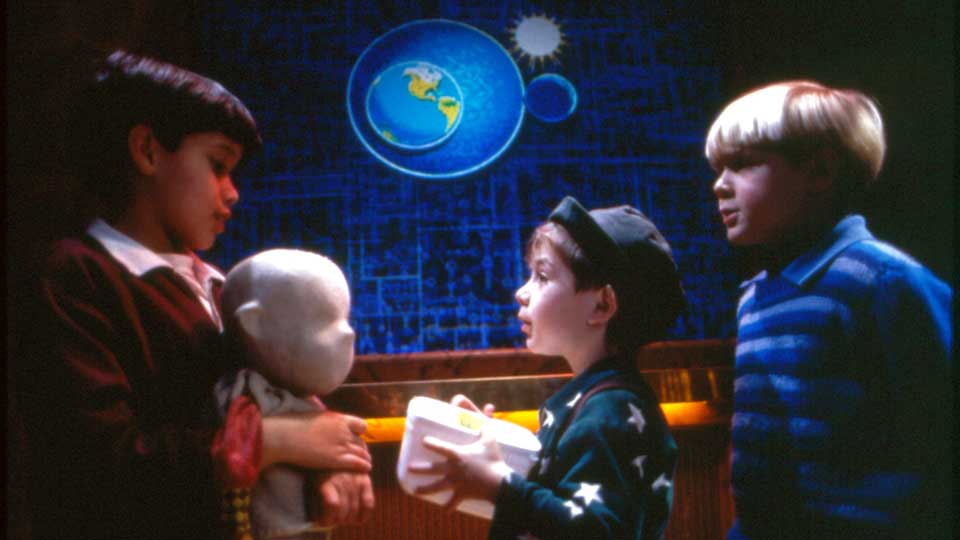 Who was your favourite Lift Off! character and why?
I'd definitely say my favourite character was Nipper (Paul Cheyne). My character Marco and Nipper became good friends on the show and we became good friends in real life.
Our characters had a lot of storylines together. One thing written into the show to symbolise our friendship was when Nipper met my character when he first arrived into the Lift Off world, he saw I was in a wheelchair and he made Marco feel welcome and included.
Was everyone aware that Season 2 would be the last season from the start of it's development?
… And do you know why the show did not continue past Season 2?
No, the cast members didn't know series 2 was going to be the last series. We never officially found out that there wasn't going to be a series 3, we just finished filming series 2, did the associated promotion, and at least I didn't have any contact from the production team anymore.
I've never officially found out the reason why there was not a series 3, so it's a bit of a mystery to me!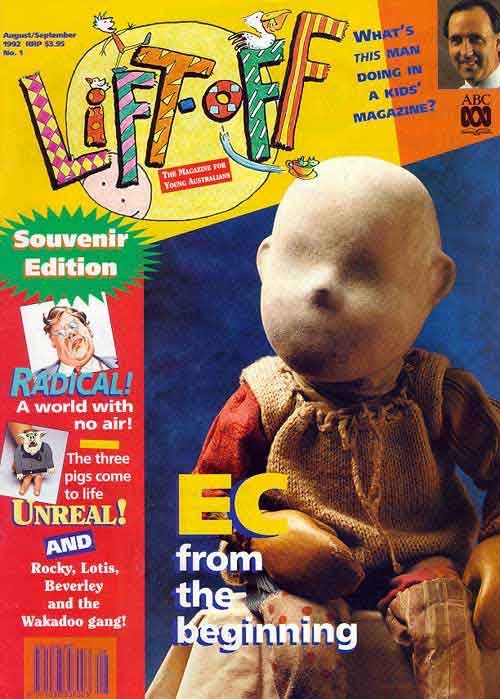 Links

Valuable assistance for this interview provided by Mr. Samuel Dalley aka Stitchimonsta.

All photos provided by Mario Filintatzis, Samuel Dalley or sourced online.