Adam Yeater has been creating his own visions of glorious chaos since a young age, fuelled by grindhouse cinema and metal music. His most recent series, World of Knox and Blood Desert, have become the defining work of Yeater's high octane comics that focus on action over dialogue.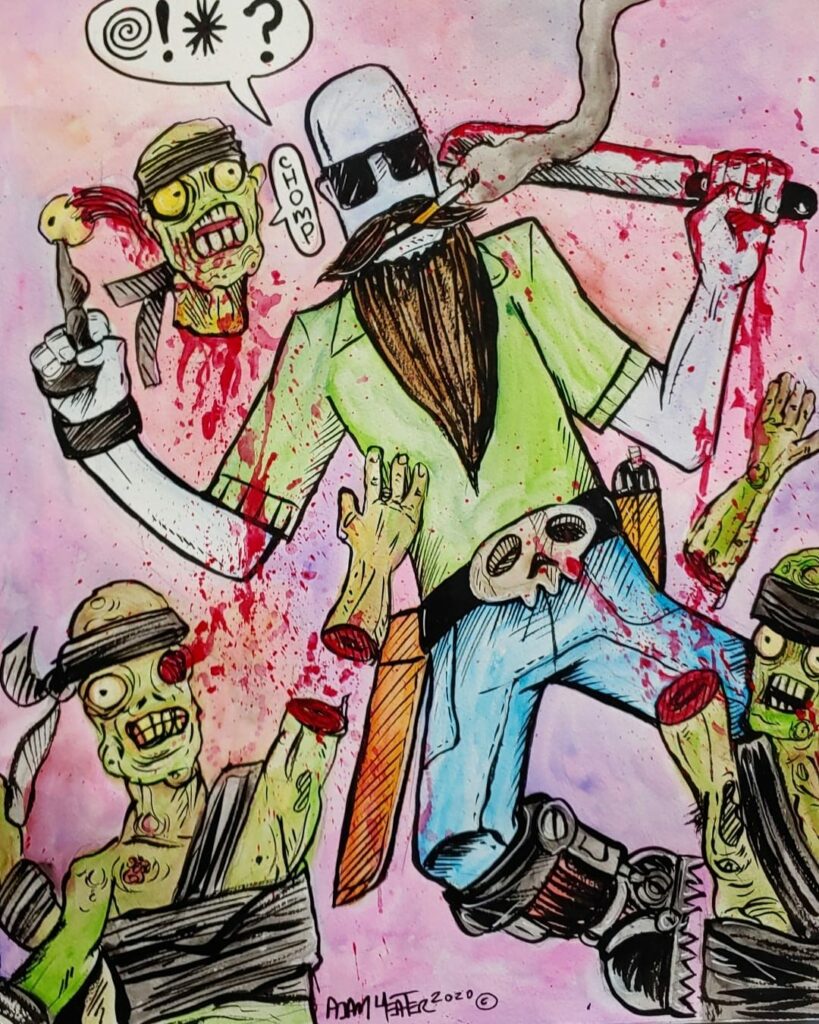 As a lifelong fan of horror and grindhouse cinema, I found myself drawn into the world created in Blood Desert. Post apocalypse landscapes, filled with cults and mutated creatures, appeared as a playground before the gun and knife wielding silent protagonist.
Simply put, it was bad-ass.
This is what drew me into the art of Yeater – so I reached out to him to get a better idea of the driving forces behind his work…
Getting Acquainted
Name?
Adam Yeater.
City, State and Country you currently call home?
Tucson, Arizona.
City, State and Country you're from?
Ft Myers, Florida.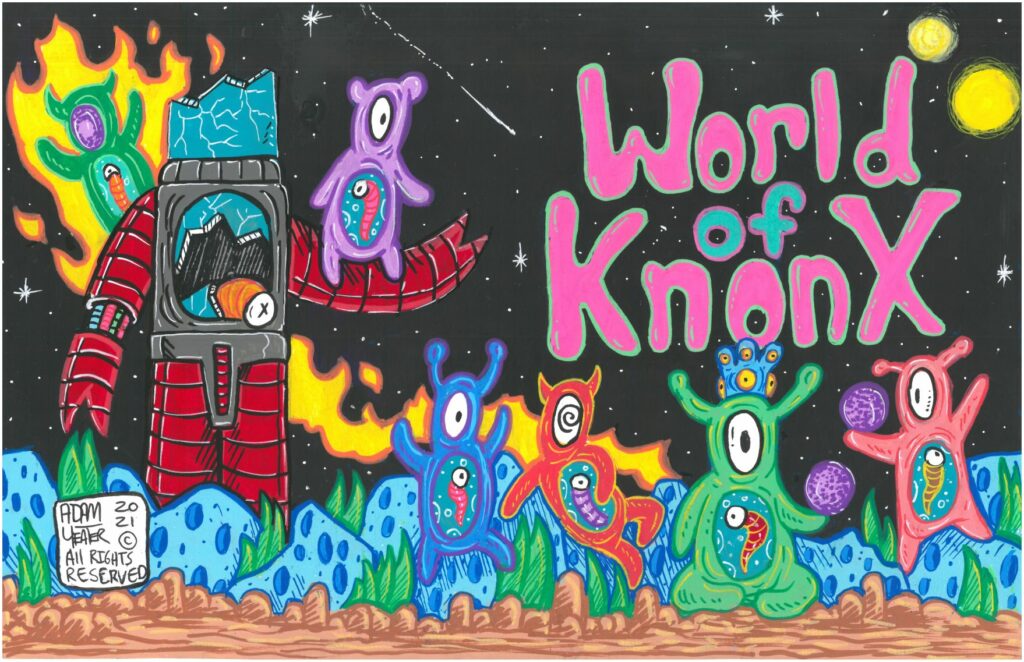 Please describe some memories from key stages of your life: concerts, art, toys, romance, comic books, hunting, school, politics, crime, religion… ANYTHING really!
* Age 5 – beginnings:
Lived in Florida and we ran around the swamps alot.
* Age 10 – continuations:
Moved to the Midwest. Ohio sucked.
* Age 15 – getting serious:
Moved to Arizona.
* Age 20 – young adult:
Girls, drugs, and bands.
(Some anti-robot art by Adam.)
* Age 25 – adult mode:
Got married to the best person in the world.
* Age 30:
Kids.
* Age 35 – meanderings:
Lots of art galleries, comics and conventions.
* Age 40 – adult meanderings:
Finally feel like I am making my best art and comics.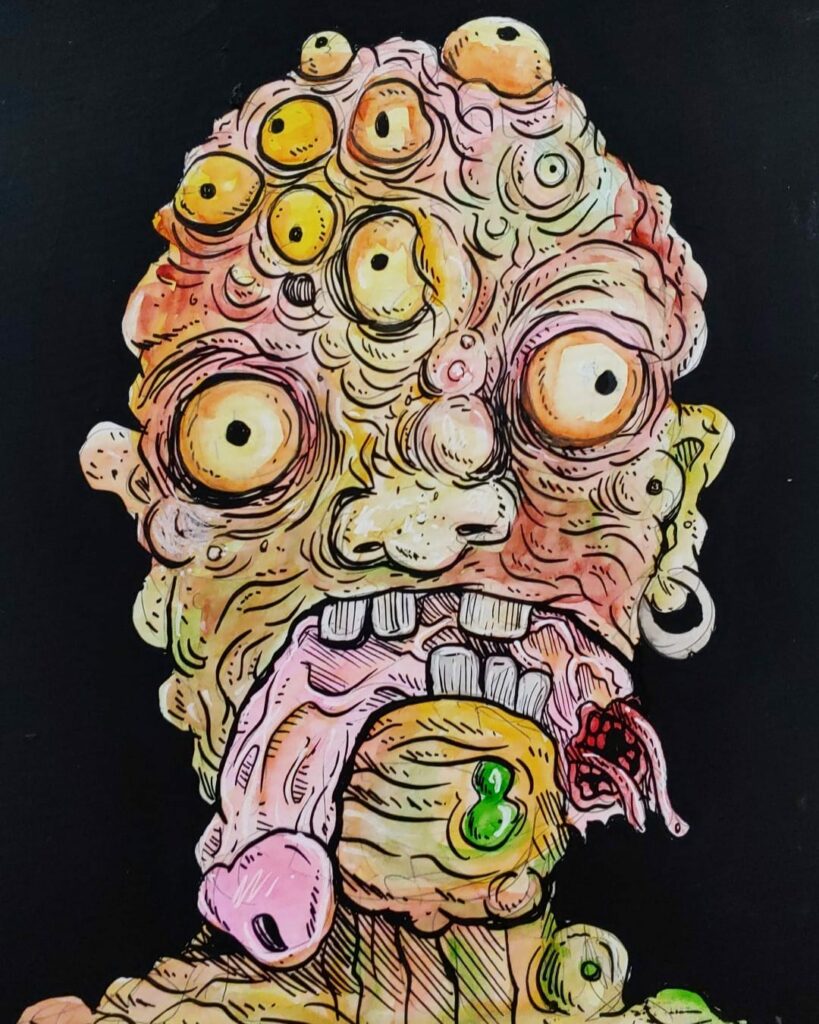 Personal motto(s)?
"Art without confrontation is just advertising."
Art Questions
When and why did you first start to make art?
I started really young and do it out of compulsive habit at this point.
… and any pivotal artistic moment(s) / influence(s)?
This year actually was very pivotal. I started World Of Knonx and Blood Desert in 2020. I probably never would have done BD before the pandemic. My plan was to just promo and slowly work on World of Knonx.
I had the time to finish World of Knonx and start Blood Desert which is the comic I have enjoyed making more than any other.
Please describe the usual process involved with producing your various art – from initial idea, to creation and finish?
I still work traditionally. So I start with a pencil then I ink and erase it.
If I am working in color. I do pencils then watercolor over them and then ink on it when they dry. That's really it.
Then scan it and have my homie format it for print.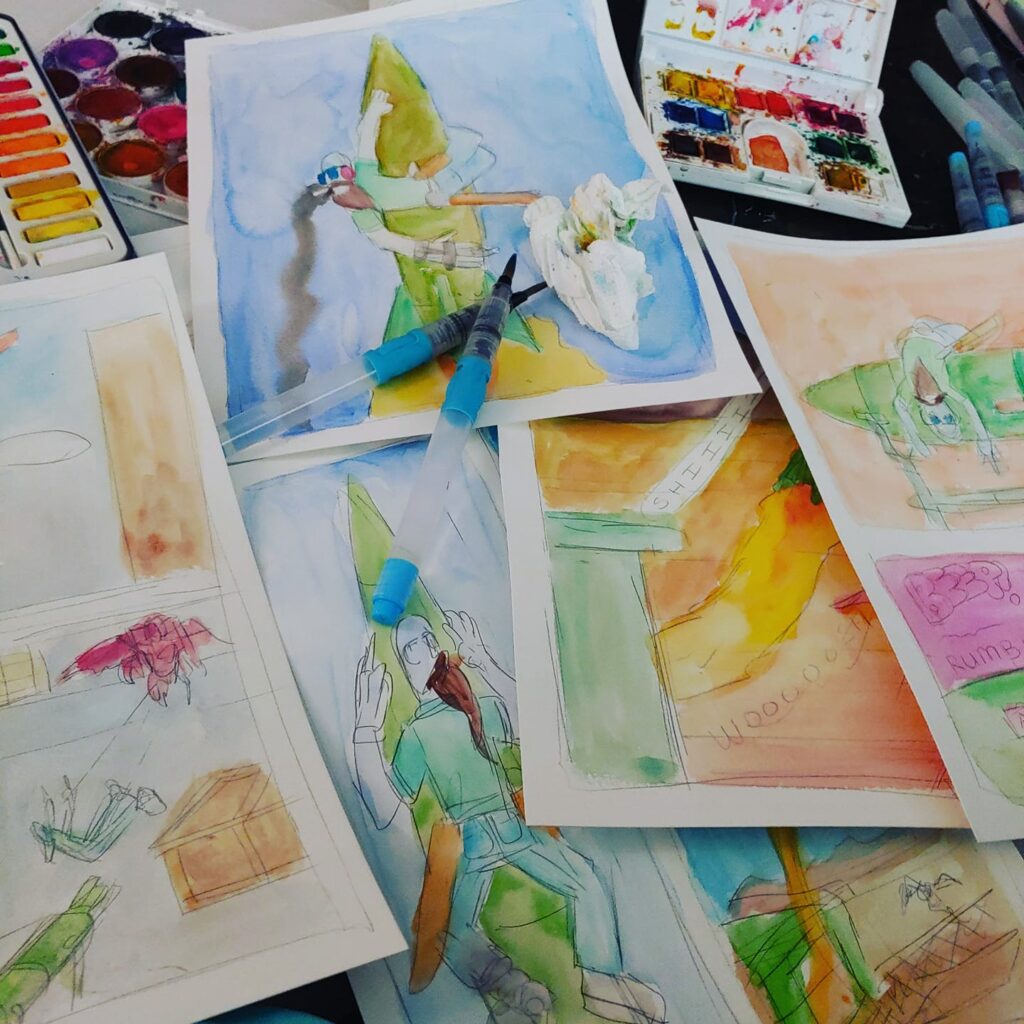 Favorite other artist(s)?
I am really into Juan Giménez. He sadly just passed. I am obsessed with many of the sci-fi and erotic comics that came out in europe in the 80s and 90s.
It has an artistic aesthetic few comics cultures have been able to match.
Any projects you want to hype?
My Blood Desert and World of Knonx series are some of the weirdest and best comics I have ever made. People can go to my webstore and get all my current titles there: onelastday.storenvy.com
If people wanted to work with you, have a chat or buy something – how should they get in touch?
People can slide into my DM's anytime they want to ask about commissions or chat about making comics.
I am sadly pretty active on just about every social media platform. Except stupid ass Twitter.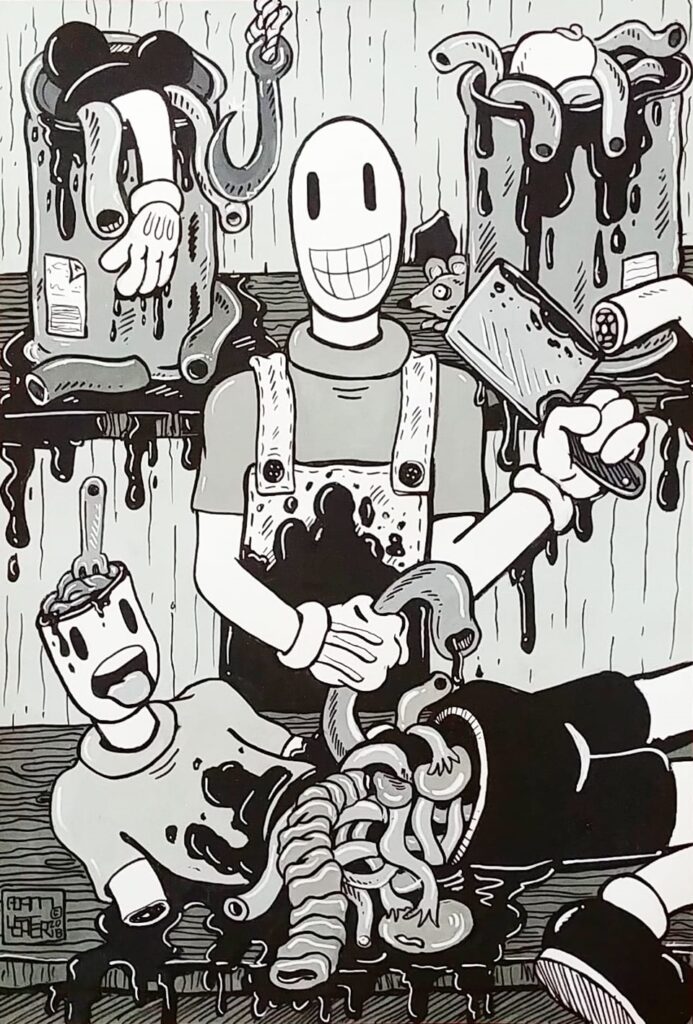 Odds and Ends
If Blood Desert had an official soundtrack which artists would be featured?
Blood Desert is 100% pure metal. Not some shitty corporate comics co-oped version if it. Each book is a representation of each style of extreme music scene or genre, noise, goth, speed metal, grindcore, death metal, black metal, thrash, punk etc.
The characters and stories are meant to embody the entire underground metal scene.
I intentionally designed each book in the series to be like an individual album.
The series is written in one shot stories or two book story arches. Sort of like double albums. They loosely flow together into an epic world like a rock opera would.
I wanted the books to be like watching a fast paced action flick. No long winded useless dialogue balloons from wanna be TV writers about their anxiety issues. These books are pure terror, action and gore. No bullshit. Grindhouse style comix!
Are there any specific horror films that inspired the various monsters of Blood Desert?
Lots of post apocalypse cinema. Radioactive mutation is a heavy influence. I use a lot of tumours and cleft lips.
I am a huge horror hound. I love splatter gore flicks so all that gore cinema is stewing around in my head.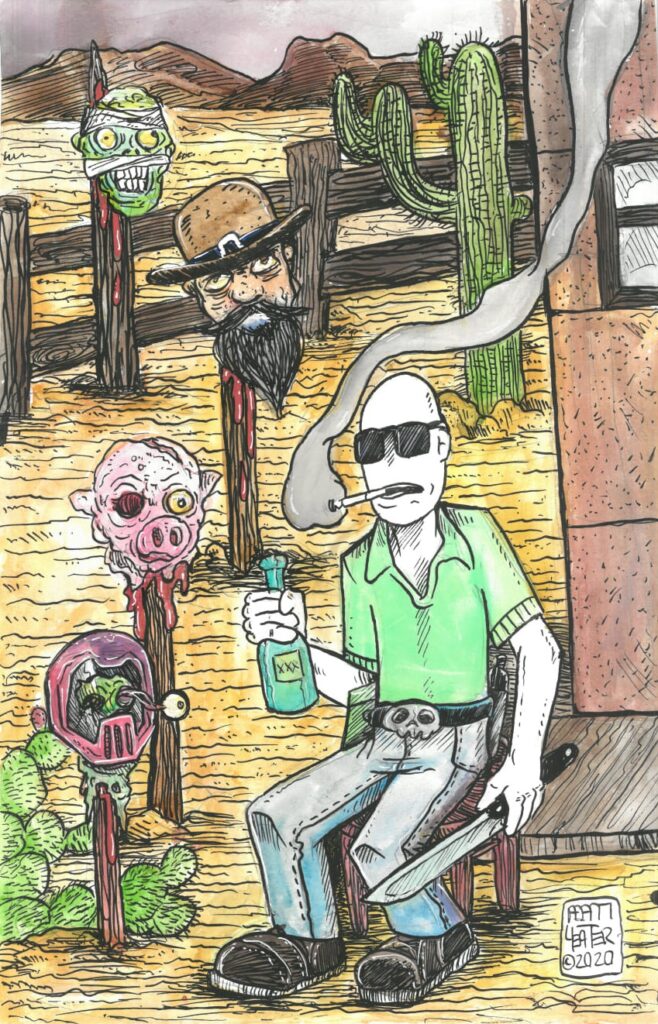 Drugs – waste of time or gateway to the universe?
I could care less what people choose to consume.
I am for full legalization and treatment for addiction. Not our current system of prison and punishment.
If you were looking at facing a post-apocalyptic world, what 3 items would you want to take with you?
A knife, a firestarter and a big fucking gun.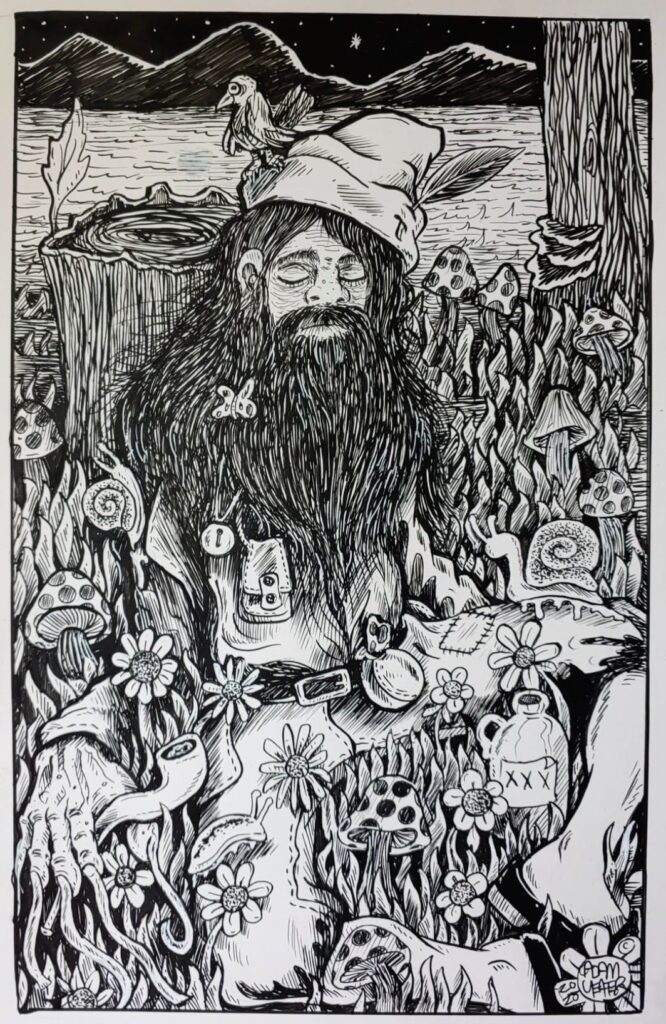 Do you think you would fare better in a cult worshipping an otherworldly being or a charismatic leader?
This is funny because I have always dreamed of starting a cult based on some old book.
I would do it just long enough to squeeze a fortune out of a bunch of poor saps. Then bail out on all my idiot followers like all those Christian evangelical TV performers do.
What a sweet gig.
What are the top 3 items you own?
1.The Complete Don Martin MAD set.
2. All my originals.
3. All the rights to the characters and comics I have created.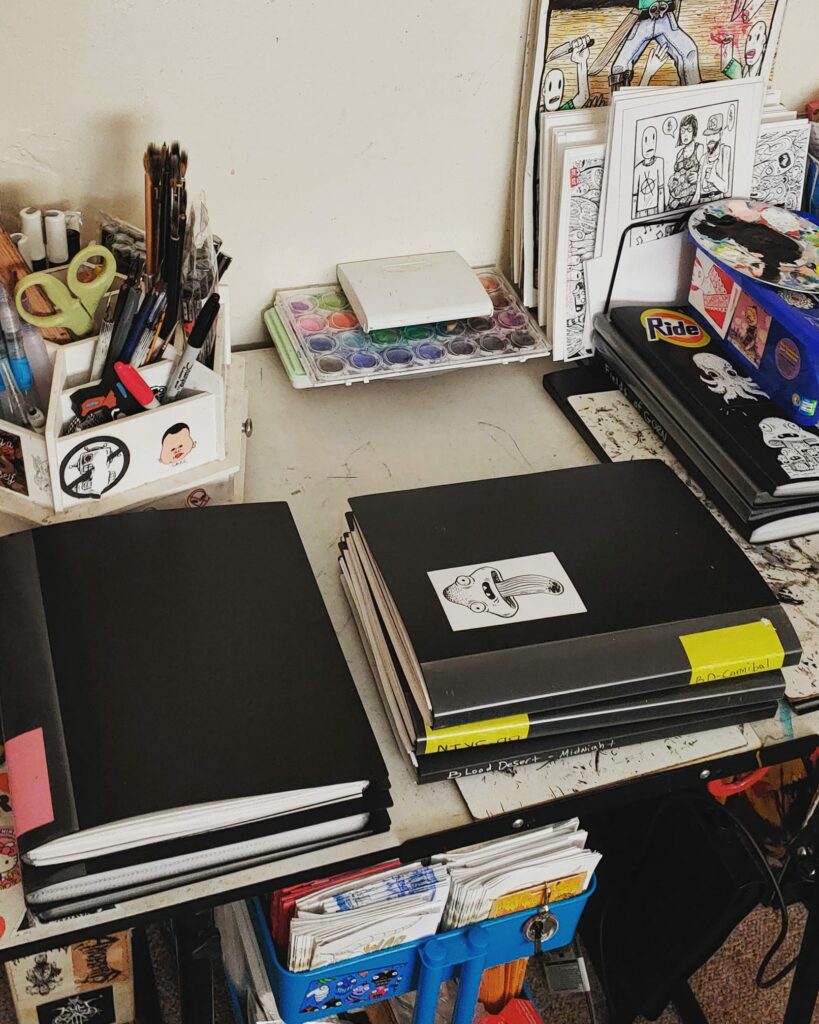 Please describe your last dream in detail…
I dreamt I was at a theater by myself. No one in the crowd. Watching some movie I didn't like. I fell asleep in the theater and woke up in bed. I must miss going to it since the pandemic.
Of everything you have done what would you most like to be remembered for and why?
I am most proud of my recent comics work. Blood Desert, World of Knonx, are uniquely me. They are all my imagination and craziness in one place.
I have been very lucky to have the time to create these new worlds that people can enter and experience. They can choose to love them or hate them.
Either way I am going to keep building them.
Links