French Artist Charly aka Flocccon is a 22 year old self taught artist aiming to hone his craft into the world of tattoo. His work is heavily influenced by Japanese Folklore, the ero-guro movement, nature, horror and all things macabre.
On reflection of his own work Charly has stated – "I love to create pieces that arouse both pleasure and disgust."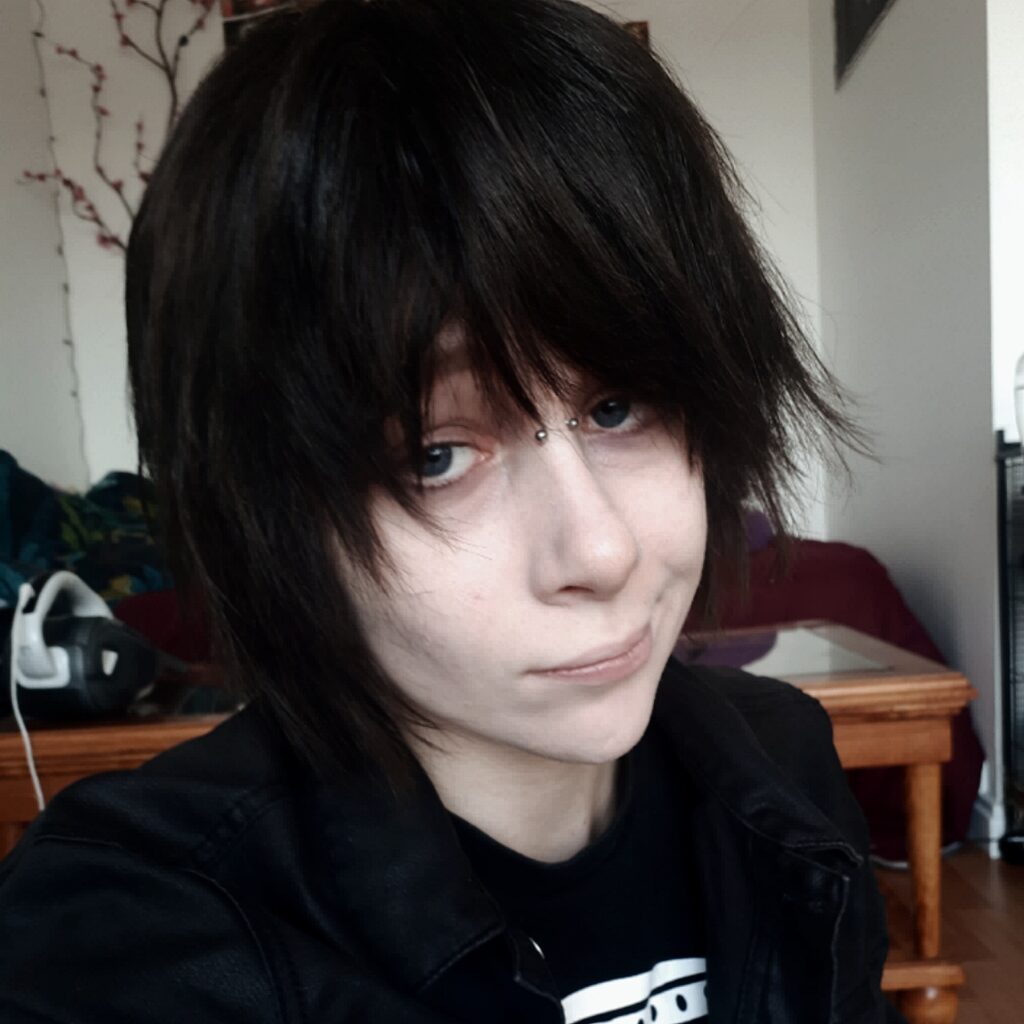 My first run in with Charly, as is the case in most instances, was through social media. His work spoke to my own love of such Japanese icons as Suehiro Marou, Hideshi Hino and Junji Ito.
Additionally, the works contained small touches – such as anatomical sketches – that helped give the work a defining vision past the initial homages to Japanese horror manga icons.
With this in mind, I reached out to Charly to get a better idea of his inspirations and his background that made for such a unique and profound talent at a young age.
Getting Acquainted
Name + D.O.B?
My name is Charly and I was born on november 20, 1998.
City, State and Country you currently call home?
I'm French. I live in a small apartment in Reims (the city of Champagne.)
City, State and Country you're from?
I was born in Reims.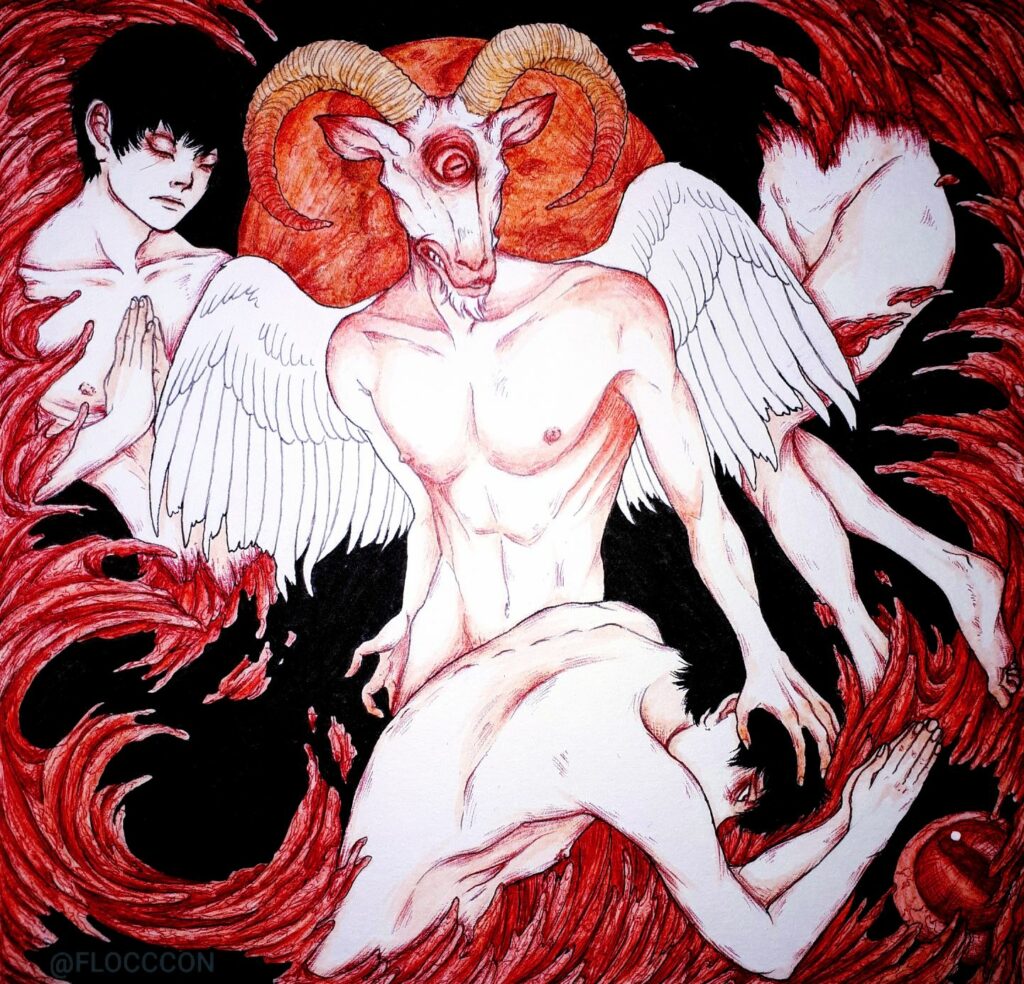 Please describe some memories from key stages of your life: concerts, art, toys, romance, comic books, hunting, school, politics, crime, religion… ANYTHING really!
* Age 5 – beginnings:
I was a very shy boy. I had very few friends at school, but good grades and I was already passionate about drawing.
My favorite toy was a little blue pillow, and my favorite times were losing my baby teeth and waiting for the tooth fairy to pass by to give me a present.
* Age 10 – continuations:
My family and I had moved to another village in the area. I was in the countryside and near the forest, it made me happy because after drawing my other passion was nature and animals, and I could observe them closely.
However, the change of school made me sickly anxious.
* Age 15 – getting serious:…
I lived my teenage years very badly. I was short and thin, had several health problems, and was in severe mental distress. I was addicted to opiates and alcohol, I stayed in a psychiatric hospital for a few days because of suicide attempts and nervous breakdowns.
However, despite all this, I kept in mind various ideas for the future: surgeon, veterinarian or tattoo artist.
It was when I was 16 that I met my wonderful boyfriend in high school.
* Age 20 – young adult:
I stayed two years alone in my country village, in order to heal mentally. I was far from any source of anxiety in the forest.
I studied drawing, insects, plants and mushrooms on my own. Even so, I still had a lot of alcohol problems, and because of it I harmed two people and almost went to jail.
Fortunately, I was able to get out of it and move in with my boyfriend who is now helping me a lot.
* Present day – adult mode:
Now I live with my boyfriend, my two cats, my rats and my bugs in my apartment.
I will soon become a tattoo apprentice in a salon in my city, and slowly recover from my past. I am very optimistic about the future.
(Some of Charly's menagerie.)
Personal motto(s)?
What must happen will happen.
Art Questions
When and why did you first start to make art?
I started to doodle when I was a kid, and to draw more seriously around 14 years old.
… and any pivotal artistic moment(s) / influence(s)?
I found my way and my style by being interested in horror artists, mangakas, and ero-guro when I was a teenager.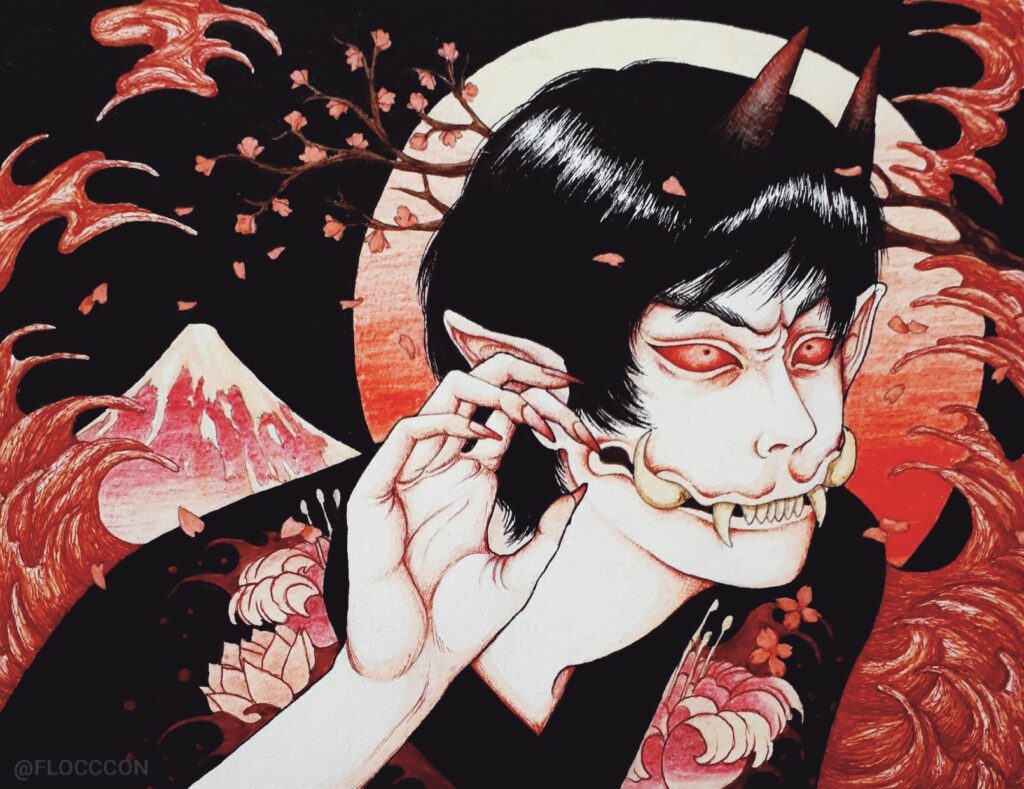 Please describe the usual process involved with producing your various art from initial idea, to creation and finish?
It starts with a dream, a fantasy, a nightmare or a fascinating story, which I illustrate in pencil on white paper.
I then ink the sketch in black, and fill it in color with markers and a red pen.
Favorite other artist(s)?
Beksinski, Suehiro Maruo, Takato Yamamoto, Junji Ito, Shintaro Kago, Lauren Marx, Hideshi Hino…
Any projects you want to hype?
Not especially.
If people wanted to work with you, have a chat or buy something – how should they get in touch?
I invite them to formulate their request to me on my Instagram.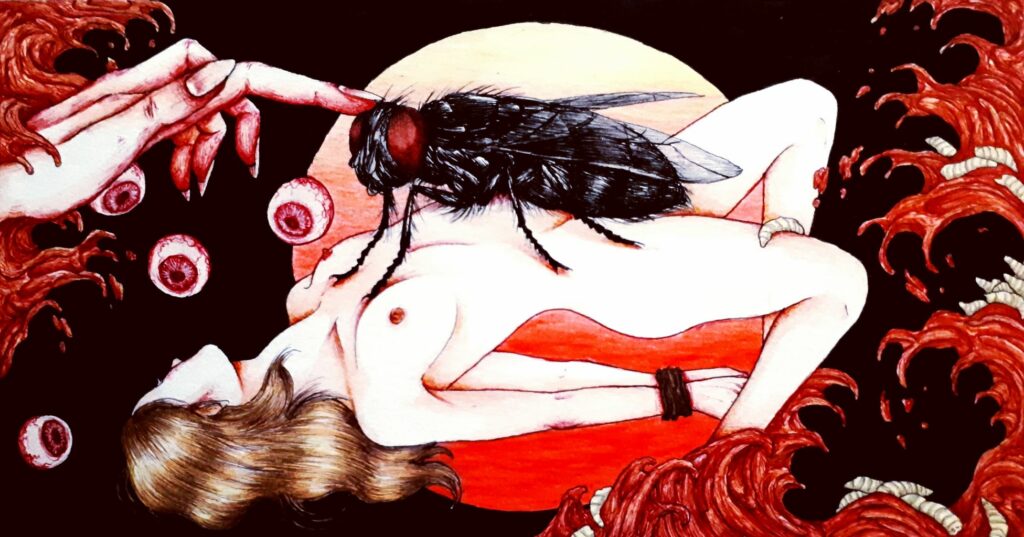 Odds and Ends
If you could live in any place, during any historical era – where and when would that be? …and why would you choose that time and place?
I think I would have liked to live in Ancient Greece, just because I find Greek mythology super cool.
I also like Japanese folklore, but I'm not sure living in Feudal Japan was comfortable.
France is one of the few countries that seems to have an invested market for Ero Guro manga, what is it about the country that you think embraces the artform?
I think that France is one of the only countries to show interest in this artistic movement because many are passionate about Japan here, whether it is thanks to manga, films, the culture of the country and its beauty. In addition, France is a country relatively open to any form of art in general, drawing, music or whatever, so it doesn't surprise me that there are people interested in ero-guro here.
Sex and humans' morbid curiosity are always easy to arouse.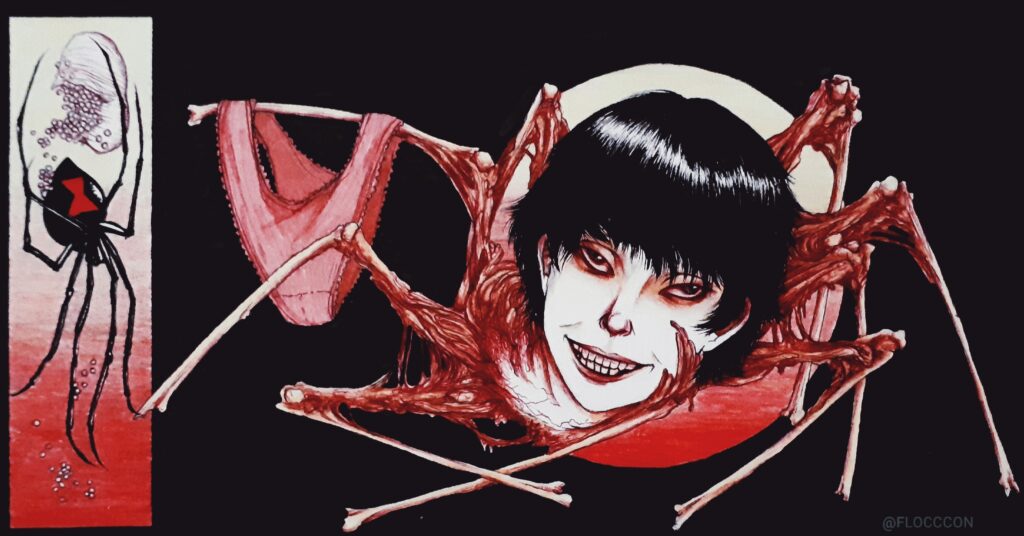 Drugs – waste of time or gateway to the universe?
Nothing in the world for me is a waste of time, it's all take it or leave it. Drugs can help you as much as destroy you, artistically or not.
The choice is up to you whether or not to touch it.
Speaking to your interest in anatomy, where do you believe the line between science and art exists?
The line between art and science is so fine that I cannot say exactly where it is, maybe even that it does not exist.
Art is for me a kind of science.
And science itself is quite an art.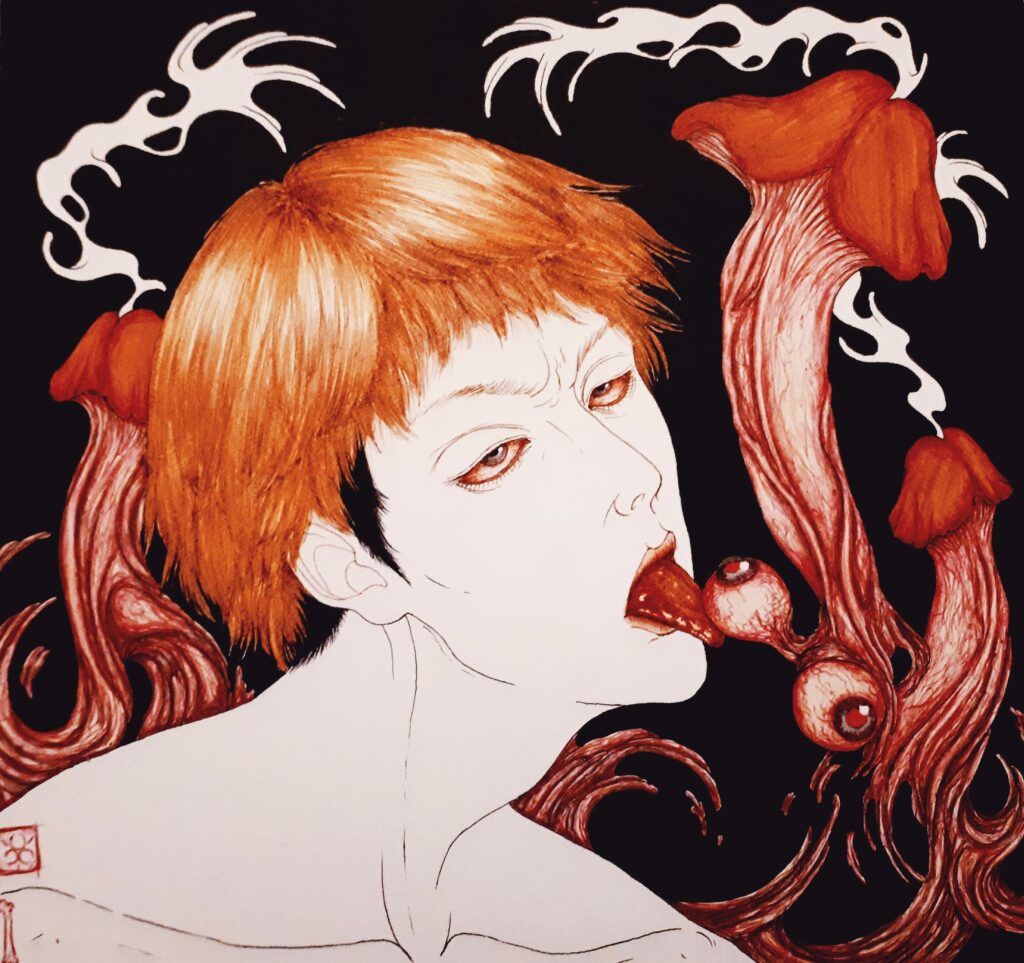 What role did toys play in your upbringing?
I did so many role-playing games with my little sister and our Playmobils when I was a kid ! I think they mostly brought me joy rather than education.
Now as an adult I still enjoy role playing.
What are the top 3 items you own?
My phone, my sketchbook, and my backpack.
If you could meet any artists, past or present – who would you like to meet?
…and what would you like to learn from them?
I would like to meet Junji Ito, Suehiro Maruo, Hideshi Hino.
I would have loved to learn drawing techniques from them and – why not – how to make a really freaking cool manga?
Please describe your last dream in detail…
I do not remember.
But if that sounds interesting, I often have nightmares where I'm stuck in a hole full of aggressive snakes, or I lose my teeth and feel them crack in my mouth before seeing them crumble to the ground.
I also often have nightmares about my family members trying to kill me and chasing me when I can barely run.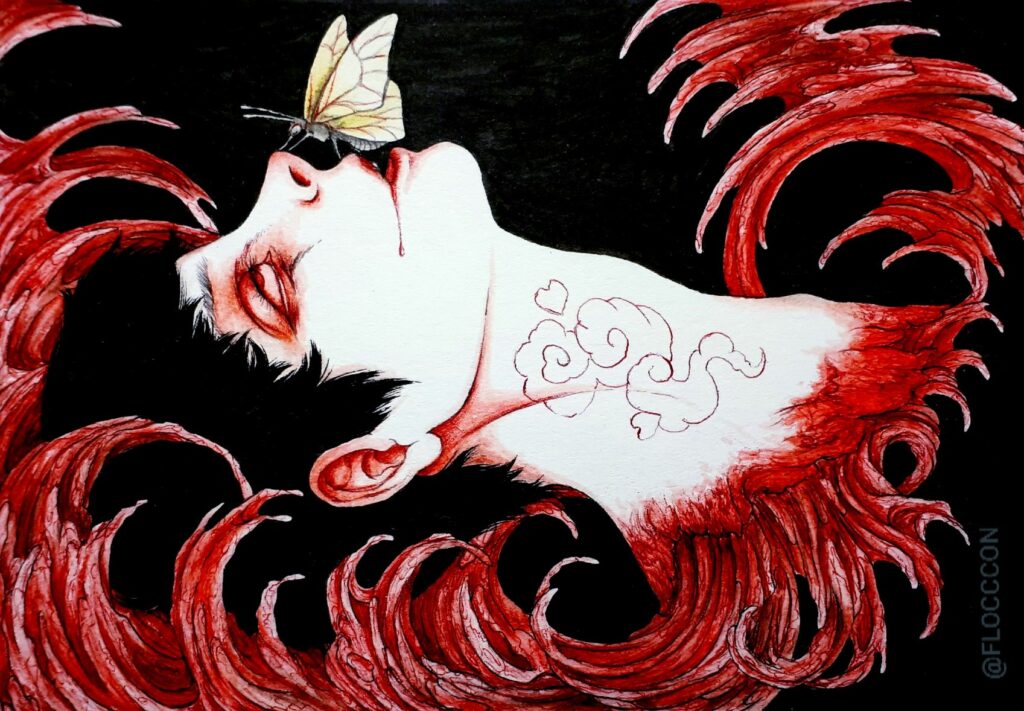 Of everything you have done what would you most like to be remembered for and why?
I want to be remembered as the little guy who loved his animals and nature more than anything.
People need to realize that what makes them happiest and what is most important is within easy reach, under the trees, in the sea or in a meadow.
Links