Michael Alan is an artist dear to our hearts at 'The Aither' – we have published Michael's writings and also had the pleasure of interviewing him multiple times. This time, we chat to Mike about his current solo show at 212 Arts in New York City; the year that was, Mike's thoughts for the future and a whole lot more!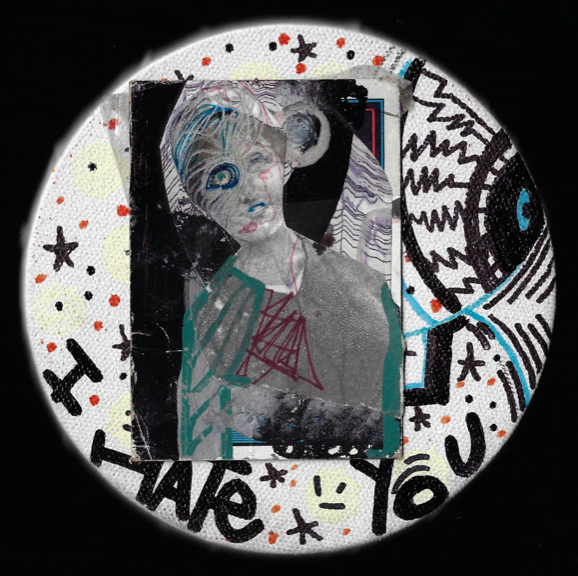 Q1) To start – seeming as it's a few days into the new year; what have you taken away from 2020?
First of happy sweet 21! You all just turned 21! Who is getting a tat? Who is getting hitched? When I was 21 I drank a lot and danced!
…Besides bad jokes people are hurting still, and will be – we live wrong: You have a very toxic world with forcefed narratives, it's hard to find peace. That's on you and the Community you rise with. You always must be your own leader in a time with few voices and much sickness.
The homeless of NYC lay waste-side as people in fancy masks step over them on cellphones arguing nothings – It is what it is… I never watched the news before.
I consider myself an outsider to governments, pop culture, hysteria and systems.
I grew up in the 80s and 90s a part of NYC street culture – now we live in Internet culture.
There's no way to look back at 2020 without realizing how many problems we all have and how much we need strong art x voice now, more then ever.
That being said, everything fades, life is short and it's up to us to make things better.
Hope is in the moment and artists push hope.
Respect to the grunts pushing and pushing, living in hell on earth is no life. So change ya mindstate and don't count on the system. Wake up wake up wake up.
Humans are crazzzzy.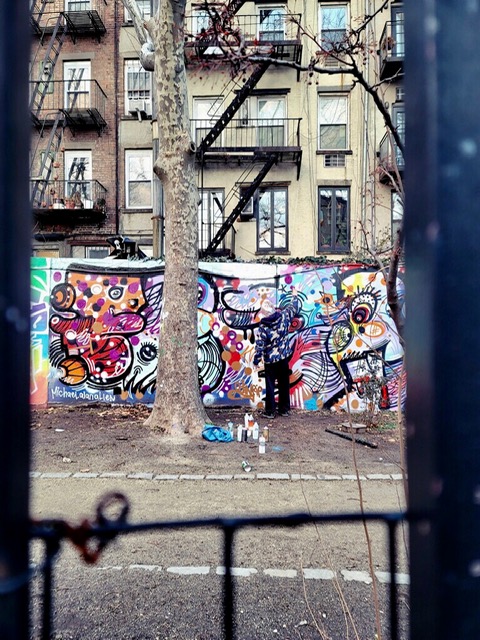 Q2) … and what are some of your hopes and plans for 2021?
Years and numbers are systems to calculate life span. Or put people in place and pay taxes.
Everyday I hope for the best, each day can be a new life. That's up to our mind, focus, peace and health.
I hope to avoid nonsense that gets in the way of my creativity. Emails, paper work, things.
Making, making, making, is all that counts. My time clock is ticking along – my time is limited xo.
I just wanna paint around the clock; fuck a scene.
(Some recent small paintings-on-baseball-cards by Michael.)
Q3) How are you, your mom and Jadda all going since we last spoke back in April 2020?
Better / same / the ups and downs of the NY struggle it is what it is. I'm damn lucky to have these queens!
Let's not forget Pirate the cat!
And thanks for asking! (We all need more of that.)
Q4) What should attendees expect to experience at your upcoming solo gallery show at 212 Arts in NYC?
Great question, I made the whole show in a month: 22 editions of hand pulled printed silkscreens, some digital prints, block prints, new miniature baseball card paintings and a pile of super small drawings.
The show was a push to make an alternative route to collecting my work.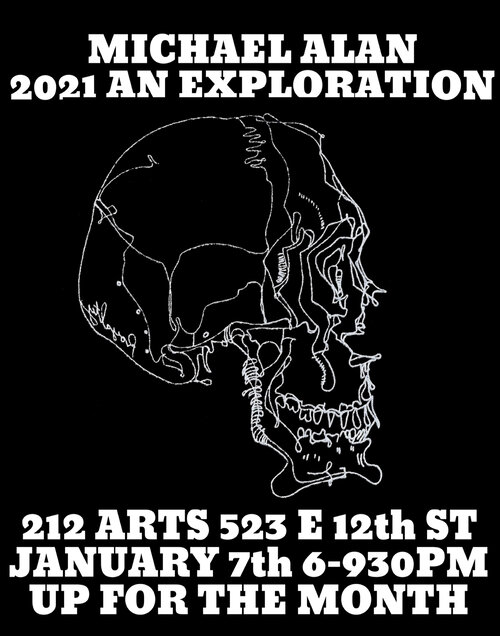 The gallery wanted to push me to make new work people can access quick fast, something I'm not accustomed to. So over 30 days with not planning we went all out.
The city was all fucked up and you couldn't get much done with supplies, transit, the holidays.
I used a good $2,000 in print making supplies, paint, paper, screens, experiments, failures and some success etc.
My lady got nasty skills with making prints with me. She is dope!
As time went on we grew and grew and exploded.
My home girl KZK helped out a ton. I was able to pay her as she needed work and wow she strugggggled but pulled off getting some screens burned at one spot with her buddy in time with my friend ray and matt. 😂
We ended up at the end working with Bushwick Print Lab to make the best screens and the editions at home 🏡 the process was really odd, bumping to Wu-Tang all hours making a good mess. We even did some body prints. Our cat helped with the squigggggeeeeeee.
Mom loved watching the process, that printing was really great, if nothing else. Nothing like printing in a apartment that fits 1 person were 3 live.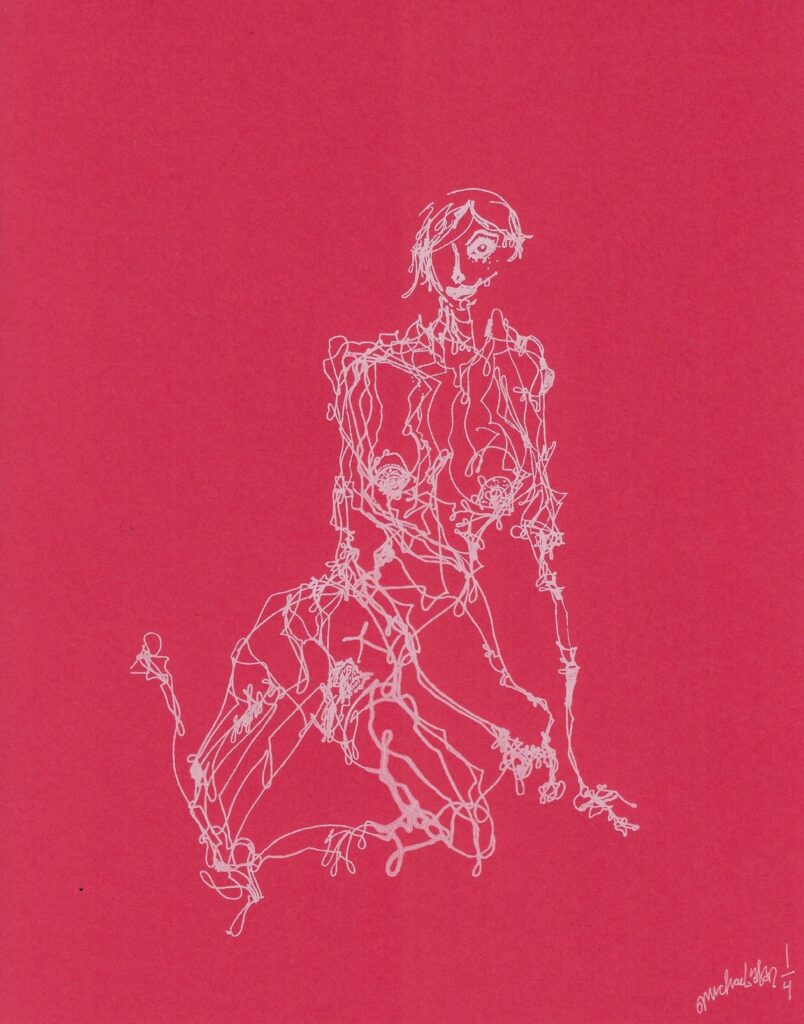 Q5) … and how did you and 212 Arts come to get acquainted and connected?
Honestly I live close by, wanted to see the Robots Will Kill homie show (my childhood friend) and talked with the owner to just say hi and connect. I didn't expect a show, just thought we were talking about things in general and then boom 30 days later made a full show.
This transpired over a talk about my work, his place and how could my art fit and make sense, it was all kinda quick as Covid is going down. A meeting with masks and ideas that came to life quickly.
The streets are happy that there is a new show coming to town, in NYC you usually get the same shows in Chelsea or LES with the same 7 people. So we will see, if nothing else it's different. Different is the new positive as we all must try all things to grow.
Q6) For the trainspotters and art-process nerds out there – can you please share the details behind your latest prints?
Sure. I'm definitely a DIY print punk and not a print maker. In the past I use to cut blocks as a kid so I have a love for that, even doing etchings. The silkscreens in the show I didn't burn but we printed them in the studio here in the LES on the living room floor and bathtub – asscheeks etc, it was a mess.
Even though the prints are numbered they all have there own feel, I don't print like a machine I'm not teq I'm more about the decay, but due to Covid bullshit and teq problems we just changed the plan daily and let the funk flow at the crib.
It became its own new place in our art home in the LES.
Print on your face!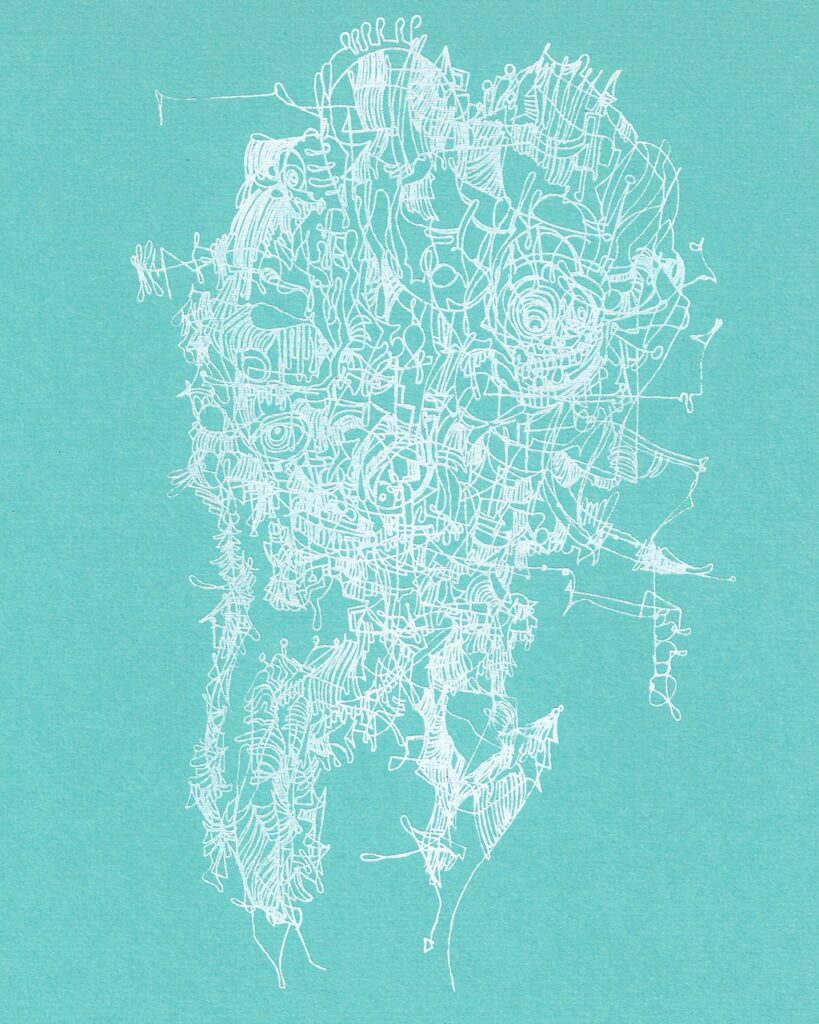 Q7) To throw in a bit of a curveball question – What to you are the key ingredients for a successful, long term relationship?
Working on yourself. I have to realize daily that Jadda is queen. I'm just some idiot with spray paint, pens and make no sense. I don't know much. She has a knife in the closet when I'm bad.
Follow her page as she does insane body art that makes people scared or cry www.Instagram.com/thelivinginstallation
Refer to your lady for a reality check. Girls rule boys drool. Don't be a fool.
Links