Born in America during the early 1950s John Edward Mermis (aka Long Gone John) is a man who has been lucky enough to live through and directly contribute to 21st century rock & roll and underground culture. Indeed it could be said that John exists more as some pure embodiment of DIY art and expression, than as an everyday mortal human.
In short order he has: Spent his teenage years as a general ruffian, lived with some of the Manson Girls, won vast amounts of money through various court cases, had court cases (both criminal and civil) taken out again him, bought and sold countless objects, been the subject of a feature documentary… and also founded one of the key underground record labels of the 1980s through 2000s – 'Sympathy for the Record Industry'!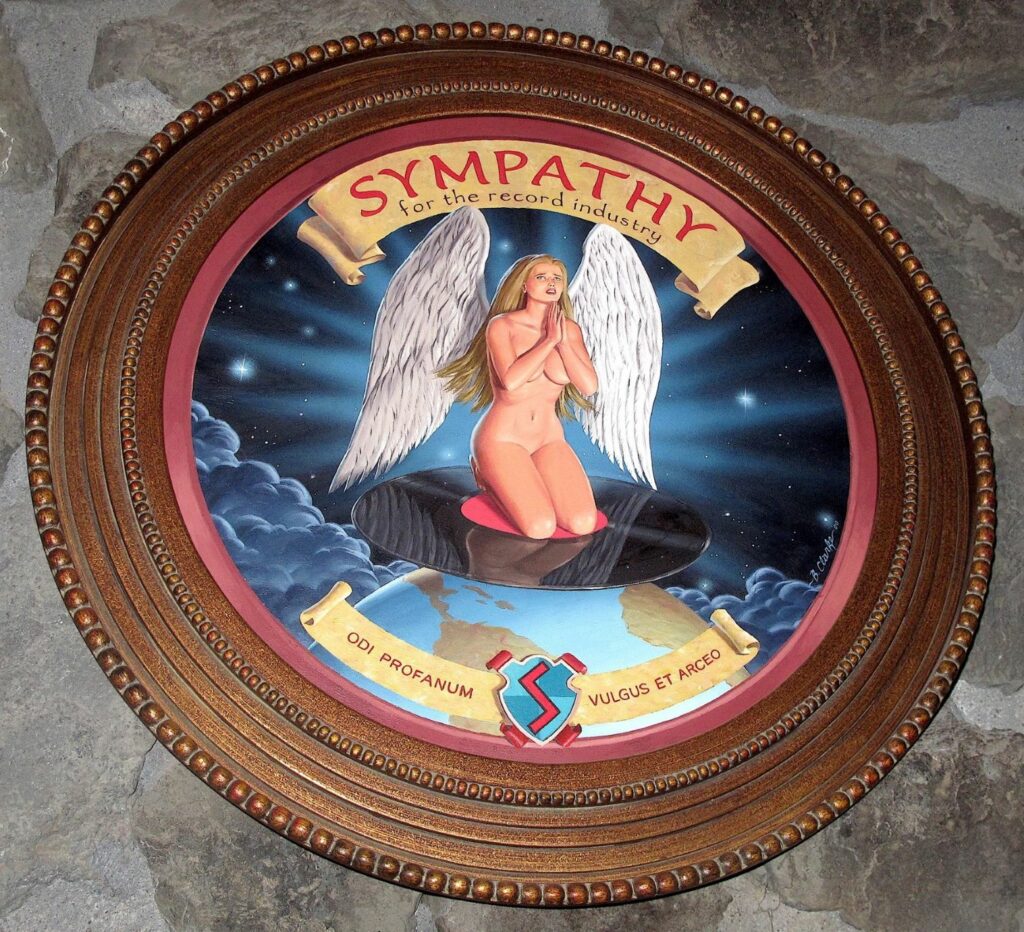 Through 'Sympathy' John has released records by countless legendary bands, such as The White Stripes, Rocket From The Crypt, Melvins and The Gun Club to name but a few.
He's also explored his love of objects through founding his designer toy company 'Necessaries Toy Foundation'; and his love of the printed word and art through his publishing imprint 'Sympathetic Press.'
We were lucky enough to interview John over email.
Take a dive into his world below…
Getting Acquainted
Name + D.O.B?
John Edward Mermis
11/13/51
City, State and Country you currently call home?
Olympia, Washington, USA.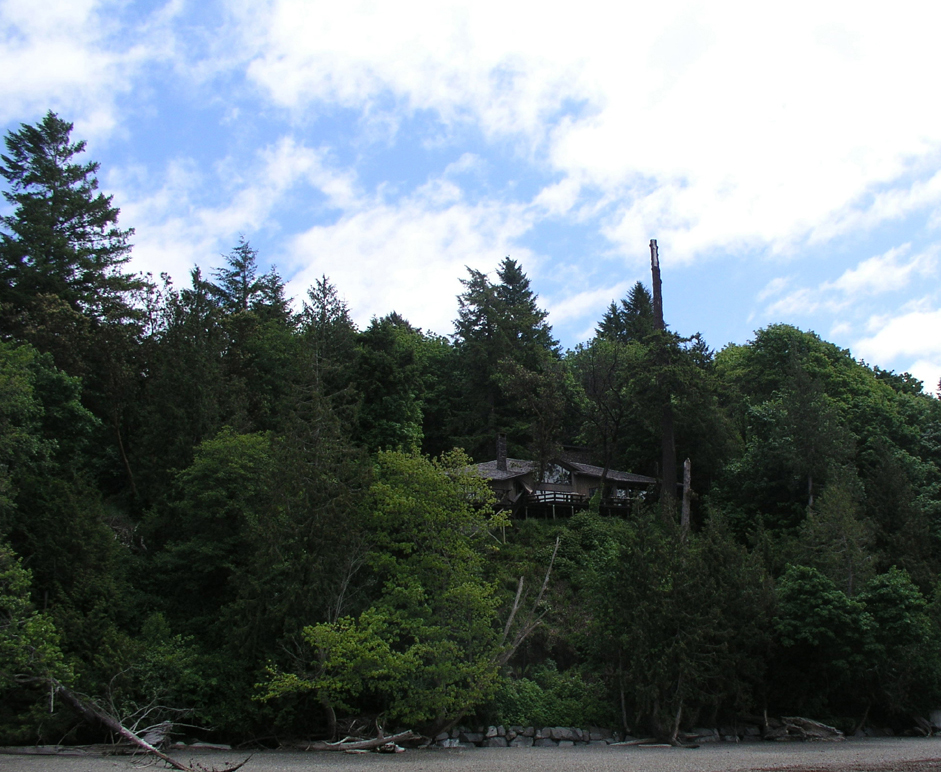 City, State and Country you're from?
Whittier, California, USA.
It's so much shittier in Whittier…
Please describe some memories – such as art, writing, music, comics, friendships, adventures, study, romance, politics, work, hustling, crime, religion… anything really – from the stages of your life noted below:
* Your childhood:
I think my mother had a rough birth with me and postpartum depression which they didn't even diagnose as such in those days. Very early I was passed off to my aunt and uncle who were unable to have children.
I'm not sure how long that lasted but there are films of me living with them.
I eventually ended up back home.
My fate was cast in stone early, my mother did not like me and things just got worse. Not wanting to dwell on sadness and hurt I think I had it better than some not as good as others.
It's a roll of the dice and ultimately a learning experience and in my case, it made me a stronger person and resistant to conformity.
I was a rebel and mostly it didn't work in my favour.
We don't get to choose our realities.
I didn't have any friends in the neighbourhood.
The one good thing my mother said about me is that, "Johnny has good manners."
She also told my psychiatrist at a very young age, "Johnny has talent, but it's very misdirected."
* Your teenage years:
At 11 years old halfway through the 7th grade I was shipped off to a catholic boarding school named Saint John Bosco. It was rough for me at first but it was better than living with my mother.
On weekends most of the kids went home, but I stayed there with the few kids that lived out of state and some exchange students from Africa and other places.
I liked my time at that school as I actually had a bit of freedom or at least it seemed I did. I finished that year and the next and after my 8th grade year ended my parents were told I was not welcome to return.
I then started a succession of 4 high schools in as many months and I never graduated from high school.
At 13 I ended up in juvenile hall for a little robbery…
I was in 4 different boys' homes. I liked my time in them.
From 11 to 18 I spent only about 3 months at home. I look back at those years fondly.
One home was right on the beach in Venice and was run by a priest. My best friends were 2 black guys from Watts and a Mexican guy from East L.A. We all went to Marina del Rey Jr High School in Culver City and shared a joint every morning while we waited for the bus.
When I turned 18, I became emancipated (that's what they called it) and I got my first apartment on Echo Park Ave across from a beautiful lake.
I was working downtown in the garment district earning 1.65 an hour and my apartment with a murphy bed was 65.00 a month. Soon I had a black cat named Pyewackett and I was pretty contented with my life.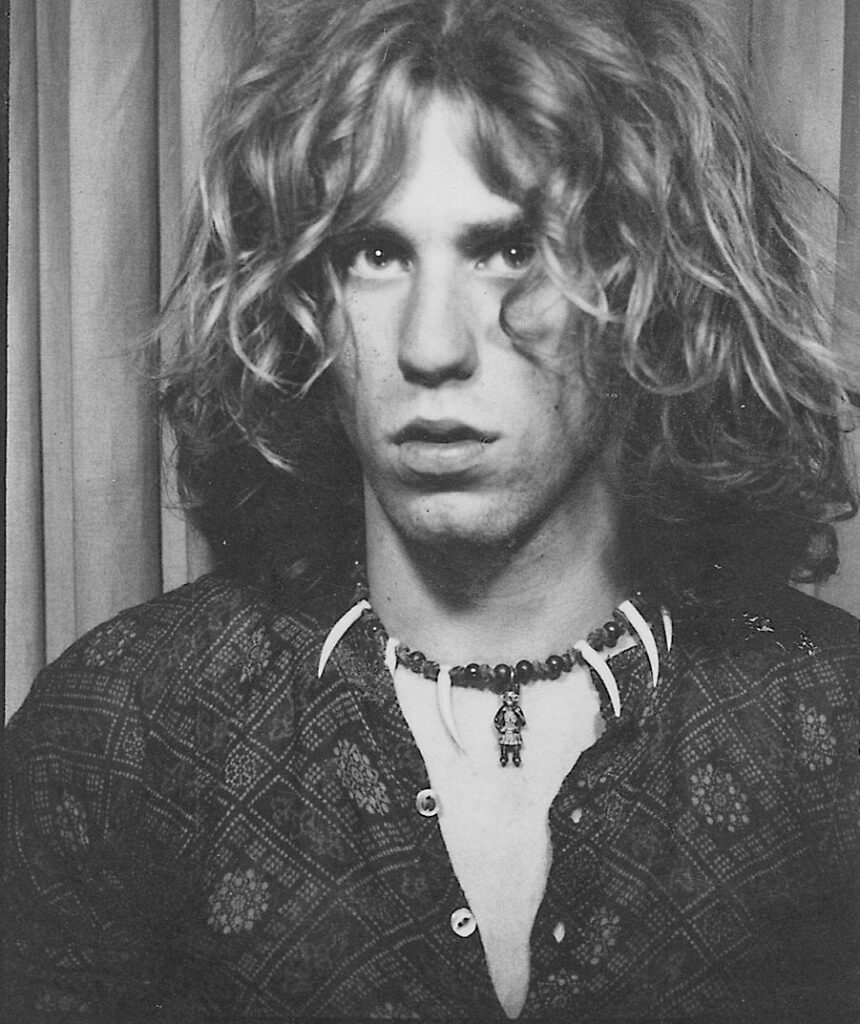 * Your 20s:
I stayed in the Echo Park area. Sometimes I worked sometimes I didn't.
Somehow, I got by.
I didn't eat much more than refried beans, yoghurt and crackers, but I never felt I was missing anything.
I had a girlfriend named Robin and we had lots of adventures hitchhiking around L.A.
On Saturdays we'd go to the Los Angeles County Museum of Art and on Sundays we'd go to Griffith Park for elaborate love-ins with amazing popular bands playing.
A couple years later I became involved with a girl named Jeanne and lived with her. We had no money she was on food stamps and assistance because she had a young daughter.
We ate brown rice and vegetables and were quite happy.
When we had a couple extra bucks we'd go to a Jewish deli and get a couple knishes and go buy a little bottle of Southern Comfort and take it to the theatre and sit in the first row in the balcony and watch a couple films.
When I was 25, we moved to San Diego and rented a nice house there.
A short while later Jeanne was pregnant and Taggy Lee was born in 1976 so I then had 2 daughters. We stayed there a few years and I worked in a cancer research lab taking care of the lab rats.
At some point the government cut back on funding and I lost that job.
I used to go to sell plasma twice a week and spend some of the money at thrift stores and at used record shops.
We eventually moved back to L.A. and my dad got me a union job working in a warehouse making pretty good money and providing health benefits for my family.
It was around this time punk rock came into bloom and I became a pretty fanatical record collector.
* Your 30s:
I worked 10 years in a warehouse.
Hated every day. They hated me. They talked about sports I hated sports. I did not have a single thing in common with any of them.
Somewhere towards the end of my sentence at that job I had a horrible accident at work. I fell 18 feet onto a concrete floor.
People thought I was dead.
I was unconscious, shattered my kneecap, knocked out some teeth and spent a year in therapy learning to bend my leg and walk again.
I got a paltry 20,000.00 settlement and I put that as a down payment on a little house in Long Beach. I then went back to work and eventually was fired for getting in a fight. I sued the company and settled out of court.
After being completely obsessed with seeing all the great bands that were around and amassing all the great records as they were released the next logical step was starting my own record label.
In 1988 I started Sympathy for the Record Industry.
I was 37 years old.
I was also writing for a couple fanzines around this time.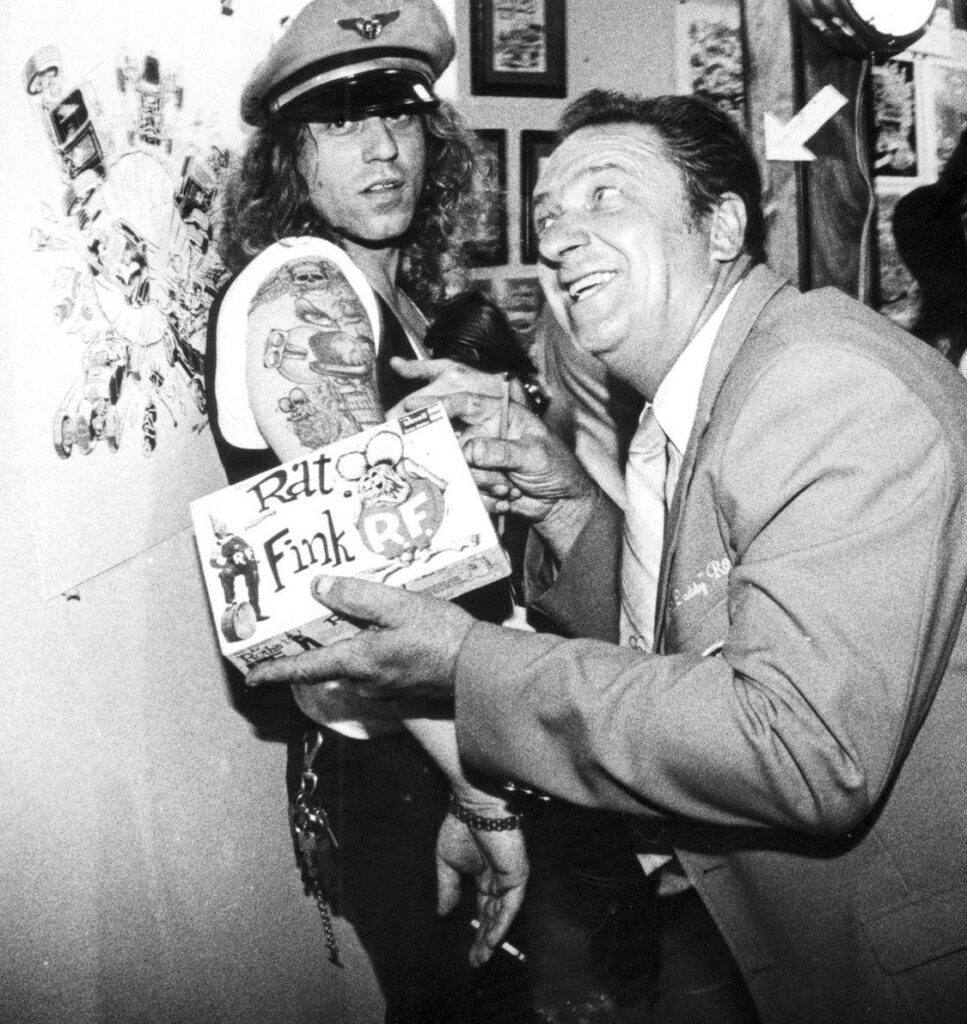 * Your 40s:
Somewhere after or slightly before starting my label I became interested in art and bought my first painting by Robert Williams and quickly began discovering more artists and rapidly fell into that hole and fervently collected art and hung out at the galleries.
I was generating good money at the time so I paid my bills and whatever was left pretty much went to buying art, records, books and dragging home loads of forgotten treasures from the swap meets that I looked forward to each weekend.
I was the ultimate consumer.
I still am.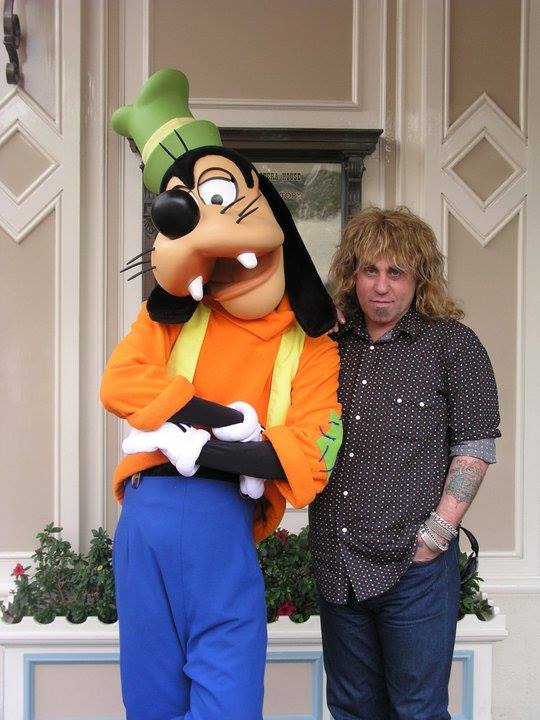 * Your 50s:
My time frame is certainly shaky, but at some point, I began Necessaries Toy Foundation and began making vinyl toys – The first of which was a figure of Enid from Ghost World by Dan Clowes.
I went on to make art toys with Camille Rose Garcia, Todd Schorr, Mark Ryden, Fafi and did a soft sculpture figure with the Edward Gorey Trust.
I moved to Olympia in 2007.
I was 56.
My house is in a forest on the water. Never thought in a million years I could end up in a place like this. After moving up here I lost interest in making records for a few years and shifted to publishing books under the name Sympathetic Press.
I've been able to do some incredible books with many amazing artists. My most recent books are elaborate beautiful art books by Glenn Barr and Annie Montgomerie.
* Your 60s:
More of the same…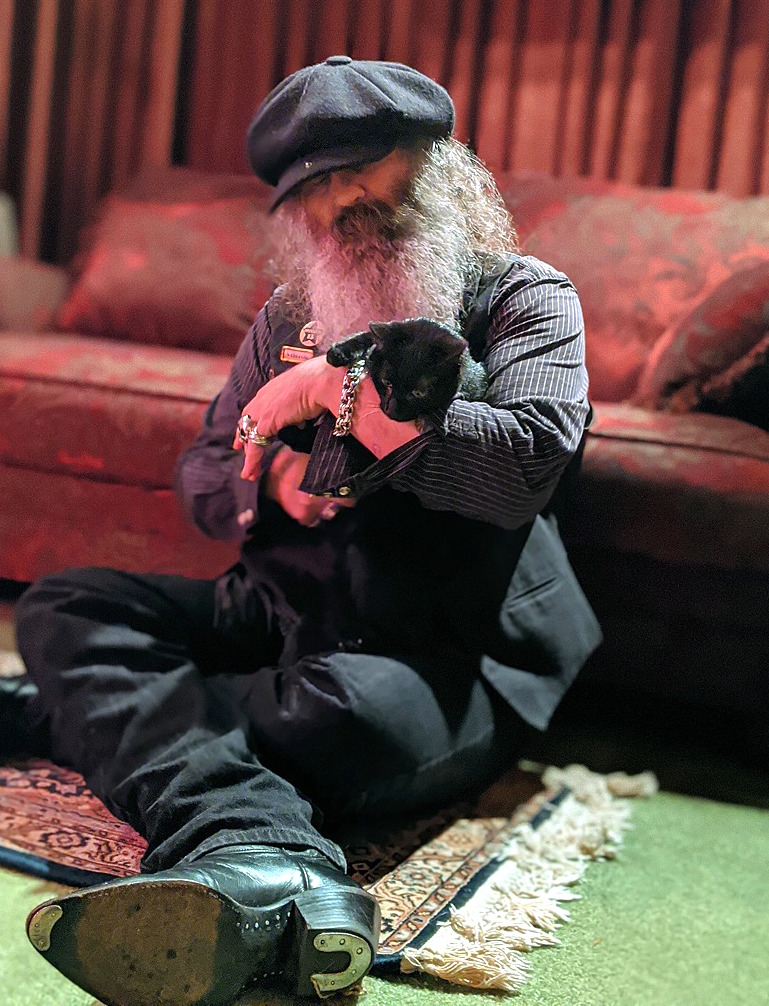 * Your 70s so far?
Well, I'm 70 right now. I have a simple life with my two cats Georgia and Alabama. I have a pretty girlfriend named Cathye who is very sweet. She runs an estate sale company and is quite busy making up for being unable to work during the Covid fiasco. She visits as often as she is able and I drive to Seattle occasionally, but I don't like Seattle much.

I still acquire art and sometimes sell some.
There isn't much new music that interests me these days, but once in a while something will surprise me.
I like to buy soundtracks and agree with the hordes that Wet Leg are pretty cool.
I buy lots of books.
I lead a pretty quiet existence, but I am happy and relatively healthy. For the most part I have led a blessed life and I am thankful for that. I have known and worked with some amazing artists/groups and am proud of my record catalog that now features more than 800 releases by over 550 bands from all over the World. I'm pretty proud of that!
I have also amassed a staggering art collection and my house is filled with wondrous artefacts.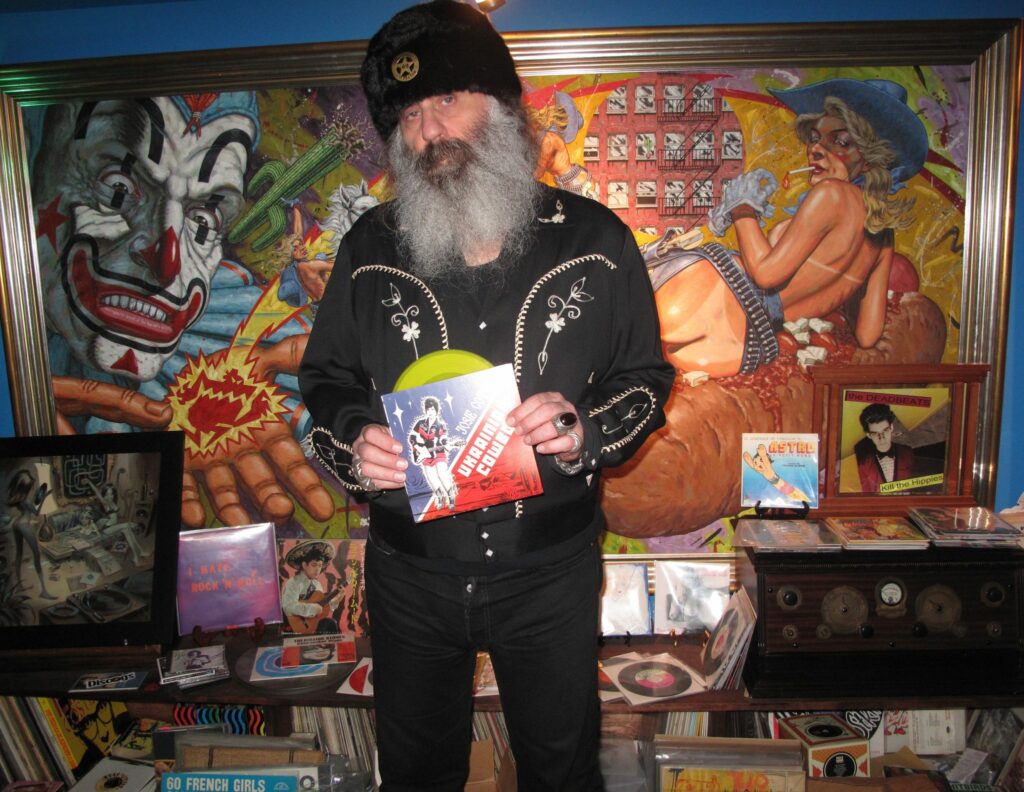 Personal motto(s)?
"We almost really care."
+
"Things get darkest right before they turn totally black."
+
"Behind every cloud there is probably another cloud."
+
"I think most people are morons, but I may just be projecting."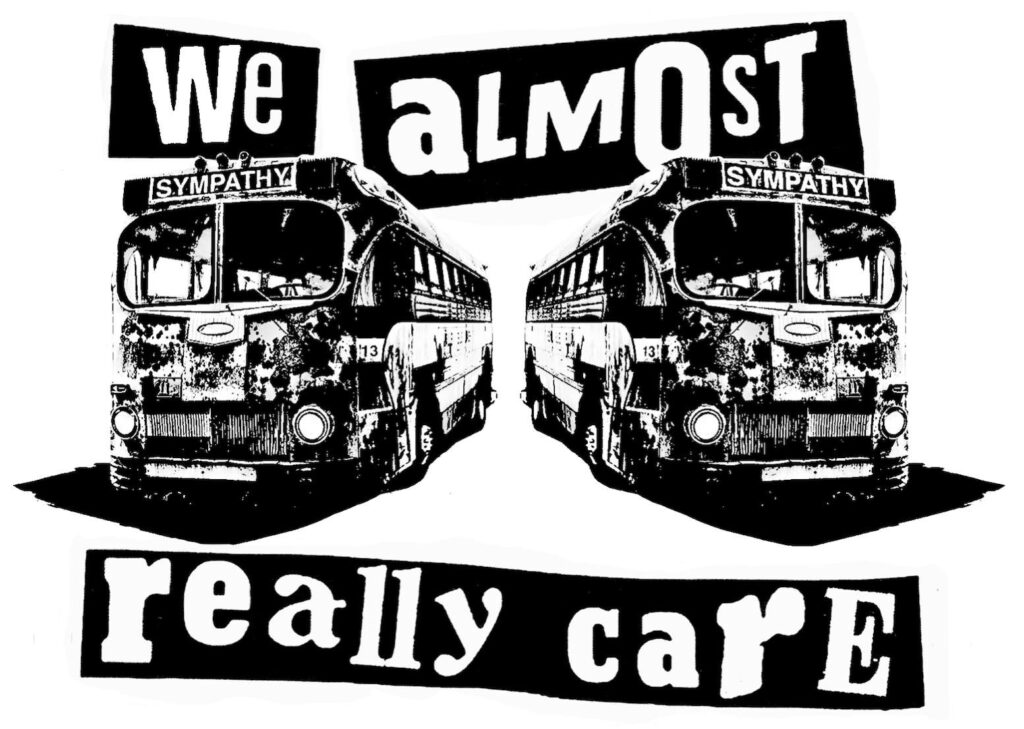 What role did toys play in your childhood?
I can only recall a few toys…
My grandmother gave me a teddy bear and I remember having a set of Lincoln Logs.
Other than that, my toys were what I found in the alley and neighbours' trash cans.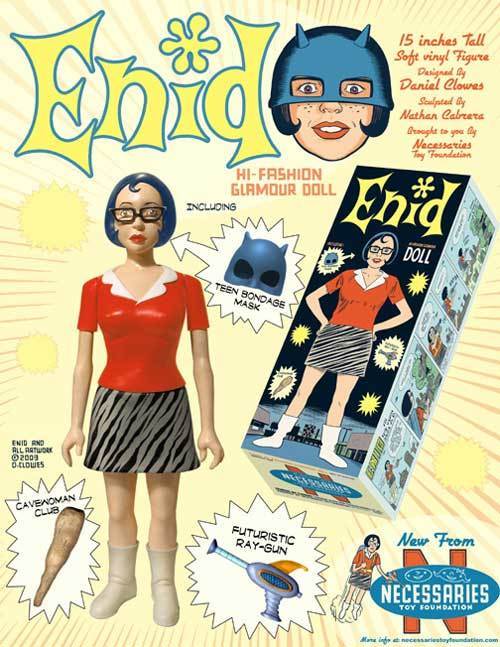 Music and Business Questions
When and why did you first become interested in business, music and general creative hustling?
… and any pivotal moments / influences?
I never planned anything.
My record label was guided by divine intervention – things just kept falling into place. Working with one band led to two others and it was very much a mushroom cloud that enveloped me.
I never had time to stop and think about it.
I never had an employee.
I never had an office.
I did everything myself out of my home.
Sympathy became my all-encompassing existence from the time I awoke till I went to sleep at night.
My influences for my label were Stiff Records and Ralph Records. I did not identify with labels that were my contemporaries like Sub Pop. I tried to be oblivious to what other labels were doing and when they began aping Sympathy I moved quickly onto new ideas. It's not so much that I wanted to be different I just didn't want to be the same.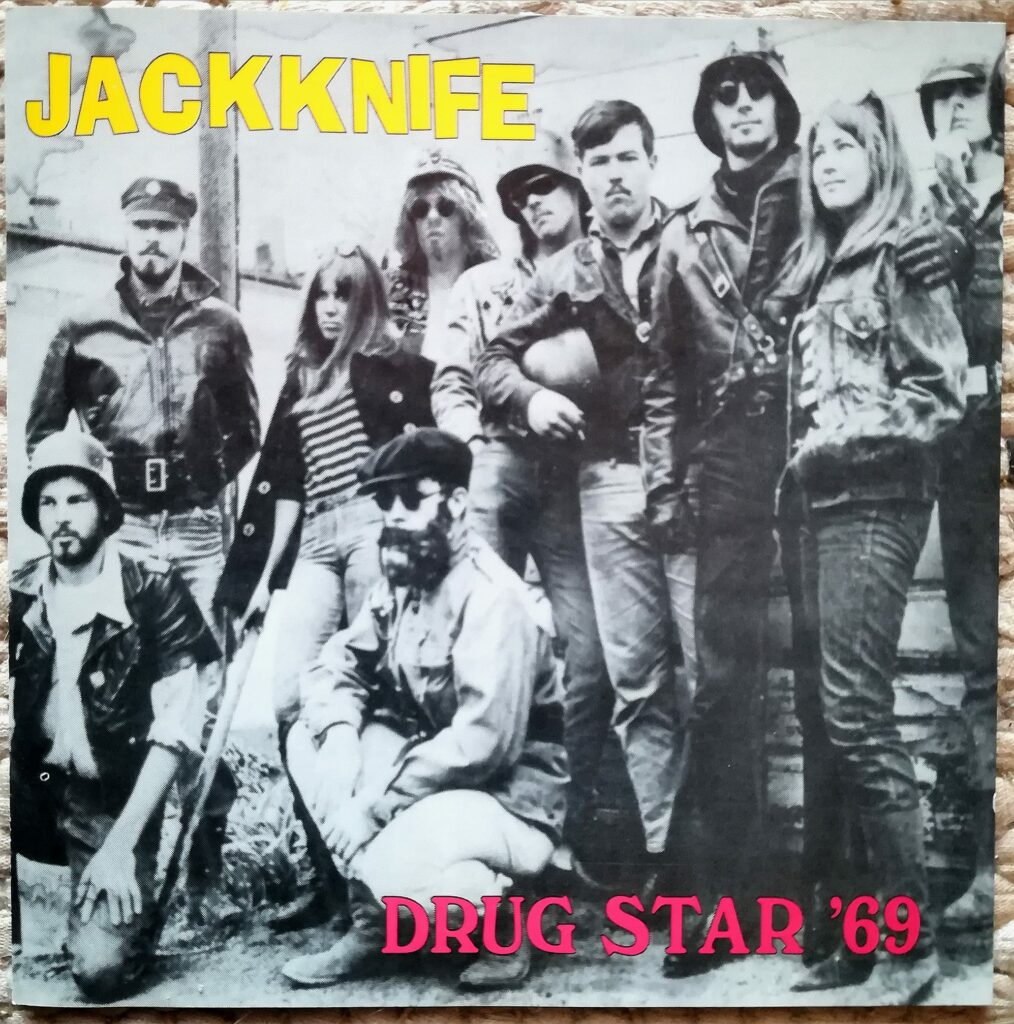 We know you are still releasing books through 'Sympathetic Press' and were wondering – What is the current status of both 'Sympathy for the Record Industry' and 'Necessaries Toy Foundation'?
Sympathy is ongoing – I have a double Go-Go's tribute LP with 24 bands that is currently in the (de)pressing plant and have an LP with early Mr Airplane Man recordings and singles by E.G. Daily and CPC GangBangs ready to go into production before long.
The Go-Go's tribute is number 815 in my catalog.
Necessaries is kinda in limbo. I have 3 figures that can be produced (already sculpted etc) if and when I have the money to proceed.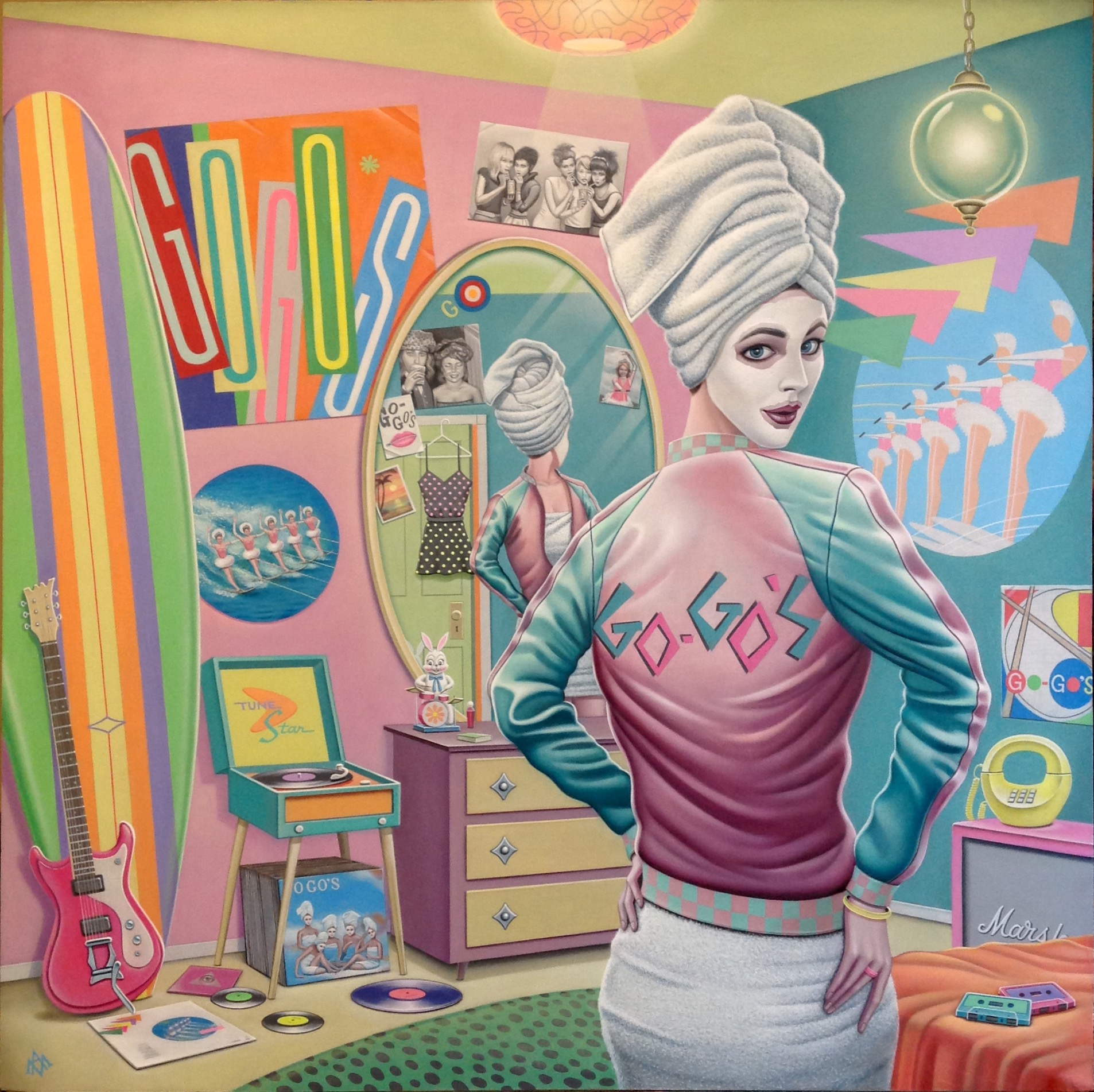 If you had to explain your vast array of endeavours past and present to some recently crash-landed aliens…
What would you tell them?
I'd tell them to fix their craft and quick.
I'd tell them this place is severely fucked up, people are mostly idiots and the government should be blown up and begin again from scratch.
I'd tell them they should've come in the 60's…
Do you have anything brewing in the pipeline for release?
If so – Please tell us all about it / them!
I mentioned the Go-Go's tribute double album and projects with Mr Airplane Man, E.G. Daily and CPC Gangbangs.
I commissioned 9 covers from different artists for a series called "Tea & Sympathy" that was intended to be collections out of my catalogue.
Thinking about the amount of work and cost became too daunting for me and I abandoned it for now. Hopefully I'll get back on track…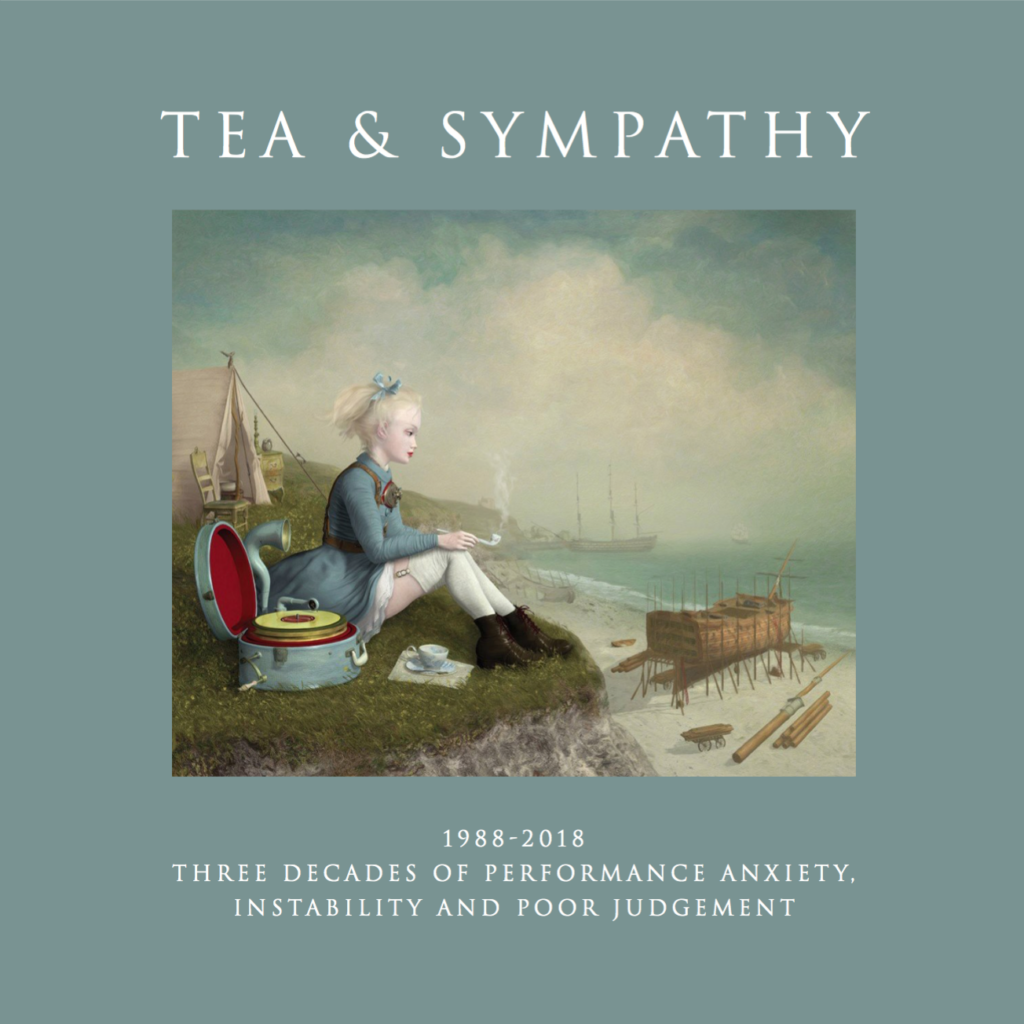 If people wanted to work with you or buy some of your wares – Where should they visit and how should they get in touch?
I'm trying to get my website updated to no avail thus far…
People can contact me by email: sympathy13@aol.com
Collecting Questions
What first got you into collecting?
It was simply part of my nature…
I didn't have much as a kid so when I discovered thrift stores at about 15 years old it became very important to me. I have a link with the past and there is not much produced today that I have any interest in.
From thrift stores I graduated to swap meets and finally to art galleries.
What are the top 10 (or so) items you own?
… and what is it about each of them that you so love?
Near complete collection of Edward Gorey books as well as one of his raccoon fur coats, personal jewellery, handmade dolls and some original art.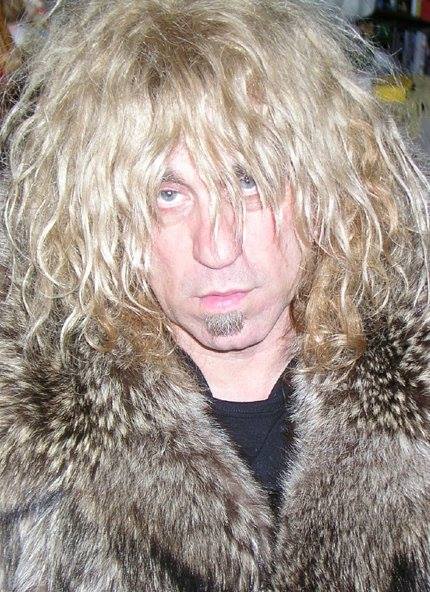 Iggy Pop jacket from back cover of Raw Power LP.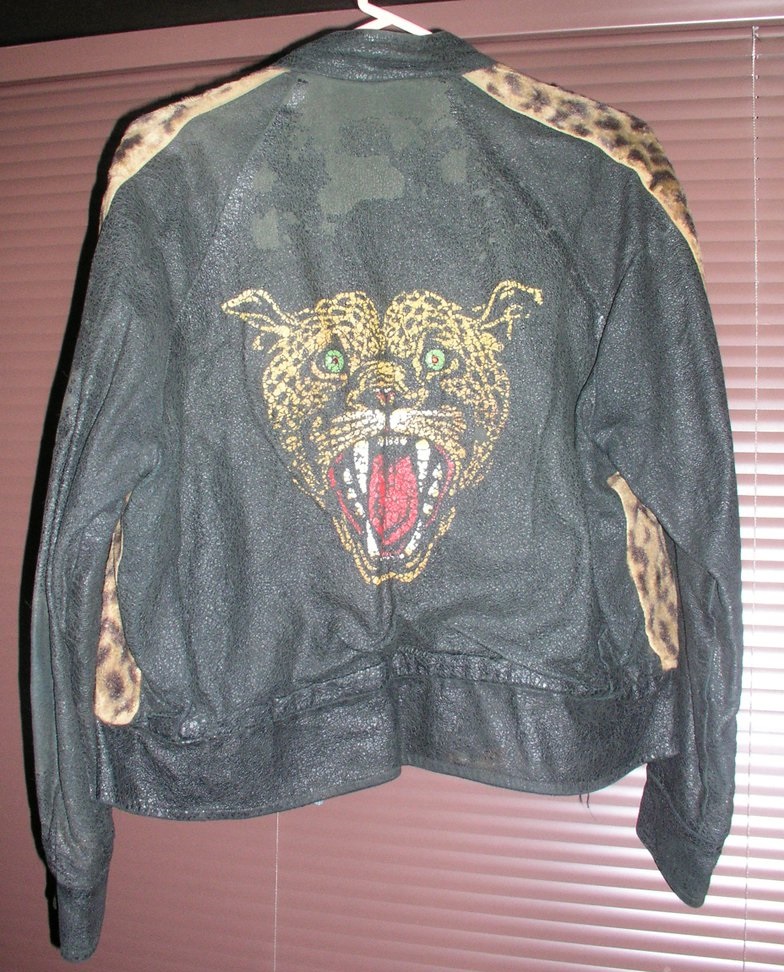 Manson Family vest from when they were out in Death Valley with the stolen dune buggies looking for devil's hole.
(When I was about 19, I lived with a few of the Manson Girls, I forgot to mention that.)
Velvet Underground and Nico LP signed by whole band and Andy Warhol.
My favourite album – I have about 50 copies. The signed copy is the favourite record I own.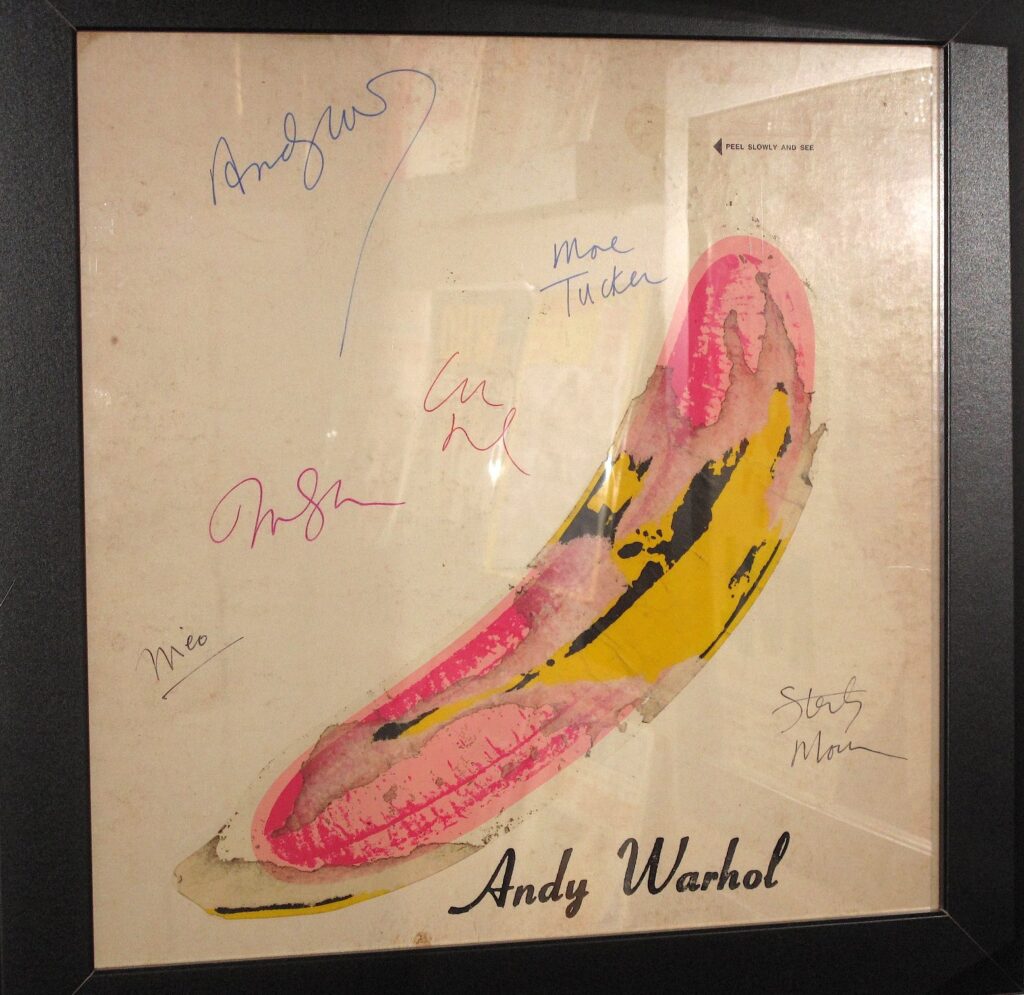 Original art by over 100 artists: Mark Ryden, Robert Williams, Todd Schorr, Camille Rose Garcia, Glenn Barr, Margaret Keane, Marion Peck etc.
What to you are the differences between hoarding, collecting, and curating?
Maybe in my world it is all the same – It's all about passion and enriching my life with things that are pleasing to my eyes and make me happy. There is also pleasure in the hunt and continuing to find more parts of the puzzle.
I'd say my life is barely controlled chaos and that seems to suit me just fine…
If money and time were no object – What 3 items would you love to add to your collection?
I've got one but I'd like a bigger insanely elaborate pipe organ.
I'd get works by some of my favorite artists and original manuscripts for some of my favorite books…
I'd also have a sanctuary for cats that needed a loving home.
Also, I could use an additional 5500 square feet to have a dedicated art gallery and to have room and money to continue to collect.
Odds and Ends
Who are some of your favourite musicians, filmmakers, artists and writers?
…and what is it about their works that so inspire and move you?
Earliest love was the Beach Boys which I couldn't escape living in Southern California. Also, the girl groups from the 60's, the British invasion, the beginning of garage rock in L.A – The Seeds, The Standells etc. The glam bands, Motown and the love of my life, punk rock.
No hardcore.
No heavy metal.
No grunge.
No rap or hip-hop!!
Filmmakers: Tarantino, Coen Bros, Kubrick, David Lynch.
Writers: Lewis Carroll, Edward Gorey, J.D. Salinger, Poe.
Artists: Dali, Warhol, Lichtenstein, Mel Ramos, Oldenburg, all the Pre-Raphaelites, Mark Ryden ad infinitum.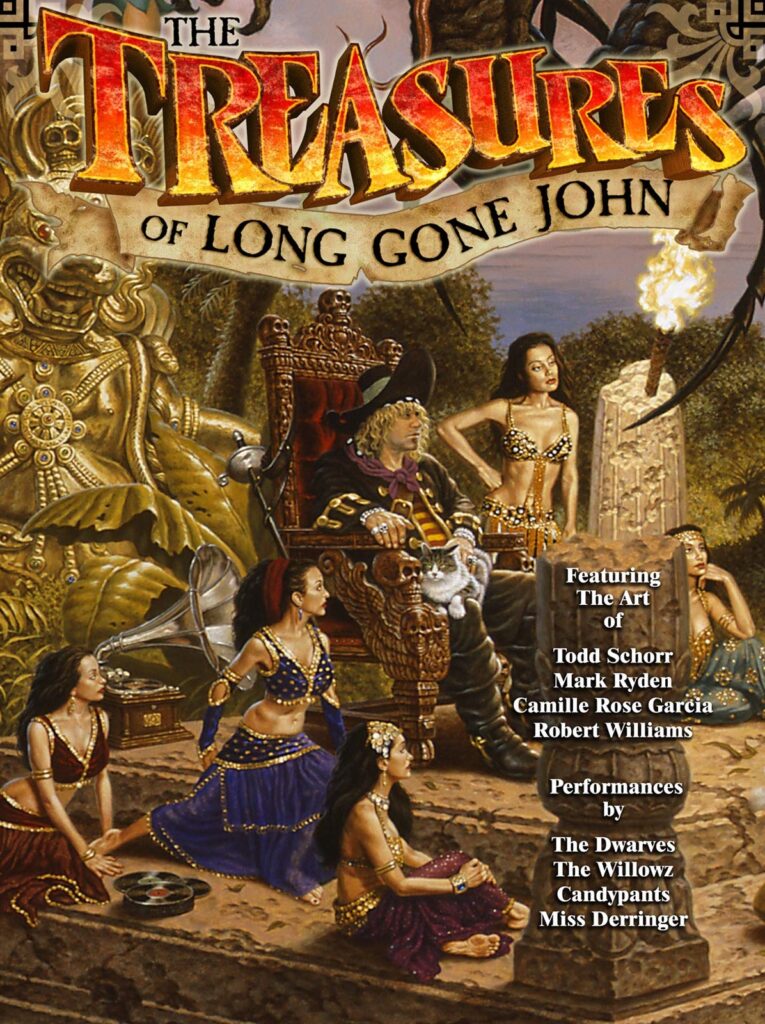 If you could live in any place, during any historical era – Where and when would that be?
…and why would you choose that time and place?
Somewhere in Wales in the countryside by the ocean and castle ruins with wild ponies running around. I'd like to be somewhere it rains a lot which is why I moved out of L.A to Olympia.
What does "God" mean to you?
It was force-fed to me as a child – 9 years in catholic school, church 6 days a week.
It's a good concept…
I don't know what I believe anymore.
Who was your first crush?
…and why were you so infatuated with them?
It was a girl named Debbie Jones.
She lived across the street and my mother said her family was white trash. I used to stare at her from my window.
Her mother spent a lot on her clothes so she was always dressed really nice in mod fashions which intrigued me greatly. I remember her in polka dots and cropped tops with ruffles.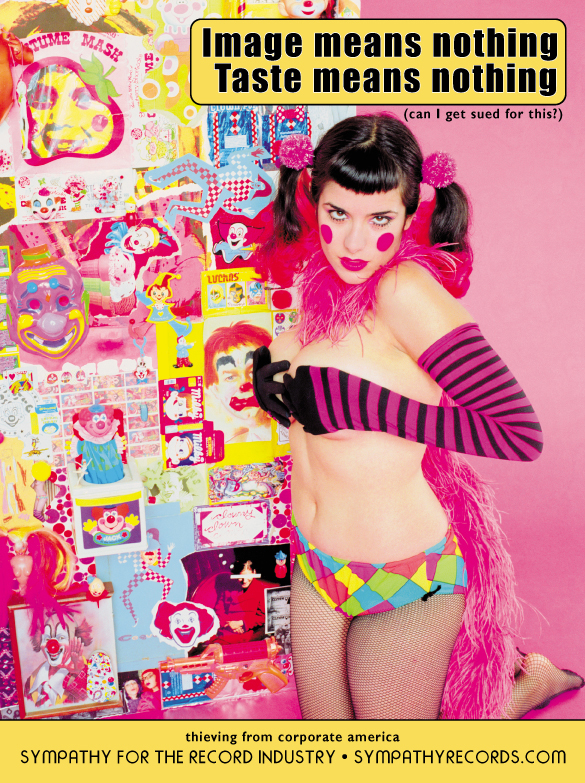 Does sex change everything?
I have enjoyed it immensely throughout my life.
It is important, but companionship and like-mindedness are equally important.
Please describe your last dream in detail…
I'm haunted by violent dreams.
I'm always being chased, threatened, being unable to escape danger.
I don't sleep very much – Don't care to elaborate beyond that.
Of everything you have done, what would you most like to be remembered for?
For being a relatively kind person, a good father and someone who appreciates music, artistic endeavours and creativity in general – As well as someone who loves animals.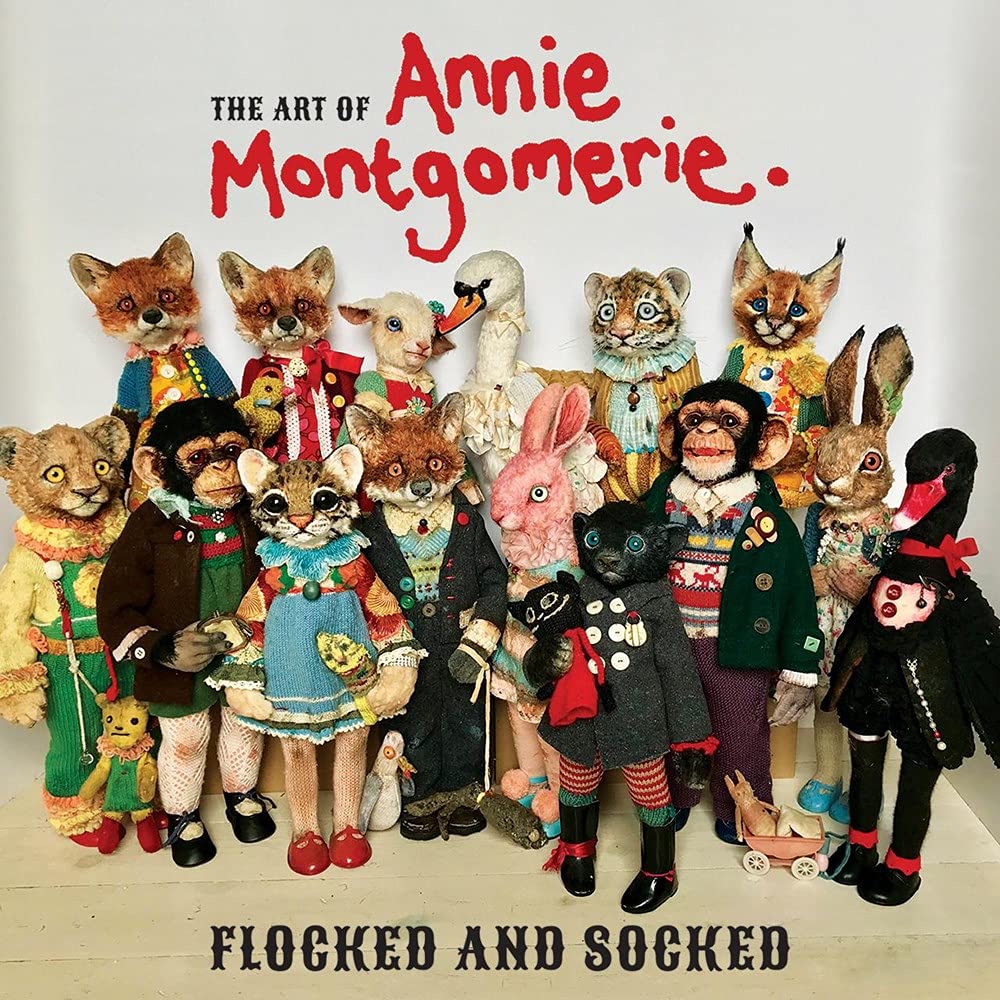 Links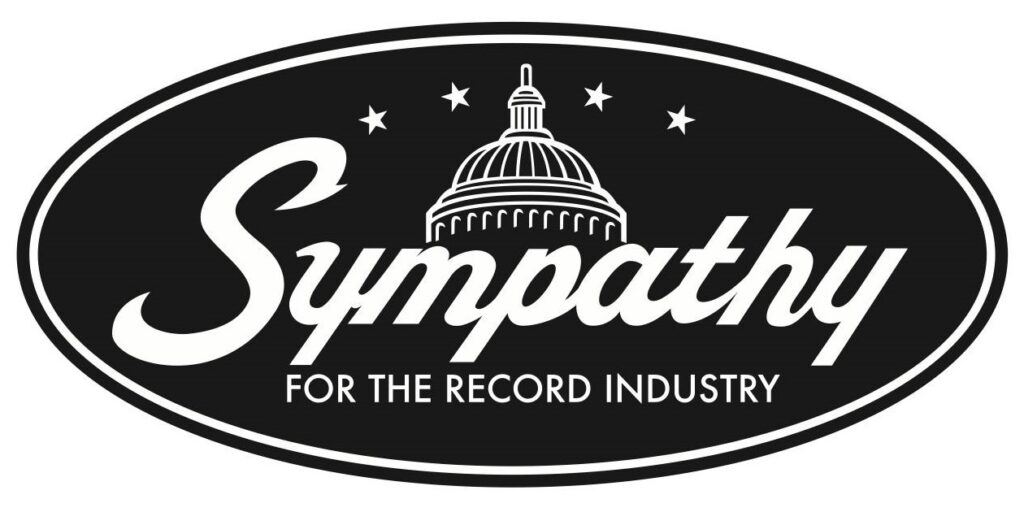 All images supplied by John Edward Mermis or sourced online.