Adam Yeater aka One Last Day is an American underground comic book artist who draws inspiration from the extreme sides of music and cinema – particularly genres focused on confrontational narratives such as heavy metal, punk and grindhouse.

We interviewed him earlier this month and in this review we take a look at his 'Blood Desert Omnibus Vol. 1'. The Omnibus collects issues 1 to 4 of the ongoing comic – which is currently up to issue 10.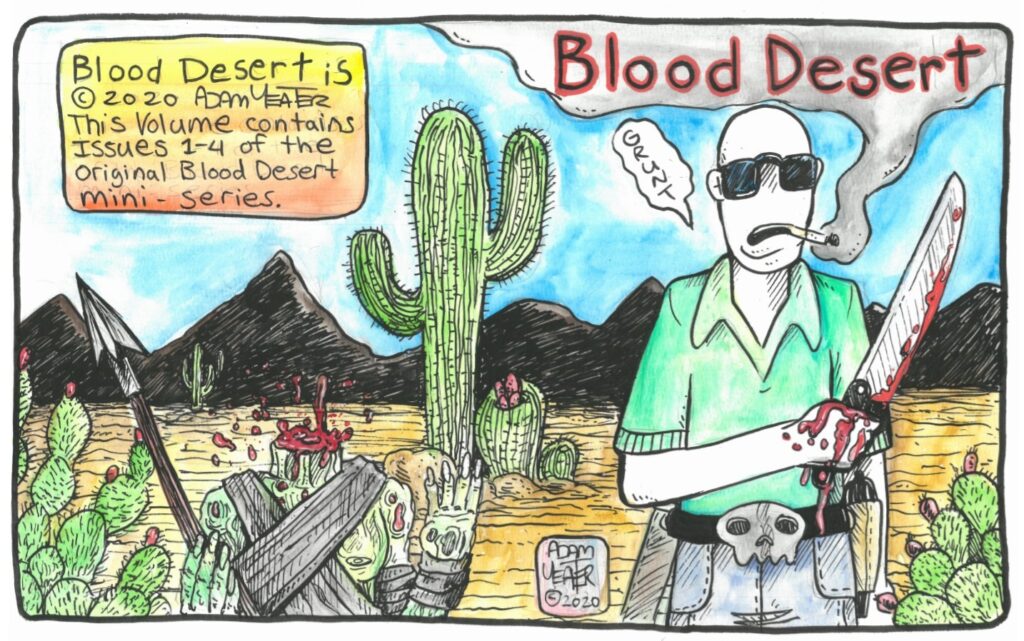 The Specs
Title = 'Blood Desert Omnibus Vol. 1' (collects Issues 1 to 4 of the ongoing series.)
Artist = Adam Yeater
Writer = Adam Yeater
Date of Release = 2020.
Publisher = Self Published.
Number of Pages = 156.
Appearance = Full Color Covers with Black and White Interiors.
Format = Magazine Sized Graphic Novel with UV Coating.
Paper Type = 8 x 11 Inch Paper with Cardstock Cover.
Printed In = USA
Language = English
Edition Size = 150
Release Price = $20 USD + shipping.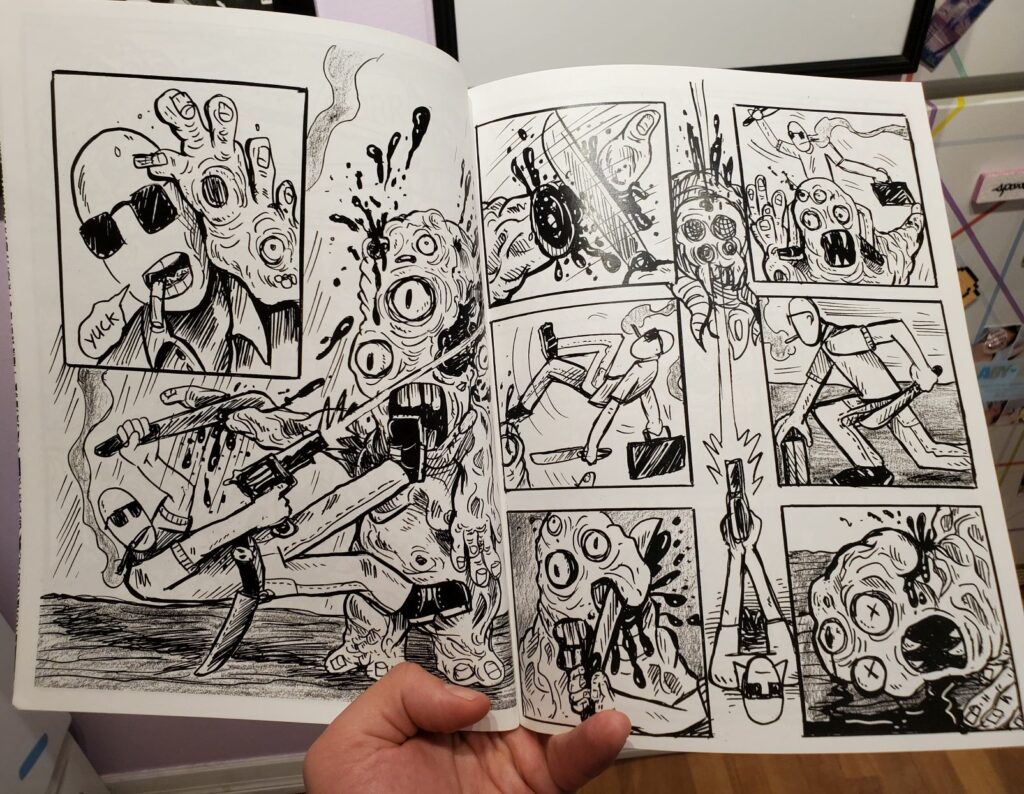 The Narrative
'Blood Desert' follows a single, nameless protagonist through a post apocalyptic wasteland – a bounty hunter who survives on his skills and the ability to kill any target. Volume 1 of the Omnibus collects the first four issues of the ongoing series (with each issue covering a single exploit of the nameless protagonist, whilst also developing the overall tale) and includes a bonus story.
From collecting the first bounty and fighting a worthy foe; to his first slaughter of the corrupt police, Blood Desert offers a high octane trip soaked in glorious ultra-violence and dark humour.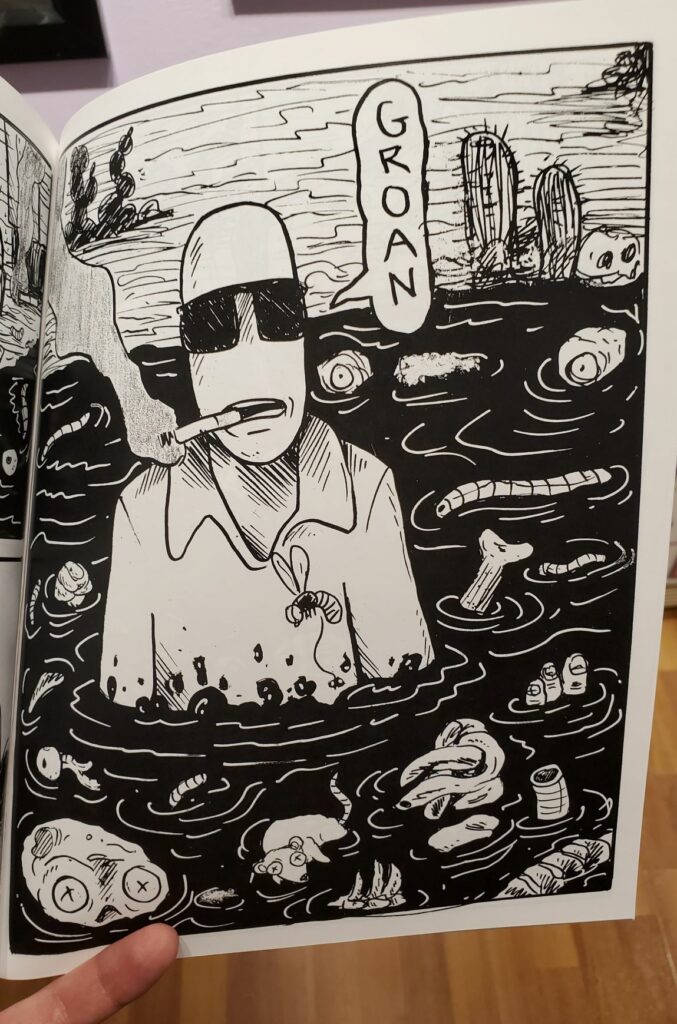 The Art
Heavy on action and focused on both conflict and the bloody outcome of many a skillful execution; Yeater's ability to create frenetic and vibrant art is readily apparent.
Fans of 'red red kroovy' will be delighted at the amount of blood and gore that fill each frame. Yeater certainly loves to indulge in his violent genre inspirations and does not hold back at all.
A highlight comes from the many various villains that Yeater creates – amorphous creatures shaped by the toxic landscape of the desert. Additionally, there are some nice nods to more traditional creatures, as we see both mummies and zombies make short appearances – ideal fodder to keep our hero busy and increase the gore!
There are also introductions of various species that play a larger role in later issues – as we see our first of many police-pigs to be slaughtered in issue 4.
There is an undeniable charm to the aesthetic of the work, as pencil lines of text and outlines find their way into the finished comic; highlighting it's hand made, independent and underground status.
'Blood Desert' is presented as it is – DIY with no excuses, adding to the comic's unforgiving and blunt approach.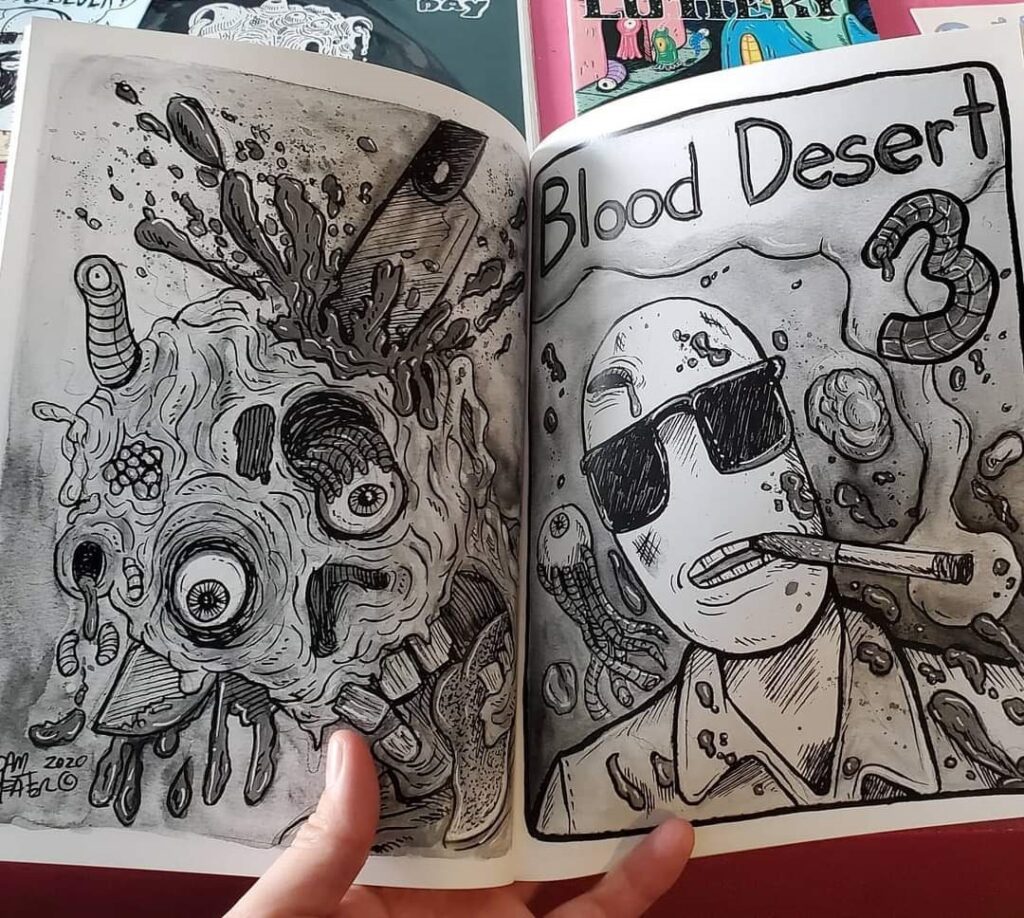 The Paper and Print
For a self-publisher, Yeater does a bang up job of quality control! 'Blood Desert Omnibus Vol. 1' stands out among my other comics from big time publishers, especially due to its cover and high-quality binding.
Consequently, "Blood Desert" gives the impression of a love for the medium and high artistic standards that would be expected of serious comic collectors and fans. Far from being haphazardly thrown together, the comic has great value in its quality and shelf life.
The paper also has a nice gloss to it too, which helps the artwork pop, as well as giving a nice weight and feel to each page.
These small courtesies should not be understated – as appealing as Yeater's work is in digital form, I found myself turned from interested viewer to enamored fan whilst flipping through its pages.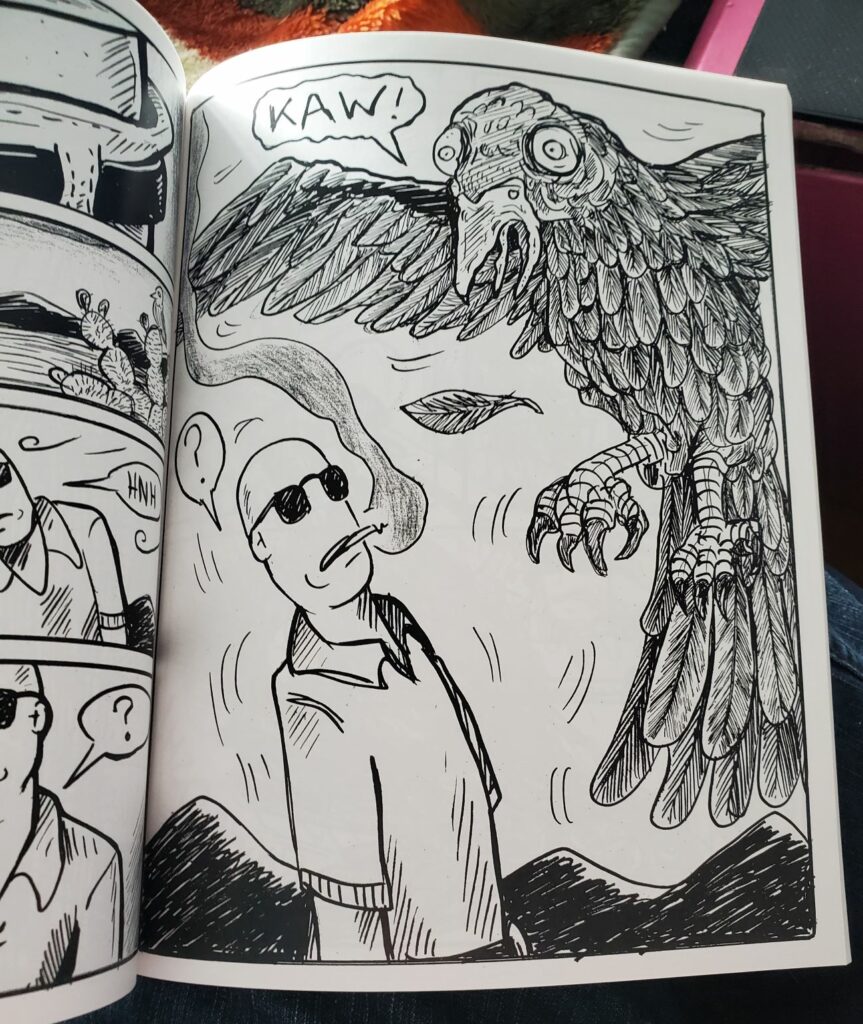 Overall Impression
Whether you want to call it Heavy Metal, Punk Rock or Grindhouse, Yeater's work embodies the unapologetic, in your face aesthetic of all three genres.
Additionally, there are fun touches of dark humor rooted in the absurdity of the low-brow art tradition scattered throughout the comic – Whether it is taking drugs and getting off with a corpse or wading through a river of filth. Blood Desert will appeal to those who like unapologetic and uncompromising gore and narrative chaos.
Admittedly, a silent protagonist could make for a release that lacks narrative depth – a concern of mine going into the work. However, Blood Desert depicts a world that seems to grow with each of its protagonist's adventures – each battle scar and victory further defines the landscape and adds to the tally of triumph for our machete wielding, chain smoking protagonist.
As a fan of horror and exploitation cinema, I fell in love with the pacing and style of the work – it taps into that no holds barred anarchy that can make genre media a riotously fun outing.
Additionally, I found a deep appreciation for Yeater's aesthetic when holding the psychical comic in my hands – the passion for his craft and the love of comics can't be ignored.
I want to spend more time in the Blood Desert and so will you!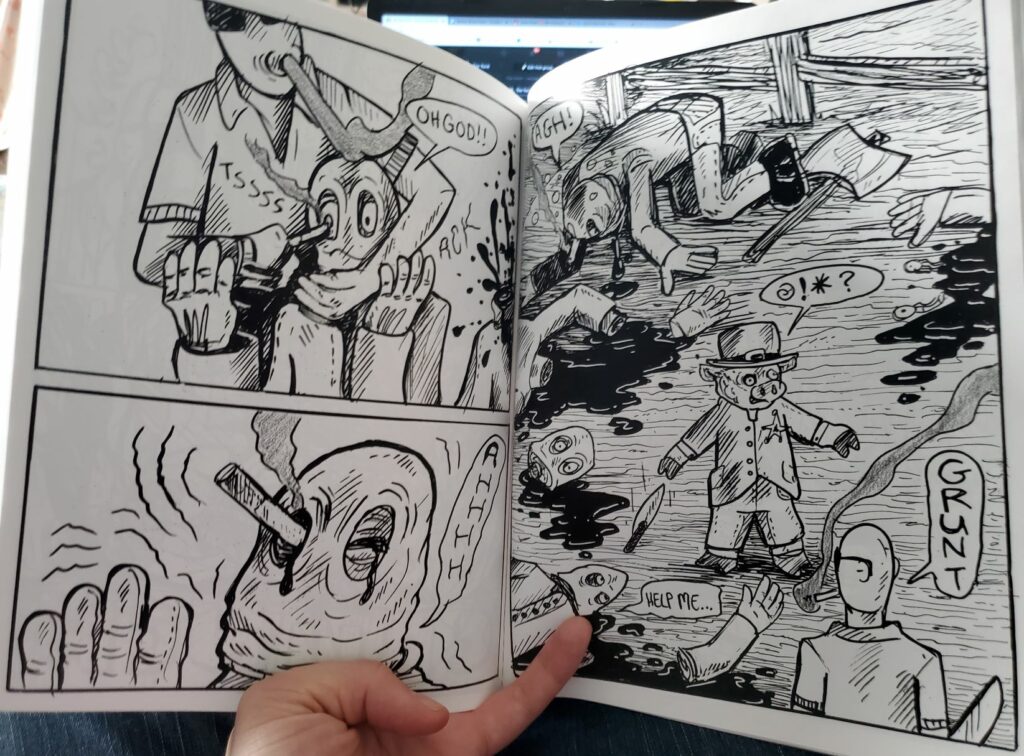 Links