Many cities of the world have mascots – cute and cuddly characters that highlight an aspect of their cities' culture or history. They exist as objects of civic identity and mass market capitalism. Created by advertising firms, their mission is to sell their city to tourists, potential investors and businesses.
Well the harbor-side city of Newcastle, in New South Wales, Australia has a mascot too – only it's an unofficial one: a single foot, with no torso, and the head of Homer Simpson.
It's name, appropriately enough is 'H Foot.'

Unlike traditional mascots, 'H Foot' wasn't created by an advertising firm, and he isn't trying to sell you his city.
Instead the bong smoking, TN wearing, good-natured larrikin that is 'H Foot' was created by an anonymous Newcastle resident who wanted to encourage people to explore and experience the totality of Newcastle. To explore those out of the way areas within the city, and experience those good vibes that familiar faces, and exploration can bring.
As a result you won't find H Foot in the usual habitat of city mascots such as tourism brochures and marketing material. Instead H Foot, being a mascot from, and of the streets can be found in the streets: on street lamps, the walls of abandoned buildings, inside drains and canals, park benches, public toilets, and other public and publicly accessible spaces.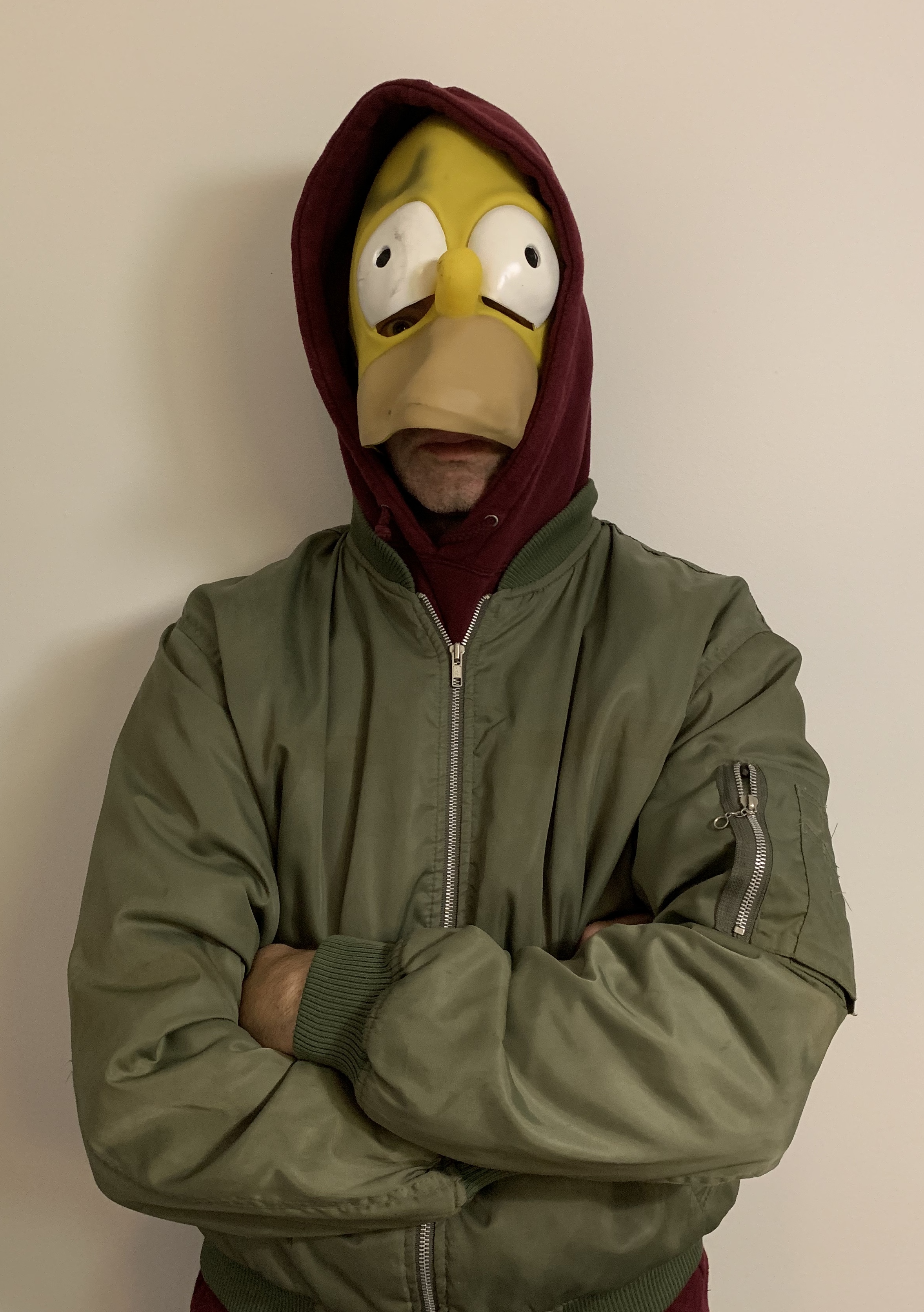 In this way, H-Foot is as much a meme as he is a mascot. And like any good meme, H-Foot has been designed to be co-opted and embraced by others: Appearing in tribute art by fellow Newcastle artists Ben Mitchell and Marcus Dixon, and inspiring countless imitators (B Hands, M Cock etc.)
Indeed, you can even purchase H-Foot stickers and merchandise yourself, to both embody H-Foot and help him to travel the globe and increase his reach.

In an effort to get to know more about H Foot, such as the motivations for his creation and existence, we interviewed the anonymous artist and vandal behind the character.
You can read our extensive interview with them, below…
Getting Acquainted
Name and D.O.B?
H-Foot, I was born in 1982 and I have the same birthday as Gough Whitlam.
City, State and Country you currently call home?
Newcastle, NSW, Australia.

City, State and Country you're from?
I was born in south-western Sydney. A suburb called Panania. It's part of the Canterbury / Bankstown council area.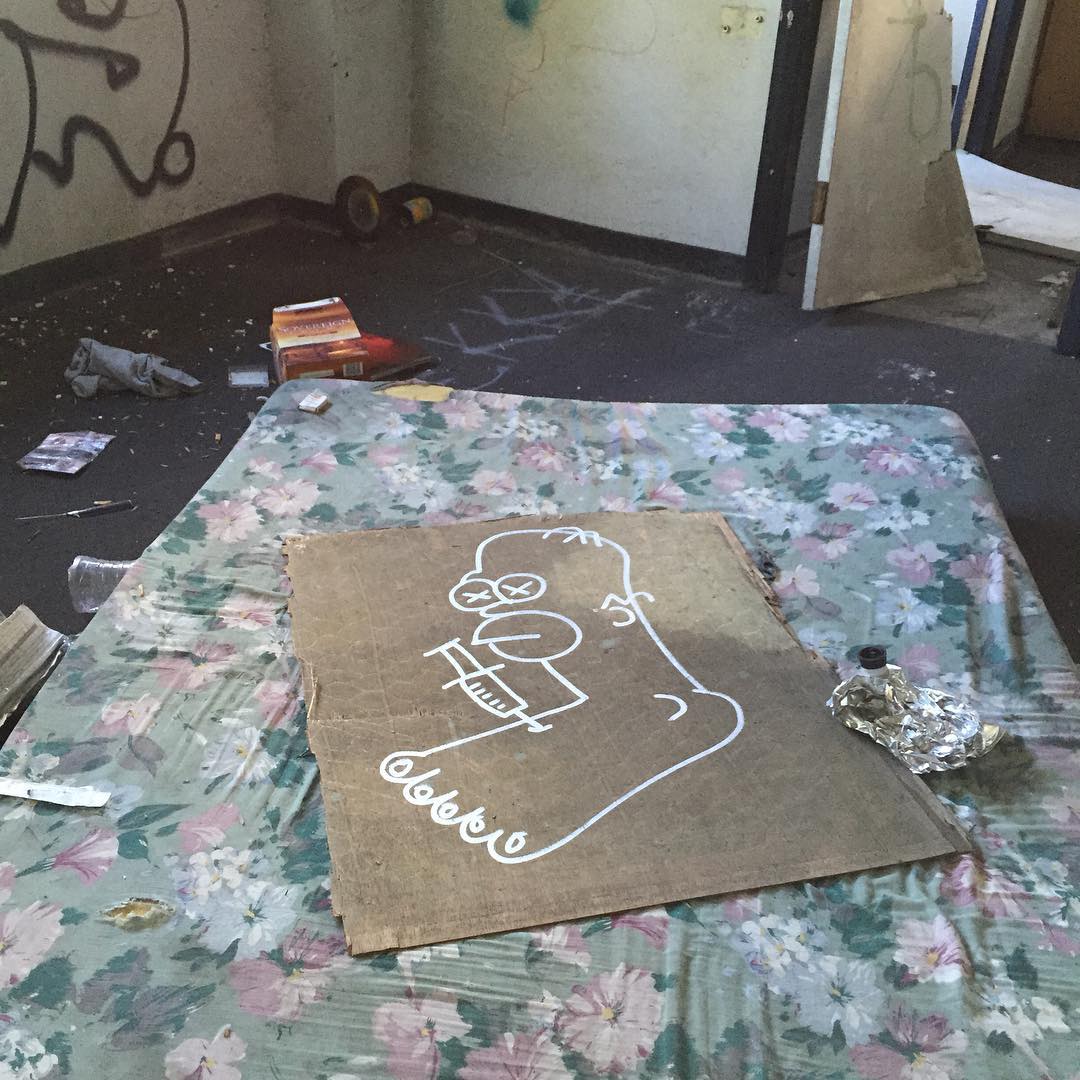 Please describe some memories from key stages of your life: concerts, art, toys, romance, movies, hunting, school, politics, crime, religion… ANYTHING really!
* Age 5 – beginnings:
The Drug Squad raided my family home because my parents sold large quantities of marijuana. Luckily my parents were tipped off 24 hours beforehand by someone that worked at Bankstown police station.
I remember Mum and Dad frantically going through the house destroying / removing evidence. My dad dug up his whole crop and buried it in a pit in an old horse stable in our yard. He worked well into the night.
I remember looking through the screen door with Mum the next day. Marked and unmarked police cars lined both sides of our street.
* Age 10 – continuations:
We moved to Newcastle to be closer to my Mum's side of the family. We'd been here two weeks when the earthquake happened.
Trouble followed us wherever we went.
Around this time I was introduced to comics and skateboards by my older cousins. Comics and skate mags became my life, my main sources of escapism.
I started making my own mini comics and zines around this time.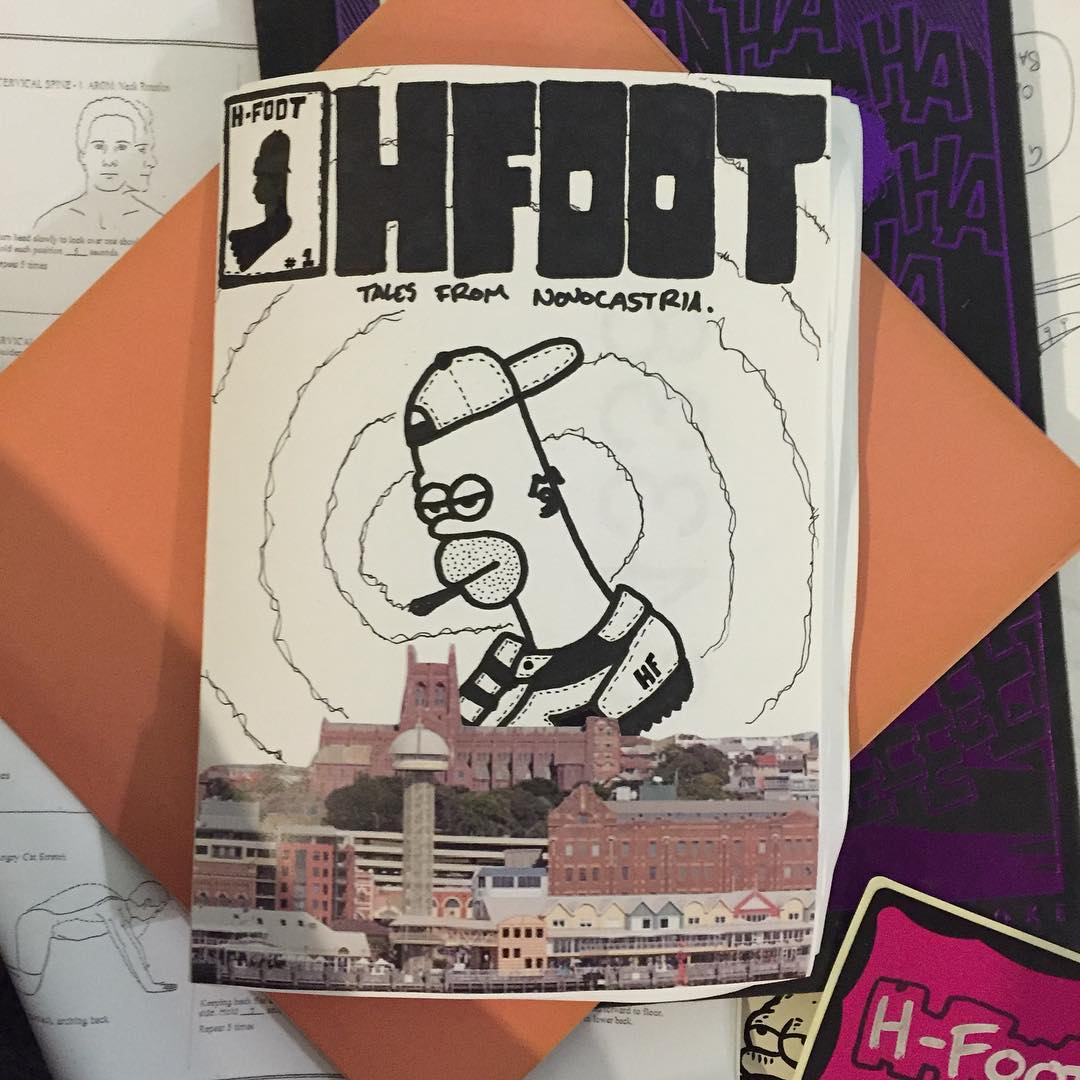 * Age 15 – getting serious:
By 15 I was a well and truly part of the Novocastrian skate scene. Aside from a few school friends, I mostly hung out with older guys from the skatepark. I'd expanded from only reading comics and skate mags to include mainstream literature as well.
Newcastle skatepark was rough – and I liked it. I got beaten up in an organised fight. I was such a skinny kid and he played footy and stuff. I remember feeling embarrassed that I lost the fight, but also that the physical pain was a great distraction.
It was cathartic.
The pain and violence were familiar.
* Age 20 – young adult:
I was unemployed and had aspirations of becoming a writer or an artist. I didn't realise that I was already both. I was writing stories and doodling, making skate videos with my friends. I had some work published in other people's zines.
Sometime after this my little sister died. I partied a lot, drank and smoked my brain away. I'm not sure if I was doing it to stop feeling sad, or if I used my sadness as an excuse to live like that.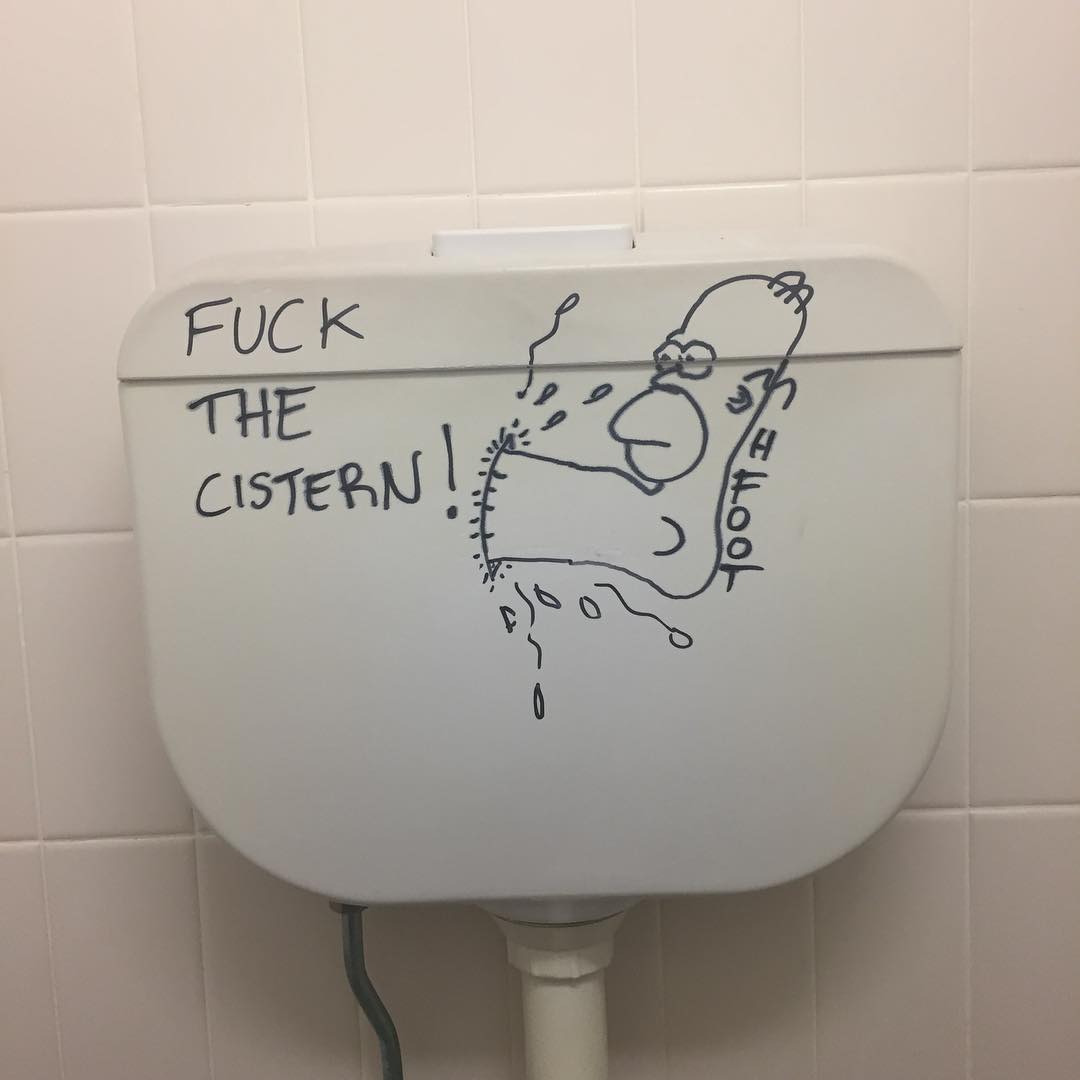 * Age 25 – adult mode:
I started going to university to study creative writing. I also started my first serious job and was making ok money for the first time.
I began travelling more and was privileged enough to see the world. I skated all the famous spots from the magazines I'd read in my youth.
I was living with a partner and had given up taking drugs or drinking due to a predisposition to mental illness. I got physically fit by training in other ways than just skating.
I was published for the first time in a peer reviewed publication and spent a lot of my time outside work exploring the abandoned industrial areas of Newcastle.
This is also the period when H-Foot was officially formed. I began leaving small H-Foot tags at the locations I was exploring to show that I'd been there.
* Age 30 – fully formed:
Well and truly writing short stories and also getting promoted in my vocational life.
Earning decent money and having a good domestic life.
Still travelling and skateboarding.
H-Foot was in full effect. I had stickers made and was using markers to tag. H-Foot became the alter ego of my academic/professional persona. The street version. But still tongue in cheek.
Something outside of the esoteric graffiti world; something Novocastrians could have as an inside joke.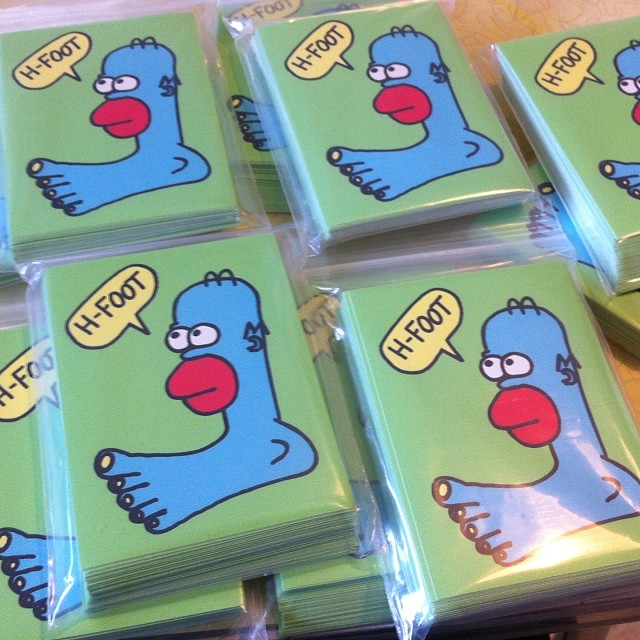 * Age 35 – meanderings:
Went through a really sad breakup and moved back into my family home as an adult.
Had a collection of short stories published and was also shortlisted for a fairly significant short story award.
Dating other people was weird and for the first time I felt like I lost my identity. I lost confidence in myself both romantically and sexually. Up until this point I'd been really cocky and confident.
Quit my job and went on a holiday to Japan. Came back to Newcastle feeling lost and extremely vulnerable in a new relationship.
Currently I'm really poor, but mostly happy.
Writing more than ever and working on my first novel as part of a PHD program. Tagging and sticker slapping more than ever. Making the occasional skate zine and skating when I can.
I think when I look at myself from a third person perspective, I'm the person that my teenage self wanted to be. But that doesn't match up with society's expectations or pay the bills.
(A recent H Foot comic, below.)
Personal motto?
Be good, but if you can't, be the baddest that there has ever been.
What do you do for a day job at the moment?
I have a casual job at a bookshop. I also do some freelance writing.
Art Questions
When and why did you first start to draw your self-portrait on public spaces?
… and any pivotal artistic moment(s) / influence(s) behind that decision?
I knew a lot of serious taggers and graff artists through skateboarding. It was always there in the back of my mind. But around the time I started getting up, lad/pseudo tough guy culture was big. I wanted there to be something on bus benches and signs around town that people would recognize. Most people can't even read a tag. I see it and think it's dope, but Joe Blogs just thinks it's scribble.
H-Foot is appropriated from one of the most iconic pop cultural figures in history (Homer Simpson) so it's easily recognizable to even the most boring member of the community.
Have you ever gotten into trouble due to your street art practice? If so – please share the tales with our readers at home.
Not by the police (fingers crossed). There were some teenage lads from the suburbs trying to bring heat in my DMs for a while. Then they realized I was a grown man and unsurprisingly, my offers to meet up with them one on one to discuss any problems they had were left on "read".
When I made the H-foot sticker with the Arabic writing on it, Lake Macquarie Police had some stupid internal release that the sticker could possibly be ISIS related. They also said that the translation could mean "to gather or meet". But it actually just said "Foot" in Arabic.
Their intel was fucking hopeless.
An ex-cop friend sent me photos of the release. I wanted to publish them but they were still employed by NSW Police at the time and they asked me not to.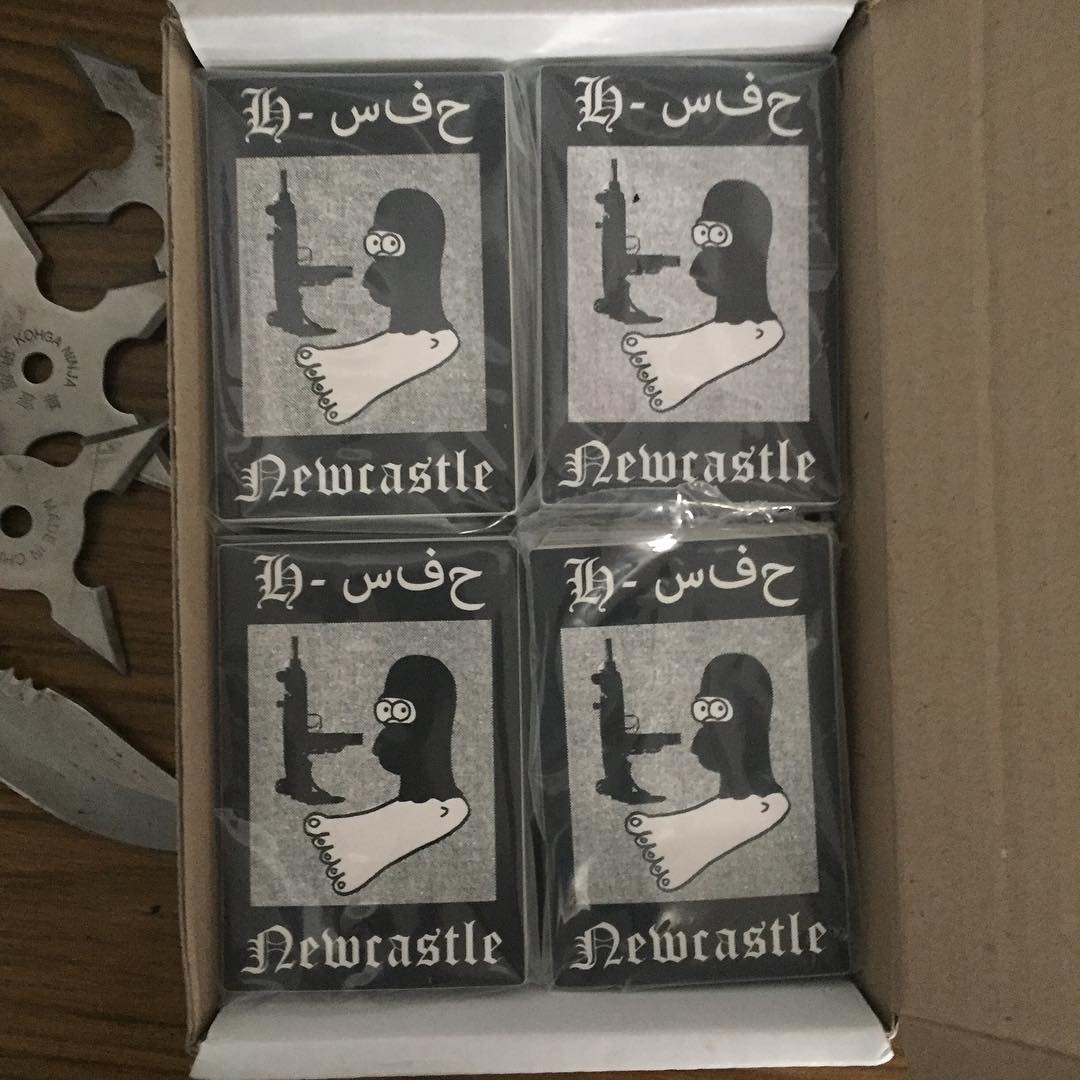 Worst aspect of the street art hustle?
Being misunderstood: I'm not trying to be a graffiti artist or paint trains or anything. I have mad respect for everyone that does that stuff and there's some crossover in what we do. But they're really talented and do amazing work. I'm just tagging with solids and slapping stickers up. I'm not stepping on any toes.
The other thing is people asking for free artwork or merch. At least once a day people ask me to send them free shirts/stickers/zines. I appreciate that people want to rep my things, I am so stoked on that, but making all that stuff costs me money. I don't make profit off any of it. I use any tiny amount of money I get to make more things.
I love swapping stickers and zines with other artists though. That's different.
Best aspect of the street art hustle?
Having a somewhat anonymous voice. Cheering people up by drawing a rudimentary Simpsons mutant around town. I get a lot of feedback on social media saying that H-Foot makes them psyched when they see it in the little nooks and crannies of town. That's all I wanted to do.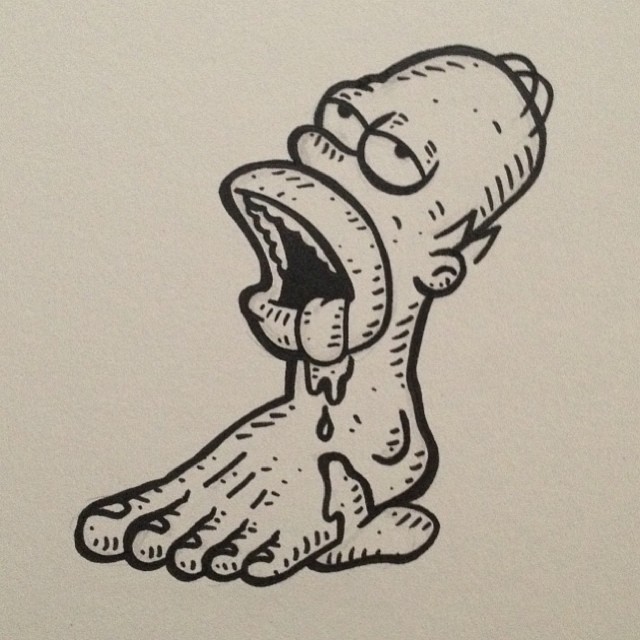 How does it feel having achieved such a level of fame, that other artists – such as Marcus Dixon, Ben Mitchell and countless others – are now drawing fan art of you?
I don't think Marcus is necessarily a fan. We spent a lot of time together and collaborated on other projects. I think he just drew an H-Foot mucking around one day and it was way better than anything I could ever draw, so I asked if I could make it into a sticker.
Having Ben do a piece for my last zine was great because we're both huge comic nerds. It's always rad to see H-Foot rendered nicely by someone that knows what they're doing.
I get a lot of B-Hands (Bart Hands) in my inbox. About twenty different people have done a B-Hand taking the piss. Kind of too obvious and unoriginal. But my friend painted a huge M-Cock (Marge Penis) which was great. Also someone drew a Kneesa and sent it to me (Lisa as a Knee). That made my day.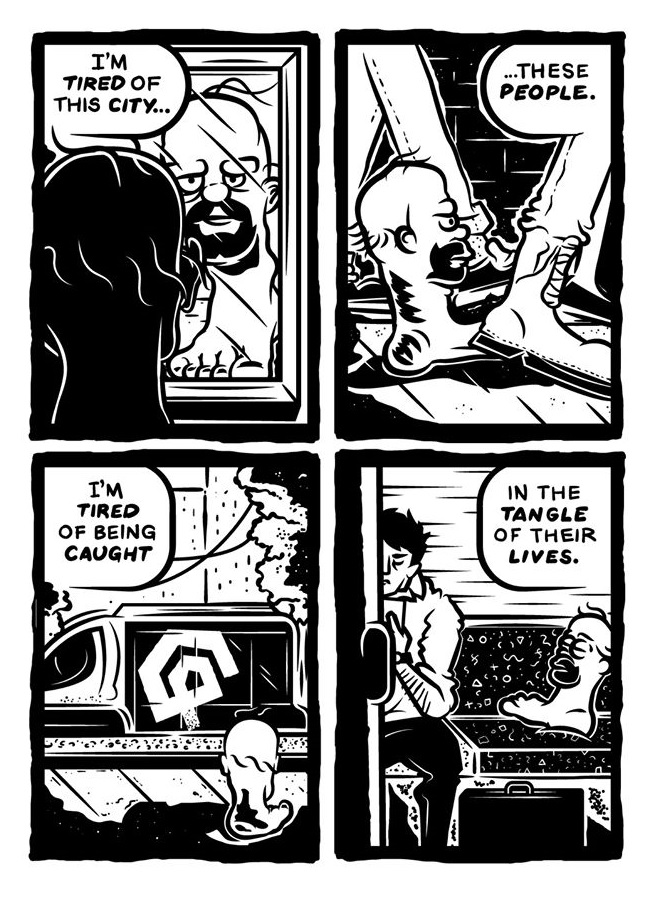 Any upcoming projects you want to hype?
I just made some H-Foot Christmas shirts. They'll make good last minute gift ideas.
Other than that, in my real life I'm writing a novel. I mean, go to any café and there's a gronky, middle aged white guy with tattoos, exactly like me, writing a novel. But I've been publishing short stories for a while and it was time to take it to the longer form. I'm taking all the right avenues, writing it as part of a PHD and meeting with other authors to workshop it. I didn't wake up one day and say, yeah I'm writing a novel now.
I'm working on it most days and it's coming along. We'll see how it goes.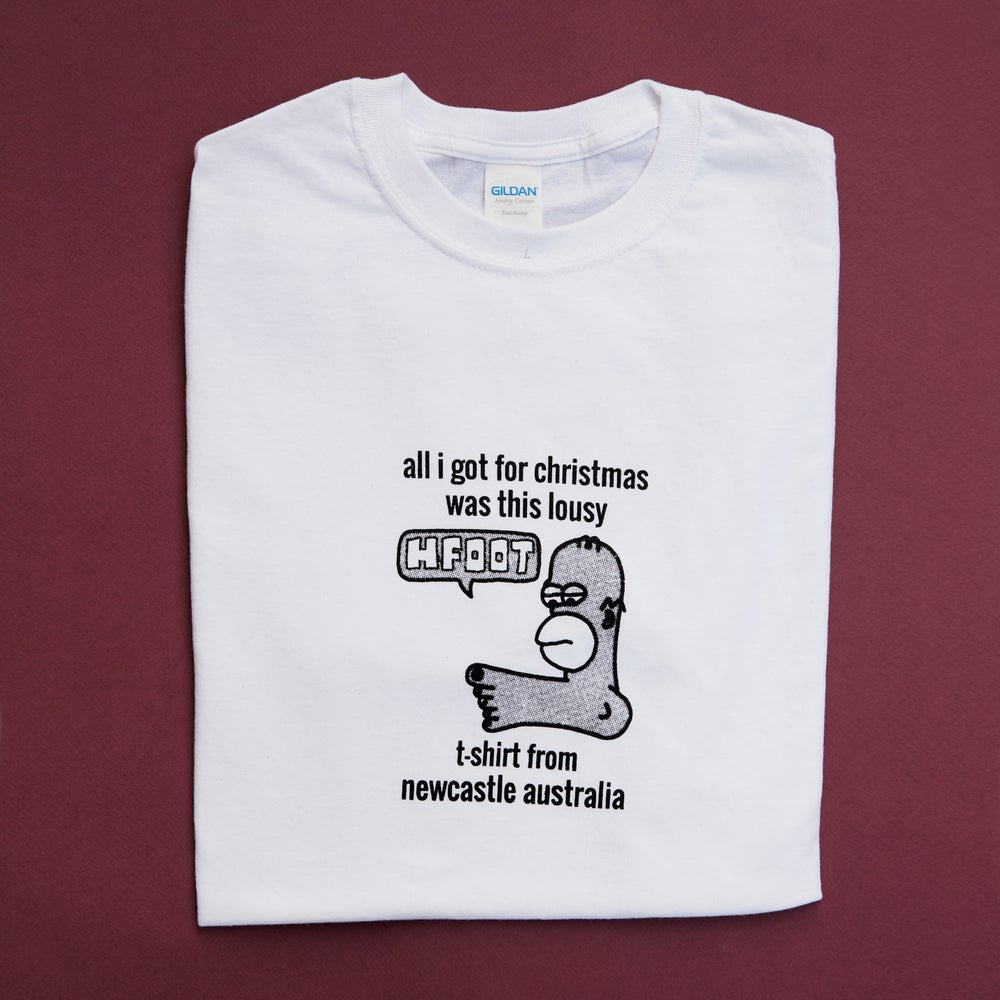 If people wanted to work with you, have a chat or buy something – how should they get in touch?
Just a direct message to @hfoot1 on Instagram. Maybe write a message for me on a bench or wall in Newcastle and I'll reply.

I have my friend that makes this skate zine, Sprawlers, sell my stuff on their site so I can remain anonymous.
Check Sprawlers.bigcartel.com

Newcastle Questions
Favorite other Novocastrians?
My sister, my girlfriend and the people I skate with. If you mean people with fame or notoriety, I'll list them categorically:
– Bombers/taggers/sticker slappers: Idiot, Dweeb, Bluf, Sekem, Quasi, Hank, Bonzo. I like the weird ones.
– Skateboarders: Rowan Davis, Simon Lyddiard, Adam Tabone, Pat Burgess, George Richards, Connor Reeve. As for the legends, let's go with Ben Cox, The Carnells and Pete Schiffman.
– Zines: Sprawlers and Solitary Legs.
– Writers: Keri Glastonbury, Michael Sala, David Kelly and Ryan O'Neill.
– Artists: Nick Barlow will be the most famous painter in the country within ten years.
– Music: Collector/Jason Campbell. Lyrics mess with me sometimes, so his brutal, electronic noise music is perfect. It's tough, yet smart.
Please describe what you think the Newcastle zeitgeist is today?
What does Reno call itself? The biggest little city in the world. I feel like Newcastle is Australia's answer to that. But instead of gambling, it's the creative industries. There's a lot of small galleries now, lots of painters and artists.
Newcastle is constantly at war with itself though. There's a lot of self-funded retirees moving into the heart of the city. They're conservative, they want "culture" but not the grit and grime that goes with it. They want the coffee shops but not the graffiti, the waxed ledges or kids in cars doing burnouts. The biggest cities in the world have this shit, you can't have one without the other. There's plenty of quiet space out in the country. Don't move into the CBD of any town and complain about noise or street culture.
Cultural practices e.g. visual art, literature and music should be tough. Even if it's something silly like what I do with H-Foot. It's still there on the street, it's illegal, and when necessary I have something to say. I'll get arrested for it or fight for it. I'd do the same thing for writing or zine making if I had to for some strange reason. If you're not passionate enough about your craft to do that, you should reconsider what you do.
In a fight between the following two iconic Novocastrians, who would win and why: Greg Gomez Pead aka Yahoo Serious (director, actor and comedian) Vs. William Dobell (artist)?
William Dobell was a gay man that lived in the working class suburbs of Newcastle in the first three quarters of last century. Can you imagine how tough that would have been? Yahoo wouldn't stand a chance.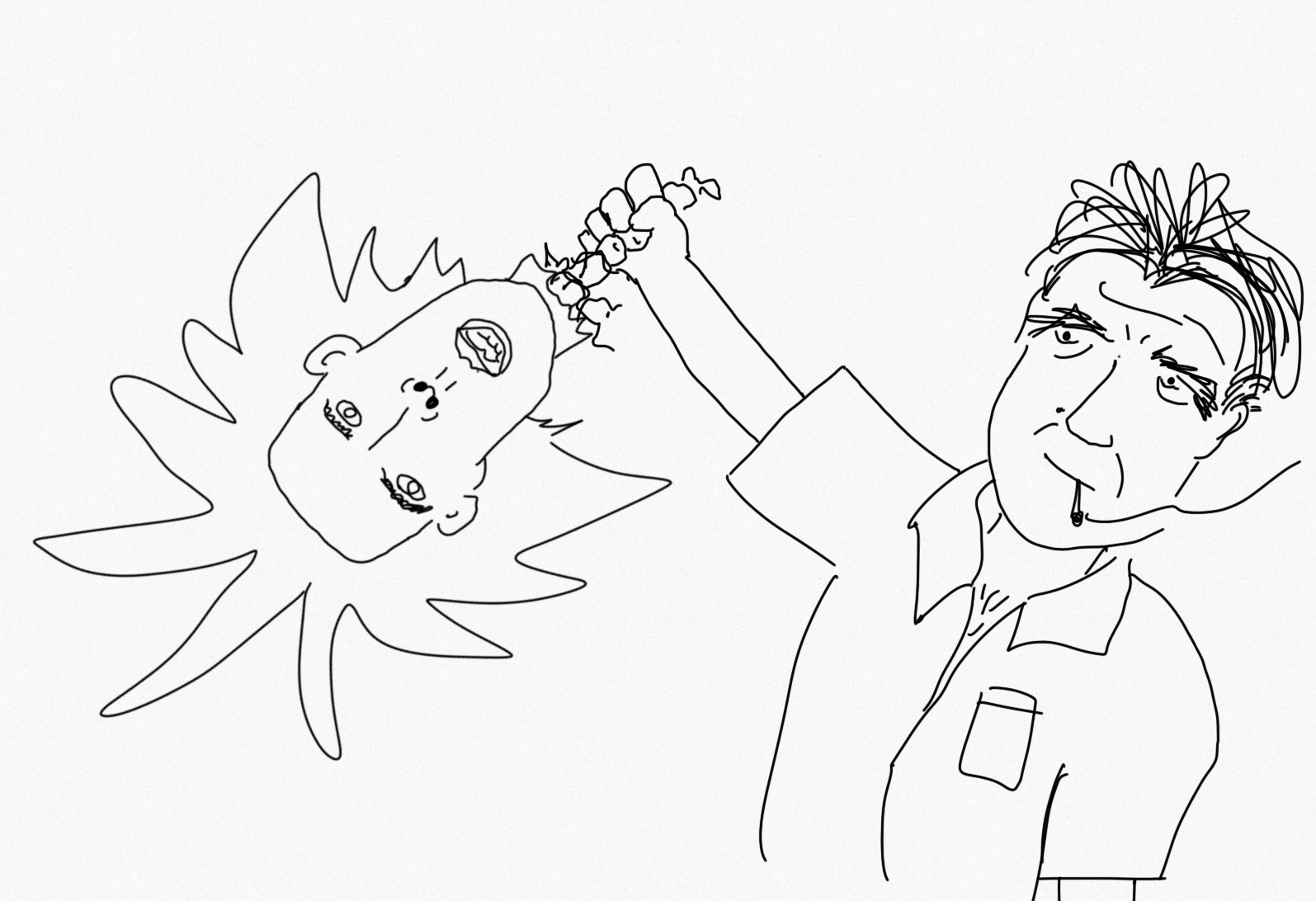 What are some of your favourite places in Newcastle?
… and what is it about them that you so love?
My mum's house is my favourite place in the world. When I'm there I feel unconditional love. Plus, she lets me keep all my old stuff there. My magazine and comic collections, old skateboards etc.
Other than that, I'd say the backstreets of Hamilton. I've never been able to put my finger on it, but I've always felt like it was where I was supposed to be. It's not "cool" or trendy. It's fairly suburban, but still close enough to everything that I need. The majority of houses are still old, they haven't been bulldozed to make way for McMansions.
What are the major differences you have found with Newcastle before and after the lightrail?
Where I work is right alongside the tracks. They're the most superfluous waste of money I've ever seen in my life. The entire lightrail system is about 7 blocks long and barely goes faster than walking speed. Other than novelty, there's no reason why an able bodied person would use it.
The main difference I've noticed is how dangerous it is for cyclists in Newcastle now. Not the tracks themselves, even though that's what people have been complaining about (if you can't see a tram track, you probably shouldn't be riding a bike), it's more that Hunter Street is so much narrower now and the drivers are too preoccupied with the trams to take notice of bikes.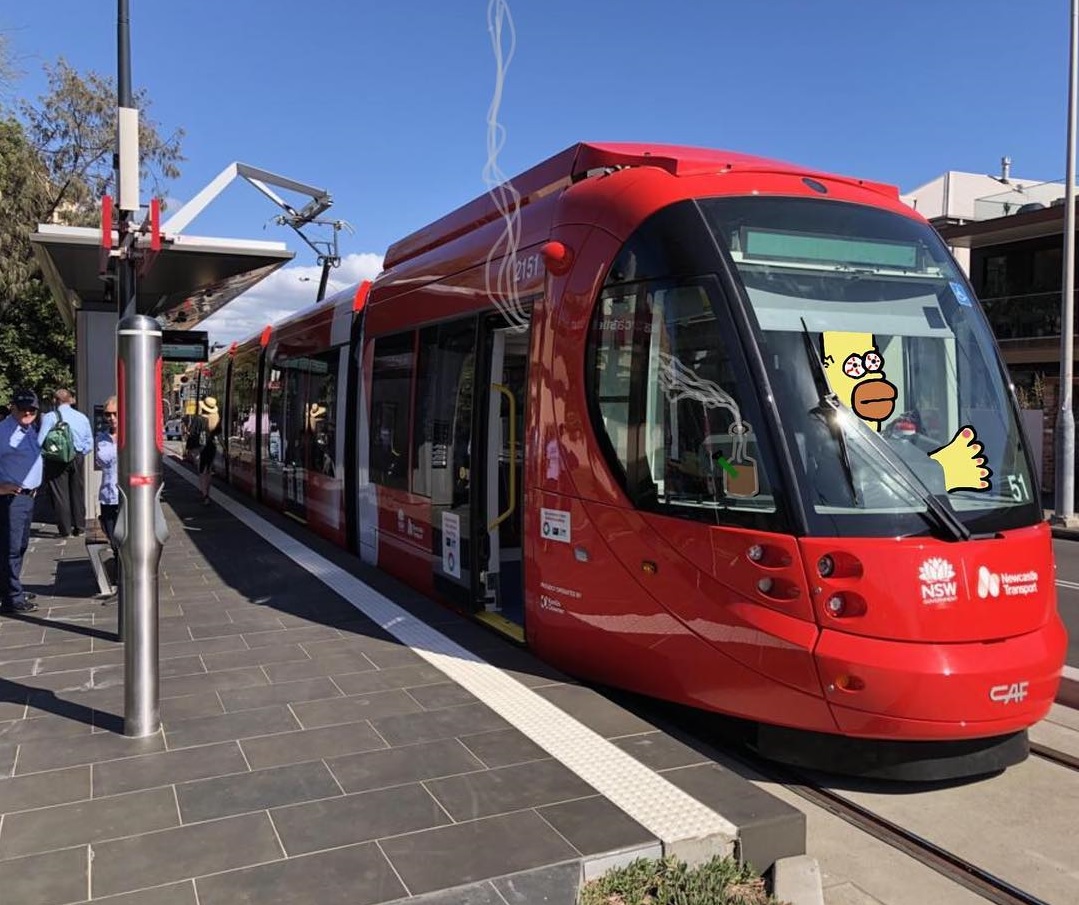 Odds and Ends
What role did toys play in your childhood?
Toys played a huge role in my childhood. Transformers, Masters of the Universe and Voltron were so formative to the way my imagination worked.
When I got into comics, I had a hand-me-down black costume Spider-Man from Marvel's 1985 Secret Wars toy line. It is still one of my most treasured possessions.
Prior to the invention of Tech Decks, I used the little red skateboard that came with the Kermit the Frog Happy Meal at McDonalds to live out my fantasy skateboard world (similar to a fantasy football league).
I have a team of imaginary professional skateboarders and different areas of my house are different skate spots. When Tech Decks came out, I changed from the Kermit board to a proper fingerboard.
I've had my fantasy skate universe for about 25 years.
Please describe your last dream in detail?
I have a recurring dream about this suburb that doesn't exist in Newcastle. It's where the Broadmeadow Racecourse is now, but instead of the racecourse ever existing, there's a fairly normal suburb.
The other night I skated some drains there that were amazing and I wish they were real. But usually it's something far less cool, like I'll be buying groceries from the corner store there or something.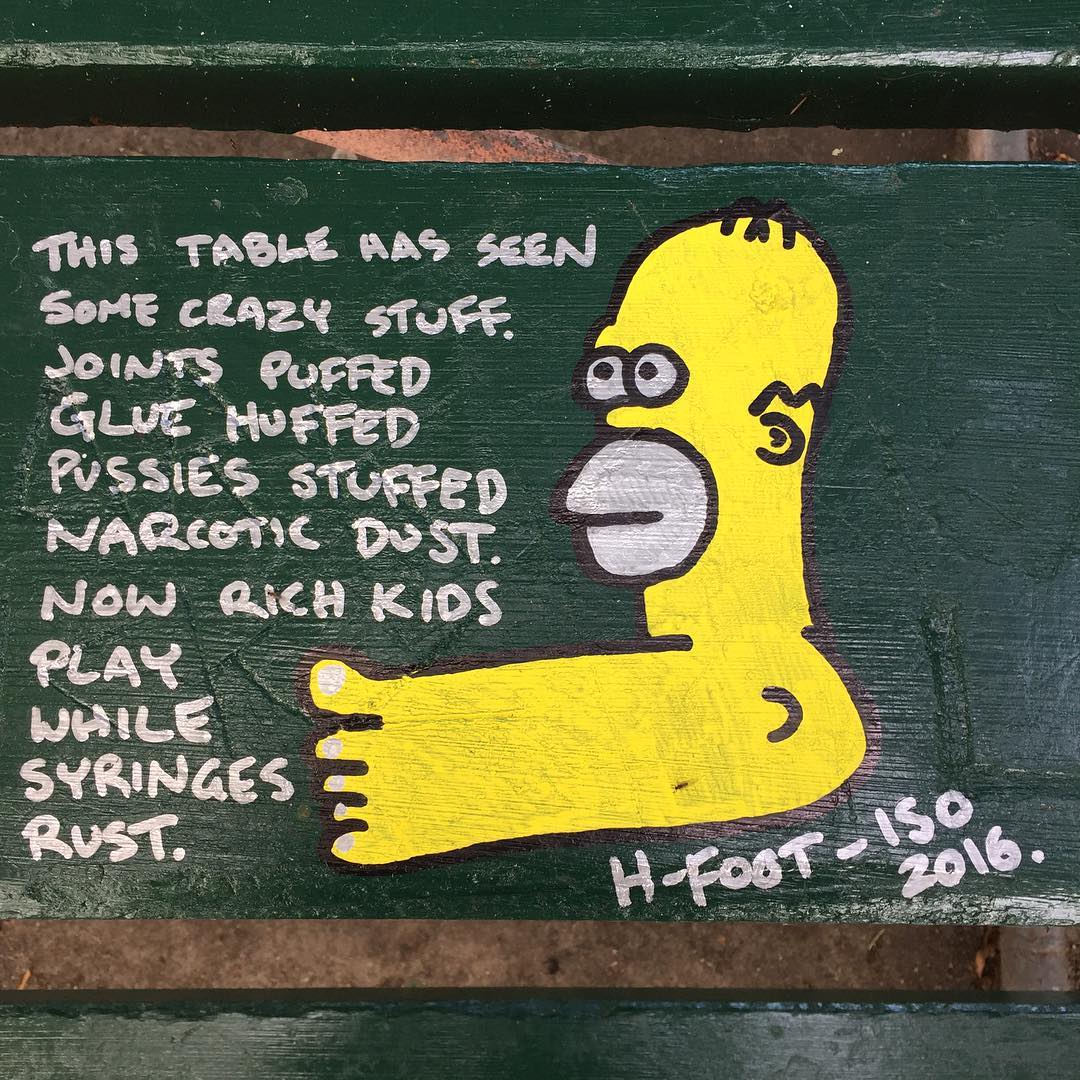 If you could live in any place, during any historical era – where and when would that be? …and why would you choose that time and place?
It would 100% be San Francisco during the early to mid-nineties.
It was the Mecca of modern street skating. The Embarcadero, Mike Carroll, Henry Sanchez, FTC, Thrasher and Slap magazines, it had everything.
The Bay Area Hip Hop scene of the nineties produced some of my favourite music too.
Who was your 1st crush and why?
This girl called Avril Giles when I was in year 5. We sat together in class and she was sweet, smart and funny.
Does sex change everything?
Not just sex, but becoming a sexual being as you mature from adolescence into adulthood. It can be all encompassing.
This is such a cliché, but sex is a very addictive drug. Once you try it, you'll need it regularly for the rest of your life or you'll go insane. So yes, absolutely, it changes everything.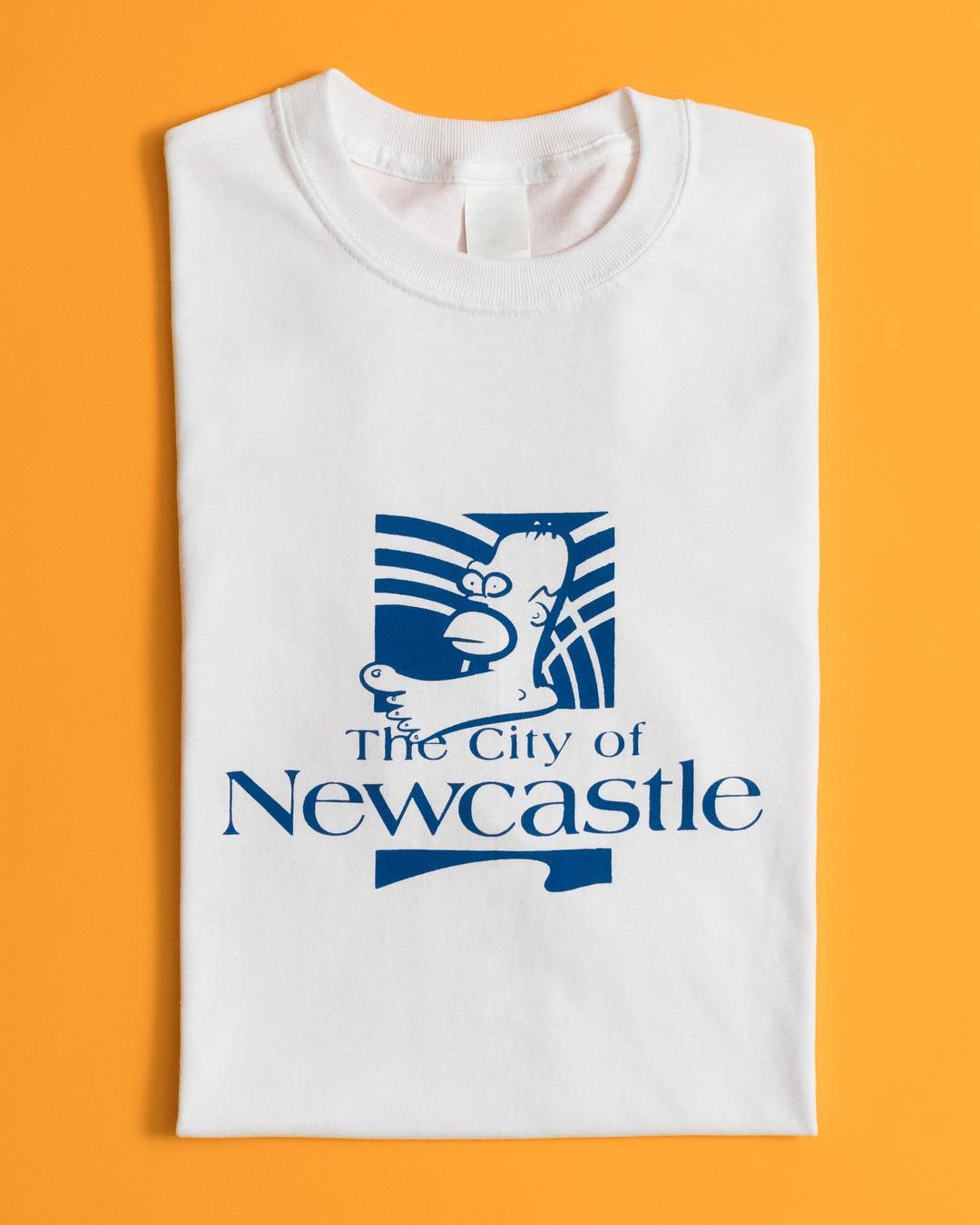 What are the top 3 items you own?
John Lucero "Street Thing" – My first proper skateboard.
Nude Woman Bottle Opener – I don't drink, but this belonged to my Nana and it's in some of my earliest memories sitting in her kitchen.
Inflatable Chest Incredible Hulk from 1979 (three years before I was born). I got this from a secondhand store with my Mum when I was really young.
It has been in every house I've lived in since.
Which cartoon character, would you most like to see in a tribute sex toy, and why?

Barney Rubble (from 'The Flintstones' cartoon) Butt Plug.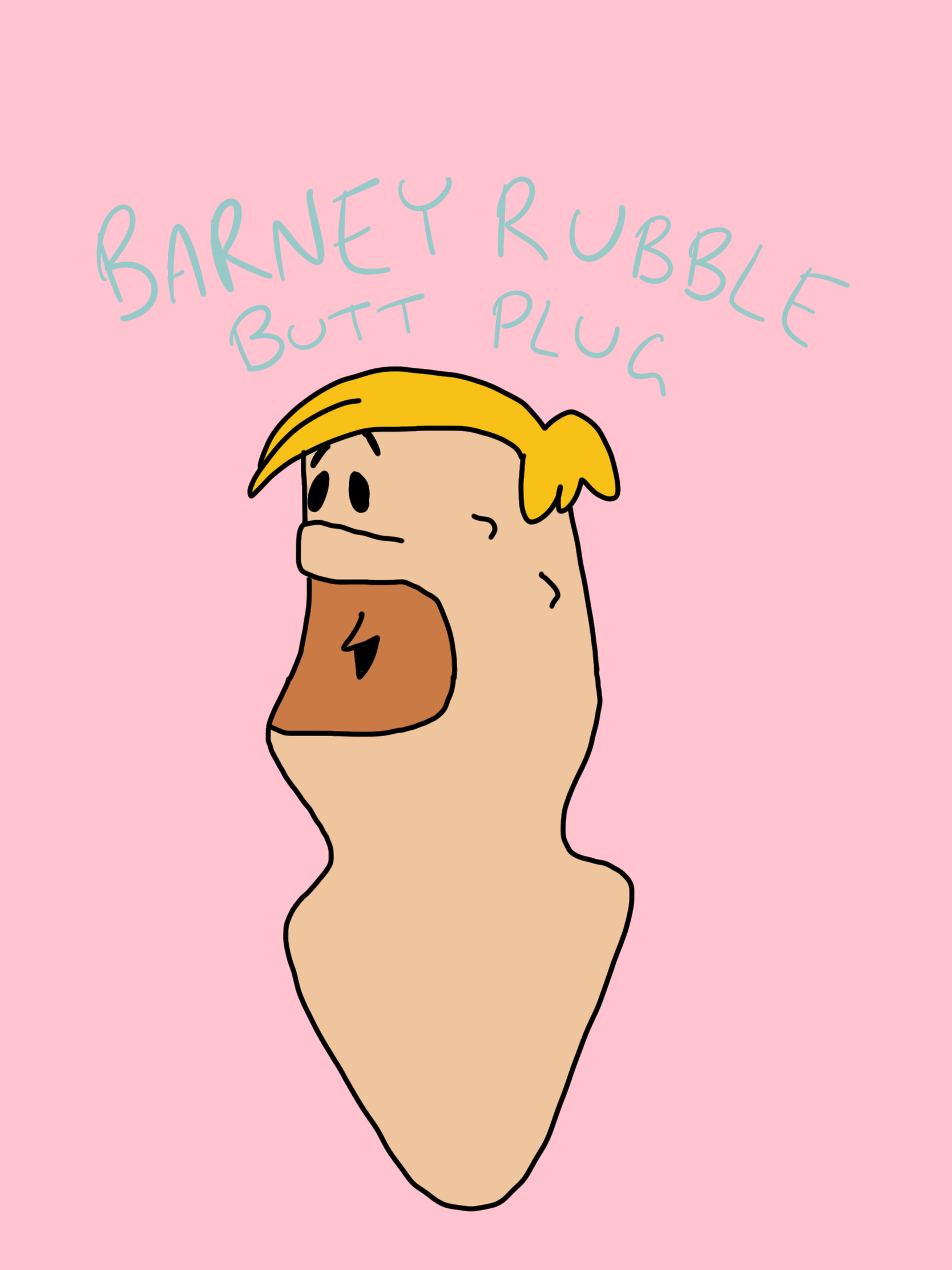 Drugs – waste of time or gateway to the universe?
I've had some amazing experiences taking drugs, but they're not for everyone. Some people have predispositions to mental illnesses that can be triggered or exacerbated by drug use. I've experienced that as well and it's fucking horrible.
I like getting stoned from time to time, but I don't want anything ruling my life.
The one thing that annoys me is that people pretend there's this symbiotic relationship between drugs and creativity.
That's fucking nonsense.
Believing that you need to be stoned or drunk to channel some kind of "trippy" creative vibe most likely means you were never that creative in the first place.
Of everything you have done what would you most like to be remembered for and why?
Being a good son and brother. That's the most important.
Creatively, hopefully the novel I'm working on right now.
I hope to put H-Foot up around Newcastle until I die. Someone could pick up where I left off. It could span multi generations. I'd like there to be a little blurb about H-Foot in a Newcastle history book one day.
That would be rad.
Links