Released By = Wendy Olsen.
Figure Name = Flesh Child with Mouth.
Edition Size = One off.
Material = Polymer Clay.
Country of Production = Hand Made in Australia by Wendy Olsen.
Height = 17.5cm (base to top of head).
Depth = 7.5cm (front to back of base).
Width = 7cm (side to side of base).
No of Parts = 1.
No of Extras = 0.
Character Debut = Wendy has been producing similar Flesh Children since May 2019.
Release Price = AU$160 —
Genre = Designer Toy.
Read the full review and pics after the jump…
Back Info
We purchased Flesh Child with Mouth at the Sydney leg of the recent This is Not a Toy Scene series of events and art shows that were held across Australia in 2019 – and are set to continue in 2020 and perhaps further we are told!
It is hand made by Australian artist Wendy Olsen, who is a relative newcomer to the toy scene after working for years in other artistic mediums such as illustration.
At the moment Wendy only produces one-off pieces. The vast majority of which are made out of polymer clay, finished with hand painted details, and include the use of prosthetic / fake teeth for mouths and marbles for eyes.
Wendy usually releases her works for sale in groupings of her original characters – such as Flesh Children, Waddlers, Minions, Flesh Balls and Rats.
Aside from her monsters, Wendy also releases customised spoons and crockery.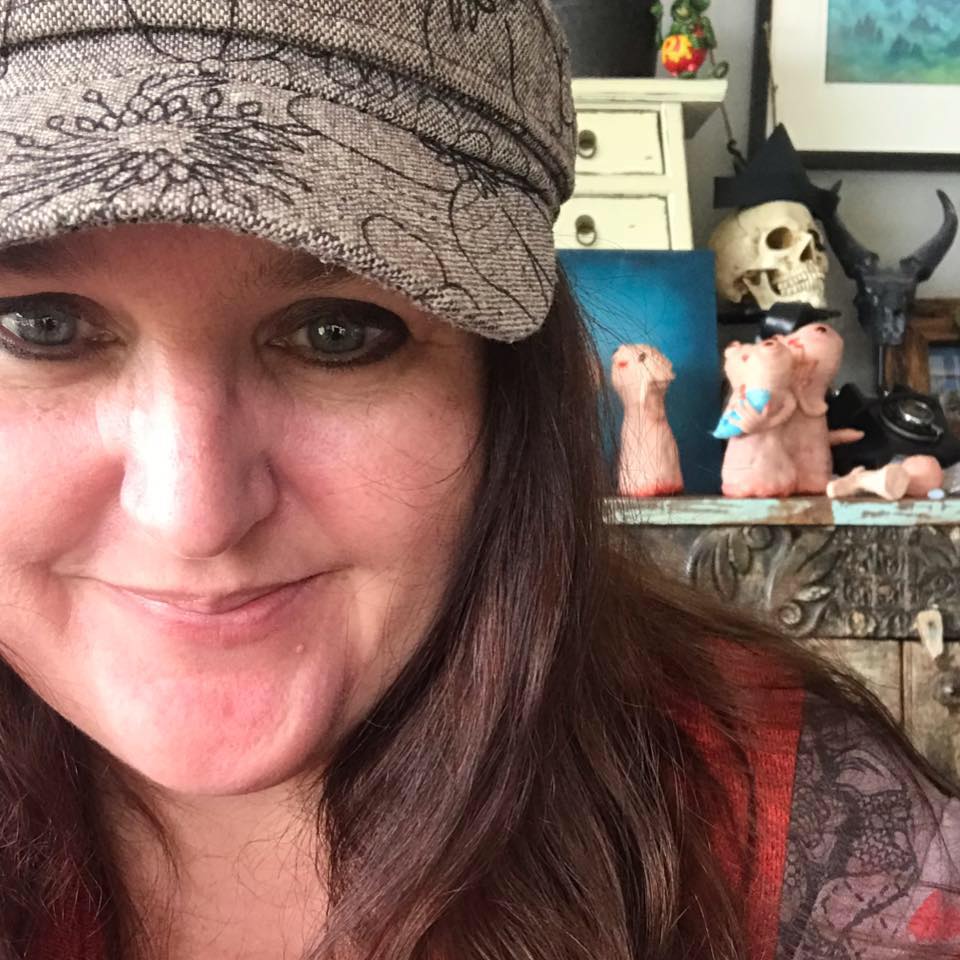 The Sculpt
During one of your many subterranean adventures in the cities' drains, you turn a corner when something strange and otherworldly appears before you in the soft light.
It stands in silence, motionless. Dark marble-like eyes glistening.
Slowly, as your eyes acclimatise more to the scene, you make out the creature in greater detail: a tall phallic body, with a child-like head emerging from folds on the end of its neck.
It stands upright on a slimy, fleshy stump. Its skin covered in various pocks and holes.
Looking down you gaze in horror as you take in the creature's belly, made up of a large, human-like mouth. That, thankfully, is closed.
You are scared.
You are captivated.
And most of all – you can't believe what you are seeing!
Suddenly, without warning, the creature's hands pull apart the lips of its stomach-mouth, revealing glistening teeth and two slimy, slurping tongues.
"Will you play with us?" It asks in a croaky, soft, childlike voice…
——————————————————————————————————————–
Painted to give the appearance of flesh and intricately sculpted, Flesh Child with Mouth is a phallic looking flesh-monster with no legs, two hands, a child-like face, and a large gaping mouth with two tongues emerging from its torso.
It is a thing of Lovecraftian horror.
It is also cute as all hell.
Artistically Flesh Child with Mouth is reminiscent of the No-Face beings from the 2001 Hayao Miyazaki film Spirited Away, the creatures in many 1980s schlock horror films, and the fine art of fellow Australian sculptors Ron Mueck and Patricia Piccinini.
It also would fit perfectly into the crazed sci fi world of Rick and Morty.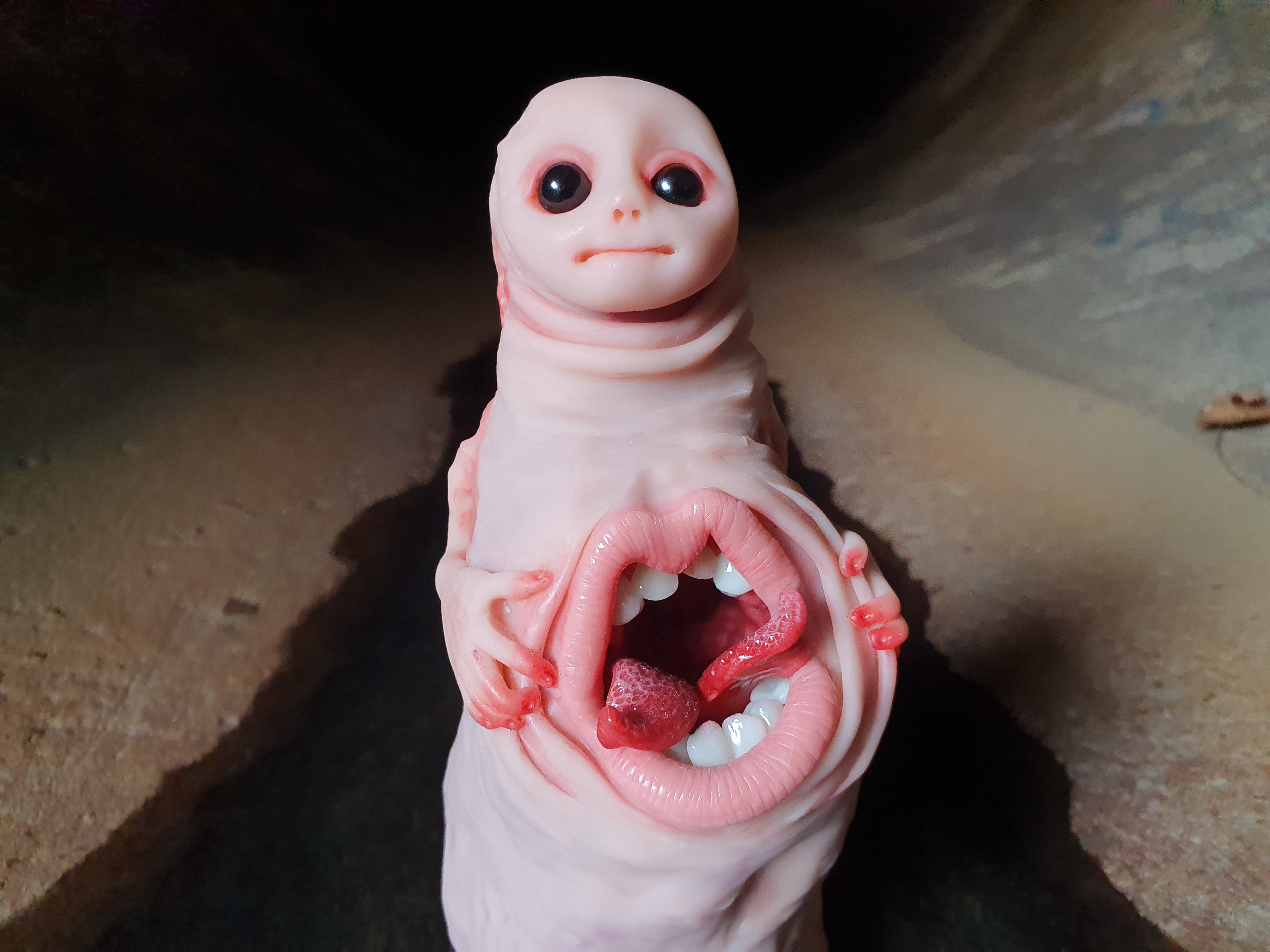 The Material
Flesh Child with Mouth is sculpted by hand out of Polymer Clay and includes prosthetic / fake teeth for its mouth and marbles for eyes.
It is our first polymer clay toy purchase – a soft, workable clay like plastic material consisting of the polymer PVC aka polyvinyl chloride. A material often used to make jewellery and fine art, as well as being used in the designer toy world.
It can be moulded by hand and then baked to transform it into a hard and solid finished form.
We are not sure if the polymer clay used to make Flesh Child with Mouth was flesh coloured to begin with, or if Wendy coloured it herself.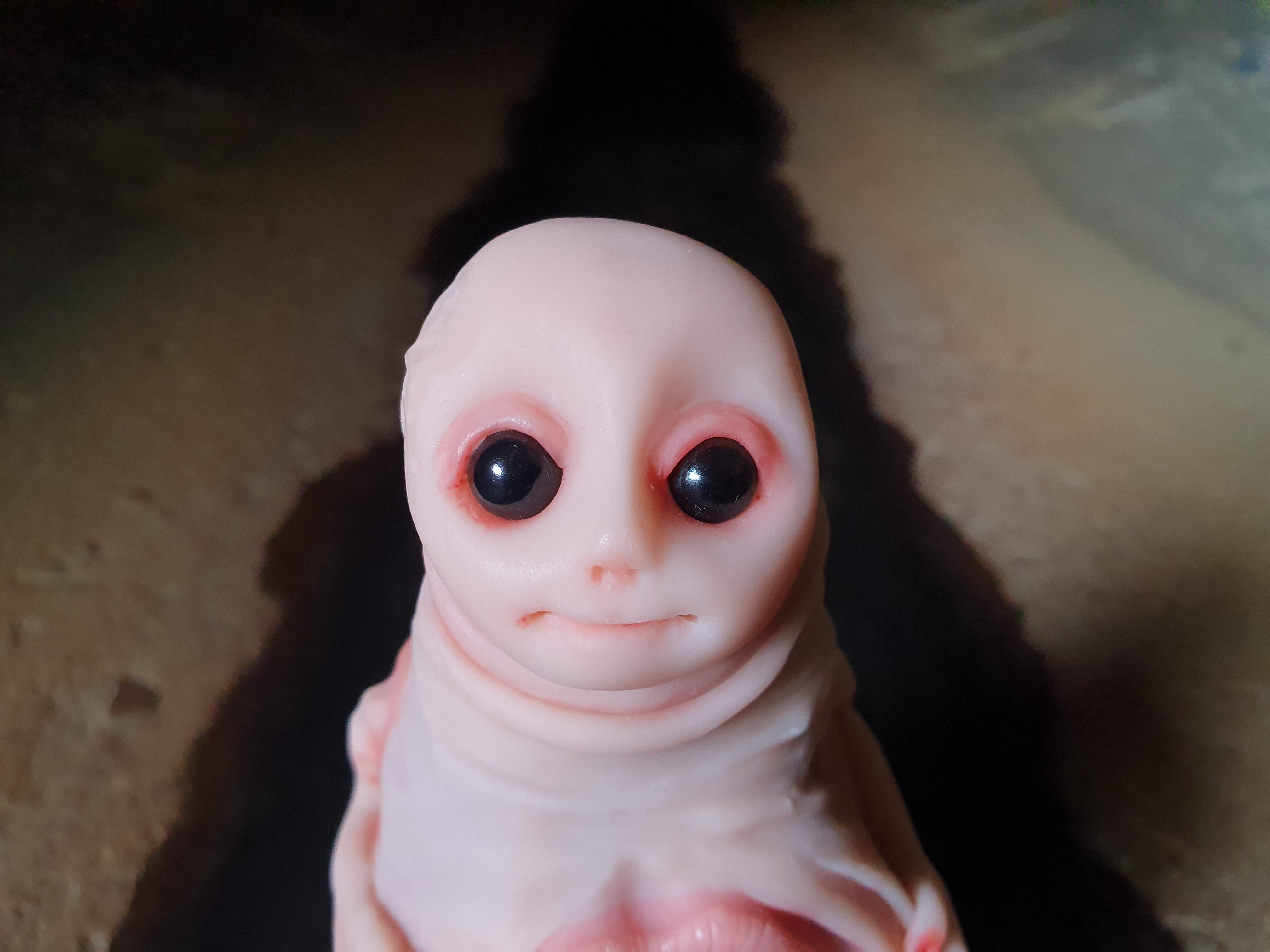 The Smell
A soft smell similar to Japanese Sofubi – both chemical and organic. Only with a gentle sweetness all its own.
It's a lovely aroma and we can't wait to take a good whiff of more polymer clay works in the future!
The Custom Work
The figure is painted with a simple perfection – using shades of red and pink to highlight various parts of the sculpt. An effect that creates an organic and fleshy look.
The addition of teeth adds an eerie sense of reality and humanity to an otherwise alien creature.
The marble eyes creating a void-like, reflective effect that you lose yourself in.
It is beautiful custom work that really makes Flesh Child with Mouth come alive whilst also displaying Wendy's skill, technique and sense of craftmanship.
(And it is all lovingly topped off with Wendy's "WO" makers-mark stamped on the base.)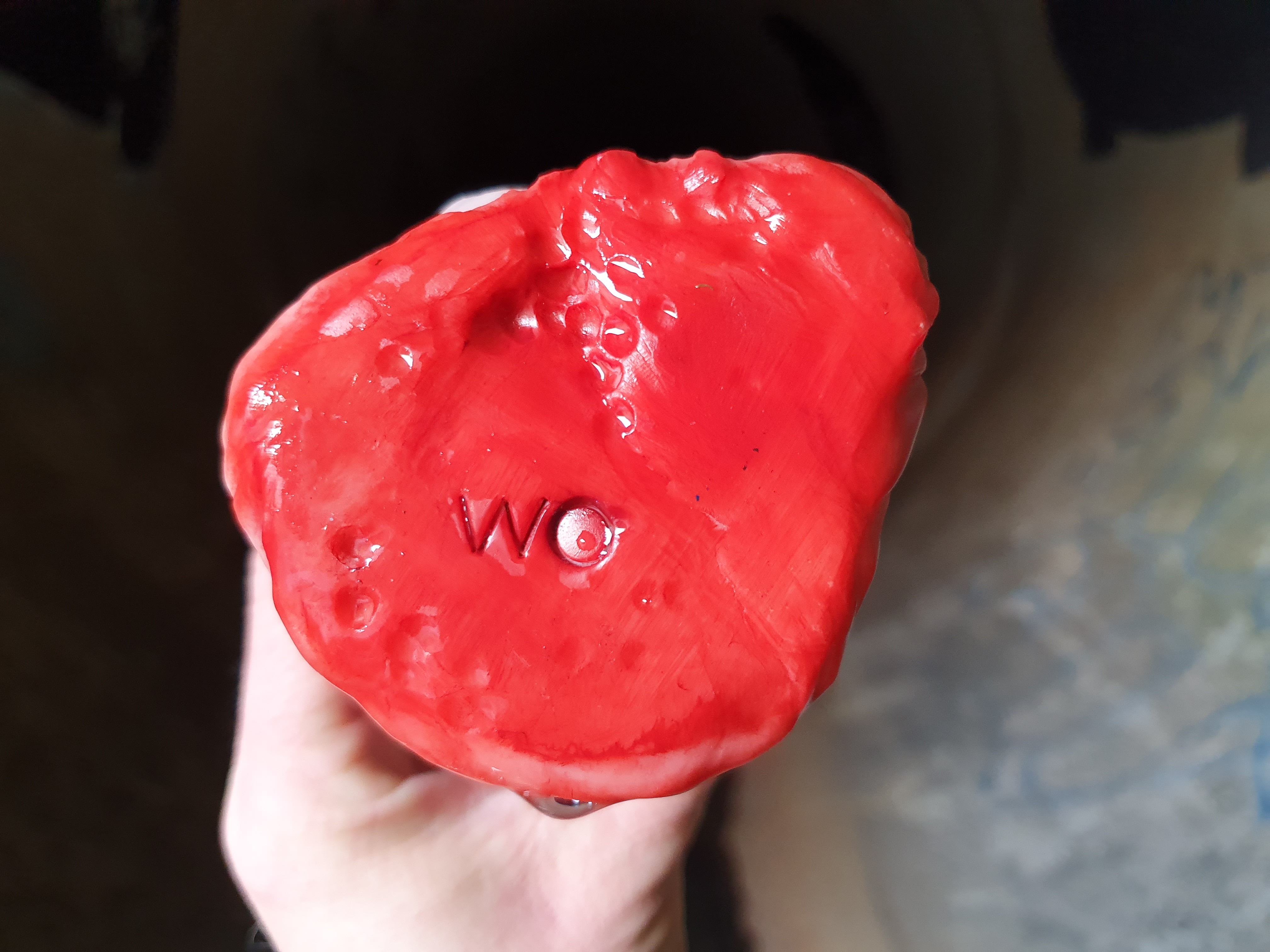 Playability
* Can it Stand = Yes
* Can it Sit = No
* Can it Be Placed Level on a Flat Surface = Yes
* Is it Easily Breakable = Sort of – it is a durable figure that respects the medium it is made out of, with no easily damageable parts. But being made out of polymer clay, it would most likely break if thrown at, or dropped on, a hard surface.
* Accessories = None.
* Size = Larger than pocket sized, yet still small enough to be carried on adventures.
Like many of the designer toys we have been reviewing lately – due to its lack of articulation, durability and size Flesh Child with Mouth is just as much a statue, as it is a toy.
The Packaging
None.
When we purchased Flesh Child with Mouth at the Sydney This is Not a Toy Scene show we were handed some bags to wrap and take it home in – DIY art show style.
Flaw(s)?
Aside from a tiny imperfection in the figure – a small, less than 1cm-square hole on the front of the base, were some polymer clay is missing – the figure is perfect.
A testament to Wendy's craftsmanship and quality control.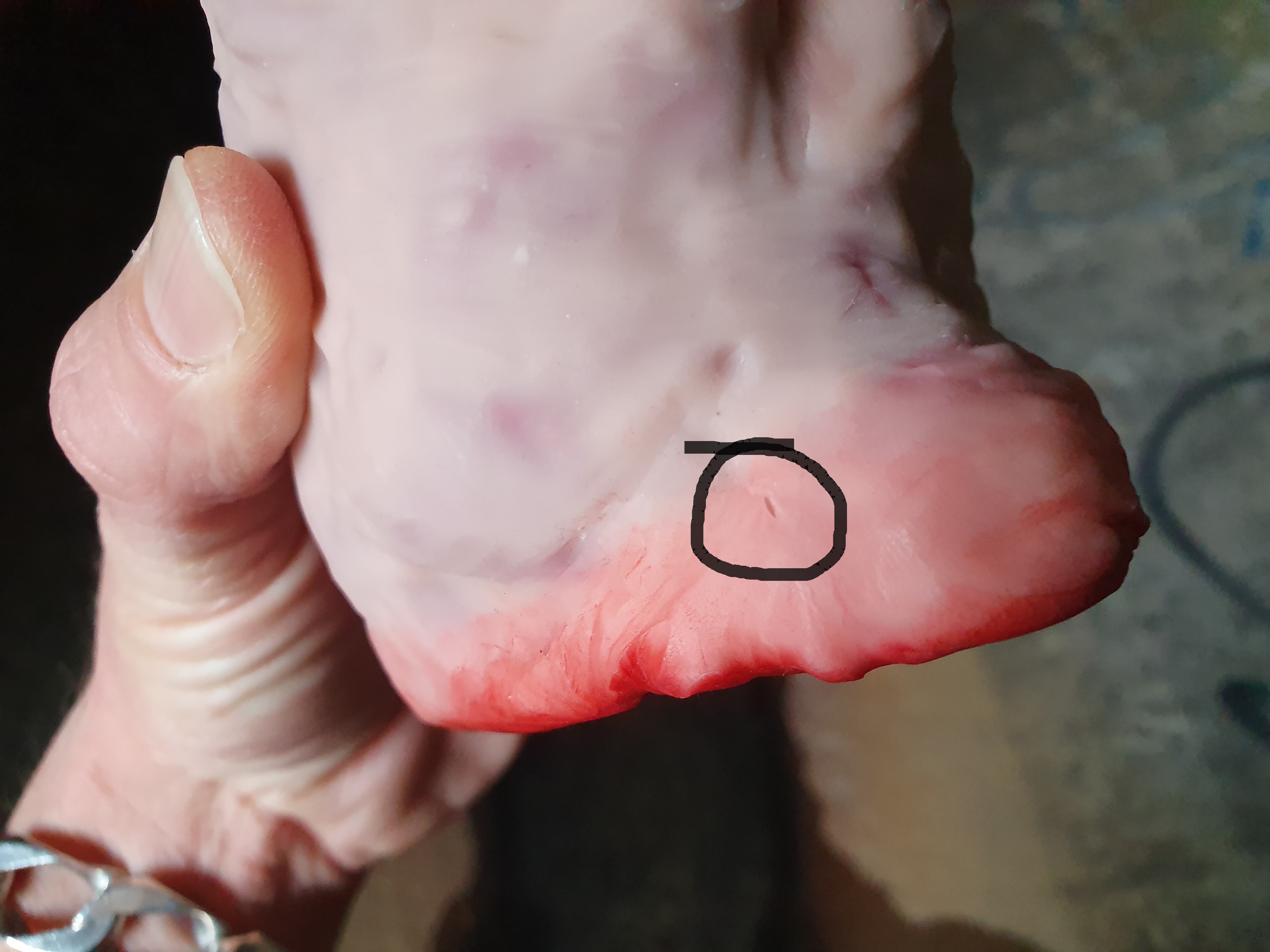 Summery
Flesh Child with Mouth is an amazing creation: fine art technicality meeting toy world fun. It's creepy, cute and possesses that X-factor of seeming to come alive the more you stare at it.
It's easily one of the best figures we have ever seen.
It also respects its medium in a way that increases its playability and durability – factors of utmost importance when it comes to hand made art toys.
Wendy Olsen – you have a major fan in The Aither and we can't wait to see what you come up with next!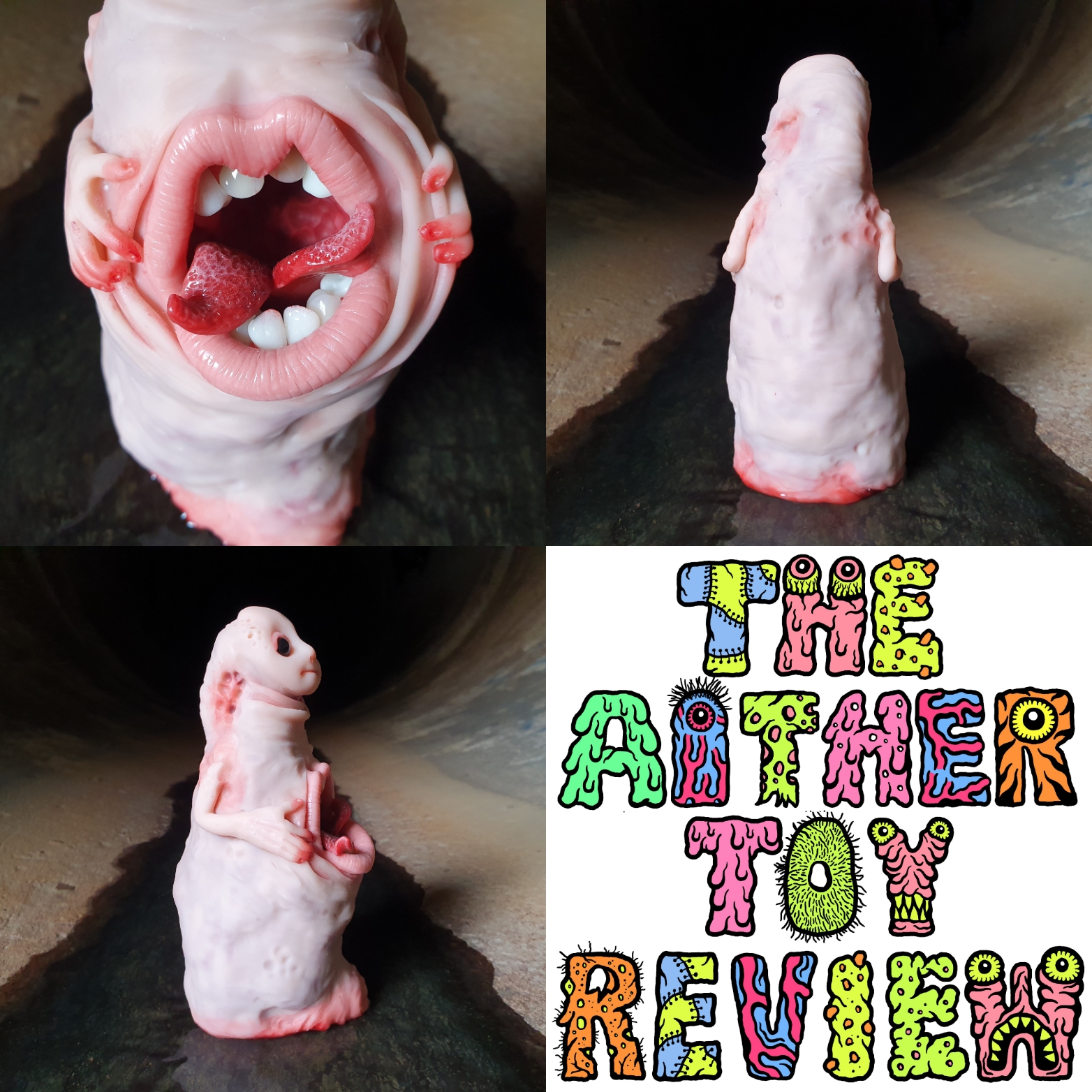 Links