Released By = Neil Ewing (America).
Figure Name = Couch the Sofubi Sofa.
Edition Size = One-off.
Material = Made in Japan soft vinyl (aka Sofubi)
Country of Production = Japan.
Height = 8.5 cm (back to feet).
Depth = 5 cm (front to rear).
Width = 9.5 cm (side to side).
No of Parts = 2 (top half and bottom half of the couch).
No of Extras = 0
Released = November 2018.
Sculpt Debut = June 2018.
Release Price = $50 US (Neil told us that blanks are $40 US).
Genre = Sofubi Art Toy.
Read the full review and pics after the jump…
Back Info
Neil Ewing is an American artist, designer and musician who got started in the toy game back in 2016.
Originally working in resin, Couch the Sofubi Sofa is his debut soft vinyl figure. It is designed by Neil in the USA, and manufactured in Japan.
Couch the Sofubi Sofa is currently being offered by Neil in painted, or blank versions.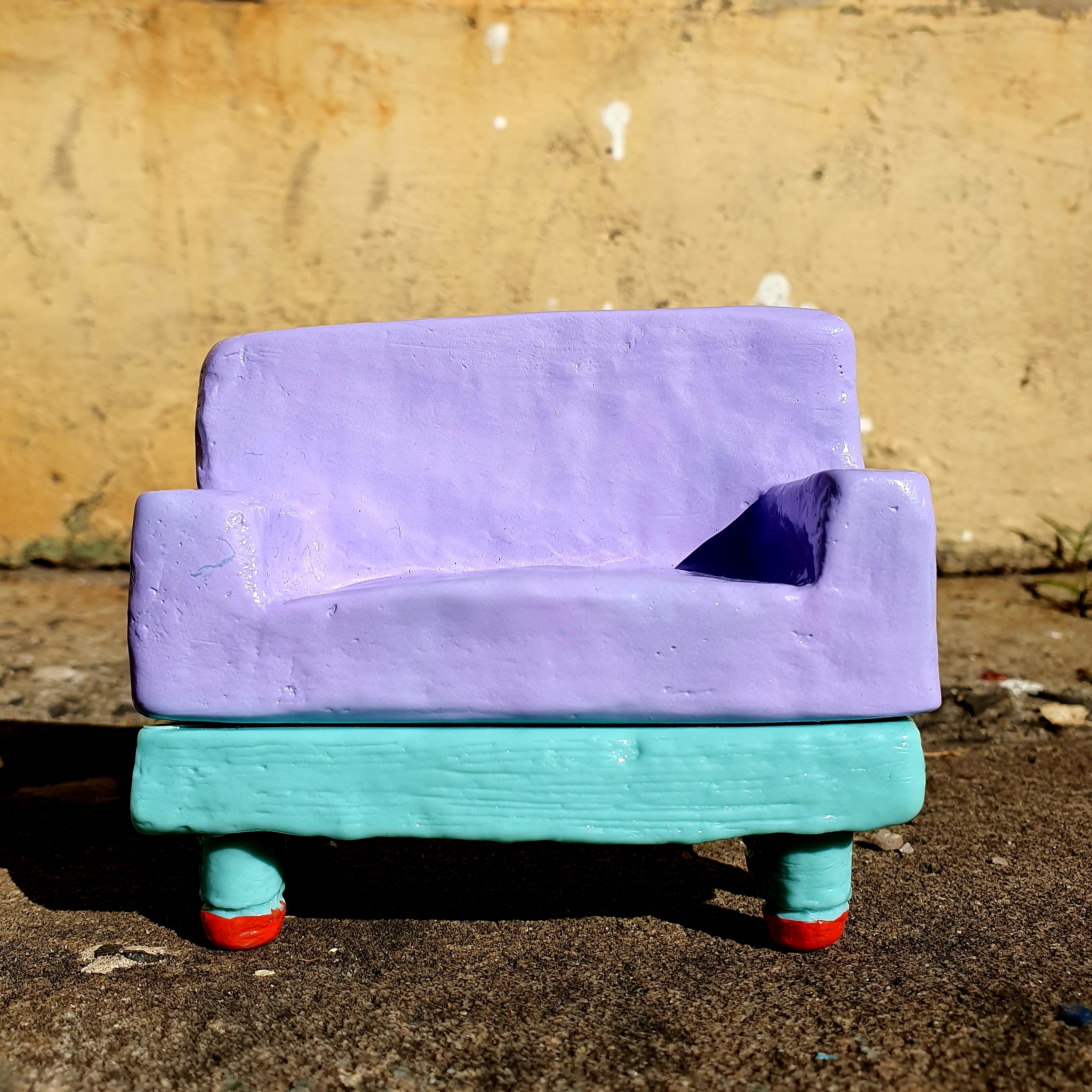 The Sculpt
It's a couch.
A classic, timeless, two-person couch.
And just like all real couches it is made up of top cushions, a bottom support and four legs.
Sculpt wise Couch the Sofubi Sofa includes simple and slightly misshapen surfaces up top to mimic the cushions of a worn, well-loved couch. Parallel lines on the base support giving the effect of wood. As well as caps on the couch's four legs giving the effect of feet topped with scratch-guards.
Importantly, the workings of human hands and tools on the raw sculpting material are visible in the couch's transition from clay sculpt to plastic toy – grooves, pocks, bumps, dents and all. Highlighting and juxtaposing the couch's human and machine-made aspects.
In this regard, sculpt wise Couch the Sofubi Sofa is an object of simple imperfect beauty – Zenlike, meditative, and even spiritual.
The Material
Light blue ('Mizu Colored') made in Japan soft vinyl aka sofubi.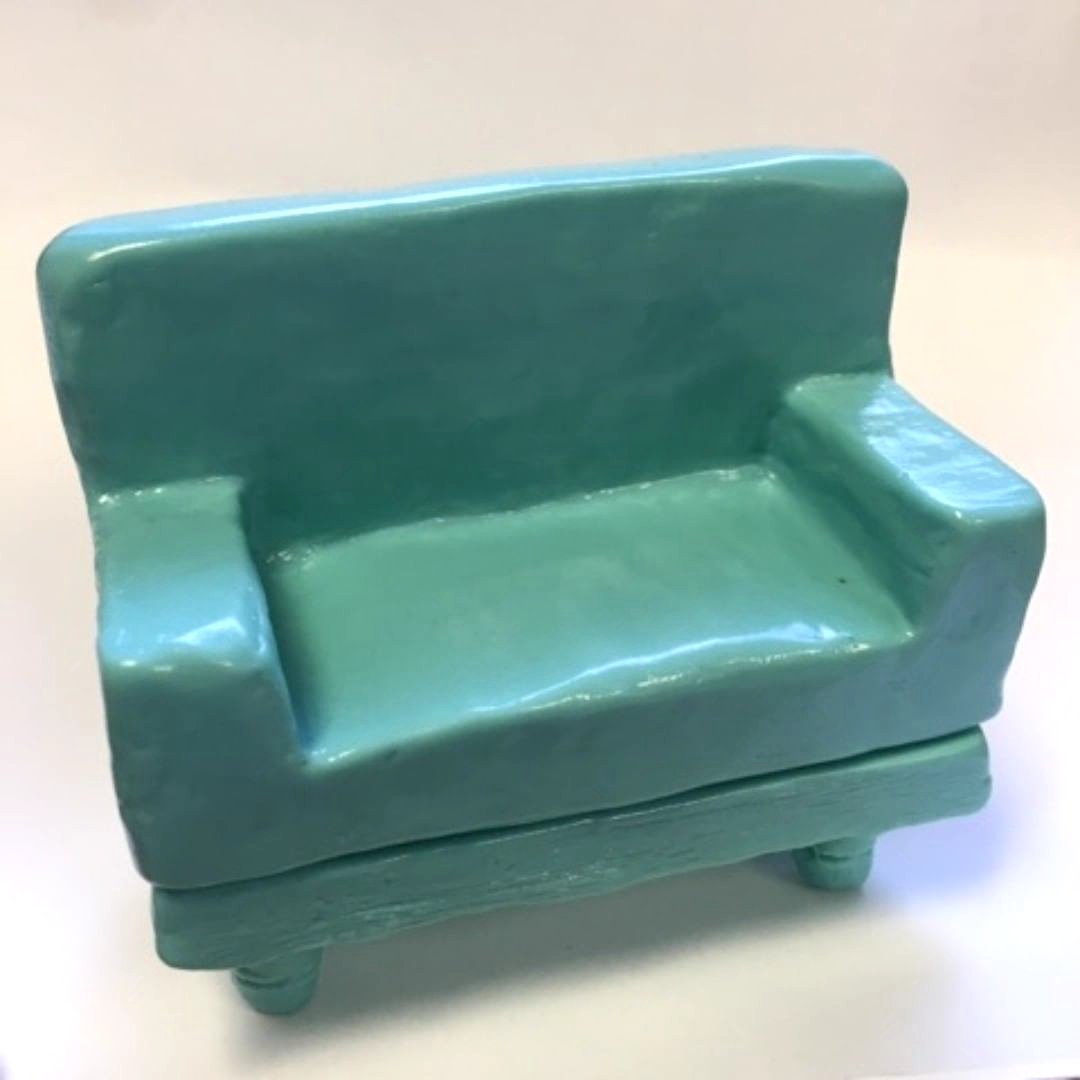 The Smell
That classic "why the hell haven't they made candles, incense, perfume and alla that of it yet" Japanese soft vinyl smell: organic, slightly sweet and with a hint of chemicals.
We can't get enough of it!
The Custom Work
Our one off is painted light purple up top (the cushion areas), left unpainted for the bottom (the structural areas), and touched off with red for the feet.
Simple, colourful and very pop.
Importantly – when viewed overall as a designer toy – with its many flat surfaces ready to be painted and customised, Couch the Sofubi Sofa is also a perfect platform toy.
We love our painted version from Ewing and can't wait to see the many future one offs and multi-figure runs as well!
(Editor: If you're reading this Neil – hurry up and organise a Couch the Sofubi Sofa multi-artist custom show stat!)
Playability
* Can it Stand = No
* Can it Sit = No

* Can it Be Placed Level on A Flat Surface = Yes
* Is it Easily Breakable = No – Just like your Grandma's couch, Couch the Sofubi Sofa can take a beating and come back screaming for more.
* Accessories = None
Put toys on it.

Use it as a stash jar.
Place it on your desk and gaze at its beauty and perfection for ever and ever.
The possibilities are endless.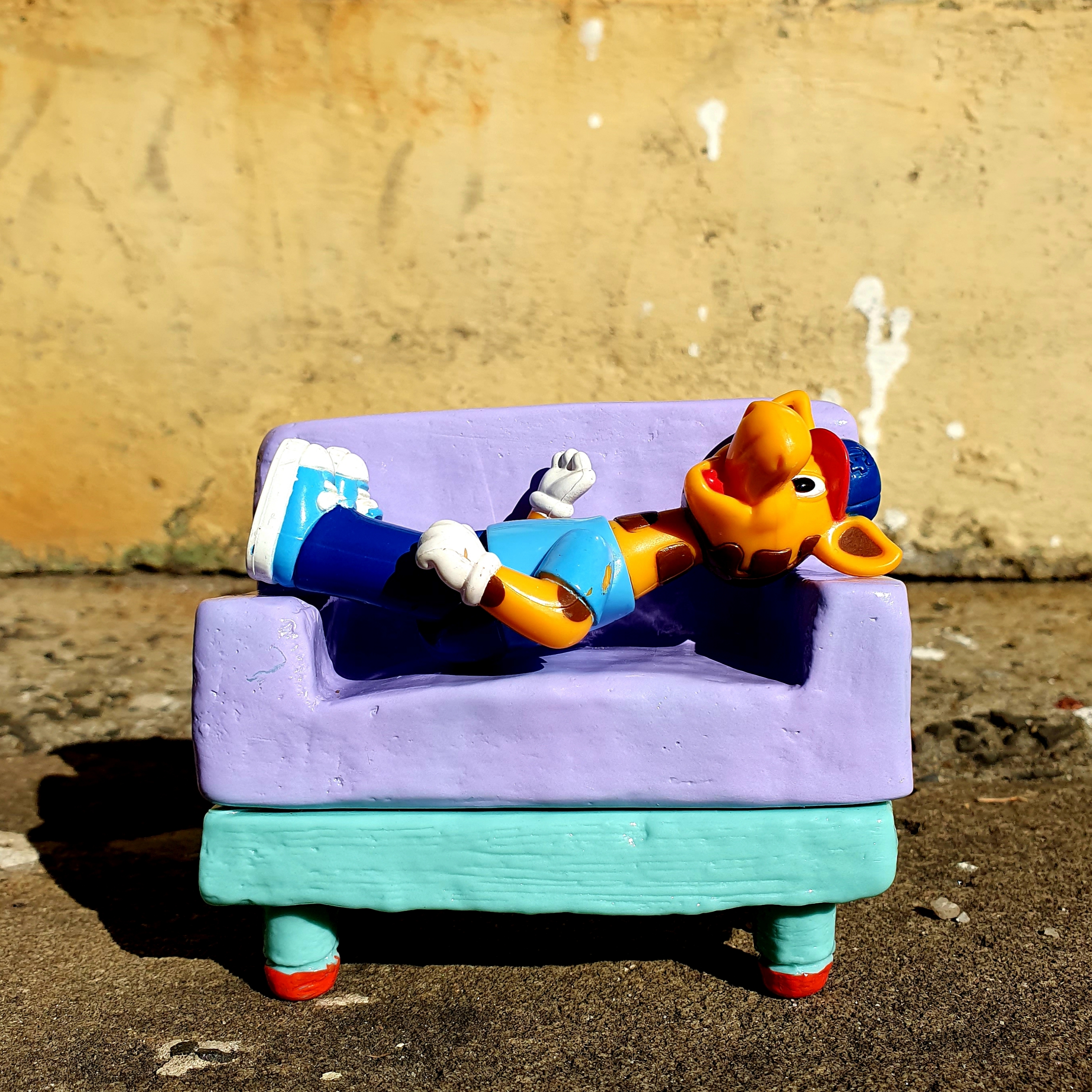 The Packaging
Our one-off Couch the Sofubi Sofa was delivered as you would expect any new couch (or recent murder victim) to come packaged – wrapped in plastic.
In our case a standard plastic bag. No box. No header. Nothing. Simply a toy ready to be played with. Highlighting the fact that what matters when it comes to designer toys is the object itself. Not the packaging. Not any extras. But the very toy itself.
We wish more designer toy makers would follow Neil's lead in this regard!
Flaw(s)?
None.
Well… Unless you really hate couches for some reason.
Summery
Couch the Sofubi Sofa is one of those things in life that seems stupid at first glance, but is in fact pure genius.
Like most great art we hated it when we first saw it, but over days and weeks we just couldn't get it out of our head, with our initial hate eventually turning into infatuation, and even love.
Indeed, it is the very novelty of Couch the Sofubi Sofa that helps to set it apart from the designer toy scene. Novelty that we originally hated and rejected, but now admire…
In a designer toy scene increasingly saturated with intricately detailed, evil looking, over hyped, super expensive, and ultimately boring monster figures; Neil has released a couch.
A god damn couch.
Neil has turned a seemingly benign, every day object – a couch – into a very playable and fun toy, into a work of art, into something magical: A simple. Beautiful object. Made by human hands. That exists as a reminder of the beauty, joy and fun that can be found in everyday objects, as well as toys specifically and all art generally.
It's a moment akin to when the nascent punk scene blew the existing musical landscape of overblown progressive and arena rock out of the water back in the late 1970's.
It's akin to when Duchamp submitted an everyday male urinal as a readymade sculpture (which Duchamp called 'Fountain') at the Grand Central Palace in New York back in 1917 – scandalising the exhibition of the Society of Independent Artists of which it was a part.
It's akin to the coming of Jesus.
Indeed – through its release, Neil has killed the current designer toy scene and can, in our opinion at least, die soundly with the knowledge that he has created one of, if not the defining statement of the designer toy scene in 2019.
And we will never look at any couch the same way again.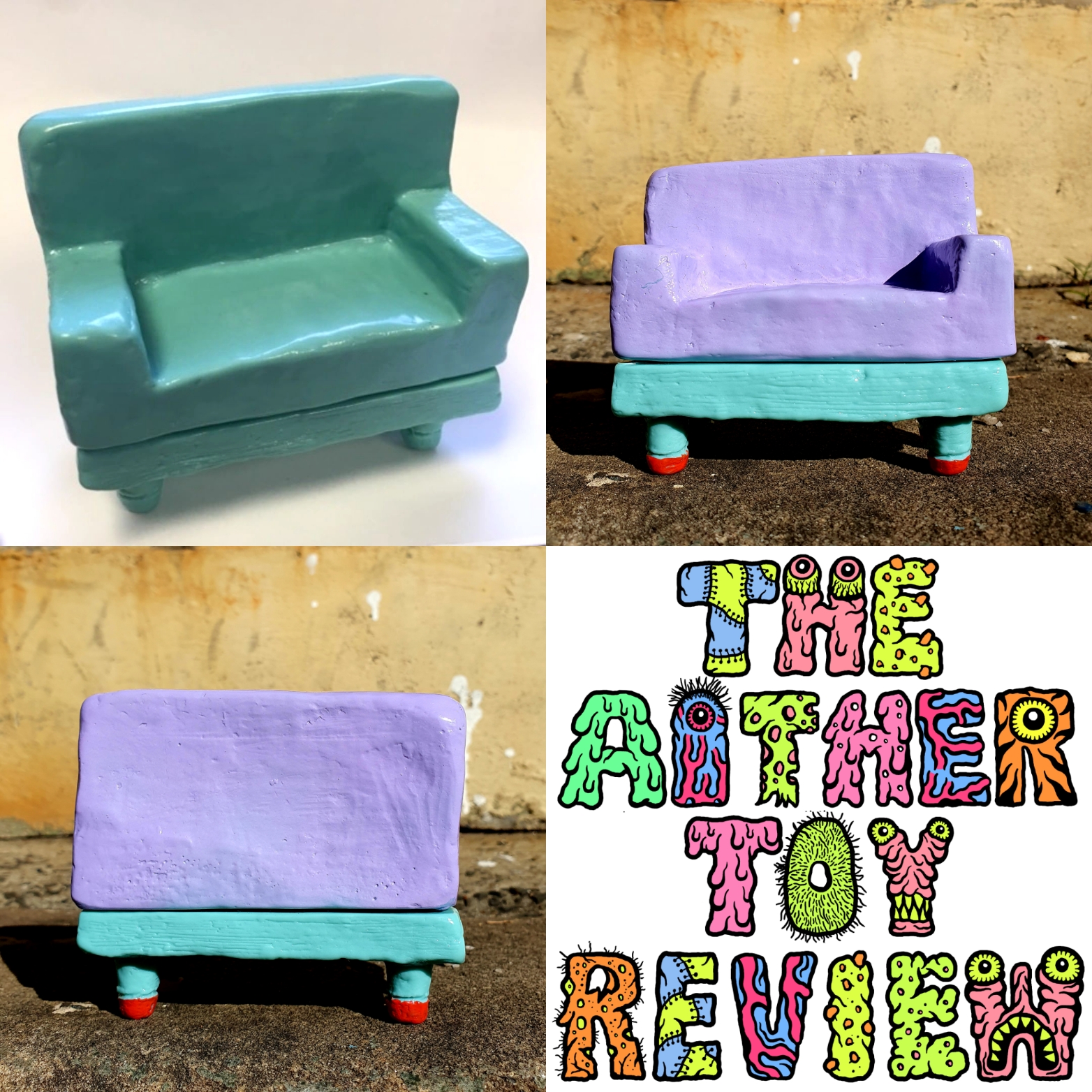 Links