Born in 1968, Michael Fallson, a.k.a. MichaELF is an Australian artist and musician in charge of the band Beastianity. Transgressive, visceral, and primal in both mediums, he has for decades manifested a uniquely Australian oeuvre.
Beastianity can be seen to touch bases on many musical styles: Neofolk, Psychedelic Rock, Industrial, Tribal, etc. – But as with the best of bands, one cannot say their output is too much like any other's and it must be heard to be understood.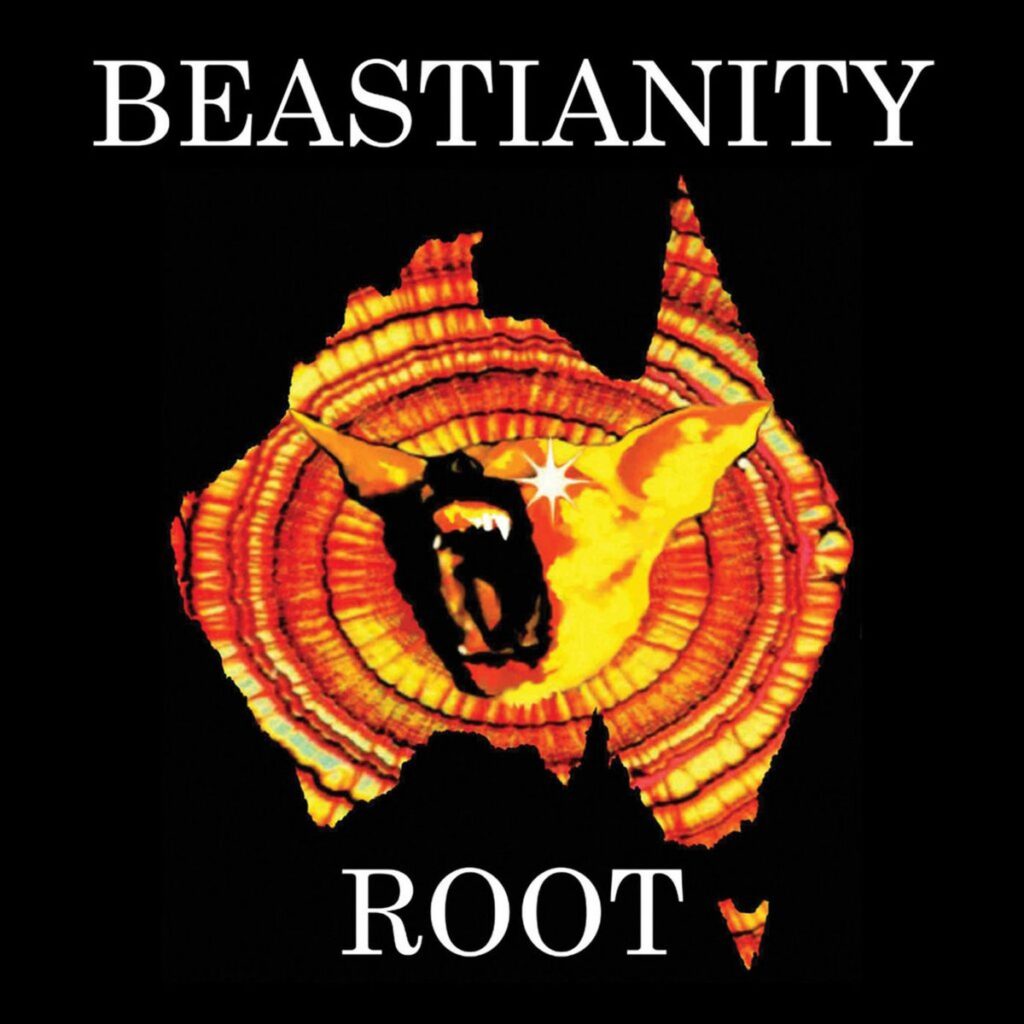 I have been friends with MichaELF for over a decade now – exchanging mail both electronic and tangible between Texas and the Antipodes – and I was pleased as punch that he agreed to participate in this interview.
Step, dear readers, into the wilds with us!
We have been in communication for a number of years now and I want to thank you for taking the time to participate in this interview, which I hope will introduce even more people to your unique creative endeavors.
I've always felt there to be a curious kinship between the cultures of Australia and Texas. I remember being quite pleased when Dais Records reissued your first Beastianity album, Root, back in 2007 CE, as we found ourselves to be label mates – Dais having released our first Awen album…
When did you start making music?
Was Beastianity your first band?
Could you provide the readers with a timeline for Beastianity?
Yes, we have been friends and collaborators for a long time now and I am grateful our merry meeting has become a kinship.
Erin, during this time, you have always been a quiet force inspiring me to keep pushing our music out into the world. I feel we were very fortunate to have Root released on Dais by Gibby and Ryan when we did.
I think that Texan and Australian rural culture in particular are very similar. Our love of land and outdoors and the pioneering spirit along with a healthy distrust of any authority.
It's in our DNA.
Many Australians value hard work and understand the responsibility of freedom, much like I imagine most Texans would do. Melinda's father is a kind of an Australian version of J.R. Ewing.
He loves Texas.
[Editor: Melinda Fallson aka MelF is Michael's wife and oft collaborator]
Farmers, agricultural engineers (bush mechanics) and some townies tend to be raised around guns, trucks, church picnics, barn dances (booze ups) and plenty of animals both wild and domestic. Big BBQ just makes sense although you Texans have taken the ritual to its logical limits however.
We can only marvel and dream of the day we get to try it for ourselves.
Around the age of nine my parents bought me a Spanish nylon string guitar and that was that. I commenced the strumming. I still have that guitar.
My first decent guitar didn't come along until I was in my thirties. It was around then that I discovered some of my family had achieved some level of fame and were respected jazz musicians in Sydney. That helped me put a lot of personal questions of my taste in music into perspective.
[Editor: With Michael's extended family including people such as noted Jazz musician Ron Falson (1928 to 2008)]
'Hot God Vomit' was the name of our first band. We were a bunch of cocky teenagers from the bush who injected ourselves into late 1980's Sydney underground music culture for a laugh.
We were definitely in the right place at the right time to be connected to good blokes with vast knowledge of experimental music, magic and artistic wisdom. They actually gave us the time of day and opportunities to accelerate our live actions. It's hard to explain the energy at the time.
Let's just say political correctness hadn't completely infected Australian art.
One of our first shows was supporting Ministry of Filth and John Murphy's Father of Serpents at the Trade Union Club in Sydney. We were also fortunate to have witnessed acts like Anthony Riddell's 'King Carbon and the Enemies of Algebra' (a significant influence on both my music and art), Distant Locust, MK Ultra and the Assassins of Light, NADA, Antichord, Ministry of Love, Fresh Rectum, Lubricated Goat, Box The Jesuit, Unconscious Collective and Browning Mummery just to name a few.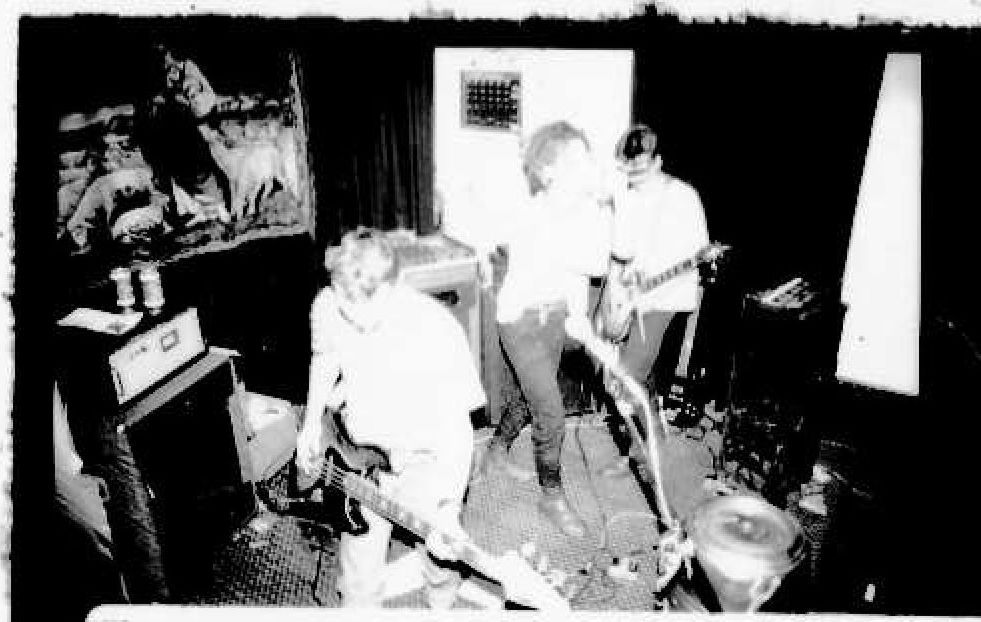 Beastianity was formed in the very early 90's on my return from a working trip to the US and the UK.
While in London, as luck would have it, I landed a job at The Plough Inn in the West End. The Plough hosted monthly meetings of ritual magic practitioners from the O.T.O., Pact of The I.O.T., Rune Gild and other incredible authors and historians. These nights included practical demonstrations of rites and divination, as well as, a regular hilarious monthly major booze up. I met Ian Read there and gave him some artwork for his Chaos International Magazine.
It would be another 10 years before meeting again and collaborating on the Pact of The Gods compilation and Fire And Ice's Birdking album.
In 1992 I became a father and could not engage in as much of the heroic social experimentation that other Beastianity members excelled in at the time. It was my job to taxi the lads and ladies to the nightlife after our shows and listen to the compelling answering machine messages the following mornings about who was arrested or nearly arrested the night before.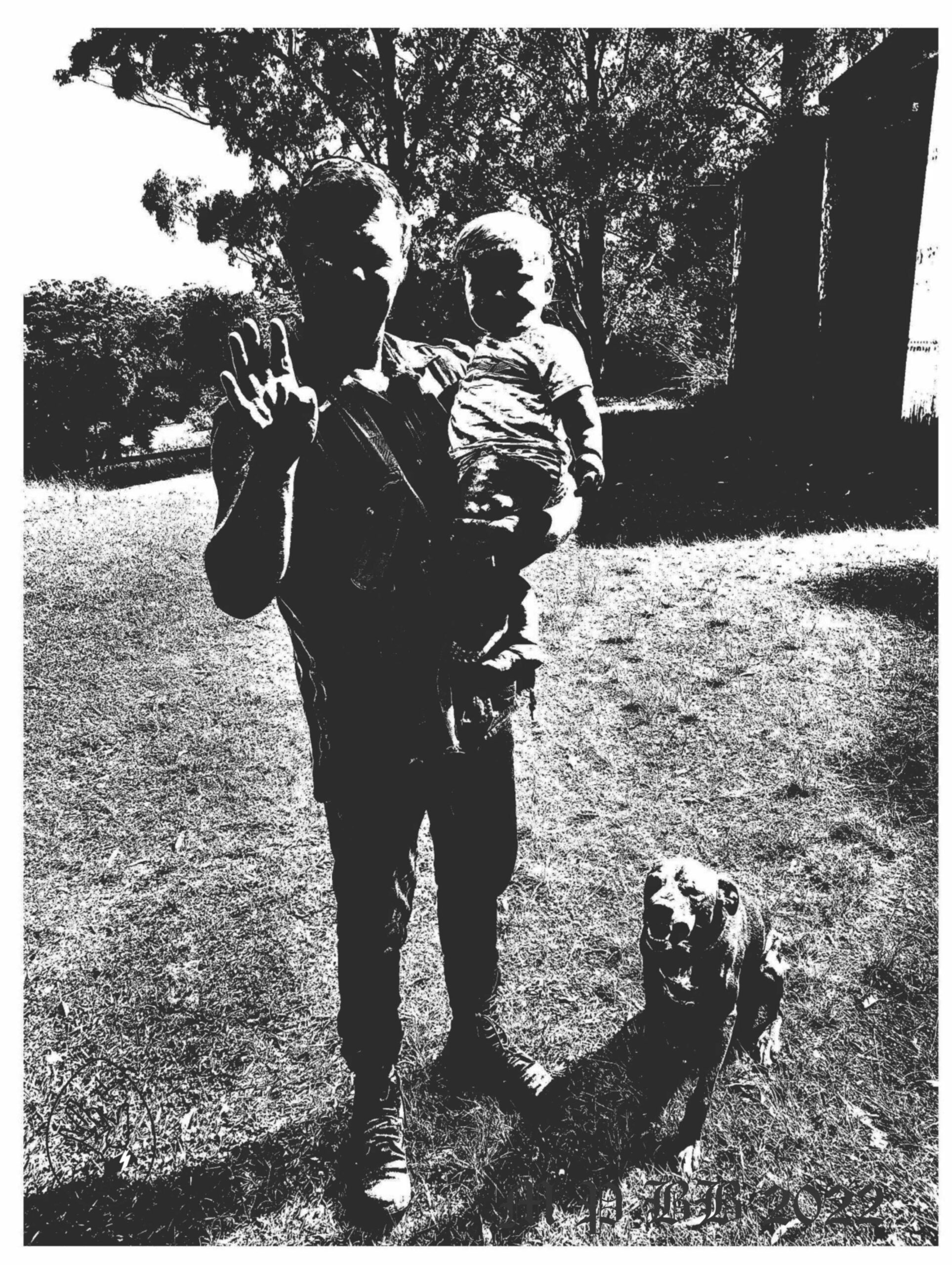 We eventually grew into about a 10-piece neuron smashing thuggernaught and continued to receive very little heckling from new audiences. It's not surprising to me that we experienced exclusion from most experimental music festivals that occurred in Sydney's 'avant-garde' spaces regularly. I believe not so much due to our sound, but more to do with our sense of inclusion.
Our great family of weirdos are royal representatives from every underground genre of music imaginable. Some classically trained and others 'rank unclassifiable'.
By the time Mel (MelF) joined we had started playing to larger audiences and were a little less chaotic generally. Our dear friend and fearless live sound mixer/engineer, Julian, was genuinely shocked that I had finally recruited a female singer who was louder than me. So much so he felt compelled to come up to the stage and tell us all about how he had to turn her mic down once our soundcheck was done.
The major drawbacks to playing live nowadays mean it is not worth the hassle of being away from our little farm and the plants and creatures we care for. Advances in technology mean we can reach out in other ways and we plan to expand on this in the near future.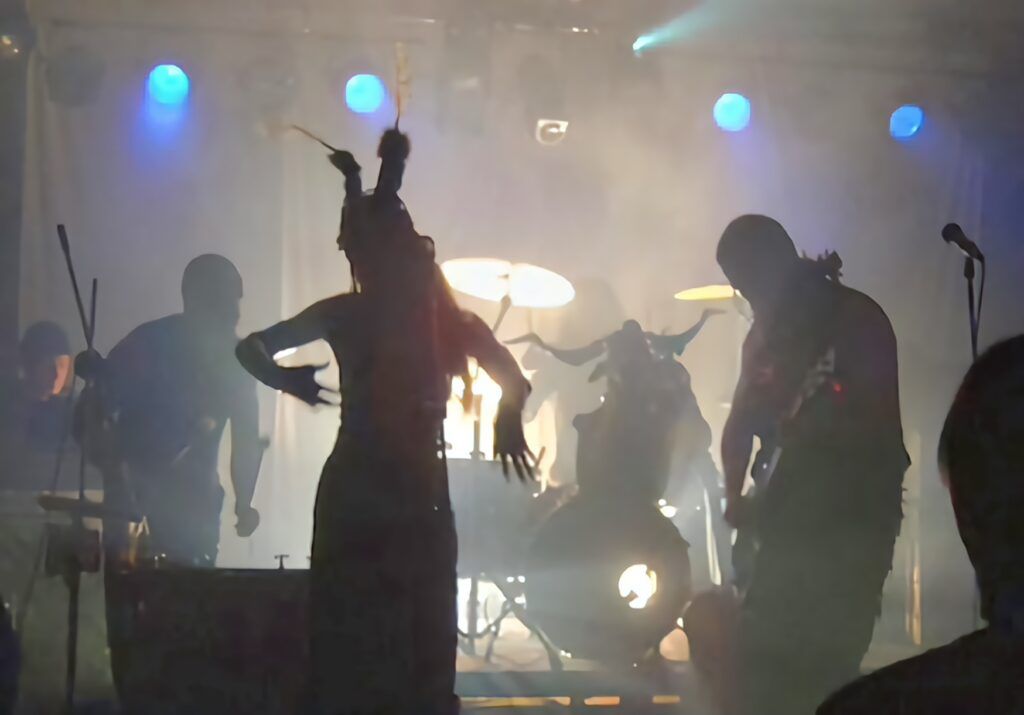 What were the inspirations and themes for the band at the start, and what are they now?
I notice the slogans 'Praise Dog' and 'Uniting Stray Aliens' often featured in relation to the band.
Our themes have mostly remained consistent. Dreamscapes, hypnagogic and other induced hallucinations, dimensional portals, communications with entities. They include my personal observations of nature, interesting life forms like the trees and the bees, as well as, humans and their behavior. Cycles of birth and death, creation and destruction.
I see it all as a wellspring of inspiration.
We include themes of Australian bush heritage and especially the Pine Range, an expanse of alpine wilderness I was lucky enough to roam with my childhood mates and sometimes alone with my dog, Mate (yes that was actually his name).
I'm particularly inspired when words work together to pull ideas apart.
We use magic to weave our words together as lyrics. It's a process we take seriously as it ties in with our personal religious practices and speaks to where we have found ourselves as compulsive creators.
Praise Dog is the name we gave our publishing company. It is a play on the word 'God' and the notion of deifying animals in our spiritual life at a time when dogma seems to have replaced faith in many respects.
It also refers to the way we've traditionally raised and trained our high needs rescue dogs over the years. In our experience, if a dog (or any creature) is accustomed to praise and affection, they will usually aim to please in return and respond to various verbal and/or visual commands readily. We find that observing how creatures around us behave and interact with their environment and other creatures generally provides us very useful and valuable lessons.
The term Stray Aliens was inspired in the early 90's when I was discussing rudimentary voice to text technology with a rare female technician. She said that she spoke the word "Australian" into her device and the words 'A Stray Alien' came out as text. It made sense at the time and held me to create music that could potentially connect with anyone from anywhere.
Australia is a melting pot of 'stray aliens' and those of us in the rural areas know how critically our survival depends on uniting. Our bush is beautiful and awe inspiring, but is also ferocious and devastating, so working together takes on a broader meaning that cares less for outward appearances and more about inner strengths.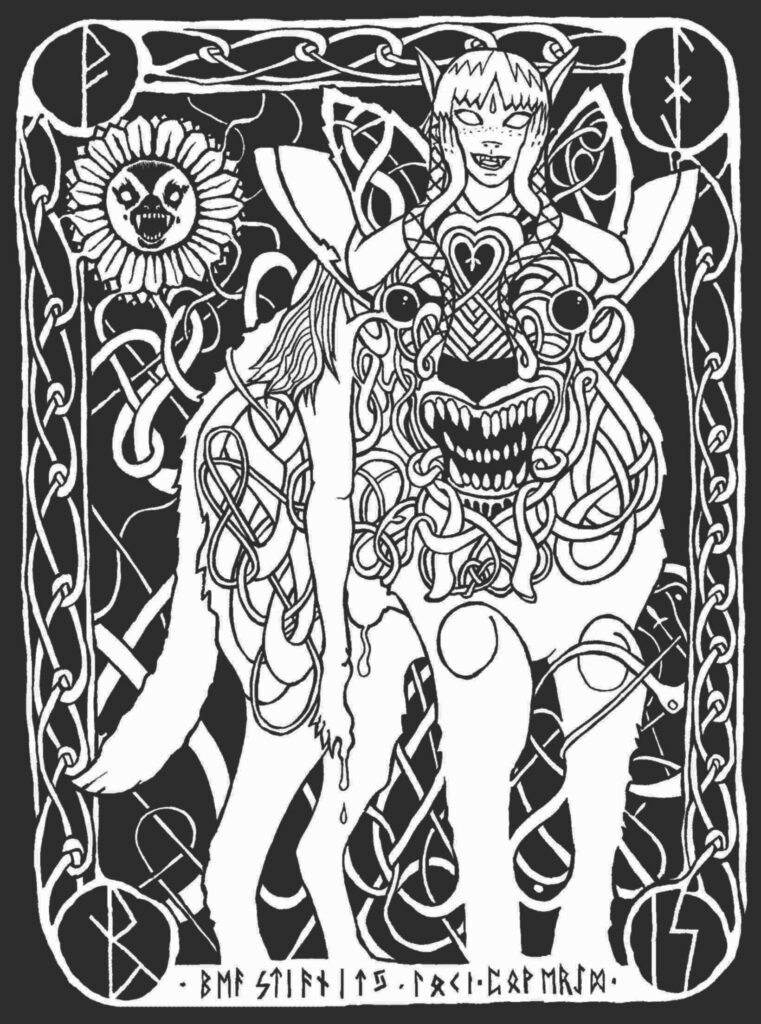 Beastianity has a tangential relationship to what was once called the Apocalyptic Folk and later the Neofolk genre, with the use of acoustic instrumentation combined with electronic elements and Heathen or occult imagery.
I know that you did some concerts with Death in June in Australia in the early 2000s and one of your members, Sweyn Plowright was affiliated for a time with Ian Read's Fire + Ice, I believe.
Beastianity also had the track "The Hatred That Pleasure Brings" featured on the compilation The Pact…Of the Gods, released in the year 2000 on Ian's label Fremdheit.
Do you welcome an association with that scene and were you a fan of the World Serpent record label and its bands (Coil, Current 93, Death in June, Sol Invictus, etc.)?
I thank the Old Ones for giving me the opportunity to access such an auspicious musical timeline.
Mark Morte introduced Sweyn and later his wife Kara to us via the Rune Gild and we were invited to play at the Mimirs Head concert with Neiflheim, Fire and Ice and Death in June. The chance of meeting someone like Sweyn, who had connections with the UK ritual magic, music and Rune groups that I had encountered in 1990s was very slight, but it happened.
After that we played very stripped back Beastianity songs at the annual Runic feasts Sweyn and Kara organised. It was at one of these feasts that I met my Melinda. The Old Ones brought us together and some 20 years later we're still checking each other out.
I feel very fortunate to have, as you nicely put it, 'a tangential relationship' with the Apocalyptic Folk associated artists and the bands mentioned above, as well as others.
Even though I played outside of the music scenes in general, I am personally grateful for the experience and to consider our connections with the underground music movement of the mid to late 80's is still quite surreal for me. For a fledgling band like Beastianity these musicians were invaluable and truly opened new musical dimensions for us.
I can't impress enough that for me it's been a real sense of being in the right place and connecting with the right folk at the right time.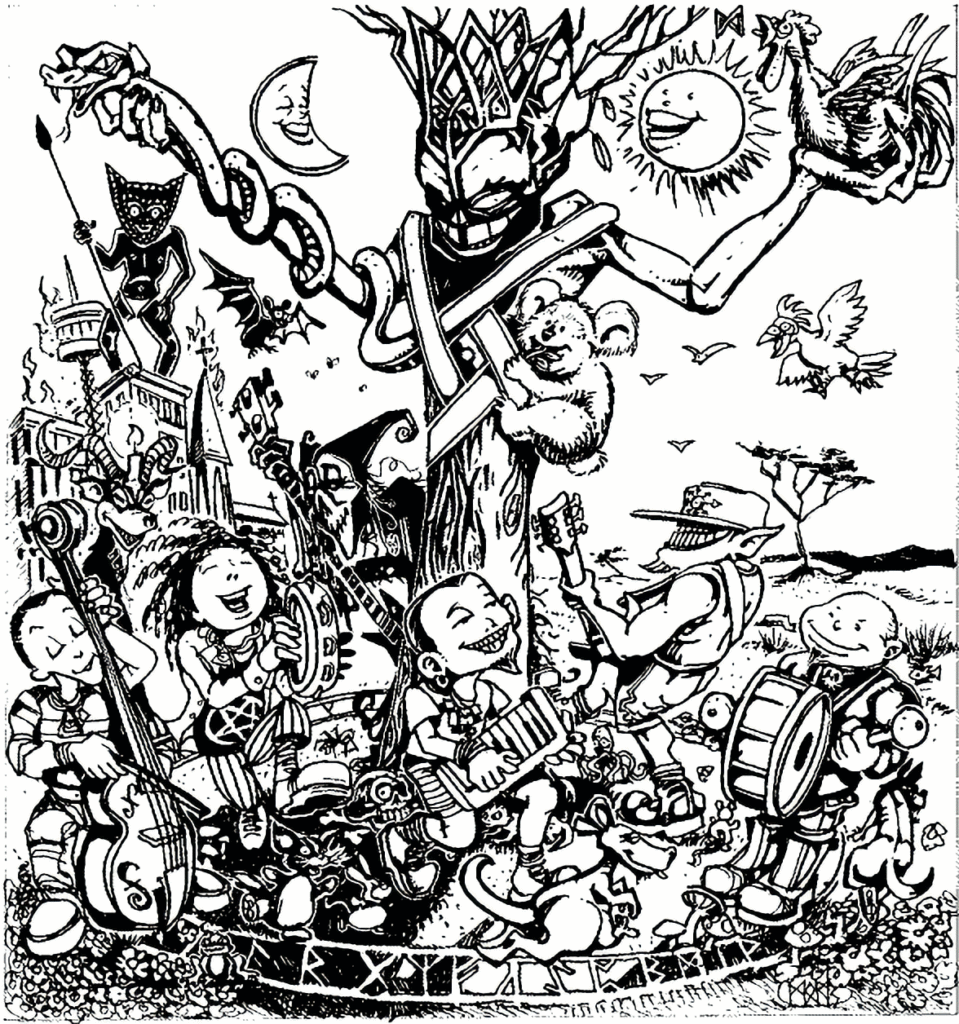 The first songs I remember as a kid were from The Seekers, Johnny Cash, Slim Dusty and AC/DC. I also loved 70's Dr Who and I would become engrossed with the synthesized sounds. I could only recreate them with my voice back then and this style of playing informed me all the way until I got my first guitar.
I didn't really like guitar lessons.
It didn't go well or last long.
I got my guitar chops playing liturgical 'hippy' style hymns in a country town church as back up for the choir. I've never learned to read or write music so reefing melodies out from heavily syncopated drones strummed on acoustic guitar was and remains the natural way for me to play.
Getting the opportunity to share the stage with some of my favourite artists is magic, and I have my dear friends to thank for that.
Mel's initiation with Beastianity was in support of Death in June and Non in Sydney on Ostara at the Annandale Hotel 2003.
Meeting Boyd Rice was a real joy. He is very kind and after the show we were chatting and he was attempting to compare us to other obscure acts. He kept correcting himself saying "no no no, you don't sound like them".
He eventually said, "I don't know what the hell you guys sound like Michael! The closest thing I can think of is The Manson Family Jams", which I thought was very nice indeed.
I feel very honored to have 'The Hatred That Pleasure Brings' on The Pact compilation. The song itself remains a favourite of mine and is a good example of lyrics that I conceptualised via the process of automatic writing. It is always a humbling experience to be associated with skilled and successful musicians whom I have much respect for.
Music and other creative art has a way of transcending much of the intersectionality of the current environment, so we do our best to understand ourselves and others better and to build unity by creating something meaningful with our art.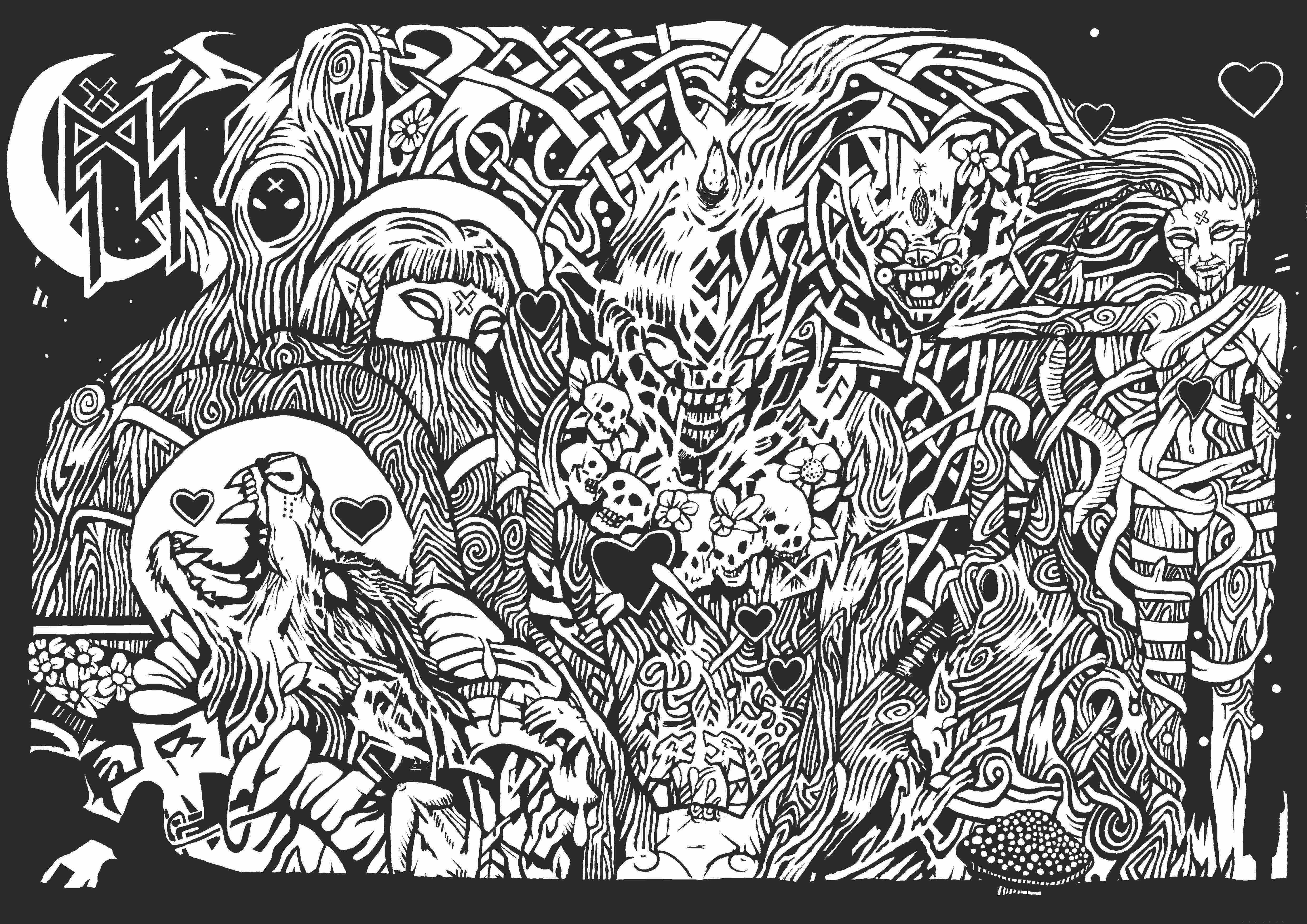 You are also an accomplished artist.
Did you have any formal training in that field?
Were there any artists who were an early inspiration for you?
Can you remember a specific work of art that perhaps awed you at a young age and set you on the path to do something of your own?
Are you a fan of the Australian artist Norman Lindsay and his erotic pagan works?
I have always made art. My father was an illustrator, comic artist and a pretty solid portrait painter too. He was also a career detective, so many of my toys growing up were 'very unusual' to say the least.
I spent a lot of my childhood engaged in real-time true crime reports and from early in my adulthood I immersed myself in a career in forensic and acute mental health settings.
Whether these early experiences inform my art or music style is open to interpretation.
I feel that the years I spent running through the bush with a knife and a dog collecting scorpions in tobacco tins has been more inspirational for my music and art though. My grandfather instructed me on how to behave in the bush and how to be respectful of the things that live there.
He taught me awareness of things unseen and how to communicate with the natural world and things that are hidden within it.
My formal art training was in the 'Blue Group' at The National Art School (East Sydney Technical College Darlinghurst) directly after leaving high school. One of the most invaluable lessons I learned during this education was how I was encouraged to do my best to destroy my figurative style of drawing and rebuild it out of pure experimentation.
I do love Norman Lindsay's illustrations with fondness that is part of my childhood (Namely, his book The Magic Pudding.) I have an old original lithograph of a poochy gypsy lady smoking a cigarette from his home/museum in the Blue Mountains here.
I've visited his home a few times now and family legend has it that one of my grandmother's older sisters was one of Norman's naughty life models.
Rosaleen Norton's works, which I believe to be somewhat comparable to Lindsay's, are also an early inspiration for me. In my opinion, there are not many true spirits who can create scenes like she did.
Robert Crumb's work inspired my style with comic strips in the early 90's and that has definitely stuck with me. Cartooning can be easily weaponised. It proved to be a useful skill for an uncouth fledgling band propagandist.
I would make elaborate comics/gig flyers featuring Beastianity and friends and their actual adventures and insert them into piles of free gig guides or newspapers waiting to be sold or leave them on train seats or on other public transport. It was always fun to watch new punters roll up to shows, comic in hand, and see them pointing out the characters in real life from their photocopied flyers. It still makes me smile to think what was displayed in those things.
I am also very inspired by children's first attempts at figurative art.
It's often incredibly insightful and a bit horrifying.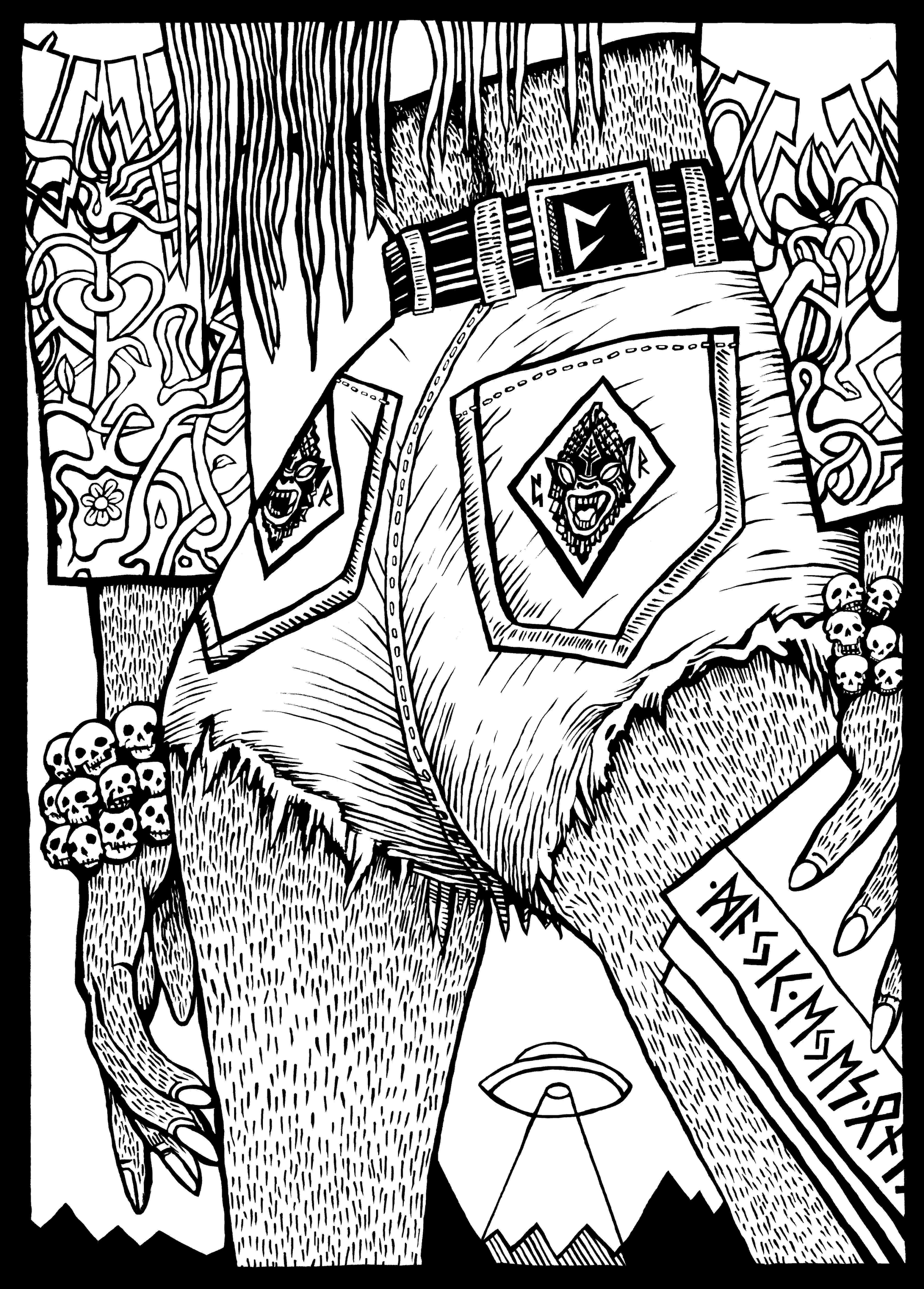 Another thing we have in common is that our romantic partners are in the bands with us. I have my wife Katrin, and you have the lady Mel!
In my experience it's worked quite well as it is something sacred that we share in the creation of (not having children of our own) and traveling abroad for gigs adds no extra tension as we already live together and know what to expect from each other.
Do you find something similar to be the case in your relationship?
Does your art tie your family together?
Yes, I do, and making music together is a powerful connection that not many romantic couples have. I feel very fortunate to be married to an energetic and talented musician who actually shares a love of harsh experimental music, thrash metal as well as (sigh) musical theatre.
She also loves The Seekers and now we are grandparents there's no Seekers shame for us. 'A World of Our Own' is kind of our special song that I didn't write for my muse (that one is Kiss the Goat).
Mel is an adopted child and she adopted my kids to become their stepmother, plus we consider our critters as family members. In many ways our business ventures are thought of as our precocious teenagers, so having children in our world is relative too.
We travel well together, but we are both very much home bodies. It was nothing for us to do head down the day of a Beastianity show to Sydney and be at home weeding the garden and laughing our heads off over antics from the gig the following morning. It is an eight hour round trip from here to Sydney, but home is worth it for us.
Most of our time and energy is focused on hearth and home.
Our life work is the creation of a sustainable permaculture edible landscape here on our little farm. Over the years we have learned to harmonise growing food and medicine for humans, animals, plants and the land and this is where we find peace and prosperity. We have gotten our true Heathen on for nearly 20 years now and counting.
One of the only tensions we experience as a couple is music interestingly enough. Mel is classically musically trained and I am totally musically illiterate, but very bloody minded as to how I want any (my) song to sound.
It's pretty funny working together, we are both over the top precious artist types when it comes to our creations. We like the results and hope others do also.
Mel is my muse and I am very lucky for that. She gets someone who can lift heavy objects although she tells me that isn't the only reason she hangs around.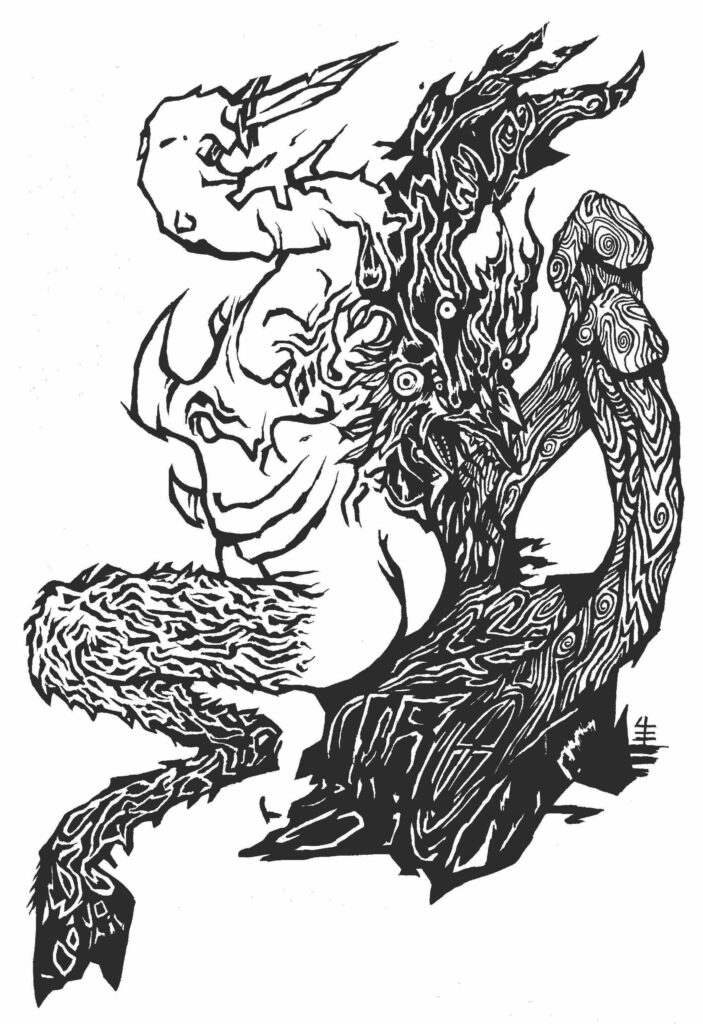 From examples of your graphic work that I have seen, I notice some works – particularly of animals – have a more naturalist, realistic style. Other pieces have a bold outline, almost comic book style.
Do you feel yourself to be in a different headspace when you do these different drawings?
In art school I majored in printmaking and linoleum cuts were my favourite method of making prints. I loved using carving tools and having the ability to create multiples of my drawings. Perhaps it is that an organic cross fertilisation of drawing and carving helped me come up with a way of finding entities and other unique scenes inside my scribbles.
On a few occasions, I've used art to transform my personal life when seemingly unsurmountable obstacles arise. A form of trance with illustration itself being the focus object.
A good example is the black and white illustration 'Wood Thing' where I spent 12 or more hours working in a trance without a pause. When I commenced the illustration, I was acutely suicidal, something I had never experienced before. My survival instinct kicked in and I started to draw something. When the illustration was complete, all my destructive urges had vanished into the lines of the artwork and there they found acceptance and belonging, they are understood and appreciated in a way that transformed those emotions into something constructive.
That is where I could safely let it go and it is where it has stayed.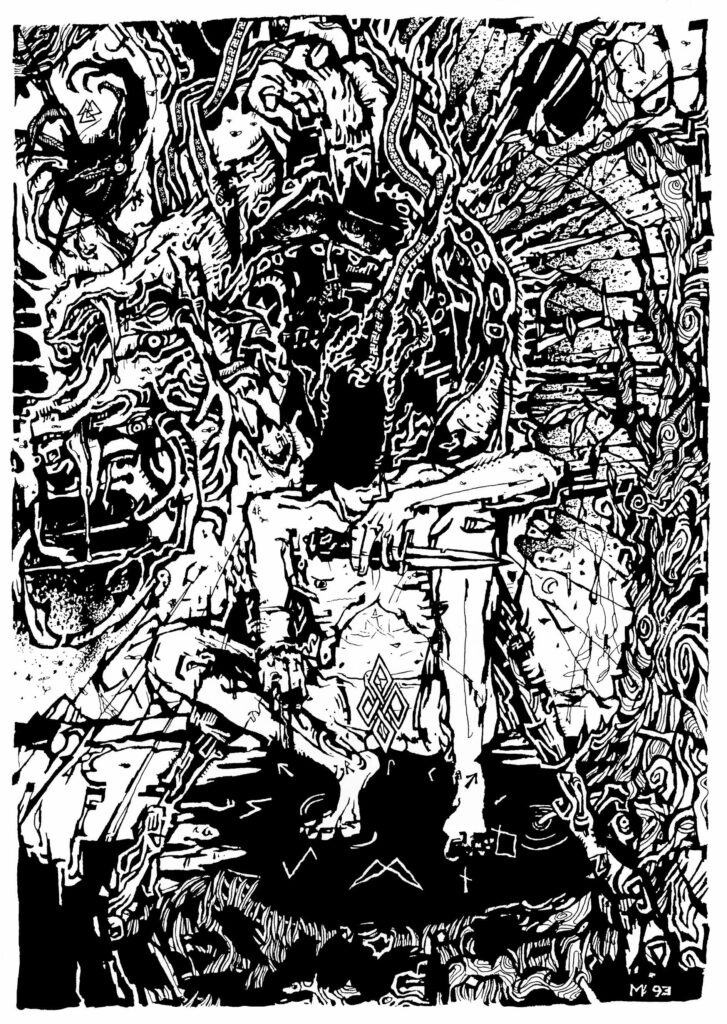 Another illustration, 'Merry Met', depicts a figure riding a horse through a creek with his guardian spirits in attendance, coming across a frolicking water sprite. I gifted the original illustration to someone who grew up in the same area of the Australian Alps as me when I was on my way to one of Sweyn and Kara's feasts.
I had done this as part of a ritual of letting go of the hope of ever finding a life partner.
That was the feast that I met my Mel!
It is uncanny how much detail is accurate to her in that image. I am usually brought into a trance state when in the process of creation, so this is where the automatic artist sits for many hours over many days to realise the final work.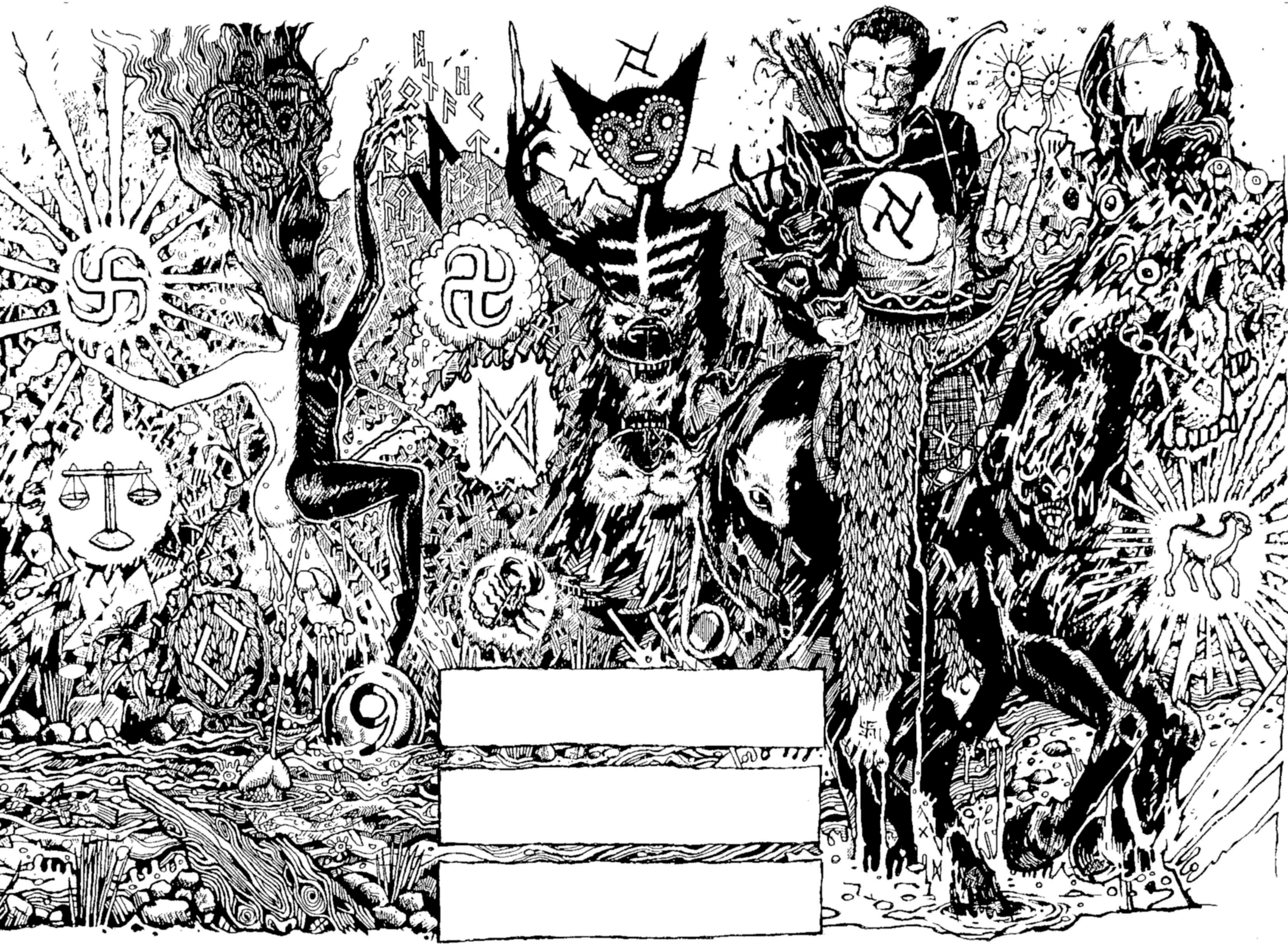 I have experimented with collage extensively. This is a great method of coming up with unique ideas for other works.
The image 'Sunmonster' was created on a round table top next to where I lay on a mattress on the floor. The task kept me occupied while I was isolated enduring 3 weeks of brutal chickenpox my kids gifted me with in my late twenties. I understand it as a visual representation of enlightenment through illness.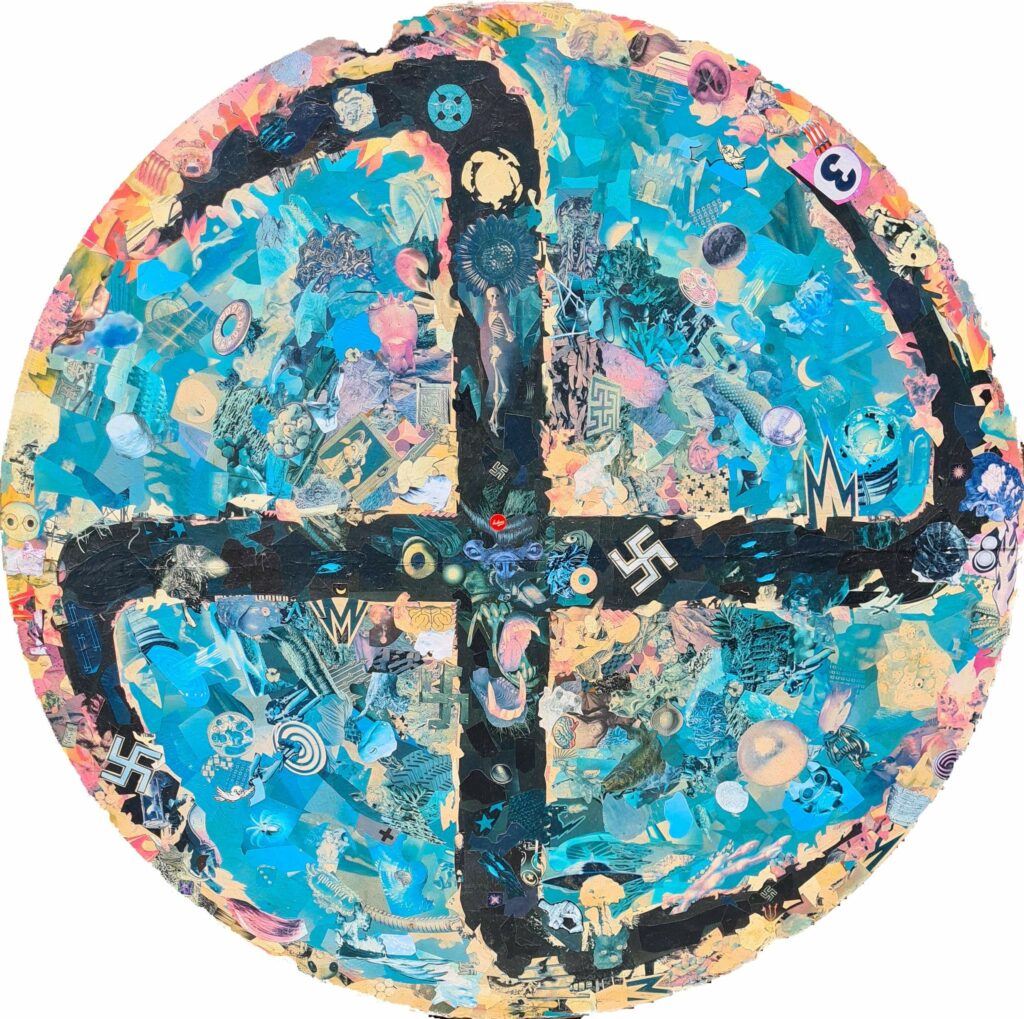 Creating giant wood carvings and home-made Krampus masks are also a love of mine. When making sculpture, I tend to become extra-engrossed in the work and become unselectively mute during the process.
The carved face on the cover of the second Beastianity album 'Devil Headed' is my first attempt at transforming a log into a carved mask. It takes two or three blokes to carry the blessed thing.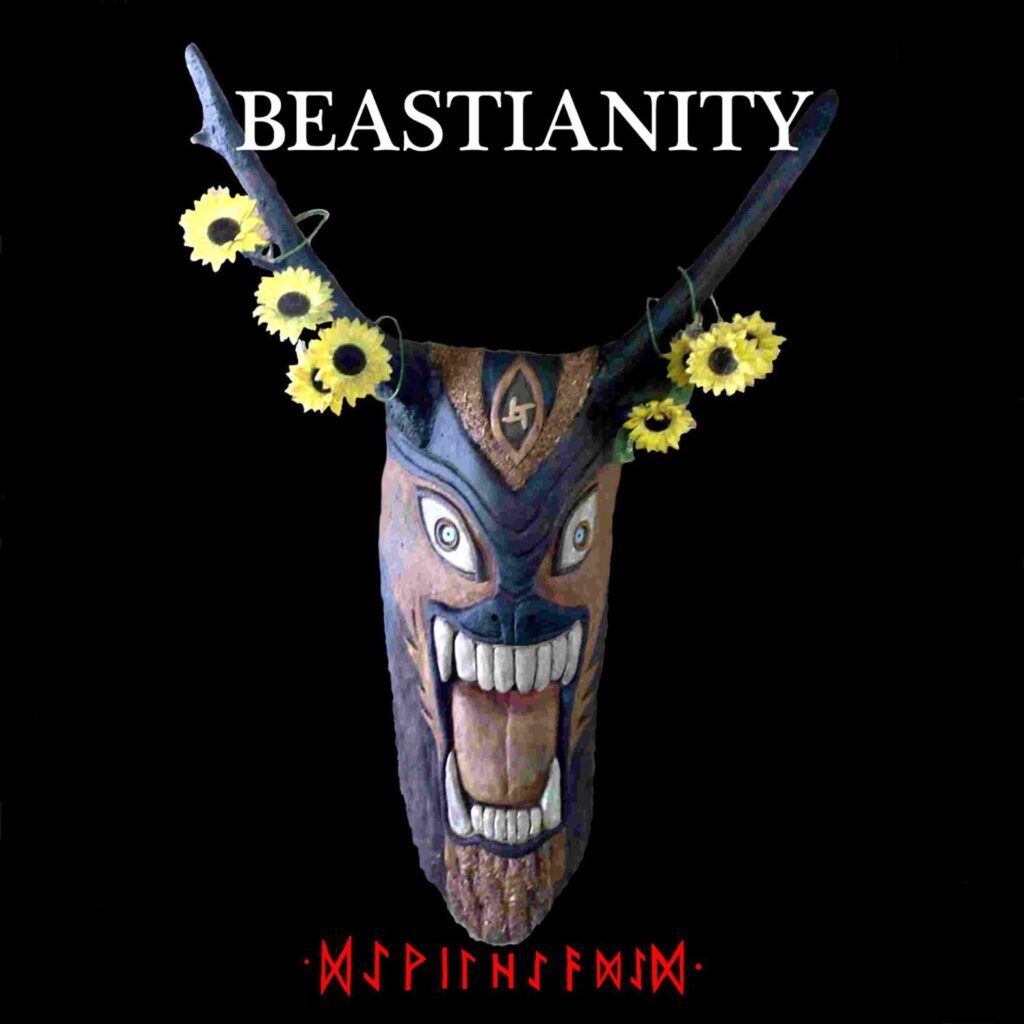 Recently I again tried my hand at more realistic and figurative portraits and am very much relishing making art that brings some joy to animal guardians. To do this, I have broken down my art style, as per the encouragement to do so during art school, and rebuilt something unique to this image subject.
In doing this much of the boldness and brutality has been replaced with the vibrating spirit of our fuzzy companions. It's been a healthy challenge to push myself to create works that I normally wouldn't attempt out of some misplaced sense of artistic pride.
I've also started to enter art competitions. This process is very new to me. I reimagined 'The Devil' card for a current entry in the Tarot Guild of Australia's tarot card art competition. Our pet goat made the perfect muse in my estimation.
The results are announced in late August.
I feel your graphic art and your music to be intrinsically Australian. There are often references to the Bush and the incorporation of 'Aussie' idioms in the lyrics.
Did you set out to make a distinctly Australian expression, or was it just the natural course of events for you?
Yes indeed, Beastianity is an unapologetically Australian band.
We have been accused in the past of sounding "too Australian" whatever that means.
When I started to engage with live music in Sydney, I often felt that when acts sang in phony American accents it left a real bad taste in my ears and I refused to fall in. I felt it was only logical to be as authentic as possible in this particular sense. We live here, so we have Australian accents and it is natural to work our tunes with the sound we make with our voices normally.
It's arguably also one of the best accents to curse a blue streak at someone in and we own some wonderful curse words. Always funny.
I have been told by friends that when they are travelling overseas and feeling homesick, listening to Beastianity is healing for them. And our friends from overseas that we have met here can feel like they are back in Australia when home and hearing our songs. Genius Loci mission accomplished.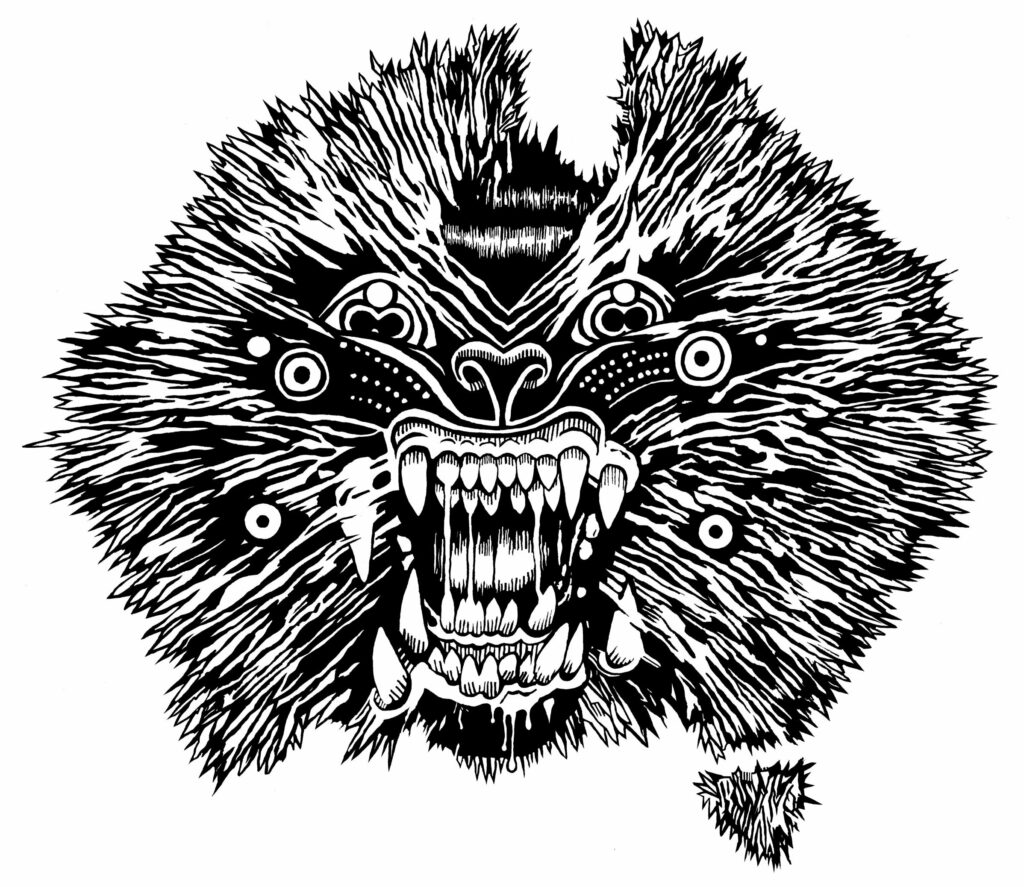 Did you grow up in a rural setting or in a city?
Do you feel the external environment had an effect on your art?
I've lived in and on the outskirts of country towns from an early age. I was born in Sydney, moved to the desert before I turned two, then moved to the Australian Alps, then to the Mid North Coast (about 170 miles north of Sydney). The life of a police brat.
I spent a few years in Sydney when I left home after school and moved back to the Mid North Coast in 1999.
Mel has a very similar life experience to me. Her family are long haul truckers, farmers and horse folk. We both felt as if we had squeezed the most out of the city as we could.
Rural life and the bush is in our blood and called us both home in the end.
We enjoy the company of animals and plants instead of choosing to be ensnared by the obligations of so-called polite society. We are monitoring the evolving landscape of the woof and weave of Wyrd from the safety of our little home.
The external environment does have an effect on our music. Extreme sounds seem to be a part of the natural Australian environment.
Cicada season in the Australian bush is one of the loudest top-end frequencies I think I have heard. It can be very distressing for sensitive types. Others find it complex and beautiful.
Being a life time ocean goer, the volume of noise that big surf generates is also truly humbling and comforting for me.
The Australian bush can be completely chaotic. No straight lines or obvious order in our forests.
This form of chaos is something I attempt to represent in my visual and musical works. For Nature's sake.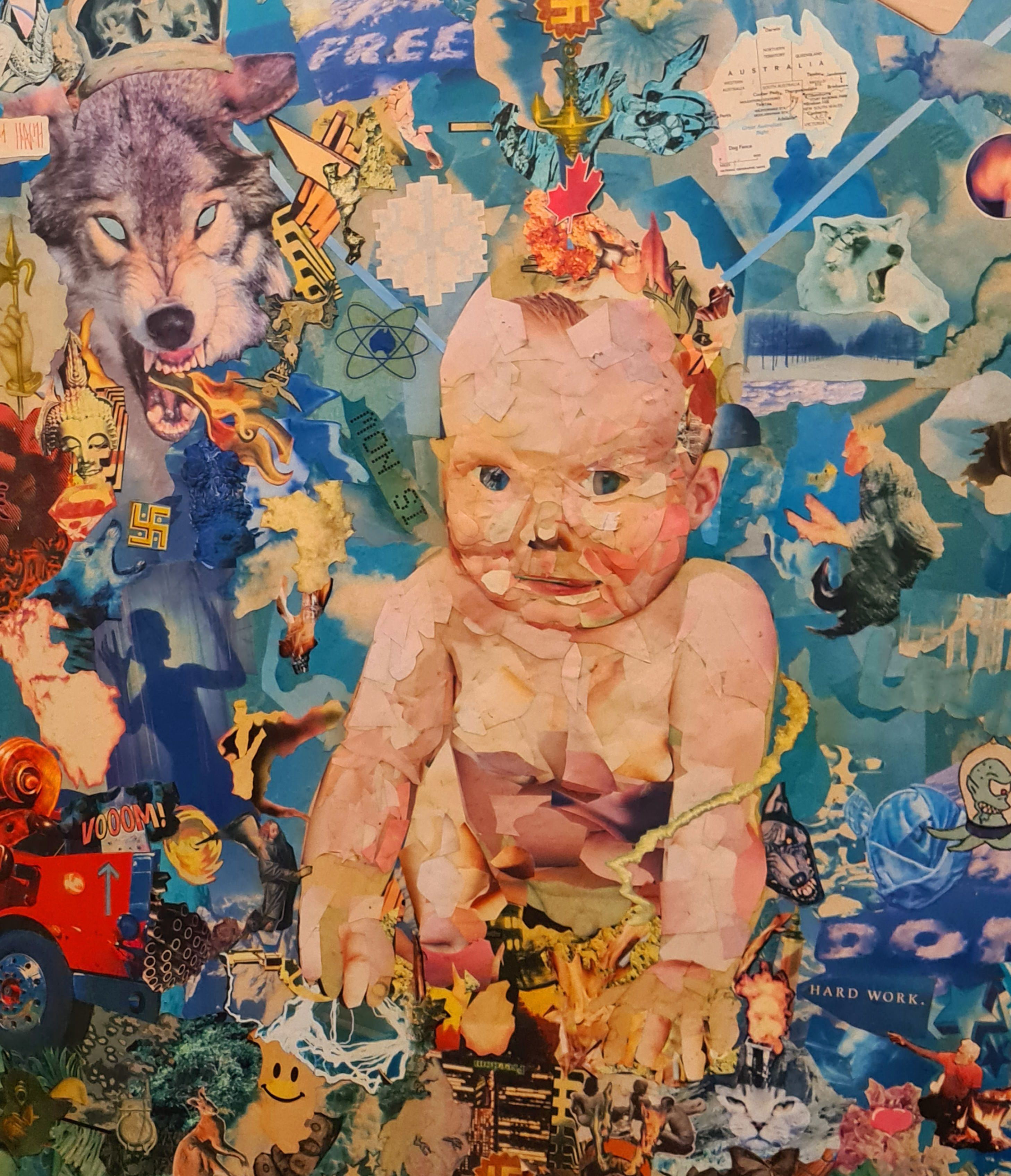 Has your graphic work been exhibited publicly?
Would you like to do so in the future, or perhaps have a collection of your work published in book form?
I have exhibited my work in a number of galleries, festivals and publications over the years.
Every year I exhibit new works in a growing local exhibition of authentic outsider artists who live in our local town. My work proved to be a bit of a visual challenge for some local gallery goers from our rural community, but they kindly continue to let me exhibit my works, be it sculptures, paintings or illustrations.
Other than comics and some educational and children's books, I helped illustrate Elhaz Ablaze: A Compendium of Chaos Heathenry published in 2019. It's an information and inspiration heavy tome with written works by some of the most respected modern Germanic and Norse historians and Rune magic practitioners.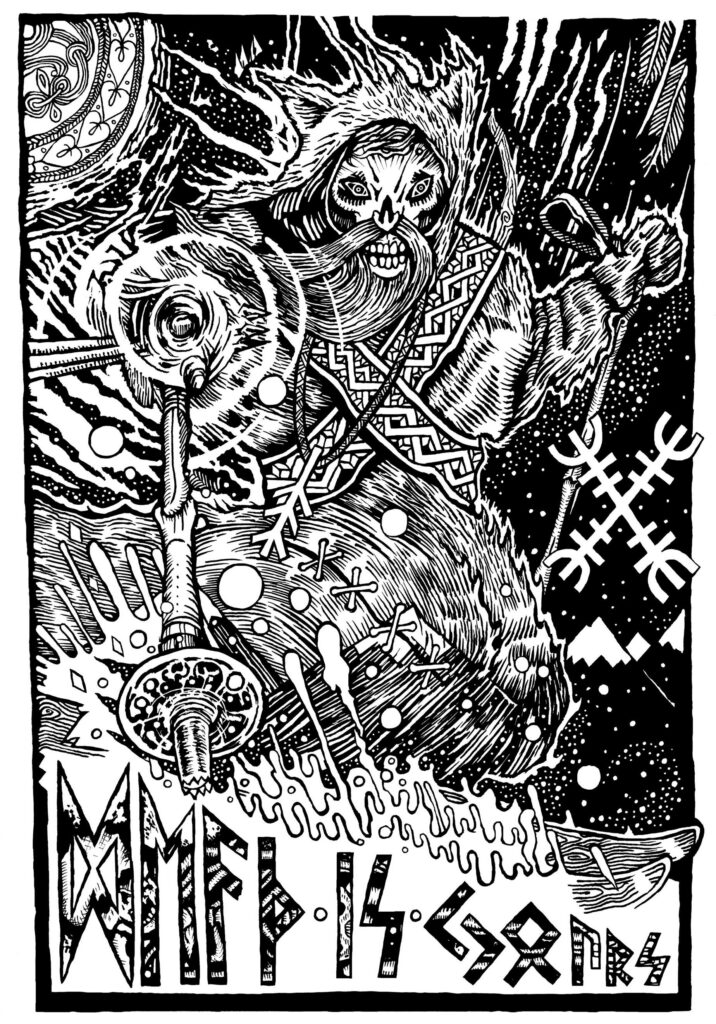 We are working on some publishing ideas with these images and some of our old comics, but this is very much at the imagining stage of happening. Mel is writing some fiction and we are also putting together some non-fiction literature, but most of this is on the back burner while other projects are completed.
For our business, we both work on logos, avatars, advertising artwork and other design work for bands, individuals and companies. Mel is a computer tech and had her own shop for years until we recently closed it and moved fully to the home workshop. Now we both work from home which is interesting and has had its challenges, but we are making it work.
We are just beginning to branch out into video and hope to have some of our music released with video soon.
Bushfires and floods along with all the dramas of the last few years have slowed us up a bit, but we are gaining ground on these projects more recently as we get back on our feet.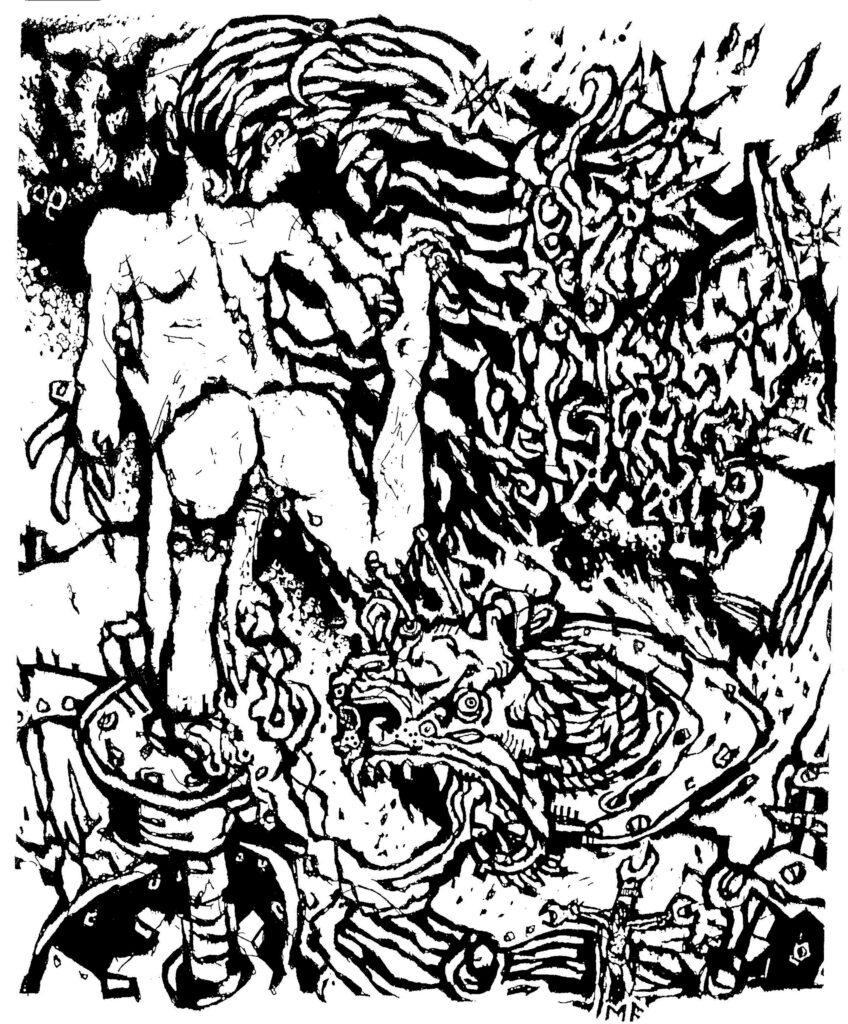 Can you discuss the influence of mythology, magic, the esoteric, and runes specifically as present in your art and music?
I would say that an early experience of a mandatory weekly religious ritual mixed with a deep connection to the spirits of the Australian bush has informed my art and music for the most part. Norse mythology was different to anything that I had encountered in my childhood and the fact that the gods make incredibly hilarious and disastrous errors make them all the more real for me.
I liken the artistic attitude of the early Australian bush poets in telling all of the humour and horror of Australian life with the Norse Skalds and the way they could turn a phrase in rhythm.
When I was introduced to the Runes at around eighteen, there was an instant understanding and inner trust. They provided wise answers to my questions. The years of study and practise has since paid off.
We live inside our magic and observe ritual as a part of our daily lives like the witchy weirdo's on the outskirts of the village. We observe the runes and bind runes in the trees, the fallen twigs and leaves. Animal tracks on the sand, insect scars on tree bark or wherever patterns around us show the messages that can be discerned.
The Runes have always shown me the truth if I look for it and sometimes when I do not.
I rarely do rune readings for anyone else besides myself. Mel is different and her skills as a clairvoyant and diviner are unmatched in my opinion. She is a Reiki master and medium as well, so odd happenings are normal around her if you know what I mean. We share a deep connection to this ancient land and its inhabitants both seen and unseen, so this naturally comes through in our art.
Runes are also our secret code language. Mel and I write to each other using runes instead of English at times and at other times we use form and sound to bring forth a specific energy for a particular magical use.
For example, visualising the Algiz rune in trees along roadsides to form a tunnel of protection to travel through from start to destination.
One of our first ventures in musical creation together is our harmonised FUTHARK chant. We have used this rite both privately and at various occult events and continue to use it unchanged to this day.
Our spirituality and magic is as much a part of who we are and our everyday life as the natural world with all the animals and plants that surround us.
Thus, it is inseparable from our art and music.
Are there any current projects or future plans for your music and/or graphic art?
Beastianity at Bandcamp is where we post our published musical catalogue as it stands.
A recording of 'Between the Rows' is currently finally underway, which is very exciting, and we hope to get on with some other projects we have had in the wings later this year… all going to plan.
We would love to rope Katrin and your good self in to assist us with bolstering a tune or two soon as well!
Despite being slowed down by nature and global events, we have released two singles on compilations through Australian punk/ noise label Inner City Uprising.
'For Greyes Only' was released on the 'Putrid' cassette noise compilation, and 'Glory of Elves' was released on the 'Sonic Disturbance' CD compilation. All out there on Bandcamp.
A re-release of Cosmic Conspiracy Production's release of the 1990 Hot God Vomit LP 'Fleshhold' is currently being remastered for the Beastianity Bandcamp site.
Future musical projects to look out for are 'Beastianity V Pine Rangers' and 'Beastianity V Citizen K9 (Destroyers of Time)'.
A book of art, lyrics and new Beastianity related comic adventures is also underway, as mentioned, but this may be a while in the making. For the interested collector I sell signed prints (some featured here) and do work on commission.
A sample is displayed on my artstation website.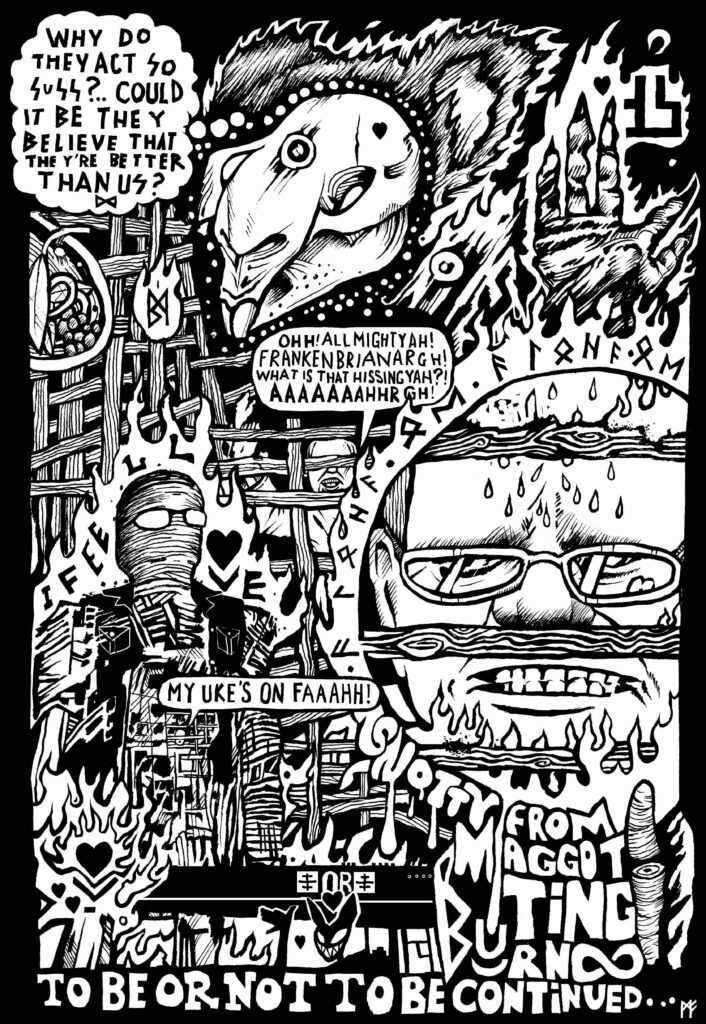 Any parting words for the readers?
I'd like say thanks to you Erin and The Aither for giving me the opportunity to ramble a bit about my art, music and myself. It's not something I'm particularly accustomed to.
The Bandcamp site https://beastianity.bandcamp.com/ has all of the other info, including album personnel and family links.
Contact me at michael@praisedog.com.au to discuss signed prints or commissioned works.
I won't bite.
Much.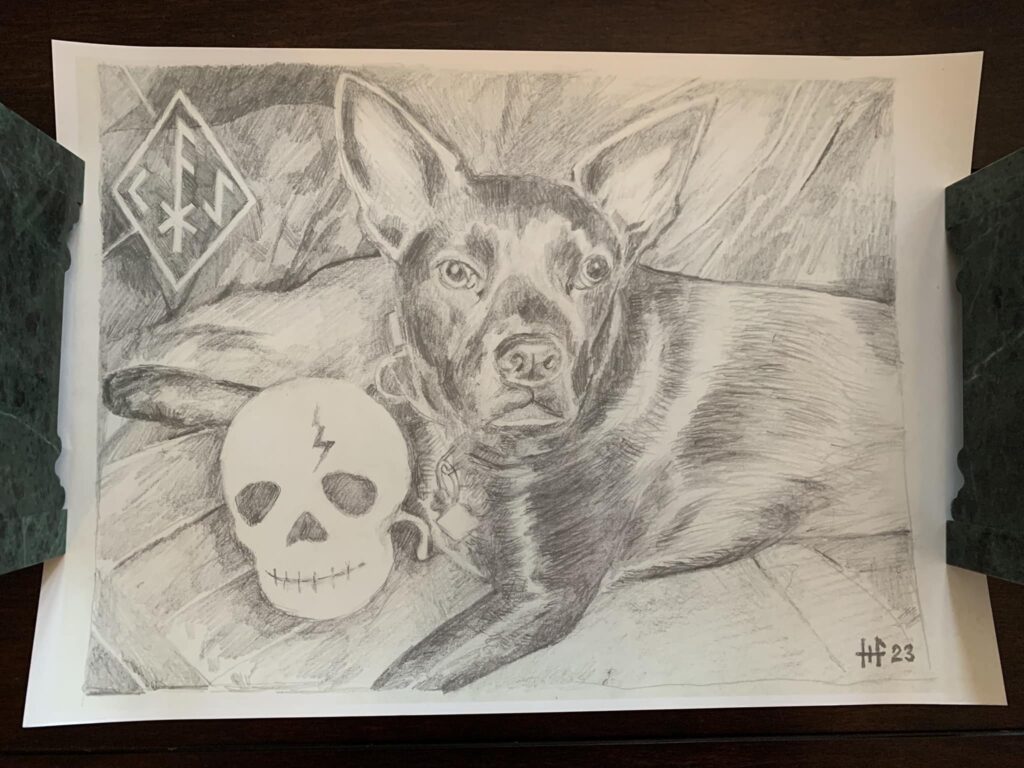 Readers can view a limited but growing collection of my artwork here: https://michaelfallson1.artstation.com/
I would like to pay respects to our fallen brother Glenn Maltby who we lost in tragic circumstances 3 years ago. Glenn joined Beastianity when he was a wild teenager and was already an accomplished graphic artist and musician.
We love him forever.
And I'd also like to mention that if you are someone who is holding onto trauma or just holding unpopular views and the need to express yourself is almost too much to bear, do us all a favour and make some music and/or art ffs.
Make it as horrifying or as beautiful as you like. Even if you are the only one who will ever experience it.
It's much better than the alternatives.
DogBless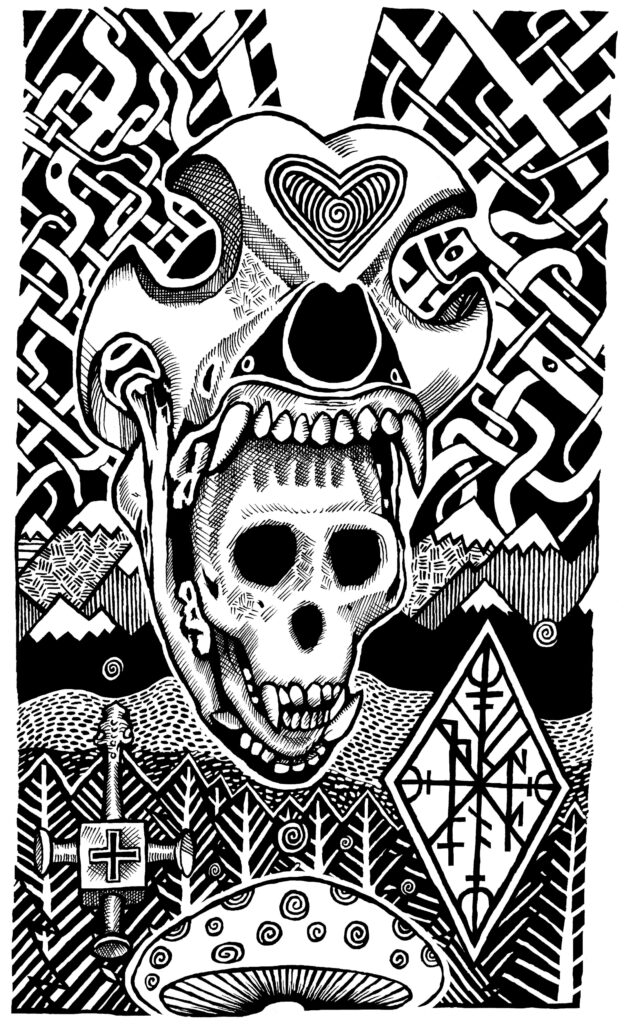 Links
All images supplied by Michael or found online.