Born in England during the early 1990s Archie Fitzgerald creates weird and wonderful art that oozes and flow like a glitchy cartoon being watched on a worn out VHS tape. His linework is detailed yet scratchy, with a messy yet intricate aesthetic. Bringing to mind underground comics, video games and the art of the Chicago Imagists.
In addition to his art, Archie is also keenly interested in travel, exploring and learning about new places and cultures. As a result he has spent most of his adult life as a vagabond; having lived, worked and traveled in places such as England, Scotland, Germany, India, Australia, South Korea, Japan, China, Taiwan, Hong Kong, Malaysia, Indonesia and New Zealand were he currently resides.
Recently, whilst living in New Zealand and inspired by his friends, Archie has ventured into the world of tattoo. A medium that is a perfect fit for Archie's style and has allowed him to branch out and experiment.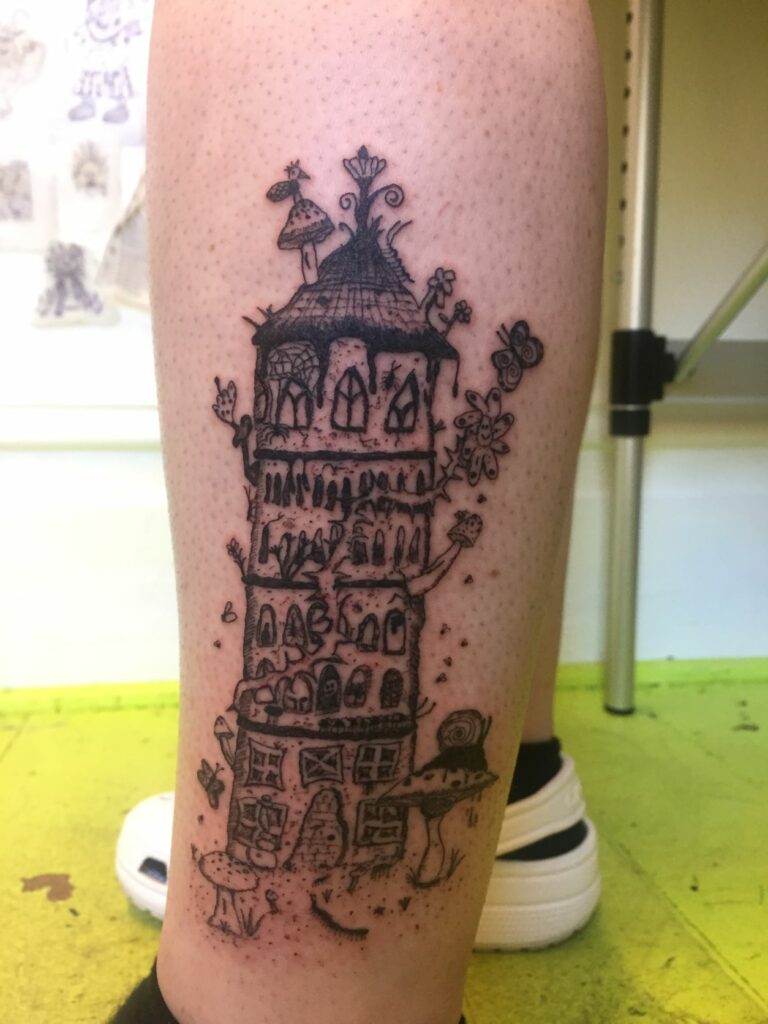 Wanting to get to know him better, we sent Archie some questions to answer over email.
Explore Archie's world below…
Getting Acquainted
Name + D.O.B?
Archie Valentine Fitzgerald and I'm 31 years old right now. 🙂
City, State and Country you currently call home?
So right now I call Wellington, New Zealand home but am going to be moving away in the next few months…
City, State and Country you're from?
I was born and raised around Canterbury in the south east of England.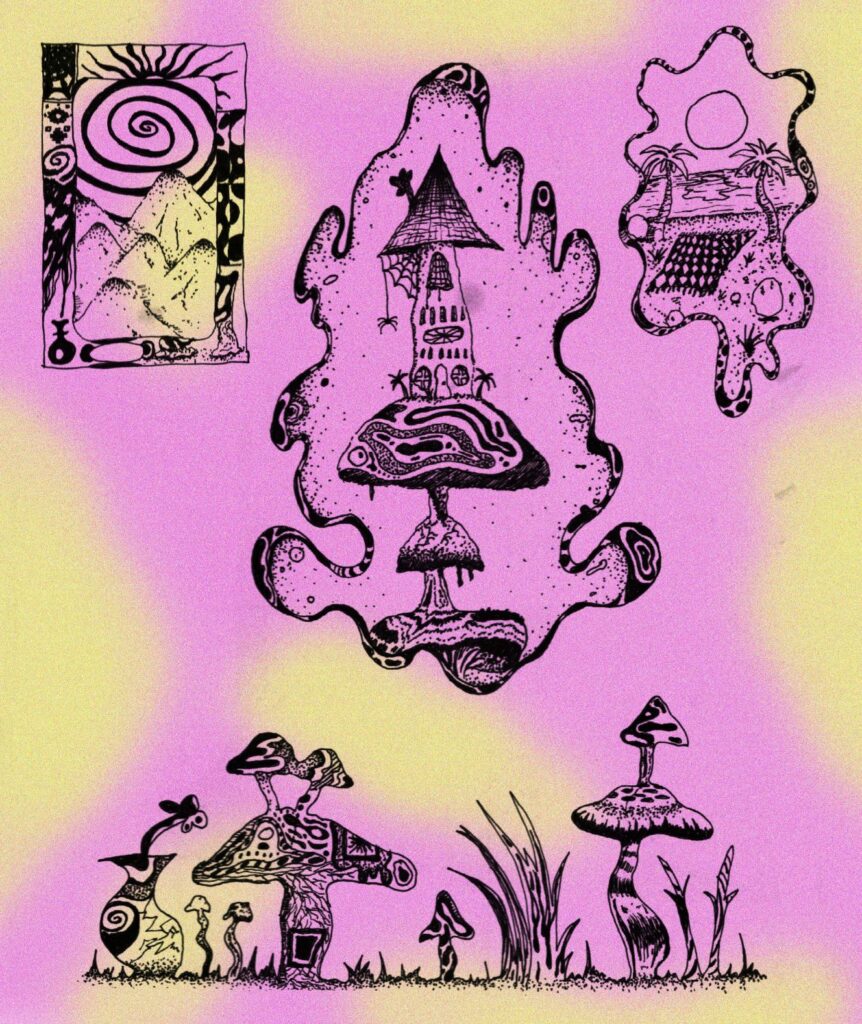 Please describe some memories – such as art, music, friendships, adventures, study, romance, politics, work, crime, religion… anything really – from the stages of your life noted below:
* Your childhood:
I was a really shy kid which I think was a big factor of why I got into making art – when you're scared of people and loud situations you tend to do more stuff on your own.
I really liked listening to tapes, reading, playing with sticker books, doing puzzles, colouring and drawing.
A highlight of my early childhood, which I think genuinely made me feel really confident about my drawing abilities was winning a local colouring competition two years running.
One of the most influential things which made me want to keep making art was The Simpsons.
I was obsessed with The Simpsons for years and really wanted to eventually get into animation. Sometimes I'd try and write scripts for my own cartoon and would draw characters and ideas.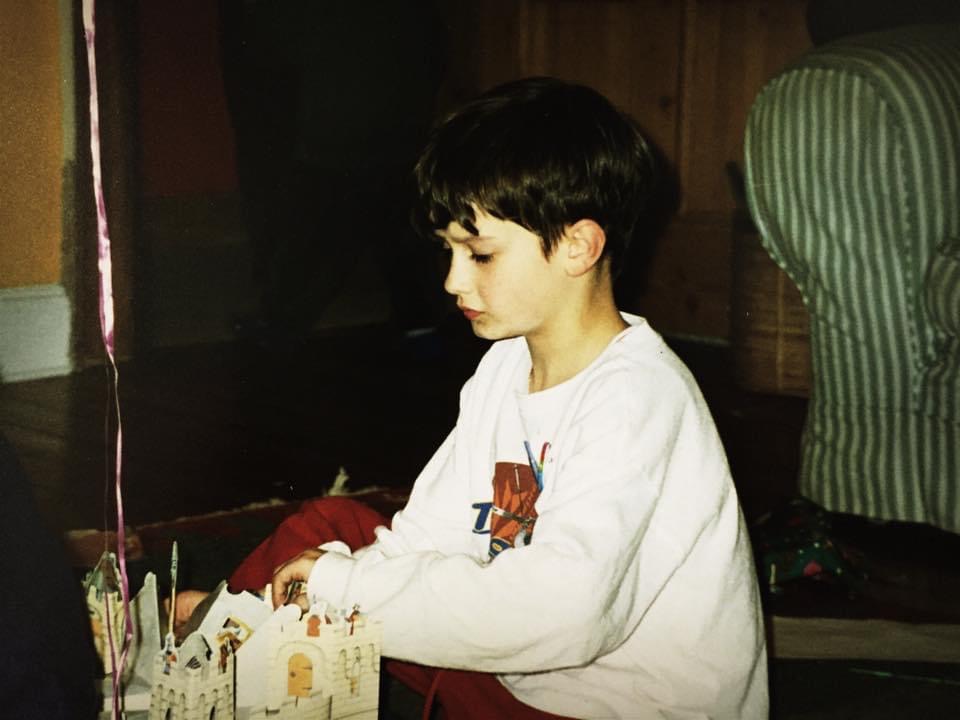 * Your teenage years:
I think I probably made the least amount of art during my teenage years. I was obsessed with music (mostly punk, ska and hardcore) and spent a lot of my time and money on CDs, vinyl, music magazines, merch and going to gigs in my local area and in London.
This combined with high school and partying a lot led me to not spend heaps of time drawing, but I definitely still paid a lot of attention to art I liked like album covers, skateboard decks and t-shirt designs.
When I was 16 I left school and went to an art college for 2 years and this was so amazing for me.
I was really naughty at school and didn't do very well and the art lessons at school were so strict and boring. Whilst on the other hand at art college they'd let you do whatever you wanted and were super encouraging and excited by whatever you made.
I specialised in visual communication in the second year and did lots of illustrative messy drawings mainly with pen and ink and watercolour and started to get into making zines.
Also around the age of 16 I started to get involved in the local hardcore punk scene and this really helped me back into drawing. Me and my best friend at the time started organising gigs and I would always draw the flyers.
Through hardcore I found a community of other kids who were into freaky drawing and I would sell zines of my drawings at our gigs and trade them with other people.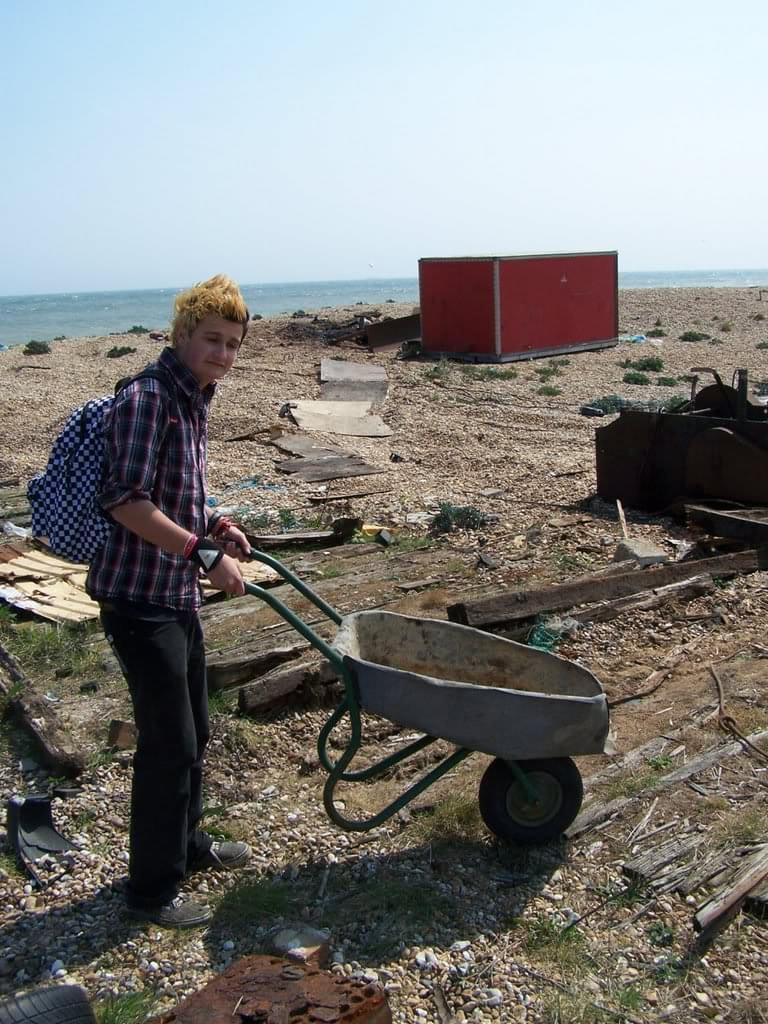 * Your early-to-mid 20s:
I went to University of the West of England in Bristol to do a degree in illustration when I was 19.
Moving away from Kent and studying illustration was so great. I met lots of amazing people, partied a lot and got really immersed in making my artwork.
Soon after moving away from my hometown I realised I wanted to keep moving and badly wanted to see more parts of the world. It gave me a lot more confidence and drive to make things like that happen.
During my first year in Bristol I hitch-hiked to Scotland with two friends and made a load of art and a zine about all the people that picked us up on the way.
In my second year I moved to Berlin and studied there at UDK Berlin for 6 months.
I had such a good time in Berlin me and my partner decided to move there together (after a trip to India) when we finished university and continued to live there until we were 25ish.
Moving to Berlin was hard but fun.
I was working a call centre job where I had to wake up around 4/5am and then I'd go home in the afternoon and draw. I definitely didn't get enough sleep in the two years we lived there and that wore me down but I got a few zines published by some amazing publishers, did some exhibitions and the odd t-shirt design or record cover as well as enjoying the nightlife there.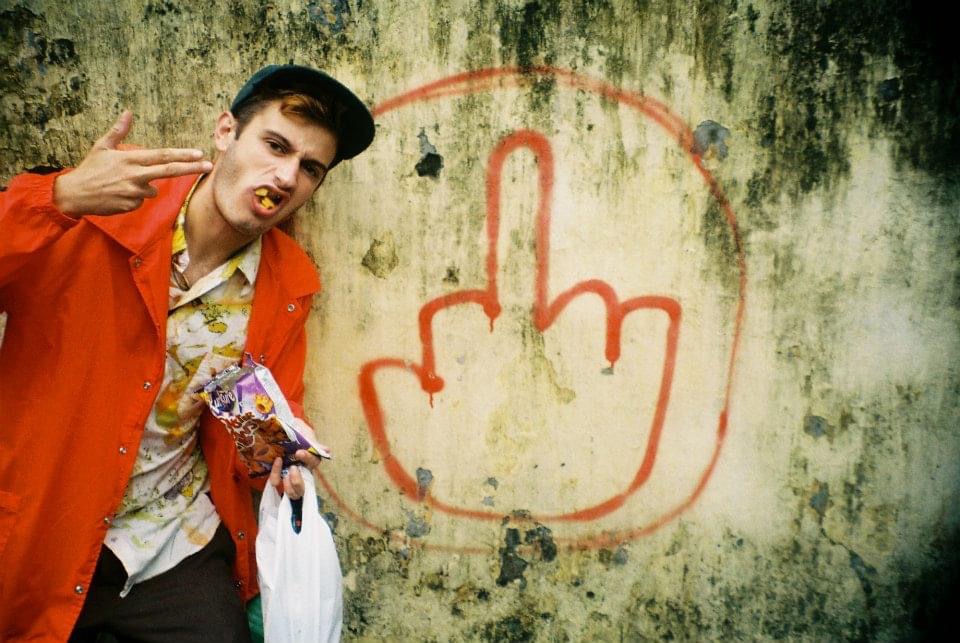 * Your mid-to-late 20s:
My partner and I left Berlin when we were 25 and moved to Melbourne for two years.
We had an amazing time there, I love Melbourne so much. I still worked in call centres and did my artwork in between shifts, had some small art studios and did some more zines/exhibitions, t-shirts and bits and bobs.
I would draw loads whilst at work in call centres and a lot of this work ended up being the stuff I put in my zines and exhibited.
After this time in Melbourne we spent quite a bit of time travelling in Asia (South Korea, Japan, China, Taiwan, Hong Kong, Malaysia and Indonesia) and this influenced my artwork a lot.
After moving back we were in the UK for a while and then moved back to Berlin for nearly a year.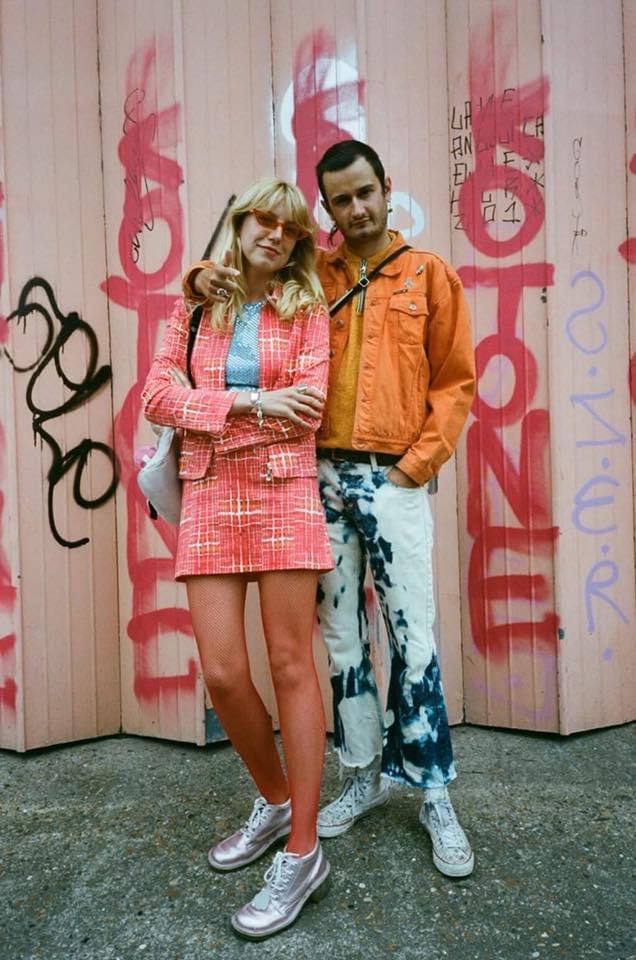 * Your 30s so far:
We moved to Wellington in New Zealand just before covid hit in early 2020.
It's been so great living here, it's the smallest city I've lived in since moving away from home but that brings great community, lovely people and beautiful nature.
The covid lockdown changed my art a lot, I used to draw loads of fucked up stuff but during lockdown the art I made got way more emotional and personal and I'm really proud of that.
Also living in NZ I've got way more into nature and read a lot of nature and anthropology books and this has led me to draw loads of trees and bugs and art about our connection with nature.
I started tattooing as soon as I got here. My good friend Jude (@egg.lemon) taught me a bunch of stuff and then I just started doing simple designs on people and practising on myself.
After nearly a year of doing it I quit my day job, set up my own small tattoo studio and have been able to sustain myself on tattooing and making art.
This has been a crazy shift in my life that I'm so thankful and grateful for.
I spent so long drawing in evenings and weekends and never feeling like I really had enough time to pursue it properly but now I get to go to my studio and draw and tattoo as much as I want.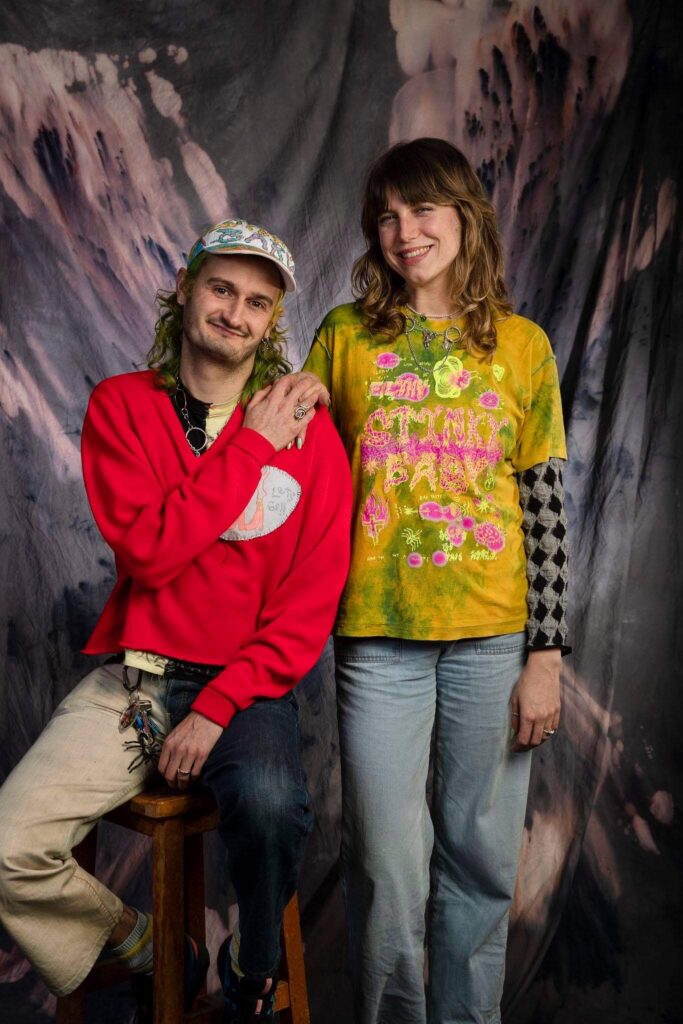 Personal motto(s)?
I don't think I have a motto but these are some phrases I write a lot in my art that I guess go around my brain a lot:
"Everything is not as it seems."
+
"Bored of this world."
+
"Power will eat itself."
+
"We need each other."
+
"I don't care."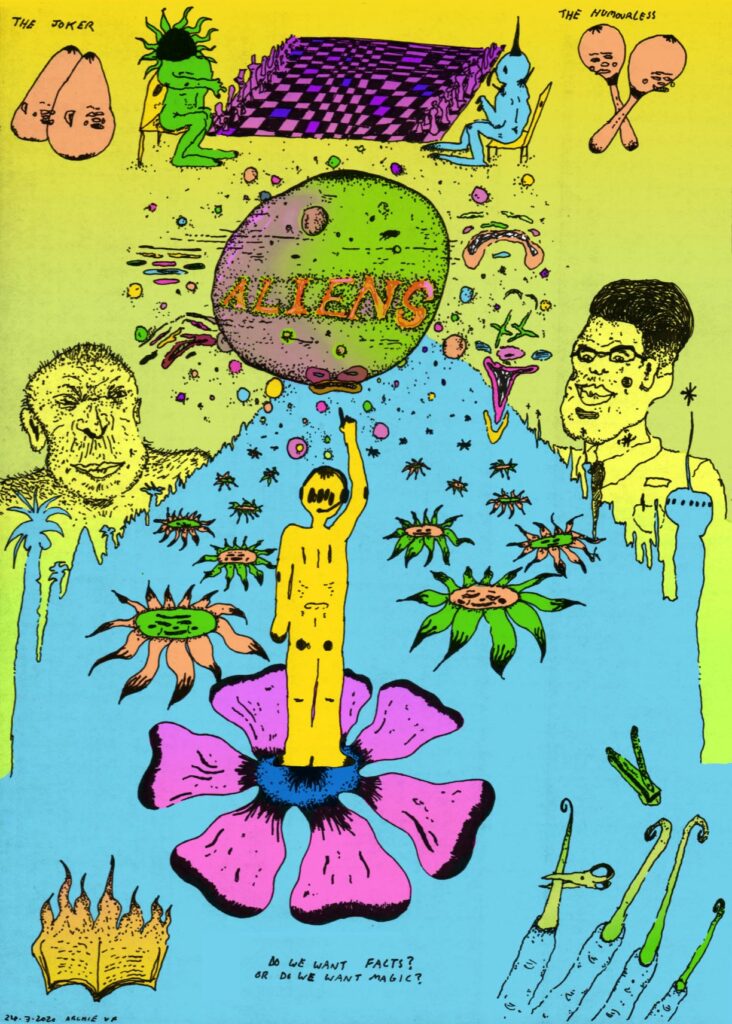 Art + Tattoo Questions
When and why did you first become interested in art, tattoo and everything creative?
… and any pivotal creative moments / influences?
Damn I think I've always been interested in it.
I guess earlier in the questions I talked about some inspirations and moments like The Simpsons/punk CD artwork and stuff like that.
In terms of tattooing it's kind of mixed I suppose.
I always wanted tattoos but didn't have much money to spend when I was younger and didn't like most of the tattoo shop styles so I did a lot of stick and pokes on myself and then later got a dodgy eBay tattoo machine and would tattoo simple designs on myself and friends. I loved the old school messy prison kinda tattoo style. But I didn't actually try to get good at tattooing until I moved to Wellington and I was really inspired by some friends – Jude @egg.lemon and Tabi @baitkush are both people I've known for a long time that got in to tattooing and really inspired me to explore it more myself and try different styles.
Other tattooers that inspired me early on was @bitchinkworldwide , @compost.cowboy and @ritasalt .
(2 recent tattoos by Archie)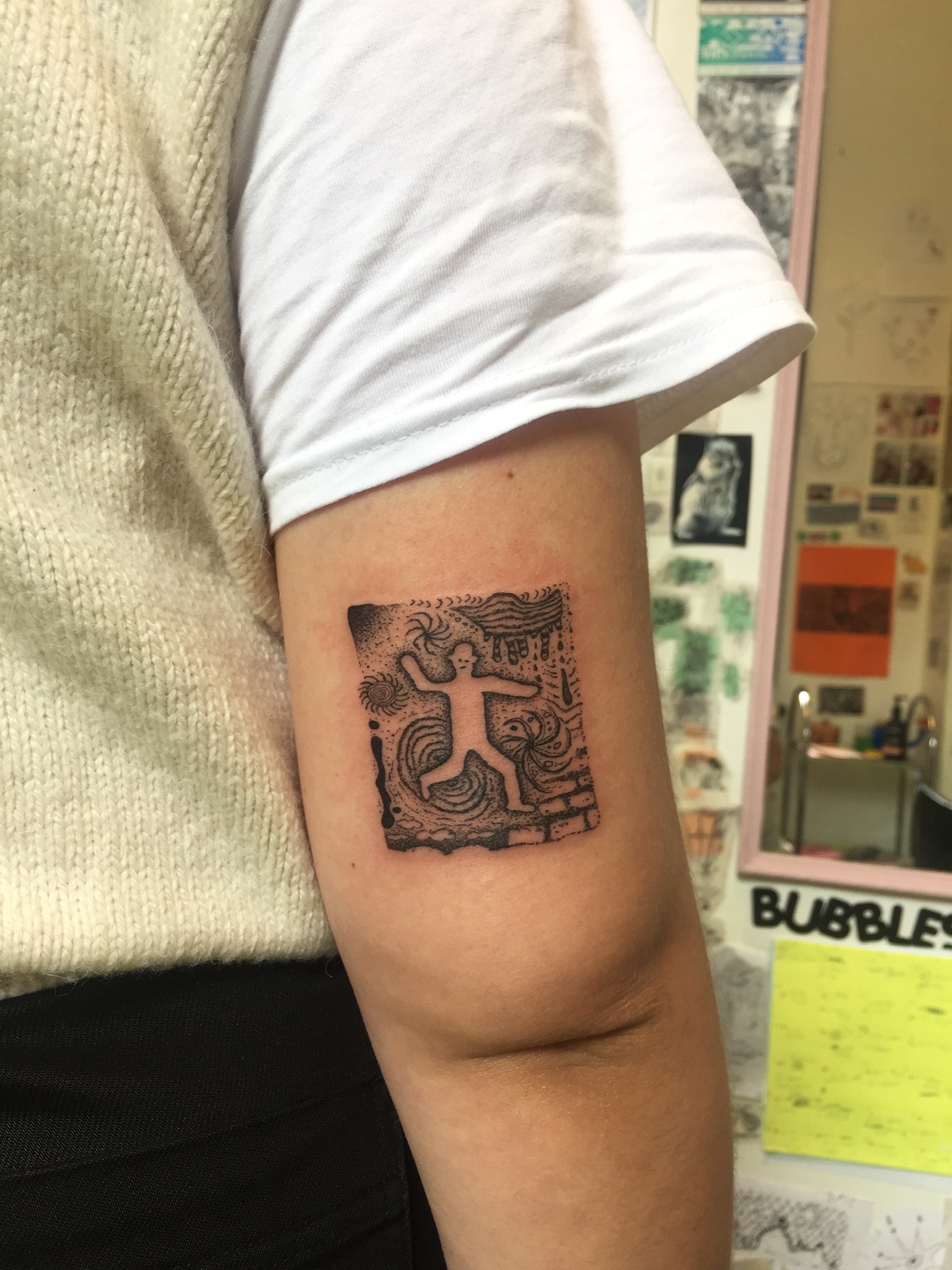 If you had to explain your art, tattooing and other creative endeavors to some recently crash-landed aliens…
What would you tell them?
This is difficult but I guess to be straight up I'd say it's 2D art done mostly with pens and pencils on paper that explores my experience and critique of the confusing weird world we live in.
I like to think that my art can be very emotional and sad but can also be silly and funny and take the piss out of society.
Then people pay me to draw this stuff on their skin and it's there for life!
How did you and the ever-lovely Fergus Nm (of 'Venomous Feathers' and many other projects) come to connect?
… and what influence has Fergus had on your personal and artistic life?
Me and Fergus started chatting online and then met at Zinefest in Wellington.
In the art community in Wellington there isn't heaps of people as intensely into weird drawing as me and him so I think we were always going to meet at some point. He's very supportive and 'Venomous Feathers' is a really cool group zine that he put together.
I always have art I want to put in to my own zines but it's been really cool to be a part of a group – One among a load of art that I really like!
I also wanna shout out Wellington Zinefest, the people who run it are amazing and the fest itself is full of amazing stuff!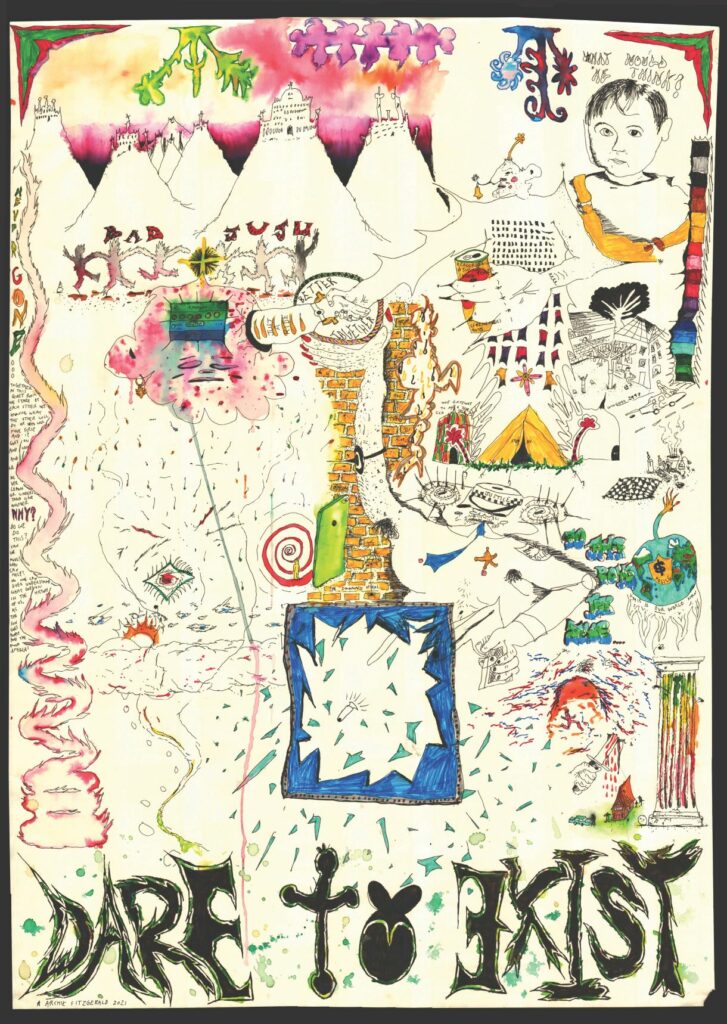 Some of your interviews from a few years back talk about you delving into creating music…
How's that all working out for you man?
Oh I've completely stopped doing that haha! It was something I was playing around with for a while and was really fun but I realised that you can't do everything and I've put my focus more now on making art and in my free time doing more outdoorsy stuff.
Who are some of your favourite artists, writers and musicians?
…and what is it about their works that so inspire and move you?
Some favourites old and new would be Tyler The Creator, Tadanori Yokoo, Raymond Pettibon, Basquiat, Robert Crumb, Don DeLillo, John Waters, Oda Iselin, Uma Tufekcic, Jared Diamond, Saba, Tierra Whack, Crass, Elliot Bootleg Comics, Richard Maclean Smith, Danny Robins and Julian Simpson.
I love artists that go with whatever they wanna make and just do it and have a creative world they inhabit and explore and you can join them in some way on that journey.
(The inside of 2 zines by Archie.)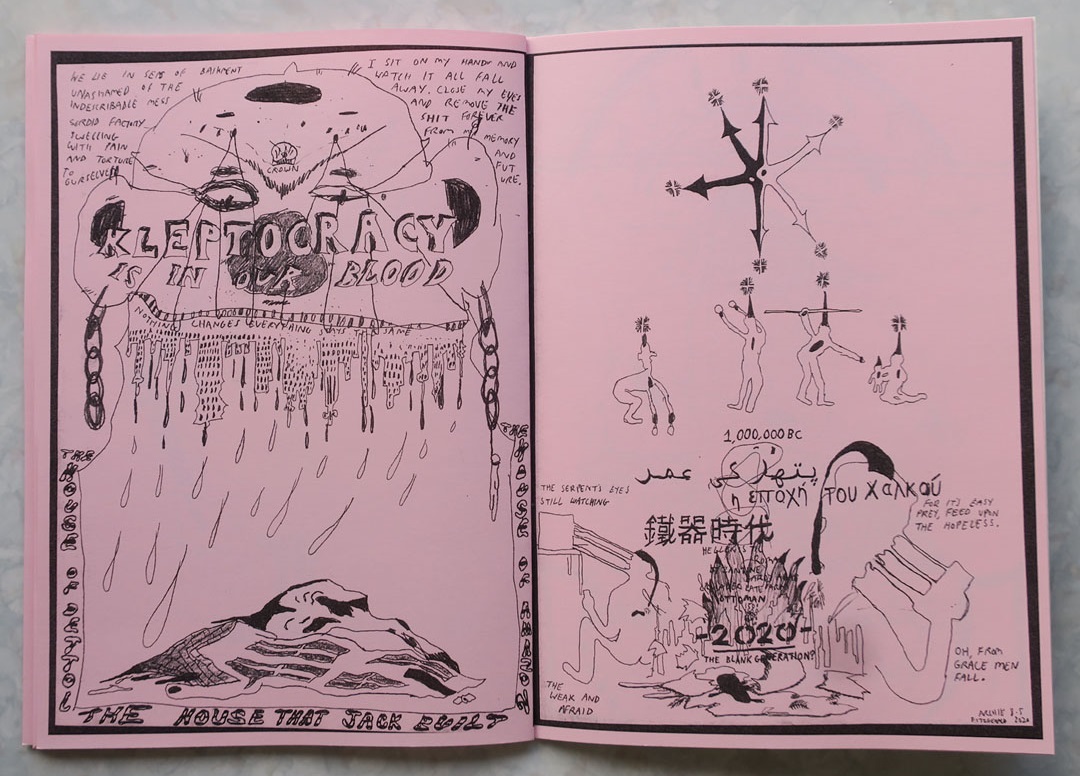 If people wanted to see your stuff, work with you or buy some of your wares – where should they visit and how should they get in touch?
My instagram is what I use for most stuff – @archie.fitzgerald
I also have a website which is www.archiefitzgerald.com which gets updated occasionally and sometimes I sell stuff on there.
Contact details are on the website or you can DM on instagram.
Odds and Ends
If you could live in any place, during any historical era – Where and when would that be?
…and why would you choose that time and place?
New Zealand when Maori first arrived would be amazing because there were huge birds and loads of frogs.
Maybe Gondwana when that was a place (couple hundred million years ago) – see some megafauna and crazy flora.
A more modern one would be New York in the 1970s when punk was first kicking off and Keith Haring, Basquiat and Warhol were knocking about because I was really into that era for a while and it looked so raw and exciting.
What role did toys play in your childhood?
I haven't really thought about that – I had some Rugrats and Simpsons toys that were cool and got quite into Playstation for a while playing Crash Bandicoot and Worms and stuff.
I think I was more into drawing, reading and music.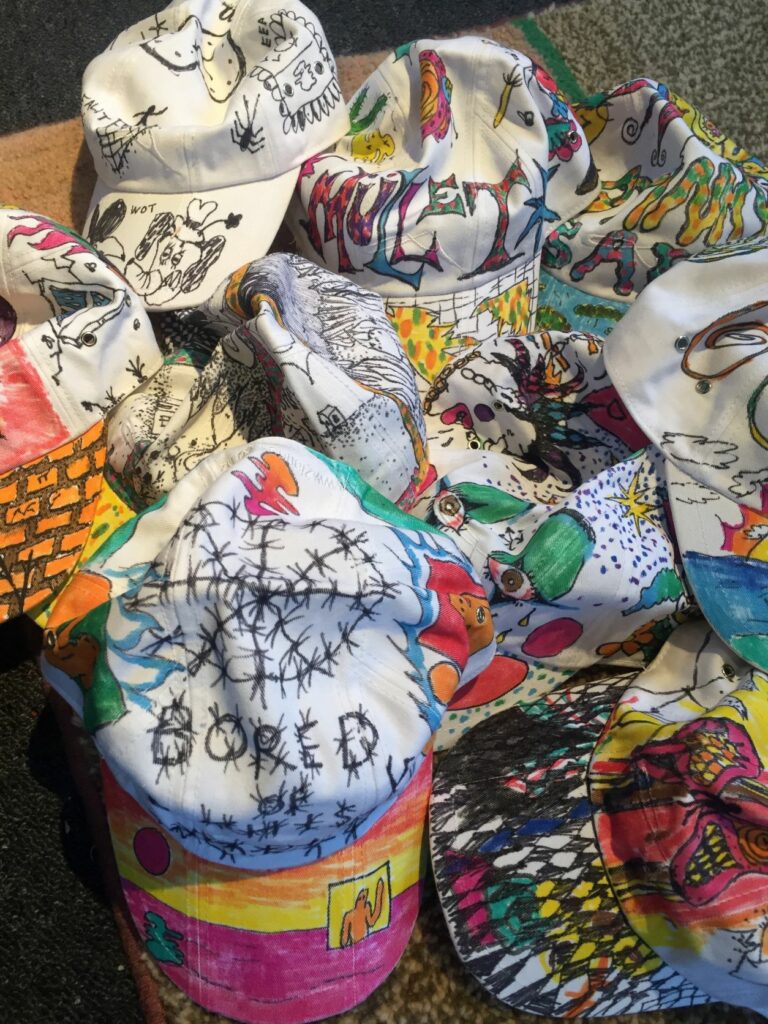 What are the top 3 items you own?
I don't have tons of stuff because every time I've moved to another country I've sold most of my stuff.
But probably art from friends and clothes I love.
In a fight between the following British pop culture icons: Sooty + Sweep (created by Harry Corbett) Vs. Judge Dredd (created by John Wagner, Carlos Ezquerra + Pat Mills) – Who would win?
…and why would they be victorious?
I'm gonna say Sooty and Sweep cos I used to watch that and I don't think I've actually ever seen Judge Dredd…
Please describe your last dream in detail…
Hard to remember one particular dream but I just recently spent a month travelling around South Island New Zealand in my van and every night I would dream that I was trapped in a cave or somewhere claustrophobic and I would wake up and look out the window and say weird things until I realised I was just lying in the bed in my van.
I'd wake my partner up every night which was very annoying for her………..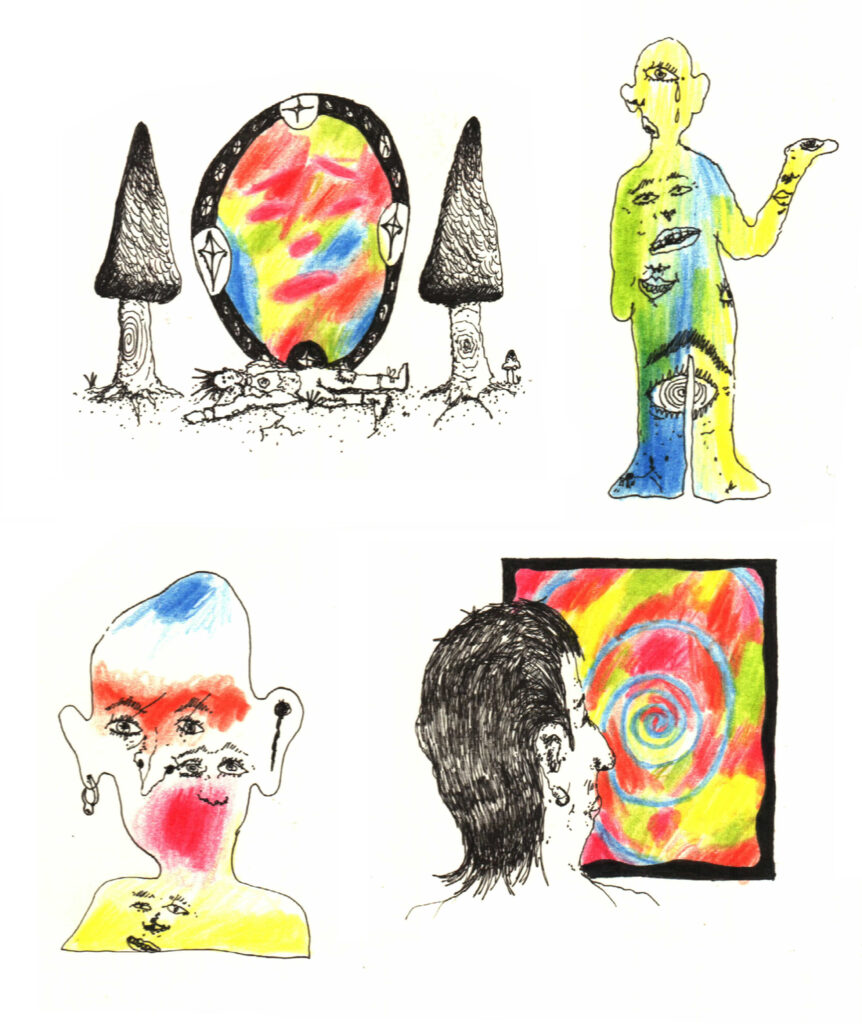 Of everything you have done, what would you most like to be remembered for?
Hmmmm just for drawing stuff that people connect with or it made them laugh.
Links