Nicolas Le Bault's works are a combination of childhood innocence, teenage angst and adult insecurities, rolled into a wholly unique aesthetic. An artistic world were bandaged women lazily read Karl Marx on their bed, young pig-tail wearing girls describe horrific tales of murder and noses are revealed to be demonic faced penises. Executed in a style reminiscent of classic children's illustration, underground comics and pop art. Placing Nicolas' creations in the realms of both the alien and the familiar.
Born in Paris, France in 1986 Nicolas created art compulsively at a young age, but had to keep his artistic activities secret from his parents who viewed art and drawing as deviant. Initially inspired by underground music cover art, computer games & comics as a child – Nicolas discovered the worlds of film, classical art, philosophy and literature in his teens. All of which continue to inspire his many artistic endeavours to this day.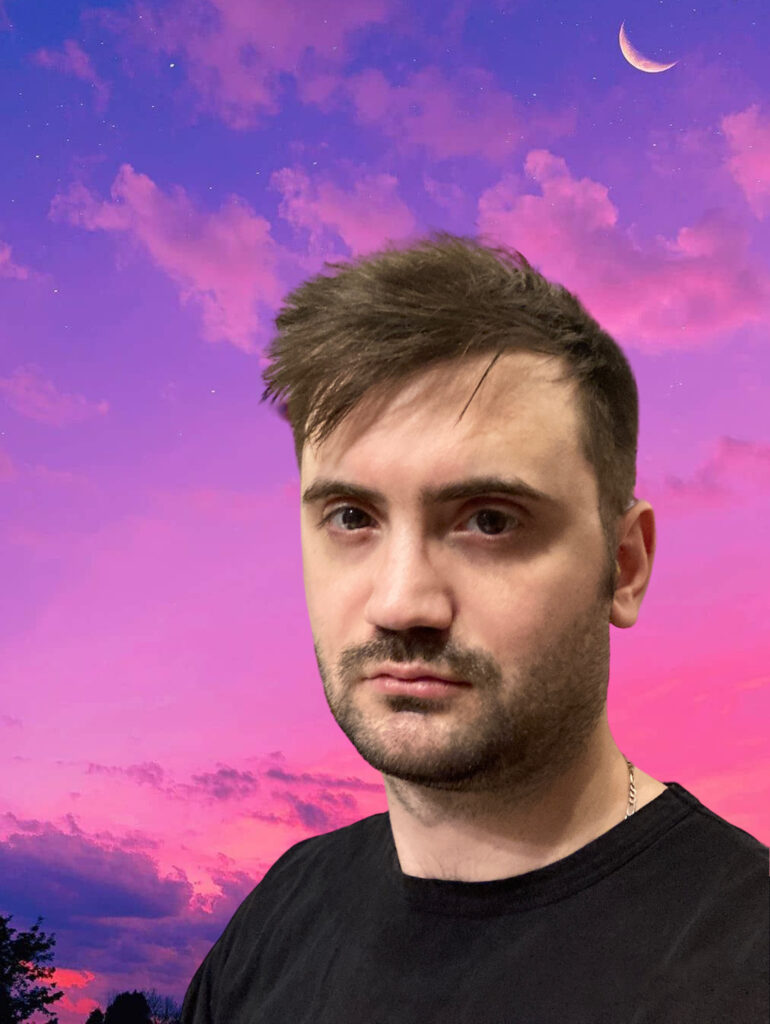 In addition to his art, Nicolas is also driven to promote the works of fellow creatives – Which he does through his publishing house White Rabbit Productions and its associated periodical, White Rabbit Dream. Which Nicolas has used to showcase the works of people such as Angela Dalinger, Daisuke Ichiba, Éric Pougeau, Sandra Martagex & Kazuhiro Hori to name but a few. Placing Nicolas as a key member of the international cultural underground.
Wanting to get to know him better, we sent Nicolas some questions to answer over email.
Take a dive into his world below…
Getting Acquainted
Name + D.O.B?
Nicolas Le Bault, born in 1986.
City, State and Country you currently call home?
Paris, France.
City, State and Country you're from?
I was born in the late 1980s, as I said above, right in the middle of a period of transition, just before things started to accelerate at a pace that left behind a important part of my generation. Many young people have found themselves in a state of shock and
bewilderment because of the paradigm shift brought by the digital revolution.
Like most of men in the past, I still live in the city and the country where I was born, although this city, Paris, which has become one of the major axes of globalization, no longer has anything in common with the one I knew in my childhood. This city has also become unliveable and I am thinking more and more seriously about leaving her. The sense of history pushes us to expatriation, uprooting, mobility, we can deplore it, but it is now accepted that this is the destiny of the world.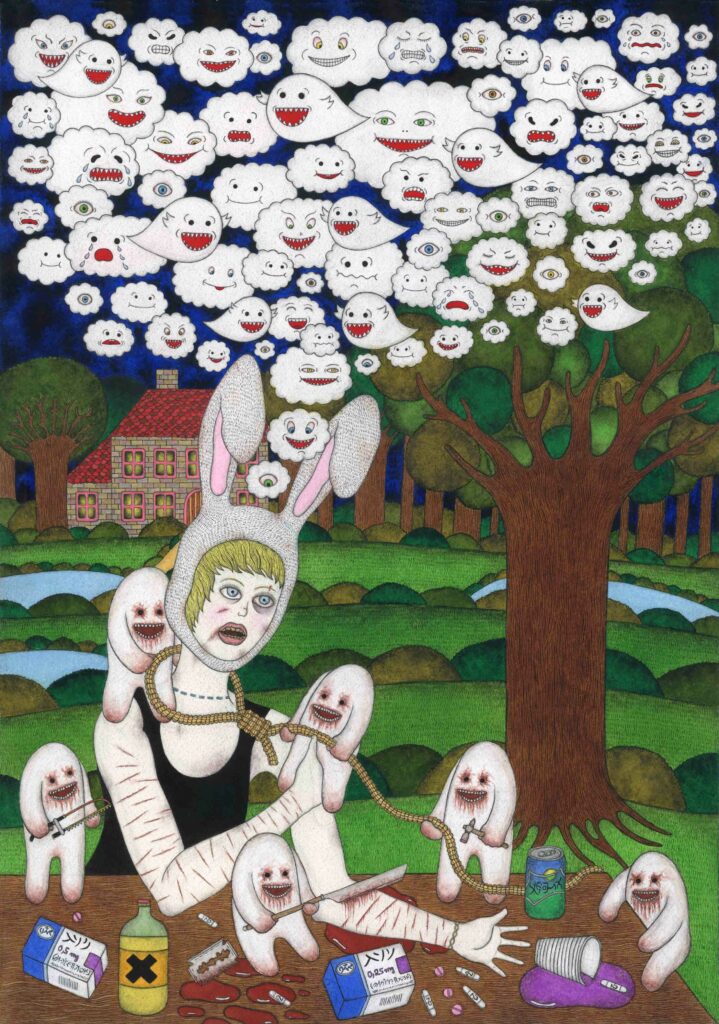 Please describe some memories – such as art, music, comics, friendships, adventures, study, romance, politics, work, crime, religion, performing… anything really – from the stages of your life noted below:
* Your childhood:
Drawing has always represented for me a way of self-affirmation against the world, of resistance and revolt, and the source of this particular relationship to the creative gesture is to be found in childhood.
Indeed, as a child, I was not allowed to draw.
This activity was seen by those around me as deviant, regressive, suspicious.
I am not at all one of those child prodigies of art who amazed their parents with their budding talents. I drew a lot, in secret, on A4 sheets of photocopier, to breathe in the violent, oppressive context of a family in the grip of significant and heavy psychiatric disorders.
When I finished a drawing, I rolled it into a ball and hid it in the flue of an unused chimney, so that no one could find it. I couldn't bring myself to destroy it completely. One day, when I was around 12, the chimney was full to the point of overflowing, and I had to stop because it was getting dangerous. I won't start drawing again until much later.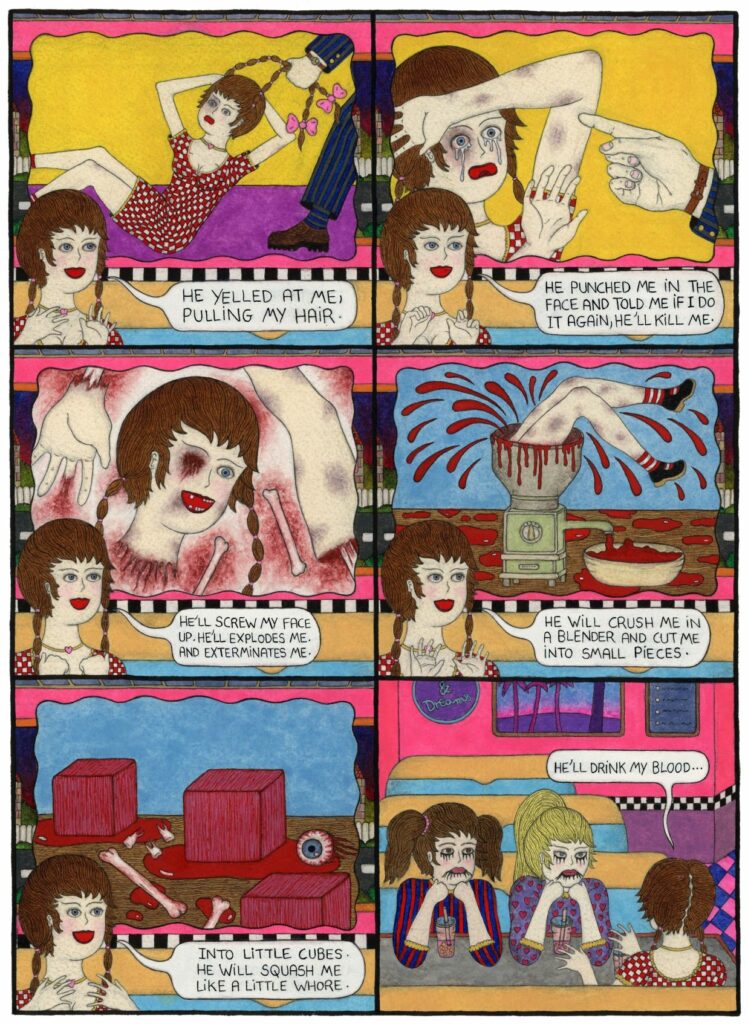 * Your teenage years:
Resident in a provincial boarder school, I discovered literature, cinema, music. Also sexuality and martial arts. I distribute blows and I receive a lot too.
I'm starting to date girls and elevate myself culturally. I'm moving away from video games, which I originally wanted to do my job. A VHS of the film Blade Runner gives me a very striking feeling and I start to imagine film sets, to write drafts of film scripts.
I got kicked out of boarding house after a verbal altercation with a supervisor.
As I was a rather good student, the college decided to keep me anyway and found me a guest room in the suburbs of the small town of Seine-et-Marne where the establishment is located, to accommodate me so that I could continue my schooling. There, finally alone, escaping the bustle of the dormitories, I intensely read Dostoyevsky, Balzac, Flaubert, JeanJacques Rousseau, Stendhal, Céline, Gogol, Lovecraft, after having skimmed all the volumes of Heroic Fantasy I could find.
It was really popular culture that led me to classic literature.
On weekends, the school bus drops me off in Paris, and I flee my home to haunt the arthouse cinemas of the Latin Quarter, where I discover hundreds of period films. Within a few weeks, I already knew all the projectionists who let me in without paying. It was another time.
There were also record stores and video clubs, which have since disappeared. By rummaging through the shelves of the big second-hand stores, you could still find all sorts of rarities, books, mythical rock and metal albums for symbolic sums, rarely more than one euro.
And then there was the system of exchanges between enthusiasts.
That's how I formed my culture.
Then, at 16, I was admitted to a Parisian high school, and my parents kicked me out of home. I found myself in a service room in the attic, on the sixth floor of an old building, without a shower, with the toilets on the landing, a small sink to do the dishes and wash myself, a little pocket money to get by in the daily and prevent me from starving.
It was precarious, but I had a computer with Windows 95 and a 56K modem. It was the very beginning of the democratization of the internet and downloading, nothing to do with the control and surveillance regime it has become today. It was a space of extraordinary freedom where the curious could discover a whole section of culture as ignored as it was forbidden until then. There were sites on science fiction, on extreme music, on avant-garde cinema, on amateur RPGs…
I start at night writing a novel of more than 400 pages whose the result does not satisfy me. I hardly go to class anymore, and when I go, it's moderate fun, because the ambient conformism of my age group is really starting to revolt me.
The high school principal ends up kicking me out, and on the advice of a friend, I manage to get myself admitted to a second-rate film school. I held on for a year and a half before being fired, but before the age of 18, I managed to make a one-hour medium-length film, which no longer exists today. (I'm starting a second one, much more ambitious, which I'll never finish.)
Separated from any institutional framework, I start drawing again and painting.
With friends, I fled from Paris, in order to set up a community artist's studio in Germany, whose economic system made it possible to live with much less money than in France, where rents are very expensive and require substantial payment guarantees. There I write, I paint, I work intensely on drawing and I think I'm starting to develop my personal style.
Then finally, the other artists get discouraged, regret their bourgeois comfort, return little by little to France and, for lack of money to pay the rent alone, I have to do the same.
From there, I had to work to make a living.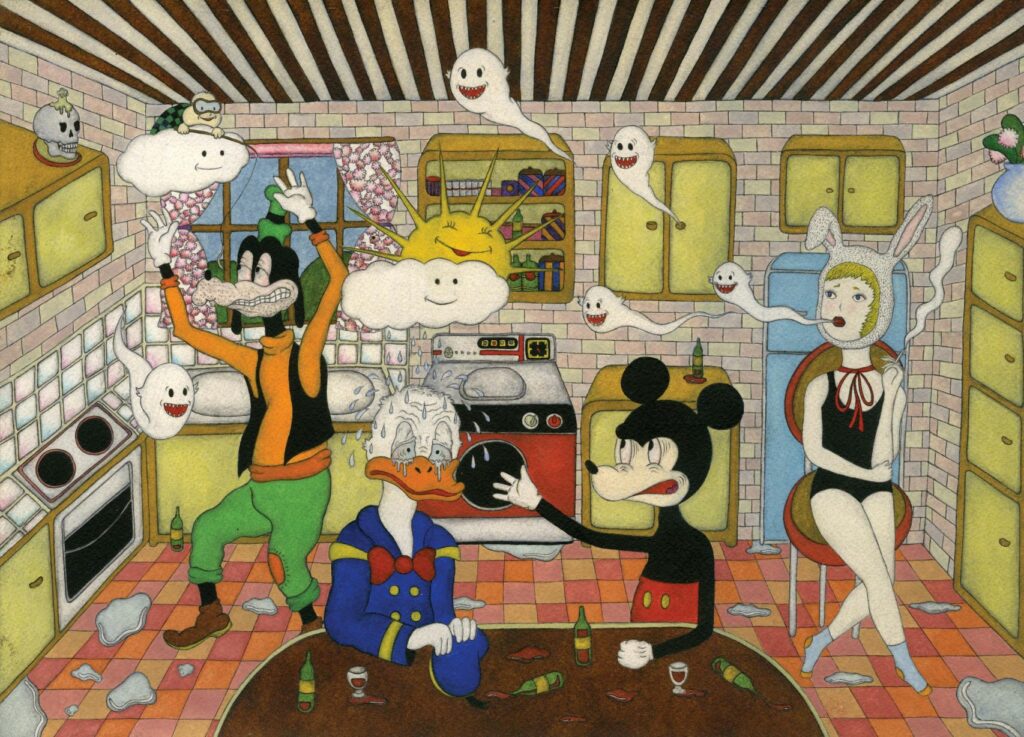 * Your 20s:
Like millions of people at the same age, it was around the age of 20 that I began to face the violence of neoliberalism and the labor market. At the time, we had reached a real unemployment rate of 18%, with almost one in four young people who didn't find work. Suffice to say that the economic situation did not put employees in a position of strength. The salaries were low, and you had to compete with dozens of other young people to get the slightest job. I discover the need to promote oneself, to sell oneself, in a context where the worker is perceived as a commodity to be negotiated.
Everything at that time was marked by insecurity: my environment, my entourage, my work, my neighbourhood…
I think that my political awareness was born, perhaps a little late, at that time. But generally, it is only once confronted with social reality that one begins to think about things politically.
After several years working in bookstores, around the age of 24, I ended up, by a complete bluff, being hired as a bibliographer for expertise on antique books. I train on the job, in the heat of the action, I run in all directions because I do two jobs at the same time, I learn by heart documentation books at night to feed my sheets that I write the day, and I spend more than 7 years earning my living in the rather particular environment of specialized auctions and auctioneers.
I suffered a lot at that time from having to put my artistic activity in the background, but getting out of financial precariousness has become an obsession, and I fight daily to find the material comfort necessary to be able to plan for the long term.
During this turbulent period, however, I manage to write and publish two books on my own, graphic novels that are still imperfect but to which I am nevertheless attached, because they constitute the premises of my future creations.
I start to publish drawings on social networks, and little by little I build up an embryo of public.
Things really kicked off for me at that time.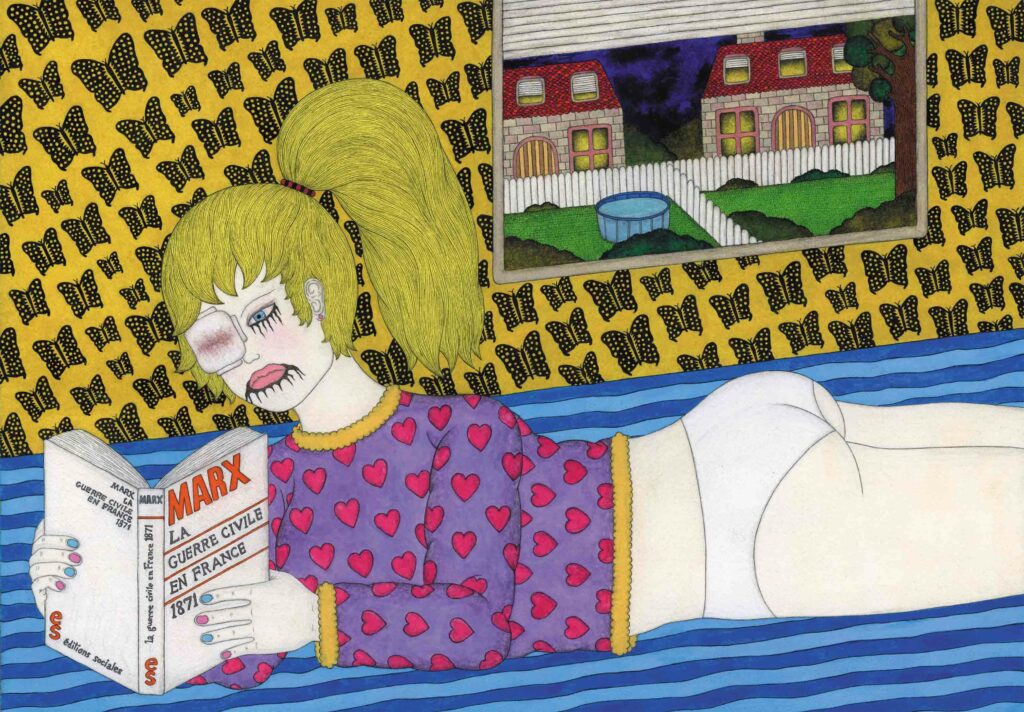 * Your 30s so far:
After 10 really difficult years, I managed to get my own business, and things finally stabilized.
I meet an exceptional woman who is now my wife and encourages me in everything I do. I'm beginning to be able to put almost all my energy into my artistic work.
I create a publishing house, White Rabbit Prod, following a pragmatic economic model, and a magazine White Rabbit Dream, which allow me to forge links with other artists around the world, and my audience begins to grow.
From there, my life only revolves around one thing, as I had always wanted: to draw, paint, write, publish, with an intensity that is stronger every day and an absolute personal commitment.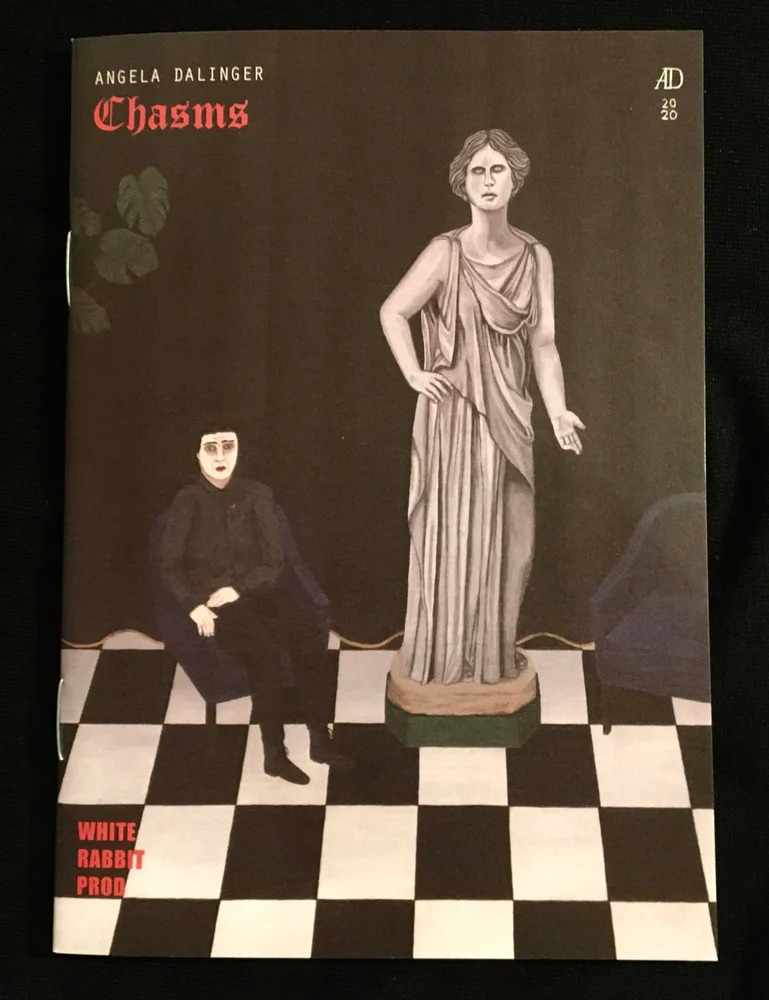 Personal motto(s)?
"Nothing and no one can stop me – Close the door, and I'll come in through the window."
What role did toys play in your childhood?
Today I am struck by the apathy and lack of imagination of most children. I think that the quantity of toys at their disposal, due to the consumer society, has something to do with the attention disorders and the loss of bearings which are becoming widespread in the new generation.
I am part of the very last generation of children who had little to amuse themselves with, so we knew the boredom, which could set in for long hours when we had nothing to do. We have experienced the frustration which stimulates imagination and daydreaming through the dissatisfaction of immediate desires.
As a child, I could have fun with a piece of wood whose shape reminded me of something interesting, or tell myself stories based on everyday objects of the greatest banality.
The always deferred pleasure and the rarely satisfied impulses may have made us neurotic, but taught us the patience, concentration and capacity for work that are essential to any creation, we can never repeat it enough.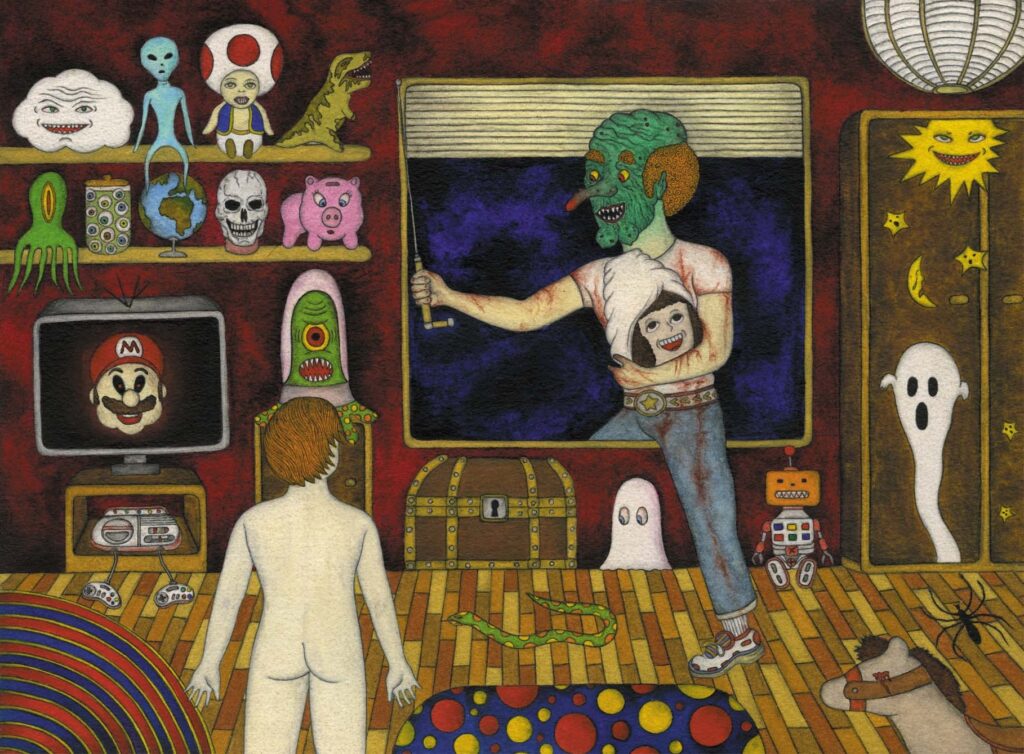 Art & Creativity Questions
When and why did you first become interested in art and everything creative?
… and any pivotal creative moments / influences ?
I come from a well-off but relatively acculturated background, there were books at home but I was not allowed to touch them, and in my neighbourhood there was absolutely nothing cultural. So it came by side roads.
I remember perfectly my first artistic emotion. I felt it at the supermarket.
It was 1992, I was a little under 6 years old, and in the records department was the CD of the Iron Maiden album Fear of The Dark, which was so successful that we could find it in great shelves, with its magnificent cover, this incredible drawing that immediately struck me. I dreamed about it at night and started drawing monsters to illustrate my nightmares.
The Virgin Megastore on the Champs Élysées, which has since disappeared, had a large section devoted to imports of Metal, Goth, Indus and Alternative Rock records. At the time there was very little specialized press, at least I didn't have access to it, and there was no Internet. So the only referent to imagine the musical content of a disc was in fact the cover. And often they were very beautiful.
So my relationship to the images was necessarily affirmed from an early age, and the visual domain was connected in my mind to all other artistic forms.
At the same time, I also started collecting old newsstand comics, looking for original and specific content.
And like all the kids at the time, I had the first game consoles. The 2D graphics of the video games of the 90s were quite sophisticated, and there was a great diversity of forms that have now disappeared since 3D invaded and standardized everything.
All these cultural creations, which were not officially recognized as such, are at the origin of my artistic awakening. They still constitute more or less conscious inspirations in my work. I will also discover later that they were sprinkled with pictorial references found in classical art.
If you had to explain your creative endeavors to some recently crash-landed aliens… What would you tell them?
It is difficult for me to answer this question, since it goes beyond the concept of universality, a notion which is already open to discussion. In France, I don't know if it's the same in your country, we tend to confuse "universal" with "all public".
It is quite possible that my art, which is not "mainstream", is not universal either.
Perhaps even to be appreciated it requires certain cultural referents, which one day will disappear like the cultures and the civilizational spaces which carry them, and will make it, as well as a certain number of forms of art, incomprehensible for the whole of humanity.
It is not at all impossible that my art does not address the whole earth, in this case the whole universe. I think that my art touches the hearts of individuals, perhaps many, perhaps not, that the themes that I approach and the colouring that I give them can move and help to live.
I would like that the encounter of my art with all these people, one by one, can happen, and that the emotion provided could be intense and upset each of them, according to their lives, their experiences, their feelings. But I will never try to convince anyone of the validity of what I do.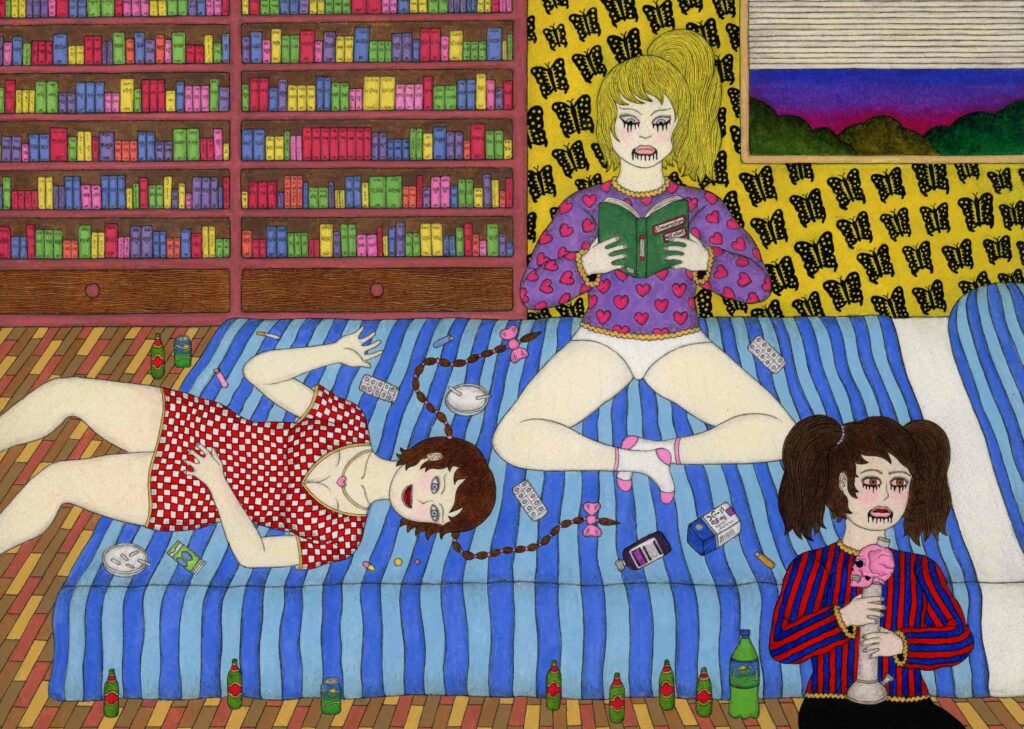 Who are some of your favourite artists, writers, filmmakers and musicians?
…and what is it about their works that so inspire and move you ?
I discover some every day. All the artists I've published in White Rabbit Dream are daily inspirations. But at the outset, there are my deep-rooted and indestructible personal references.
For literature: Roberto Bolaño, Dostoïevski, Franz Kafka, Witold Gombrowicz, Michel Houellebecq, H.P. Lovecraft, Frederika Abbate, James Joyce, François Rabelais, Thomas Pynchon, Steve Tesich.
For art and comics: Balthus, Hans Bellmer, Gunter Brus, Frank Miller, Cameron Jamie, Pierre Klossowski, Jean Fouquet, Charles Burns, Daniel Clowes, Lukas Cranach, Junji Ito, Francis Picabia, Jean-Marc Reiser, Jim Shaw, Andy Warhol.
For the cinema: Blake Edwards, Mario Bava, Billy Wilder, Marcel Carné, John Huston, Edgar J. Ulmer, Jean Rollin, Jacques Tati, John Carpenter, Jacques Tourneur, Pier Paolo Pasolini, Jean Renoir, Charlie Chaplin…
For the music: Alice Cooper, David Bowie, Iron Maiden, Ulver, Lou Reed & The Velvet Underground, Metallica, The Beach Boys, Stevie Wonder, King Crimson, Alan Vega, Kanye West, Mayhem, Laibach, The Clash, Burzum, Slayer…
I probably forgot half of them.
But also all the Synthwave/Vaporwave current which constitutes, by its iconography and creativity, the main original and authentic cultural creation coming specifically from the current era.
If people wanted to check out your art, work with you or buy some of your wares – Where should they visit and how should they get in touch?
You can of course contact me via my social networks, Facebook and Instagram.
Recently, I decided to do without the goodwill of intermediaries and to open my own space, inside which I offer for sale a selection of original artworks, in addition to my books and magazines. I invite all those who are interested to order them directly on this site: www.nicolaslebault.bigcartel.com to support me in my activities.
The projects that I lead, both in publishing and for my personal creation, are more and more ambitious, and you can be sure that the money earned will be well used!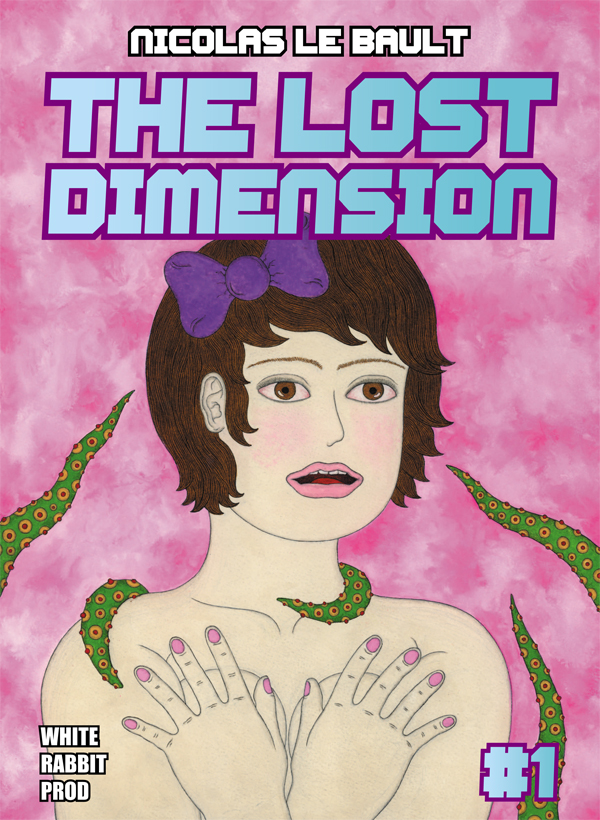 For those at home who may be unaware – Please explain the who, what and why of your publishing imprint, White Rabbit & it's assotiated peridodical, White Rabbit Dream?
First, before White Rabbit Dream, there was no independent magazine that combined contemporary art, comics and alternative graphic scene with critical, philosophical and political content.
Most French graphzines completely evacuate the text part in favor of the images, and are quite depoliticized. This situation did not satisfy me. French press rarely get out of illustration, or from very elaborate, technical, over-detailed drawing, which gives me a headache. Moreover, they did not highlight the artists that I wanted to appear alongside me.
The editorial line of White Rabbit Dream is unique, has no real equivalent, and continues to assert itself issue after issue, even if it means surprising, confusing, shocking.
Then, the causes of the need to have my own editorial structure go back quite a long way, and to really understand what motivated me in this undertaking, I think I need to tell you a bit about my country…
The problem of France that its cultural unity was initially made by the establishment of a strong State, very interventionist, which gradually destroyed all the intermediary corporations ands guilds to finally get involved in everything.
This State has historically been the guarantor of a certain number of protections, but it has been gradually subverted by a powerful and dominant bourgeois class, which has transformed this power structure into an auxiliary of the market. This minority have captured the State in order to subjugate it to the service of his own economic interest and to use it for its own benefits.
This situation produces a sort of pathological paralysis of the political system and makes upward social mobility extremely difficult in France.
In our country, the most unbridled capitalism is completely backed by the state, and it's a bit as if we had introduced the worst of liberalism into an almost soviet structure. It is therefore extremely complicated to do anything in the cultural field in France without at some point going through the high administration, without having recourse to public aid, or without filling out a subsidy file.
Ultimately, it is a civil servant who will decide whether your project will have the right to exist or not.
For artists, being accepted by the system often implies a conventional course within an official art school, and also coming from a certain social background by which one is accustomed very young to the codes and regulations of this institutional universe. The figure of the outsider is not very popular in France, and when you arrive out of nowhere with your work in hand, you are distrusted, you are marginalized. There is often an excess of precautions among gallery owners and publishers, who often operate in a closed circuit and do not want to take the risk of losing their subsidies.
Finally, the omnipresence of the State paradoxically induces a rather individualistic state of mind among French artists, whereas it seems to me that in your country, it is common to come together to organize yourselves in groups in an autonomous way. As I didn't feel like asking for money or submitting to a State that beats up and mutilates demonstrators in the street, I decided very quickly and very early on to form an independent support network around me to defend and disseminate artists who, despite their talent, encounter difficulties in exhibiting their work in a satisfactory manner. It also allowed me to import into France a number of Japanese and American artists and artists from all parts of Europe that you never see in art galleries in Paris.
The publishing house White Rabbit Prod, and the magazine White Rabbit Dream, without the help of anyone, have presented around forty international artists since the end of 2017, and gave me the possibility me to exchange ideas and forge links in the whole world – A new issue, quite important, is in preparation, and I will officially announce it soon.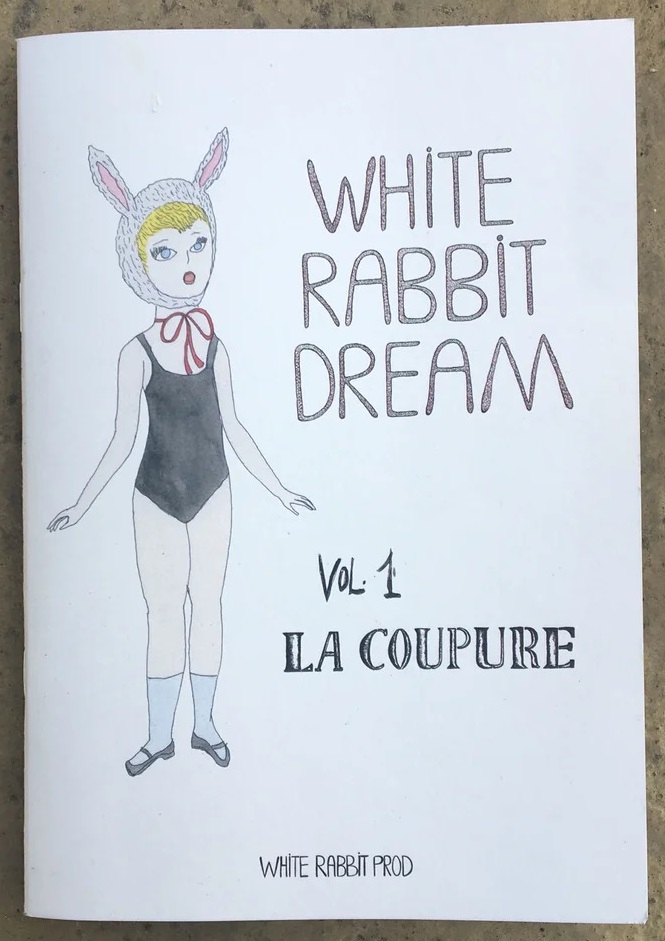 Odds & Ends
If you could live in any place, during any historical era – Where and when would that be?
…and why would you choose that time and place?
I would have liked to live in Rome at the 4th century AD, at the time of the religious conversion of Emperor Constantine, historic event that initiated the Christian era.
I would have liked to see that, to taste the special atmosphere of a time of a civilization change.
I believe that our era is exciting, frightening too, because we too are living through a period of changeover, an era of end of reign, whose vibrations and shifts I sometimes perceive very intensely.
I believe that part of the role of the artist is to make intelligible, by communicating his vision, the specificity of the historical moment that his contemporaries are going through.
This is why a great work of art, voluntarily or not, often says a lot about its time.
What does "God" mean to you?
Before the age of 15, I had already seen around me no less than 5 deaths, with among them a child, and people who were dear to me. Under these conditions, it seems to me that atheism is a rather difficult position to hold.
It is striking, moreover, with the progress of medicine, that most people encounter death in their existences increasingly later, are confronted with it in their surroundings sometimes very late, and this encounter is often unbearable for them.
I have often surprised myself talking to people in their 50s who have never experienced a death around them, which was unthinkable in earlier times.
Formerly, religion concealed from us the abyss and the absurdity, the violence of our condition, which today anguishes us, revolts us.
I think the post-modern fashion for atheism will not last.
That it can stand only in a cycle of peace and comfort, and that the return of violence, troubled times and armed conflicts will rekindle religious sentiment.
For me, the signifier "God" eternally refers to a question, which will probably occupy me all my life, in the form of an eternally unanswered question to which I will return again and again.
But this is an area that I reserve for the intimate sphere.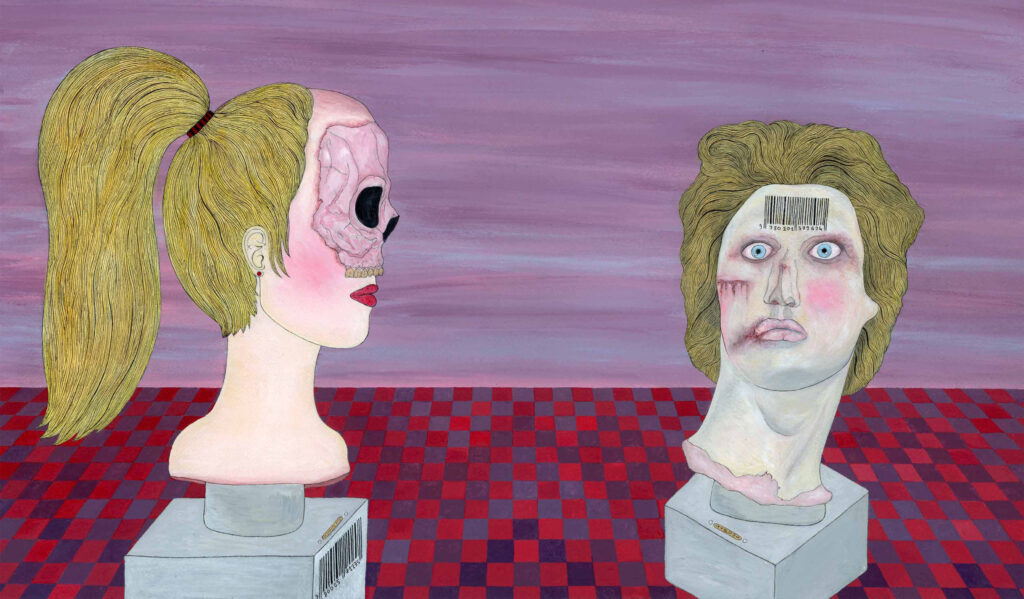 Does sex change everything?
According to Alfred Jarry, sex is an unimportant thing because it can be practiced indefinitely. This aphorism describes well the sad and disillusioned state of mind of our time, which seems to have invaded everything.
I am often surprised to be one of the only ones to give a prominent place to the erotic question in my drawings, comics, scenarios. Today's art favors mechanical, anatomical, serious and emotionless sex over eroticism, often very depoliticized. Whereas the 1970s were both great years of political radicalization and a period when eroticism was put forward, in an often joyful and sometimes utopian way. I try to find this spirit of liberty-casuality-transgression in my works, because indeed, just like creation, love is an incorruptible island of pleasure, a continent for oneself, a providential alternative to the arbitrariness of existence.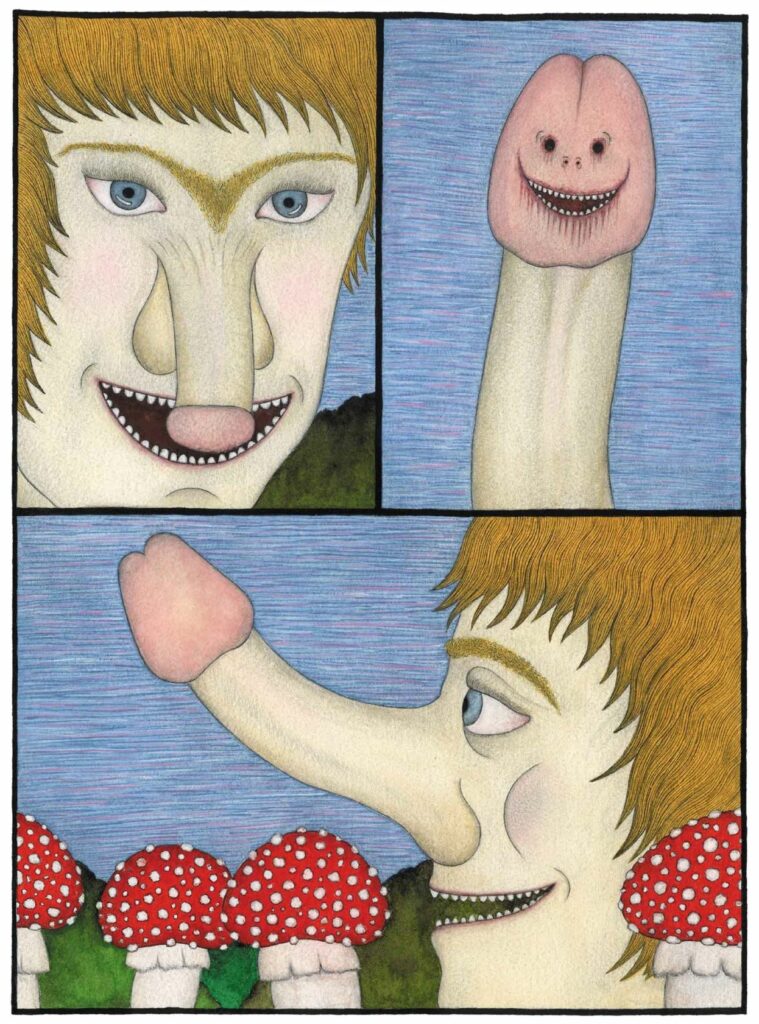 What are the top 3 items you own?
… and what is it about each of them that you so love?
I lived for quite a long time in a very bare environment, where I owned nothing except a few books, two trestles and a drawing board. That's why I'm not a fetishist with objects.
I can do without a lot of things, except my creative materials, pencil, eraser, brushes, watercolor, paper.
In a fight between the following icons of childhood: Santa Claus Vs the Easter Bunny – Who would win?
…and why would they be victorious?
It would make a very beautiful drawing!
I will try to make it occasionally.
Did you know that the character of Santa Claus, under the appearance that we know him, was fixed in the collective imagination by the brand Coca-Cola to sell the product internationally?
The Easter Rabbit is an element of European tradition that has survived for centuries. In the current context, given the state of the balance of powers, there is a chance that capitalism and its soft power will triumph over the ancestral tradition. But perhaps we are at the end of a cycle and the beginning of a new era. The Easter Rabbit may end up strangling Santa Claus, but today is not about provoking a diplomatic incident between Europe and the United States!
Please describe your last dream in detail…
I dream very little at the moment, except in a very disjointed and fragmented way.
The worst nightmare I've ever had is meeting my doppleganger, a bit like in Dostoyevsky's short story. The absence of otherness being unbearable, the two entities fairly quickly began to kill each other in a fight. With equal physical strength and intelligence, it is often vice that wins. And one of the two ended up killing the other by suffocating him with a pillow.
Marcel Proust wrote that life is a succession of Ego who die. But which of the two Ego survived the duel?
Mystery.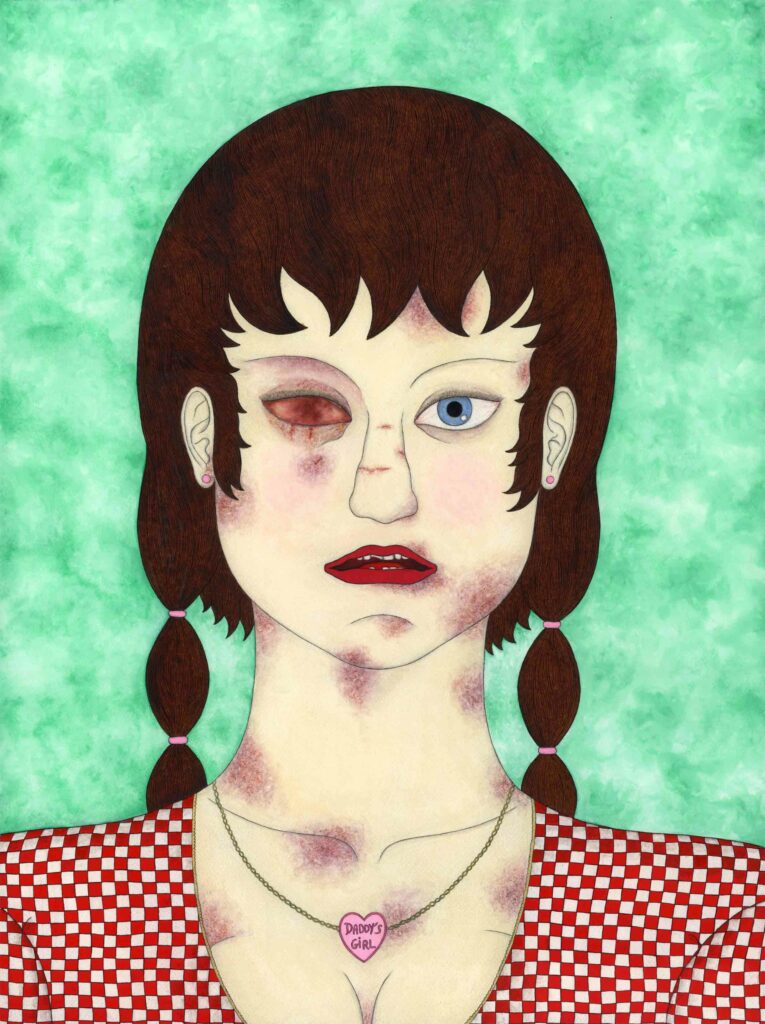 Of everything you have done so far, what would you most like to be remembered for?
I would like my art to be seen as a testimony to the profound changes that occurred in society at the time of its creation.
These upheavals, which are imperceptible today to most of our contemporaries, will probably be flagrant for historians of the future. I hope that my art, in its own way, will bear witness to this.
Links
All images suppplied by Nicolas.