Jason Rowe (aka Jrowe) is an American designer and artist releasing designer toys, apparel and art under his 'Bearly Available' brand. The vast majority of which feature his iconic Bearly creation – which Jason debuted as a 3D sculpt in 2017.
Since publicly launching 'Bearly Available' on April 1st 2018, Jason has released three designer toy versions of his Bearly character to much acclaim – the standard sized, mini and sitting versions. Each of which Jason has released in various additions over the years. With all of Jason's designs being intricately crafted, playful, cute, and full of Jason's oversized personality.
Additionally, due to their clean design, and flat surfaces, the Bearly family of designer toys are also perfect 'platform toys' – that is toys, which, when unpainted, exist as a canvas for artists to custom. Such as the Notorious B.I.G inspired standard sized Bearly, featuring custom work by Jason himself. Which you can see in the image below.
Indeed, if you're a toy artist yourself – we highly recommend picking up a Bearly blank from Jason to custom!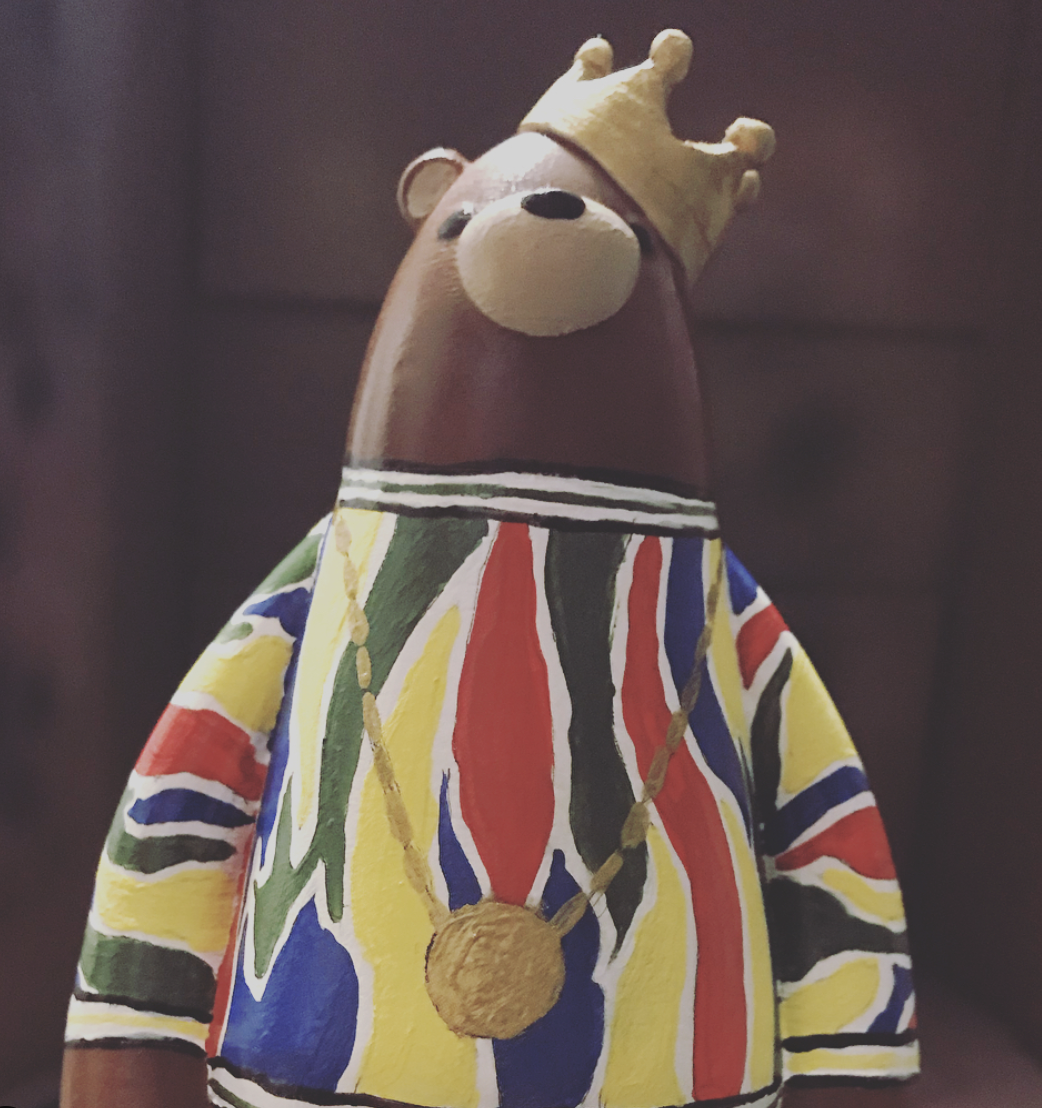 Interestingly, like many in the designer toy scene, Jason was drawn to the arts thanks to the world opened up by comic books and cartoons which he devoured as a child.
With Jason stating,
"We moved around a lot when I was a kid (a new school almost every year of elementary school) and after the first couple of moves I didn't invest a ton in making friends.
I got really into comic books, cartoons and comic strips in the Sunday paper.
They became "friends" I could count on.
So as the fascination grew, I started trying to copy what i saw, then eventually create my own characters."
With Jason currently burning up the designer toy scene, recently turned 40, and about to release a 'Masters of the Universe' inspired line of Bearly figures; we thought now was the perfect time to ask Jason some questions about art, life, family, toys and a whole lot more.
Read it all in the interview, below…
Getting Acquainted
Name + D.O.B?
Jason Rowe
09.07.1978
City, State and Country you currently call home?
Camarillo, CA, USA

City, State and Country you're from?
Fresno, CA, USA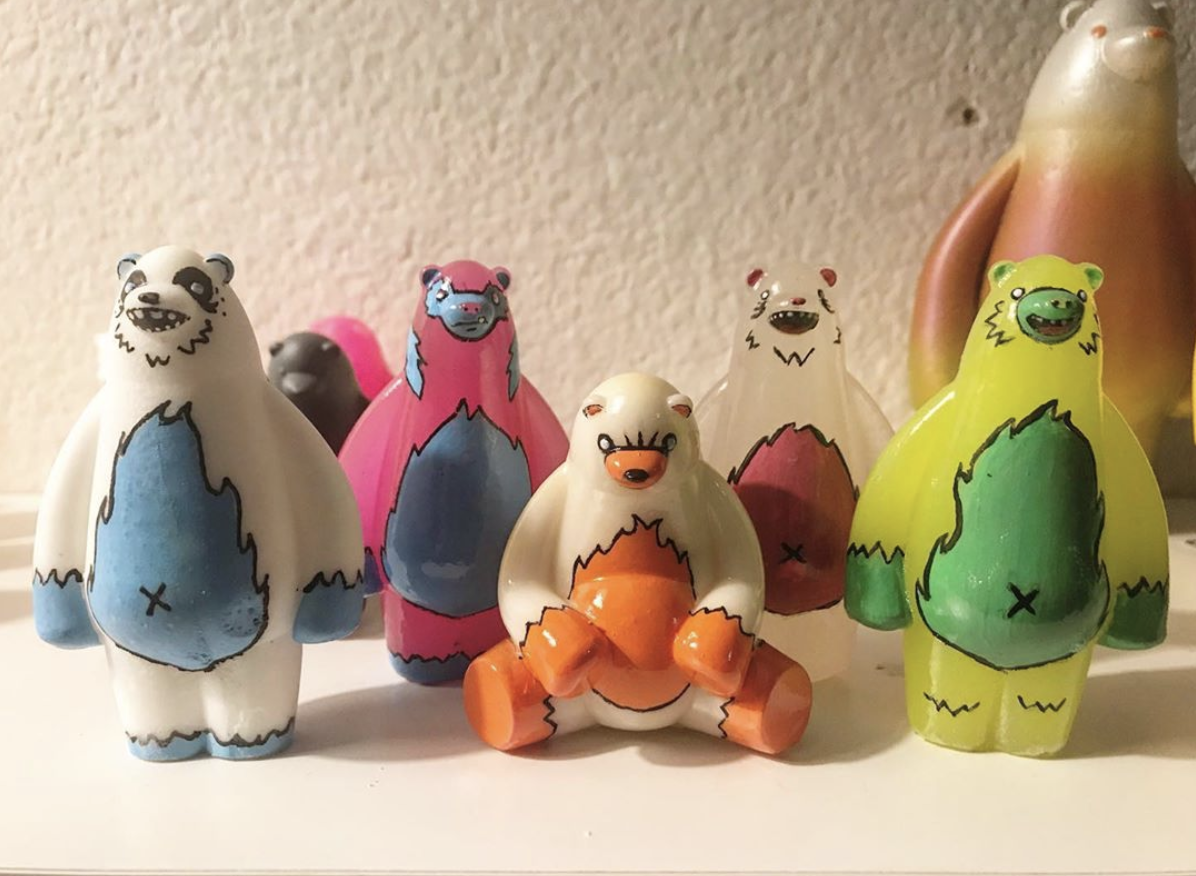 Please each describe some memories from key stages of your life: concerts, art, toys, romance, hunting, school, politics, crime, religion… ANYTHING really!
* Age 5 – beginnings:
At this point in life my little sister was about a year old, we had two foster kids living with us and we just played and played all the time. That and kindergarten.
Man those were the days…
Naps were awesome!
* Age 10 – continuations:
At this point we had moved around 7 times, finally landing in an apartment (me, mom and my sister) after my parents divorced.
Drawing a lot at this point.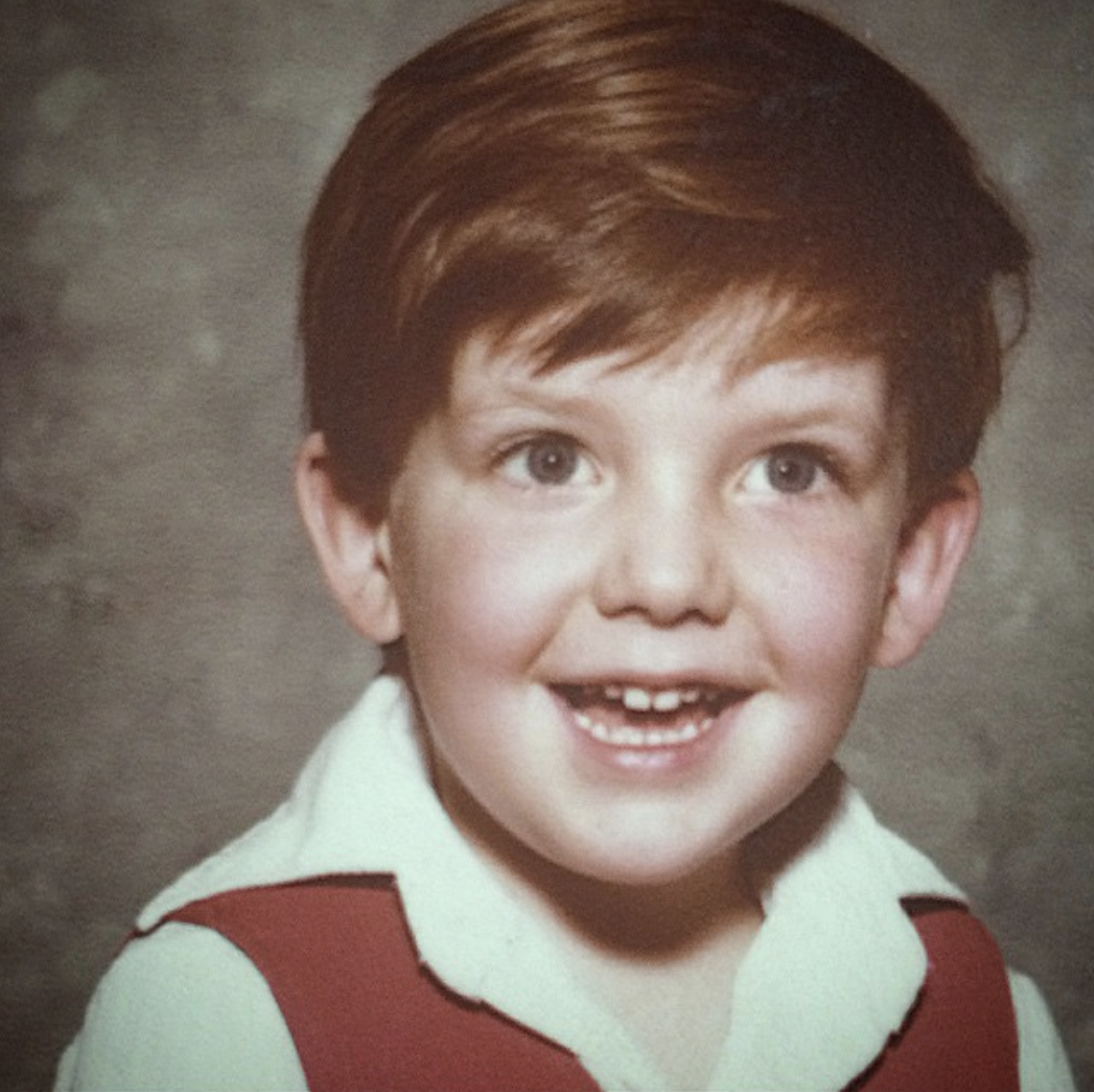 * Age 15 – getting serious:
I played a lot of music in school and had my first job at Kentucky Fried Chicken.
Back in 1994, liking Comics and Super Heroes was more of a liability than anything else.
* Age 20 – young adult:
By this point i had dropped out of college with only one year under my belt. I didn't know what i wanted to do so i just did what interested me.
Spent a couple years as a screen-printer.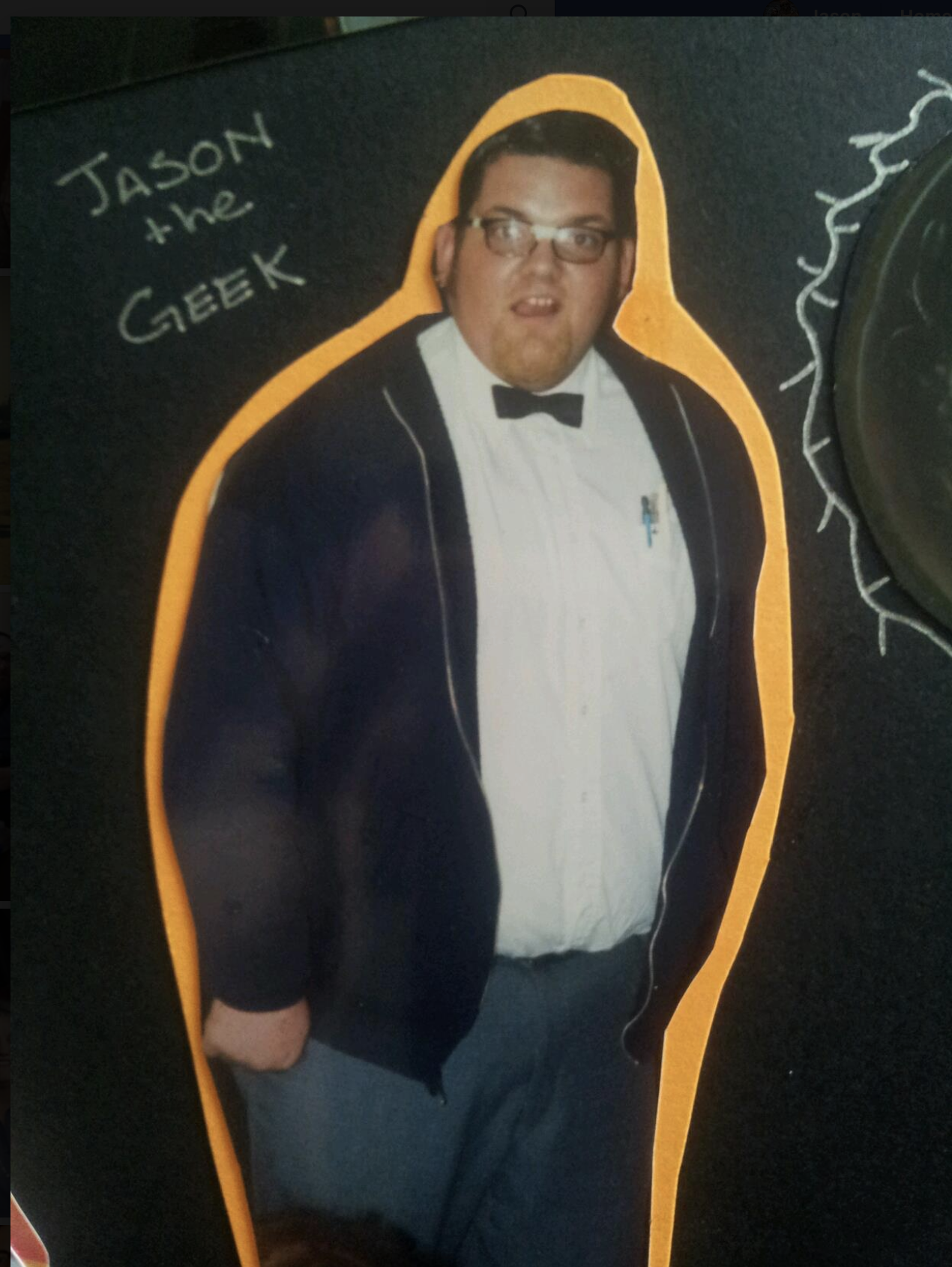 * Age 25 – adult mode:
Adult mode? I barely knew what I was doing. Working at a party rental store trying to decide what a "career" should look like.
Began teaching myself graphic design.
* Age 30 – fully formed:
Owned my own production company with two of my friends. Working for clients and being a full-time creative. Some of the best times in my professional life.
Started dating the most wonderful woman I'd ever met… in less than a year she'd be my wife.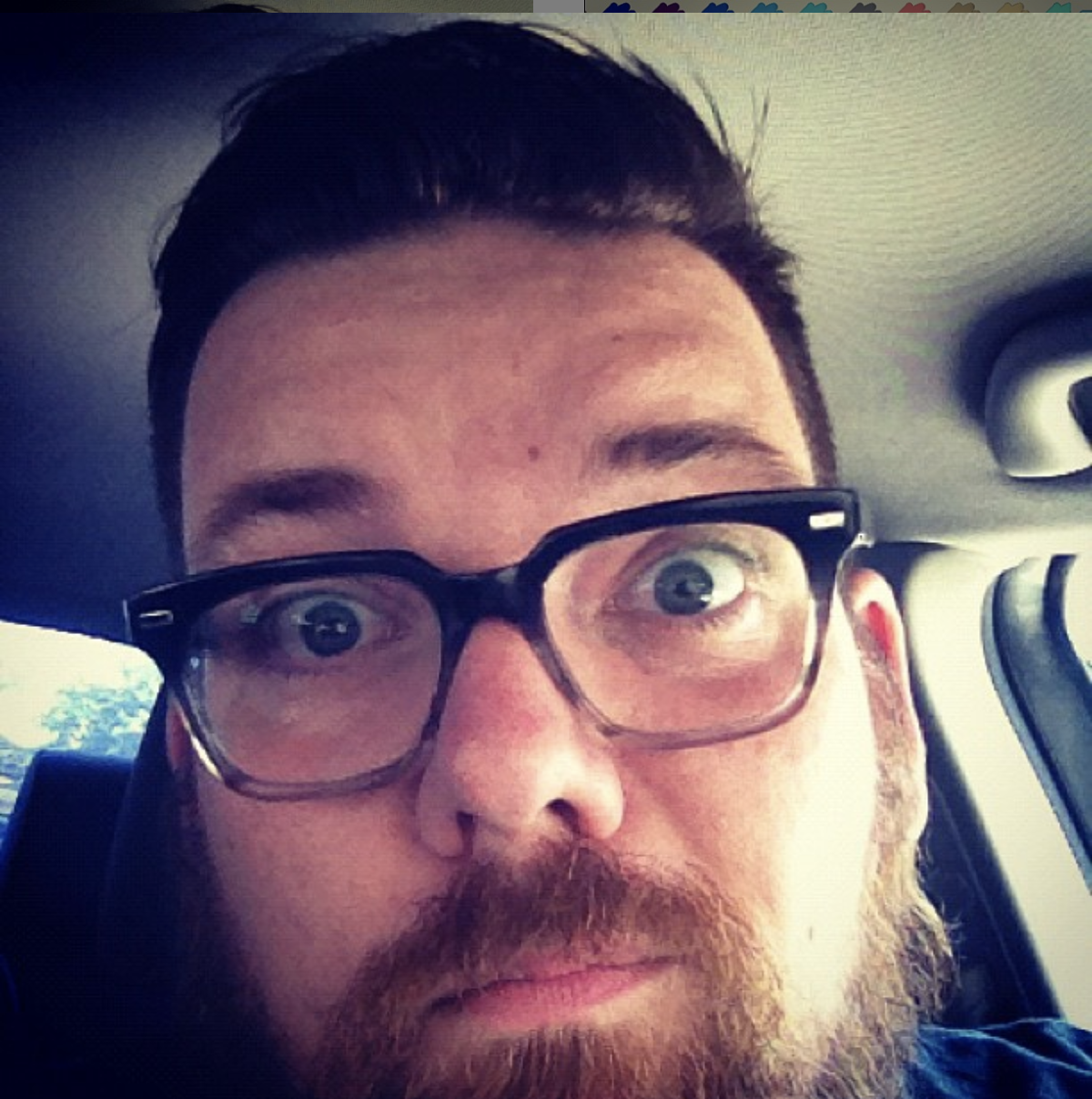 * Age 35 – meanderings:
Living in orange county with my wife and one son…
Working at a video creative/ad agency…
Crazy hours and not great work life balance.
* Age 40 – middle age creeping:
I'm 40 now! I love being a father and husband. I spend my days managing creatives in a corporate setting where I love getting to mentor younger designers/creatives.
I spend my afternoons and evenings pouring in to my family, which words can't do justice, the joy and struggle I find in the midst of that.
And then I squeeze my "toy making" in to the margins.
It really is a busy and full life. My heart is full.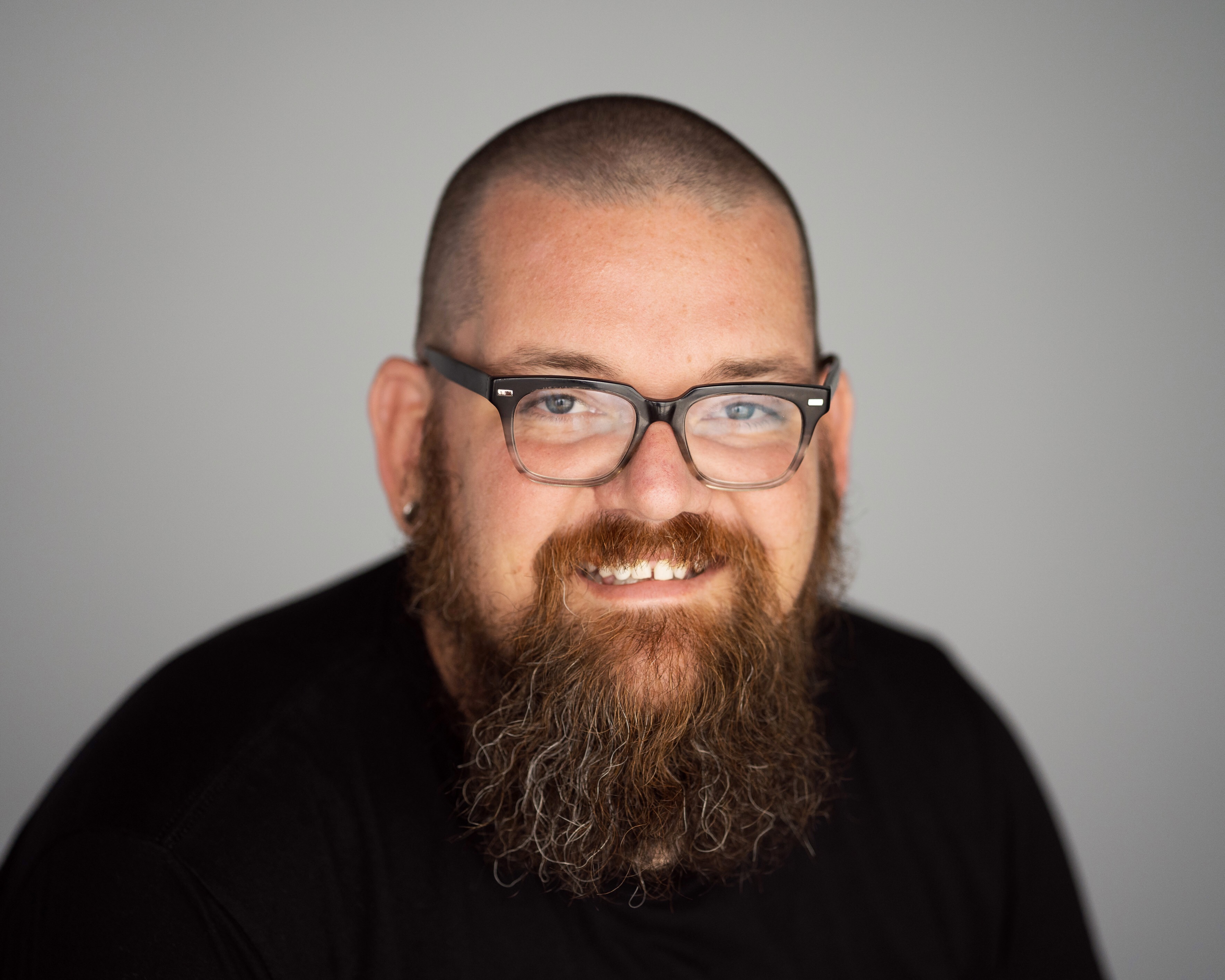 Personal motto(s)?
I have two that I really like:
"Above all else, be kind."
+
"Just because you did something one way last time, doesn't mean there is not a different way to do it this time."
Whilst we know you through your designer toy work and art – care to share with those at home the details of your other creative endeavors… if any?
I've spent the better part of the past two decades working in graphic design and motion graphics. It's been a while since I've updated my reel, but you can see it here: https://vimeo.com/125875160
For the last few years I've managed a team of designers and artists as my day job, working in the eLearning space.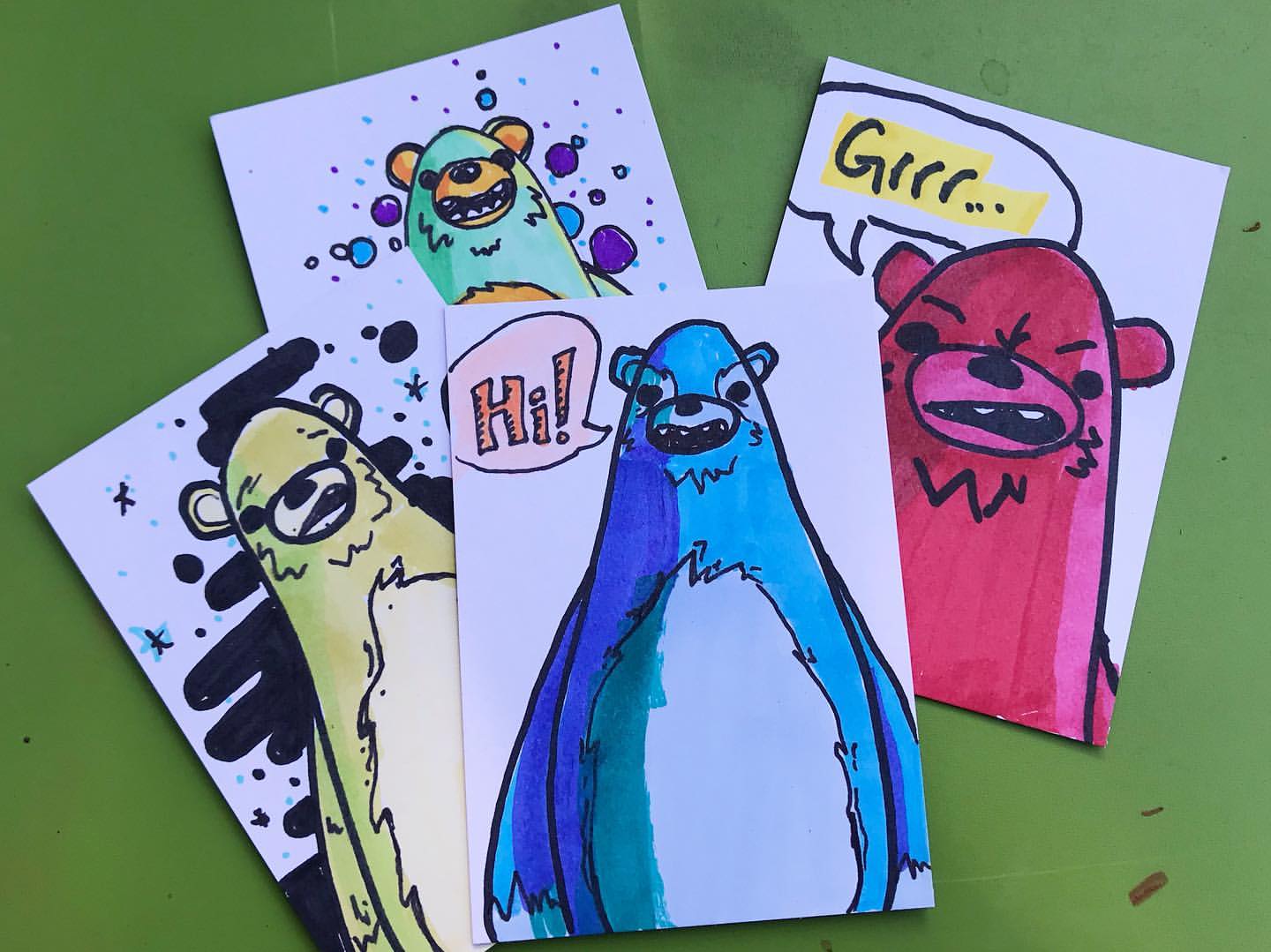 Art, Design, and Toy Questions
When and why did you first start making art of any type!?
We moved around a lot when I was a kid (a new school almost every year of elementary school) and after the first couple of moves I didn't invest a ton in making friends. I got really into comic books, cartoons and comic strips in the Sunday paper. They became "friends" I could count on.
So as the fascination grew, I started trying to copy what i saw, then eventually create my own characters.
Any pivotal artistic moment(s) / influence(s)?
I think the biggest artistic moment/mind-shift for me, was realising I could be a "creative" for a living.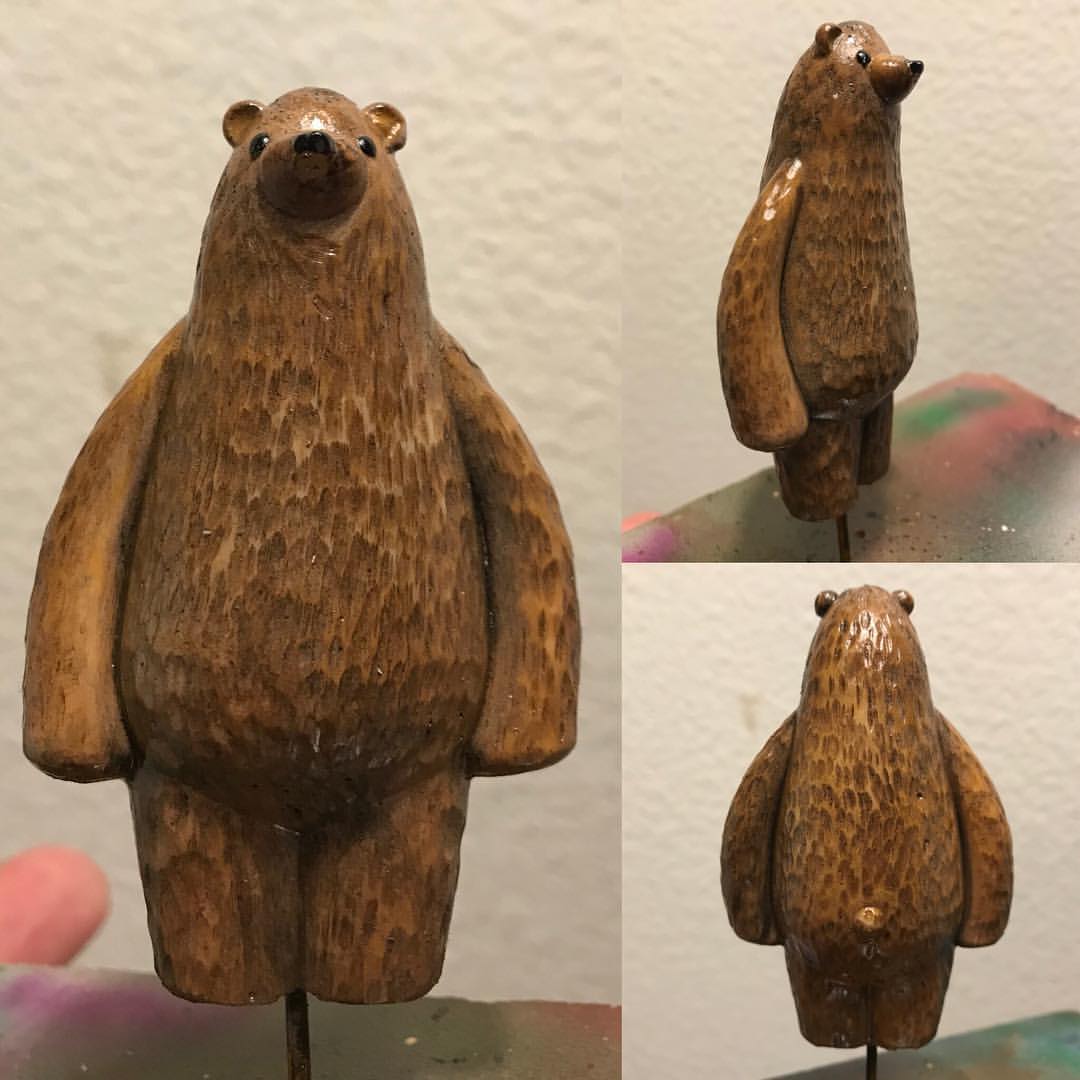 Please describe the process of producing your resin toys – from original idea, to preliminary design, sculpt, production, packaging and eventual release!?
The process has varied a little with the newer pieces… so i'll focus on how I started Bearly:
Original sketches and more sketches and more sketches
Simple 3D model made in C4D (I am familiar with that for motion graphics)
3D print and try again
Lots of sanding
YouTube watching
Silicone mold making
Realising i under measured and start the process of a new mold
Molding take 2
Start pouring that resin
Customize the figure
Post on instagram
Pick chin off floor when someone asks if they can buy it
Repeat
The Bearly figures i'm doing now are a little more involved and have custom packaging. I'm trying to keep pushing myself with each new release and attempting to up "production value".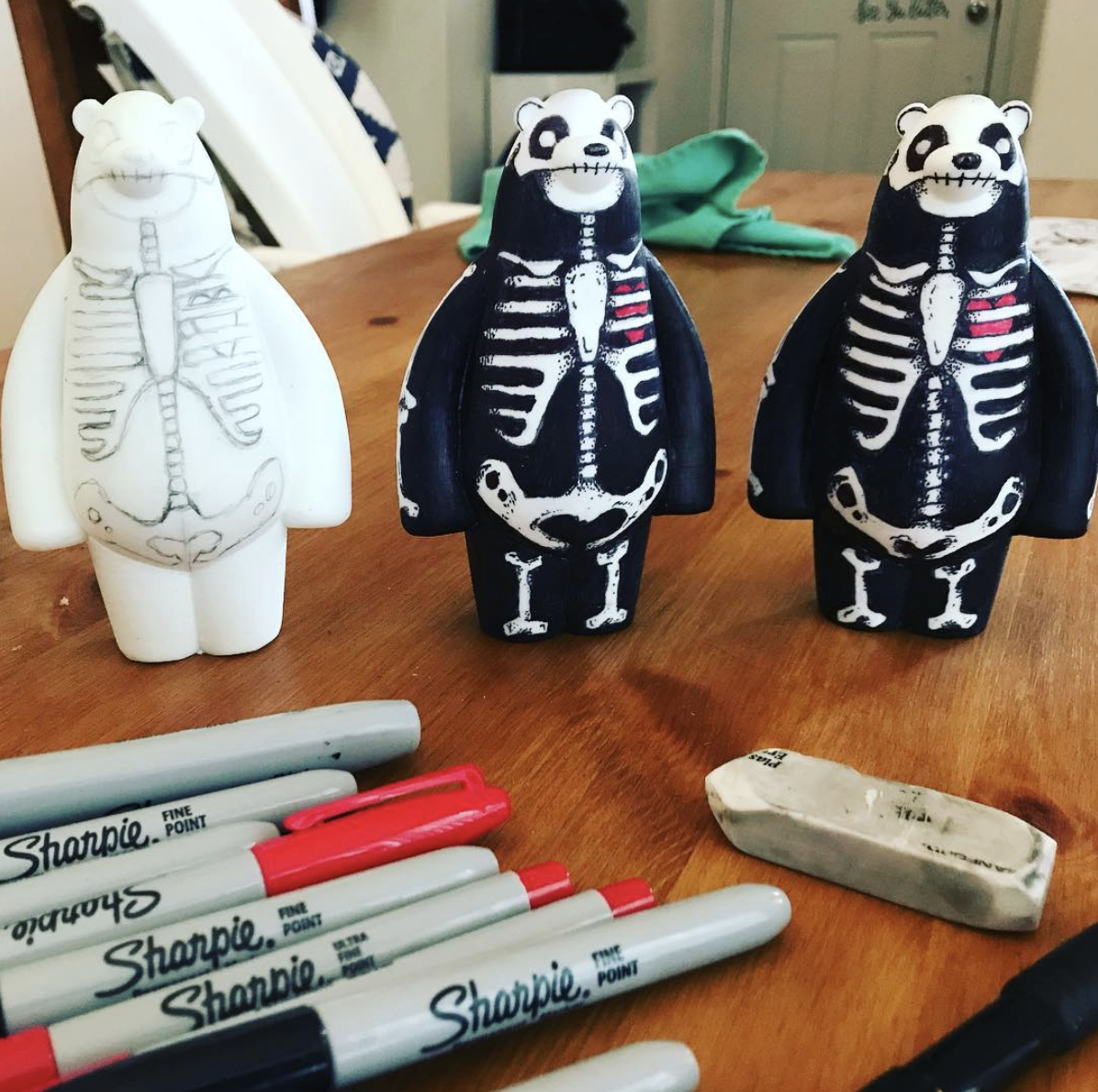 Worst aspect(s) of the designer toy hustle?
Not enough hours in the day!
Between my full time job and spending time with my family, I often have a hard time squeezing in time to work on projects/toys.
There are also so many great artists and projects out there, it's hard to stay on top of it all and see what everyone is doing.
Best aspect(s) of the designer toy hustle?
It's the community, by far.
Really haven't met any "bad eggs" out there. Just about everyone is keen to share what they know and is willing to cheer each other on.
I'm hoping to get even more connected and start getting in to some collaborations.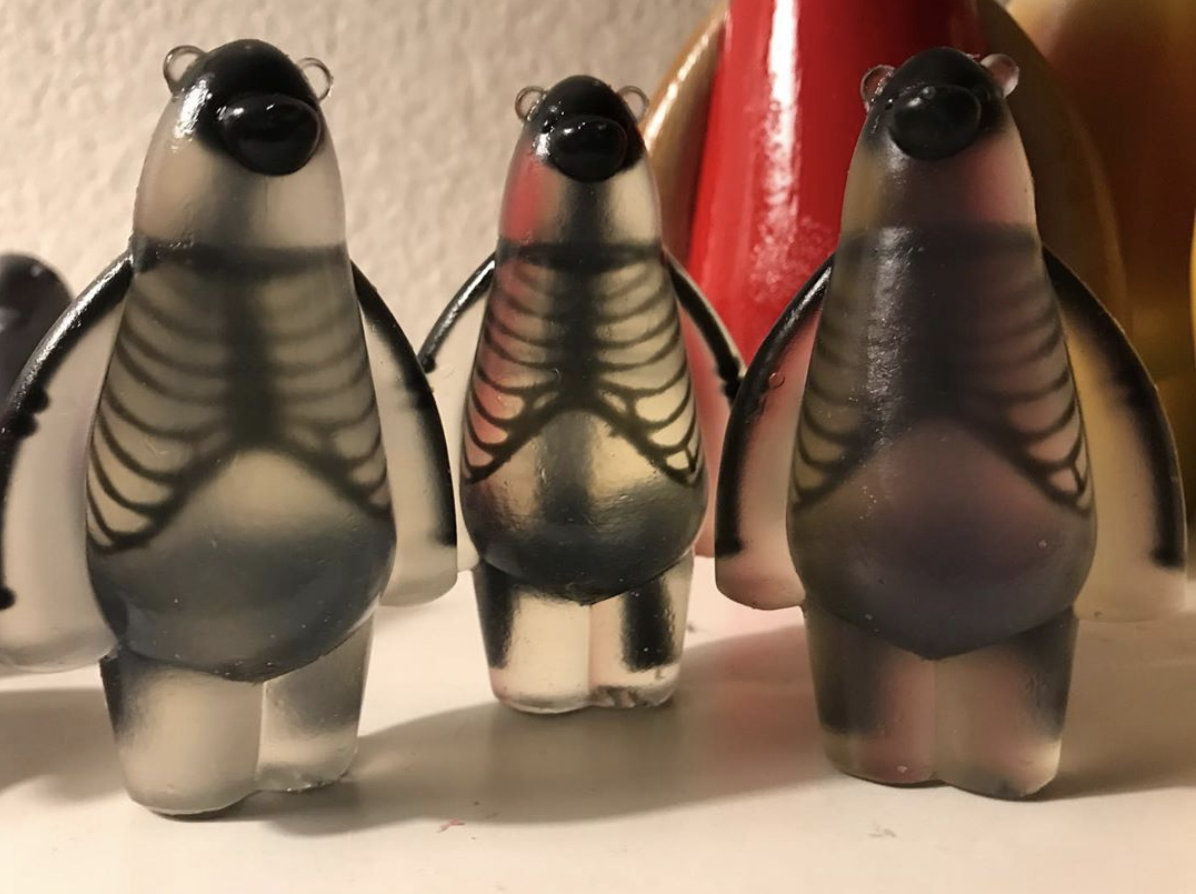 Favourite other artist(s) / toy brands?
Oh man… this just isn't fair… I'm sure I'm going to forget something/someone – apologies in advance!
@reisobrien / Reis O'Brien: Tiny Ghost is a lot of fun and his illustrations are bananas.
@danhipp / Dan Hipp: Crazy awesome illustrator.
@ghostfoxtoys / Ghost Fox Toys: Crazy good resin artists and toy customizers.
@monahan_art / Aidan Monahan: Crazy good illustrator, tattooer, custom toy painter and super awesome dude.
@garyham / Gary Ham: Toy artist whose style I love.
@doublegtoys / George Gaspar: Amazing sculptor.
@davequiggle / Dave Quiggle: One of my all-time favorite artists and illustrators.
@bean_largent_art / Bianca 'Bean' Largent: Toy designer, mold maker and resin caster extraordinaire.
@sad_salesman / Eric Althin: Super cute designer toys.
@artofmm / Mike Mignola: Long time fan of Mike Mignola/Hellboy.
@imadoozie / A Doozie: Amazing customizer and super kind soul.
@mikedie / Mike Die: Super clever illustrator/pin maker.
@barbarian_rage / Scott Cherry: All-around amazing artist.
@resinrookie / Resin Rookie: Super clean designer toys. Inspiring stuff he's turning out.
@danieljacobthemaker / Daniel Jacob Horine: Friend, illustrator, hype-man. Doing some fun MOTU inspired things right now.
I'm gonna stop here or I could go on forever.
Is the rise of designer toys an indication of the changing nature of art? Or just a bunch of nerds with too much money and time?
I feel like people from all walks of life have always been creative… Either as their many source of income or as a hobby or a side hustle. But nowadays social media has helped people who might not have had an "audience" before or might not have known how to get their work out there, have a platform to do so.
But I'm also a huge nerd… so maybe there is some of that too.
Thoughts on the current state of the American designer toy scene?
I'm still pretty new to the whole scene… but by and large I think it's great.
I personally feel really challenged and spurred on by seeing the work others create. And i'll repeat that I love the community aspect of it all. Sure people have their disagreements… but it doesn't seem to stay at the forefront for long.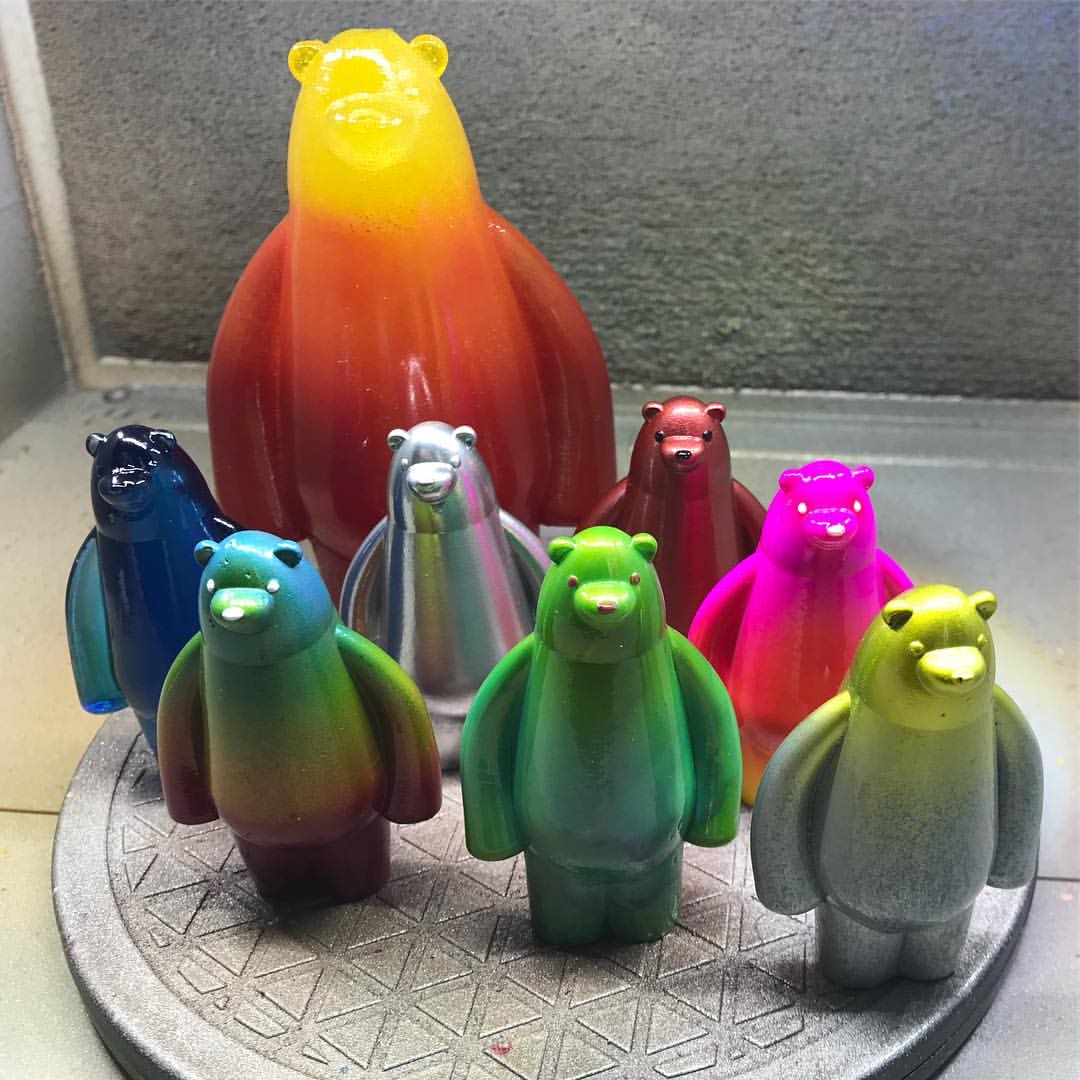 Does being a parent impact your toy making and art? And if so – how, and in what ways?
I think it does. Really I don't know how it couldn't. My family means the world to me.
I want to create things my kids can share in with me… my oldest son (age 7) has actually mixed, poured, cast, sanded, painted and packaged his very own Bearly figure. He's taken a real interest in it.
But to answer your question more directly… I don't want to have to hide any of the things I'm doing from my kids because of content or themes. That doesn't mean I have issues with mature themed art or horror or things like that… it's just at this stage of my life, with a 7 and 4 year old… I'm trying to keep things somewhat kid friendly.
Perhaps my figures and designs will mature with my kids advancing in age.
Whilst you are heterosexual, and originally created Beary due to your love of bears – What has it been like having your Bearly character embraced by bulky, hairy male homosexuals (sometimes also known as 'bears') from all over the world?
I think that's a beautiful thing about art. That I can create something from a meaningful, fun or personal place and have it resonate with another person. Having another soul find their own meaning or interpretation in the middle of it is not only flattering but brings me so much joy.
Odds and Ends
What role did toys play in your childhood(s)?
We moved around so much that my toys were my other "go-to" outside of drawing and cartoons.
I loved playing with Masters of the Universe, GI Joe, Ninja Turtles, ThunderCats… mixing and matching worlds… epic adventures and crazy experiments. They were often a great escape.
Who was your 1st crush and why?
That's easy! My second grade teacher, Ms. Loomis. To my 7 year-old self, she was the coolest, prettiest woman I'd ever seen. And as far as I was concerned, I was gonna marry her… and I was certain it would be okay with her husband, the fireman… he was busy fighting fires, after all.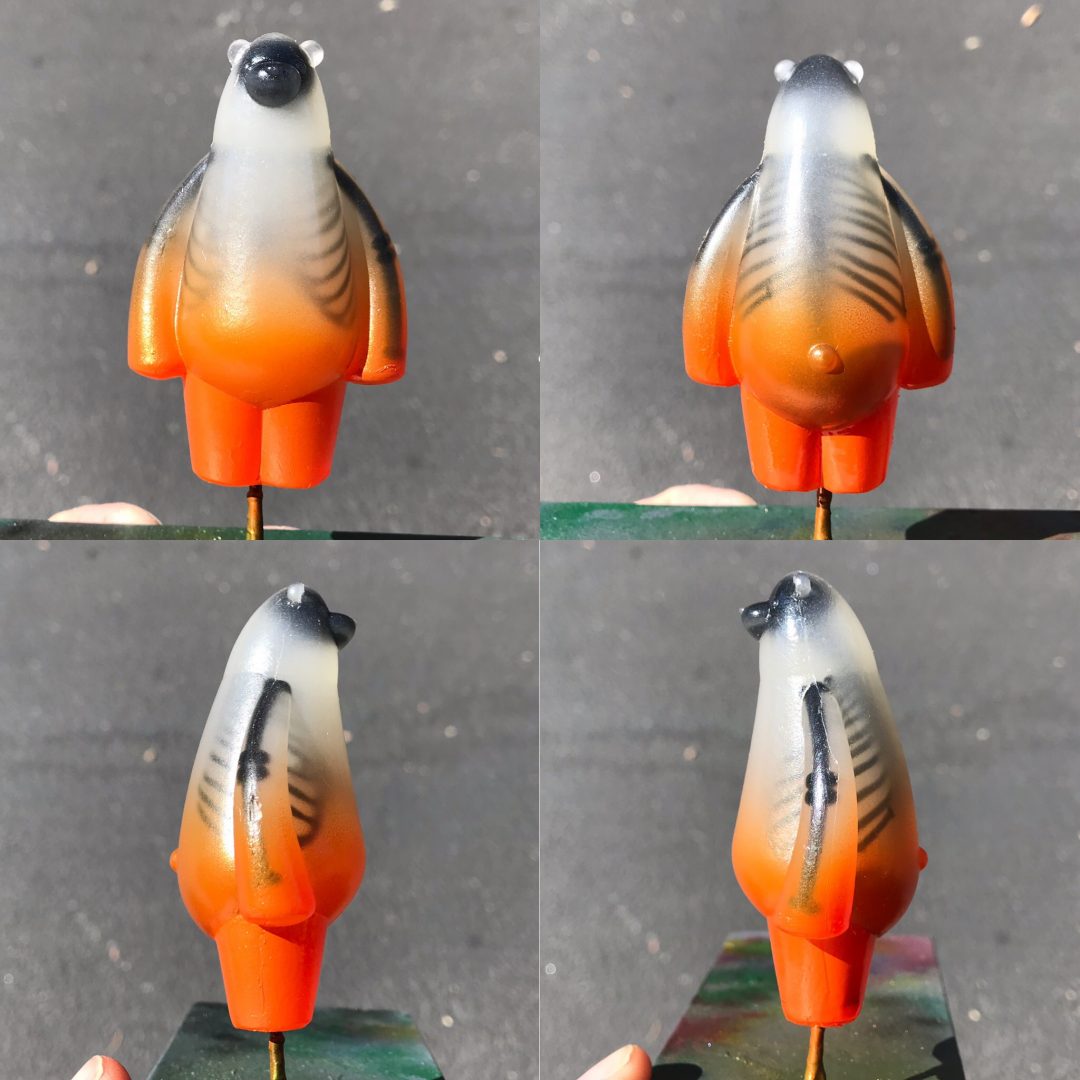 Does sex change everything?
If you let it.
Please describe what you think the American psyche / zeitgeist is today?
Wow. Ummm… I barely know what I got going on from day today… let alone America.
In a battle between two famous bears, Bearly (your creation) Vs. Smokey Bear (a mascot of the United States Forest Service) – who would win in a fight and why?
This is a no-brainer. Bearly would win, of course… and here is why:
Smokey is so singularly focused on preventing forest fire, that Bearly would just light a small, easily containable fire out in the woods to get Smokey's attention… and while Smokey is distracted, Bearly would come up from behind, club him over the head and claim his epic victory.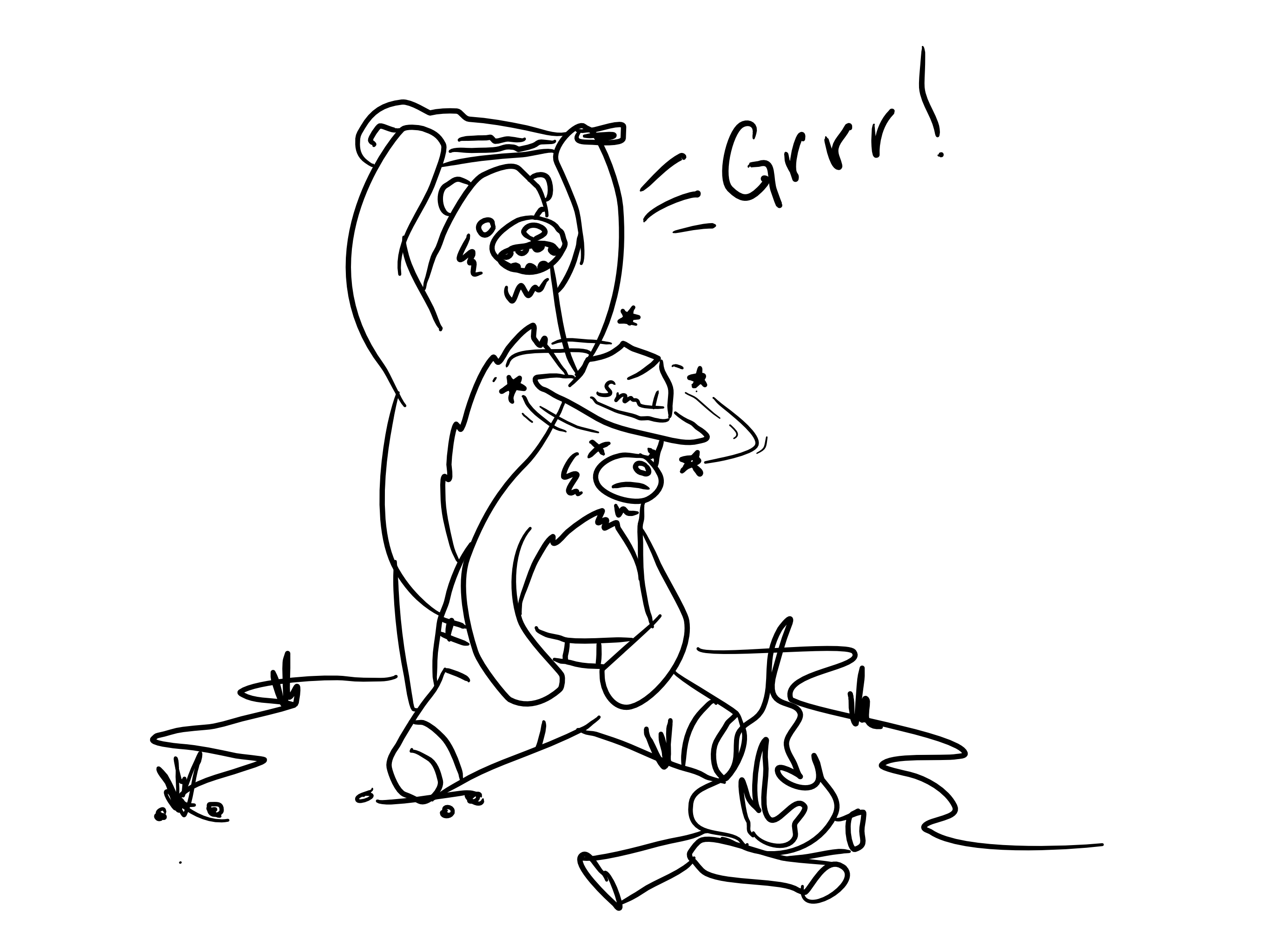 Which cartoon character, would you most like to see in a tribute sex toy, and why?
I like mine cartoon free, if you please.
What are the top 3 items you own?
I don't know if I've ever really thought about that… like in a ranking order.
I'd say:
1) My home – as it is a safe place for my family.
2) My collectables (toys and such) as they help me build a creative space.
3) I get a lot of use out of my iPad, for drawing, brainstorming and creating.
Drugs – waste of time or gateway to the universe?
I watched the misuse of them destroy my family… so I've stayed clear.
But I figure if you can use them without harming others or your self, then to each their own.
Please describe your latest dream in detail…
Oh man… this is great.
I really do not like snakes… not even remotely. But recently I had a dream where my wife woke me up (in the dream) and told me she thought there was a rattlesnake in the corner of our room. I told her "no, no, no… that's just my pet boa constrictor Charlie (as though she wouldn't be aware of me owning a snake) sitting over in the corner".
To which she remarked about the rattling sound and why was it making that noise if it wasn't a rattlesnake? To which I very matter-of-factly replied, "Oh, that's just his maraca of course… he's a bit of a prankster". And then the snake whipped around his tail… shook the maraca and winked at my wife.
Of everything you have done what would you most like to be remembered for and why?
I hope it's for the way I've loved my family and friends.
If people wanted to work with you or buy something – how should they get in touch?
Reach out either through IG: @bearlyavailable, or my website www.bearlyavailable.com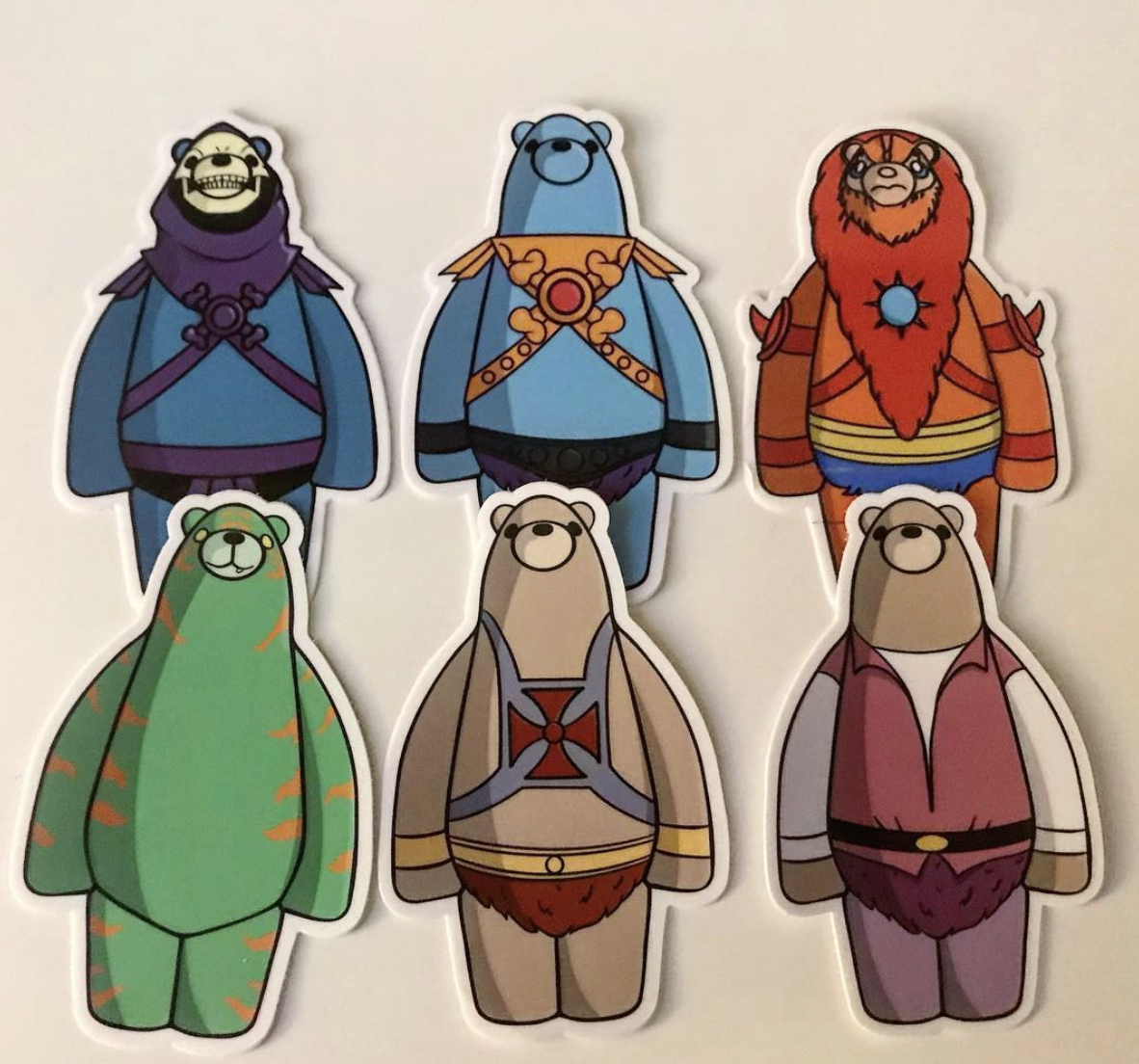 The Future
Any collaborations on the horizon?
I've got one possible in the works that I can't share yet. But i'd love to do more.
Any major projects you want to hype?
I'm working on some Masters of the Universe inspired Bearly figures.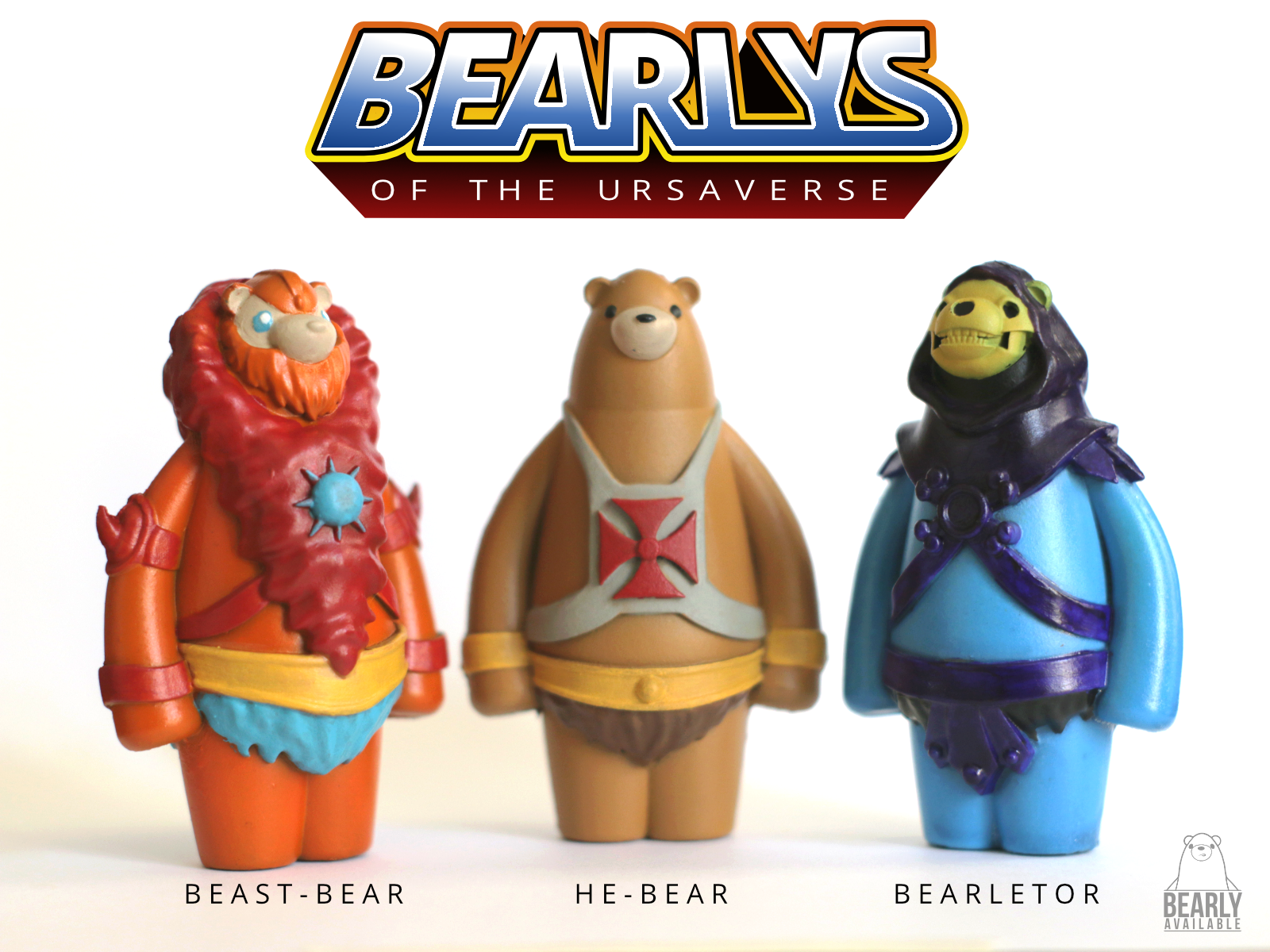 Links