Michael Alan is an American artist working in every medium you can think of – collage, music, drawing, sculpture, painting and performance art. With all his works being imbued with a sense of chaotic beauty, and human warmth.
Michael gained his first taste of fame and fortune as a New York promoter and club owner in the 1990's; most famously running 'Michael Alan's Playhouse'. A venue that hosted rappers, punks, graffiti writers, DJs and musicians – key themes of Michael's life to this day.
Indeed it was in his role as promoter that Michael gained enough initial financial capital to formally study art in the late 1990s. Whilst studying and exhibiting his works, Michael quickly gained a name for himself in the fine art world due to his highly intricate and unique sense of line.
Interestingly, since the mid 2000s Michael has also been pushing his music hard – collaborating with people as diverse as Ariel Pink, Japanther, Jello Biafra, Odd Nosdam, and Kenny Scharf on diverse outsider pop.

Of all his projects, the one dearest to Michael's artistic heart and passions is his ongoing 'Living Installation' that began in 2002. With the 'Living Installation' Michael has turned the very act of making his art, and by extension his life itself; into an ongoing never ending performance piece. A work that has naturally come to include Michael's partner of the last four years or so, fellow artist Jadda Cat.
So with Michael and Jadda Cat about to host another public performance of the 'Living Installation' on the 30th of March 2019 – we decided to ask Michael to share with us his personal history, artistic process, take on working in New York, and much much more….
Read it all, in the Art Talk Interview, below…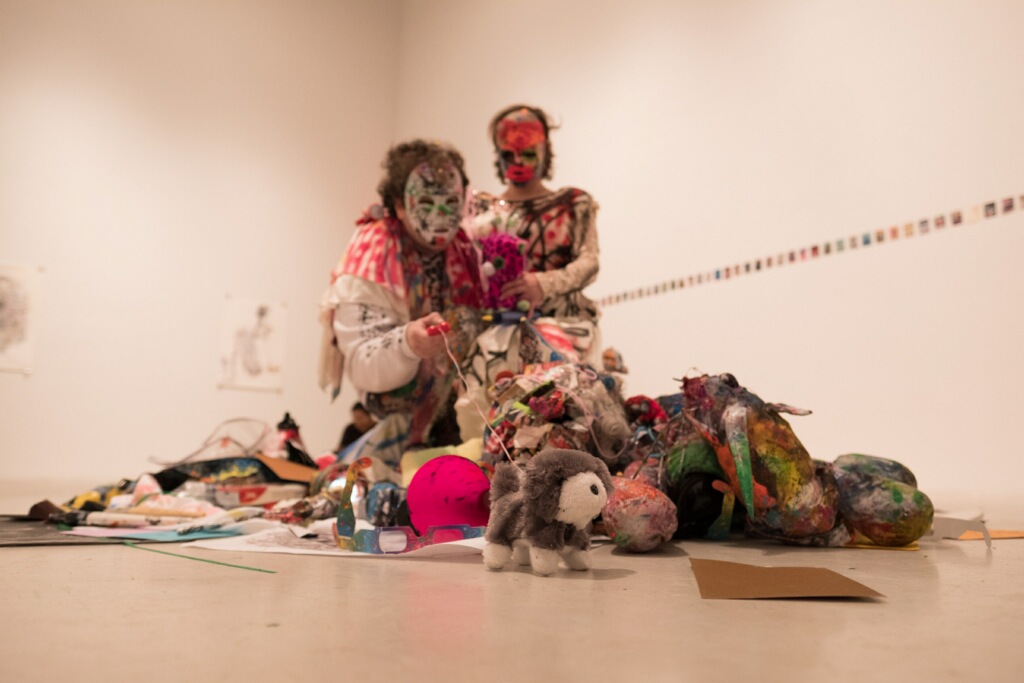 Getting Acquainted
Name + D.O.B?

Michael Alan
7/13/77
City, State n Country you currently call home?
New York shitty!
City, State n Country you're from?
BK born.
Staten teenage horrid years, Brooklyn, Queens as a baby; then all over Manhattan.
Now back to Bushwick were my family Origins is from.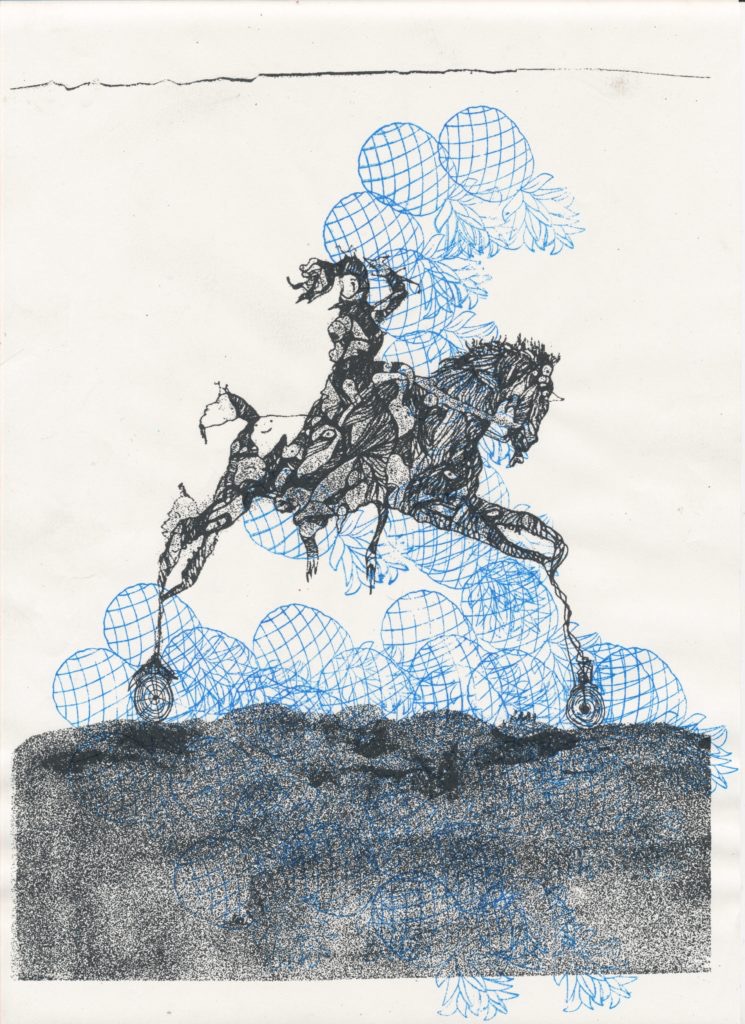 Please describe some memories from key stages of your life: concerts, art, toys, romance, hunting, school, politics, crime, religion… ANYTHING really!
My first memories are drawing my own baseball cards, drawing on my walls, breaking my toys, making my own shirts, fighting bullies. Drawing bullies.
I was born during the riots of 77… somehow I remember parts of being born, very hard to explain, but I was born after the lights went on/ off in NY in 77…
I think growing up in NYC, lower income it's easy to just die, or end up moving.
My key moments were everyone saying, "YO these drawings man! What you doing, do this!" And I just kept doing them, I had no intention to be a artist, no family background in art… far from…
I ran with wild dudes, most have passed on, or moved away… (childhood)
I started out doing other jobs like running major hip hop shows and doing NYC club revamp but I was just bored doing that, some of it was fun, but was most into drawing… everyone would say, "WTF pick your passion man! Go be who you are!" I just kept hearing it, it's all I wanted but I was outside the art scene even though I was in all the boroughs.
My best friend, adopted brother by my mom, brother Phil Odin, had a long talk with me about me getting out of the club scene / giving other people shows and really going for my art. It was an epic 3-hour talk… and I listened…
Same as Kevin Maher. R.I.P. Phil Odin my best friend. He taught me how to work out, fight back, laugh more and was all about me doing my art… I would resist and do some parties or try and help other artists or open mics and everyone would say, "Why?"
Finally I just quit… the money was good, but I couldn't handle all the people and the vibes… I miss some of the hip hop friends, seeing the best shows… but I'm a stay home guy, solo dude.
Simply… I just started selling work at 16, 17… it is always a struggle for me, I grew up around and watching WuTang, famous punk bands, famous graff heads. So it was easy to know everyone, people knew me from running shit clubs to good clubs, from being the kid who drew, I was also making music back then, a DJ even a bartender and a bouncer! I was just trying to eat and survive!
As for concerts I went to so many punk and rap shows, I would perform in many… DJ-ing, Comedy and live drawing…
I remember once going to see the Beastie Boys and Method Man, I had no ticket and the guards said it was sold out, so I waited in the office, drawing. Told my boys go, I'm good, I'm drawing…
Then Method Man came in, and the guards were like you're NOT on the list! I got up and was like WTF that's your main act! The guards then asked me really? I was like YES!!!!! And then boom I went in with Method Man… my boys were like wtf?
That was life (this was in Jersey tho, and I had met Method Man a few times before that) he came to my club 'Michael Alan's Playhouse' and everyone knew everyone in that time.
Shout to party pants and Anthony Alamo!
I don't hunt, I don't drink, I had and have beer for my live shows, but it's just not my thing, have heath issues and it just messes me up. Makes me sleepy.
There is only one romance, my true romance The Jadda Cat! My best friend, my partner close to 3 years now, game changer.
High school for me was hell, NYC was a bit racist and I'm not just white, I'm mixed mutt, with zero Italian in me.
I had sleeping problems and some water in my head as kid so it was a struggle. You had to fight your way home, everyone did but I was the odd man out in that time. I hated it… but I won a good amount of fights… that was growing up.
For me god is art.
Do more art for the right reasons you will see god. You will learn your place.
Politics I'm more of not gov, guy, I never felt the system was fair to any guys, gals or anyone… mixed kids poor in NYC, so my vision is not for it…
I think trump needs to be impeached ASAP or other countries are gonna blow up NYC… it's a real problem.
Whether you're for or against him he needs to go, there is too much evil around the whole thing.

I boxed from 18 to 34… I miss it! Boxing gave me rhythm in my lines!
* Age 5 – beginnings:
Just drew.
I moved from Bushwick to Staten it was a fucked transition I missed my other family and hated Staten.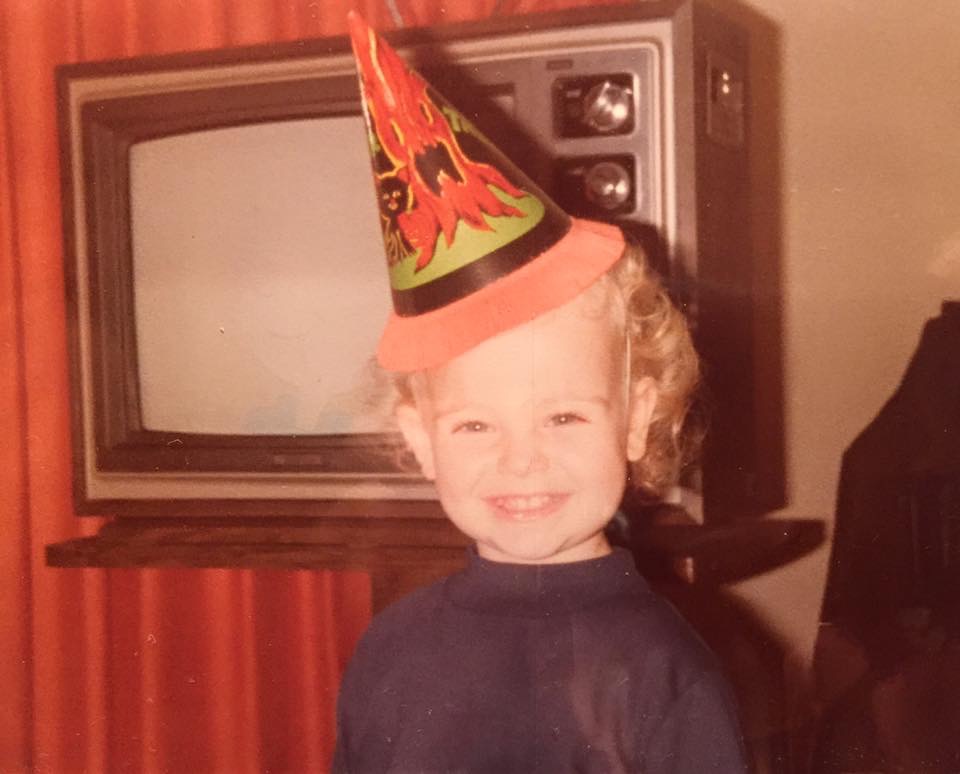 * Age 10 – continuations:
I was drawing, drawing, drawing, climbing out my Mom's window and roaming around on the street.
AND drawing!
* Age 15 – getting serious:
I guess it was the beginning of people starting to call me an artist, mixed with people calling me a prankster and class clown.
I was always in some sort of trouble or doing a drawing for someone in class.
It was a pretty horrific time period, a lot of violence in New York, friends were getting killed.
I was hanging out with this punk band "Sarcasm", they are still my boys. They were pretty bad ass dudes.
I was hanging out with R.I.P. Odin every day.
I was between Staten Island and Queens; my Grandmother was in Flushing.
I spent a lot of my weekends with my Mom in the Village. She was involved with a lot of charities and random deeds of kindness. We went to look at art a lot. We would visit her poet friends in Bushwick.
I was really involved with my parents on the weekends. We spent a lot of time in the village and Shea stadium.
My dad is from Coney Island so we spent a lot of time visiting his parents.
My aunt was a nun and lived in the Sisters of Mercy in Ft. Greene, Brooklyn. At that point she had really bad Alzheimer's and we were just trying to lift her spirits, that was a really bad time.
At 15 I was in a lot of trouble with school and other punk ass kids.
There was a lot of time when I was placed with my aunt, and my parents were trying to decide if I should stay in Brooklyn.
In short, I was all over the boros – I hated Staten Island but I had to finish high school there. I was kicked out of two high schools, one that I still think is racist, the other one that I'm not going to go into.
* Age 20 – young adult:
I was heavily involved in running different nightclubs throughout New York, including my own 'Michael Alan's Playhouse.'
I was putting myself through SVA night school. At that point they had a night school where you could pay 300 bucks a class. It took me forever to get through it but I did it.
I was working around the clock, organizing some of the original hip hop shows in Staten, I was organizing concerts and regular bar nights, I was doing music and performing, doing punk rap. I was having solo art shows and group shows and selling my work.
I had a live work studio that was rat and hooker infested in Chinatown, it was extremely insane, but no matter what I would be back home two or three times a week to see my folks.
At 20 there was a whole different era in New York, it was easier to survive and less gentrification.
* Age 25 – adult mode:
Same shit, next level.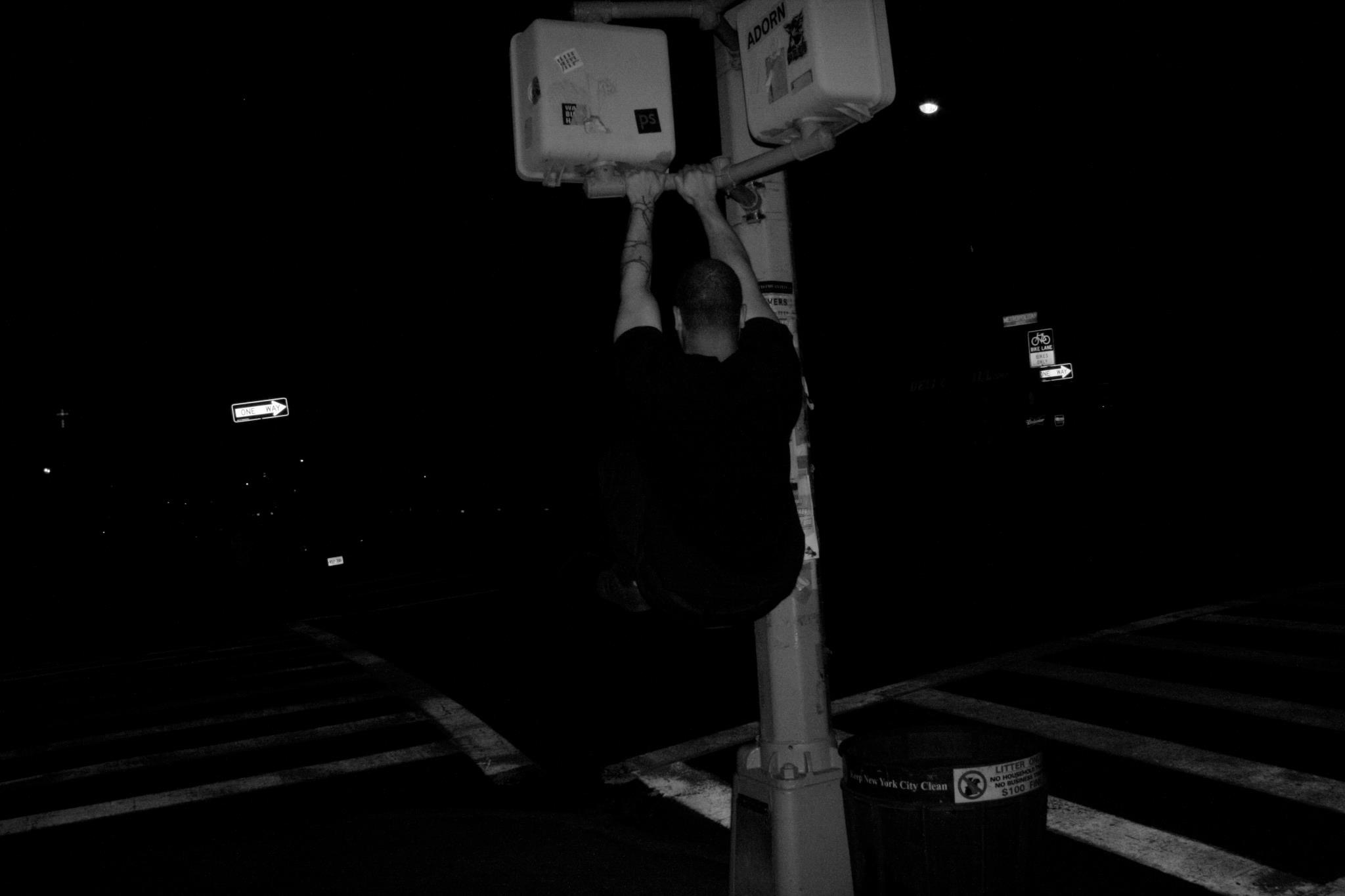 * Age 30 – fully formed:
Same shit, next level!
I left the nightclub scene and my art career was booming.
I fully left the nightlife scene behind and I was trying to grasp the culture shock of being a known New York City painter. I was having solo shows in Chelsea and museum shows and collaborating with huge bands and famous musicians. I was living with my friend Mike in a really dope loft, and doing crazy shows.
I was running the Drawathon that changed into the Living Installation.
I'm not fact checking, I don't have a calendar of days and dates. I work in the future more then in the now. It's hard for me to tell you what I did last night.
* Age 35 – meanderings:
There was a period in my life where I had a series of really bad accidents and health conditions. That's when I really leaned the difference between real and fake friends.
I really don't want to go into it, there's enough information on the internet if you really want to go into it. I don't identify so much with this time in my life and I've discommunicated with a lot of people from this time by choice, or process of elimination.
A lot of my art was getting stolen, people thought I was going to die, it was really funny to watch.
Pain is a blessing.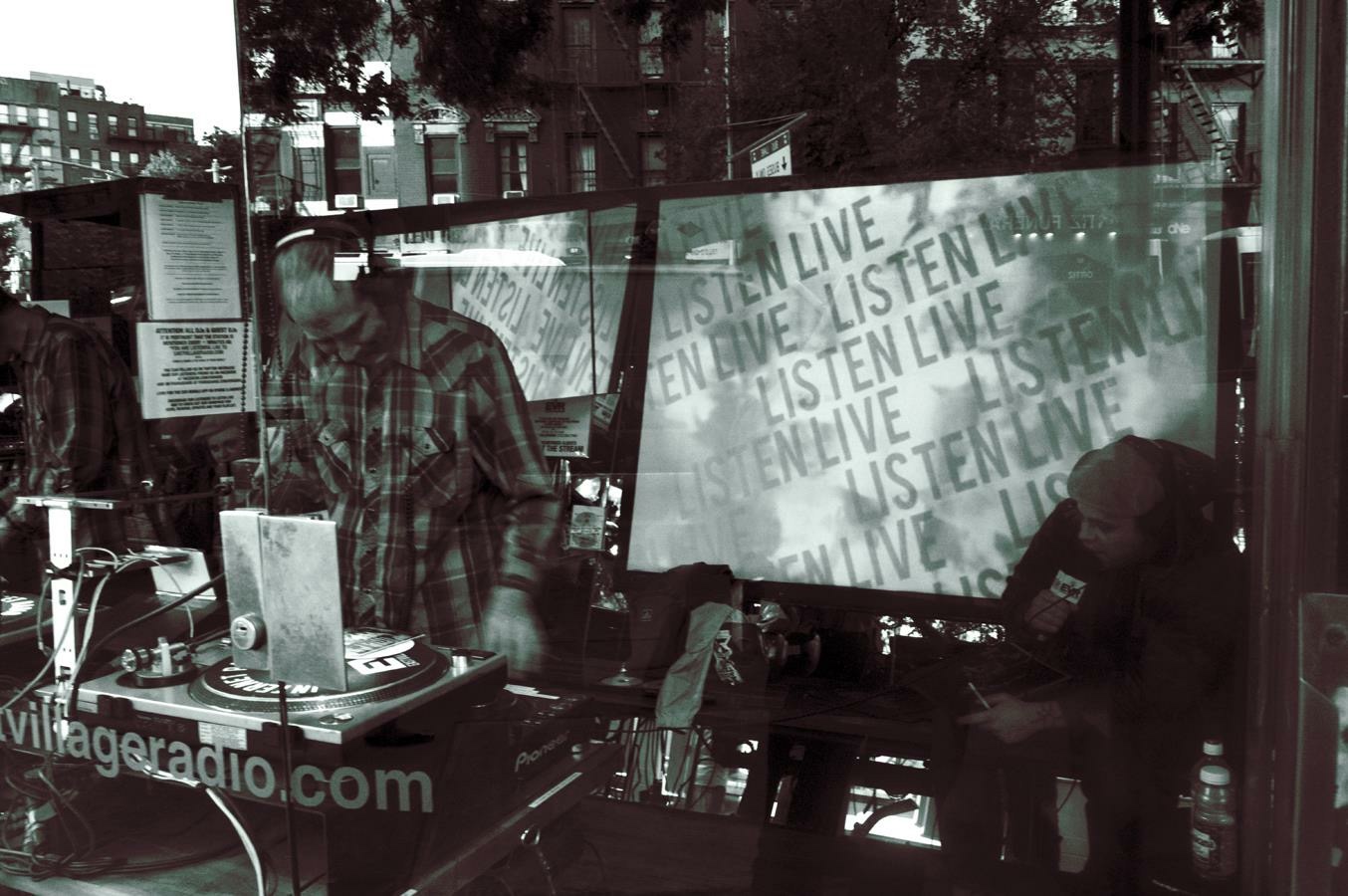 * Age 40:
Everything.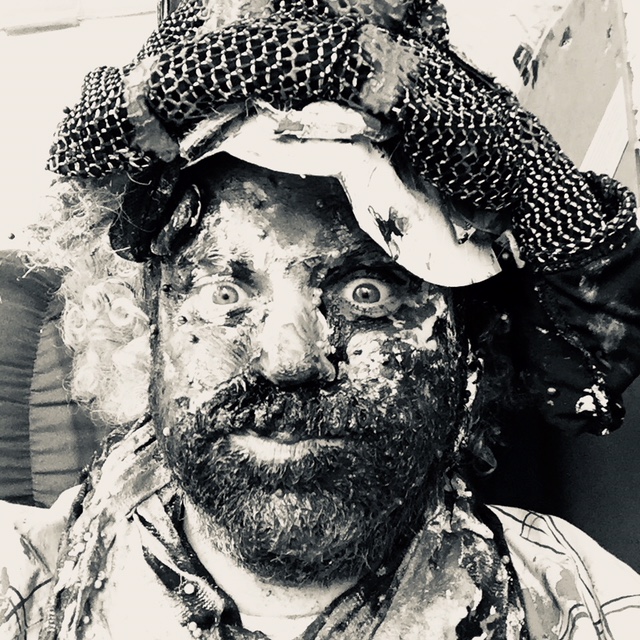 Personal motto?
Go, go, go go, go!

Zombies everywhere, try and stay off your phone.

You can be a super hero!
Art Questions
When and why did you first start making art of any type!?
You would have to ask other worlds, other universes. It wasn't a conscious decision. I'm not a planned painter, I'm not a great businessman. I'm just a native New York kid who got known for doing something over and over again.
Dedication and devotion.
Any pivotal artistic moment(s) / influence(s)?
My Mom, Odin; but to be honest it's just ongoing.
The real pivotal change was to let go of hanging out on the street, running around New York and to focus on studio life daily no matter what.
And most of all meeting and being with Jadda Cat, it's possible to find true love.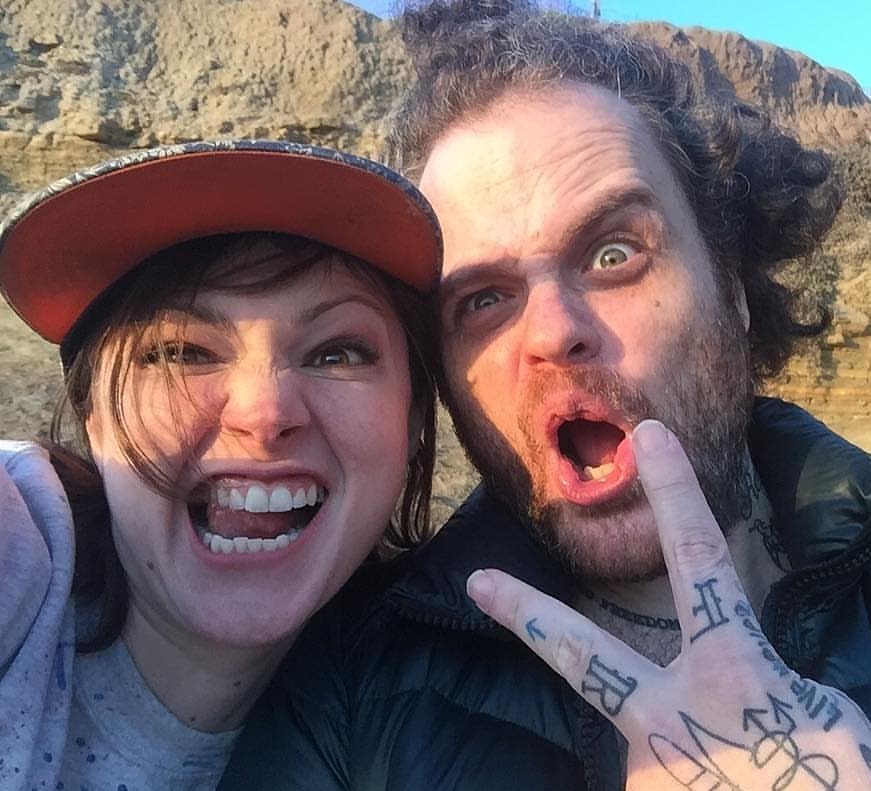 Describe the process of producing your art?
There isn't one process, I have multiple processes, multiple layers, I have an assembly line of paintings that I'm working on, it's like a diary process of art.
I don't believe in one way, it's more a circular infinity.
Continuous.
One bleeds into the other and leads into the other.
I'm vibing on my own creations and they all blur the line, a drawing could be a painting and a sculpture could be a performance, a performance could be a movie.
Worst aspect of the contemporary art hustle?
Hustle.

Greedy people, fake lies, nonsense, but in all reality, you just don't have to participate.
There's a ton of odd behavior and rudeness in the art world. There's also a ton of love. As an artist it's up to you what you want to avoid, and what you put out.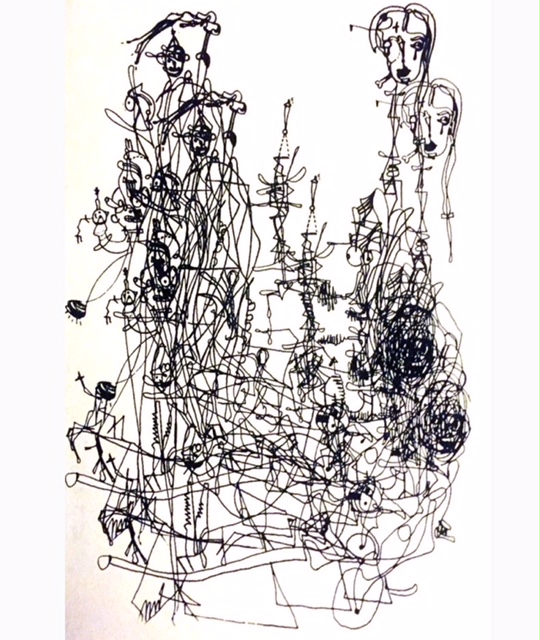 Best aspect of the contemporary art hustle?
I don't see it as a hustle, and I know a lot of people do, that's not how I see myself now.
I'm more focused on putting a different signal out, constant creativity and connection on different levels through art. A lifestyle choice versus a show.
Favourite other artist(s)?
I have a lot of respect for Jadda Cat; and R.I.P Odin.
Norman Reedus, Michael Rapaport is an artist of comedy, Cormega is a verbal artist mind master! Kool Keith the Jedi of creating odd worlds needed in music.
MF Grimm, Ramsey Jones, Tim Love Lee, The Residents, A female vocalist named Tekitha, O.D.B., Van Gogh, MF Grimm R.I.P Mike Kelley, R.I.P Odin. R.I.P Stayhigh 149, Mutz A.A., R.I.P D.G. N.W.C, Joaquin Pheonix, Bill Murray, Roy Stuart so many more …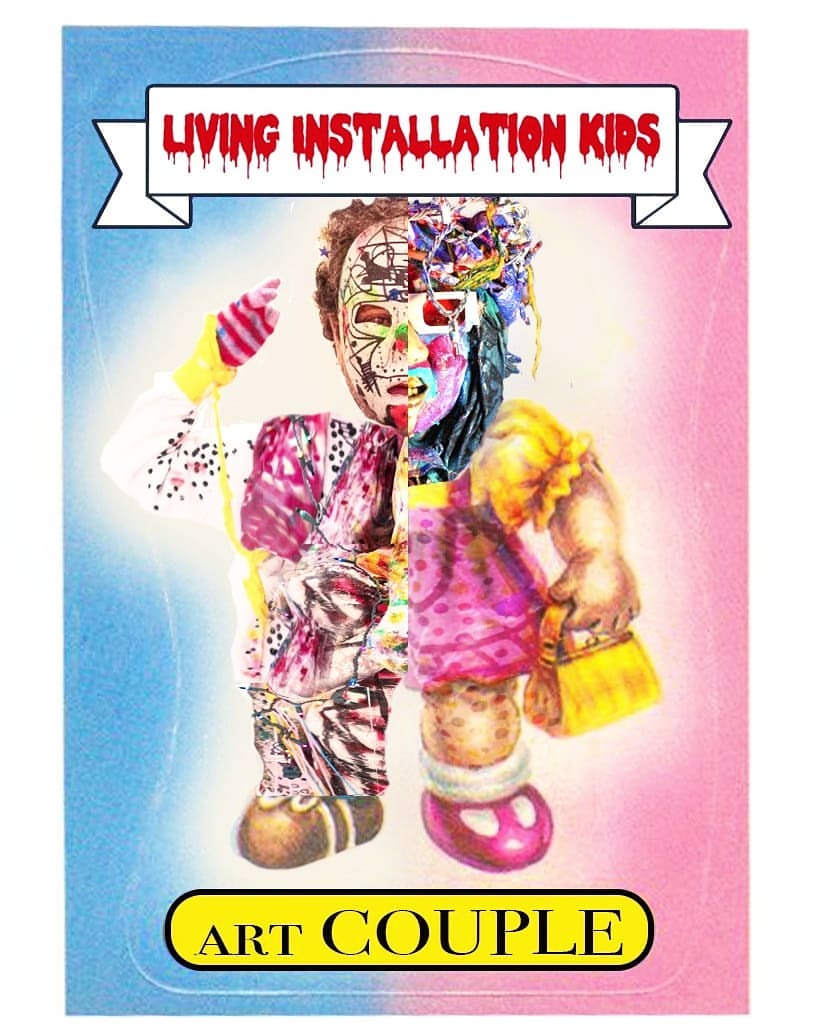 You have been working on your 'Living Installation' project for close to 20 years now – beginning back in 2002…
* For those reading who may be unaware – please let us know all about the project!
The Living Installation is a live expressive experience (a living movie acted out) by artist couple Michael Alan and Jadda Cat.
The evening includes performance, multimedia body art, comedy, inspiration, live music, punk sounds, projection and so much more.
Jadda Cat, a female performance artist transports her mind and body and becomes various live sculptures, living and breathing insanity.
This innovative, cutting edge project began in 2002 and continues to evolve, minute to minute.
The upcoming project takes place inside their personal studio.
Some are and some are not… the studio ones You are invited to a raw view, a look into process. The show itself is the up-close creation and development of wacky characters with every material imaginable. Jadda Cat is the portal into the unknown.
This is a fun-loving performance, a multimedia creative session.
Join us for an up-close and personal experience, create memories and partake in the community of connection that creates the soul and energy of art.
It's like nothing else, so it's impossible to paraphrase.
* How do you decide on your collaborators for each version of the 'Living Installation'?
We don't, it's mostly just me and my wifey, Jadda Cat. We are an art couple duo. We have some random guests that's very rare, it's mostly through music.
We do have a couple stable members that join in a couple of times a year, Tim Love Lee, And the blue man, mostly the Jadda Cat project so she makes the calls.
For now it's me and her – she's profoundly profound.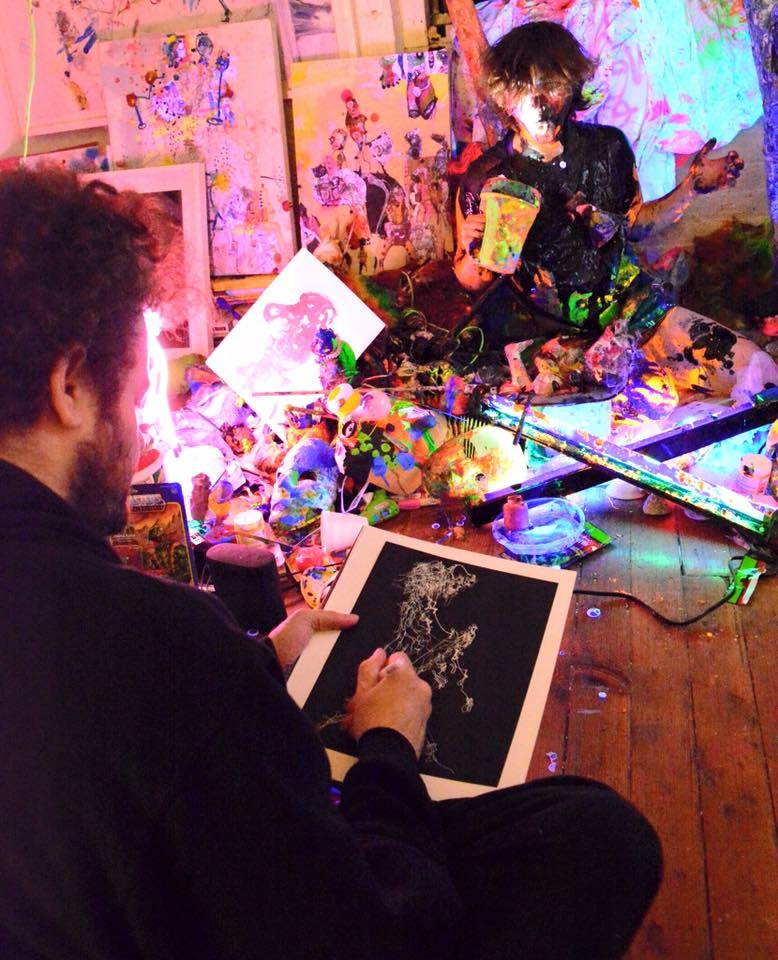 *How has / is the 'Living Installation' impacting your life, both artistically and personally?
Takes my painting tome, painting and burns all my money.

Humbling.
It's a personal project right now that I do with Jadda Cat, daily for fun in the street, galleries, museums and venues and in our studio.
We are like a painted up art couple duo.
We are becoming more of a live stream online show.
It's a collaboration and a romance with my lady.
It's helping us become better partners in general – I gain endurance, patience and knowledge, cause the shows are very long.
It's the only thing I do publically now, it's a funny way to interact with the world.
It comes from the old New York culture and makes my life fun.
It has deep impact and its on the spot improv, we don't really take it so serious, that's the point, and it helps me accept other parts of life that are harder.
It's a financial money pit, that's ironically helpful because everything shouldn't revolve around money in art.
* If you bumped into some recently crash-landed aliens from outer space and wanted them to attend a 'Living Installation' event – what would your sales pitch be?
I don't have a sales pitch, I would just invite them.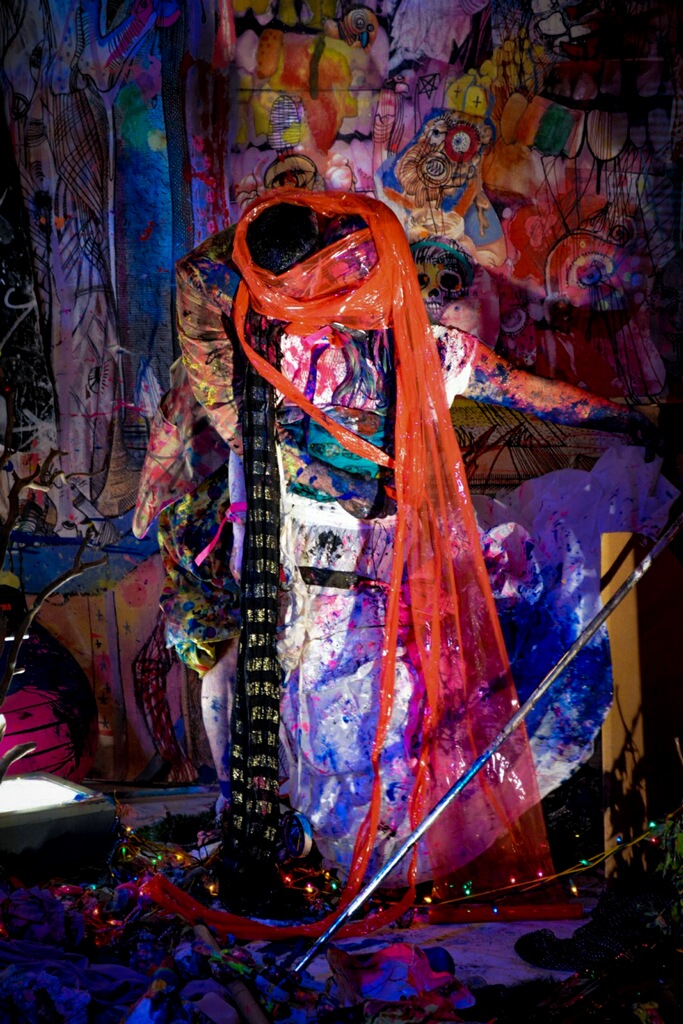 Odds n Ends
What role did toys play in your childhood?
A lot! I was burning them, smashing them and making my own, they inspired me to make sculptures and the living installation.
I love toys.
We didn't have a lot of money when I was a kid so I had to make a lot of my toys. My Mom made them, and my Dad, it was part of the culture of my family to make our own stuff.
Who was your 1st crush and why?
Honestly no clue.

I really only think about Jadda, I feel like I met her when we were kids.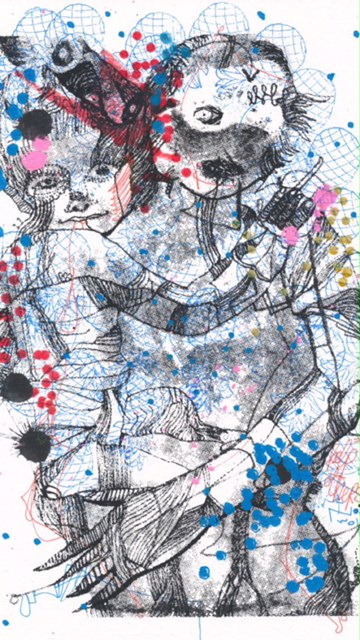 Please describe what you think the American psyche / zeitgeist is today?
I have no idea, I can barely speak for myself. Everything is so fast, too fast and too much.
We have a really terrible government, so much need , and so much want. So much void.
The amount of work people expect you to do and how fast is really unhealthy.
I have no idea what Alabama is like – I'm a New Yorker.
What are the top 3 items you own?
[Please include photos or drawings of them!]
Paintbrush, pen and marker.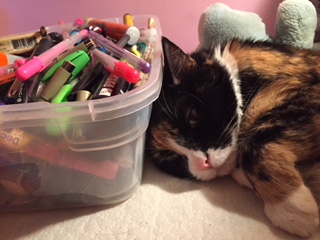 Drugs – waste of time or gateway to the universe?
Couldn't tell you, and wouldn't advise people to do drugs. They don't seem to help anybody out. But if they do that's great. Some people need blood thinners, some people have ptsd. It's all depends.
Coke is the devil.
At the same time people should do what they want to do. As long as they're not doing it in my house or crashing into me when they're on crack.
Crack is wack, no hope in dope, pray for the pope.
Please describe your latest dream in detail…
Zombie ate my face, then we went dancing, my hand was on his head, then I woke up late.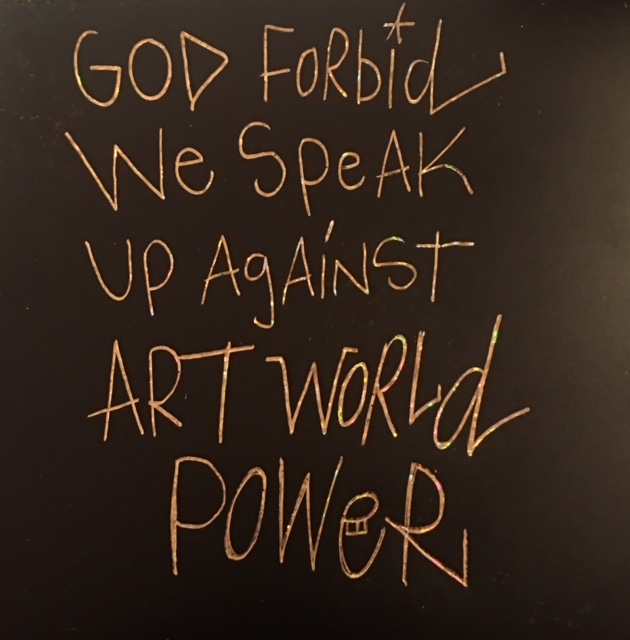 Of everything you have done what would you most like to be remembered for and why?
Keeping my word.

Your word is all you've got.
If people wanted to work with you or buy something – how should they get in touch?
Go through my website and request stuff – my friend Thomas is helping sell my work and my galleries.
Send a message through my website or through Instagram and Thomas F. my manager will help you.
www.michaelalanart.com, @michaelalanalien @thelivinginstallation for show tickets or bookings.
The Future
Any collaborations on the horizon?
Yes – but I will discuss them when they are released.
I don't often collaborate on paintings or drawings, I believe that everyone should do their own thing.
Any major projects you want to hype?
That's the anti focus.
I'm just ongoing doing my own thing.
We do the living Installation project.
There' a new project coming up every day but I don't promote them.
The only thing I'm promoting is for people to do better and have fun, laugh more and create better work, put more time into their craft and be more conscious.
Whenever there's something I'm doing I'll put it up but I'm really not focused on that anymore.
Follow my posts if you want or get on my mailing list to find out what's coming up.
Most of all peace of mind and peace in your heart is the key to everything.
Thank you.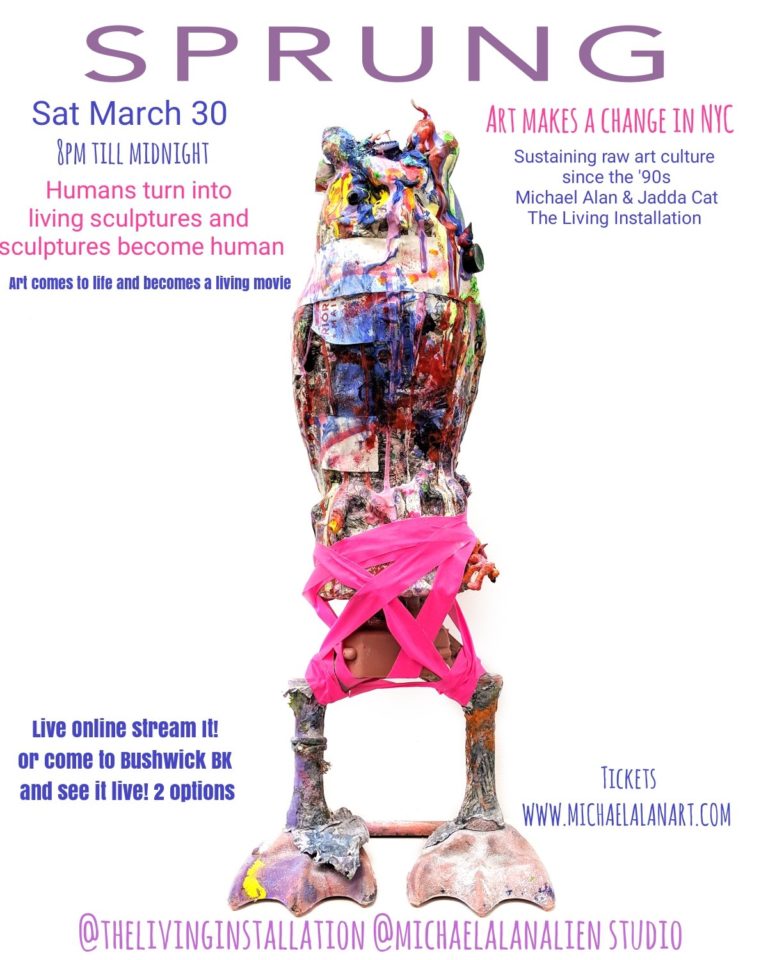 Links