Jozef Szekeres is an Australian artist who has spent his whole life working in the creative industry – First as an animator for Disney, where he worked for 13 years. Then, working primarily as a freelancer, Jozef contributed his many skills to a wide variety of projects and fields: Releasing comic books in collaboration with publishers such as WaRP Graphics (of ElfQuest fame) and much loved creators such as Joseph Michael Linsner, Erik Larsen and Julie Ditrich. Working as an animator for Filmgraphics. Providing art for gambling gaming companies from Australia and Europe. Acting as a conceptual designer for films such as Dark City. Co-designing the Sydney 2000 Olympic mascots – Olly, Syd and Millie… to name but a few of his many accomplishments.
Not one to ever rest on his laurels, Jozef made sure to also devote his time and resources to pursue one of his lifelong passions – Dolls and toys. Applying his design and sculpting skills to first release a number of one-off custom dolls that were very well received in the community. From there Jozef went on to release his debut factory made line of dolls in 2003 – The 16inch fashion dolls Elizabet Bizelle and Kotalin Bizelle.
Recently Jozef has once again returned to the doll world, with his GlamourOZ Dolls line of high quality, highly poseable, 18inch fashion dolls. Which debuted to much acclaim in 2020.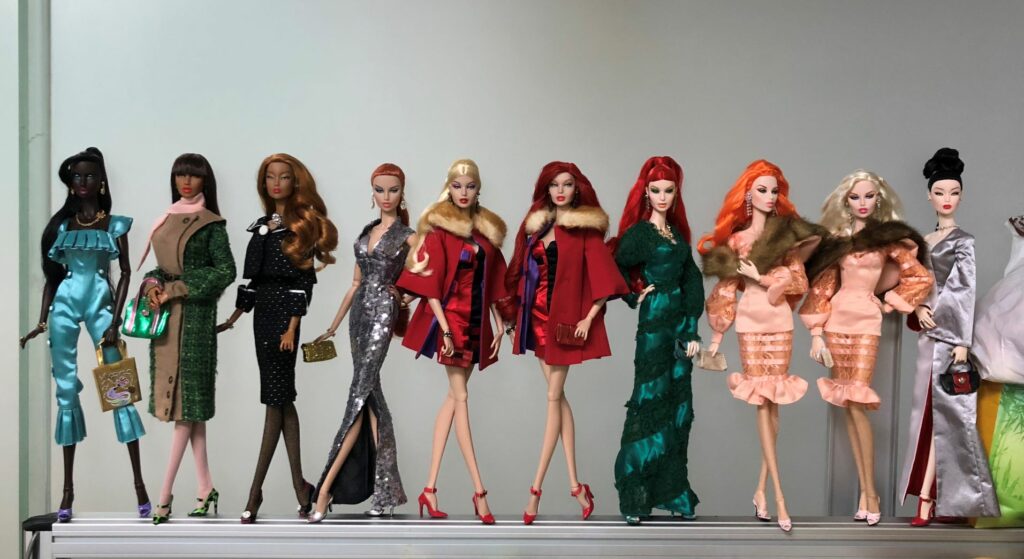 Wanting to get to know Jozef better, we sent him some questions to answer over email.
We hope you enjoy reading our interview with Jozef and delving into his illustrious life and career!
Getting Acquainted
Name + D.O.B?
Jozef Szekeres
1970

City, State and Country you're from?
Sydney, Australia.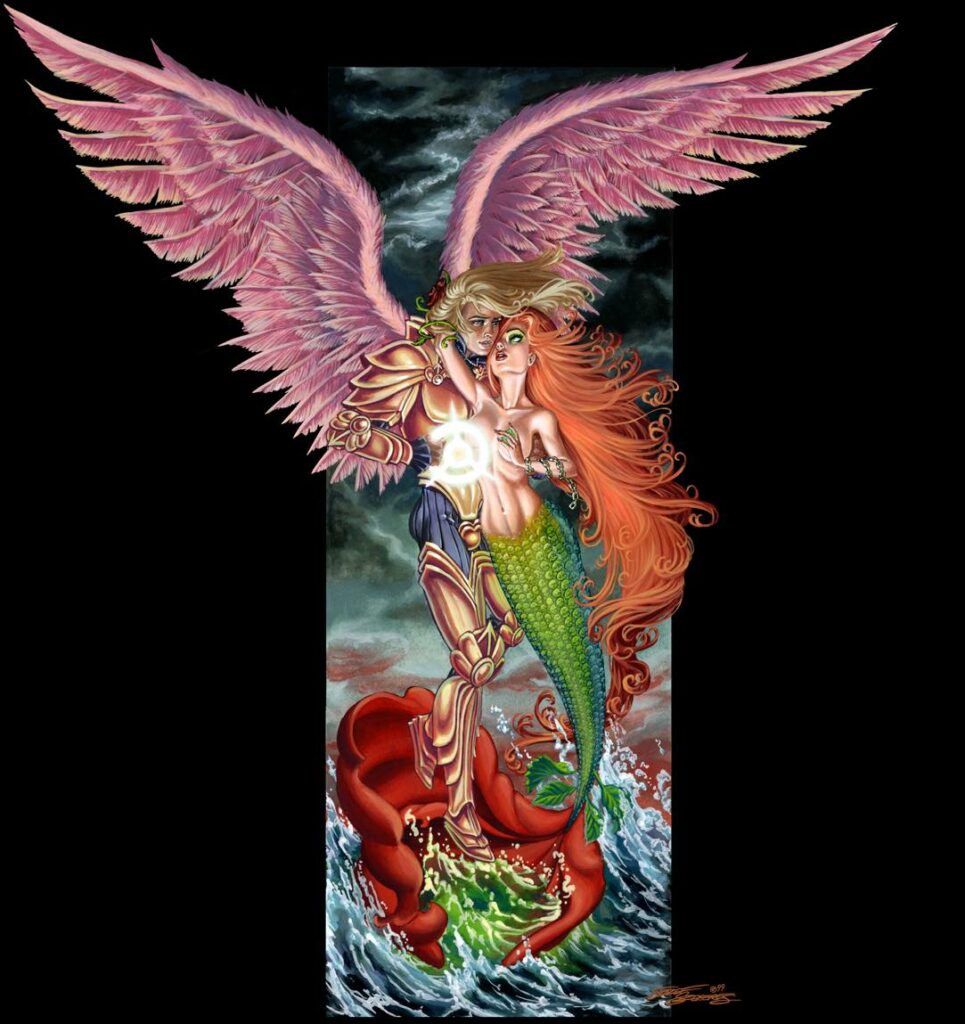 Please describe some memories from the stages of your life noted below – concerts, art, toys, romance, work, comic books, school, politics, crime, religion… ANYTHING really!
* Age 5 – beginnings:
At around age 5, my parents purchased a collection of antique furniture, and one of the items added to that purchase was a hand carved wooden sculpture of a mermaid. It was almost as big as me.
The tail looped around like a hangman's noose, and I put my arm through the loop, and wouldn't let go of her. I slept with her in my bed for the first night, till I realised sleeping with a wooden statue almost as big as me, was really uncomfortable. So I pushed her out of the bed.
The gorgeous statue resides still at my parent's home.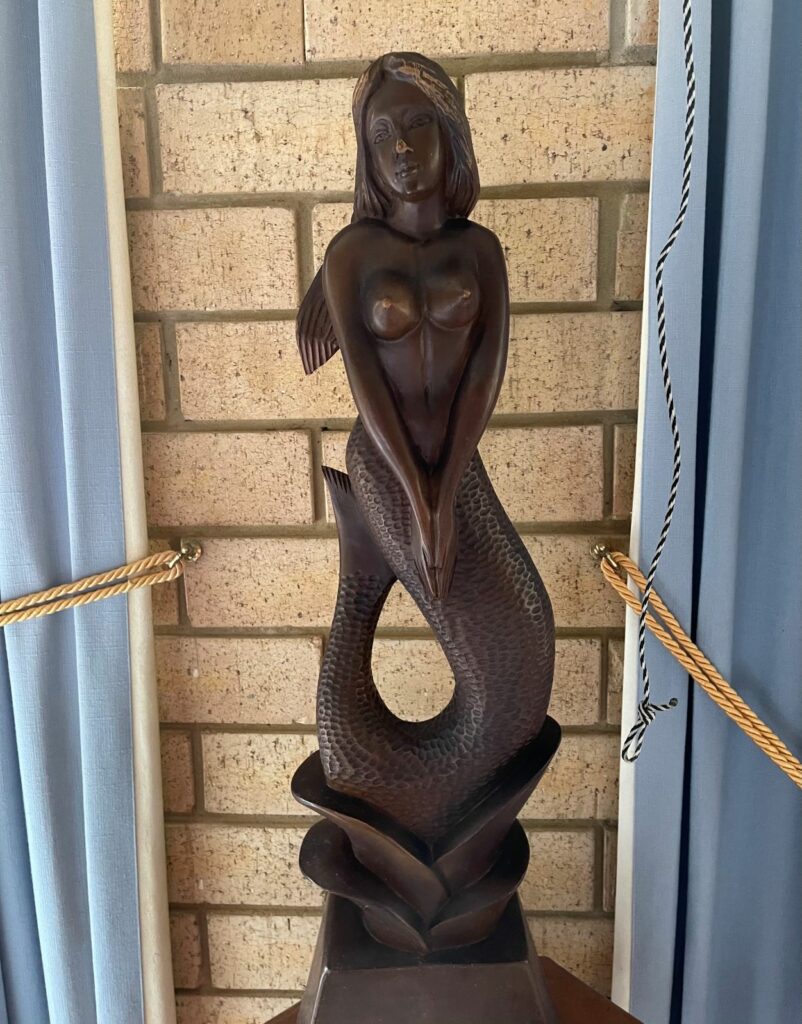 In 1976, at the age of 6, my mum took me to a big department store that had a live Santa you could meet, and take a photo with. Before the photo was done, Santa would talk to the child, and ask "what did you want from Santa", he'd listen, then reach into his big red bag, and out from it, the toy would appear.
My 6 year old eyes couldn't believe what they were seeing.
I was witnessing child after child, while in the long… slow… paced line with my mum, these children were with THE real Santa.
I'd asked my mother many times before this occasion, if I could have a Barbie doll, but I'd always end up with something else I liked (but didn't love) like a pink Beetle Matchbox car added to my growing Matchbox car collection, which in 1976, I played with like in the Pixar film 'Cars'. They all had their personalities, and of course amongst them there was the most beautiful princess car (with not a scratch on her… my cars never crashed).
…In the line, seeing all these stupendously giddy children with Santa, my mum asked me what I'd ask Santa to find for me in his sack. Without hesitation, knowing this was SANTA I was about to see, I said Ballerina Barbie…
Her response was, "Oh… I don't think he'll have her in his sack… maybe you could see if there was a lovely new Matchbox car in there for you instead."
Somewhat crestfallen, yet so concurrently hyped with hope at what I was witnessing, I felt that Santa would truly know what was my heart's desire. When it was my turn, with a whispered tone, because this was Santa and with hope in my tiny voice and anime glistening eyes, I got to honestly ask him what toy I really REALLY wanted. I asked him… "do you have a Ballerina Barbie for me?"
At first, Santa said to me that he didn't think he had her in his big red bag, and surely there was some special boy toy I wanted. I'm sure at that moment, I was like Charlie Bucket hearing that all 5 Golden tickets to the Chocolate Factory were found by other boys and girls… and not me. My glimmer of hope that Santa would know me, and know what I truly and dearly wanted with all my heart, was diminishing fast.
Then… I remember him looking to my mother, and seeing an almost imperceptible nod of approval from her. With restored gusto, Santa rummaged through his big red bag, which took a bit of time easily filled with North Pole small talk, then rising up from Santa's big red sack, like Excalibur rising from the lake… up came the Ballerina Barbie doll, just as I'd dreamed and asked for, I couldn't believe it, yet there she was… just like magic. This really WAS Santa.
I remember being so overcome and overwhelmed, so happy that I was having laughing tears.
Apparently, the toy store was below Santa's floor, with an unseen trapdoor underneath Santa's big red sack, his "elves" running around finding the approved requested item. I'm hopeful they knew of the great joy they were imparting onto these children… myself included. A lifetime memory. Actually, I'm sure they did. It really was a magical moment.
And yes, I still have her, my magical and ultra special Ballerina Barbie. My first Barbie. Foremost, I've a very special and loving thank you to my mother who made this experience come alive for me at 6 years of age, and understanding and truly seeing what would bring me the greatest joy and lasting memory, when meeting this gift giving Santa.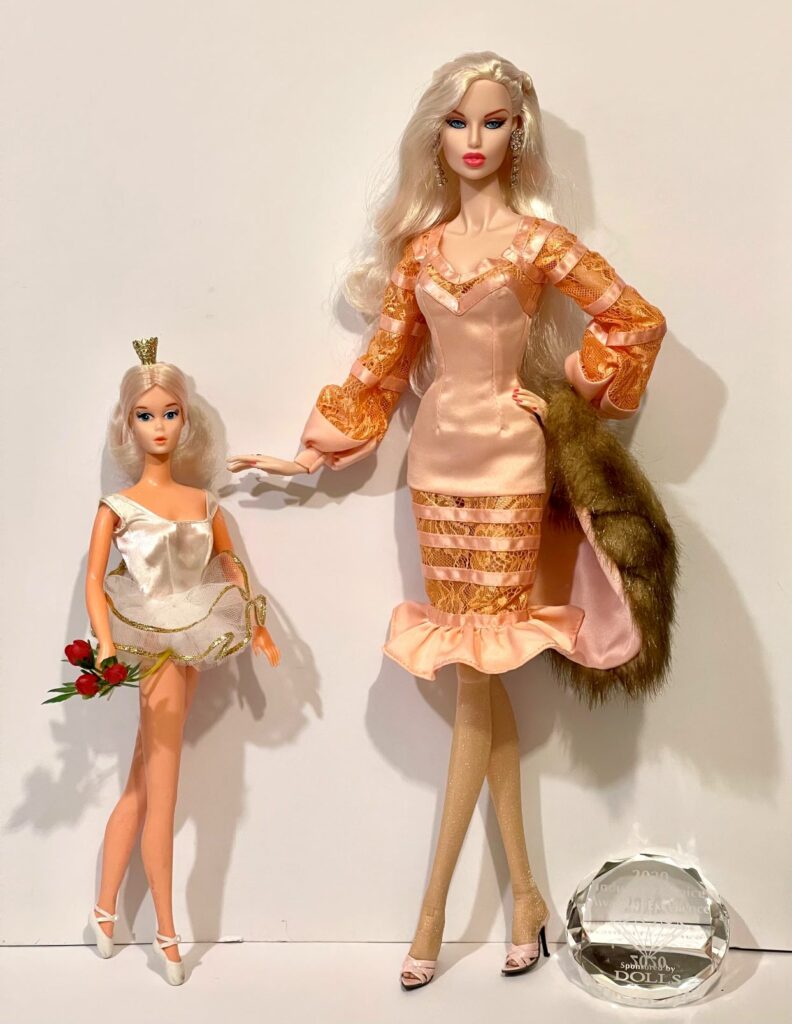 * Age 10 – continuations:
I remember my mum taking me to see a rerelease of Disney's Sleeping Beauty. I was enthralled by the film with it's beautiful 2D animation. I knew what animation was, but I hadn't till then seen a feature length animated film.
Seeing this film, I knew I wanted to do this in my life, to be a Disney animator.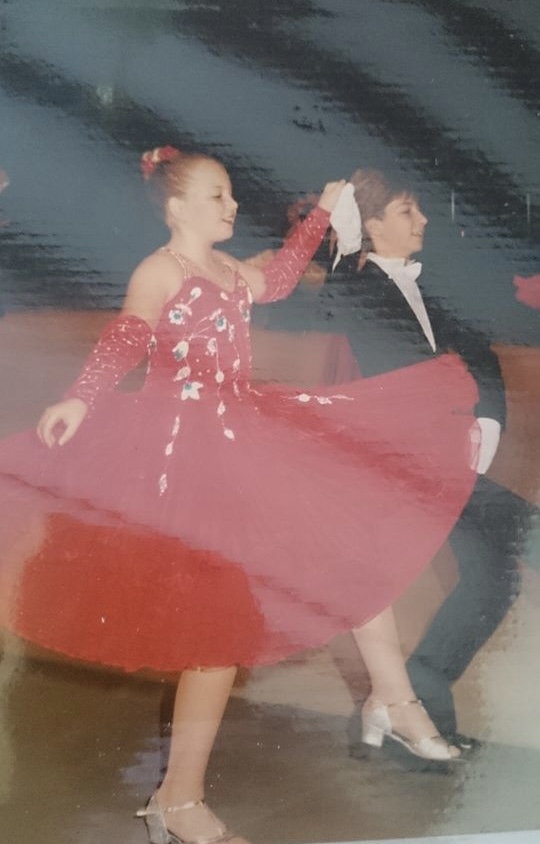 * Age 15 – getting serious:
The school art teacher asked what we'd want to do career-wise as adults. Inspired by The Masters of the Universe toys (and Barbie), my reply was I wanted to make my own line of fantasy action figures. The teacher dismissed this as a credible answer or career goal, asking how this could even happen, as we're in Australia, and all toys came from America.
He said to me, "You're dreaming, it'll never happen".
* Age 20 – young adult:
My school career adviser asked me what I wanted to do when I left school, and I said I wanted to 2D animate for Disney. She laughed, dismissed it by asking how would that occur, as the Disney animation studios were in America, and then asked me what did I REALLY want to do.
At the age of 20, I'd already been employed at the Disney Australian studios, that came into Sydney as I was completing my work experience (which I did at the Hanna Barberra animation studio in Sydney).
My dream job was finally mine.
I 2D animated for Disney over a 13 year period.
(Some of Jozef's Disney work.)
* Age 25 – adult mode:
As a mid teen, I fell in love with an American comic book series called ElfQuest. I loved the art and the stories. I remember thinking to myself that if ever I do a comic book, I'd want my art to be of this quality, and the story, too.
In my early 20's I, along with 2 friends Bruce Love and Julie Ditrich, sent in a story proposal with development sketches for an ensemble cast of about 24 new characters, to WaRP Graphics, the publisher of ElfQuest.
The publisher loved our proposal and characters, which became its own comic book series, called: ElfQuest/WaveDancers. 6 issues of fully painted artwork. This was my first painting job, and I learned to paint on this job.
This new self taught skill of painting became my main job as an illustrator.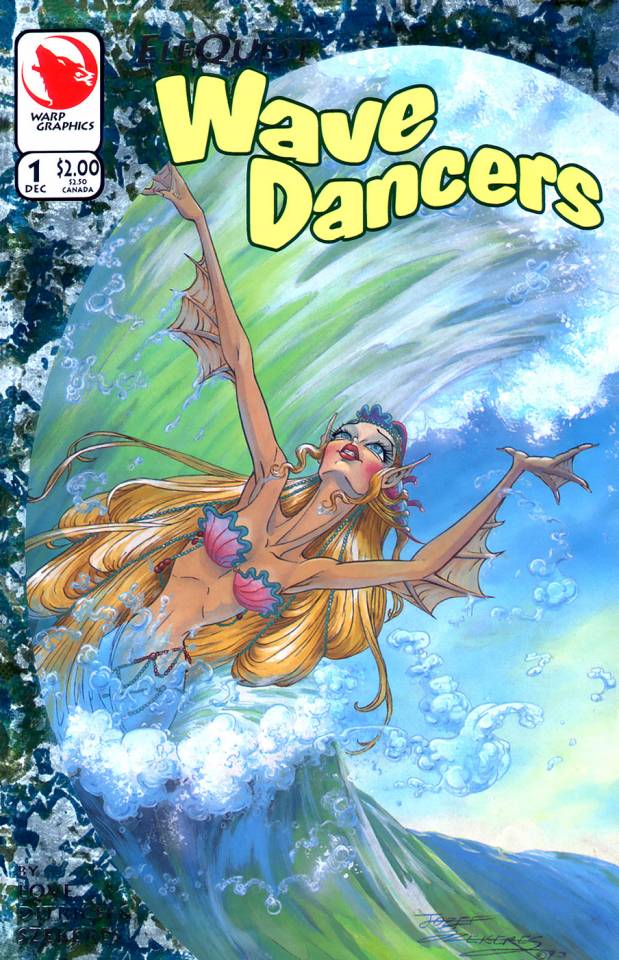 * Age 30 – meanderings:
In my early 30's I first explored doing my own hobby business as a doll artist, to produce and release a doll sculpt that I'd created in 2001. Elizabet Bizelle and Kotalin Bizelle were released in 2003, in a limited edition run of 300 units.
They sold out, which was a wonderful surprise, especially when looking back, this all happened before social media.
I did another 2 editions of similar sizes released in 2006. They sold enough numbers to only cover the costs. So I could not afford to pursue doing more dolls. Dolls with greater articulation started to dominate the market, and the amount of funds required to update the sculpt to be fully articulated, was way more than I could afford.
So I retired the dolls, the hobby business was over, and I didn't think I'd be returning to it.
I did however start a new doll body and head sculpt in 2006, that many years later eventually became the GlamourOZ Doll.
(Some of Jozef's first dolls – released under the Jozef Szekeres Dolls name.)
* Age 35 – fully formed:
In my 30's my focus was doing painted artworks for gaming companies. I felt I finally had a job where I could really invest a lot more time into the painted artwork I was creating, with the goal of pushing my skills to the next level.
I also concurrently was doing a new painted comic book series titled Elf-Fin, I had co-created with my friend, Julie Ditrich. The characters from this series comprised of the characters created for ElfQuest/WaveDancers, (as we had legally won ownership and publishing rights back from the publisher, who had tried to claim ownership over them, in opposition to what was established in the original contract), plus also adding new characters to the new story.
We completed 1 fully painted 48 page comic book of Elf-Fin, self published in 2013.
(The covers for the Preview and Debut Issue's of the Elf-Fin comic book, released in 2011 and 2013 – Featuring art by Jozef and writing by both Julie Ditrich and Jozef.)
* Age 40 – adult meanderings:
I had a demanding new job as a creator of high end artwork for a gaming company in Austria, that took so much of my time in my Sydney based home satellite studio. Competing against this paying work commitment was the hugely sprawling comic book series that was Elf-Fin.
The time available to do both, and balance a personal relationship was challenging. I felt pulled 3 different ways, and cracked under the pressure, with stress induced Glandular Fever. Apparently I'd been originally exposed to it as a child, but it had laid dormant till this time of stress.
It destroyed the paid work, the comic book and the associated friendships, and would be the beginnings of the end of my personal relationship.
The illness kept me weak for about 10 months, before it started to wane.
(Some of Jozef's gambling gaming machine art.)
* Age 45 – middle age approaches:
Once recovering from the Glandular Fever, I decided I didn't want to be an artist employee of a company any more, as no matter the good work you've done, there's no loyalty from businesses, in times of stress or need.
I looked back at my art career and really delved into what made me happy, and what I could do artistically and solo. My earlier doll sculpting and production was my answer for my future path. So my new direction was set. I started my journey from concept to development, to production run, to retail, with my new GlamourOZ Dolls, a high end collectible Australian Fashion Doll.
It took way longer than projected to complete, and was self funded against my apartment in Sydney. With such a huge time and financial commitment, this was unlike my first Hobby Business touch into the doll world, this was a full time commitment, all in. So much so, that I lived in China for 2.5 years near the site at the factory property, as I oversaw and was hands on in the production run and quality control of my dolls.
* Age 50 – middle age:
The GlamourOZ Dolls were released in November 2020, the year I turned 50.
My hope is that I can see my career path ahead of me, as a full time fashion doll creator. Adding to the GlamourOz Dolls line with new editions, new face sculpts and characters, and eventually new body sculpts, including a male GlamourOz Doll companion.
Personal motto(s)?
Believe in yourself, for no one else will believe in you, if you don't.
(The covers for the 3 issues of the Dart miniseries, released in 1996 by Image Comics – Featuring art by Jozef and writing by both Julie Ditrich and Bruce Love.)
Art and Toy Questions
When and why did you first become interested in everything creative?
… and any pivotal artistic moment(s) / influence(s)?
I'm not sure why I've gravitated to the creative arts, music dance, and visual arts, but I have for as long as I can remember.
Disney is the greatest of the influences, but I also was equally influenced by Mattel's Barbie and Master of The Universe (MOTU), Comic books and fantasy illustrators.
I remember as a boy walking down the Barbie toy aisle, that I realised that toys have an existence before they come into my awareness when they're released. I was intrigued by their hidden history.
Why and how do these toys come into existence, and I was asking… who makes them, and can I be one of them? Plus I saw that clone fashion dolls were cheaper in price, yet used similar materials and jointing to quality higher priced doll counterparts like Barbie. What made them different? I felt it was all decided in the quality of the sculpt by the person/artist that must have created the doll. And if the clone was sculpted more attractively, it could be just as beautiful (in all its terms), as Barbie.
Thus as a child, begun my fascination to know how toys appeared on the toy shelves… what went into making them, and who was it that made them.
This made me think and ask… knowing that Barbie was from America, and that most toys came from overseas… could a beautiful fashion doll like Barbie, come from somewhere else?
Say… Australia?!
I'm answering those childhood questions, in adulthood, realising them with my own Australian fashion doll line.
(Side by side comparison photos of one of Jozef's debut doll release from 2003, and a GlamourOZ Doll.)
Favorite toy makers, artists and designers?
Please describe your usual process for producing your dolls and toys – from initial idea, to creation, completion and eventual release?
Know artistically what I want to achieve, including development sketches.
Sculpting the figure in polymer clay over a wire armature.
Cutting up the sculpt. Then detailing the ball and socket articulation points,
Scanning the sculpt into a 3D file.
Tooling the articulation points in 3D.
3D printing the doll to check the functionality.
Making the molds.
Checking the mold castings.
Prototyping the 10 editions, including 10 hair designs, 4 face paint designs, 10 face paint colour palettes, 8 garment designs, including 8 sets of shoes, jewellery and bags,
Designing the packaging and the packaging art, and shipping boxes.
Designing all the business and character logos, and getting them all registered and trademarked.
Registering the design patents for all the sculpts, body and heads.
Contract negotiations with the factory in China, (working with an American lawyer in China.)
Be on site daily to problem solve multiple times a day during production, and be hands on with each department.
Do all the quality control.
Arrange all international shipping and storage.
Set up my own website.
Release the dolls, and post them to their new owners.
(Some behind the scenes photos of the GlamourOZ Dolls production.)
… and what advice would you give to someone wanting to interdependently develop and release their own factory-made toy(s)?
A factory will not advise you in advance the true time and the true costs of their part in the creation of the toys.
What you expect you might need in both instances of time and money as a factory will present, will be at least 10 x what you thought will be needed.
While working on site at the factory, I saw many independent toy designs that went no further than the prototyping, due to this.
What do you do for a day job at the moment?
… and how does your day job impact / influence your creative practice?
I've committed to the business of making and selling dolls as my day job, and career.
Though I am also doing some private and commissioned artworks at this time, too.
Any projects you want to hype?
Yes, the current inaugural releases of the GlamourOZ Dolls. Of which one of the 10 inaugural editions won the 2020 American DOLLS Awards of Excellence Industry's Choice Winner, Category 'Collectable Teen/Adult Dolls' for 'Kotalin Bizelle : Ribbon Reveal'.
If people wanted to work with you, have a chat or buy something – how should they get in touch?
Facebook, or Facebook messenger is a good way to get in touch.
Odds and Ends
If you could live in any place, during any historical era – where and when would that be?
…and why would you choose that time and place?
Right here, and right now. I know as a global society, this period we're living in has afforded us a better standard of living then in any era before.
Plus things are possible today that weren't possible even 10 years before now.
What role did toys play in your childhood?
Toys were my creative outlet, and the Greek Chorus that observed my life, as I played with them.
When I saw Toy Story, it totally resonated with me, for as a child, I thought my own toys had a secret life, too.
(Some of Jozef's early one off dolls.)
Drugs – waste of time or gateway to the universe?
To each to their own.
Personally I see both drugs and gaming as addictions that steal valuable time, money and self agency away from you.
You don't want your gaming earned rupees in your game being greater than what you have earned in your real life… Otherwise, the game is playing you, when you could be investing that play time and funds on experiencing life or developing your own creative works.
Who was your 1st crush and why?
Equally Barbie and He-Man.
She's beautiful without effort, and he's muscled without effort.
Does sex change everything?
With the release of the teen fashion doll Barbie in 1959, who's highly stylised character silhouette was that of a fully adult figured female, I think her sex appeal changed everything in dolls from this point.
My dolls are targeted to the adult fashion doll collector that loves the glamour of high fashion on catwalk models.
I've sculpted the dolls to be both fierce and sexy with their looks and poses.
(Some GlamourOZ Dolls wearing lingerie by designer Anna Lipka.)
What are the top 3 items you own?
My own dolls that I've made, now in my own collection.
My other dolls I've collected.
My Masters of the Universe Classics line.
In a battle between the two iconic dolls: Blythe (from 1972 + released by Kenner) Vs. Bild Lilli (from 1955 by O&M Hausser) – who would win and why?
The Blythe dolls I'd say are the progenitor of the big headed dolls, we see today such as Bratz. And we know historically that Bild Lilly is the progenitor of Barbie.
For me, the winner is Bild Lilly, as Barbie is not only a toy but an international pop culture icon, now over 60 years from her original release date.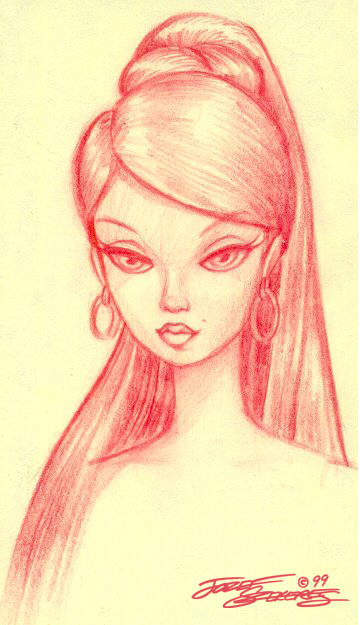 Please describe your last dream in detail…
I dreamed I was asleep then I woke up.
Then… I woke up.
Of everything you have done what would you most like to be remembered for and why?
I'm very proud of my painted and comic book artworks I'd done, including my 2D animation with Disney and in animated commercials. Though I love them all, these artworks for the most part were done for companies or clients or with others, collectively with their own goals driving the artwork I'd done.
I think these new GlamourOZ Dolls that I've recently released would be what I'd most like to be remembered for, as they're the culmination of all of my artistic skills, and the doll artworks and sculpts I've done originate entirely from within me, and are born from a creative drive to see them realised, and hopefully loved and shared for years and generations to come.
Links