Thomas Jefferson (TJ) Cowgill is an American-born, & now Australian based musician, artist, graphic designer, & founder of clothing label Actual Pain. Most famous for his solo music vehicle King Dude, TJ also previously played in a variety of bands, including Book Of Black Earth, Cross, & Teen Cthulhu.
Whereas TJ's previous musical groups were all decidedly heavy metal or punk in sound, King Dude is a rather dramatic departure stylistically. Known for their stripped-back, acoustic guitar sound, accompanied by TJ's smoky, whiskey-seasoned baritone vocal. Dark Americana might be the most appropriate description for it, as TJ draws from various different American Roots musical traditions. Old-time music, Gospel, Blues, Folk, and good ol' Rock-and-Roll all have threads woven into his tapestry of sound.
Initially starting as a side-project in 2009 or so, King Dude has gone on to find world-wide acclaim across genres; with multiple world tours and leagues of devoted fans. Some fans have even gotten tattoos of the group's logo which is the Nauthiz rune, or the acronym L.T.L.O.T.W. — meaning Lucifer's The Light Of The World – the title of one of King Dude's most popular songs, from their 2011 album Love (Dais Records).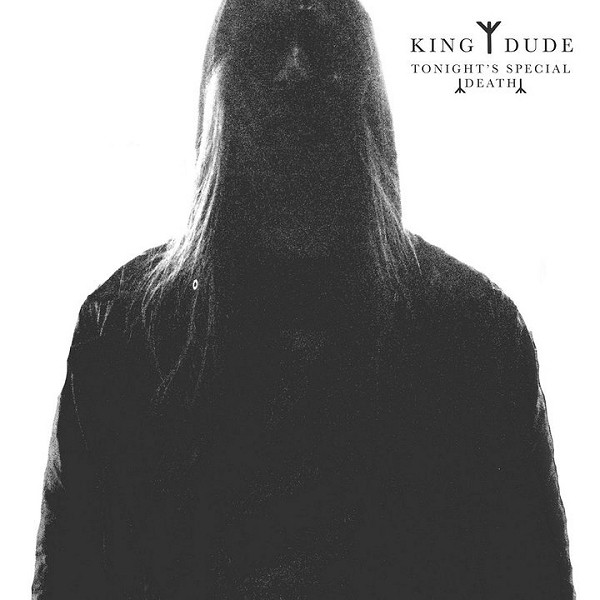 I first met TJ in 2010 when my band Awen and King Dude were both on the same bill at a SXSW showcase in Austin, Texas; organized by NYC-based fashion label Mishka (who have also released a whole clothing line inspired by the band Death In June). We became good friends and stayed in touch, playing a few shows together whenever he came through Texas, and eventually releasing a collaborative 7" record together, 'I Was Evil' b/w 'Sanctioned', via the German label Trisol in 2021.
Shortly after, when Awen was putting together our 2021 album Reincarnation, featuring other artists remixing and covering our songs, TJ contributed an excellent dark electro remix under the moniker, Patterson-Gimlin (the name taken from the fellows who recorded the most famous film footage of an ostensible Bigfoot creature walking in the woods).
His most recent studio album as King Dude, Death, appropriately closes the casket on that project. That said, TJ has no intention of retiring from making music.
Perhaps as Bowie had to eliminate Ziggy, maybe TJ needs to kill the King in order to grow.
King Dude is dead, long live Thomas Cowgill!!!
Read our conversation, below…
I wish we could have met in person for this, as I always enjoy our conversations so much! We've known each other for a number of years now and have worked together several times in concerts and on records.
Our first show together was in the early days of both our projects (King Dude and Awen); since then, you've certainly gone on to achieve global notoriety, which I love!
When these questions were sent, you were currently on a massive 22 date European tour with King Dude. It looks like most of the shows were only a day or so apart from each other.
Do you enjoy the hustle and bustle that must be involved in that kind of travel and performance schedule?
Have you had any time to visit any sacred or historic sites this time around?
I saw you were recently in Prague – Did you perhaps get a chance to visit Houska Castle outside the city, which legends say covers a portal to Hell?
That show we played in Austin together, where we first met, was that in 2008? Earlier? I'll never forget seeing you walk through that crowd of local tough looking guys in front of the club before you played. You were carrying an eight-foot-long spear and I heard you say, "Excuse me gentlemen" to them as you passed.
The look of shock they gave you was almost as good as the look of utter confusion they had when you played. Absolutely, the best.
The European tour went well, we definitely worked hard on that one.
The routine was breakneck; but at the end of the day, I only have myself to blame since I'm the one who chooses how many shows we play. I just figured that if I'm going to go all that way, far from the comfort of home and my family, I may as well spend as much time working as possible.
To be honest I like hard work. Work isn't that hard if you enjoy what you do and I definitely love my job when I'm singing and playing in front of people that are happy to be there.
But it doesn't leave much time for sightseeing. I always say, yeah I've been through Europe. I've seen it moving along at ninety kilometres an hour or so out the window of a wheeled metal box. I see a lot of gas stations there. I could tell you whatever you want to know about gas stations in Europe.
Italy has the best food at their gas stations, by far.
Germany has the best toilets at their gas stations but you have to pay for them.
Sweden has the best candy and Denmark has the best hotdogs.
I could write a book about European gas stations.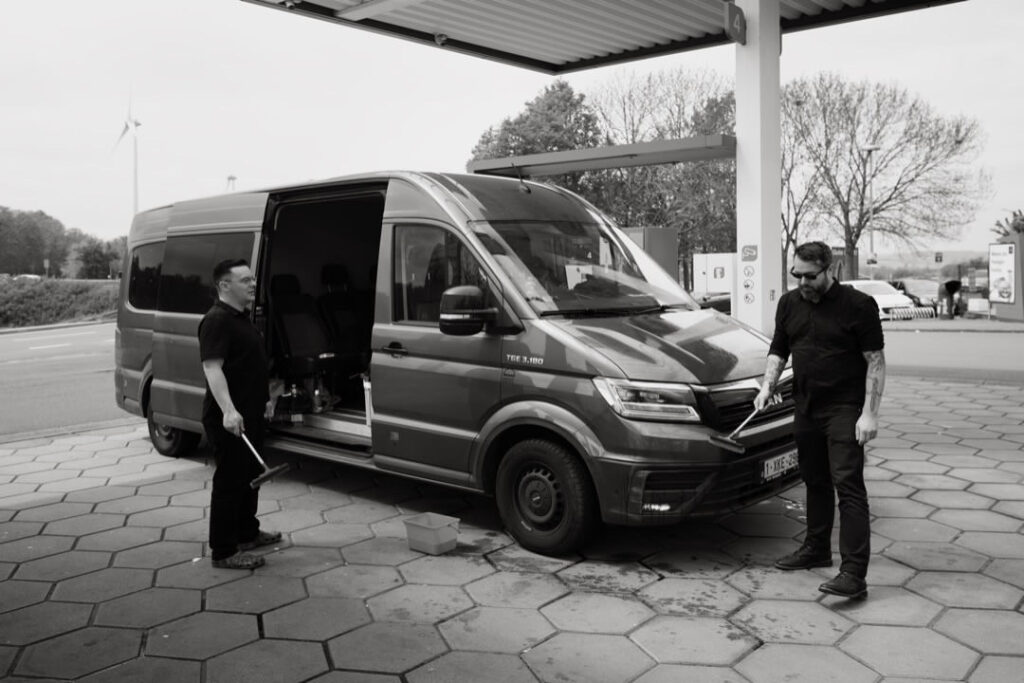 I started this tour with a cold that slowly transformed into a flu and in Prague I was the most sick. I had a fever but still managed to play of course but still, I didn't get to see anything there. The Houska Castle sounds so familiar…
Is there a documentary about it by the same name?
One really incredible place we visited was Gruyères in Switzerland. The village is named after the cheese, I think. More on that later.
This place is legendary to some for having a museum dedicated to the work of Swiss artist H.R. Giger. We had a short drive between two shows and it was on the way so we decided to have our lunch there and check it out.
It was totally surreal…
The same day we decided to visit, the village was also hosting a huge convention for real estate brokers…
Or maybe they were investment bankers…
To be honest, I have no idea what the convention was for. It seemed to be for some North American company doing some ambiguous business…
Regardless, we found the main square overrun with hundreds of generic businessmen that were all wearing khaki pants and light blue polo shirts with name tags on them and they were all chatting loudly to each other in their suburban American accents and drinking wine and eating cheese. It was so strange to my ears – This was the first time in almost three years that I'd been around that many people speaking American English and for it to be in this medieval looking village…
Absolutely bizarre.
There were these medieval ren-faire street performers who were juggling pins and balancing balls on their heads, desperately trying to entertain the uninterested business folk. Every so often dotted throughout the crowd you'd encounter an elder-goth, trudging their heavy platform boots and leather duster through the sea of normal people with an unnecessary cane in one hand or a ridiculous top hat on their head.
They weren't exactly like us.
Sure, we too were dressed in all black and probably shared similar tastes in music, but we were there on a whim. There was almost a level of WGT pageantry to their clothing that you could just tell that this was the only reason they were here. They were making a holy pilgrimage to the H.R. Giger Museum.
We finally worked our way past the crowded square and quickly arrived at the museum. I was struck by the exterior and how exquisite the statues and moulding of the building appeared. At first glance it looked like some cheap cyberpunk goth-fantasy but as you get closer you realize, hey this stuff is made of stone and metal! Not some cheap styrofoam and plastic.
The woman inside who sold us our tickets was quite motherly-looking. She looked more like a school teacher than a goth of any kind. I thought she was the absolute best of course. My favourite kind of "evil person" has always been the kind that lives next door to Mia Farrow in Rosemary's Baby, you know what I mean?
The details inside the museum are incredible. From floor to ceiling, everything seems to have been touched by Giger's cold demonic imagery. His work seems to me to be the manifestations of the truly horrible things most of us keep locked away in the dark corners of the primal mind.
After just a few minutes inside I started to feel uneasy. It felt like I was in Sinmara's cauldron being boiled down to some oozing goo, ready to be spit out from a gesticulating frog's dick onto a cold slab of obsidian glass. I'd describe it as a very Jungian passage through a level of bardo that I hope to never see again.
Garrett [Editor: a member of TJ's touring band] on the other hand loved it. He couldn't get enough of it. He's a huge fan of Aliens and is so knowledgeable about the films. He was practically our tour guide, describing all the props from the films and the lore of the movies.
Guillaume, our driver and tour manager seemed to like it as well.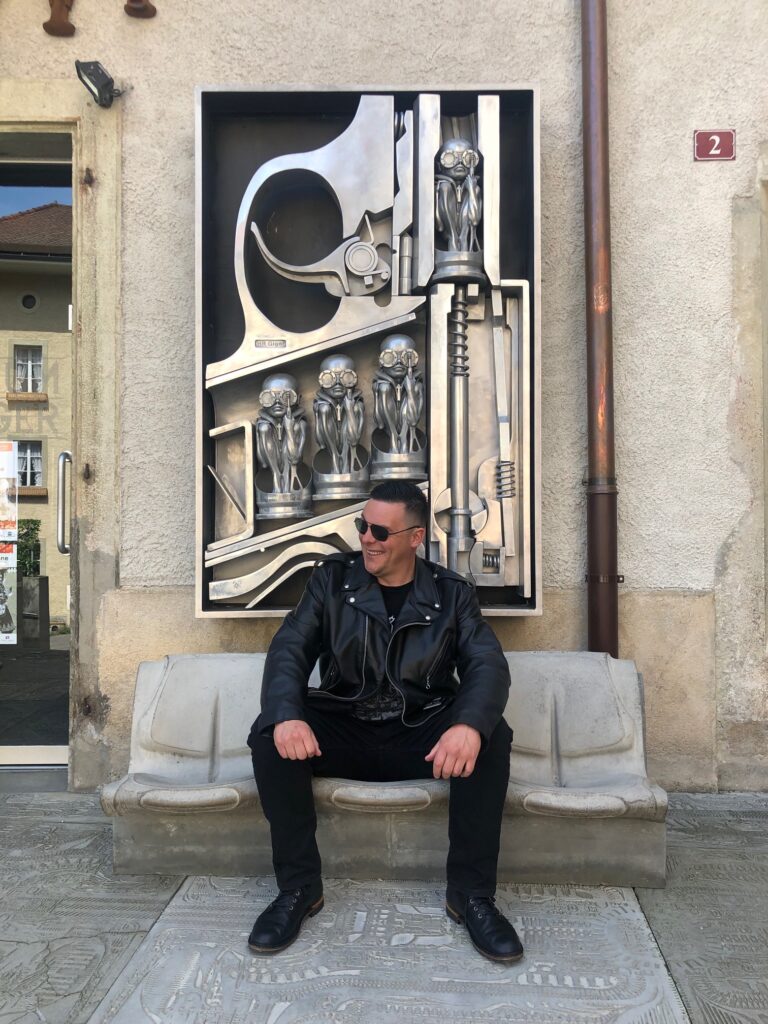 The place was pretty empty save for the occasional goth and some small children with their sort of worried looking parents.
Around this time, I began to search for a famous painting in the museum.
The third floor contains some of Giger's private art collection and I heard there was a painting by Joe Coleman of Charles Manson on display. The museum is a bit like a maze but eventually I found the third floor. I was alone except for an annoying horse fly about the size of my thumb. It buzzed beside me up the spiral staircase, slamming it's disgusting fat body into the walls and windows like a drunk idiot in the dark.
Fitting companion I thought.
Finally, I found it alone in the corner of the third floor loft.
The painting is hypnotic. It's size, detail and subject matter is stunning. Apparently, Coleman incorporates many words and symbols into his portraits to tell his subject's story. His work is somewhere between a portrait and pictograph and he didn't miss a thing about Manson. Captured there is all the disgust, the fear, the humor and the beauty. The insanity. The murders. It's all there. There's even a nod to the tenuous Process Church Of The Final Judgement connection! Really, it's such an incredible piece of art.
I felt like the painting was somehow drawing me into Manson's world. It's a quite powerful feeling that I can't really describe.
I couldn't tell if I wanted to laugh out loud or throw up on the floor. Maybe I was experiencing Stendhal syndrome?
I stood there reading every word trying to take it all in. It couldn't have been more than a few minutes. It felt like an eternity. I'm not sure that I've ever seen any piece of art that communicates as much truth and emotion about its subject than this one painting does. Seeing it online doesn't compare to seeing it in real life. When you stand in front of it in person it's large enough to fill your entire range of vision.
It is in my humble opinion a masterpiece.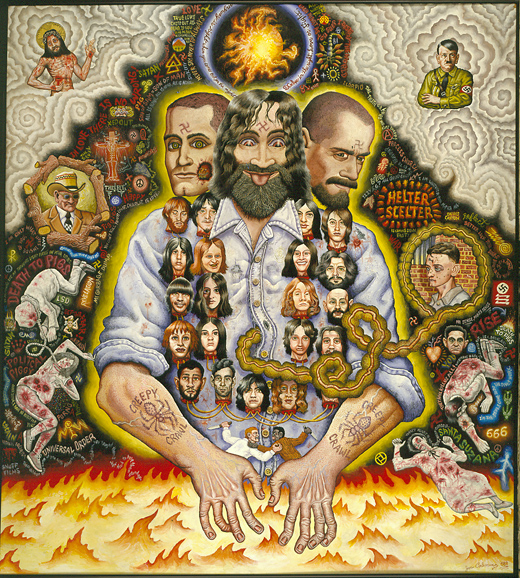 Afterwards Garrett and I got a quick drink at the Giger Bar across the street. The architecture inside is amazing, full of heavy furniture designed by Giger himself. Garrett ordered a drink from the menu called Alien Blood. I had an absinthe-gin cocktail that a slightly drunk American recommended to me at the bar. It was strong.
Behind the bar is an unironic shrine to the bar's namesake with lit candles and his photograph framed. It's nice to see so much reverence for such a dark minded artist like him. Again, something I feel you only see in a place like Switzerland.
Garrett and I joked about how creepy it would be closing this place at night. It certainly feels a bit haunted even in the daytime.
We quickly finished our drinks.
We still had to have lunch and get to the next show. Guillaume recommended fondue for lunch from the famous fondue restaurant next door. We were sad to find it burned down. No worries, Guillaume pointed out another fondue restaurant across the street. We noticed another fondue place next door to that one. There were fondue restaurants everywhere.
The only thing I knew about fondue is that it was a 1970's food trend people endured. Then in the 1990's my sister worked at a fondue place in Seattle that didn't stay open very long. I had never actually had it so I was curious what it would be like.
The first thing I noticed when I sat down was cutlery. They give you these long handled forks and knives for dipping the bread into the communal bowl of melted cheese. I thought you know what would go great with this cutlery? A little mouth on the end of my tongue so I can bite the food off the long fork.
Wow! So, this is where that old bastard got his idea for Aliens! From the fondue restaurant next door to his museum! Who'd have guessed it? Funny how inspiration for something as wild as an oozing alien tongue with teeth can come from something as simple as fondue. Which is great by the way. I don't think I'd eat it again soon though, it's very rich and leaves you feeling like what you'd expect to feel like after you eat a hot bowl of cheese.
But that was the most enjoyable day trip of the tour.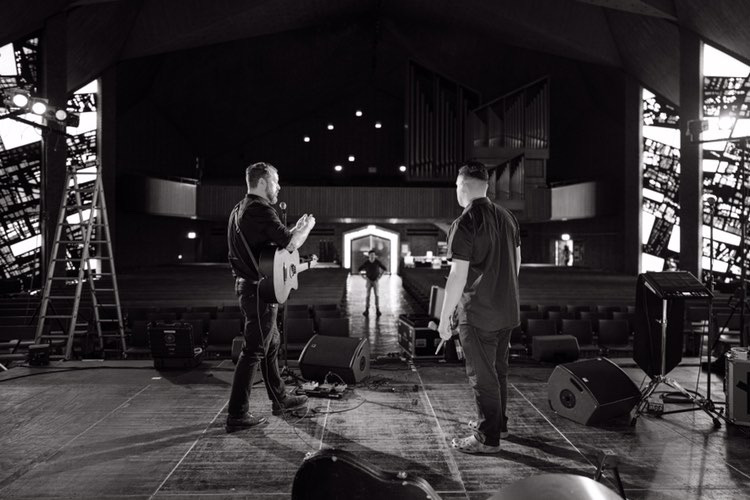 I read that your most recent album, Death, is to be the final album for the King Dude project – Is this true?
Is 'Death' really the end?
Yes, I've planned that Death would be the final studio album of my own original material as King Dude for many years now. I have since then done some covers of songs from the 1940s as King Dude and also the Nursery Rhymes album.
Those records exist outside of this plan to end King Dude since they are not entirely original material.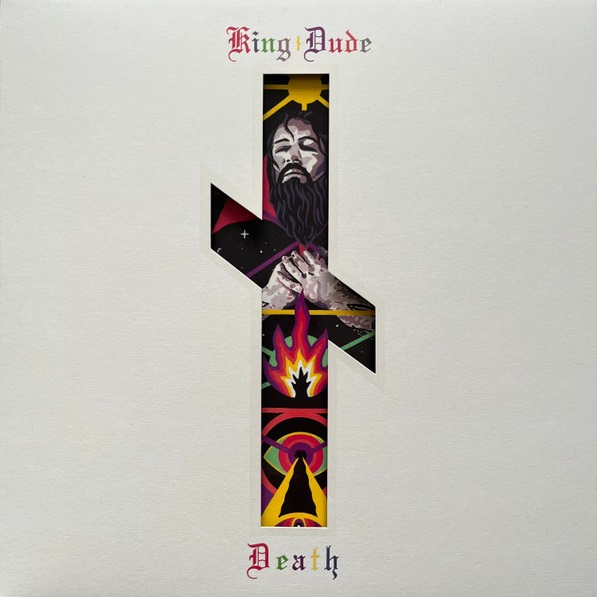 I know you have been working on some other musical projects – You did a remix for Awen under the Patterson-Gimlin name (which I love, being a cryptid fan since childhood).
Are there any plans for that electronic project?
You've also been working with the project Billy Odal, a kind of Lo(Sci)Fi rock and roll concept band, replete with illustrations of the characters behind the music.
Any news there, or with any other projects you might be working on?
Thanks so much, I loved the remix I did for you for that record. Electronic music is definitely one of my interests. I might do a collection of songs as Patterson-Gilmin, who knows?
Right now, I'm searching a bit for what my next incarnation will be.
I'm currently obsessed with this Yamaha PSR 6300 synthesizer and have been working on a few new songs with it. I don't know where it will go except, I can safely say it won't be under the name King Dude.
I suppose some people will always see me as King Dude no matter what I call the project and that's fine with me.
I've been told before that my voice is easily recognized and that's how people knew that I was the man behind Billy Odal. But here's the thing – I had never even heard of Billy Odal until someone sent me one of his videos asking if it was me! I listened to it and I gotta say, I was blown away! Billy Odal is phenomenal moon rock! And even though Billy Odal is arguably the greatest rock n' roll bands to ever land on Earth and I am honoured that people think it's me…
Personally, I don't see the connection!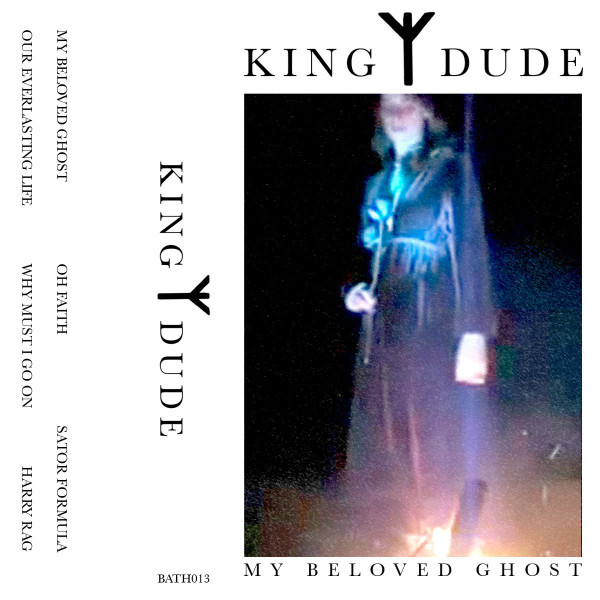 A few years back you became an émigré to Australia via Seattle, Washington.
Would you care to share your observations on the cultural differences you've experienced?
I remember you said that things were literally upside down and reversed in the Southern Hemisphere – The full moon was the other way around to how you had seen it all of your life.
The upside down aspects of Australia don't stop with the moon, although seeing the full moon after two weeks inside hotel quarantine and the face of the moon was upside down was really insane.
The light switches here are upside down too. Down is on, up is off. That one still gets me to this day. Our house has these panels with four light switches on them and every goddamned time I have to guess what's gonna happen when I flick a switch. Which light will turn off or on? Usually, I'm wrong. It's like I've been hardwired that up is on and down is off.
Same with the locks on the car door. Down is unlocked and up is locked – I shit you not.
I know you might be thinking that doesn't sound too difficult to learn but trust me it is. It's something that I have just taken for granted that everywhere on Earth does light switches the same but no, not Australia.
Also, at the grocery store they keep frozen dog food in the meat aisle next to human food so you have to be careful.
Pepto Bismol is illegal here for some reason. Apparently if you ingest enough of it you can get something called Reyes Disease and go into a coma. Don't know why Aspirin isn't banned here too because it can also give you Reyes Disease in large enough doses and it's way easier to overdose on Aspirin than Pepto Bismol.
It is however legal for dogs to have Pepto Bismol. It's under a different brand name of course but it's the exact same medicine. It even comes in the same minty taste. So a few months ago I was about to buy a litre of dog Pepto Bismol but couldn't bring myself to do it. Instead, before the tour I asked Garrett to bring me about 100 dollars of it in his luggage to Europe from the USA. Then I smuggled it back to Australia in my luggage.
I recently watched the 1977 film The Last Wave, directed by Peter Weir and starring the incomparable Richard Chamberlain, wherein he plays an attorney in Australia assigned to a murder case involving Aborigines and, in the process, he is told by them that he is the embodiment of some kind of spiritual entity from their mythos, which after several mystical experiences causes a kind of personality crisis for him.
Have you seen it?
I've always been interested in the idea of the 'genius loci', the protective spirit of a place – Have you developed any kind of a mystical recognition or connection with the Australian land or people since you have moved there?
I haven't seen that movie although it sounds great.
As you may already know, there are many many tribes of indigenous people here with a whole host of varied beliefs, languages, and traditions that are often compressed down to something that resembles more of a monolithic caricature than a proper reflection. To be honest, I'm far from the right person to ask about the subject.
From my point of view, and without going into too much detail, I have felt a deep mystical connection to Australia. It's a place that truly feels like it doesn't belong to human beings but something much, much older. Primordial even.
To me it feels like Australia's land belongs to only the sun and the animals that can survive beneath its unfiltered rays. It's a land ruled by the most hostile forces of nature. The extreme heat leads to an abundance of life which in turn makes for these aggressive and venomous creatures. Insects abound in Biblical proportions during the summer months.
Just recently in the news a woman was attacked by dingos. Death by crocodile isn't totally unheard of in Queensland, it happens fairly often. Snakes are everywhere. And don't forget about the spiders. They are huge. The huntsman spider will give your mind a few things to consider in bed at night.
Once I woke up in the middle of the night to the sound of the fire alarm going off full blast. I ran to turn on the lights and found a huntsman the size of a dinner plate trying to eat the blinking light from the smoke detector. His breath must have set off the carbon dioxide detector.
I suppose seeing something like that can give you a deeper respect for nature. The sort of respect that borders right up against fear but respect nonetheless.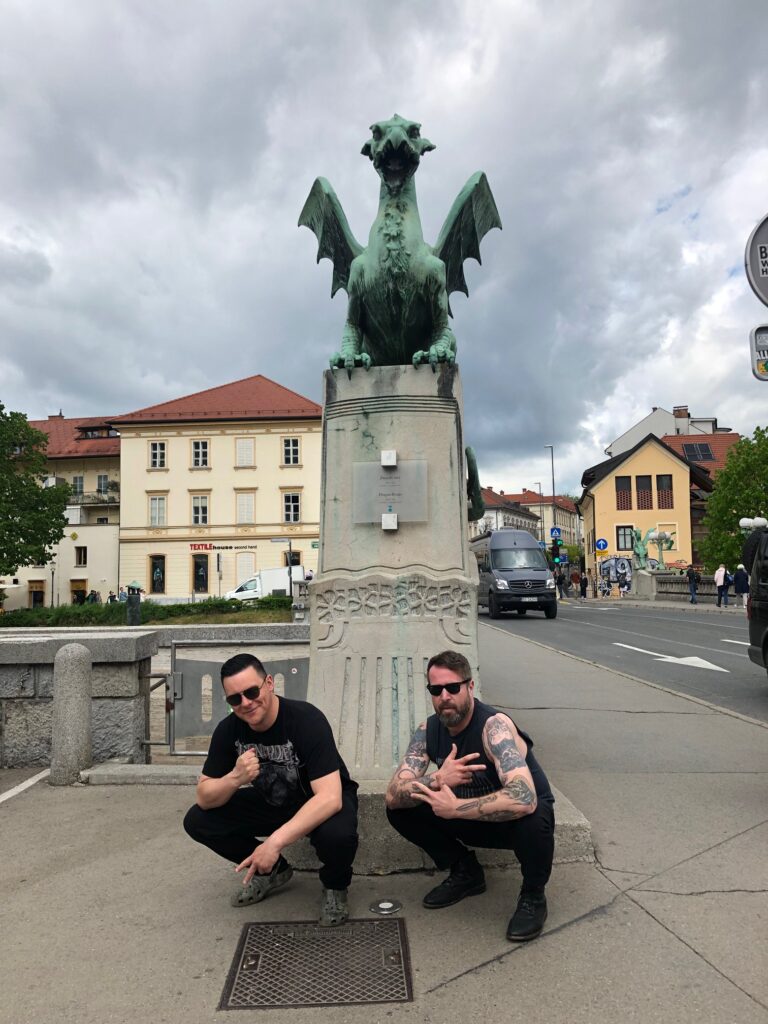 You've recently become a father while in Australia. Congratulations!
I often hear this has a profound effect on one's outlook and priorities – Has that been your experience?
Thank you!
Violet has been the greatest thing to happen in our lives. She's just such a gift. She's this beautiful human being that somehow Ash and I made. She makes me want to do better, work harder and make more music. I think she gives me a higher purpose to work towards knowing that I leave to her and Ash my work when I'm gone.
I truly can't imagine a world without her.
That's why the last tour was so brutal for me. I missed a whole month of her life. But it made me want to work very hard while I was there to make it worth it at least.
Aside from your musical activities you also ran the clothing line Actual Pain and you have been active as an artist – I have one of the blood paintings you did a few years ago.
Is the clothing line still active?
Any plans for more paintings, or possibly an exhibition of paintings?
Oh, you know, I'm still doing the clothing brand but to be honest I've taken on so many new interests that I hardly have time for making new designs. And the blood paintings were so fun, really getting back into painting was a blessing. But like I said, I really don't know shit about art so I feel like such an idiot for making it.
The thought of doing an art show fills me with so much dread. Maybe it's because many years ago in Seattle I did an art show where I made all these giant paintings that no one bought so I had to throw them all in a dumpster across the street from the gallery because I had no space for them at my small apartment. That was a total and utter failure.
This was before Actual Pain and quite possibly the reason I started making shirts instead of giant heavy wooden paintings.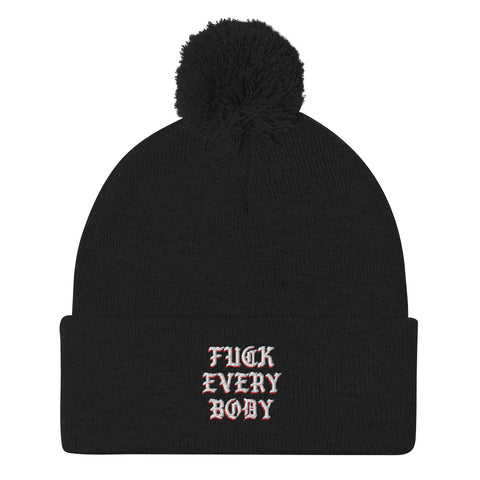 I love the song and music video for "Forty Fives Say Six Six Six". You have a great presence on camera.
You also had a guest appearance on the Of The Wand And The Moon album Your Love Can't Hold This Wreath Of Sorrow, wherein you voiced a kind of groovy radio DJ character.
Any plans for acting or voice acting?
Ha!
No plans!
No way!
I've not been back to Europe since the 'anteplague' and 'antebellum' days, before Covid and Putin's war.
What is your read on the zeitgeist in Europe while you are there, and how that compares to the zeitgeist in Australia?
There were a couple of really interesting things that happened at a lot of the shows on my last tour. First was they were mostly all sold out or close to being sold out and the second thing was that they were all attended by the kindest and most polite and grateful concert goers that I've ever encountered.
I was talking to the production guy at the show in Copenhagen about it and he was saying that after Covid this is how all their shows have been. Sold out and attended with really grateful people. It seems that both the fans and bands that survived the tumultuous past few years have come back with a renewed appreciation for how special a live concert is.
He also said that it was already wearing off and people were returning to their trashy old ways, although I didn't see much of that.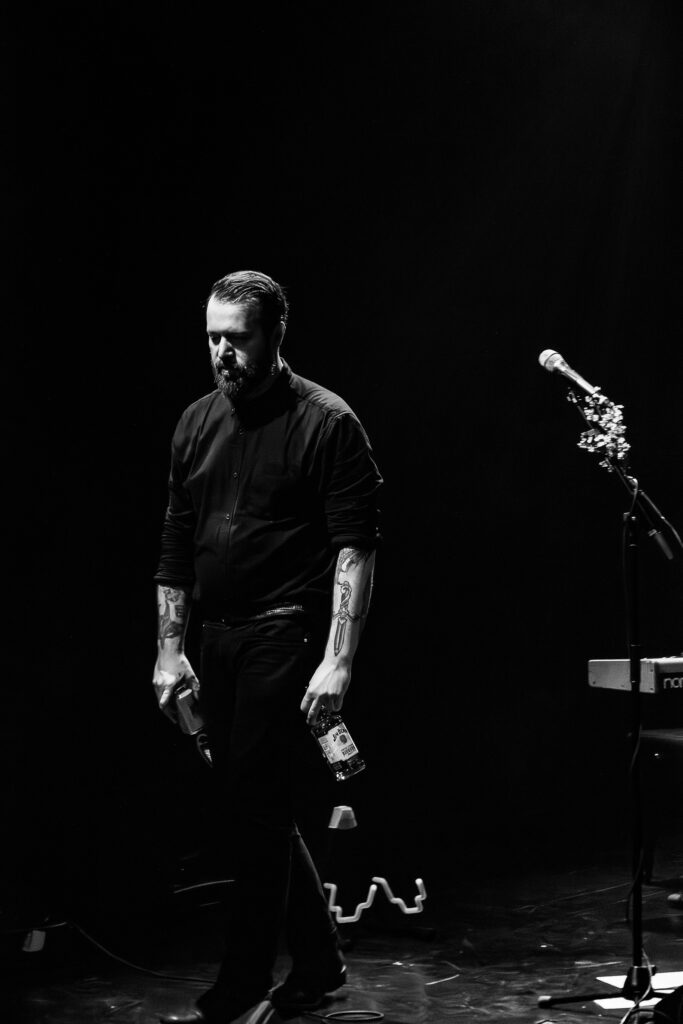 I'm a confessed mystic and am always fascinated to find mystical and spiritual threads in the works of artists.
You are known to incorporate Luciferian themes in your work as King Dude and you utilize the Nauthiz rune as a logo. Both of those things are often misunderstood.
Can you discuss the role of mysticism, spirituality, and magic in your work and life?
Did you have a spiritual influence from your parents growing up?
Yeah, both of my parents influenced me a great deal growing up although from two totally different places.
My mother is sort of a new age witch and my dad is a born again Christian. They divorced when I was five years old or so and I had to split my time between both houses and both religions. It really made me want to figure out why people I loved believed that each other was so wrong about God.
In a way it led me towards satanism and then later towards gnostic Christianity and my interest in the Cathars. I guess that's why I call myself Luciferian, it felt the most right at the time and still more or less sums up my feelings about religion today.
I have a deep respect for Christianity and the old pagan faiths as well – Possibly because of the influence of my parents but really, I think I've learned to love people that believe in and practice some sort of faith.
I think even though people might get a lot of things wrong about God and or religion, having the wrong idea can be better than having no idea at all. I would say that I also understand where agnostics are coming from.
If anything, I need to work on trying to understand atheism better.
I feel like I have guardian angels or something looking after me. I've been very blessed in a way.
A few years back I was inspired by something Alan Moore said about becoming a wizard for his 40th birthday. So I decided to start taking magick a bit more seriously. I was reading a lot about John Dee and Edward Kelley and at the same time I was having lots of trouble with my landlord. She was threatening to evict me for playing music too loud and feeding the crows from my window. I don't know, she had it out for me.
Well, a week or so later out of the blue I get an email from her saying she's resigning as the landlord and announcing her replacement. It was a woman named Dee Kelley.
I was like OK, I get it. I'm on the right path. I feel like our guardian angels do things like that, help us align to our mystic will. It's easy to get off the path but in a way, sometimes it's harder to stay off it.
What books, films, and/or music have you been appreciating and absorbing lately?
For me, books and films are often reference material and inspiration for my creative output. I never know what might spark something – Is it the same for you?
Lately there have been a lot of kids shows!
Bluey is probably the best kids show and it's from Australia. Not only Australia it's set in the same neighbourhood here in Brisbane that we live in. Yet again, the angels are telling me I'm in the right place.
When that new Cronenberg film came out a little while back I wanted to watch it but when you have a newborn baby it's just too hard to put it on in the background or during one of her naps. So not much in the way of movies.
The last movie I saw in the theatre was Godzilla vs Kong and it was awesome. I had no idea they were going to the centre of the Earth! That was great to see in a mainstream film.
For television I highly recommend Mr Inbetween if you haven't seen it. It's a gritty dark comedy about an Australian hitman.
The lead actor Scott Ryan is also the writer and creator of the show. Despite the show's success it is only three seasons long. Apparently Ryan didn't want to drag the show on, he felt that three seasons was the right amount to tell the story. I have a lot of respect for that.
As far as books, the one I've read last is Singing and Teaching Singing by Janice Chapman. But that's because I have recently become a singing mentor with the Independent Music Academy here in Brisbane. It's only one day a week but I love it.
It feels great to help people with their singing and to be in the position and place to do it is yet another blessing in my life.
Do you have any plans to return to the States soon?
I know many people here (myself included) would love to see you again!
I think we are coming for Christmas, but only to Seattle to visit the family there.
But I'm considering playing one show while I'm there so if you and Katrin [Editor: Erin's wife & Awen bandmate.] want to fly to Seattle, you can be my guest!
Any closing thoughts or messages for the readers?
No, just to you!
Thanks for the interview, sorry it took me so long and I hope to see you soon!
Cheers,
TJ
King Dude will be performing their final concerts at the end of this year.
December 29th is sold out, but the tickets for the other two shows went on sale Thursday August 24th at 10:00am PST:
* Thursday, December 28th w/ Guests TBA
* Friday, December 29th SOLD OUT
* Saturday, December 30th w/ Roselit Bone (Acoustic Duo)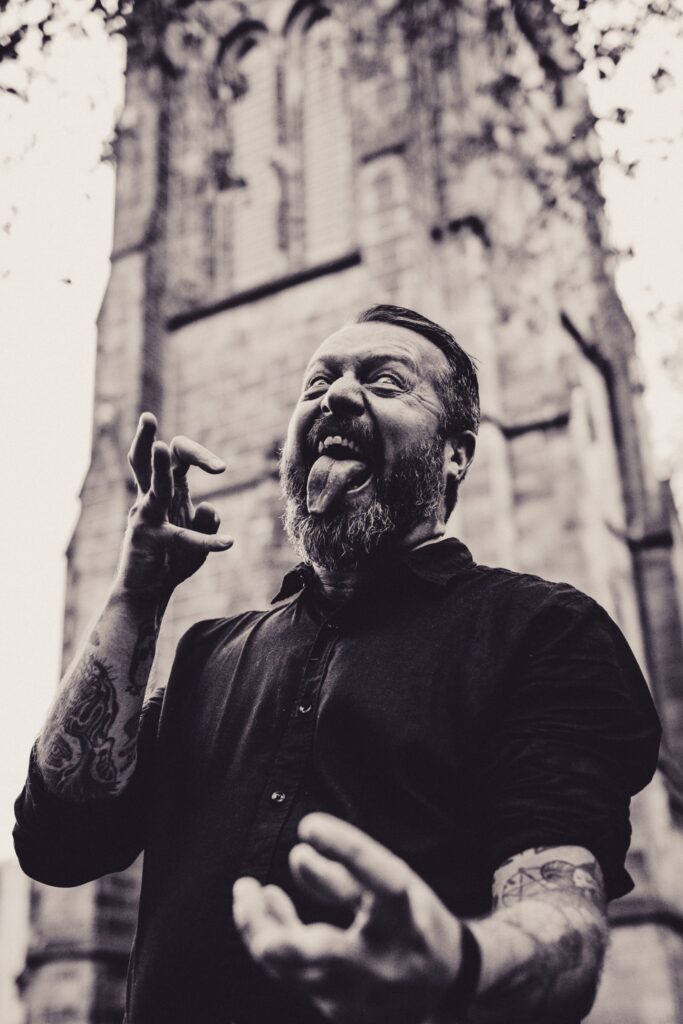 Links
Header image of TJ playing live by The Birds Project.
All images supplied by TJ or sourced online.