Artigi Daggers are an exciting new Australian 2 piece, comprised of Chris Cornale & Colin J. Thompson, playing fuzzed out, low-fi, electro post-punk.
Chris lends his vocal and music stylings to the group. With Colin, also known for his EDM project Bura Bura – whose debut EP The New Flesh (2018 via Moontown Records) was one of the most incendiary releases in recent memory – constituting the other half of the duo.
Forming in Sydney last year and with its members for now, sadly flung apart across the globe, we wonder if a live performance from Arditi Daggers, or further music could ever even happen? Luckily, we have the video for their track "Janitor" (directed by Chris himself and featuring Laura Bailey on bass) to tide us over for now.
I got the chance to catch up with Chris in Sydney recently to talk about the band, life in Australia and much more.
Check it out below…
Throughout music history we seem to constantly meet musical duos. Duos are curious, and enigmatic.
How did you guys meet and decide to play music together, and furthermore, decide to be a duo?
Colin and I had already been friends for a few years and during that time we were always having fun together; going out to gigs, parties, and the odd nature excursion. Underneath that there was always a strong creative energy between us.
This was discovered further when we drove down to Briagalong, Victoria, for Inward Goods Festival, where Colin was performing as Bura Bura. We took it in turns driving and blazing the whole journey through the NSW & Victorian countryside.
When our old car radio died we came up with silly songs to sing along to together. Most memorable being the Gunning Gun Club; and when we got deliriously hungry, Spicy Chicken Beavers.
Our creative duality sort of snowballed from there. We started a band, Dashcam, together, but that was short-lived and dissolved through the pandemic. That's when we decided to be a duo and to focus purely on what we wanted to create together.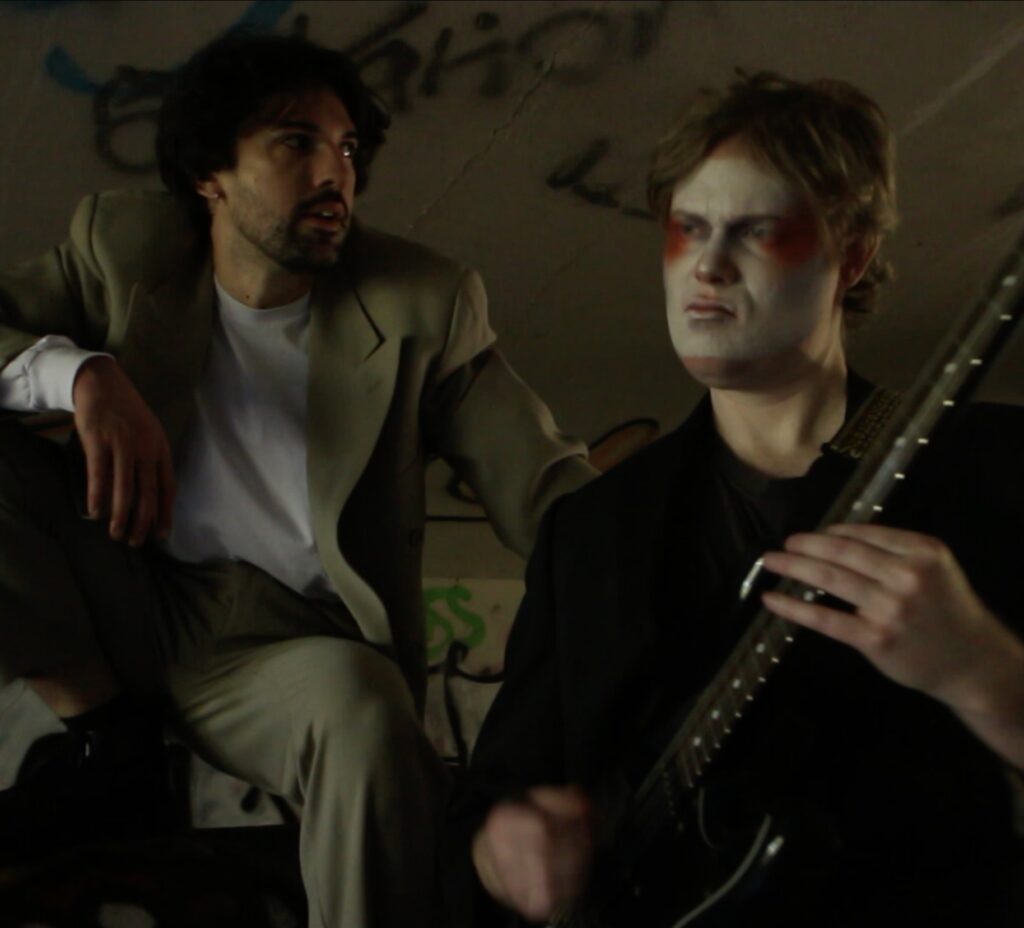 The name Arditi Daggers is interesting.
What does it mean?
Arditi Daggers refers to the daggers wielded by the 'Arditi Del Popolo' or, 'The People's Daring One's'.
The Arditi del Popolo were Italian soldiers, famous for murdering fascists with their weapon of choice; the dagger. Since the 1920s the Arditi del Popolo have grown to become a strong symbol for antifascist resistance in Italy and the world.
My background is northern Italian and my ancestors supported the resistance throughout WWII.
As an Australian Italian, I have revered the culture of my family and ancestors more as I've gotten older. I think being raised in Australia under such a strong matriarchal figure, like my Nonna was, you try to hold onto that cultural heritage and history even more, so it's not all just lost to the hard cultural assimilation of modern-Australia.
I've always held anti-capitalist/anti-fascist views and when my Nonna told me stories of growing up under Mussolini, the Nazi occupation, and the Great Depression that followed, these views were solidified stronger.
Arditi Daggers is resonant of the history of the Italian resistance to fascist occupation. The beat of antifascism, standing up for human rights and the equality of all people, holds true to the ethos of our band.
You guys have a new single, Janitor, and a new video clip for that which has just been released.
The clip is a bit sinister, was that the intention?
I enjoyed the extras at the end. Was that planned or a bit spontaneous?
Oh yeah sinister for sure, but also elements of pastiche and mystery.
Janitor is a track that explores capitalism's crushing effects on the human soul. The video-clip was filmed in Sydney, Australia, on the unceded lands of the Wangal and Gadigal people.
The first location we used was an abandoned and overgrown aqueduct that was once Sydney's first water supply, and was modelled off the Ancient Roman aqueducts, it's now tucked away in the bush and mostly forgotten.
The second location was at a local inner-west river, once an abundant river system and one of great importance to the First Nations people of the area. After colonisation and years of industry polluting the river, it is now too toxic to swim in, let alone eat any of the fish that used to thrive there.
The landscapes we chose purposefully and yes, we wanted it to be sinister in this occult-horror style, a homage to Children of the Corn (1984) and The Wicker Man (1973) and its ominous pagan rituals, to highlight the degradation of both human and non-human worlds.
We aspired to bring recognition to the fact that these places were just destroyed and forgotten, left to rot, as the capitalist machine moves on to the next beautiful natural location to exploit until its destruction.
Within this 'sinister' darkness there is also a conjuring of hope; through subversive possibilities for creativity, collaboration, and community, and escaping alienating and destructive societal constraints. This was where the extras and the fun came in, to create this collaboration within our community, they were always going to be there and joining us, it was more a matter of deciding when and where.
Originally, we wanted them to first appear stalking us through a storm water drain by the river, you can see brief shots of it in the clip, but we just had a week of torrential rain and the level of toxic water in there was well above knee height. The extras are our beautiful and creative friends who were more than happy to generously give their time and risk their necks dancing in the slippery river mud. We had to bring them along for the ride.
Kye (one of the extras) had her birthday on the day of shooting, and the fact that she wanted to spend it dancing away in the mud and stalking us through the park, made it even more special than it already was. We made it a party and celebration, it was a special day, and I'll always be grateful to all of them for collaborating with us to make this happen.
It seems as though Arditi Daggers is fusing some elements of post punk guitar with dark electronic. Would you agree?
How would you describe your music to someone you didn't know?
Yeah completely, those sounds are what we gravitate towards when creating together. We're both heavily influenced by sounds of the eighties and like any influence, the magic came into transforming these influences into our own creative output and also bringing them into 2023.
I find it rather difficult to describe my music to be honest, but I would tell them that our music pulsates and boils with hard hitting electronic soundscapes and with guttural vocals and guitars, invoking cold wave, synth punk and gothic low-fi, that will get your body moving in ways that you might not fully comprehend.
It's a wash of murky and sharp sounds that will stop you in your tracks and pull you into its depths.
We don't really have Janitors in Australia, or really use the term, so how did that title for your track come about?
That's true, I guess we just call them 'cleaners', I was one myself as a kid, helping my Mum out with her cleaning business that she's had for the last 25 years.
Seeing her come home after a whole day of cleaning 5 houses, picking up 4 kids from school, looking after and cooking dinner for us, and then passing out from exhaustion on the couch by 7.30pm. Despite having deep admiration and love for her, it made you wonder what it's all for and why we must all endure, some obviously a lot more than others, this neo-liberal capitalist system we find ourselves in.
The track references the impacts of this on the human soul and the natural environment, and our collective lust for escape.
'Janitor' has great phonemes (especially in an Australian accent), so was a searing and punchy way to tie it all together.
What's next for you guys?
Are you playing any shows to launch the new single?
I wish! No, unfortunately Colin had to move to Berlin just before the release, so you might have to catch us in a different form here, or reunited somewhere in Europe for a launch of new sounds down the line.
In the meantime, I will keep working away in the shadows, something I do best.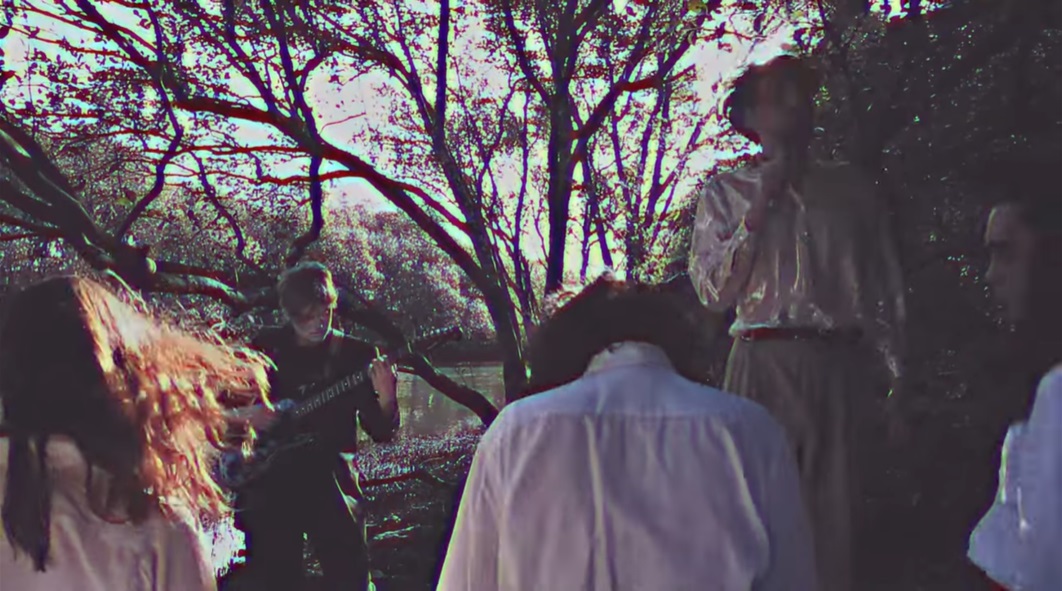 Links
All images supplied by Chris.