Born in 1964 and growing up during the culturally significant decades of the 60s, 70s and 80s David Art Wales is one of the many unofficial children of Warhol and the Punk Scene. Cultural influences which instilled in David a love for pop culture and a do it your self, tongue in cheek approach to life, art and everything in between.
As a result, David has spent his whole life exploring the connections between popular culture, art and commerce: He's hosted TV shows, birthed a religious guru, launched a marketing company, collaborated with Keith Haring, established a dial a compliment phone service, worked with many international companies and had multiple successful solo shows over the years…. to name but a small number of his many accomplishments!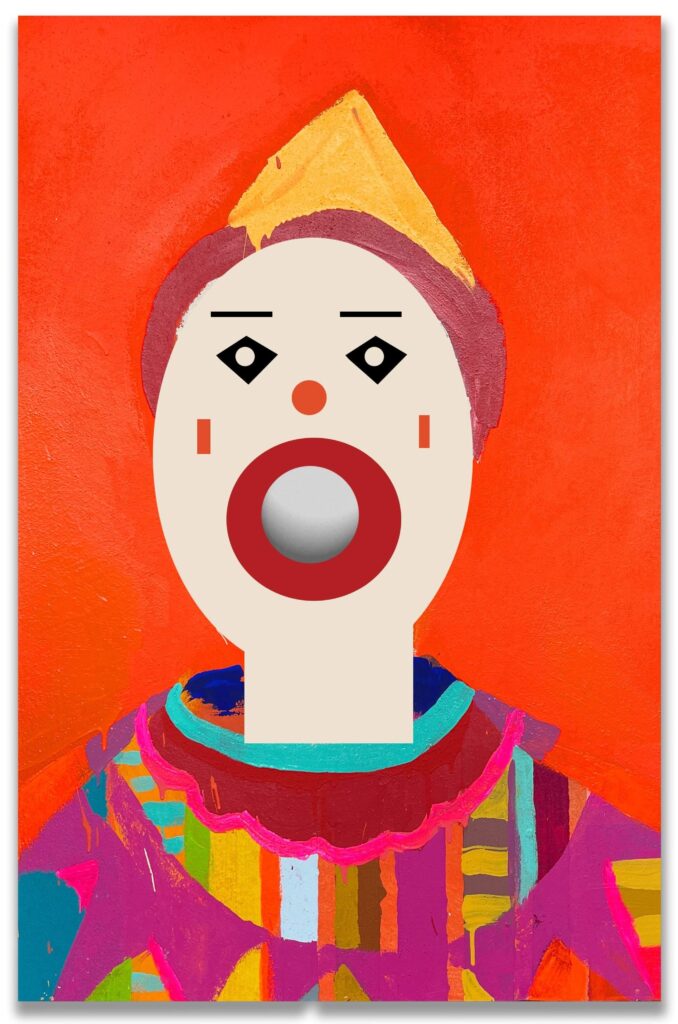 Wanting to get to know him better we sent David some questions to answer over email.
Explore his funtastic world below…
Getting Acquainted
To begin, my apologies for the sprawling answers in this interview.
I blame Lockdown. ⏳
Name + D.O.B?
David Art Wales. Born David Arthur Wales in 1964 and later shortened it.
Now Art's my middle name.
City, state and country you're from?
Born in Darlinghurst. Grew up in Beecroft and Castle Hill back when CH was orchards and market gardens.
Spent the 80s in and around Darlinghurst, then moved to NYC for 30 years.
Now I live in Darlo again. Full circle.
Personal motto
"Make yourself useful."
Mum was at uni when my sister and I were kids and she often took us to student parties. Before we went inside she'd say, "Grab a plate of Jatz and offer it round. Make yourselves useful."
I guess that's my motto.
Also, I'd like my epitaph to say: "Thanks for having me." With a smiley emoji.
Art Questions
When and why did you become interested in art and everything creative?
This stuff got me going as a kid:
This surrealistic 70s Aussie TV show was my first taste of quality weirdness and showed me there were people out there who like what I like.
At nine I was obsessed.
I loved the faded Miro prints hung in classrooms at Castle Hill High.
I still adore his fat little shapes and blazing colors.
Miro also influenced mid-century design, which I adore.
Sideshow Alley
Ricketty rides, carnies, handmade signs and arcade games.
At Castle Hill Show or the Royal Easter back in the 70s I'd head straight to Sideshow Alley.
Mad introduced me to satire during the 70s.
My work often makes fun of stuff, mostly itself. Who doesn't like fun?
Any early memories associated with art and creativity?
At school I was artsy. Always lost in a sketchbook.
One time a popular girl asked me to draw a fake tattoo on her shoulder. She hadn't spoken to me before so I was chuffed.
I remember holding her upper arm steady while I carefully drew a rose with my 4-colour biro. I'd never been so close to a pretty girl. She smelled good and her skin was warm.
By the time I finished we had a rapport and she was always nice to me after that.
Years later, at a gathering in NYC, I was introduced to the writer Susan Sontag. As we chatted I was trying unsuccessfully to think of clever things to say when I noticed the shadow of a flower falling onto the back of her hand. I asked her if I could draw the shadow onto her hand and she said I could, so I did.
Susan's then-partner Annie Leibowitz photographed the drawing the next day and sent me a print.
Everyone wants to feel like they belong and have something to offer.
My art teacher throughout high school was Mrs Nancy Hagar, AKA Hagar the Horrible, and she constantly flunked me, even though I spent every waking moment drawing and making collages.
Finally on Parent Teacher Night my mother asked Hagar why a boy obsessed with art was constantly failing the subject. "Because we do not offer a commercial art curriculum," she sneered back.
40 years later my work is described as Pop Art and that sits well with me.
I love mundane and sublime stuff equally.
High and low.
Dumb and smart.
Matthew Barney and Barney Rubble.
It's all good.
To that end, Fuzzy Felt inspired my 2019 exhibition How I Felt:
JB HiFi inspired 2019's David's Art Sale:
…and the COVID molecule inspired 2020's Going Viral:
Was there creativity in your house as you were growing up?
My Dad died of cancer when he was 44 and I was five. A businessman first and artist second, he'd travelled the world selling precision lathes, and he left behind a pile of half-filled sketchbooks grubby with pencil soot.
I grew up thinking I'd die young too and over time I became fixated on making the most of what I assumed would be my brief stint on the planet.
I wanted to be an artist first and a businessman second.
Not a struggling artist either. I wanted to be a successful artist.
A professional.
I dropped out of high school after one day of Year 12 and left leafy Castle Hill to share a house with three art students on Cleveland Street in the big smoke.
I was making $4 an hour as a part-time graphic artist for The Badge Shop, producing branded merch for local small businesses and bootleg badges and t-shirts for Sydney's mod and punk scene.
My neighbour was in the SunnyBoys, my favorite band back then, and I was making lots of friends.
Life was grand.
As a kid I thought the best gig in the world would be creating the ads for itching powder and plastic vomit in old comic books. Instead, I used the same graphic style to create badges, art, posters and band flyers.
Like the anti-Heroin poster I did for Stiletto magazine in the early 80s.
I did that as a free public service because heroin was a massive problem. Then some twat in Melbourne started flogging hundreds of bootleg t-shirts of the design. A lawyer friend called and asked him to cease and desist but the guy just laughed and said eff off. Not nice.
When I was 19 I registered the company name Nice Enterprises and snail-mailed out a press release announcing The world's first mail-order flattery service.
I bought classified ads in local papers saying: Need an ego boost? Mr Niceguy will regale you with custom compliments for $5 and a photo. I had a Mr Niceguy outfit – a smiling mask and sparkly jacket – that I'd put on and rock up to the front desk of magazine offices saying, I'm Mr Niceguy. What a nice tie (or dress or whatever). May I speak to a writer, please.
I had no script and never knew how they'd react so it was fun and scary. Sometimes they called a writer and other times security. One guard wrestled me out onto the street because I wouldn't take the mask off.
I was yelling, You're not very nice!
A local magazine did a column about that incident with the headline NO MORE MR NICE GUY.
I always liked creating brands or projects that play with the idea of making art for a living.
Being an artist is fun but being a professional artist – making money that way – is quite hard. And to be a pro you need press because without an audience you're just weeing in the wind.

Returnity print of David's Guru Adrian character.
In the early 80s I introduced the character Guru Adrian, who went what we now know as viral.
He was like a meme before memes existed.
A proto-meme.
His philosophy, Adrianism, is a playful parody of the dodgy cults that made daily headlines back then. The Orange People, Bhagwan, Scientology. They were everywhere. Adrian was the guru you have when you're not having a guru.
The Secular Deity. The Non-Profit. The Savior Self.
I started putting up little Adrian posters and stickers on the street and before long he had a small cult following.
According to legend, Guru Adrian lives in a cave in Beecroft where he sits chanting his mantra Having fun is half the fun.
He'd appeared twice in the comic strip I did for Triple J's fanzine, Alan, when readers began sending fan mail, describing themselves as Adrianists and asking for merch.
That's when my mate Graeme, who designed Triple J's Exploding Head, sat me down to say: Guru Adrian can benefit society! And I believed him. So we did a range of Guru t-shirts. And every time we printed a client's button or sticker at The Badge Shop, the boss let me fill the rest of the sheet with Guru Adrian designs.
It's hard to know why one idea gets traction and 50 others don't but for my money, the Guru's appeal is that he openly admits he doesn't exist and the faith he offers is simply restoring our faith in humanity.
Rational optimism.
In 1986 I was interviewed about the Guru on a bunch of TV shows, including one called Antenna.
Coincidentally, the host quit the following week and the producers, in a pinch, asked if I'd audition.
I ended up hosting that show briefly and then co-hosting another one called Wedge. Each week I'd introduce myself with a different middle name as a gag: Hi, I'm David Rambo Wales or David Constantly-Squirming Wales.
That's when I first used David Art Wales. And it stuck.
In 1987 I found Keith Haring's studio in the phone book during a visit to New York City and we ended up collaborating on a Guru Adrian print.
I'd presented Keith with a gift of Guru Adrian merch and he kindly asked if I'd like him to draw something in return. I said the Guru had a head but no body and that nobody should have no body. That's when the Nobody print was born.
It's been popular as a print and tshirt design and now I'm planning NFTs.
Only took me 30 years to get organised.
In 1989 I moved to New York for six months and stayed 30 years.
I started out paying $500 a month for a tiny studio under a loft-bed in a shared Greenwich Village walk-up on Bleecker Street with two girls who are still my pals after all these years.
My bedroom was so small that when I lay in bed I could rest the soles of my feet and the top of my head on opposing walls at the same time.
I began to paint prodigiously and exhibit anywhere they'd have me: group shows, night clubs, local cafes.
Within a few months, a group of well-heeled Aussie expats who knew my 80s work were buying and commissioning the pieces I made at Bleecker Street.
The money from those sales kept me afloat for at least a year.
That support meant the world to me and it cemented strong friendships.
A lot of the people who bought those pieces are my best mates to this day. I'm a hard friend to shed.
The 90s were a great time to be in Manhattan. Times Square was still seedy and downtown was an artist's playground.
I fell in with a crew of artsy scallywags and on Thursday, Friday and Saturday nights we'd hit every gallery opening and party we could find, swilling free wine and trying to network our way into getting a show.
I began meeting names I'd only read about – Allen Ginsberg, Gregory Corso and Herbert Huncke from the Beat Generation. Warhol Superstars Taylor Meade and Viva and Sylvia Miles.
The poet John Giorno invited me to his loft on Bowery above The Bunker where William Burroughs lived when he visited New York. I lapped up John's stories about the time Warhol, his boyfriend back then, filmed him sleeping for 8 hours, and his years of working with greats like John Cage and Laurie Anderson on Giorno Poetry Systems. For a misfit from the Sydney suburbs this was heaven.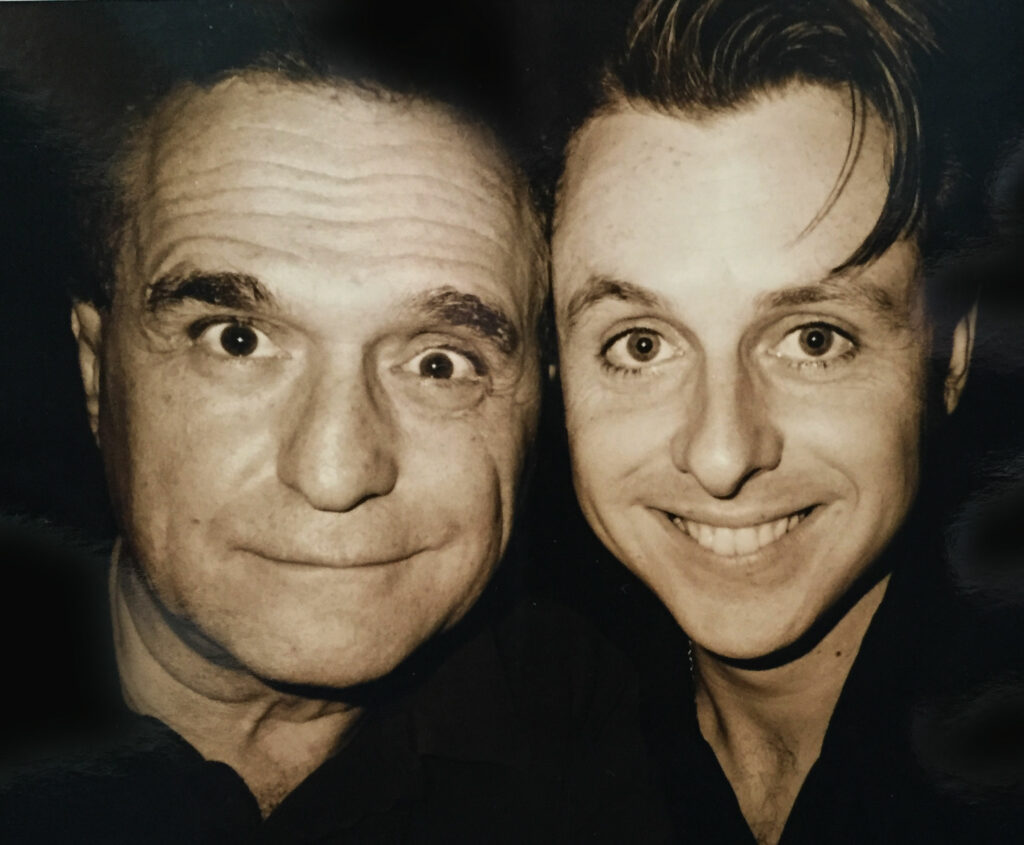 Manhattan was so stimulating in those days that I couldn't help but churn out work.
I was selling sufficiently to get by but spending so much on supplies at Pearl Paint that I'd skip meals to save money.
At night I'd comb the downtown streets searching for discarded wood and cupboard doors to paint on. I stretched my budget further by using household goods like soy sauce and masking tape as art materials, along with cheap stuff that looked fancy, like fake gold and silver leaf.
The social side of Manhattan was fun but I was there to work.
To be a professional.
So my single-minded goal was to be prolific, sell, and find a bigger studio.
In 1991 I moved from the Lilliputian workspace under my loft-bed to a 700 sq ft studio at 105 East 2nd Street in the East Village. Next door was where pop artist Claes Oldenburg staged his installation The Store in 1961.
On the corner was a pet store that sold more coke than cat food and round the corner was Katz's Deli.
The only bummer was stepping over fresh crack vials in the vestibule every day.
Soon afterward, I was clinging to the back of my rambunctious friend Mark as he gunned his Indian motorbike down 1st Avenue when we hit a deep pothole in a way that left my coccyx throbbing for months.
As a result, the first significant piece I worked on in the new space was Spine, a collection of 100 tiny canvases, each a meditation on pain.
Mark was working as an assistant to photographer Annie Leibowitz then and within a few months of the pothole incident, he died unexpectedly. We were both 28 and he was the first person I'd lost since my father, so I was a wreck.
Annie arranged the funeral and gave me this photo of him with his beloved motorcycle.
Making Spine was a way to turn burdens into blessings and pay testament to loss.
Making a large work from tiny works was an idea I borrowed from Imants Tillers, who paints on grids of small canvas boards that are easy to stack, ship and install.
This format also allowed Spine to be shown in a variety of configurations and fit into a single suitcase, which helped when I brought it to Sydney to show at Roslyn Oxley9 Gallery in 1992.
For The Brass Knuckles Butterfly Collection I squeezed wood glue onto plexiglass and let it set before painting the surface with enamel to get a fossilised effect. I also used metallic copper paint that would twist and turn on the plexi after I'd charged it with static electricity by rubbing the clean side on my hair.
The resulting 50 butterfly pieces showed at New York's Australian Consulate with a fancy opening to boot. At $200 a pop they mainly sold in sets, or mini butterfly collections.
My mate Alfredo Martinez and I later snuck one of the Butterflies into a prestigious Soho group show. He distracted the gallerist while I installed it, thinking we were being clever.
But when the show came down a month later the gallerist wouldn't return the piece because he liked it. And the next week he died. It disappeared into his estate and I never saw it again.
So much for being clever.
Alfredo was later jailed for art forgery but that's a story for another time.
During the 80s, legendary photographer Richard Avedon shot a famous series of portraits of art stars like Clemente and Salle, artists I revered, and you'd see postcards of these images in every gift store on Museum Mile.
So I printed a postcard of myself with a similar picture I'd taken in a French photo booth and for a while I went around planting piles of them on the shelves of the Met and MoMA gift stores in between the Avedon cards. I was Shopdropping: shoplifting in reverse.
Perfectly legal performance art, and a cheeky way to take a dig at celebrity culture while secretly wanting to be famous.
But Shopdropping ended in tears. The Paul Smith store in Manhattan had offered me a show in their 5th Avenue store windows with a posh reception and the whole shebang. They asked if I had any postcards to keep on the counter in the lead-up to the show so I dropped off a pile of 'Avedons.'
Turned out Smith was mates with Avedon and he didn't find my cards amusing.
Losing that show hurt so bad I cried.
During the 90s Guru Adrian was optioned by various US TV networks – Hanna Barbera, Fox, MTV – all wanting to turn him into a cartoon show.
I spent 1995 living in LA with a pool and a red convertible on company dime while I worked my knackers off on a pilot that was never made. One by one each deal fell through.
Tough game.
In 1998 my dancer friend Catherine Hourihan and I created a burlesque show called The Red Vixen. I was co-producer, part-time MC, and Head of Promotions, meaning I got paid whatever was left after costs and wages.
It was fun and I drank for free but after going home skint for the umpteenth time it was time to make a change.
By 1999 I was over being a struggling artist. It dawned on me that nobody needed my art so I decided to try offering an artful version of something people actually needed.
I would make myself useful.
The result was Ministry of Culture, a company that provided cultural insights and futurism to brands in the form of bespoke documentaries. No one else was selling high-production-value research then so I inadvertently cornered that market.
It helped that this was the turn of the Millenium and companies were obsessed with the future.
Over the next two decades, I studied and forecast trends for Toyota, Nike, Google and others with my small team of videographers and researchers all over the world.
It was fun.
Some say the Ministry wasn't an art project, it was just a regular business, and others say it was.
I'm okay with that ambiguity.
Manhattan in 2018 was not the boho Mecca I moved to three decades earlier.
Mom n pop stores had been replaced by Starbucks and banks. Greedy landlords had forced the artists out of Manhattan. And where the Ministry had begun as an edgy experiment, we'd become just another research firm with big clients.
Wanting to see my family more and Trump getting elected sealed the deal on my wife and I relocating to Sydney.
What's next?
Post-Covid I hope to open Ministry of Culture in Sydney as a gallery/shop/cafe. A place for parties, gigs and exhibitions that capture the spirit of the times.
Somewhere to look back on in future decades and say: Wasn't that place great!
I recently met a young artist named Rupert McEvoy who has the same idea.
If anyone wants to help us make that happen, reach out.
Any upcoming projects you'd like to mention?
My show Sandwiches got covid-canceled when lockdown hit three months ago.
The City of Sydney had asked me to create an exhibition about community. I collected sandwich recipes from friends to make for my wife's lunch each day and then photographed each one before she ate it.
The plan was to dress the gallery like a fast food chain called Sandwiches and have the artwork line the walls like menu items posters. I sourced the frames that KFC and Subway use, which give the work an unsettling corporate quality despite it being quite personal.
That tension tickles my mercantile funny bone.
The show is finished so for now it's just in my back pocket.
I'm also reviving a historical moderation movement called Prudent Boozers.
I've done about 50 PB prints for a traveling exhibition that I want to tour around Australian pubs. I'm also updating The PB Handbook because it's been out of print for 80 years.
Hoping for release in 2023.
And in Feb 2022 I'm showing hand-painted work, as opposed to prints, for the first time since Spine showed at Roslyn Oxley 30 years ago!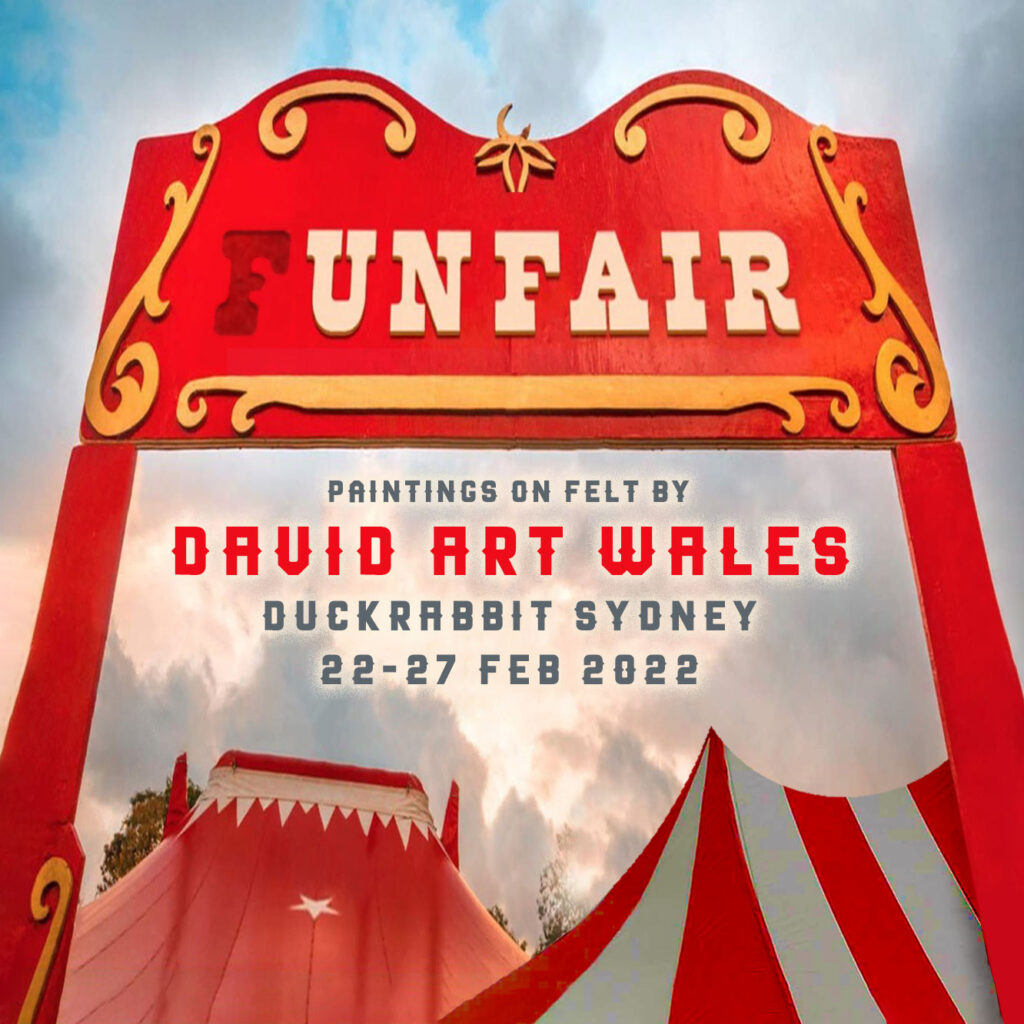 Odds and Ends
Who are some of your favorite artists?
I'm a fanboy so this could take all day.
Miranda July is my jam.
Gareth Sansom and Ramesh Mario Nithiyendran do it for me no end.
George Condo is the king of high and low.
Tom Polo and Joan Ross make me rethink colour.
Neo Rauch lures me in.
Arthur Barton and Martin Sharp kill me with kindness.
Patricia Piccinini and Ron Mueck are literally awesome.
Richard Prince is so cheeky and Paul McCarthy's freaky-deeky.
Tom Bass and Raynor Hoff put Sydney up there.
I could go on.
What is it about their work that inspires you?
I'll tell you what uninspires me is obfuscative academia. Artists saying their worq "inhabits the spaces between spaces" and whatnot.
I like art moving out of the art world and into the real world.
I wish artists were more like buskers and vice versa.
What are the top 3 items you own?
Off the top of my head: my wedding ring, our dog Mr Puppy, and my antique toy collection.
Of everything you've done, what would you most like to be remembered for?
I admire generosity, whether in spirit or time or material things.
The Stoic philosopher Epictetus said Never resist a generous impulse and I try to live by that.
So, generosity, I hope. And minty fresh breath.
Anything to add?
Thanks for having me. 🙂
Links
All images supplied by David Art Wales.