Dylan Nyoukis has spent his whole life immersed in the world of avant garde music, art and culture. Born in Scotland in 1974 to hippie, art loving parents and having lived the majority of his life in England; Dylan spent the majority of his teenage years as a thrash loving metal-head, when a not so chance encounter with some psychedelic mushrooms sent him tumbling down the rabbit whole of strange, weird and unexpected culture.
He has been exploring the outer realms of music and art ever since.
Dylan founded Chocolate Monk Records in 1993 to release music from himself and those he admired. Quickly becoming a key player in the global underground music scene. Later, in 2006 he formed Colour Out of Space Festival to promote and host live concerts and performances. All the while also performing solo and playing in countless bands to much acclaim along the way – Such as Blood Stereo, Prick Decay and Ceylon Mange.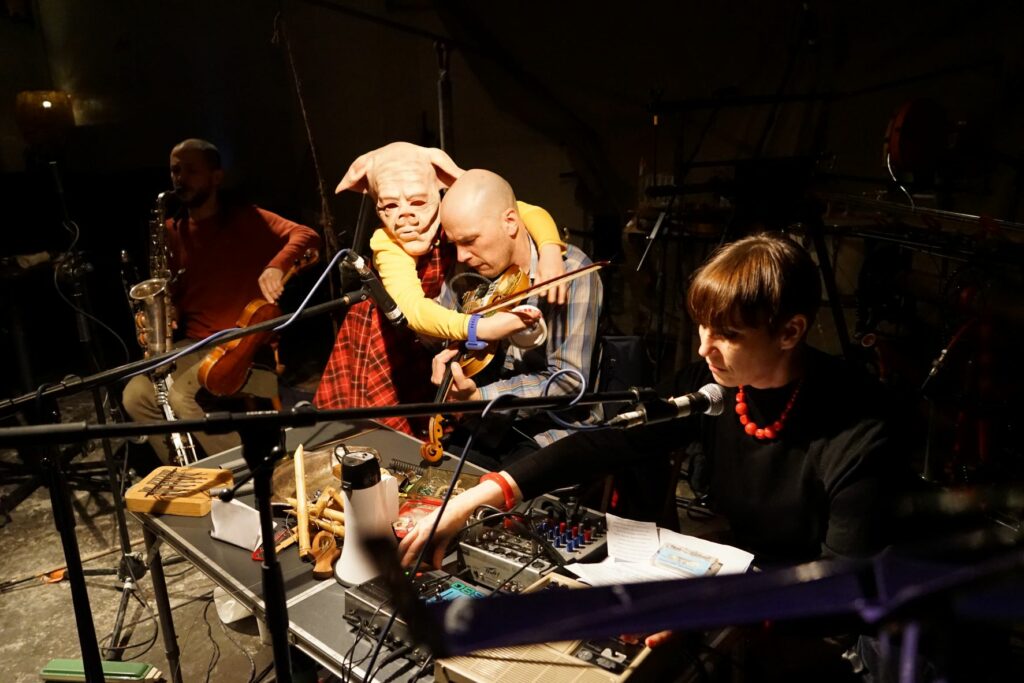 Wanting to get to know him better, we sent Dylan some questions to answer over email.
Take a dive into his music filled, colourful world below…
Getting Acquainted
Name + D.O.B?
Dylan Keown Nyoukis
1974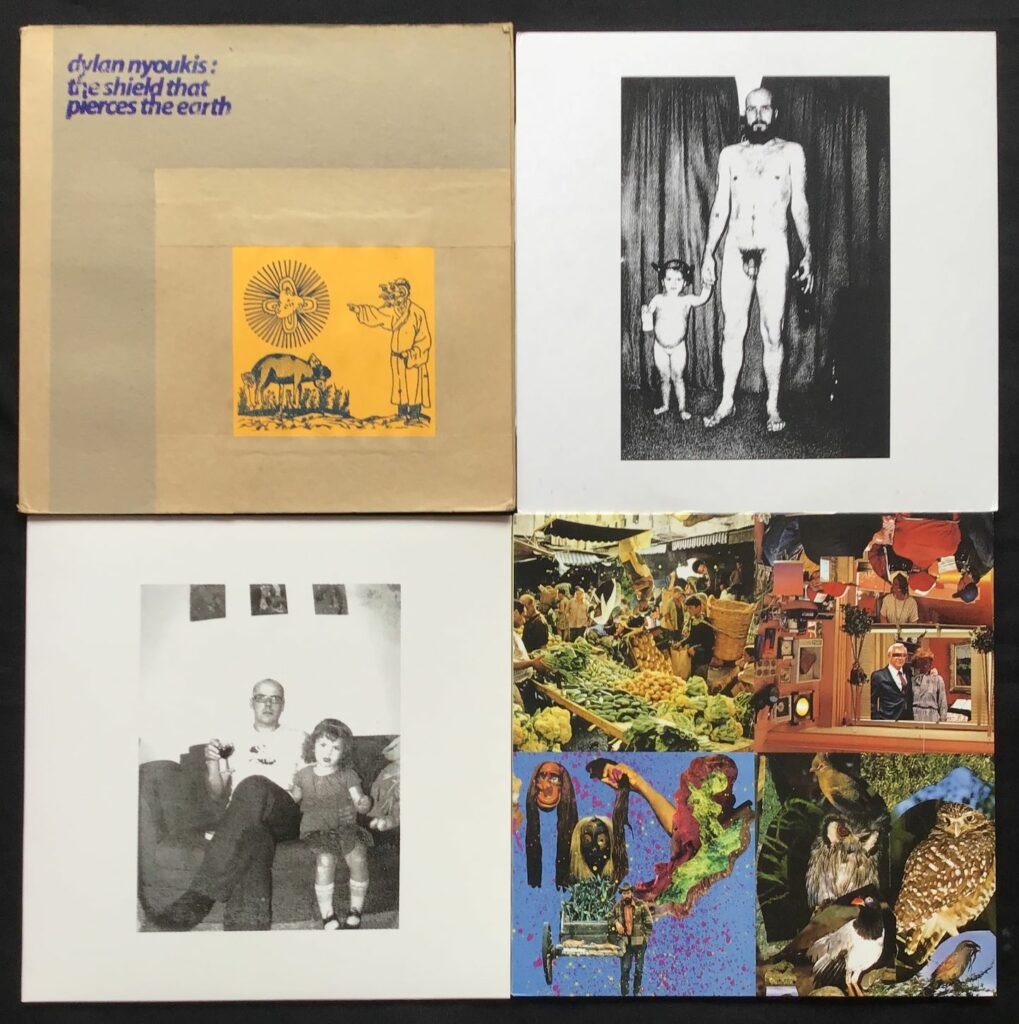 City, State and Country you currently call home?
Brighton, East Sussex, England
City, State and Country you're from?
Blackburn, West Lothian, Scotland
Hey wait a minute, is this some phishing scam?? Are you really Paul Sankoh, the son of Kabba Sankoh, a Sierra-Leonean business man and Co-Owner of a Diamond Mining Company?
Do you have $10,600,000 you wanna deposit in my bank??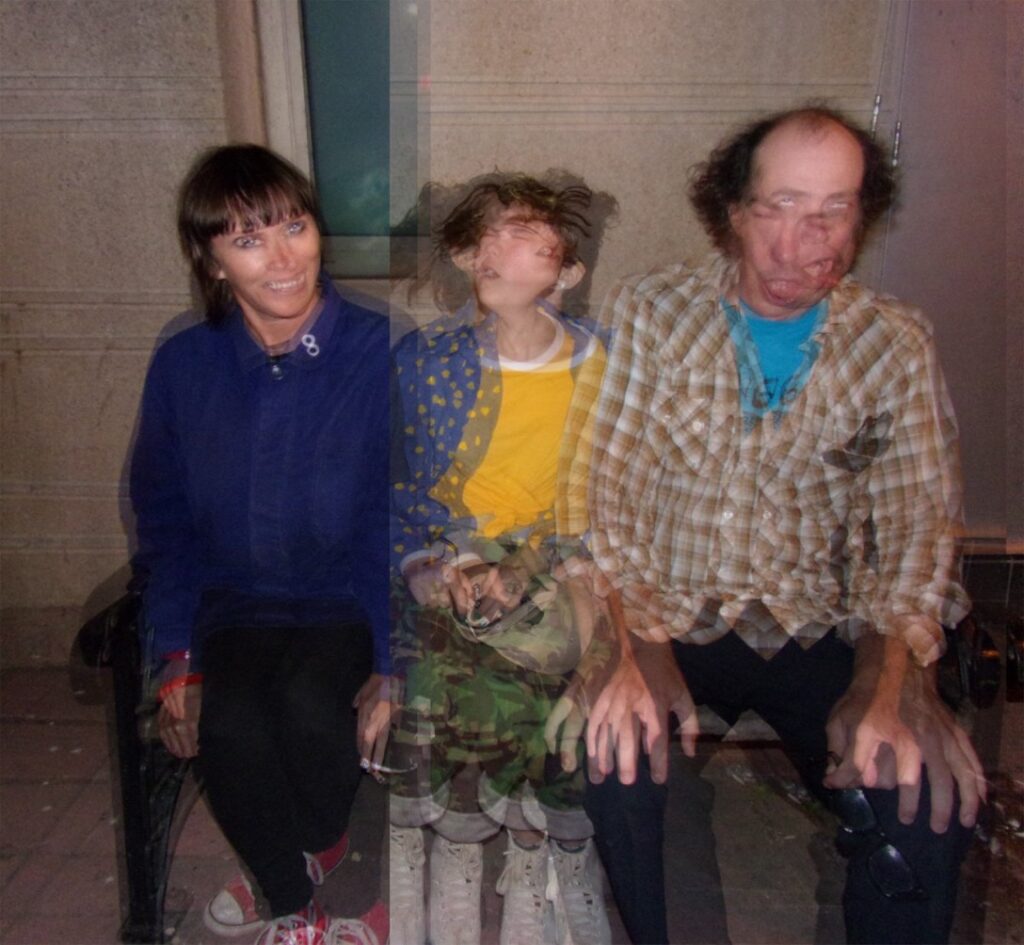 Please describe some memories – such as art, music, friendships, adventures, study, romance, politics, work, crime, religion… anything really – from the stages of your life noted below:
* Your childhood:
I remember being woke up by my parents and pals partying, I took my bleary self down stairs and on entering the living room saw two long haired rockers pulling my Stretch Monster (Stretch Armstrong's nemesis) to his very limits. Next day I had to patch him up with a bicycle repair kick. Fuckers.
Another time at a party one of said fuckers was lying in the middle of the living room floor surrounded by other laughing merry long hairs. "Come and see this Dylan" he says and proceeds to pour water from a Spanish wine decanter into his mouth which the proceeds to come out of one of his ears.
I am bamboozled and the long hairs guffaw and clap.
I now know this to be some trickery, but at the time.. wow!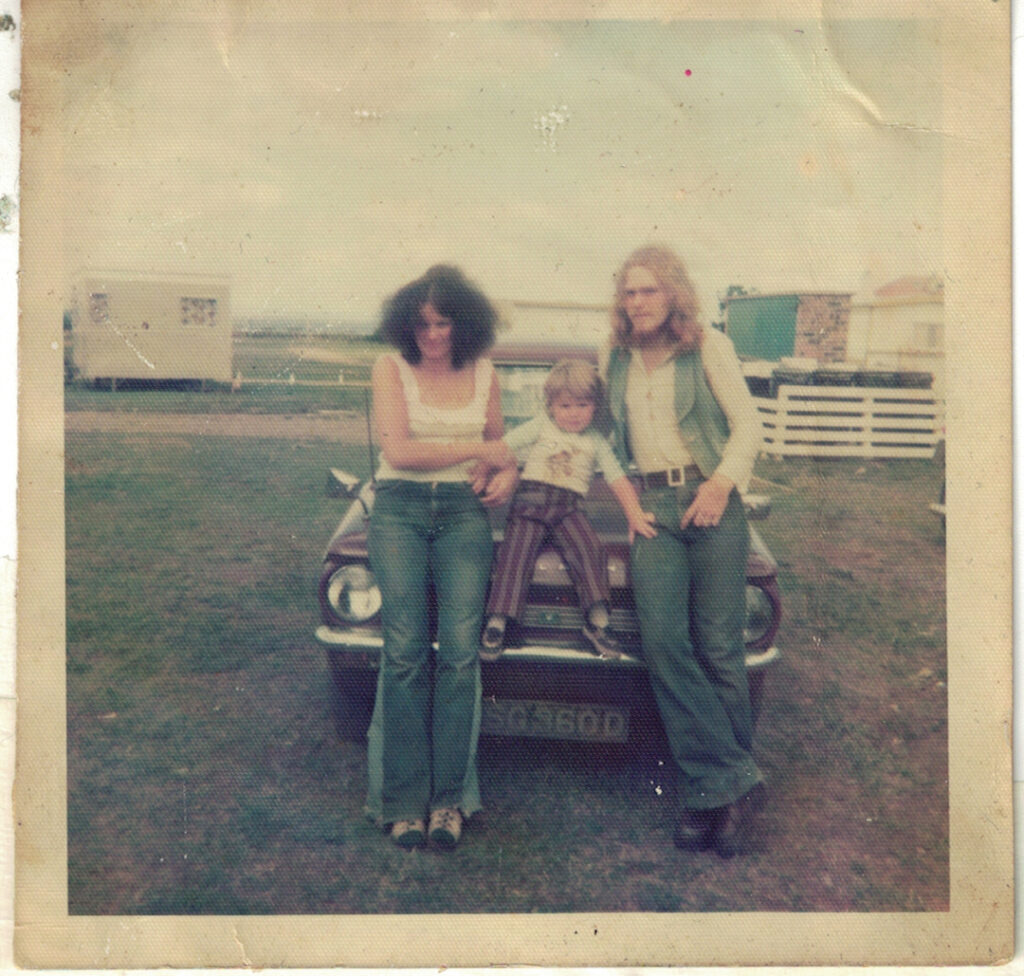 * Your teenage years:
Coming down with tonsillitis and having tripped out fever visions during Slayer's set at Clash of the Titans. The night ending with me vomiting outside delirious. The exiting mass of sweating metal heads probably thought this young buck had had a beer or 5 too much, but not a sip had past my lips, I was just in the throes of a terrible fever. Felt like I was tripping.
Had to lie there with my friends watching over me until my dad came to take us home.
Spent several days in bed totally out of it.
Tripping on mushrooms for the first time. Myself and two pals had necked a bunch and had spent the evening wandering around the village. Those two came up and were full of giggles and "whoa!", me? Nada.
It was a school night so had to head home at a reasonable time and as soon as I get into the house and open the living room door "whooooosh!" tripping! Made my excuses – "I had a beer, I am a bit drunk. Night, night." and went to bed. Spent the night listening to that weirdly produced first megadeath LP, couldn't finish a thought in my head and I kept seeing this grandfather clock made out of fluffy white cats all intertwined together.
Gork!!
Clapping eyes on Karen Constance for the first time. I was a 16 year old stacking toilet roll in the local supermarket in our village and she came walking through the door. Hubba!
(Various photos of Dylan as a teenage metalhead in the late 1980s and early 1990s.)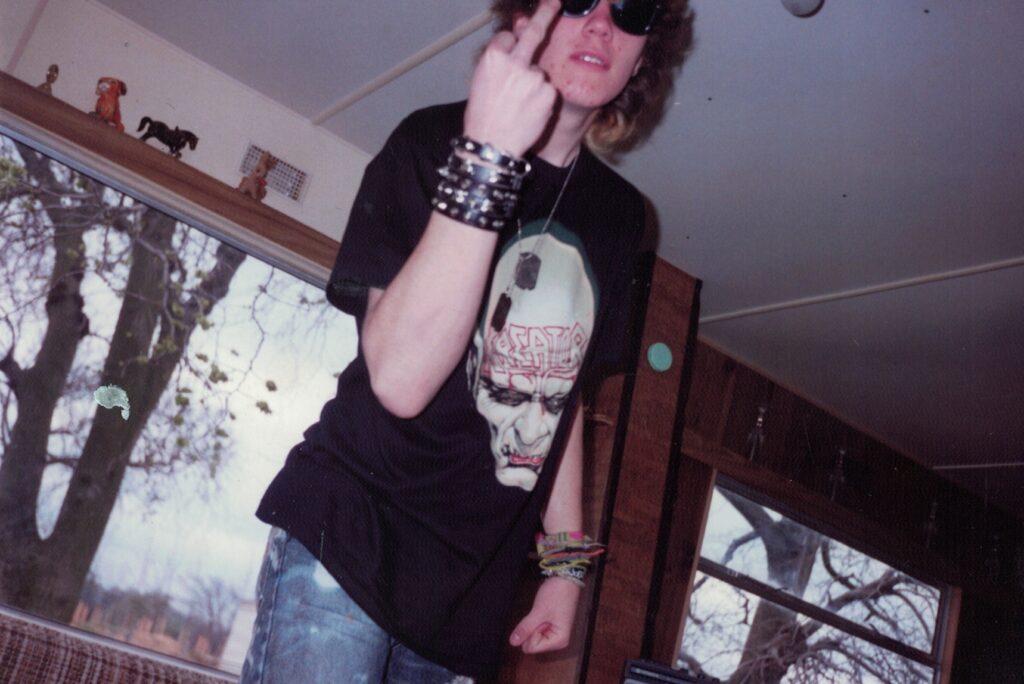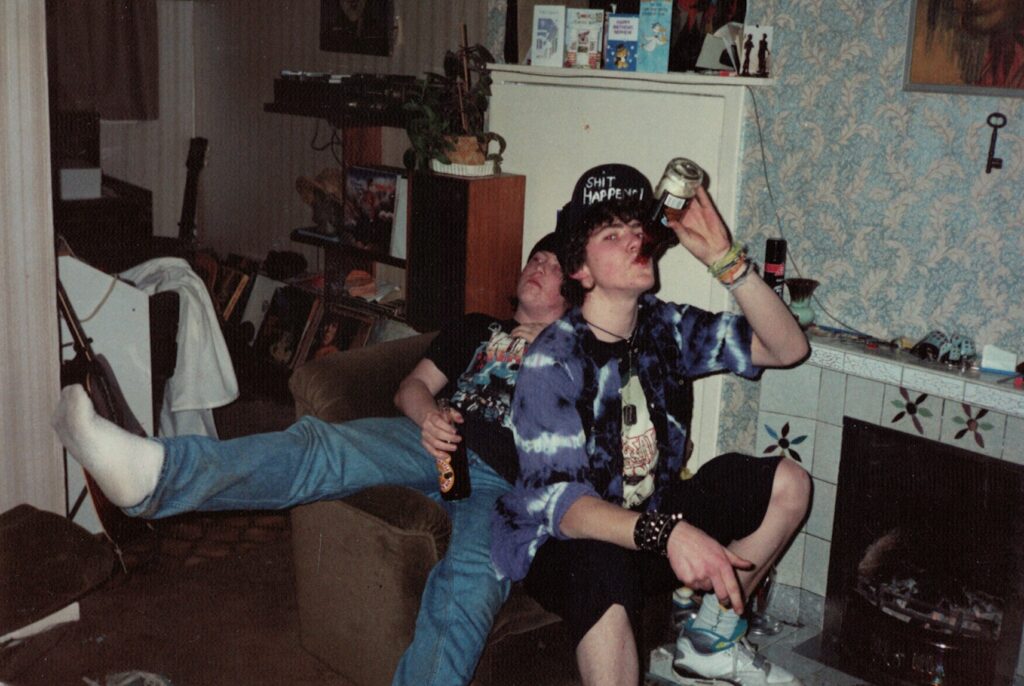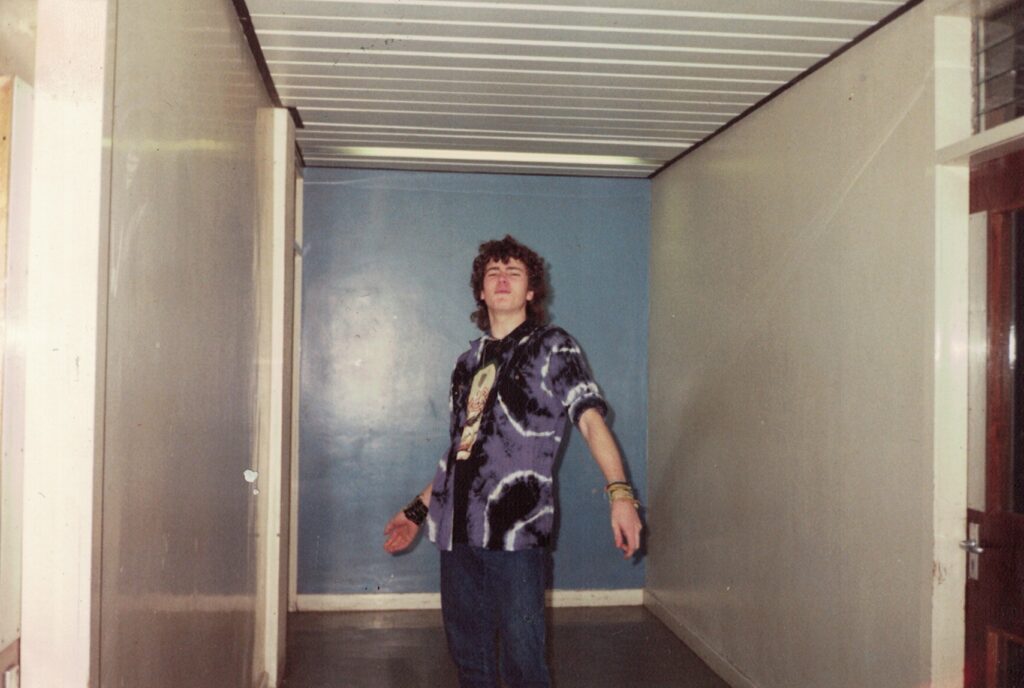 * Your 20s:
1993, fled to Brighton with my then partner in crime Lisa. Sadly we only stayed a year as she missed the family hound but we did get a chance to see some fine music here in Brighton, but 2 in London just either side of my 20th birthday spring to mind…
I am a month shy of 20 and we head up to London on a grey wet cold valentines day 1994 to go see the formidable Thinking Fellers Union Local 282, creators of some of our favourite avant weirdo rock. We end up at the venue in the afternoon, no body is about, so we stand shivering.
Then we get a friendly hello and someone calls us over to a van parked across the street. We approach cautiously, we are but country mice in the big bad city after all. Relief and strange stirrings wash over us when we see it is none other than Queen bass wrangler Anne Eickelberg herself, her glowing beautiful bespectacled face surrounded with mid-tour grunge scruff. The other gentlemanly bozos of the band are in the van too. She asks us if we are there for the show, we confirm and she invites us into the van out of the cold. Glory be. Everyone is so nice and polite to these country bumpkins but we chat mostly to Anne. We give her a Prick Decay tape and explain what kind of nonsense may lie within.
She informs us that this doofus she works next to at the record distro place would love our shit seeing as he likes to play unlistenable garbage most days. He does this fanzine Bananafish she says. The dots are connecting, we have a copy of that zine, we sent him a tape just last week, small world etc etc.
Anyhow they let us stay in their van until they have to go soundcheck. The van is thankfully void of the usual tour van fart hum, they are a more sophisticated breed these San Francisco dwellers I assume. The show itself is a bit of a blur, I don't think there was an opening act but I do remember they played for 2 hours or more and it was wonderful and that I left feeling punch drunk with my face hurting from so much smiling.
On our return to Brighton there is an envelope waiting for us, it is issue #8 of Bananafish and a note from S.Glass thanking us for the tape.
There is no stopping the descent from this point on.
Game over.
(Various photos of Prick Decay – featuring Dylan and his sister Lisa – in the early to mid 1990s.)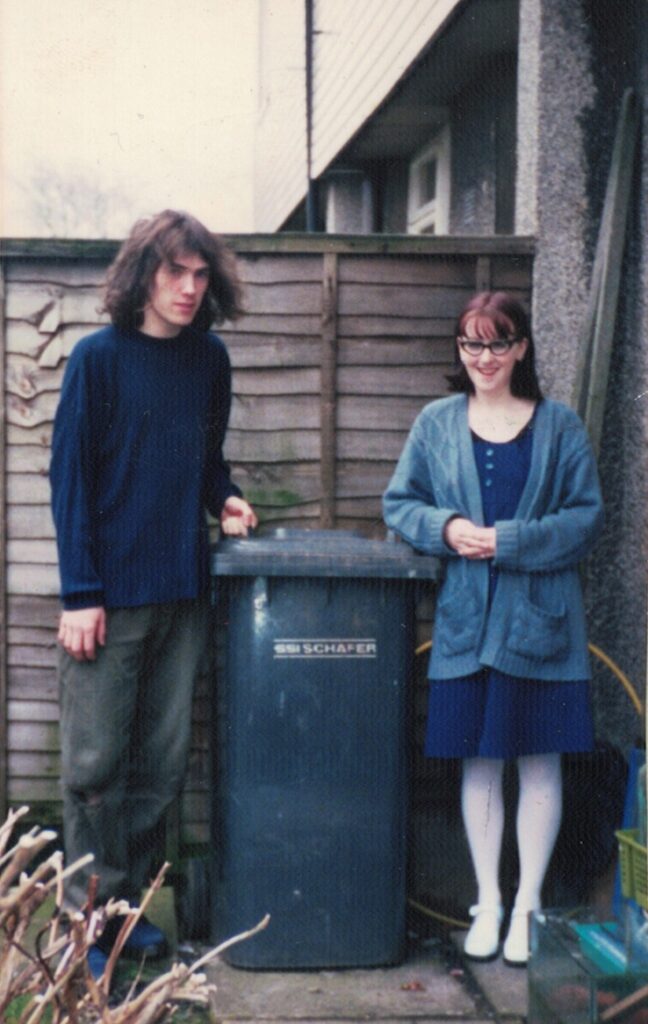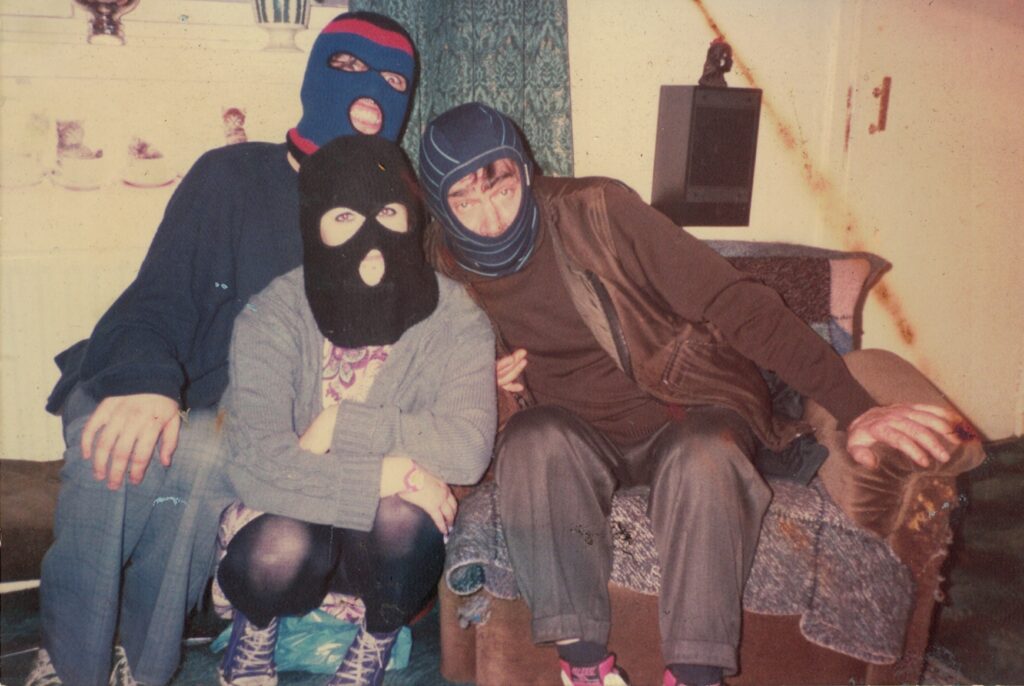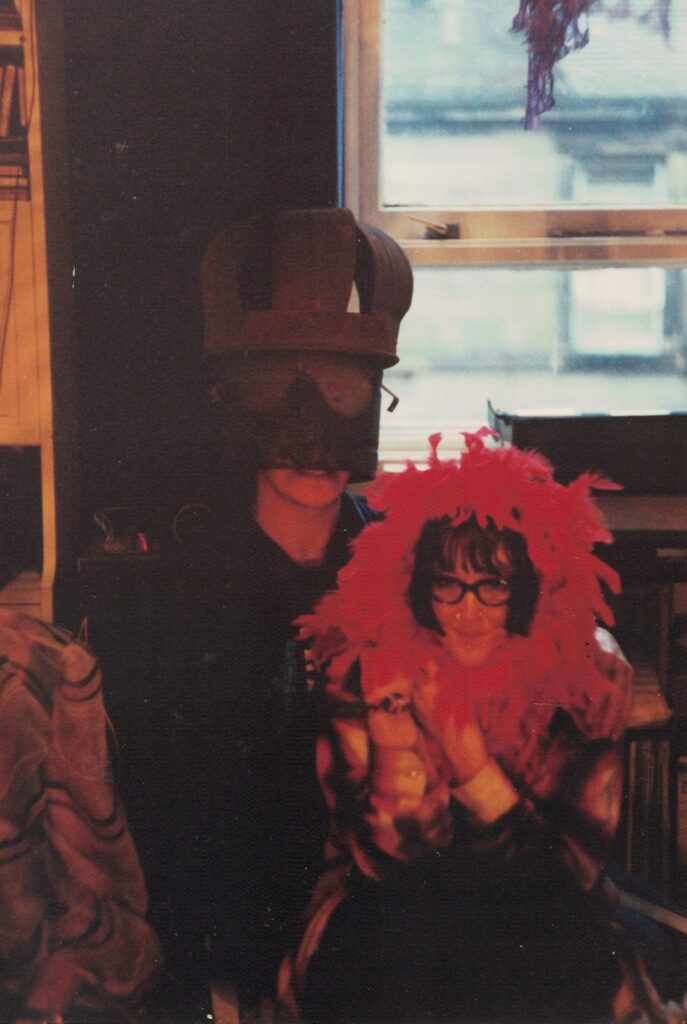 I had just turned 20 3 weeks previous. Went to London to see The Charles Gayle Trio at Disobey.
Now if my memories serve me right there had been this big warehouse find of these ESP bootlegs from Italy in the 80s and people were able to get their hands on them, Sun ra, Albert Ayler, Sonny Murray etc. I snaffled up as much as I could and pennies would allow and this opened my mind up to a lot of the free jazz from the late 60's, joy of joys BUT this was my first time seeing such music in the flesh and it was wild.
Reconnecting with Karen on my return to the village and hooking up in 1996.
Beyond happy.
We feel like slightly sozzled bandits, escaping Blackburn whenever we can to wander the streets of Edinburgh. We share common enemies, inspirations, goals. We make new discoveries together, make new pals. Do stupid zines together, record sounds together. Hatch plans.
My father dies suddenly aged 41. I would say this cements my view that life is too short.
Avoid the 9-5 at all costs.
Fleeing again to Brighton in 1997, getting hitched in 1999. At our rather wild wedding party in our tiny flat local camp singing sensation Dave Pop does a gig in our bedroom then proceeds to vomit glitter into one of our plant pots.
A good omen.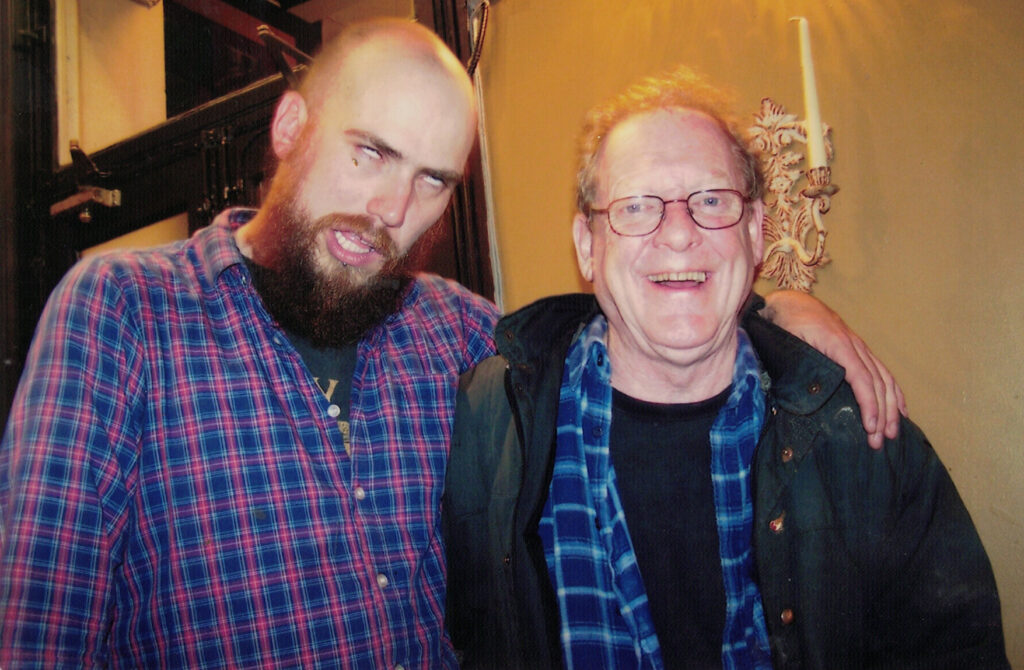 * Your 30s:
The hip kids are flirting with "noise" and weird music in the early noughts, so we have a lot of gigs and travels around the UK, Europe and the USA. Good times with great people.
Start our friendship with our brother Bill Nace, whom we will start the trio Ceylon Mange with. He is a fellow gonk beyond doubt.
The first two No Fun Fests in NYC are just glorious & wild but full of positive energy which inspires us to start our own occasional festival Colour Out Of Space a couple of years later.
At No Fun 2 (2005) Chocolate Monk had the honour of curating the basement on the Saturday night. As always enthusiasm got the better of me and I asked too many acts to play, so we decided we would have all the acts pair up for their sets. One such pair up was between The Polly Shang Kuan Band (Karen's all woman free noise group) and 16 Bitch Pile-Up (Ohio wild women) what ensues is ecstatic chaos. The whole room is just a mass of sweaty bodies, hair and limbs flailing. People are hanging from the pipes on the ceiling, folks are being hurtled over onto the stage and beyond while a pregnant Karen takes shelter behind her gear table. The room is a roar of noise and exuberant screaming and yelping, from both the bands and the audience. The whole thing ends in a eruption of cheers and claps and all faces are beaming ear to ear.
They had to call in a Security guy for the next night, we called him the undertaker. He would stalk both floors of the venue in his long black coat and wide brimmed hat, shining a flashlight in the face of any potential napper/passed out kid and give them a little "wake up" finger flick. Wanker.
After an all night labour a child emerges in 2005.
I have to go sign on at the dole (unemployment centre) at 11am.
This is the life I thought.
Having a lovely trip to Lisbon to play a Blood Stereo show along side the likes of Skaters, Inca Ore, Tomutonttu, Axolotl, Chris Corsano, Alan Silva etc and going to see 'The Temptation of Saint Anthony' by Hieronymus Bosch at the National Museum Of Ancient Art.
I have had the pleasure to have many a great old timers come and perform at the Colour Out Of Space Festival – Henri Chopin, Sten Hanson, Iancu Dumitrescu & Ana-Maria Avram, Trevor Wishart, DDAA, Chie Mukai etc.
One that stands out was getting to meet Ghedalia Tazartes for the first time. He was the real deal and a lovely man. Pure fucking class.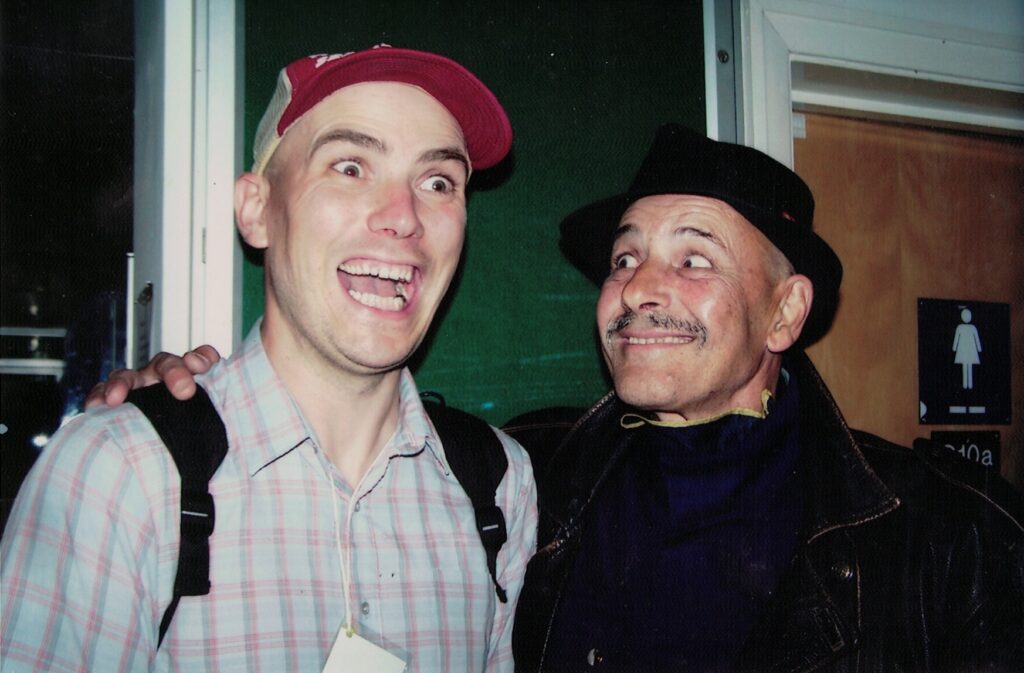 * Your 40s so far:
Giving Marshall Allen a shoulder rub outside Cafe Oto
Being part of Phil Minton's Feral Singers. We have played some interesting spaces such as the British Museum, I can't remember what that was for. We performed at a Mike Figgis curated event at the Royal Opera House. Played at Hyde Park at a Bruce fucking Springsteen concert, ha! And best off all we got to do 2 short sets as part of Suicide's performance at the Barbican.
Tip of the hat to old bean Minton.
Arranging a clandestine hook up with the mysterious Porest brothers in Molenbeek, Brussels. You know the place some bigots will try and tell you is a no go area for whitey? Pffft. Bullshit.
For a few measly dollars they told us all about the impending apocalypse and how to cure human meat to release its full psychedelic potential. We sang 'You've Lost That Loving Feeling' until the staff tossed us out.
Jerome Noetinger tearing everyone a new ear hole at Colour Out Of Space 2019.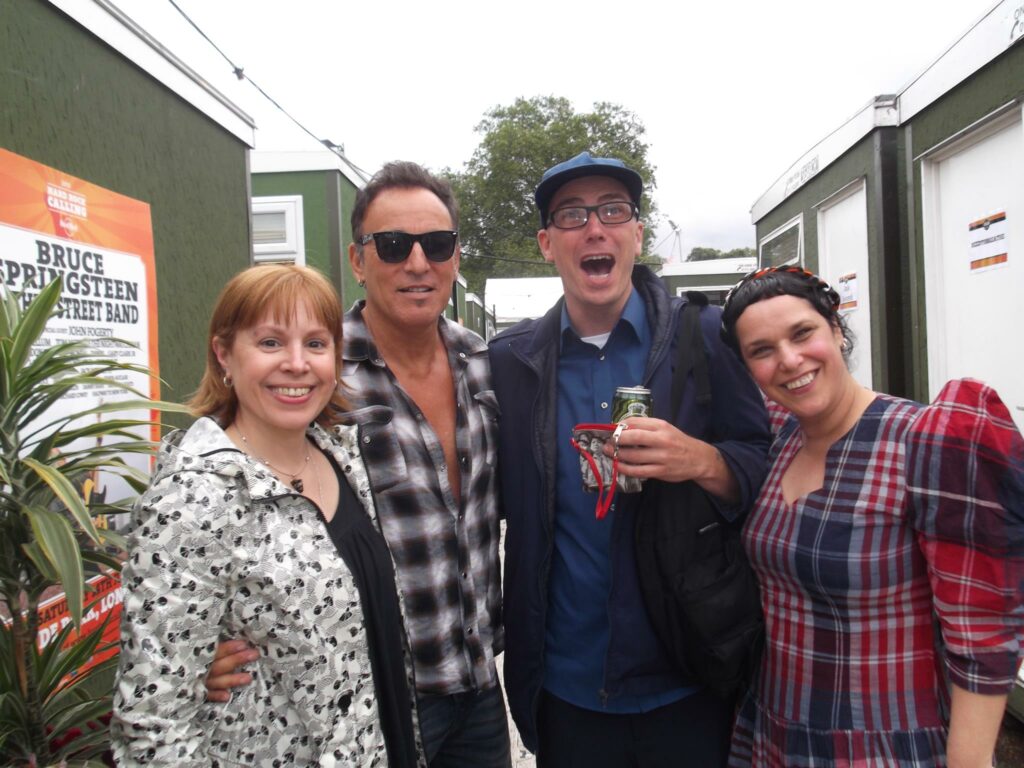 Personal motto(s)?
"Give Thanks" is one.
"Git Tae Fuck" is the other.
Music, Art + Creativity Questions
When and why did you first become interested in music, art and everything creative?
… and any pivotal creative moments / influences?
I was raised by hippies & barkers, a good ying & the yang that helped me prevail the grey, wet dankness of a former mining village. Music was a huge part of our household. Bob Dylan, The Beatles, The Stones, Leonard Cohen, Cat Stevens, Pink Floyd, The Incredible String Band, Motown etc.
Then there was the records my dad could only play when my mum wasn't in: Faust, Gong, Amon Duul II, Colosseum, Scottish Waulking music. Those are the ones I still listen to.
There is that track part way through side one of 'The Faust Tapes' where we hear all these non musical sounds, a radio playing, clanking, cutlery tinkling, footsteps, a phone dialling, tones, water pouring etc, and that blew my mind at a young age. To hear these NON music sounds on an LP!? What was going on?? You had to make up a little film in your head, just wow.
Anyhow not to say that from the age of 4 that was me into weird music, far from it, but years later when I did start to search out the stranger stuff, that stuck with me, that little seed planted all them years previous came into bloom. If I was stranded on a rock somewhere and had to only have one LP, 'The Faust Tapes' would see me through no doubt.
There was also many a party where booze would flow, hash would reek and guitars would come out and sing-songs would start up. I just assumed everyone's household was filled with music, then I would visit some pals house which was void of a record player, TV constantly on, faces dour as fuck and would think "you poor bastard".
I think I knew from the earliest age that music was the salve to the harsh rub of a hard day.
I followed the well trodden path of a metal head, discovered the magic mushrooms that would grow in abundance in our high school football pitch which led to the ears needing a bit more bent sustenance. Psychedelics make the ears curious and hungry.
I had heard this band Ciccone Youth on John Peel, and fell in love with them. Saved some pocket money, scurried through to Edinburgh and bought the record. It had some of those some weird 'Faust Tapes' vibes, non music, noise, people chatting, what? My metal mind broke.
Then I found out that this band was actually just an off spin of some American rock n roll band so when they rolled into Glasgow I wanted to go see them, but non of my metal pals would entertain going to see such wimpy music, so my dad drove me through and I went myself. I have no doubt I must have looked so out of place with my Iron Maiden sleeveless t-shirt. The rock n roll band made a glorious racket, the lanky guy in the band stood on his guitar and done all kinds of feedback nonsense but with none of the tough guy posturing. The audience too! shorn of the bland metal uniform, all kinds of tights, tops, colours, hairdos, I was giddy. Sign me up!
Out with the metal in with whateverthefuck.
Investigating anything, everything.
Fanzines, sending away for tapes, corresponding with tape labels.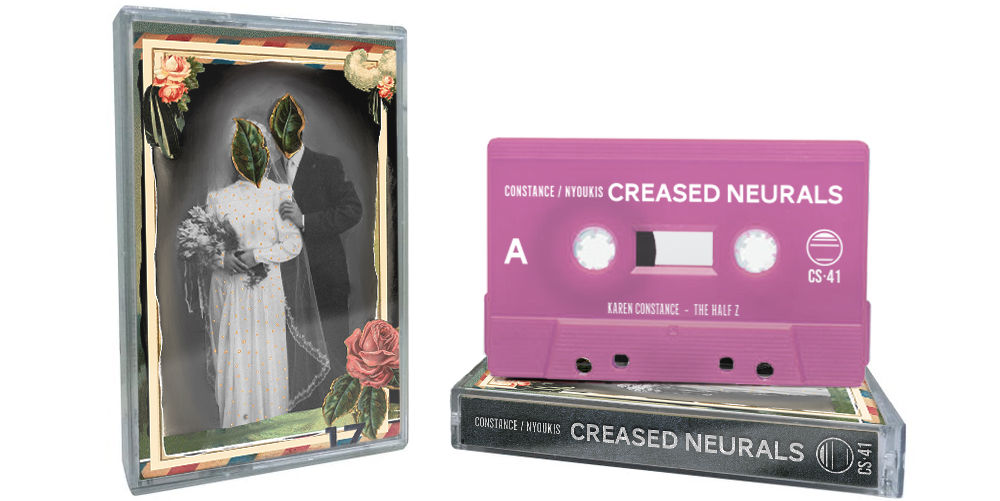 For those at home who may be unaware – Please outline the what, who and why of your record label 'Chocolate Monk,' which you founded in 1993?
Off the back of writing to those tape labels I realised that even if you're too poor to put out a 7" yourself there are people just dubbing tapes in their bedrooms on boom boxes or whatever. Trading them with other bedroom weirdos and even occasionally receiving some hard cash in the post from a stranger. REAL CASH, that you could spend on sherry or cider or weed or other tapes, anything.
Anyhow me and sister Lisa had already been making a racket in our bedrooms as Prick Decay and I think we had already done a tape on another label? Deffo had a track or two on some tape comps and we just thought we should start our own label to put our stuff out and that of folks we liked.
I can't remember the timeline but at some point we decided to escape the drab wilds of West Lothian and headed to the south coast of this horrid country England as our good pal Jod who ran the OSKA label lived here and he was a big influence on us starting a label.
Found a shitty basement flat, jumped on the dole and started planning world domination.
November 1993 we staged a chaotic one day event, the Chocolate Monk festival where we sold the first 5 releases on the label. Now here is where the real epiphany happens, the one that broke this peasants mind, and opened them old lugholes permanently to the head scratch.
We had a few folks whom we corresponded with come travel to Brighton for the event and crash in our tiny damp flat and as a thank you this one guy gave me a copy of Bananafish magazine, issue #7. What the actual fuck, this thing just filled me with excitement. The varied artwork, drawings, collages, photos through out. The letters page, the Dame Darcy comics, the teenage diary entries from Anne of Thinking Fellers Union Local 282, somebodys account of going to a Bob Larson rally. Interviews with bands I had never heard off, but they all sounded bonkers AND the reviews, oh man those reviews at the back, I wanted to make "music" that sounded like that and the fucking thing came with a 7" record! Where all kinds of insanity lived.
I was gone, man.
Never came back.
Praise the lard!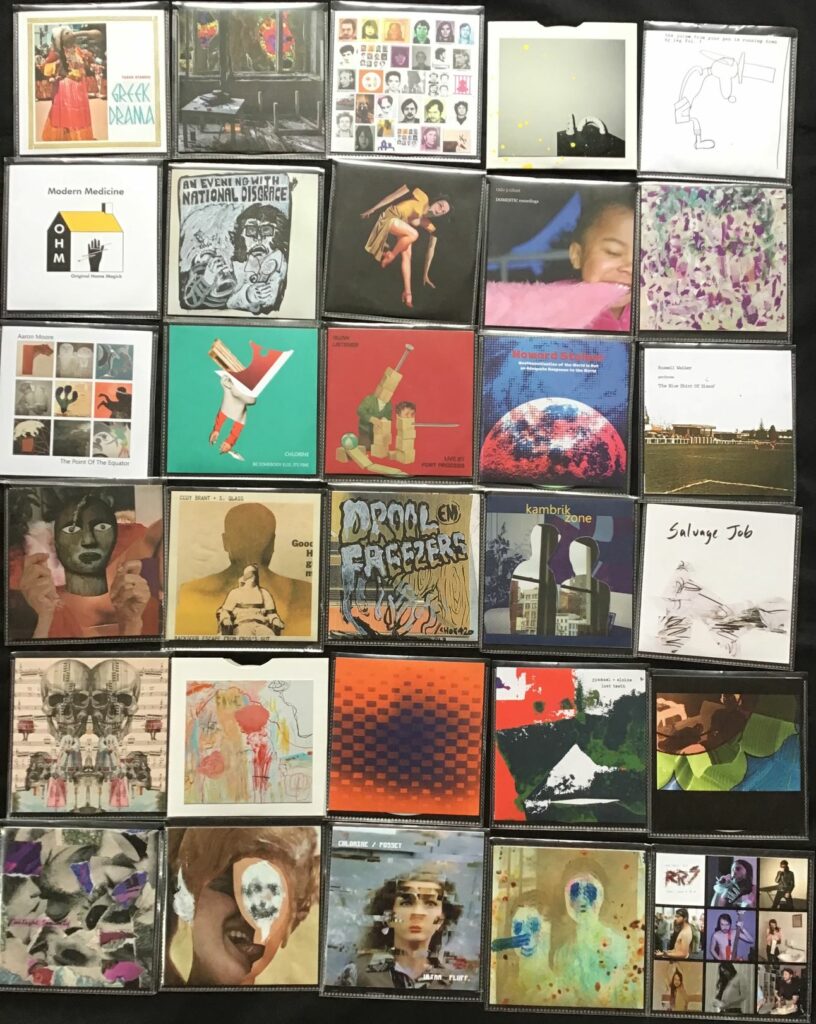 What are your top 5 favourite sounds?
… and what is it about them that you love?
Rather pedestrian but:
Bird song – natures little electronic orchestra, bleep chirp tk tk tk.
My child yawning or laughing – gives me that warm fuzzy feeling.
Bubbling beans on the crackling fire up the allotment – food for the belly & the self, baby.
The sea – from the wee relaxing laps, to the wild taste the salt on your lips shit, I bow down.
The pop of a bottle cork – in vino veritas!
In your 2016 interview with Rhik Samadder (via The Guardian), you say a very interesting phrase:
"More than the pieces, my life is my art."
Can you please elaborate on, explain and provide some specific examples of this statement further?
That sounds like a drunken line to feed the neo-liberals, ha.
That was a weird but fun interview.
I think they just asked me as someone else pulled out at the last minute and they needed someone pronto. I thought the idea was so ridiculous that I said yes. The interviewer was a nice chap, had to travel down to Brighton on a saturday late morning and come to our house, he was hungover as shit too. Then we just chatted for a bit.
But anyhow the daft quote, well I guess this is all I do, make sound, so the label, occasionally make art.
Life goal has always been managing to stay under the radar and scrape by just about. Anyone that does that in our society, that's a work of fucking art right there.
Put a frame over my fucking head, man.
Pin me to the wall.
(2 collaborative paintings by Dylan and his wife Karen Constance.)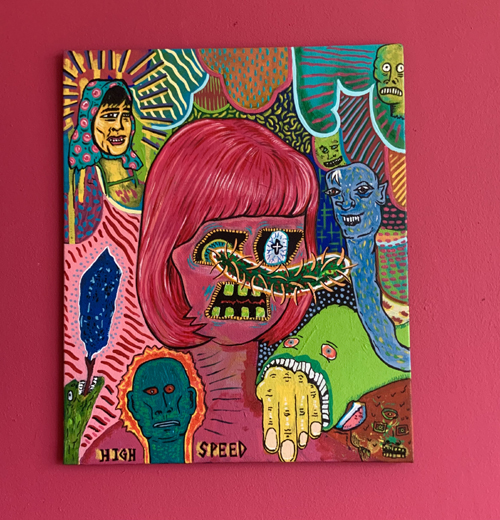 If you had to explain your creative endeavors to some recently crash-landed aliens…
What would you tell them?
It's abstract even to me.
Who are some of your favourite artists, writers and musicians?
…and what is it about their works that so inspire and move you?
Ooofffft, that is hard. Well from a cast of thousands these folks are get pretty regular rotation:
Sun Ra – the maestro of the cosmic huff brings pure joy and I love the fact you can tell that all the players are on board 100%, they have seen the light and know it to be true.
Can/Faust – one to shake your ass too, one to bake your brain too.
The Bren't Lewiis Ensemble – The man behind the aforementioned Bananafish, Mr S.Glass has golden ears. Under his tutelage the likes of The City Councilman, Lucian Tielens, Tom Chimpson, Lala Lu, Babuna Honig, Professor Dino Nuggie, Canker and Chancre, Jon the Baptist, The Viper, Shalimar Fox etc might get together to make a racket with various junk and electronic whump, or send him recordings of such stuff which he will then take back to his mysterious No Spray 205 lab where he will chop, bend, morph, mould and collage into lunk life affirming albums of absurdity.
Beautiful things, to these ears at least.
There is a TON of stuff out there, go sniff them out.
Visual arts Paul McCarthy, Mike Kelley, Bosch, Rosa Loy, Neo Rauch, Leonora Carrington, Rita Ackermann, Stu Mead, Gary Panter, Chris Ware, Dan Clowes, Bruegel, Vali Myers, Bill Nace are all pleasing to my eyes
I dont read as much as I should, I am currently reading the Billy Childish autobiography. Prior to that it was ' The Underground Railroad' and 'Shuggie Bain', I like stories. Harry Crews is a great story teller.
If people wanted to listen to your music, work with you or buy some of your wares – Where should they visit and how should they get in touch?
Website is www.chocolatemonk.co.uk for the label
https://bloodstereo.bandcamp.com/ for sounds by myself & karen
and ye can noise me up at dylan@chocolatemonk.co.uk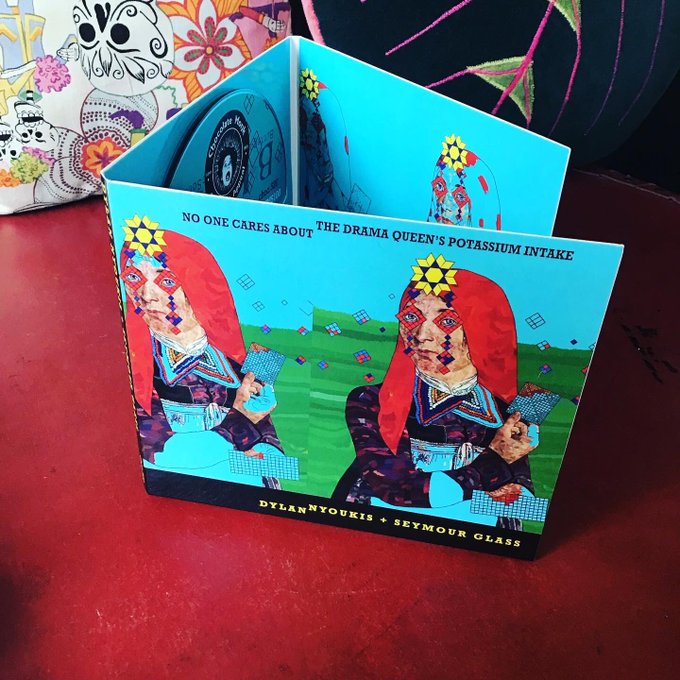 Odds and Ends
If you could live in any place, during any historical era – Where and when would that be?
…and why would you choose that time and place?
If I could just go back for a peek and have a translator device I would like to go check out what bonkers shit the Gnostics and the various other forms of early Christianity were getting up to.
Loonies.
What role did toys play in your childhood?
A HUGE role.
I had a shit ton of Star Wars figures, then later on He-Man and various other figures & dolls. I was never ever interested in toy cars growing up, which I got the feeling some folks in my extended family thought was a bit strange, like "Maybe Dylan has a little sugar in his socks?" you know? But I just loved figures.
I loved that you would create this whole world with these characters, do the voices, play out the drama and how the relationships between certain figures would have their own little arc, you know? You would pick it where you left off before, so Darth Vader is pissed because he has found out that Princess Leah is getting romantic with Chewy (Boba Feit done an old pepping tom on them at it), that kinda thing.
This was decades before 'Titane' so the idea of cars having sex had not crossed my mind, but I could imagine a Ewok getting jiggy with Bib Fortuna. It probably played out like an intergalactic Dallas or Dynasty. I am sure the dialogue was painful.
I should point out that I HATE Star Wars, loved it as a wee kid, but depise it as an adult, total pile of fairy tale drivel, put sci-fi back decades.
Does sex change everything?
Not particularly, maybe between Star Wars figures.
What are the top 3 items you own?
I don't put too much stock in possessions, though I do seem to have accumulated a ton of crap through the years. I guess we can just class my records, tapes and CDs as one item. I am not a record collector, can't afford to be, but as stated previous music is the salve, baby.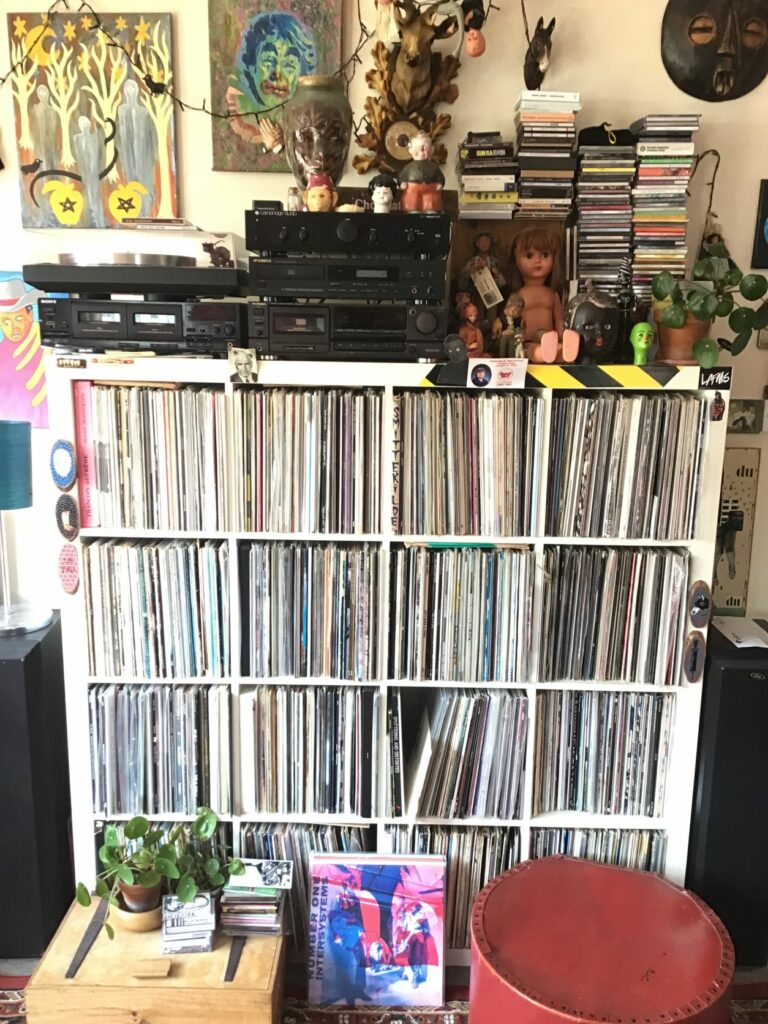 My signed Sten Hanson book. In 2010 Blood Stereo (the name myself and Karen then performed under) had the honour to perform at The Sten Hanson Festival taking place at Moderna Museet. I got my mits on a copy of his 'Works' hardback anthology and was keen to get him to sign it. We'd already had this Legend over to play at Colour Out Of Space the year before but I don't think he remembered me so I said to him "Could you make it out to Dylan, you know like Bob Dylan" and dutifully signed it. I made my way back from whence I came and checked out the autograph "To Bob Dylan All the best from The Old Stone" Ha! So I guess I have a Sten Hanson booked signed to Bob Dylan now, might be worth a bob or two, pardon the pun.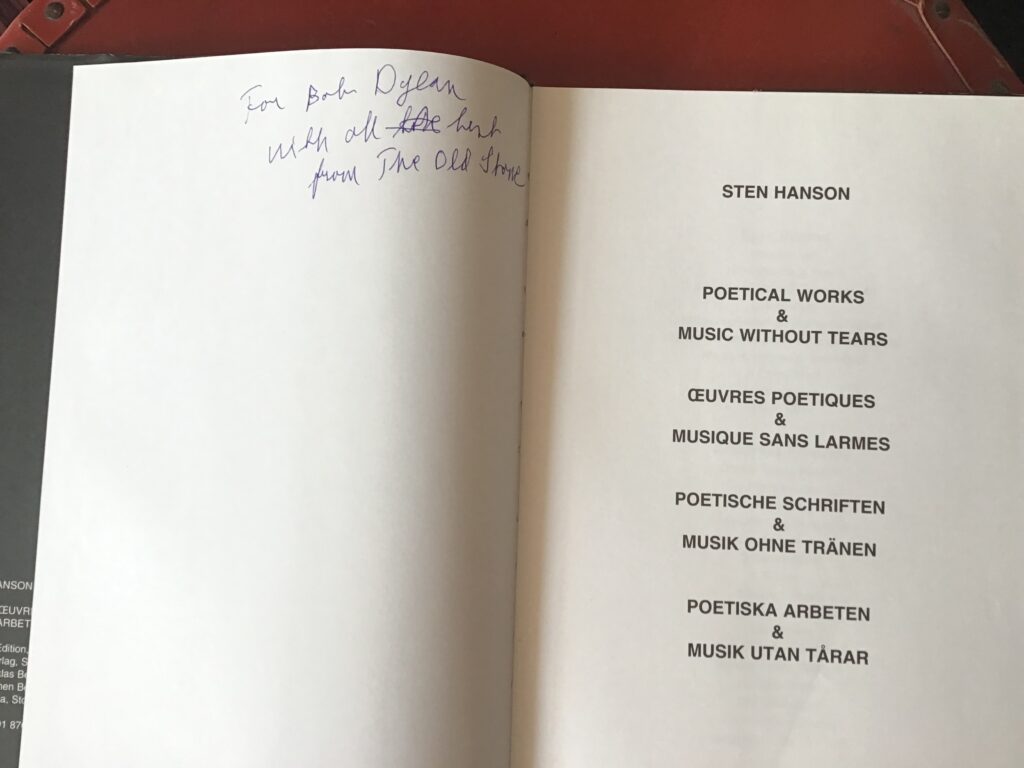 The Assmann 640 Universa. On a trip to Bremen for an art exhibition and performance we were putting on we got to go check out the flea market that stretches along the riverside and came across this clunking beast. What the fuck was it? Looked like a turntable with some weird plastic disk to play. It was 10 or 20 euros, I had to take a punt. Got it back to the gallery space and hey presto it worked. Turns it is dictation machine and records onto magnetic disk, much like audio cassette, so you can re-record over the disk as much as you like. The recording on there was some German paediatrician taking notes on various broken bones, ailments etc. This beaut has a real lovely lo-fi crud sound, and you can scratch away like a dim-witted DJ Q-Bert til your hearts content.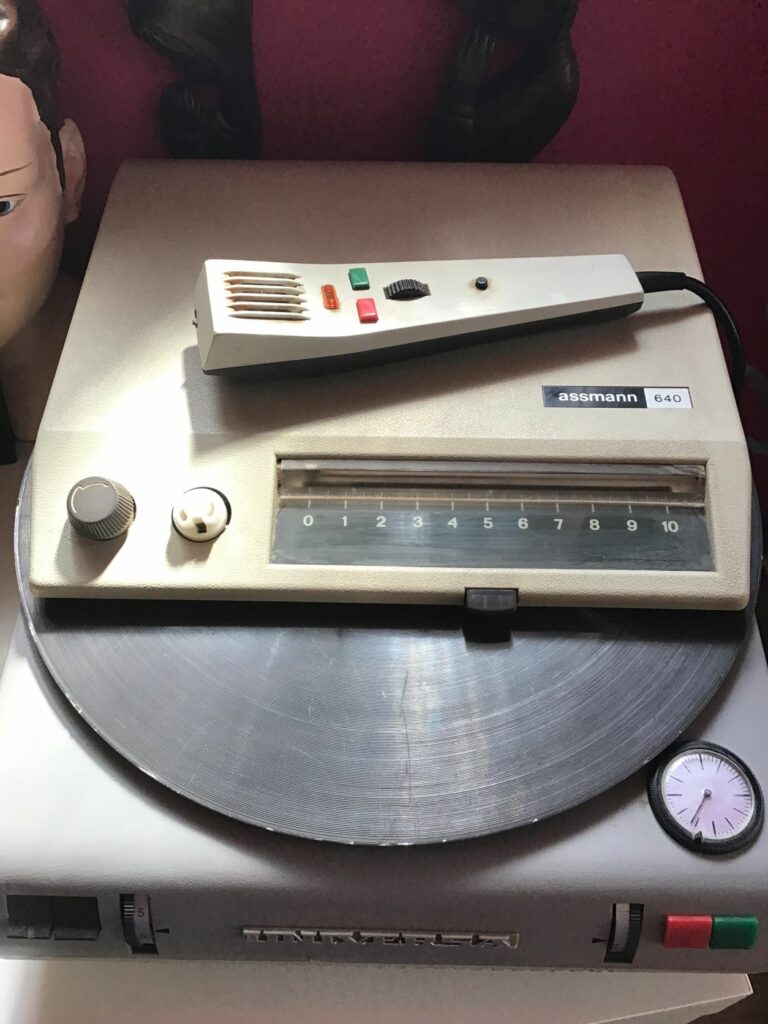 In a fight between the following monochrome-attire favoring musicians: Johnny Cash Vs. Keiji Haino – Who would win?
…and why would they be victorious?
Without a doubt auld Johnny would flatten Mr Haino.
Haino never listens so he wouldn't hear the clunking fist coming at him before it was too late.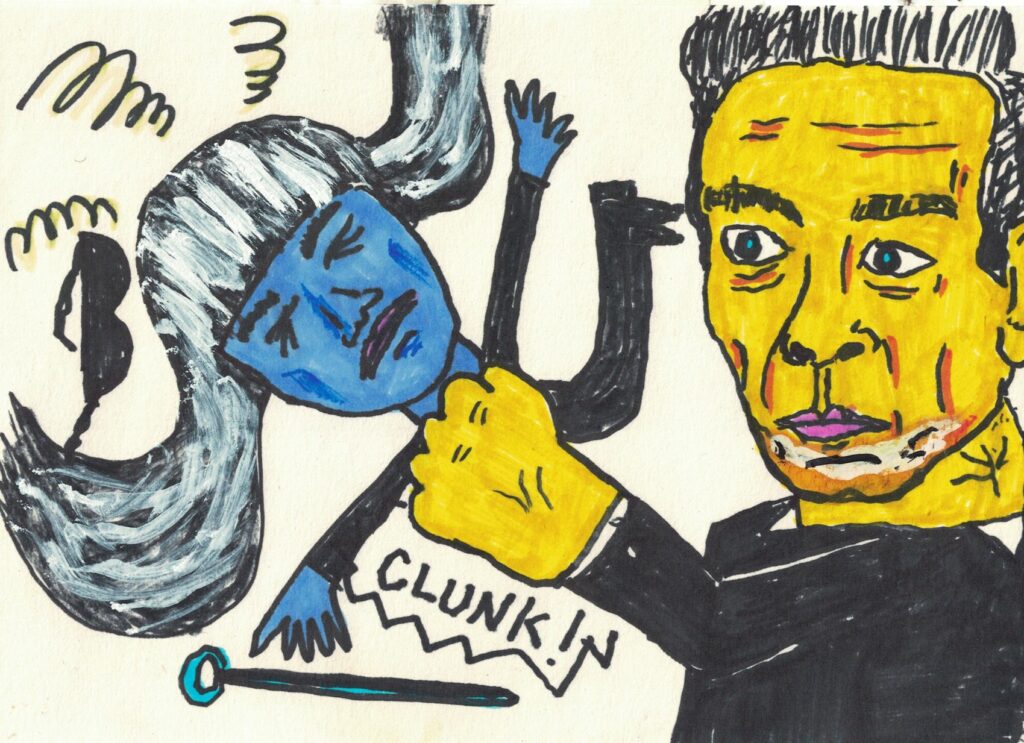 Please describe your last dream in detail…
I have a lot of dreams about navigating houses, old schools, hotels etc. Usually looking for someone or a bathroom.
I vaguely remember last night's dream was me trying to break up with a girlfriend, she had hidden my luggage to stop me from leaving and I was trying to find it. I was having to work through the rooms in this house, it felt like being in a video game.
Anyhow each room contained some type of Japanese demon that I had to defeat or at least sneak past. The one I remember most was this little 3 foot blue Japanese man with a Fu Manchu moustache. He was a muscular dude, standing in the middle of the room, none shall pass vibes. I just stuck my hands out and said "Demon Be Gone" then barged past him towards the exit door.
The wee fucker threw a bottle at me but I managed to get to the next room where my suitcase was then woke up.
Of everything you have done, what would you most like to be remembered for?
Don't care.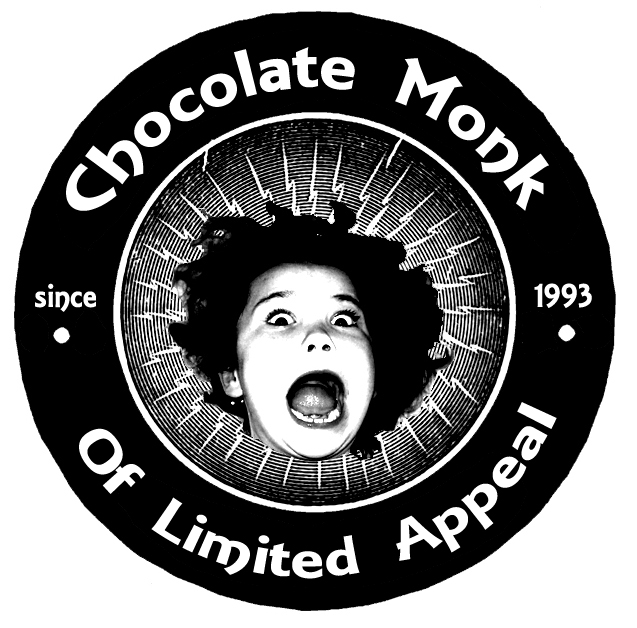 Links