French artist Ciou's works take you to an otherworldly universe of magical creatures and beings – Where demonically cute women frolic with bowler hat wearing spiders, and strange beasts burst forth to play and terrorise. Executed in a style bringing to mind the art of ancient Mesoamerica, graffitti, and the Pop-Surrealists. An aesthetic that has gained Ciou fans all over the world, including noted connoisseur of the artistic underground, Monte Beauchamp; along with the French Post Office, La Poste, who collaborated with Ciou on a series of stamps.
Born in 1981 to art loving parents, Ciou has been creating ever since she was a child. Initially inspired by anime and video games, in her teens Ciou became infatuated with the burgeoning grunge and riot grrl movements, as well as the art of Mark Ryden. With Ciou gaining her first artistic experience through her work in the punk and street art scenes of the late 1990s / early 2000s. A group of influences that led her to develop the wonderfully unique style she has today!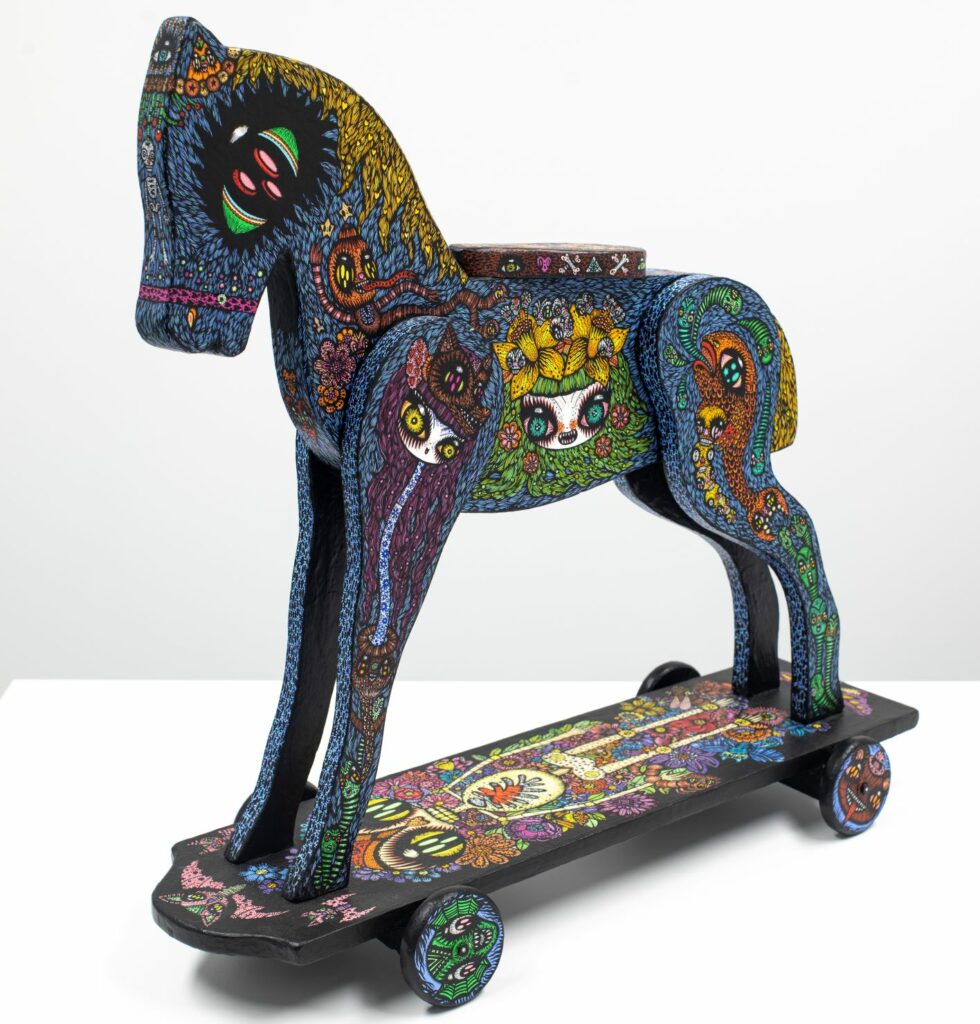 Recently, wanting to give back to the art world which has bought her so much joy, Ciou has also begun acting as a curator. With Ciou having already curated two much loved group shows at KochxBos Gallery in Amsterdam, with more in the works. She also began collaborating with occult feminist art collective Gang Of Witches in 2016, brining a new dimension to her practice.
Wanting to get to know her better, we sent Ciou some questions to answer over email.
Explore her colourful and mystical world, below…
Getting Acquainted
Name + D.O.B?
Ciou
8th May 1981
City, State and Country you currently call home?
South of France near the Atlantic ocean and the forest, Basque Country.
City, State and Country you're from?
Toulouse, South of France.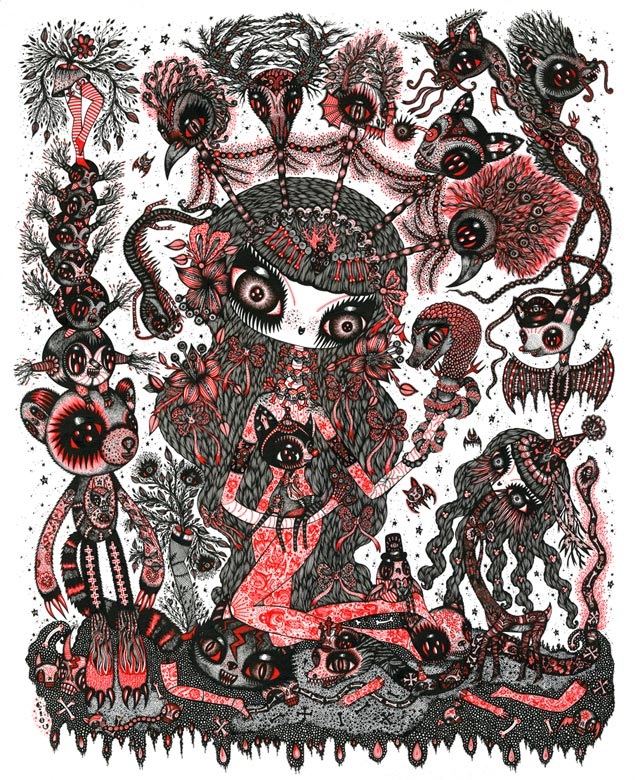 Please describe some memories – such as art, music, comics, friendships, adventures, study, romance, politics, work, crime, religion, performing… anything really – from the stages of your life noted below:
* Your childhood:
I've got a peaceful childhood in Toulouse south of France but it was not easy for me cause I was a geek and a creative child. So I was a lonely child.
I preferred to draw, read comics, play video games and dream than to play with the other children. I was so in love with Japanese anime and characters, and Astro boy manga too.
Every week after school I went to an art school for children and also I was playing piano and studying music.
I draw all the time nature, insect and strange creature.
Also I was so in love with my first pink Walkman and my rollers, I was listening to Queen, AC/DC, the Cure, Cindy Lauper.
I was very lucky that my parents love art very much and since my childhood we went together to museum and galleries.
Everything was ok until I went to college and then nerds are not cool, I guess I was cool but you know it's the same problem everywhere, the popular kids at school are the worst.
Anyway, I continue to be myself.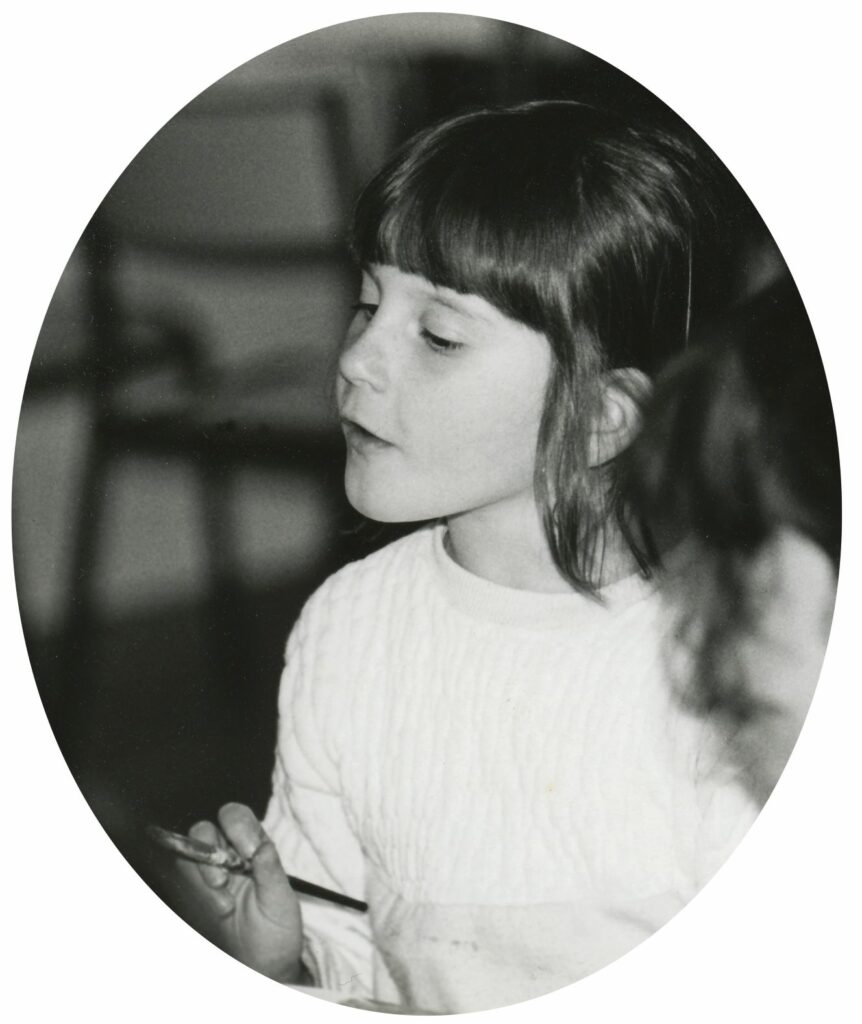 * Your teenage years:
My teenage years was at that time the Grunge explosion with Nirvana of course and all the other bands, my favorite was Babes in Toyland.
I was totally into art and made bloody installation with decapitated Barbies and a lot of dark drawings. I was also involved into the Riot Girls movement with bands as Bikini Kill, I made some fanzine and start to participate to exhibitions in my own town. It was also the beginning for me to participate to hardcore festivals with fanzine and handmade plush dolls, I called them « the Strange creature of doctor Ciou ».
I made carnival colouring books, riot girls fanzine, cute and evil playland fanzine and many more.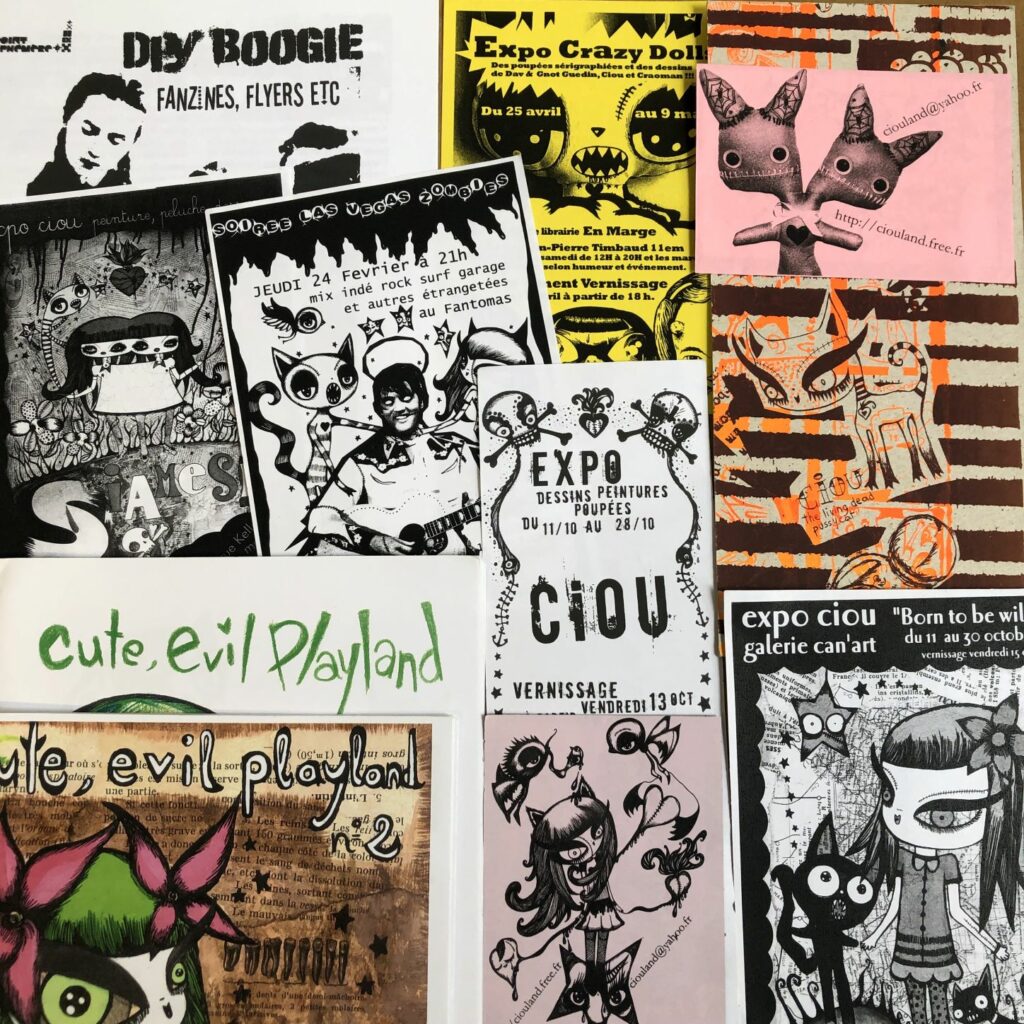 My first big art crush was the cover of the album of the Red Hot Chili Peppers, One Hot Minute by Mark Ryden and then the other one Clear Hearts Grey Flowers of Jack off Jill by Mark Ryden too.
I hated school of course and preferred to do things by my own, I was graduated but it was not my goal. As my family did not have a lot of money and my father was suffering of cancer, I knew that I had to do things by myself at a very young age and that life is tricky all the time.
It was not a nice period in my life but art and music help me to survive to this. So the next step was to enter in an art school, I went to Ecole des Beaux Arts, highbrow art school and it was a disaster.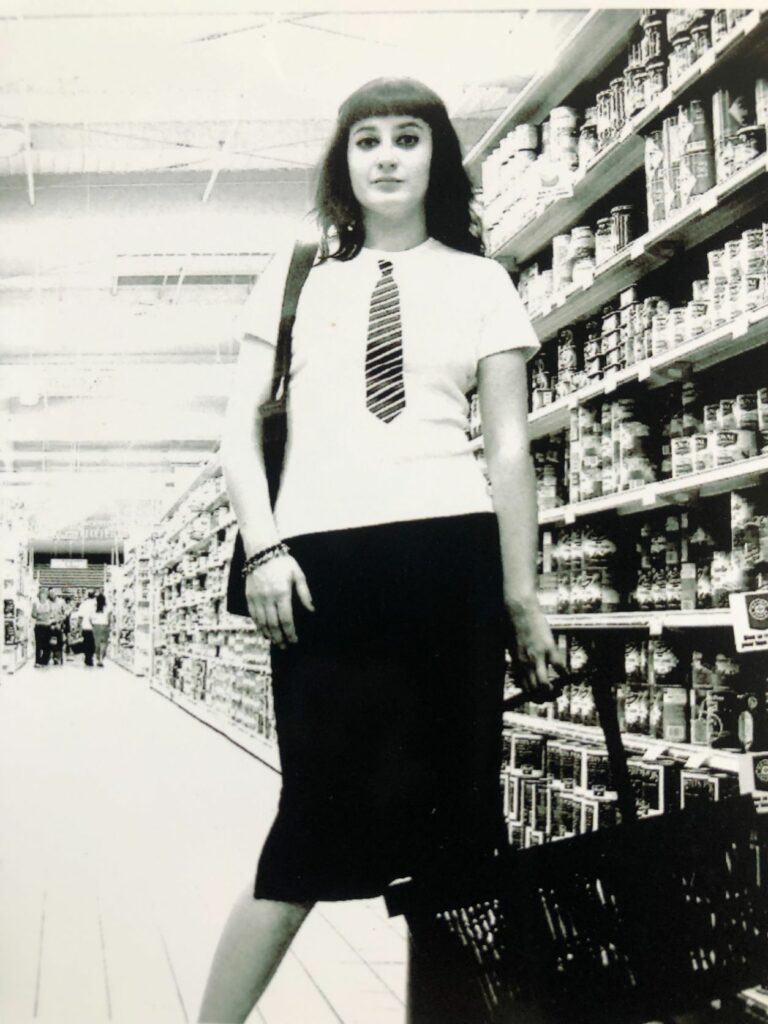 * Your 20s:
As every student I was working in different shop and by night I was a rock DJ with Riot girls night, Rock and garage and more.
The Art school was dramatic, the teachers were so mean and they asked to the students to do not draw cause the conceptual art was more important that the result of a piece of art. I love to draw and paint so I choose an other option in Graphic design, I learned some things but not a lot.
The result was that I learned more by myself and also with the help of other artists in comics festivals and in the street art scene in Toulouse, France.
I met Miss Van at a very young age and other artists from Toulouse and then she shown me how to paint in the wall and do collage in the street .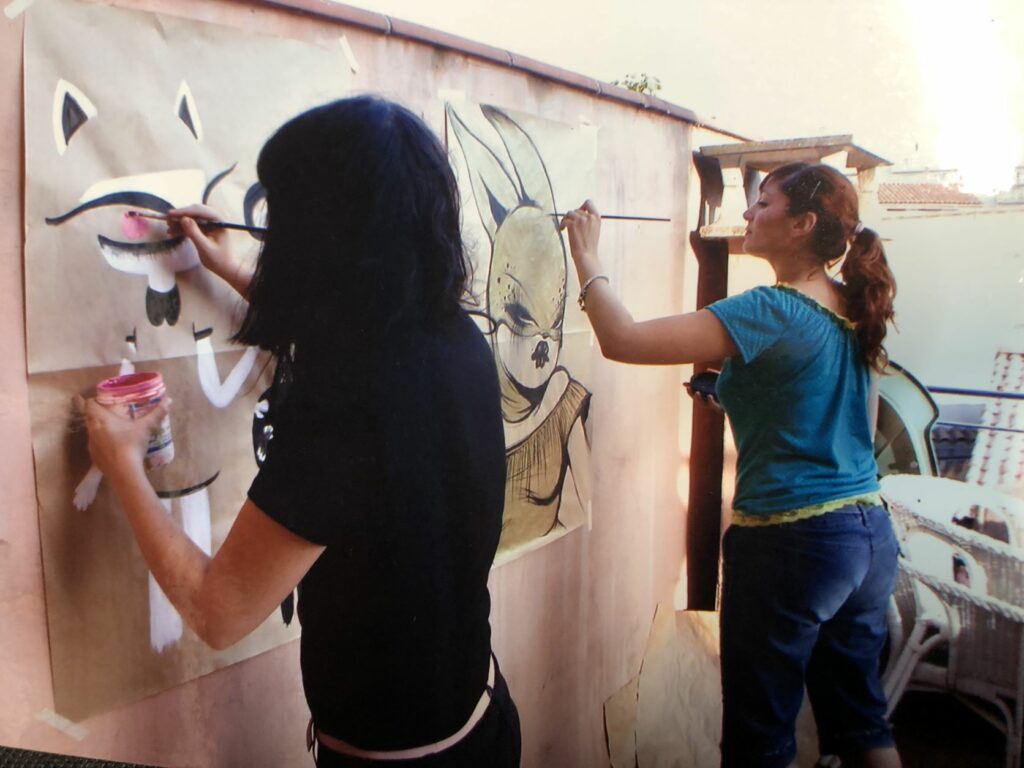 I decided to stop art school and move to Paris.
Then I started seriously my art career at 23 years old.
I participated to my first group show Cute and Scary at the Flux Factory in New York in 2004. It was amazing to share this show with Camille Rose Garcia, Aya Kakeda and Miss Van.
An other important point was to discover the book Blab! with the Mark Ryden cover, Juxtapoz and High Fructose. Then I knew that the Lowbrow / Popsurréalism artist could have a relevant place in the art world.
I started to participate to exhibition in USA and Europe. I moved to Belgium and lived there 3 years, it was fantastic, better that living in Paris. I hate Paris, I love the museums and the architecture but as I come from South of France it's like I coming from an other planet, the Parisians are not very nice .
An other important point was my collaboration with the gallery Kochxbos in 2008, we are working since then in Amsterdam.
I was also so happy with my first solo show in USA at Roq La Rue Gallery, Kirsten Anderson gave me an incredible opportunity.
I met one of my BFF in the art world, Femke Hiemstra, she is one of the best artist I know and I admire her work so much and she is incredible sweet.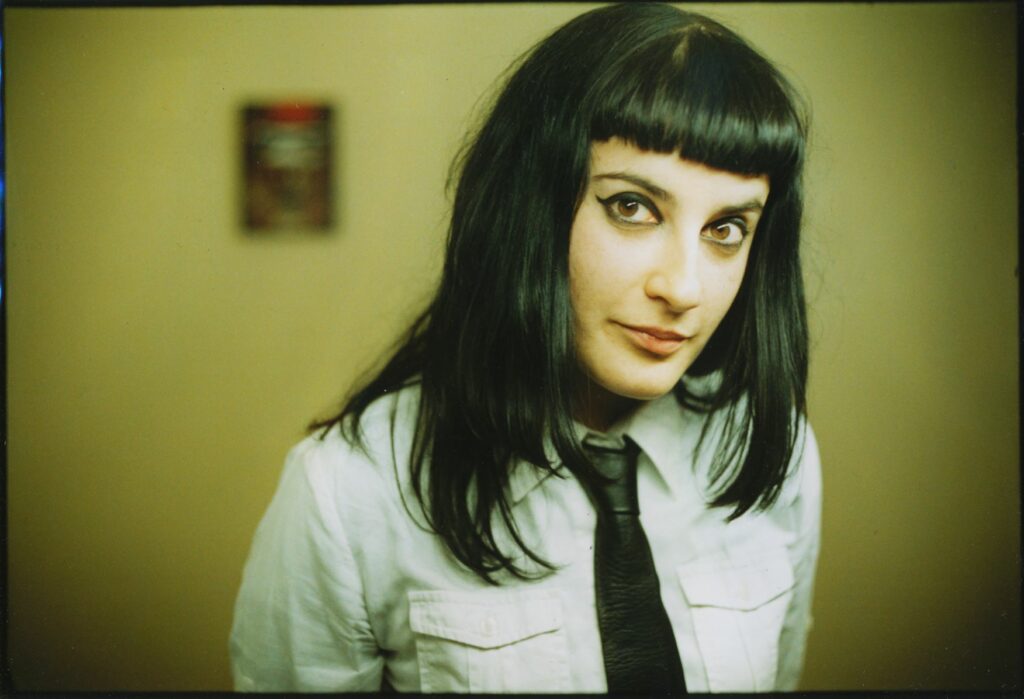 * Your 30s:
I came back to France and was living with my boyfriend and artist Malojo in my own town Toulouse.
I was working so much on my artworks, illustrated books and solo shows.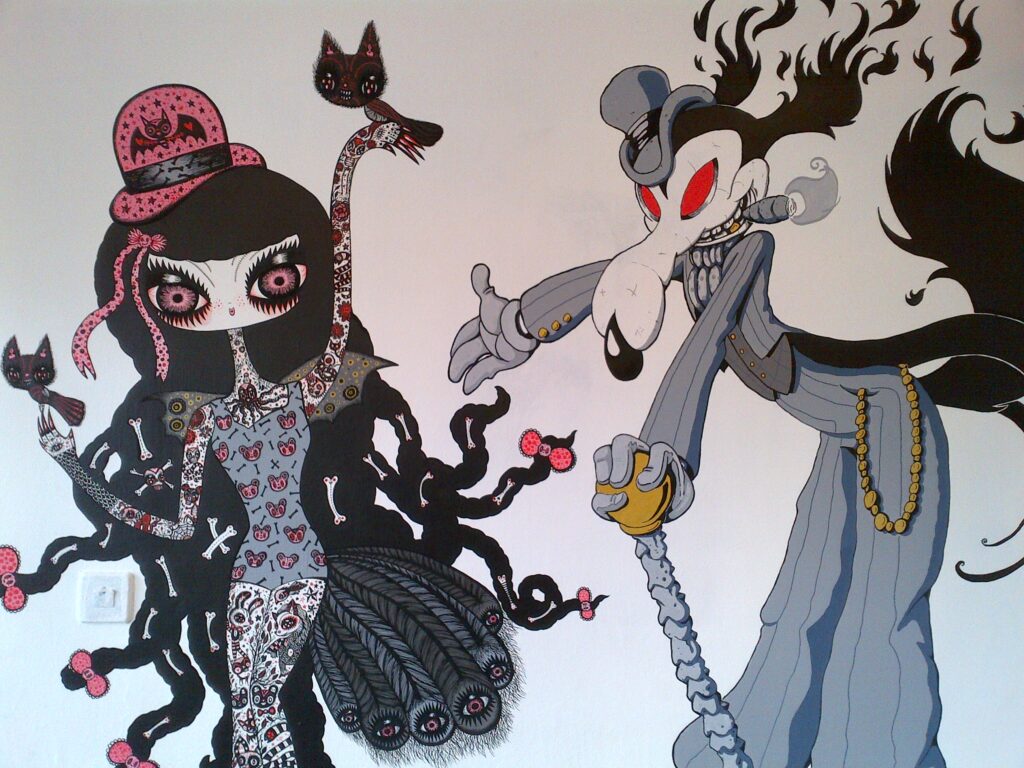 I was also working on my technic and going into details more and more. The colors are more vivid too in that time.
My art is clearly at that time a mixed between American pop Culture, Japanese traditional and contemporary art and Mexican art.
It was the first time for me to exhibit in Japan at Vanilla Gallery in Tokyo too. Going to Japan was a revelation, I knew that it was the perfect place for me, beauty everywhere, perfection everywhere, amazing nature and Pop culture, the perfect place for Otaku as myself.
Now I am a Japan addict and I dream to come back over all the time.
I guess I am not borne in the good country, I am locked in the middle between USA and Japan.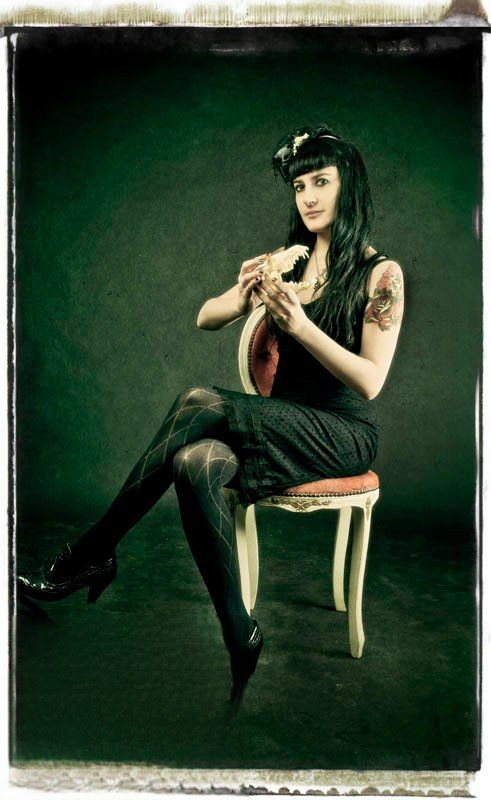 In my 30s, I was more involved into feminism again, not the same than with the riot girls but I joined a group of artist called The Gang of Witches and I participate to several art show in museum and I did a great wall painting too, The Goddess of the Forest, thanks to Paola Hivelin, one of the great women I admire too .
I am more peaceful and I love to contemplate the beauty of nature, I guess that it comes with the maturity of an artist. An other important point, the French Post Office (La Poste) asked me to do a booklet of 12 stamps on the Zodiac theme inspiration, it was a success and the best sale of the year 2014.
I was very proud of this cause I was all my life a lost cause into the French contemporary art .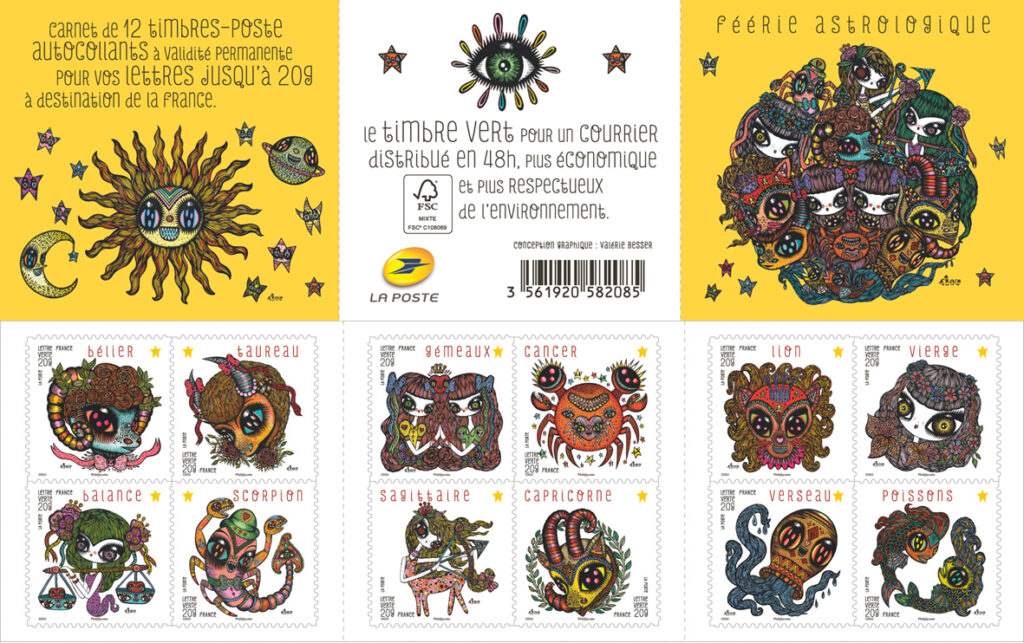 * Your 40s so far:
I love my 40's cause it gave me more power and determination.
It's strange but I love to be older, I know exactly what I want.
I am still listening punk and rock band, I love Amyl and the Sniffers, Fontaines DC, Protomartyr, PJ Harvey, Idles, Kyary Pamyu Pamyu, Orville Peck and many more.
I still do not work with galleries in France but the Museum of La Poste in Paris asked my to do a huge commission for the show, A la Poine de l'Art, so now I am into the national collection in France.
I just have more tattoo and I love to live with Malojo and our chihuahua Iggy.
I started also to curate an international show in Amsterdam, Popland 1 and 2, at Kochxbos gallery with artists as Victor Castillo, Travis Louie, Jennybird Alcantara, Naoto Hatori, Jank Goal, Junko Mizuno, Malojo, Camilla d'Errico and many more.
I am so happy to have the chance to exhibit artists that I love and it's a great success in Europe.
The Popland shows will continue next year in 2023.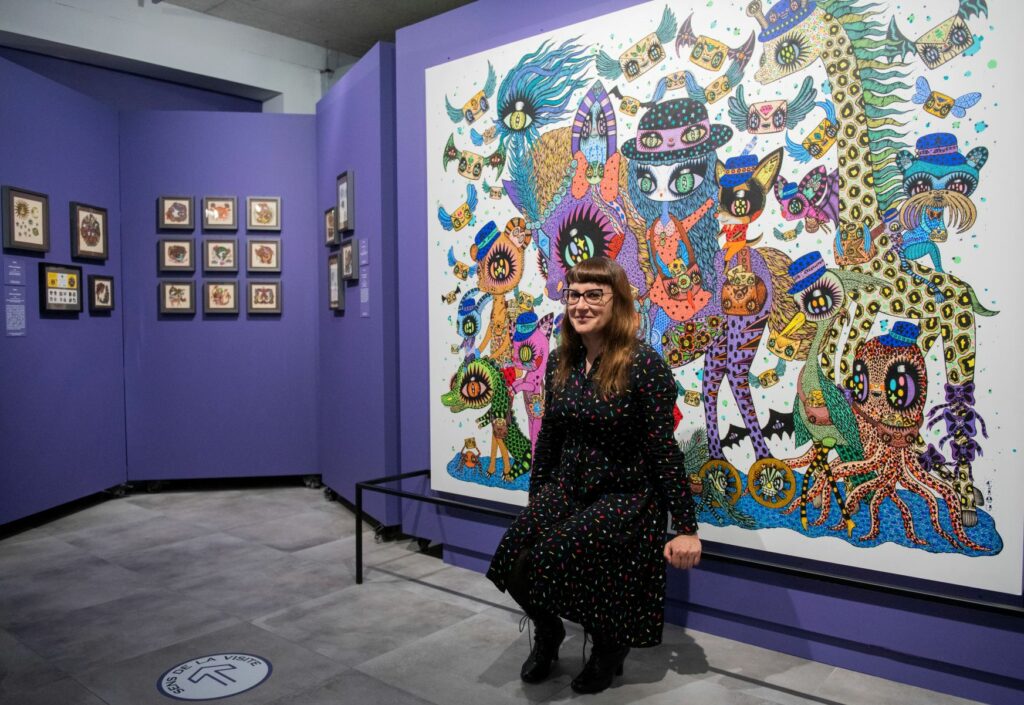 What role did toys play in your childhood?
Toys are so important to me as child and since now.
I was totally into My little Pony, I do not like Barbies but dreamy ponies were the best and I love Hello Kitty and Sanrio characters so much. They help me to create new universe, magical ones.
I am a big toy collector now, I collect vintage squeaky toys , Kaiju, Kawaï toys, Artoys and more.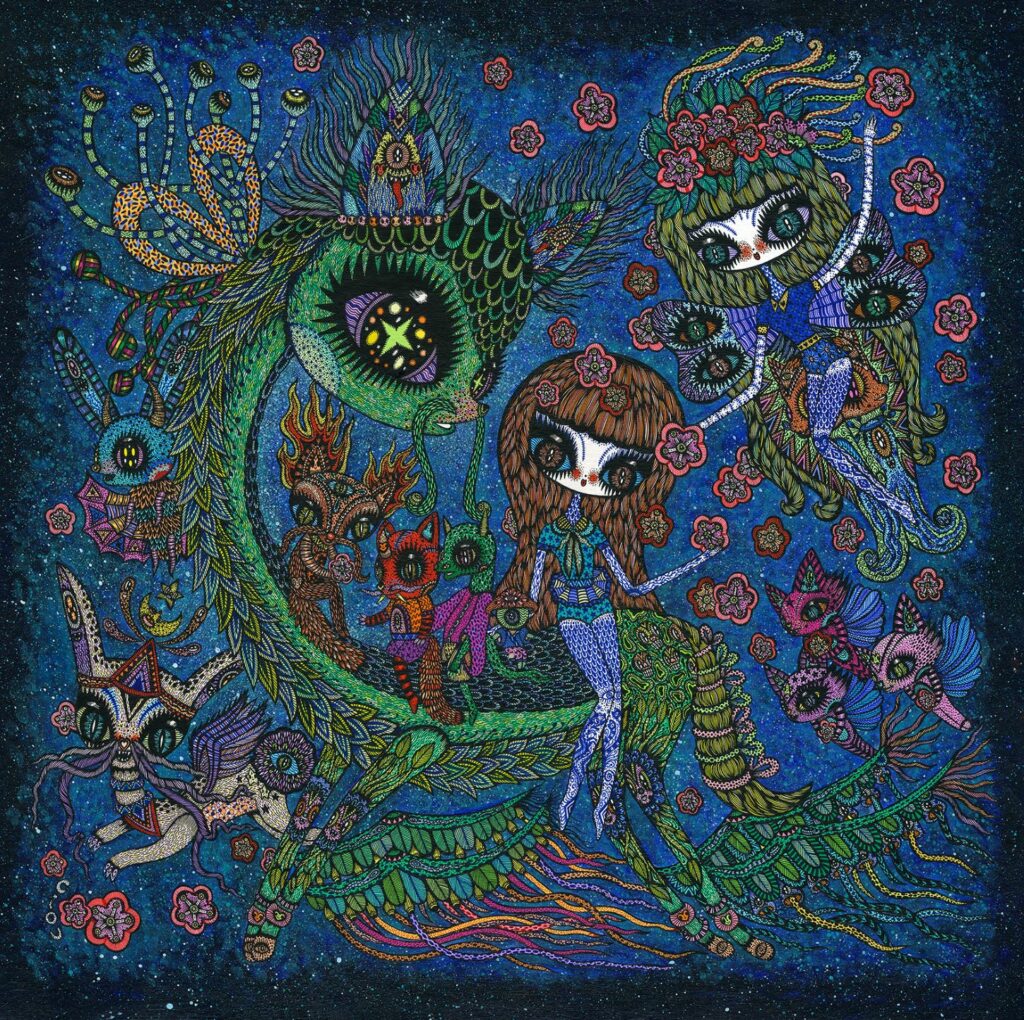 Art & Creativity Questions
When and why did you first become interested in art and everything creative?
… and any pivotal creative moments / influences?
As I explain above, creation was natural to me, I am born this way and my parents helps me a lot cause they shown me different type of art. The artists that gave me a great visual influence was Frida Kahlo, Hokusai, Kuniyoshi, Pre- Raphaelite painters, Tolkien with the Lords of the Rings, Tezuka with Unico and Princess Saphir, Junko Mizuno, Camille Rose Garcia… the list is endless.
I am an art lover since my childhood. For me Pop culture and contemporary art are in the same level and I love Takashi Murakami for this too.
Art is everything to me
If you had to explain your creative endeavors to some recently crash-landed aliens…
What would you tell them?
Then I tried to show to people dreamy characters and new universe and I hope they could tell me if I am not so far than my vision of other galaxies.
Also I would love to tell them to do not stay in earth cause we are too stupid and humans destroyed everything.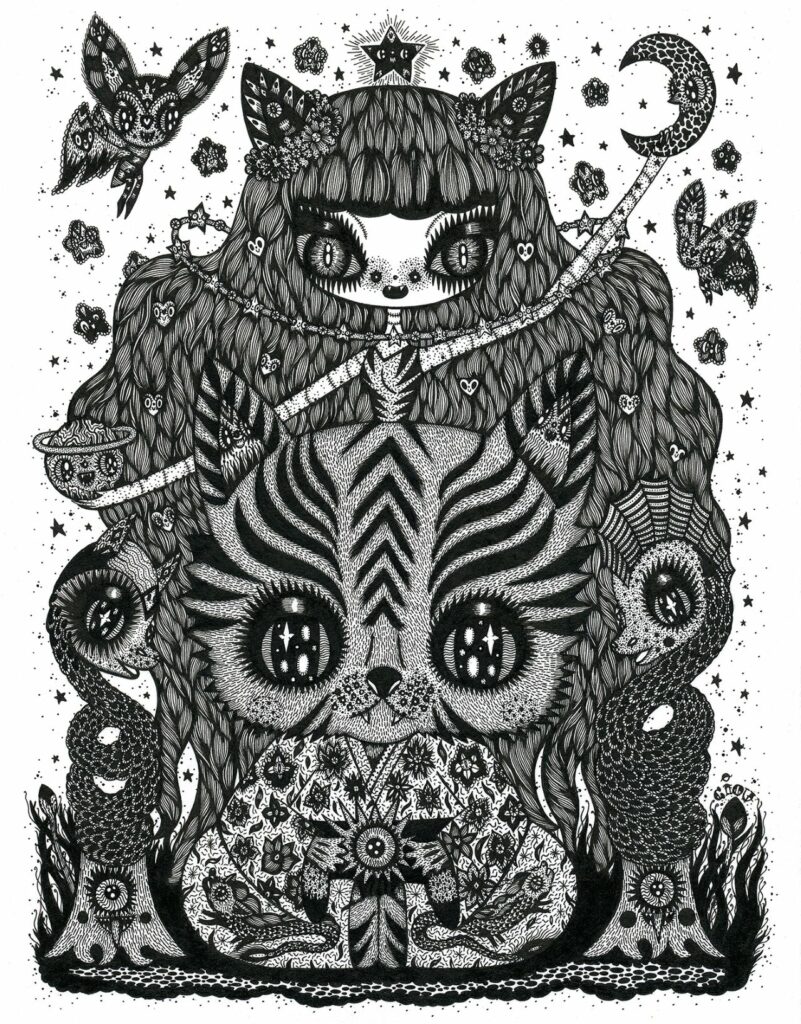 Who are some of your favourite artists, writers, filmmakers and musicians?
…and what is it about their works that so inspire and move you?
I talked a lot about artists, writers and musicians so now I have to speak about filmmakers.
I love Hayao Miyazaki for everything he made. I was moving to tears when I visit is museum in Japan.
I love the female characters, strong and independent, I love the magic, the universe, the sensibility. He is so strong too and a real perfectionist as I hope I would be one day.
I still have so much to learn and do.
An other filmmakers that I love so much is Wes Anderson. I love the symmetrical pictures in every movie he made, the colors from the 60's and 70's, the characters are imperfect as everyone and beautiful in the same way.
If people wanted to check out your art, work with you or buy some of your wares – Where should they visit and how should they get in touch?
My paintings and drawings are in Amsterdam at KochxBos Gallery, every two years I made a solo show at the gallery and I curate Popland every year now.
My upcoming solo show Hanami will take place in March 2023 at Kochxbos.
I will be in person with Malojo at the Art market Mercado Los Olvidados from Oct 21th to 23rd in Los Angeles at Paul Kaufman Gallery, Down-town LA.
I am actually working on a mini solo show, Keep my Heart Grighting in the Dark, at Copro Gallery in Santa Monica this December too.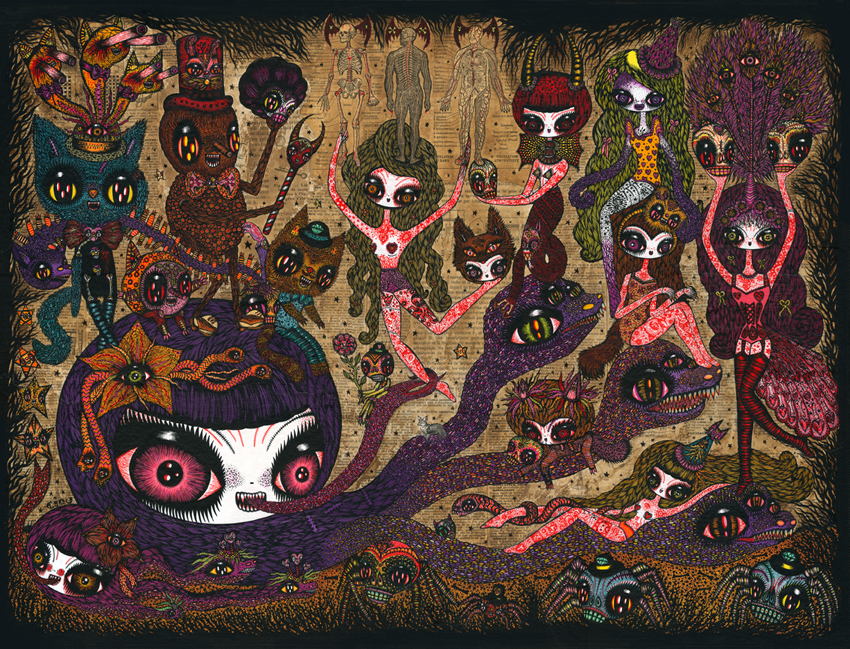 Odds & Ends
What does "God" mean to you?
Nothing, I love the idea of Gods and Goddesses in Asian religion Buddhism, Shintoism and Animism but I am not a believer.
I love Yokaï very much.
What are the top 3 items you own?
… and what is it about each of them that you so love?
A drawing of our Chihuahua Iggy by Femke Hiemstra and an original from Junko Mizuno.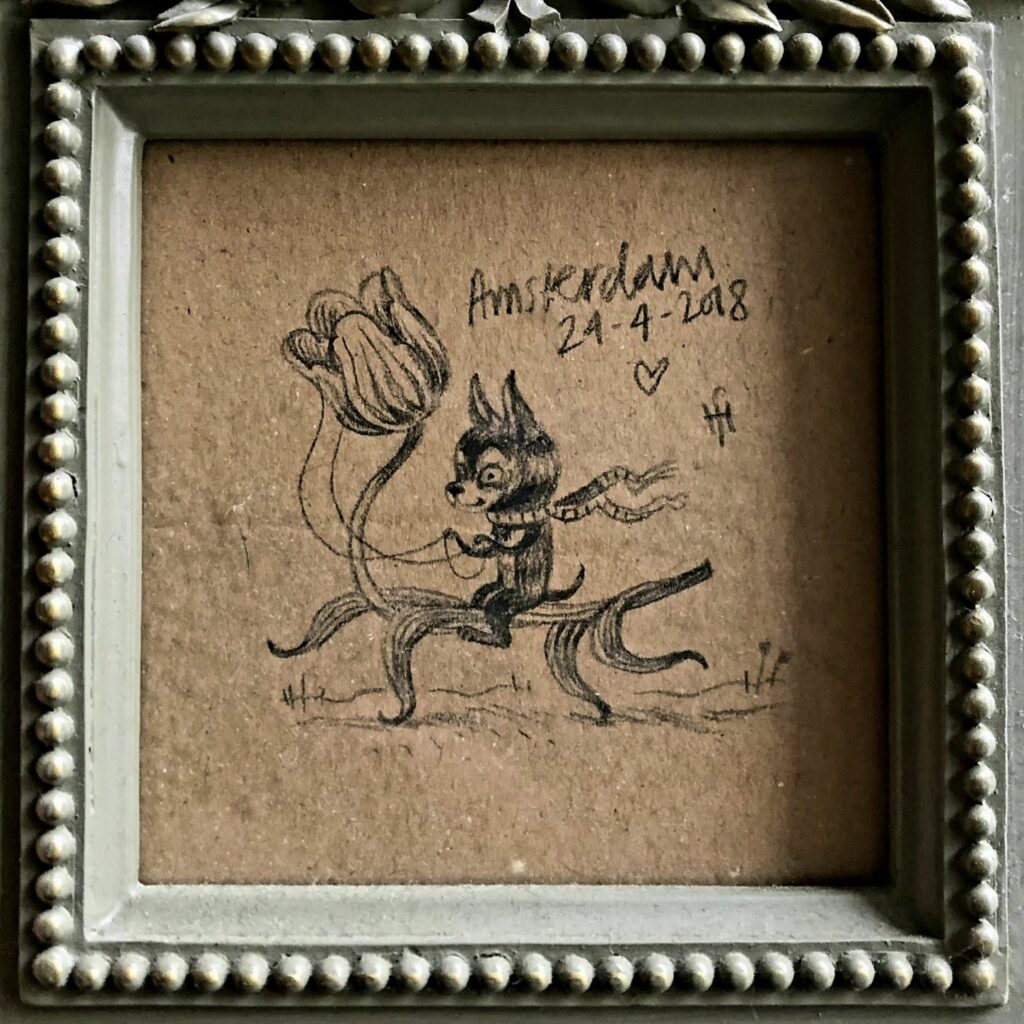 A huge toy collection so i's not easy to choose only 3.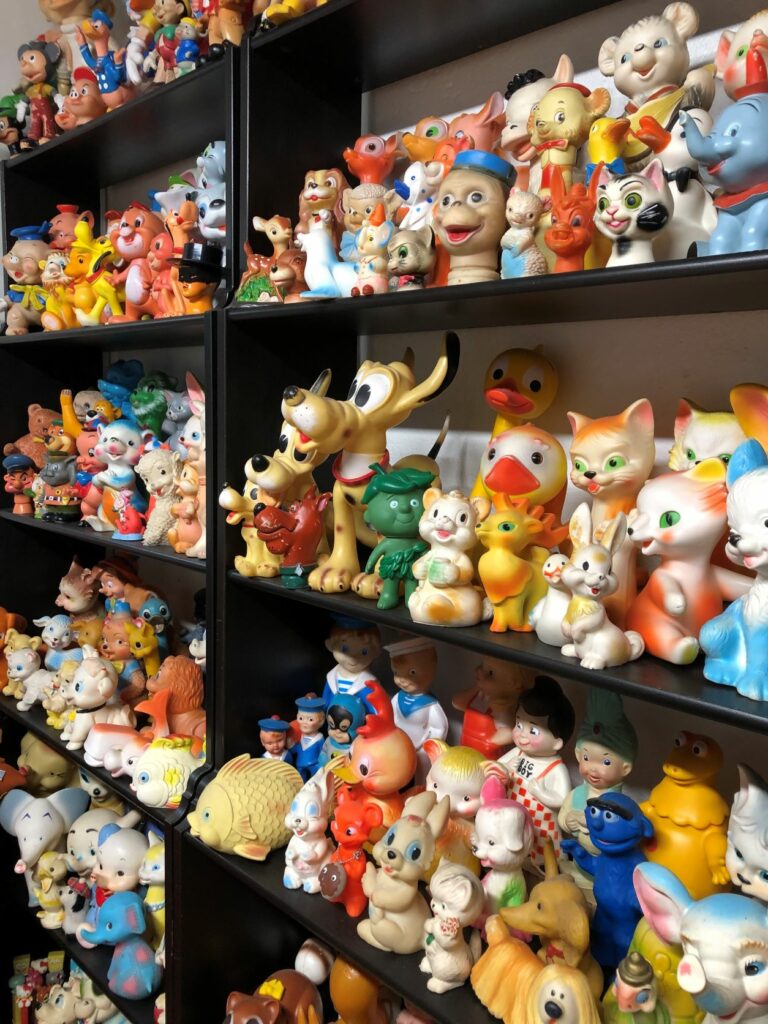 We've got only toys and books and some small originals from our friends.
Please describe your last dream in detail…
I am actually watching Ring of Power series, so I dream a lot about fantastic area and elves, I just remember that.
I could have amazing psychedelic dream but also nightmares.
Of everything you have done, what would you most like to be remembered for?
1st my painting, This Letter Belongs to You, for the Museum of La Poste in Paris.
2nd my collaboration with my partner Malojo.
3rd my work as a curator for Popland at Kochxbos gallery.
4th my collaboration with Gang of Witches and Paola Hivelin.
I still have so much work to do and challenge to achieve, I will learn all my life.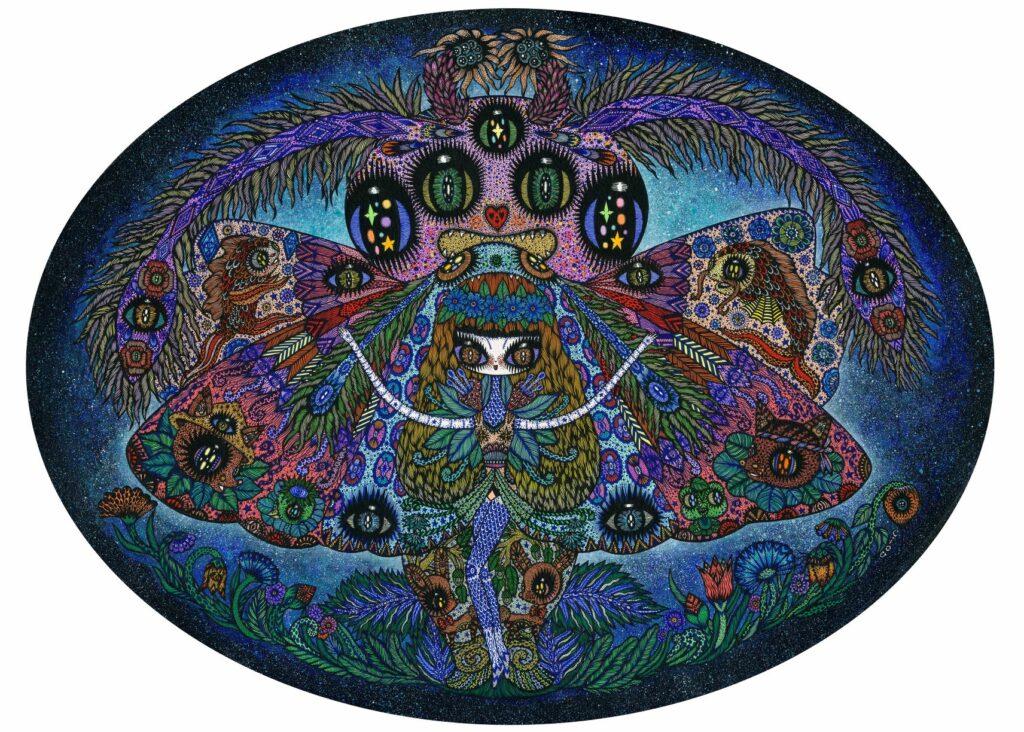 Links
All images supplied by Ciou.