'This is Not a Toy Scene' is a series of multi artist group shows and events featuring some of the vast number of talented creatives in the Australian designer toy scene. After two hugely successful shows in Melbourne, Victoria earlier this year 'This is Not a Toy Scene' came to the city of Sydney over the weekend of the 15th, 16th and 17th of November for a three day designer toy extravaganza!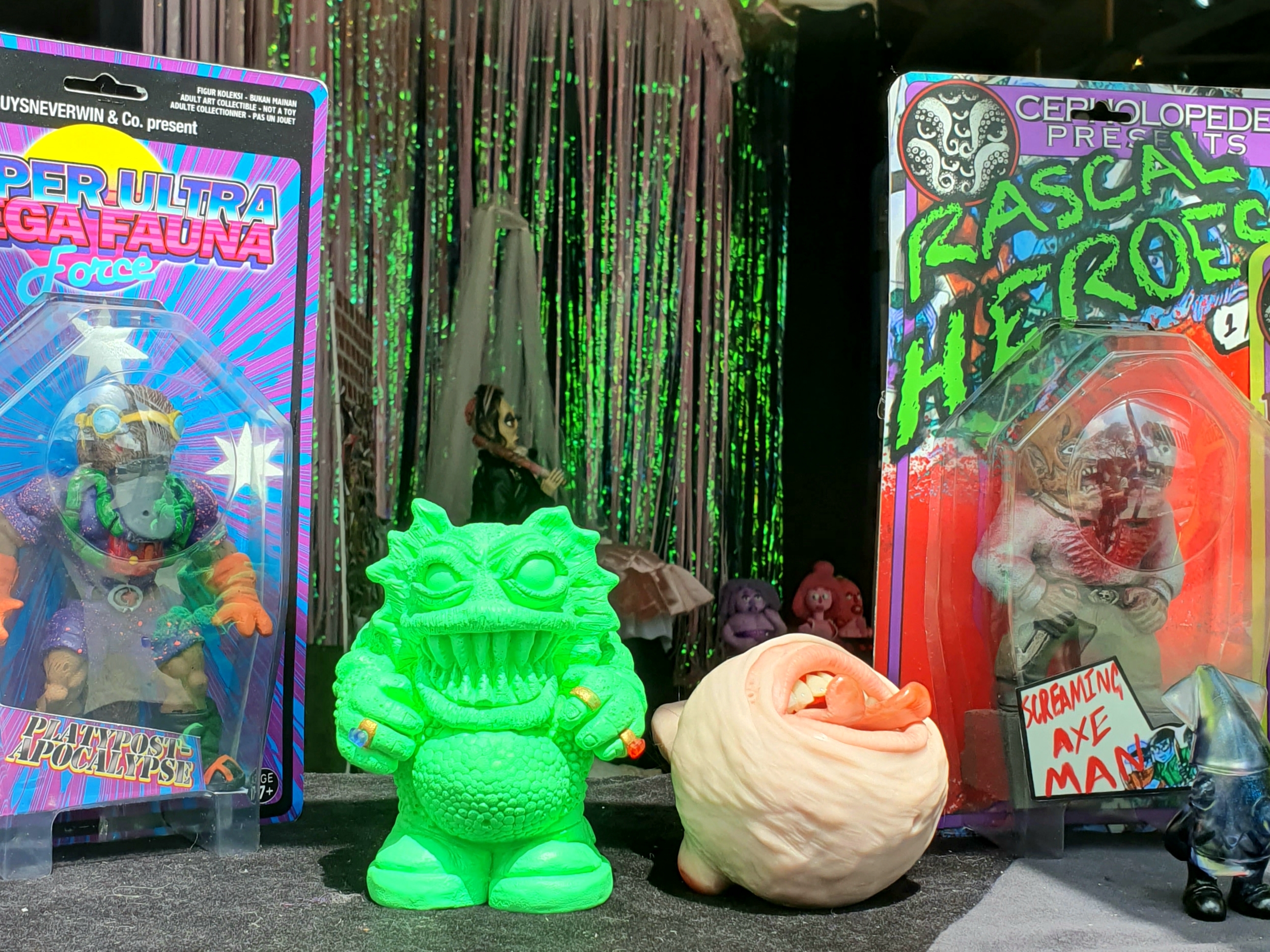 Curated and hosted by Indonesian based artist, and owner of the 'Good Guys Never Win' toy brand, Mr. Cipta Croft-Cusworth and held at DIY art space 'Mothership Studios' in the Sydney suburb of Marrickville. 'This is Not a Toy Scene' was an explosion of art, creativity and community. Featuring musical performances, screenings of two toy related movies, karaoke, a toy making workshop, and the highlight of the event – a multi artist designer toy show!

With the show featuring 17 Australian born or based toy designers and artists.
Specifically: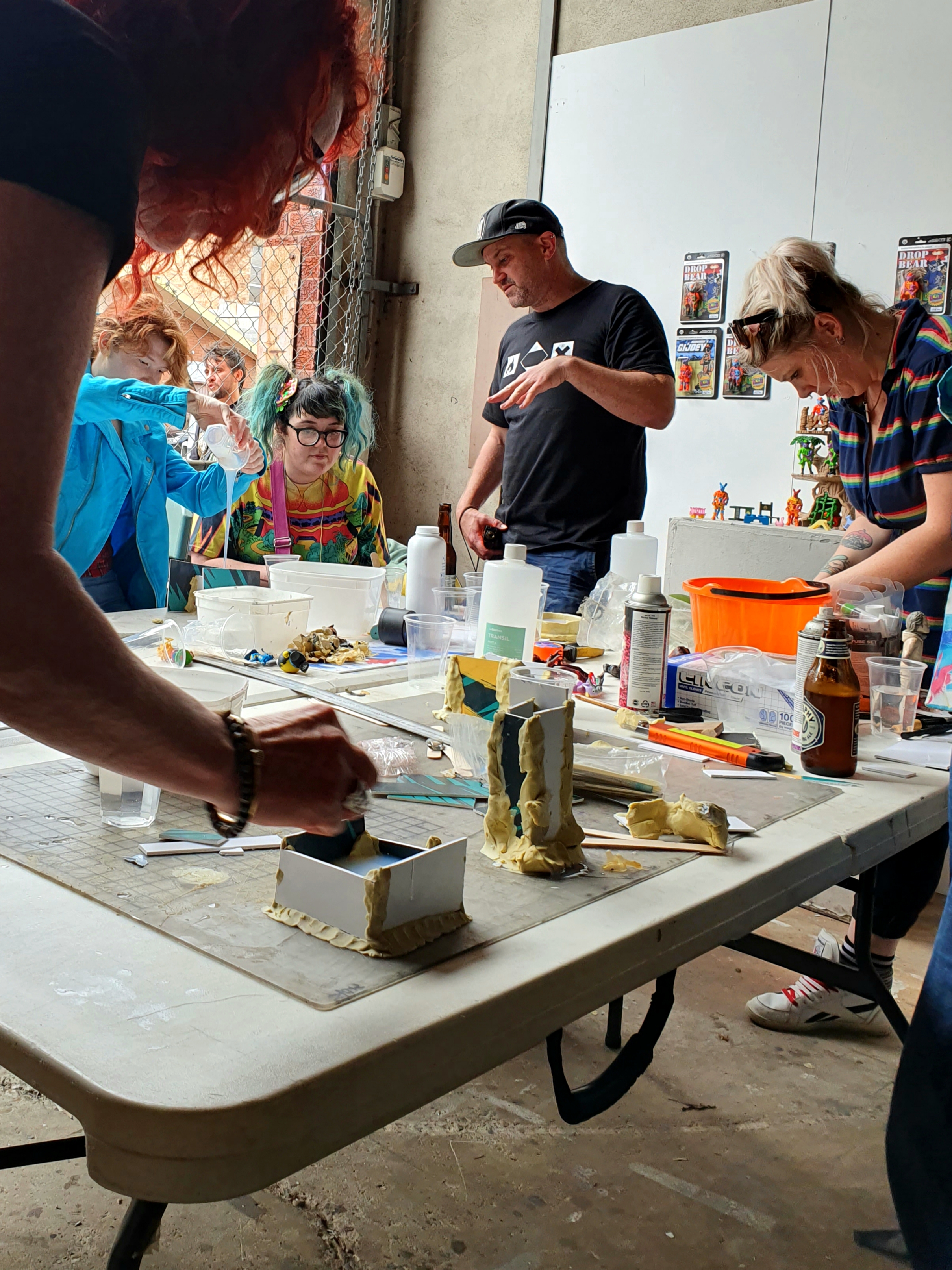 With 'This is Not a Toy Scene: Sydney' Cipta Croft-Cusworth achieved something wonderful for Australian designer toy community specifically, and the Australian culture scene generally – fostering a sense of community, passing on valuable knowledge, teaching skills, and providing a valuable avenue for Australian toy makers to display and sell their art.
It was an event of pure art and creativity. Achieved with a DIY ethos free of commercialism, corporate sponsorship, censorship or politics. A rare and much needed accomplishment in today's increasingly corporate and politically divided artistic landscape.
Cipta, I tip my hat!
Take a look at some of the highlights from each of the 17 artists involved, below:
Facter and his brand 'Irikanji Toys'
Melbourne based street artist Facter showcased his robot inspired resin toys – which he releases under his 'Irikanji Toys' brand. All of which showcased Facter's unique character design, wonderful use of color and innovative linework.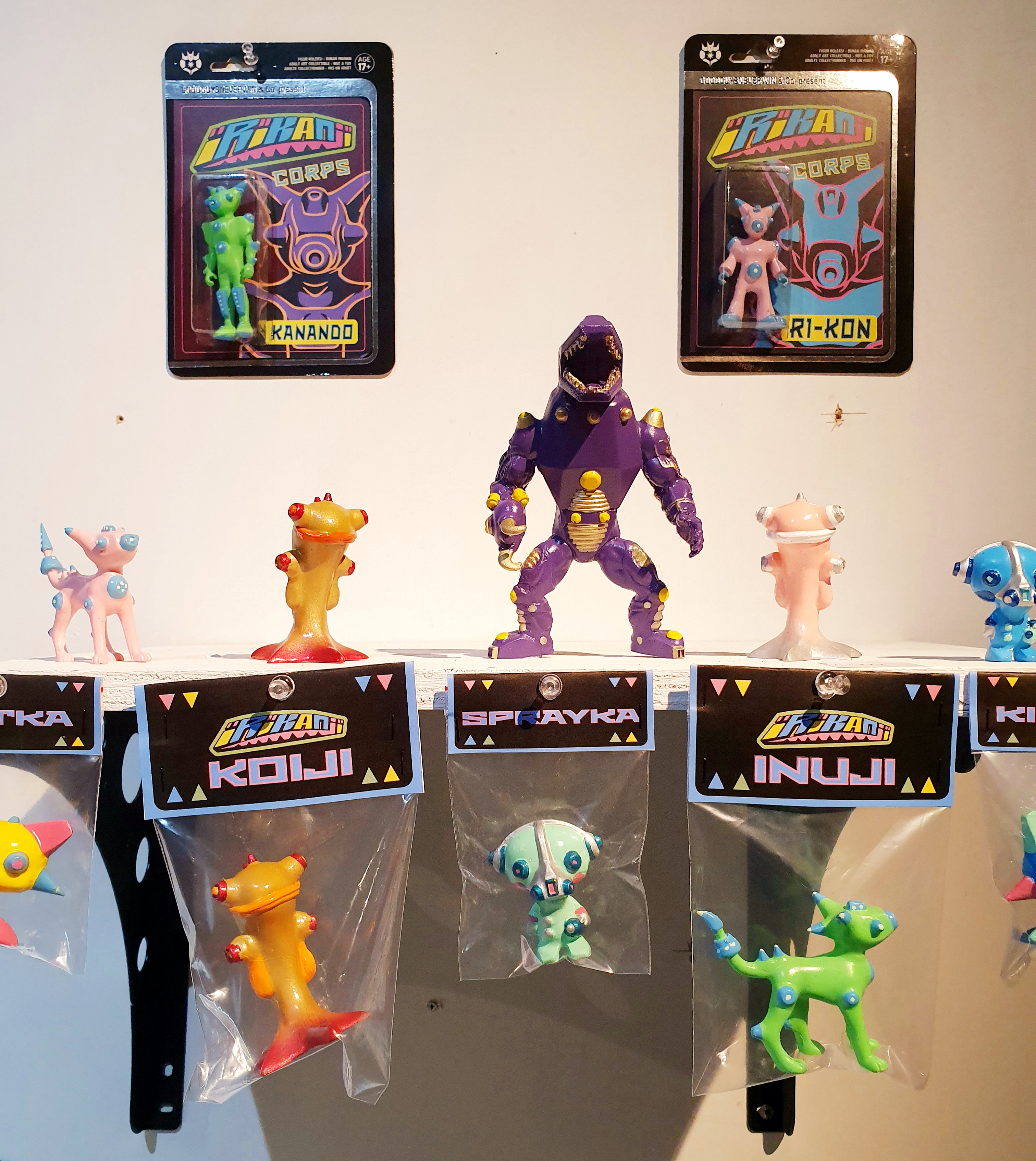 Heidi Rathbone and her brand 'Rathbone Dolls'
Sydney artist Heidi Rathbone displayed her intricately crafted hand-stitched fabric figures that draw upon her love of animals and outsider culture. Such as clowns, rockabilly fans, punks, goths and rats. All crafted with Heidi's technical expertise and unique eye.
Sadly, whilst Heidi is currently open for commissions and is working on new works, the majority of Heidi's figures at the show were display only and not for sale.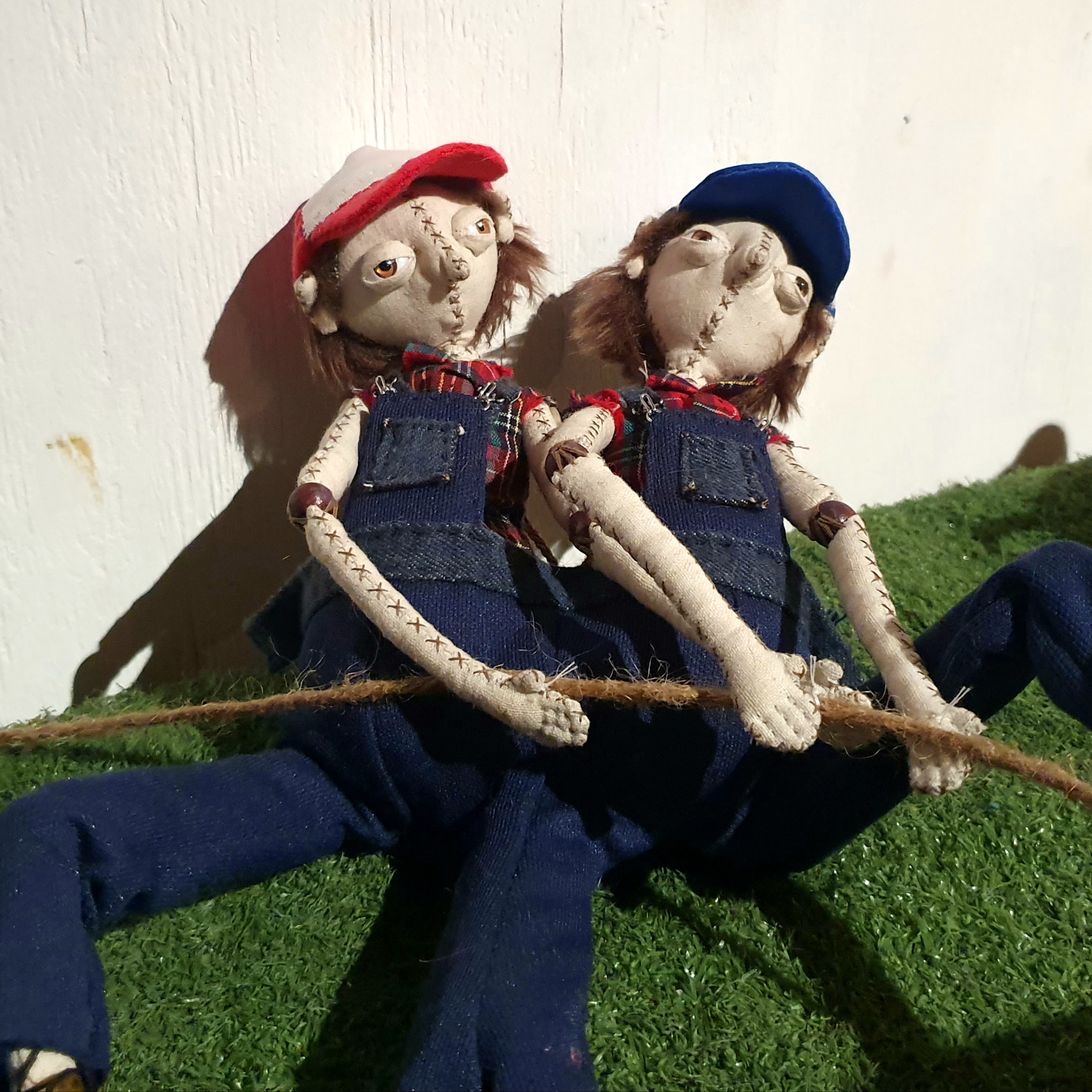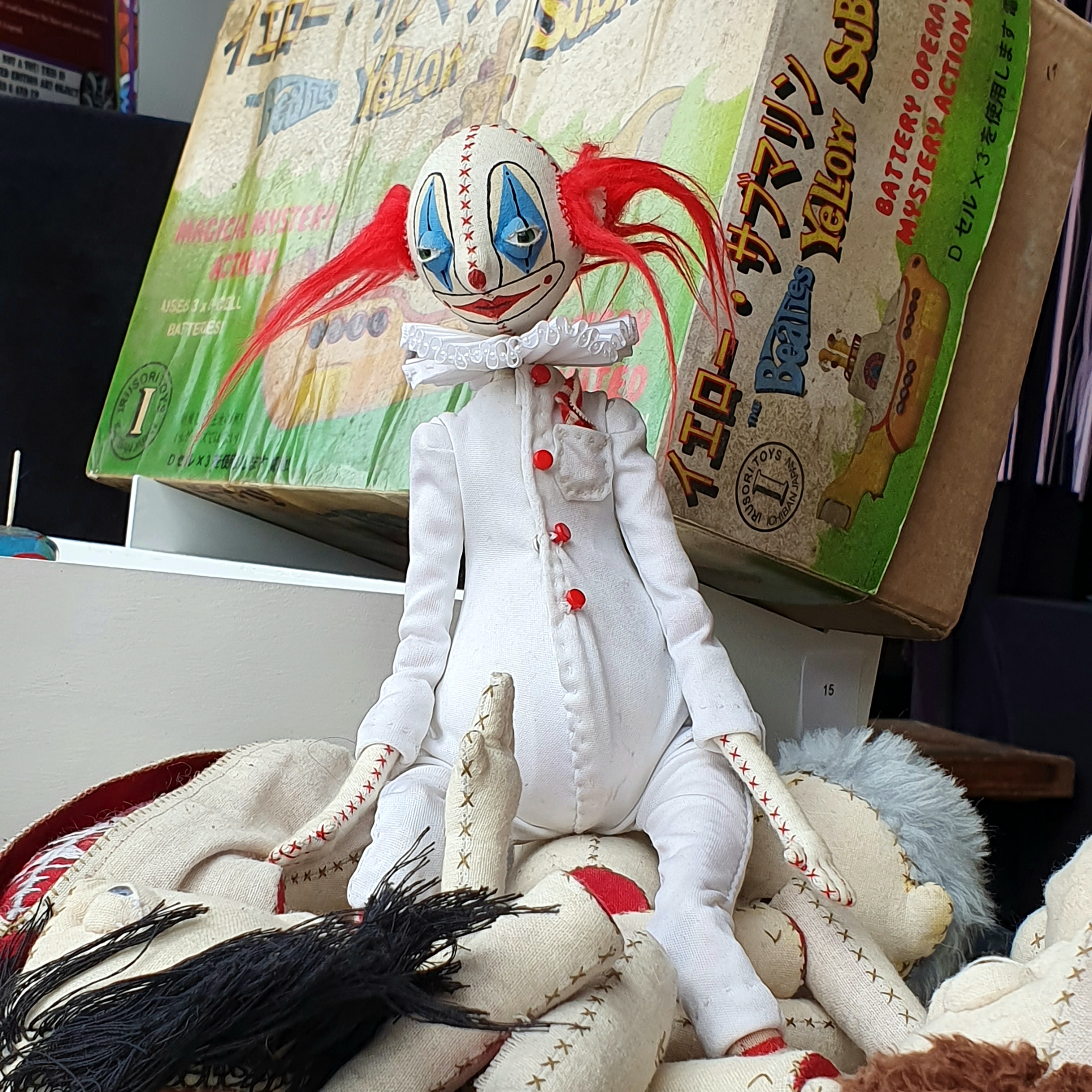 Daisy Knight aka Daisy Attack
Artist and musician Daisy Knight aka Daisy Attack outta Sydney played the opening night party with her band 'Dweeb City', and also showcased her hyper colored, one-off, weird and cute sculptural creations – made out of papier-mâché, foam, cardboard and other materials. Displayed against a psychedelic, fluro backdrop that was also created by Daisy. A group of works imbued with a day-glo, cartoony and pop vibe that brought to mind iconic New York artist and fellow musician, Rammellzee (1960 – 2010.) And just like Rammellzee, Daisy has created a whole artistic universe to loose yourself in.
I absolutely loved it all! It was a sight to behold and really made my eyes pop. Further cementing Daisy as one of my favorite artists in Australia at the moment, and one you should all be keeping your eyes on and ears tuned to.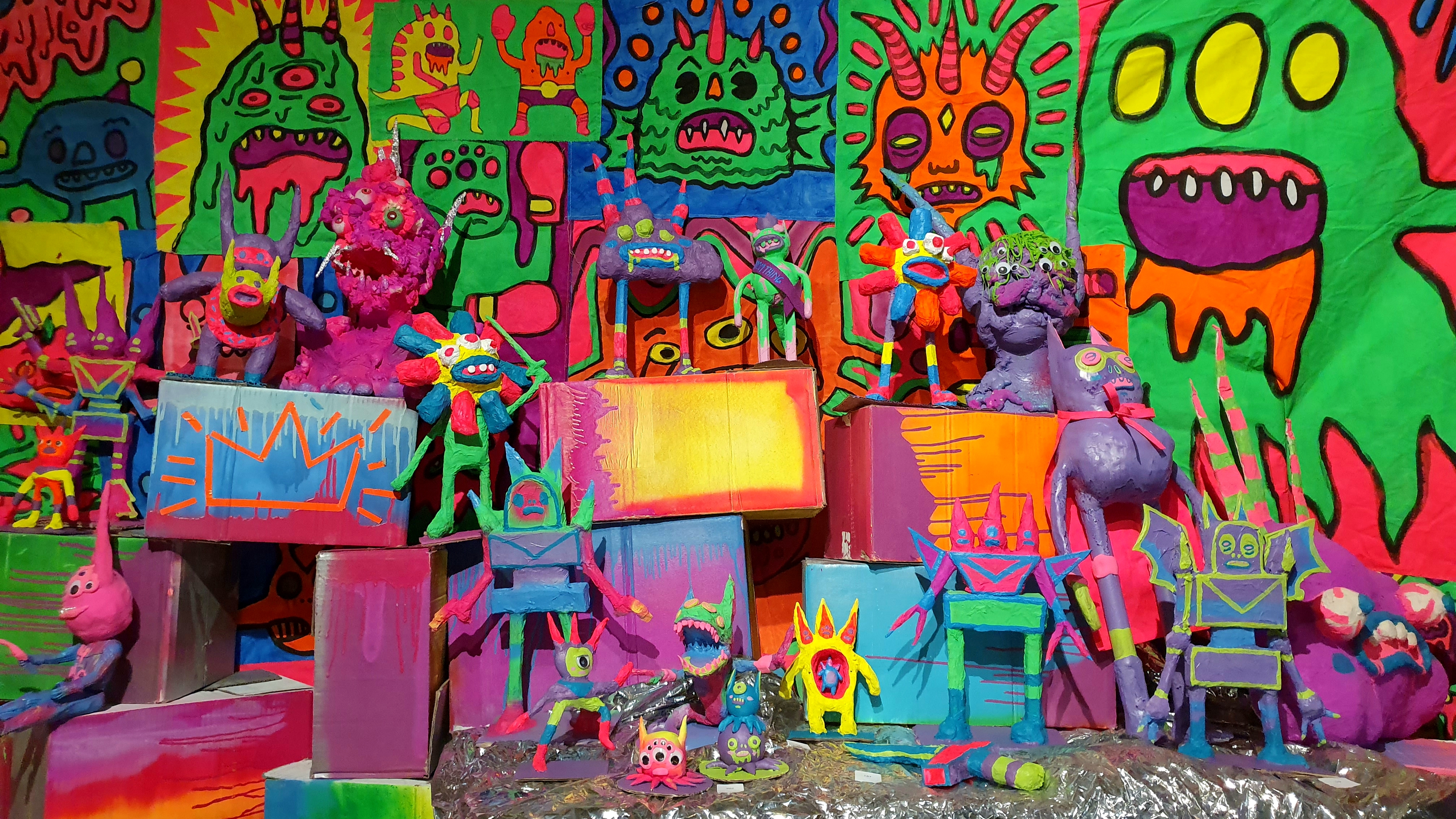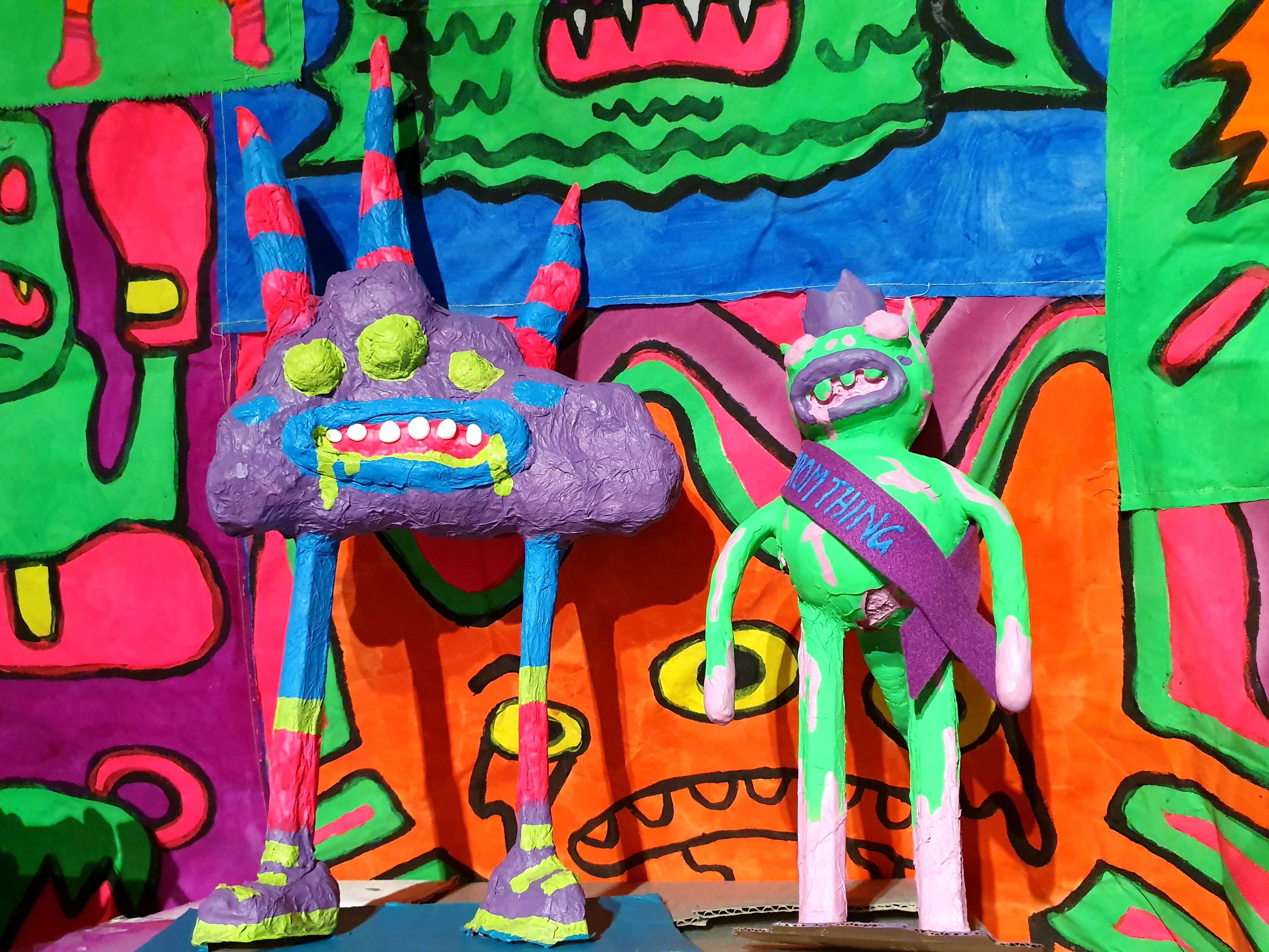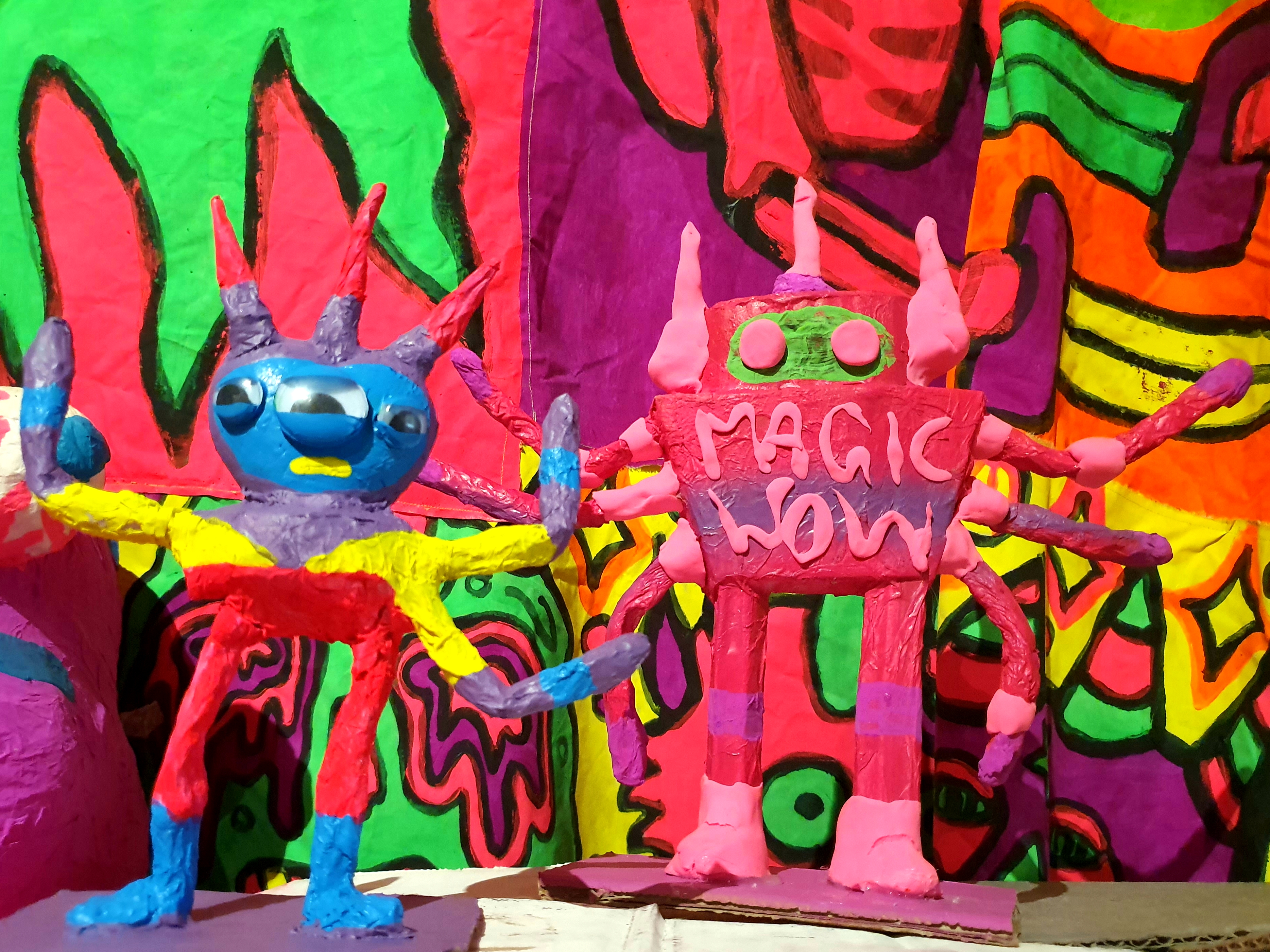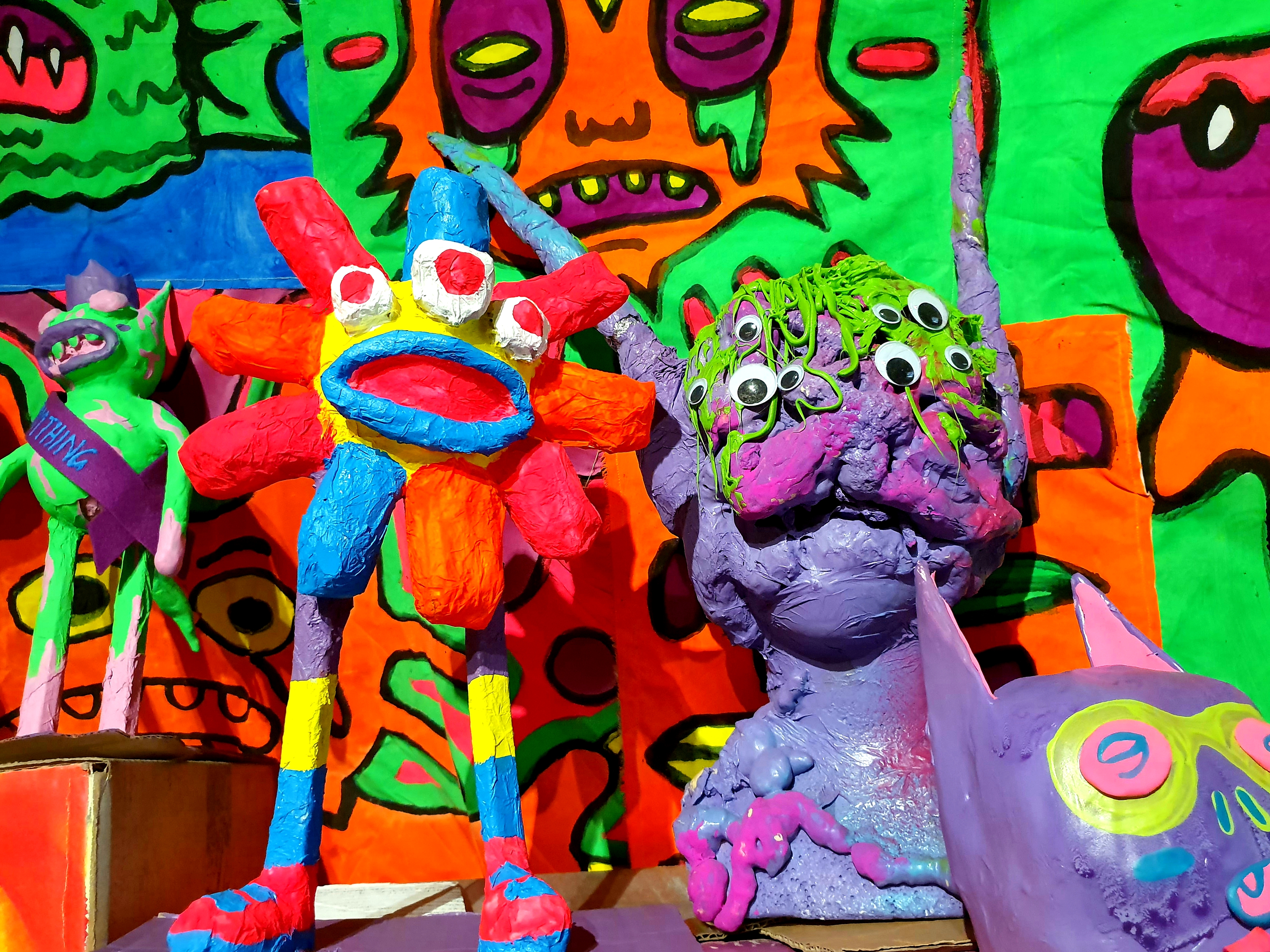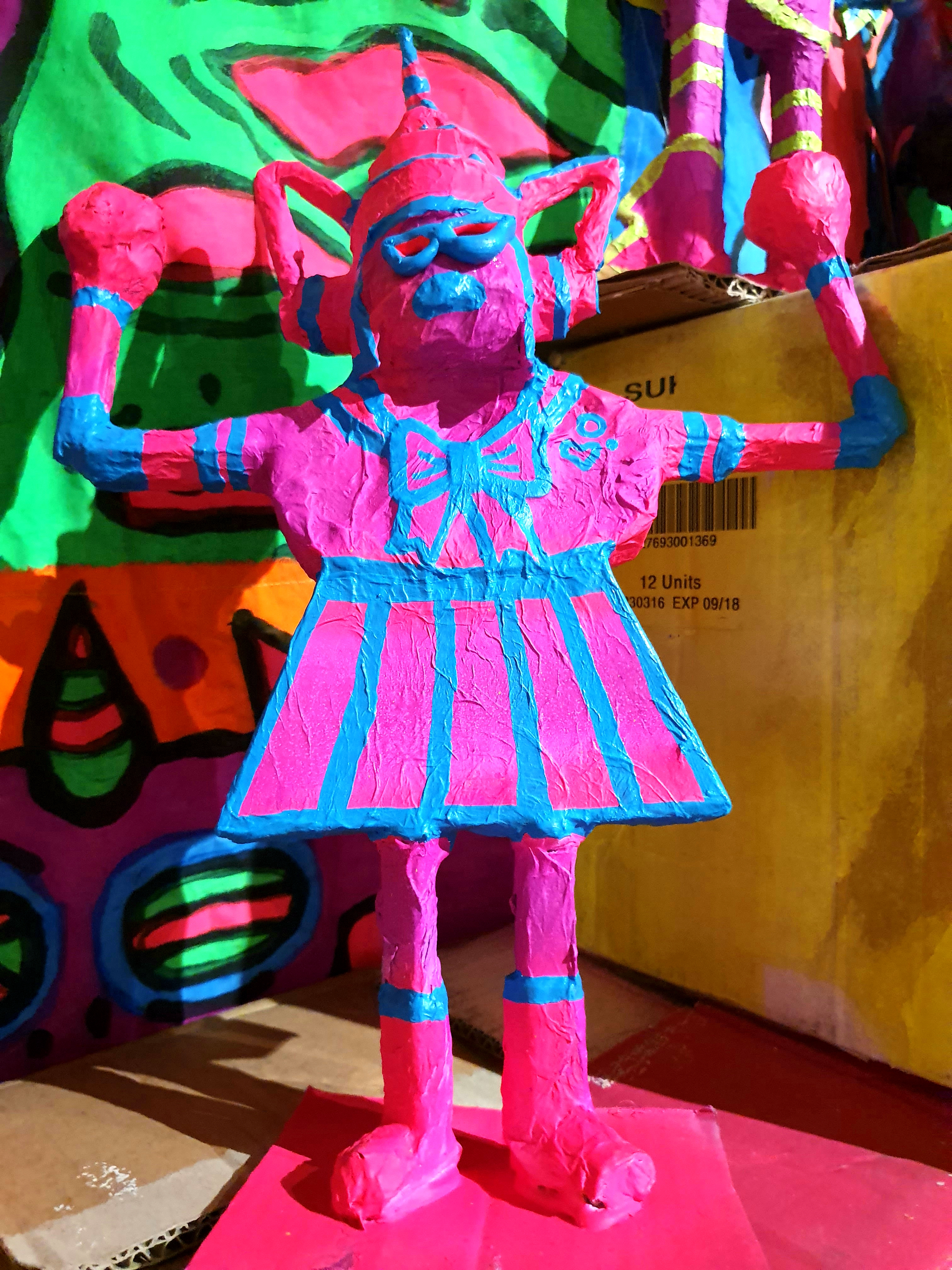 Phillip Sabolta aka Scribblin Phil
Working as a designer with much loved Australian company 'Dinosaur Designs' for his day job, Sydney based designer and artist Phillip Sabolta aka Scribblin Phil showcased his intricately crafted and superbly designed creations: a 3D printed prototype of Phil's upcoming Daruma inspired robot figure, and his much loved Squidy resin figure. With Squidy being displayed in a mind bending array of colours and styles. My favorite being a blue and clear edition which you can see below.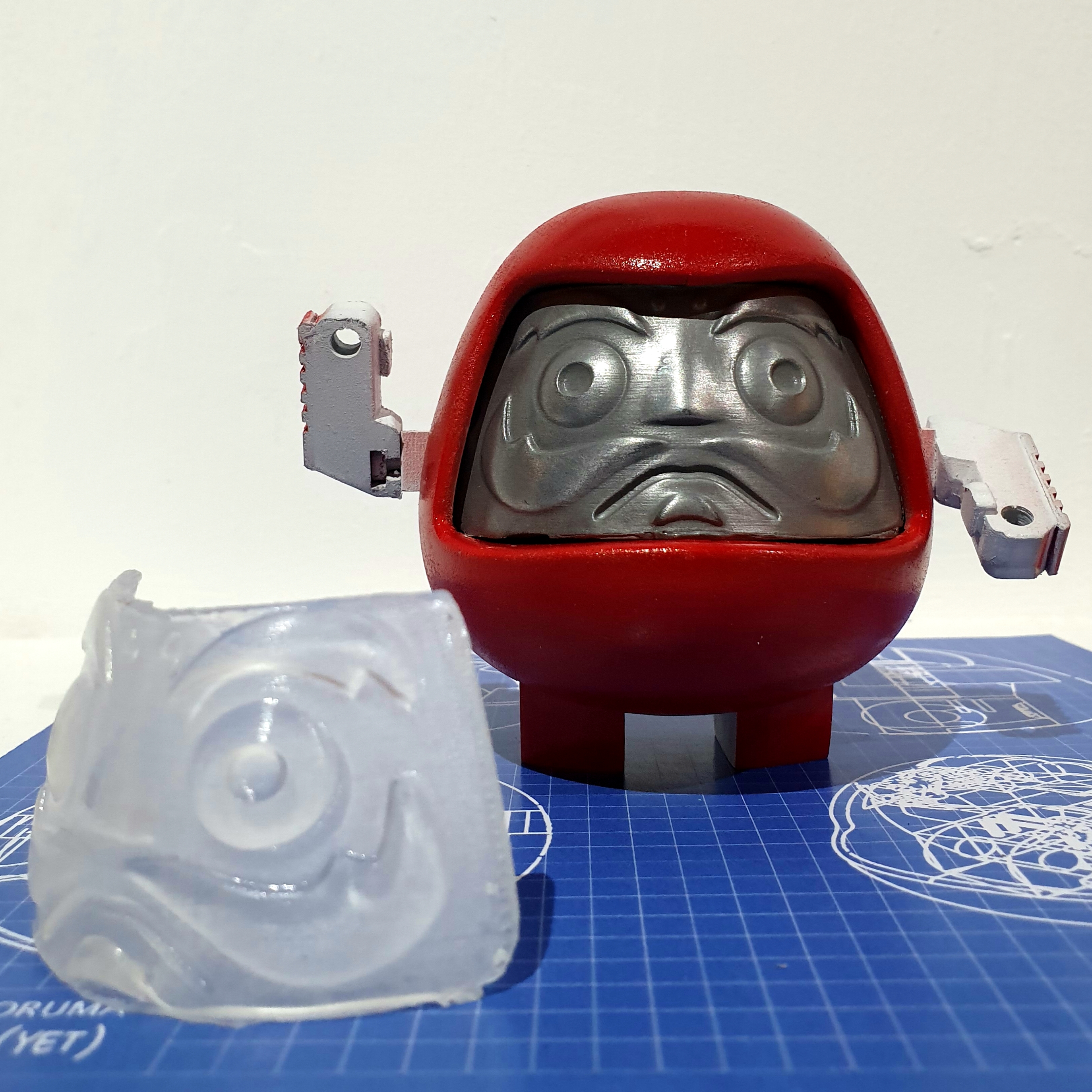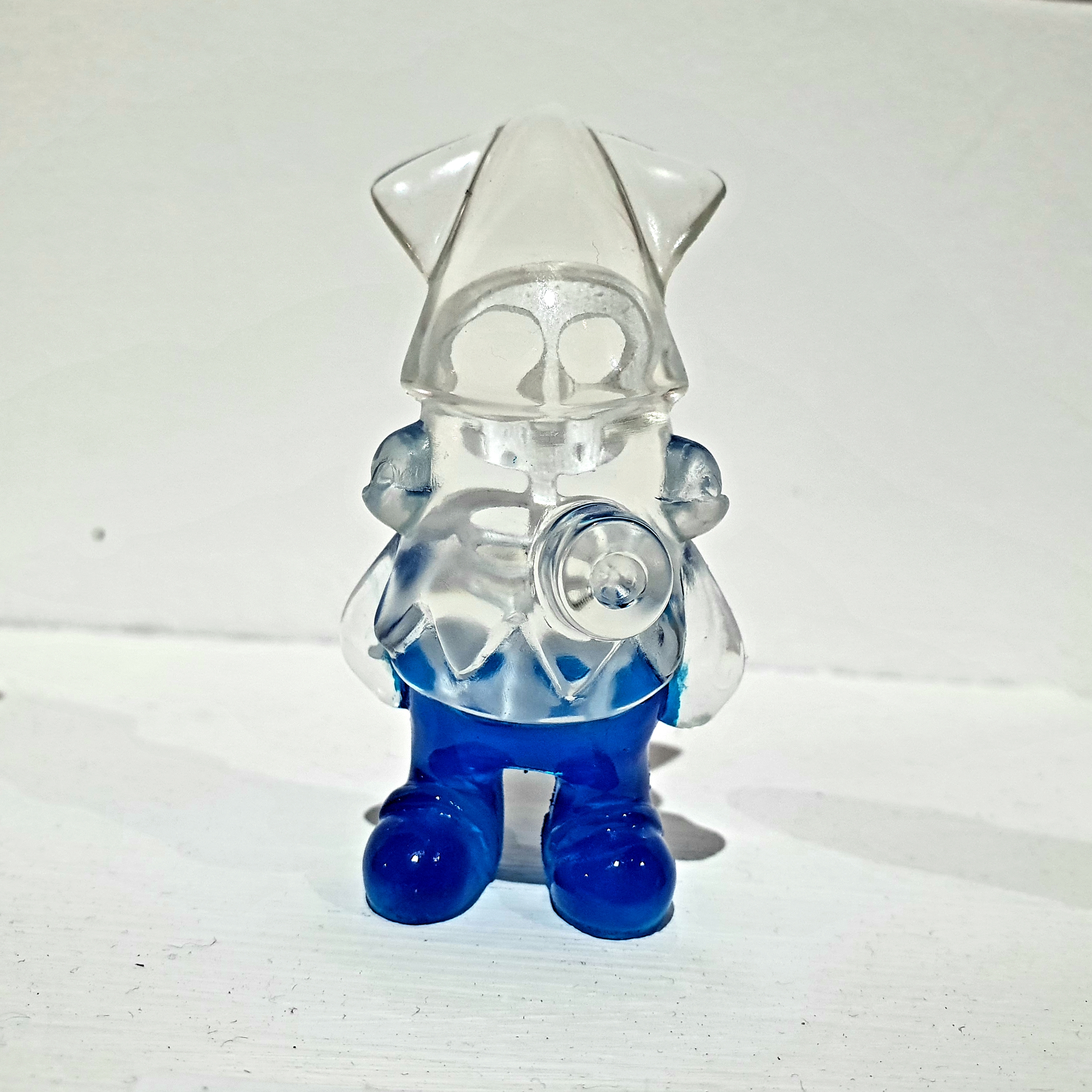 Rachee Renee aka Peachee's Toy World
Melbourne based Artist and sculptor Rachee Renee displayed her whimsical and very cute creations – such as elves, sprites and assorted magical beasts. As illustrations, dioramas, stand alone figures, and large sculptural works. Made out of range of materials such as resin, polymer clay, papier-mâché, fabric and a range of other materials.
They are all full of personality, pop, dreamlike and very very psychedelic!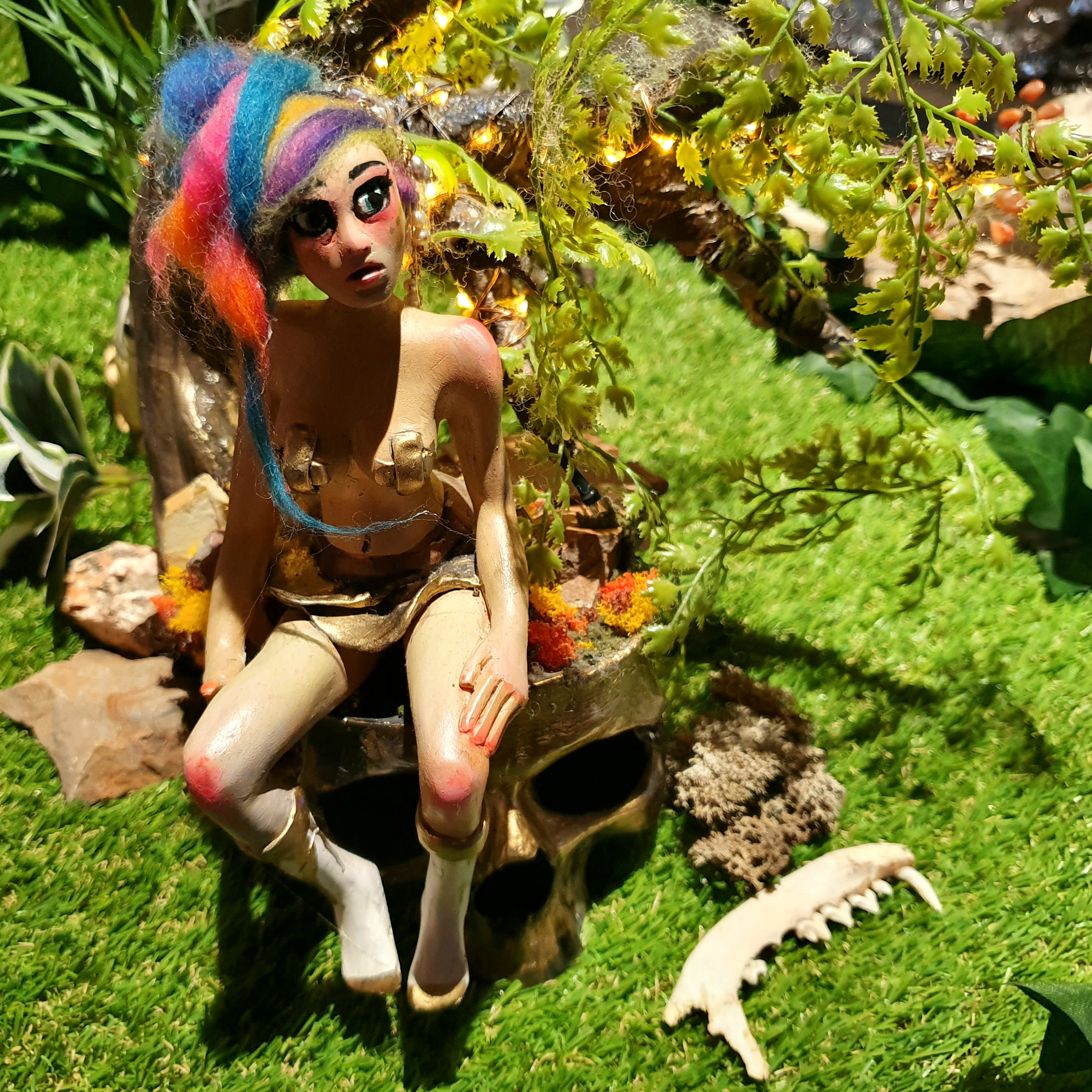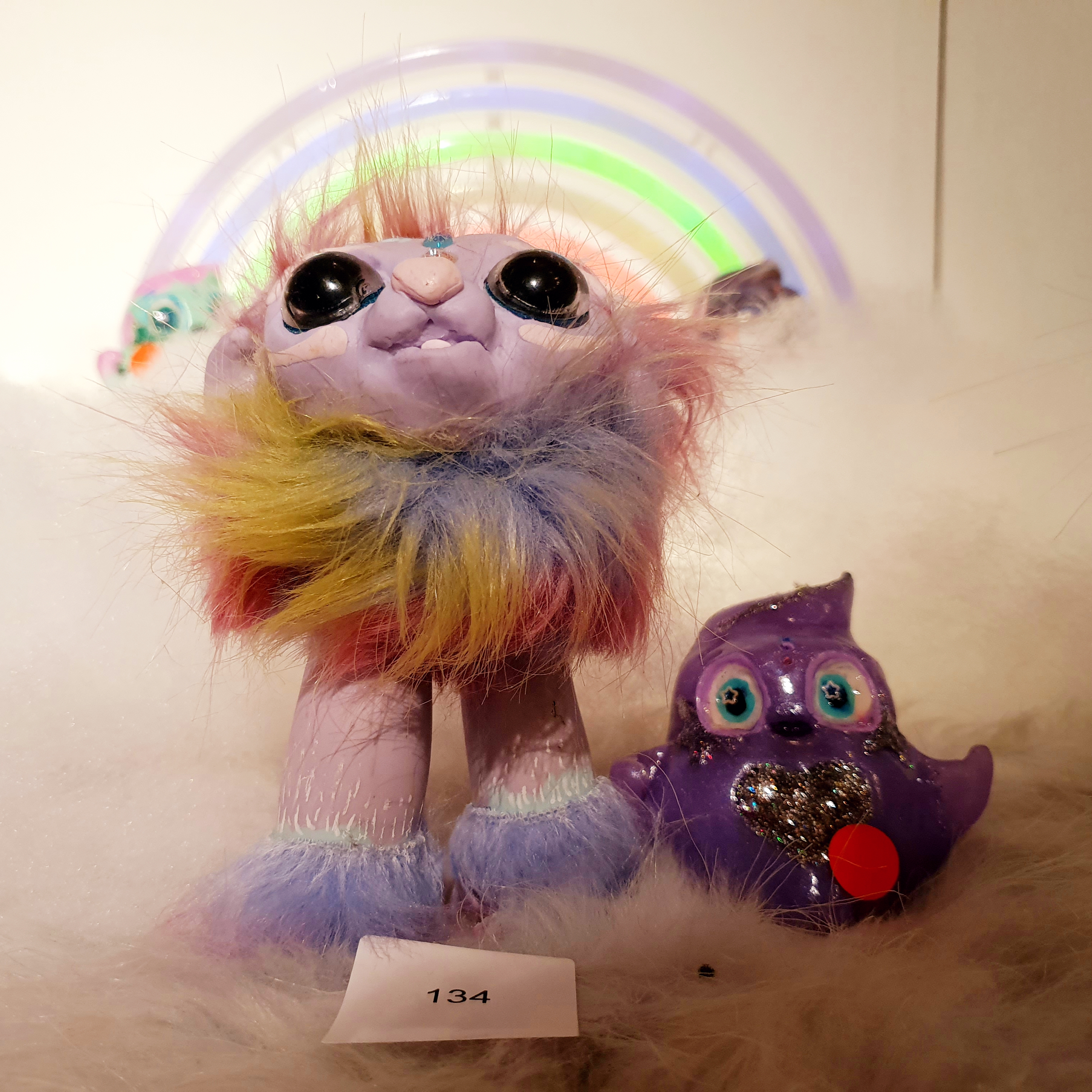 Wendy Olsen aka Imaginarium
A relative newcomer to the designer toy community, Wendy has quickly gained a large number of fans all over the globe. With her warped yet cute creations bringing to mind well known artists such as Ron Mueck and Patricia Piccinini.
At the opening it was a delight watching fellow attendees take in her work in person – with reactions ranging from delight, to confusion, disgust, humor and everything in between. And when looking at her amazing creations, it's easy to see why!
I'm sure it won't be long til fine art galleries and larger designer toy brands such as Kid Robot come knocking on her door.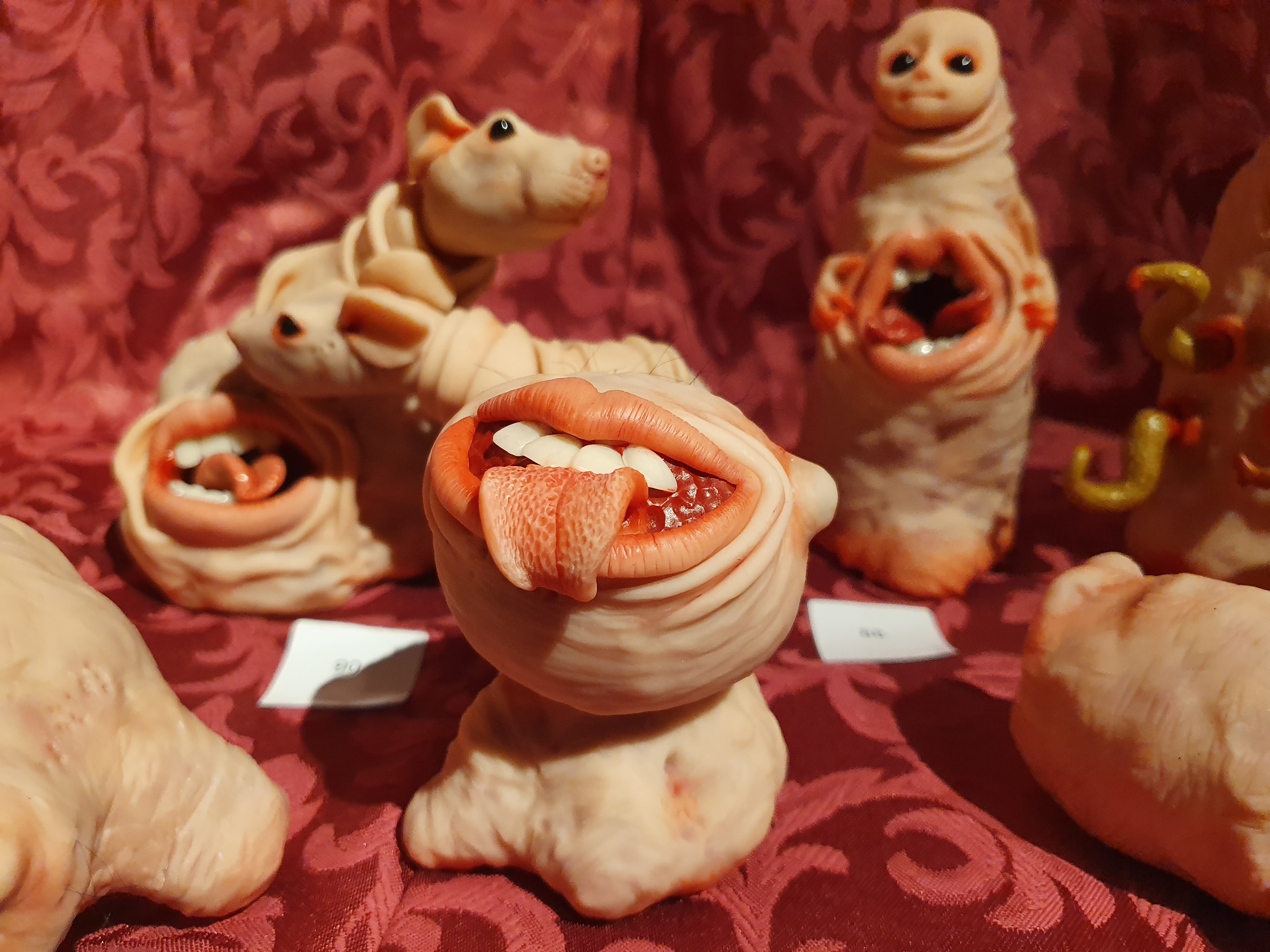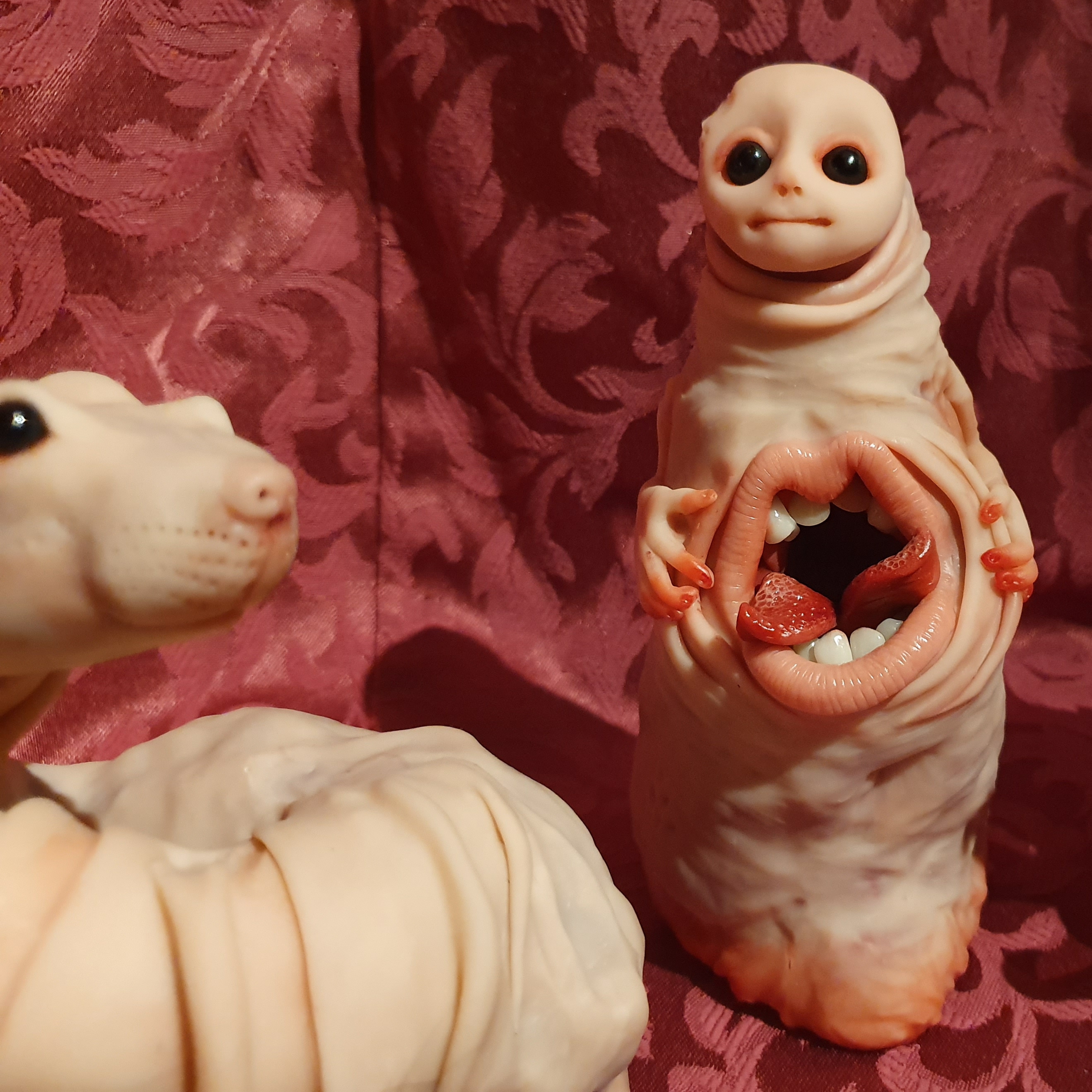 Lewis P. Morley and his brand 'Red World Stories'
Blue Mountains based artist, designer, prop maker and teacher Lewis P. Morley has been a mainstay in the Australian creative community for years – working in the film and television industries. In his spare time he has also been crafting a whole world of one-off works inspired by his love of vintage toys from the 1950s, 60s and 70s.
Lewis' technical skills, knowledge of global pop culture, and playful nature is readily apparent in all of his works, which were all an absolute pleasure to see up close, and in person.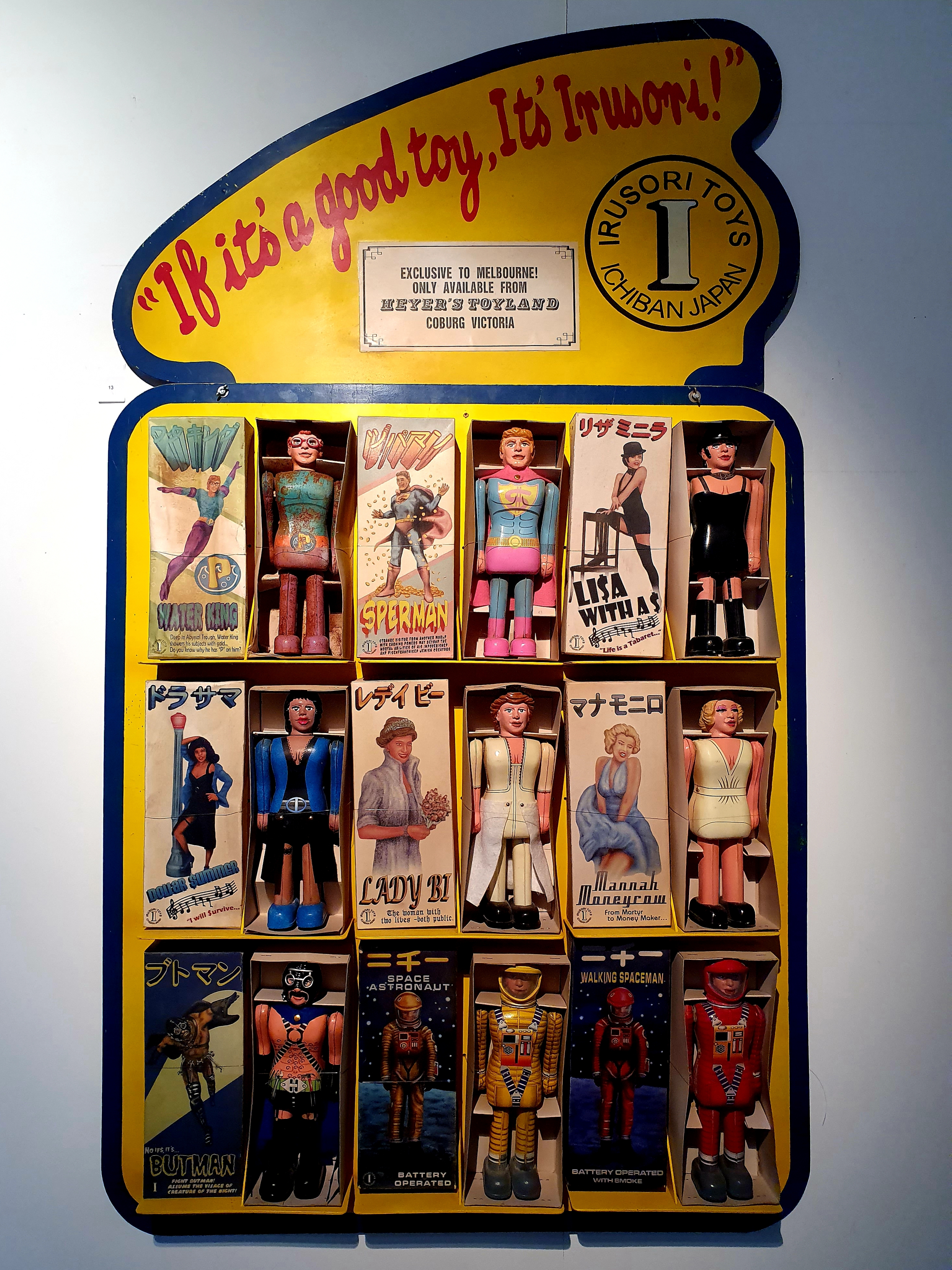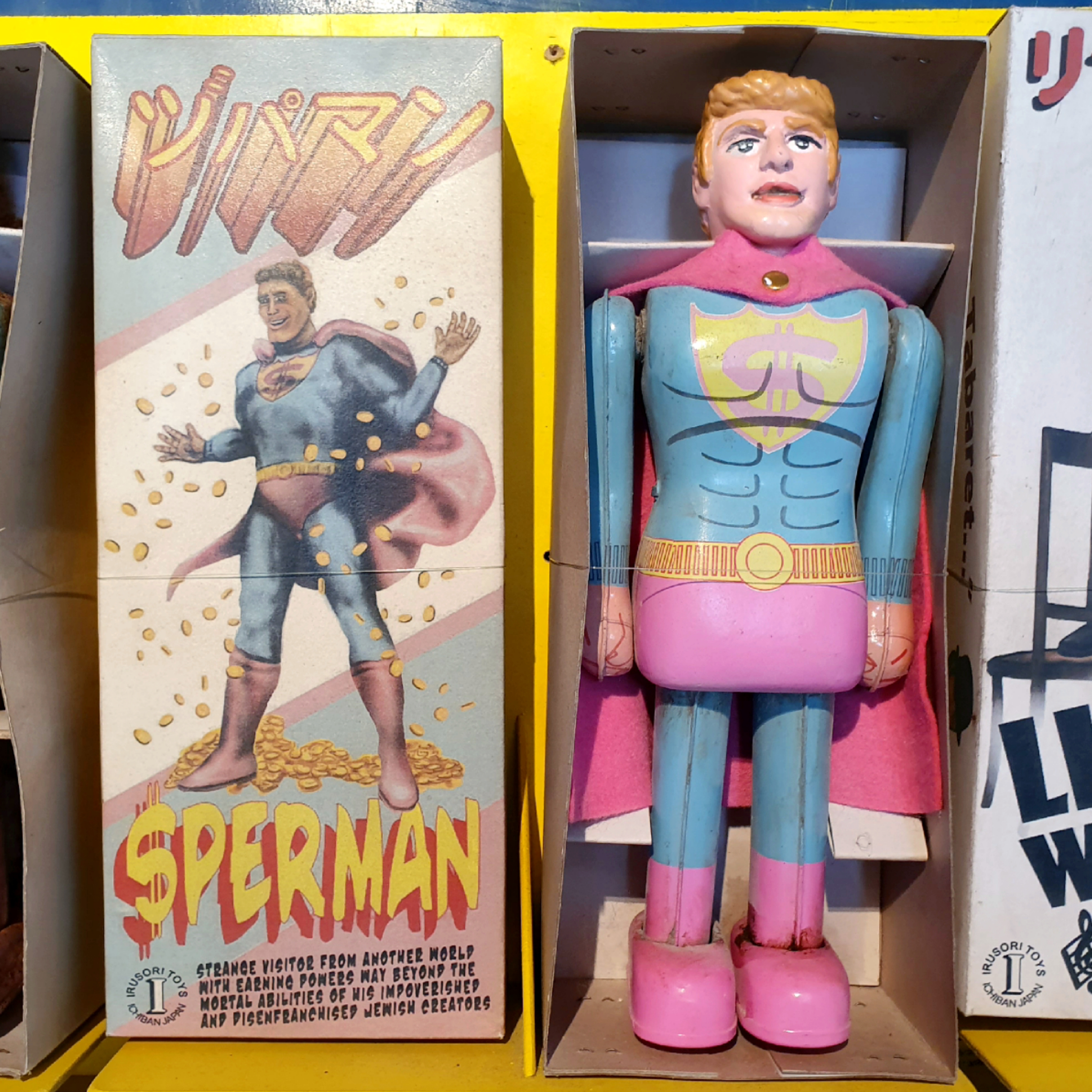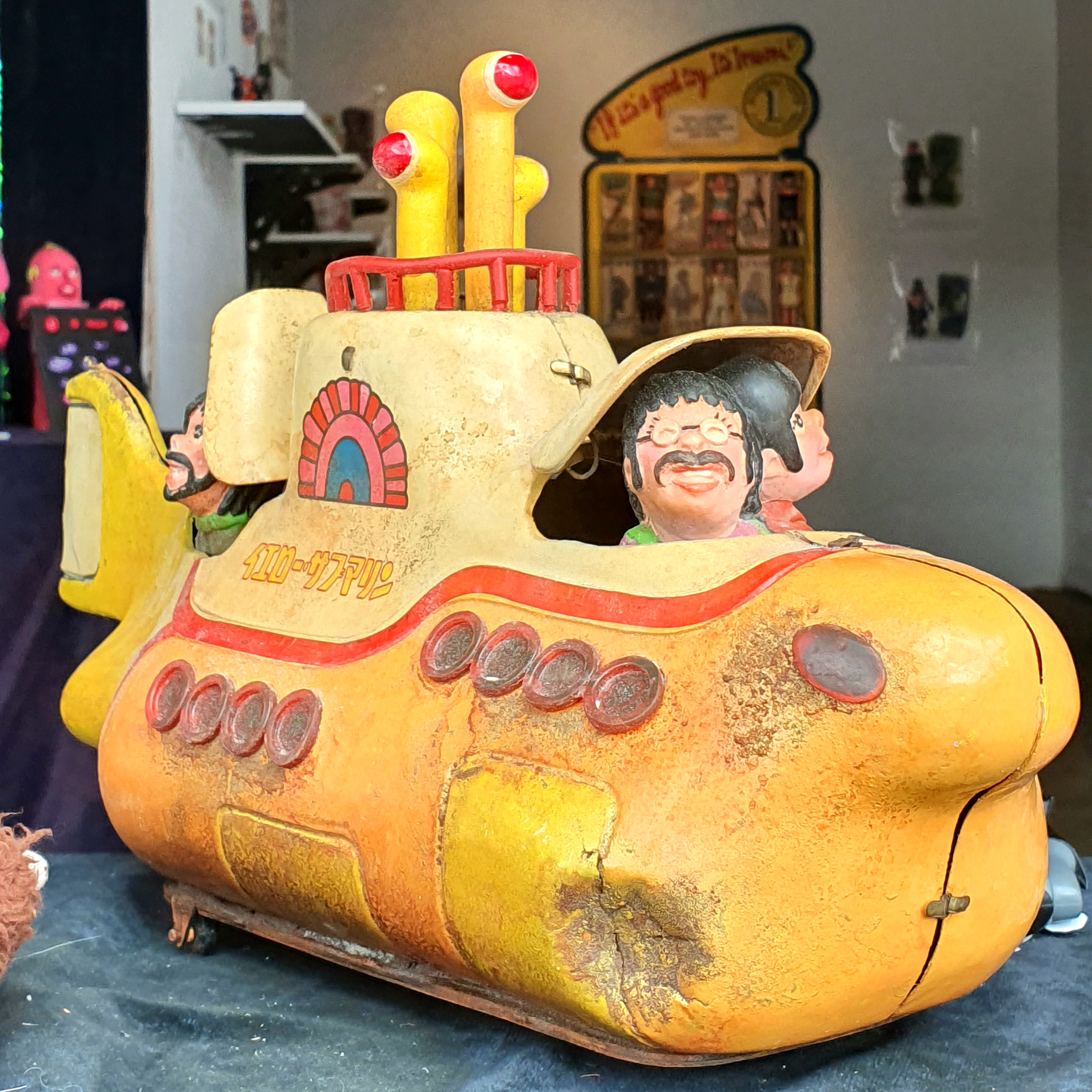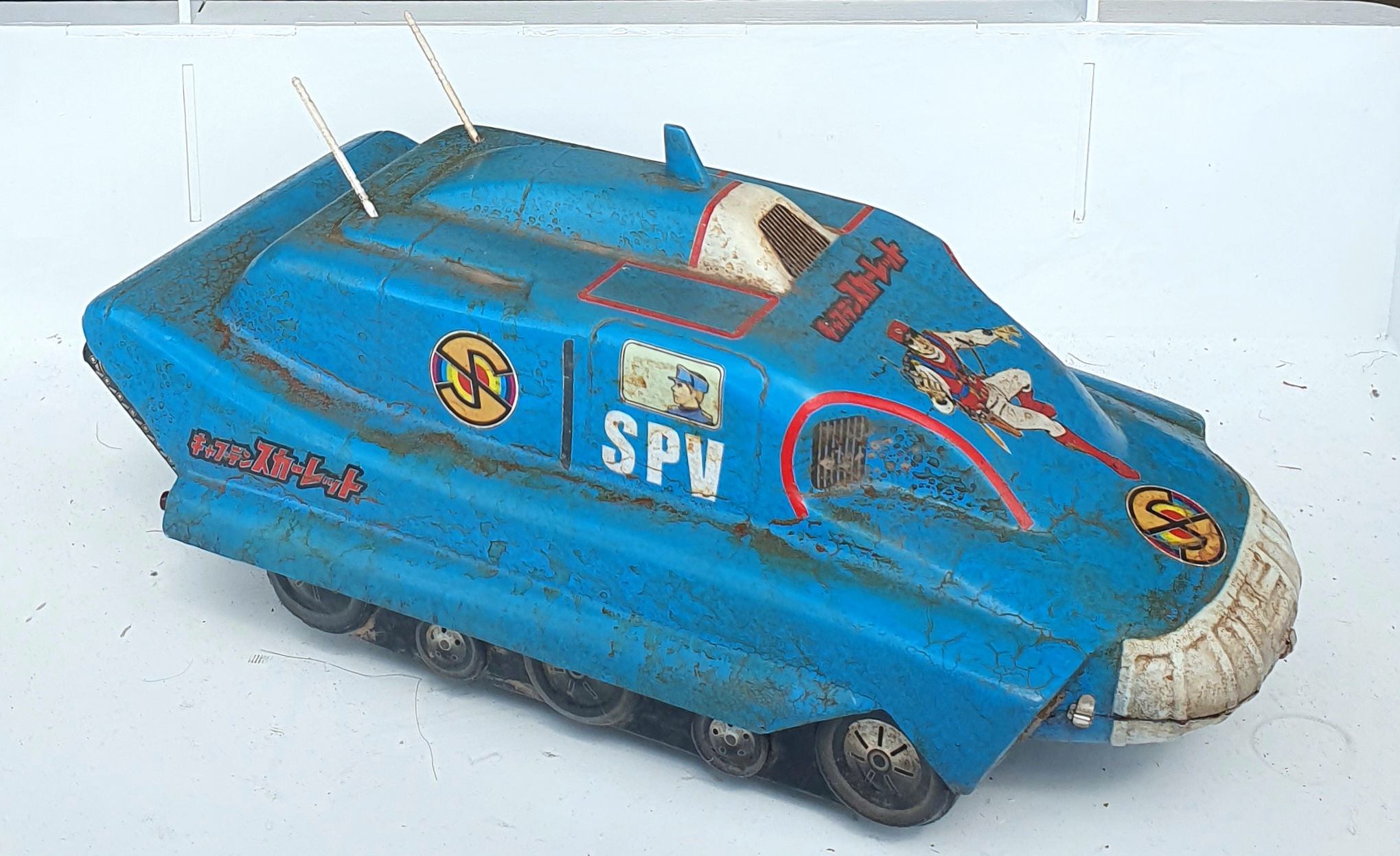 John Debono-Cullen aka John D-C
Drawing from his love of pop culture and comedy, Sydney based artist John Debono-Cullen aka John D-C displayed his resin and 3D printed works. All of which were intricately packaged, and just plain fun!
Highlights being his Star Wars inspired milking monster and his Australian BBQ themed Burger Master figure.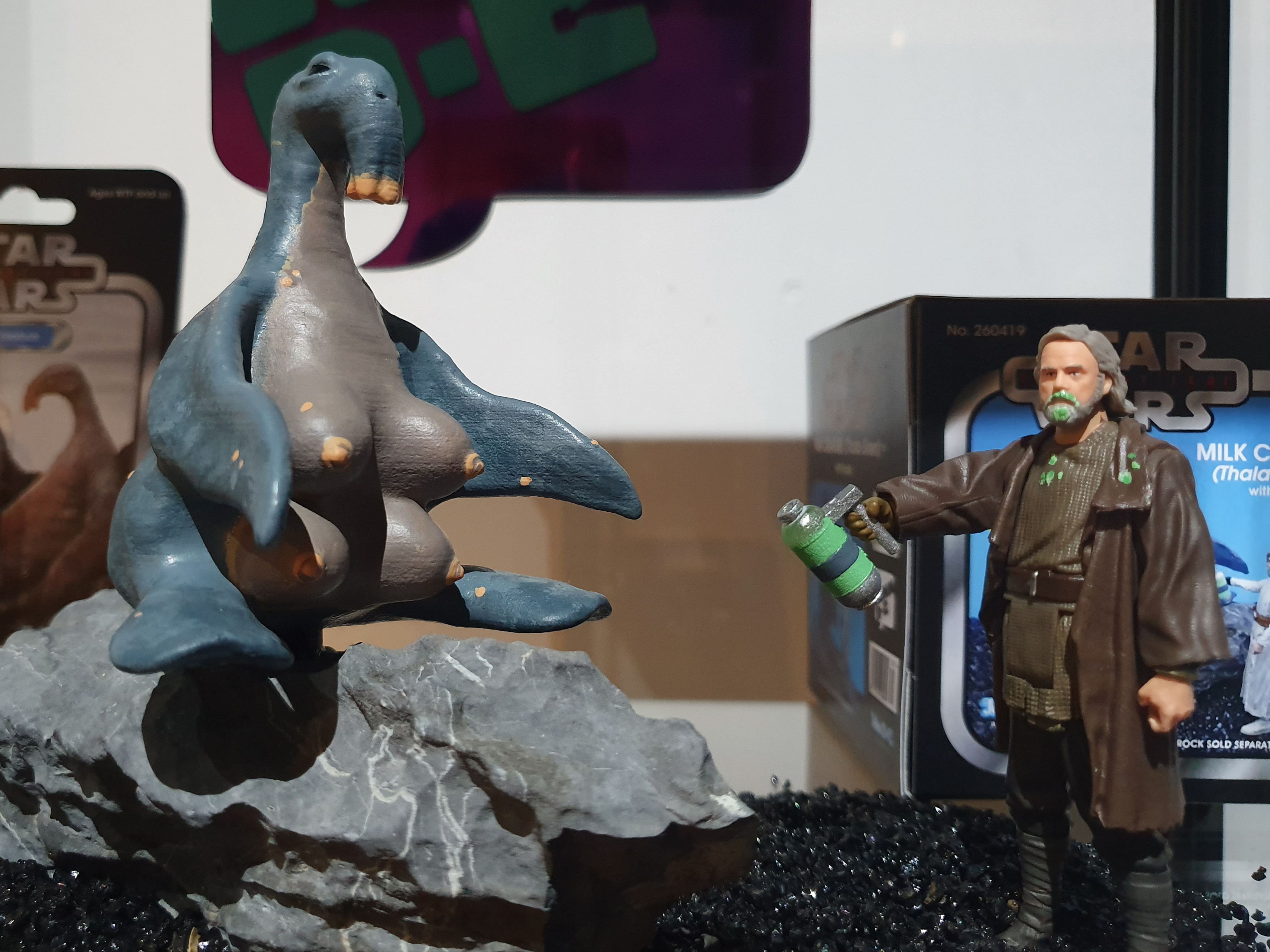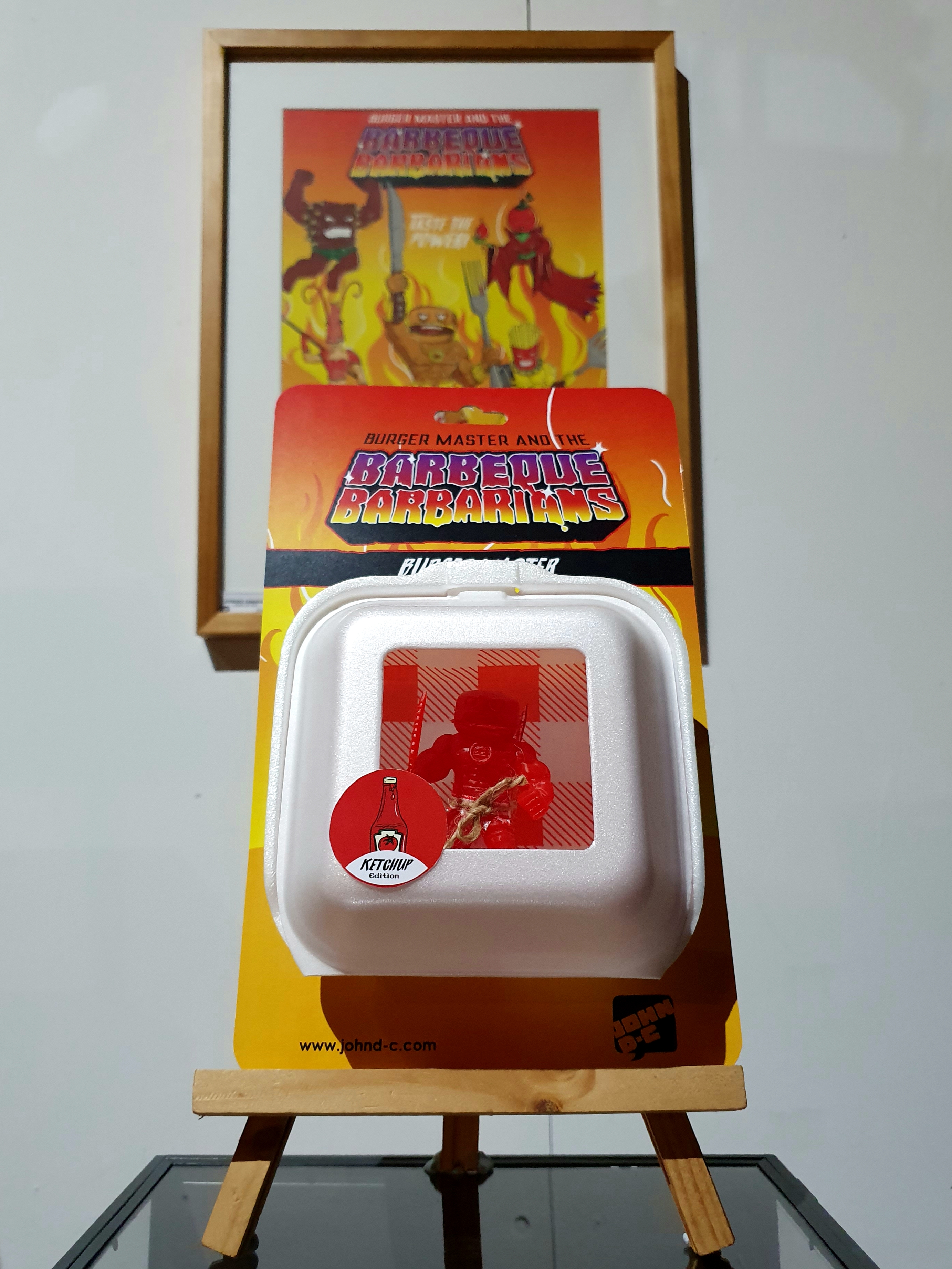 Alex Dinsdale and his brand 'Kayo Co'
Melbourne based artist and designer Alex Dinsdale of 'Kayo Co.' showcased a wide range of resin works that illustrated his mastery of the form and talent with design. With his miniature 'Bags of Coke' being a big hit with all attendees.
Impressively – his alien abduction figure, which you can see below, also worked as a functional night light!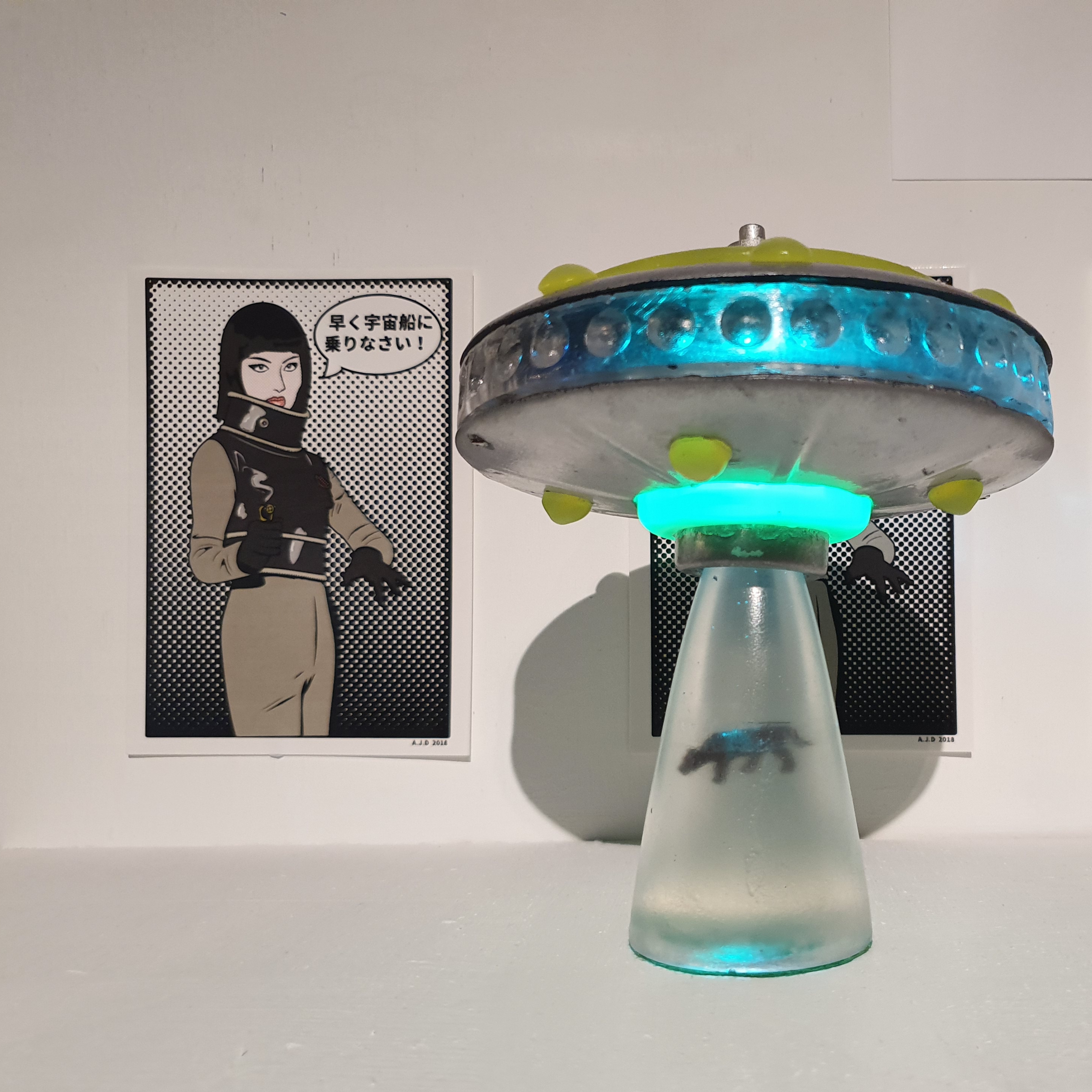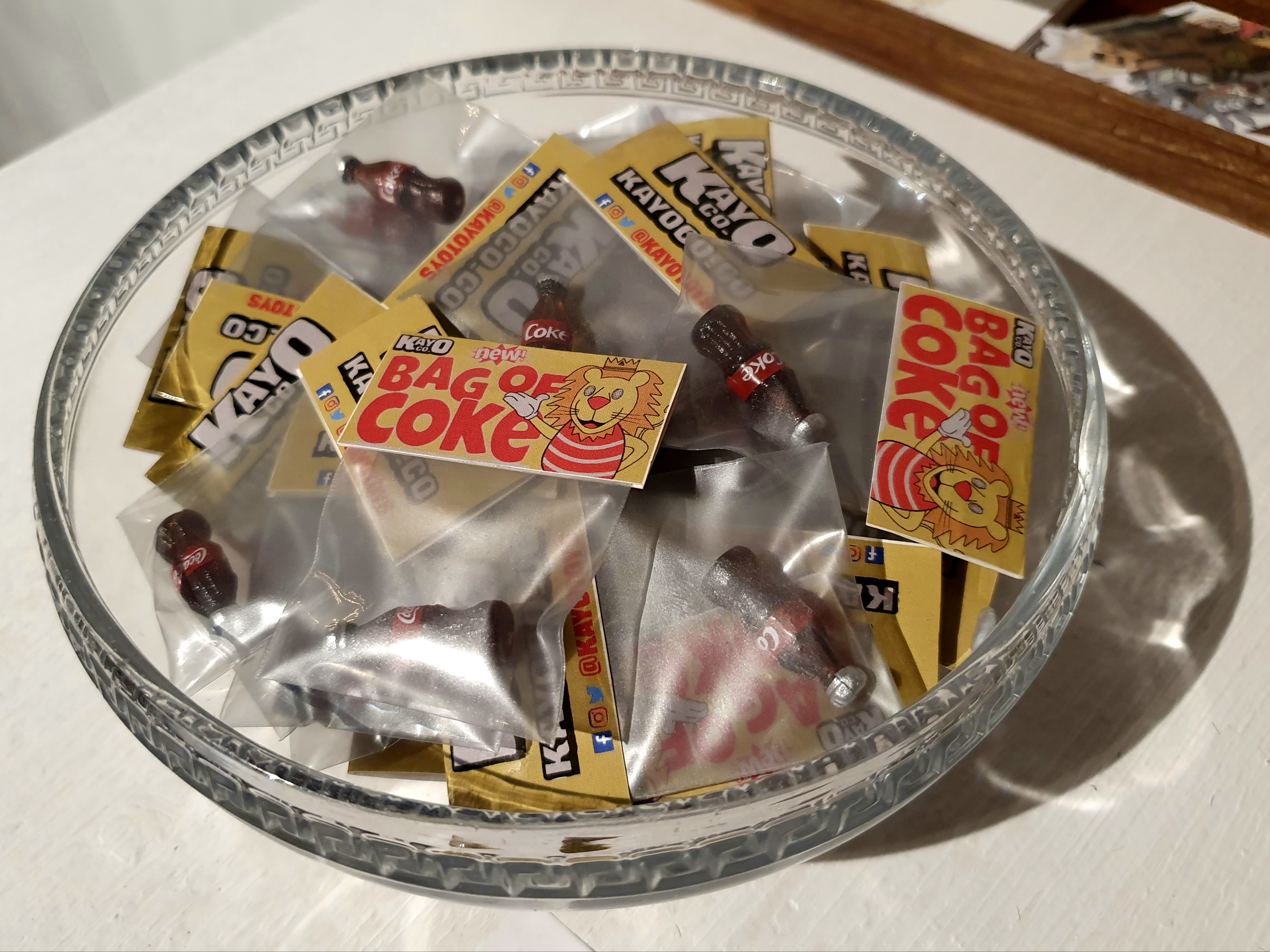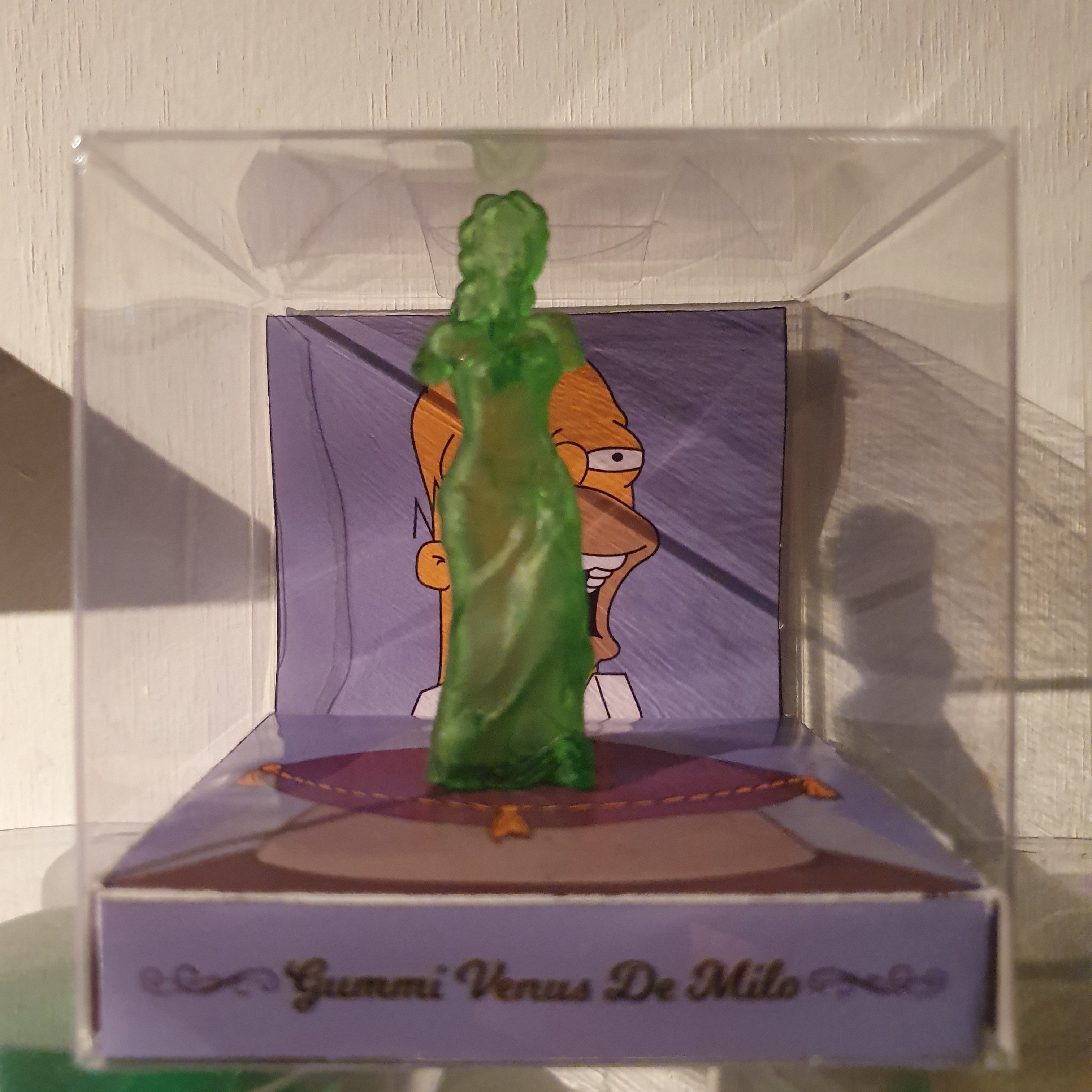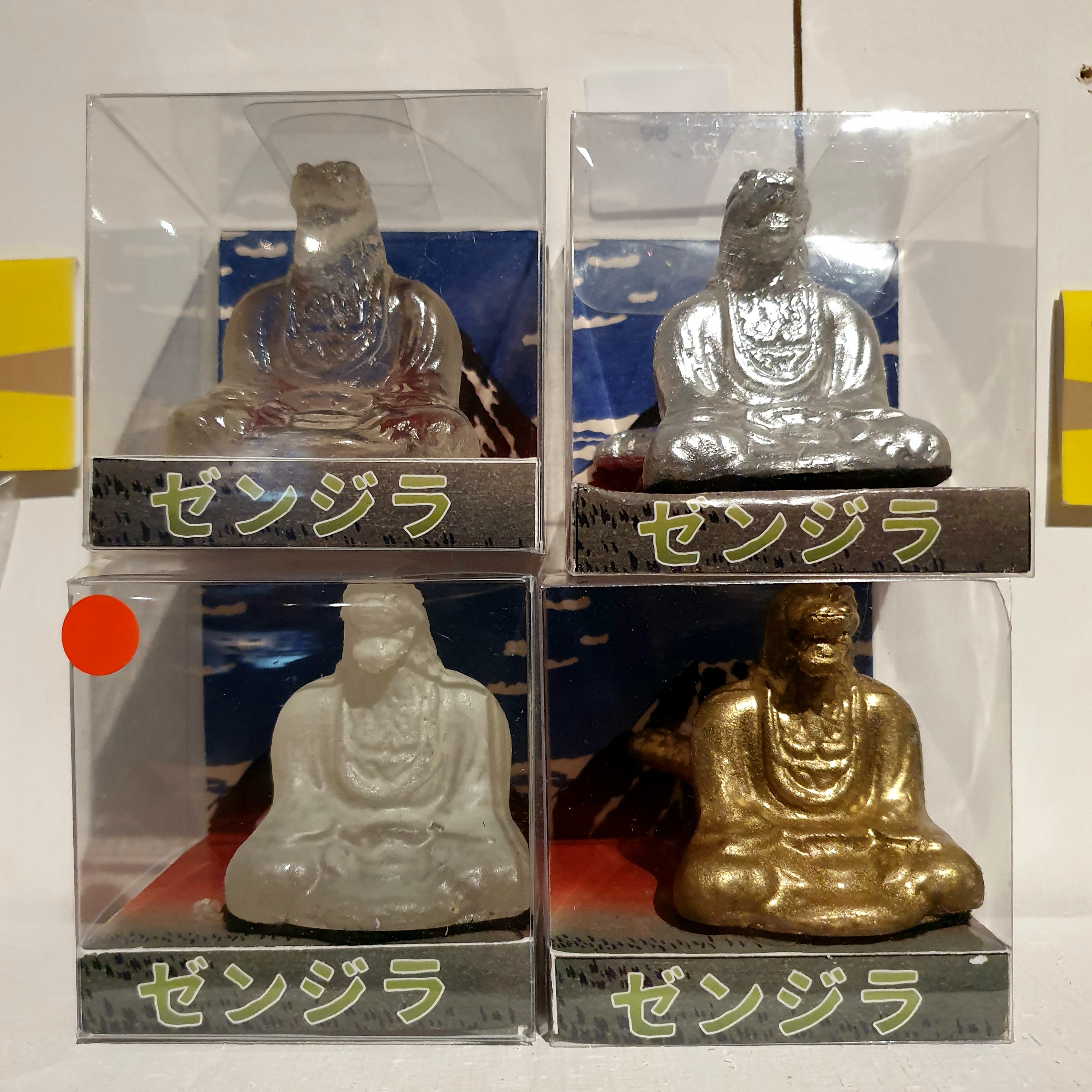 Sam King aka Itss Sam King and her brand 'Fur Burg'
One of my favorite artists in the show, Sydney based artist and designer Sam king bought a trash punk, John Waters esque aesthetic. With a range of one-off handcrafted dolls and toys that perfectly mixed the cute yet creep aesthetic.
I loved them all!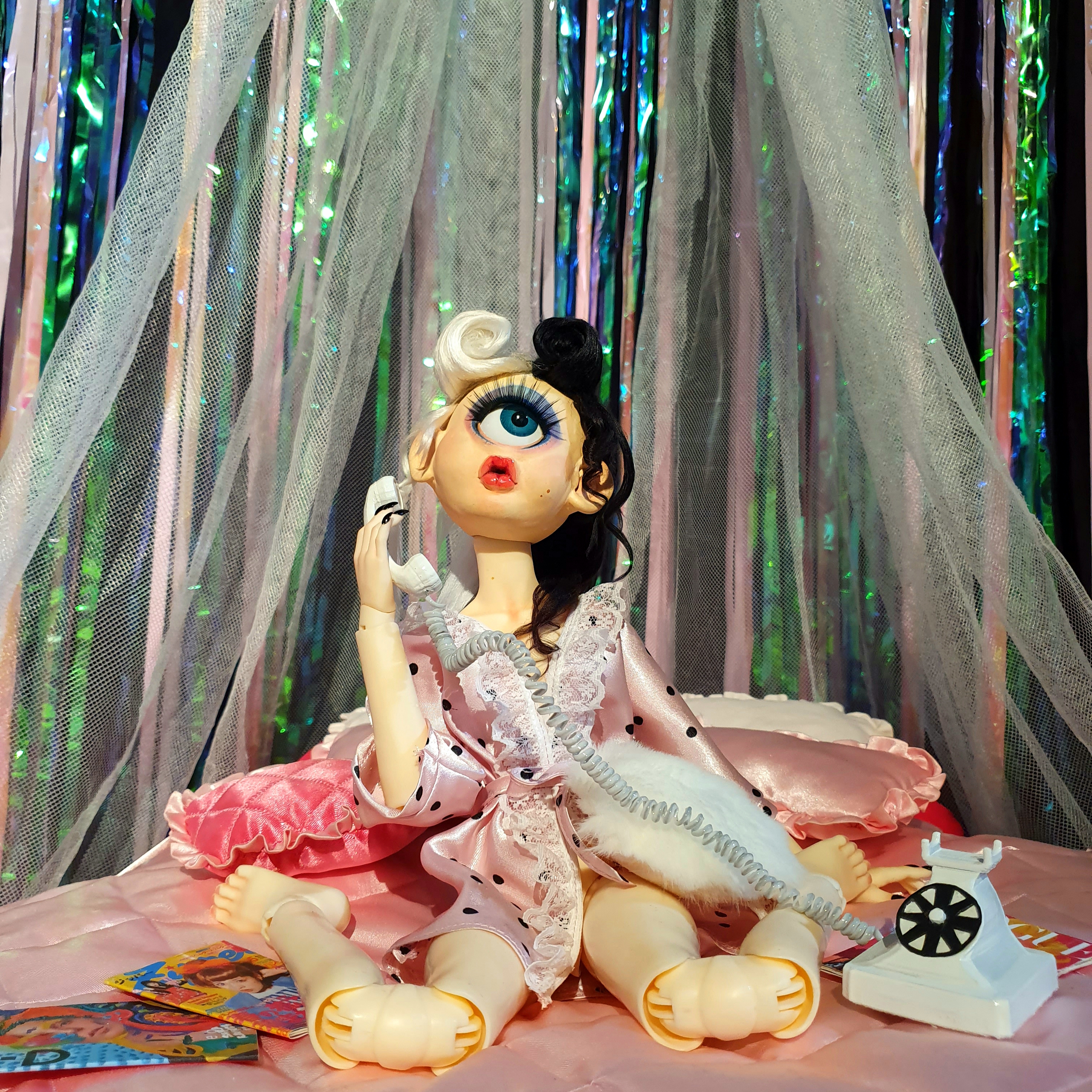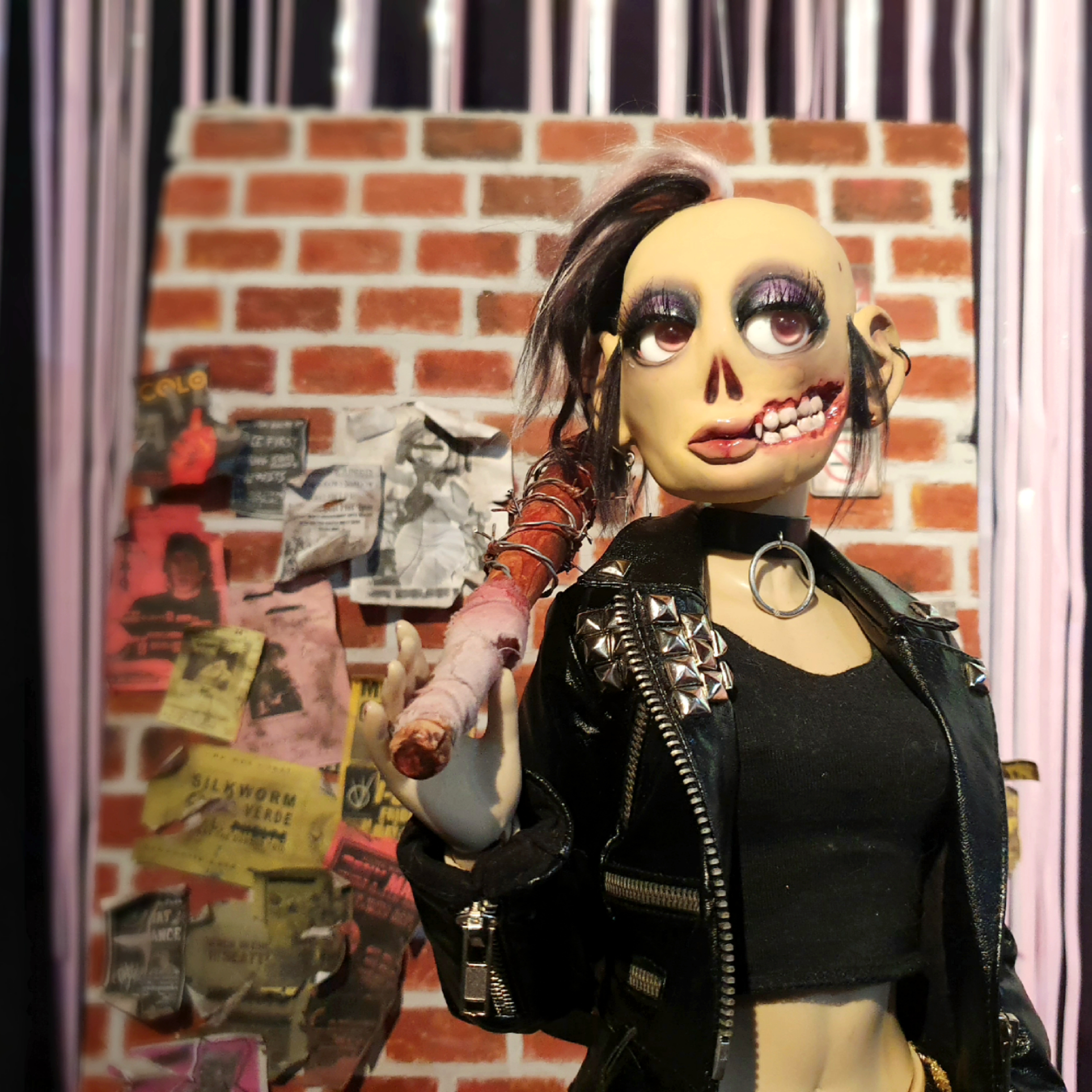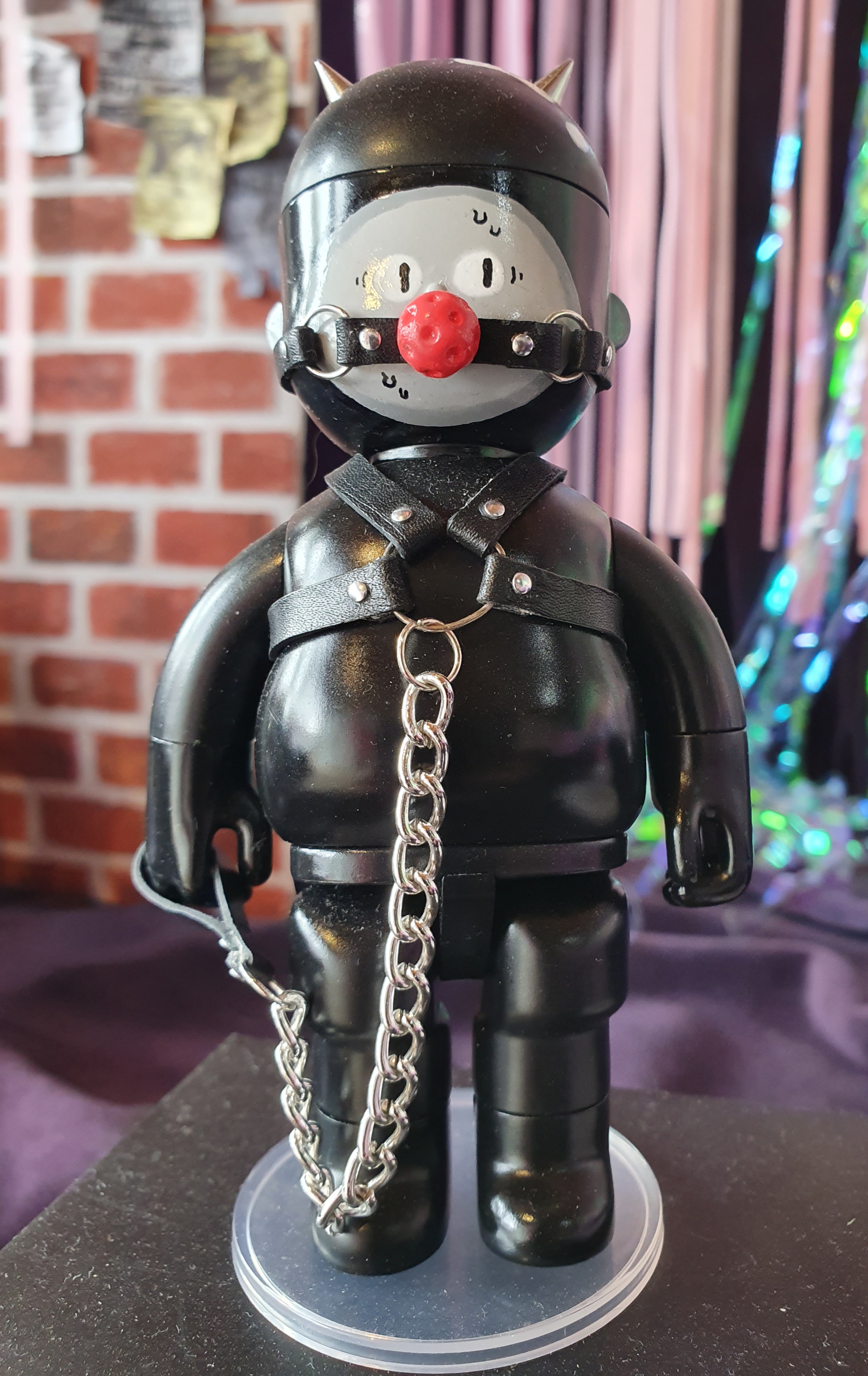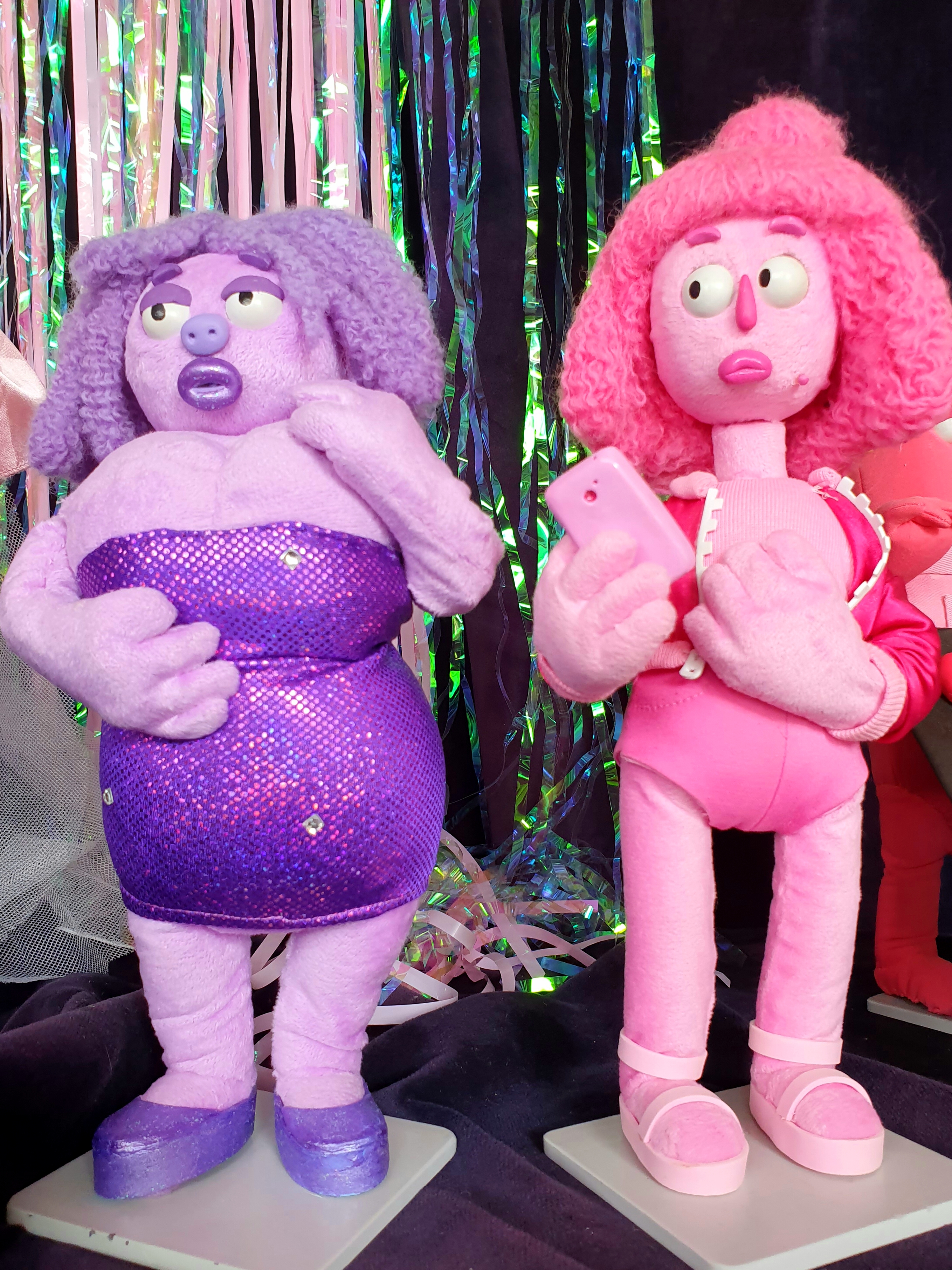 Herbert Peppard aka Cepholopede
Herbert Peppard aka Cepholopede is a highly accomplished artist and also the owner of 'Mothership Studios' were 'This is Not a Toy Scene: Sydney' was held. With Herbert using the show to present works from his varied oeuvre – dolls, dioramas, carded resin figures, and even works in bronze.
A highlight being his 'Egg Boi' resin figure commemorating the incident in March this year when Will Connolly aka Egg Boy he threw an egg at right wing Australian politician, Fraser Anning in protest.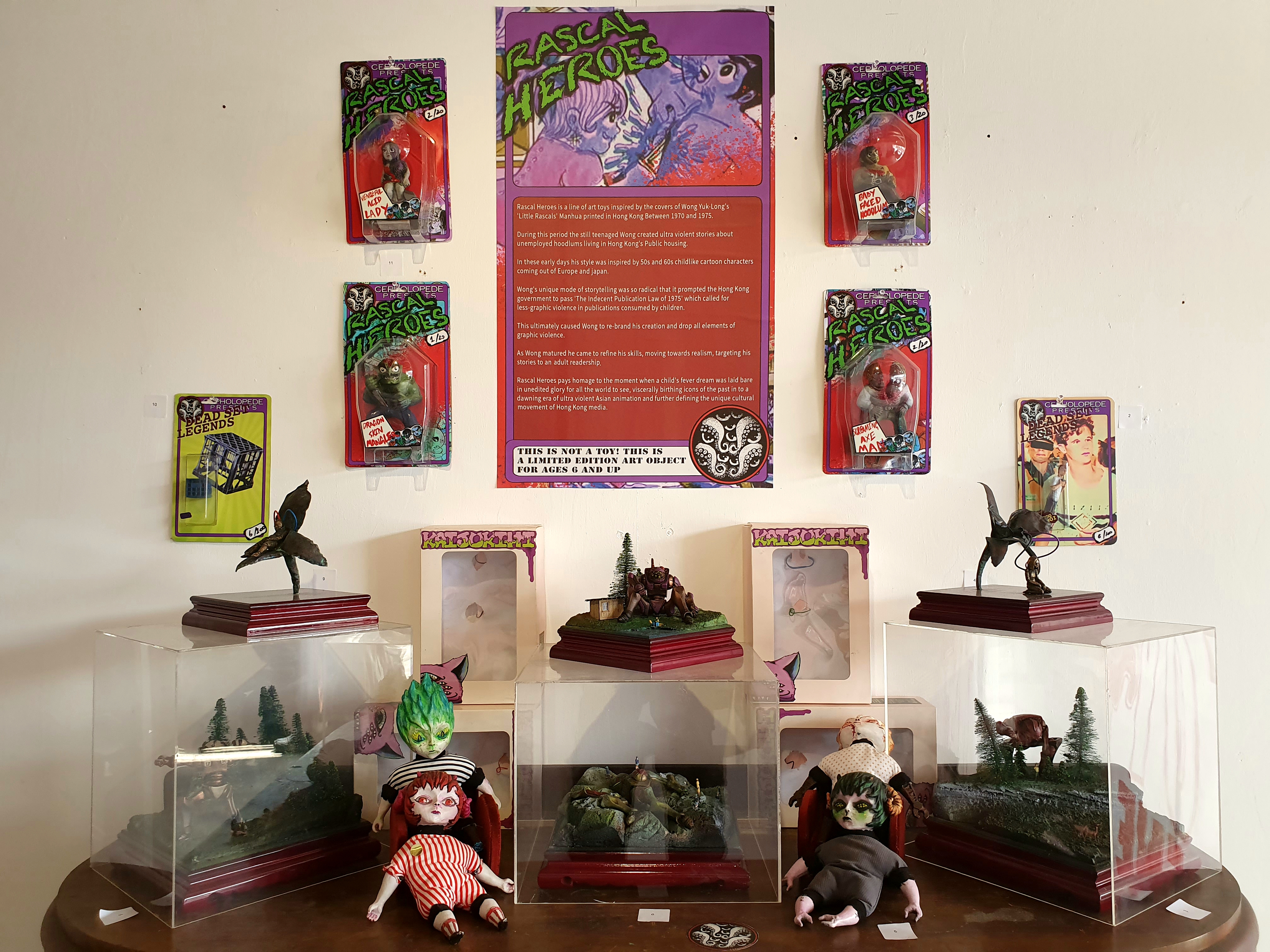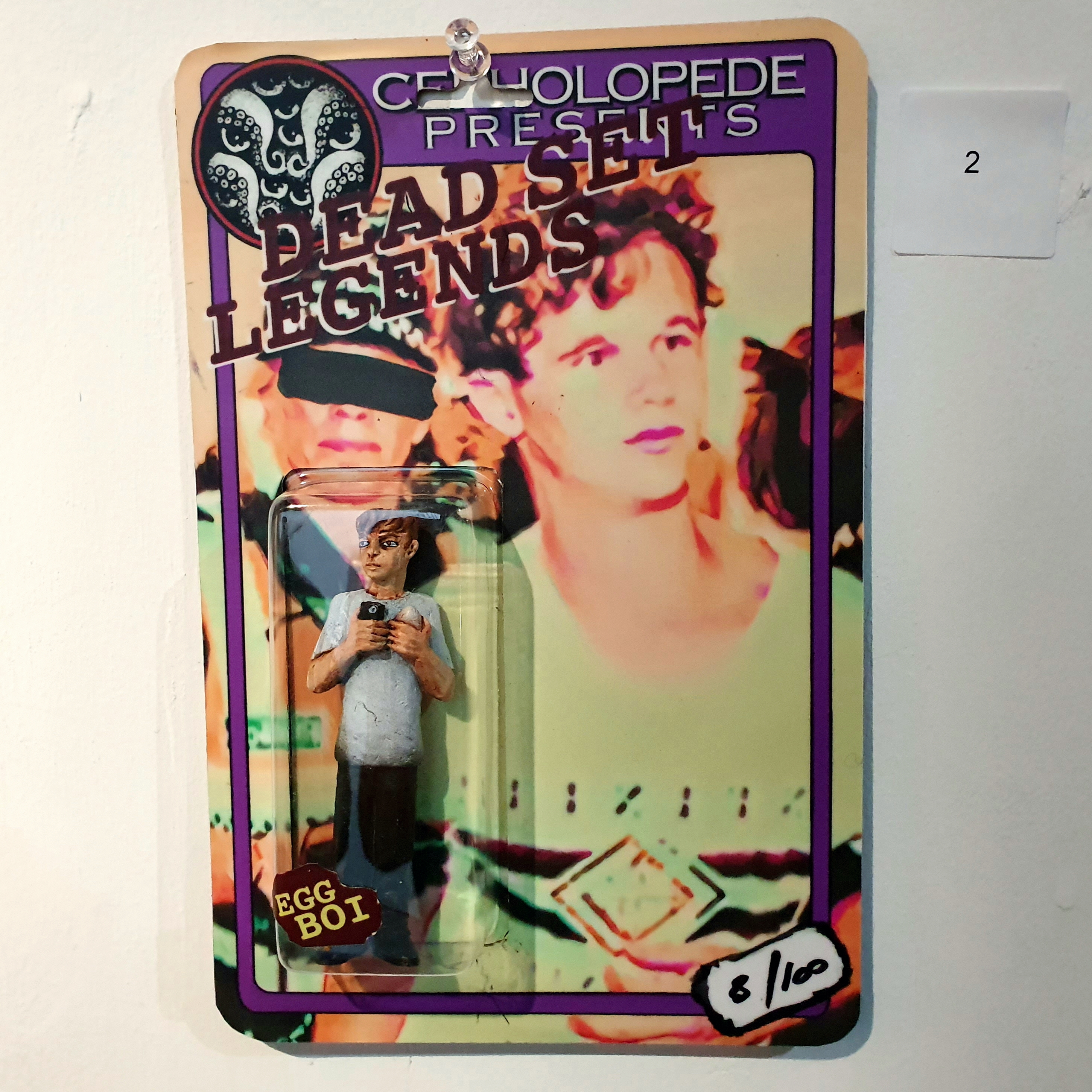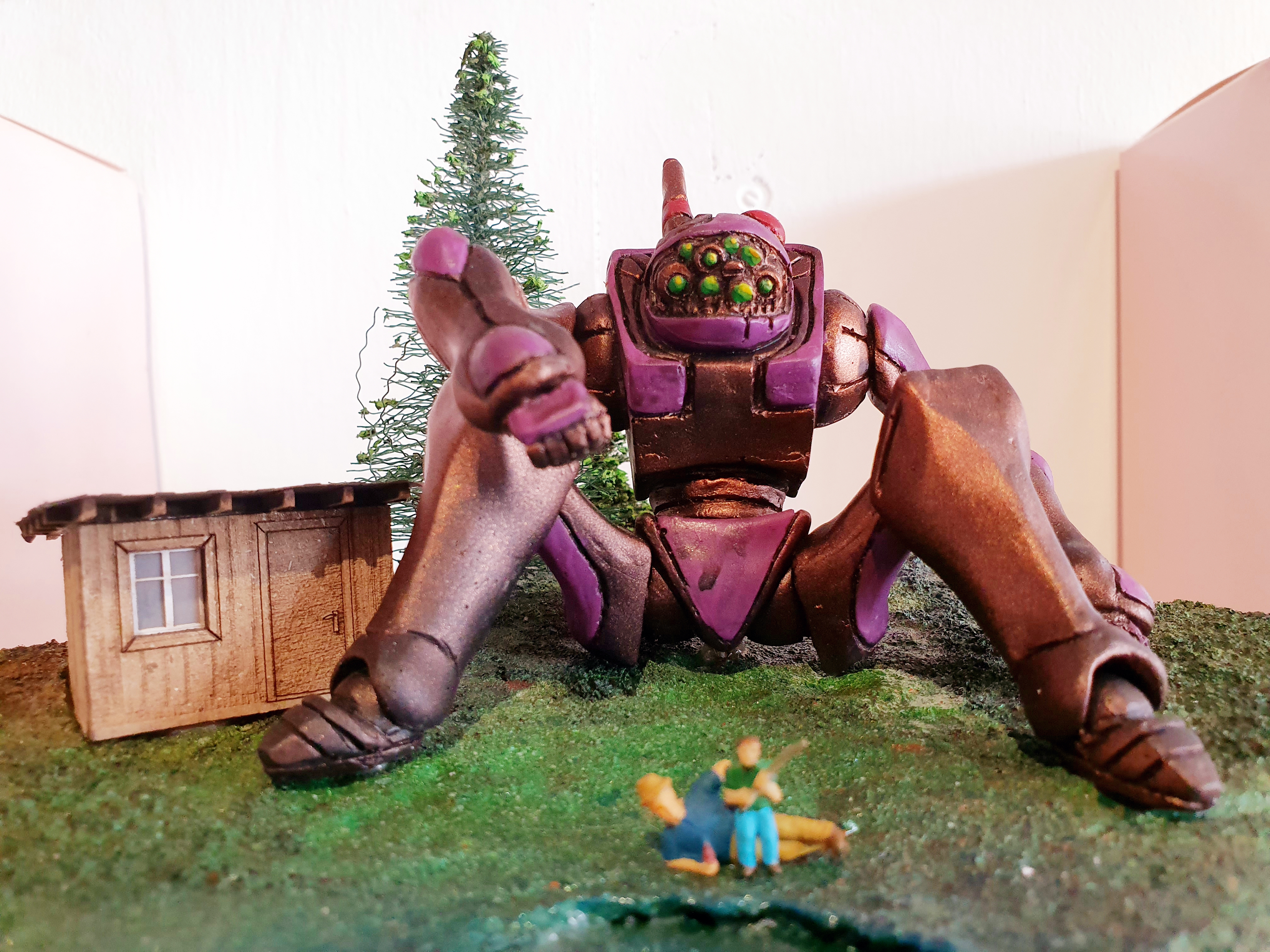 Monika Viktoria and her brand 'Moss Dolls'
Fresh from a successful show in Japan, Blue Mountains based artist and designer Monika Viktoria of 'Moss Dolls' displayed multiple works illustrating her many artistic skills: as a designer, sculptor, seamstress, artist, illustrator, toy / doll customiser and photographer. All of which showcased her love of nature and sense of whimsy.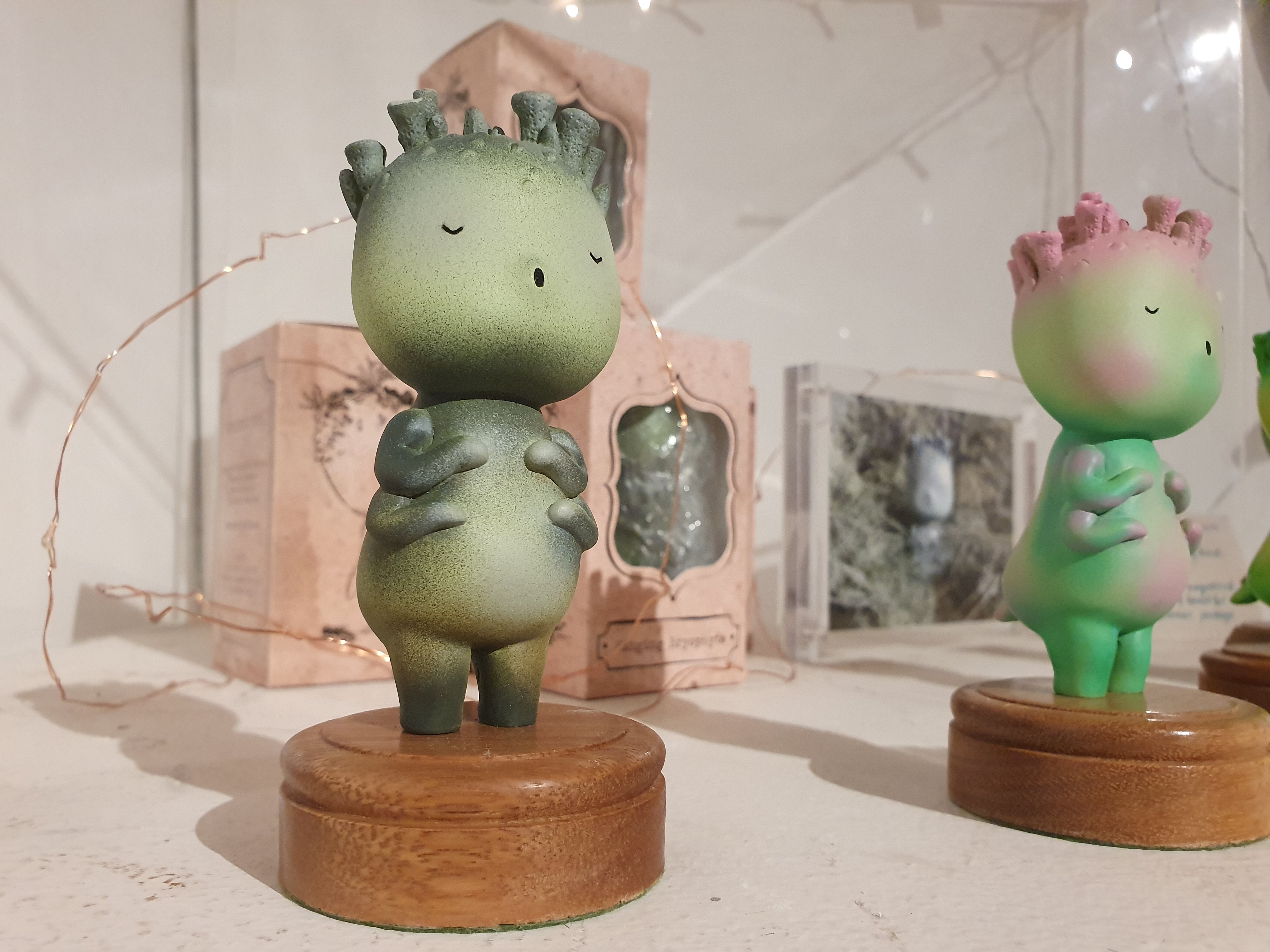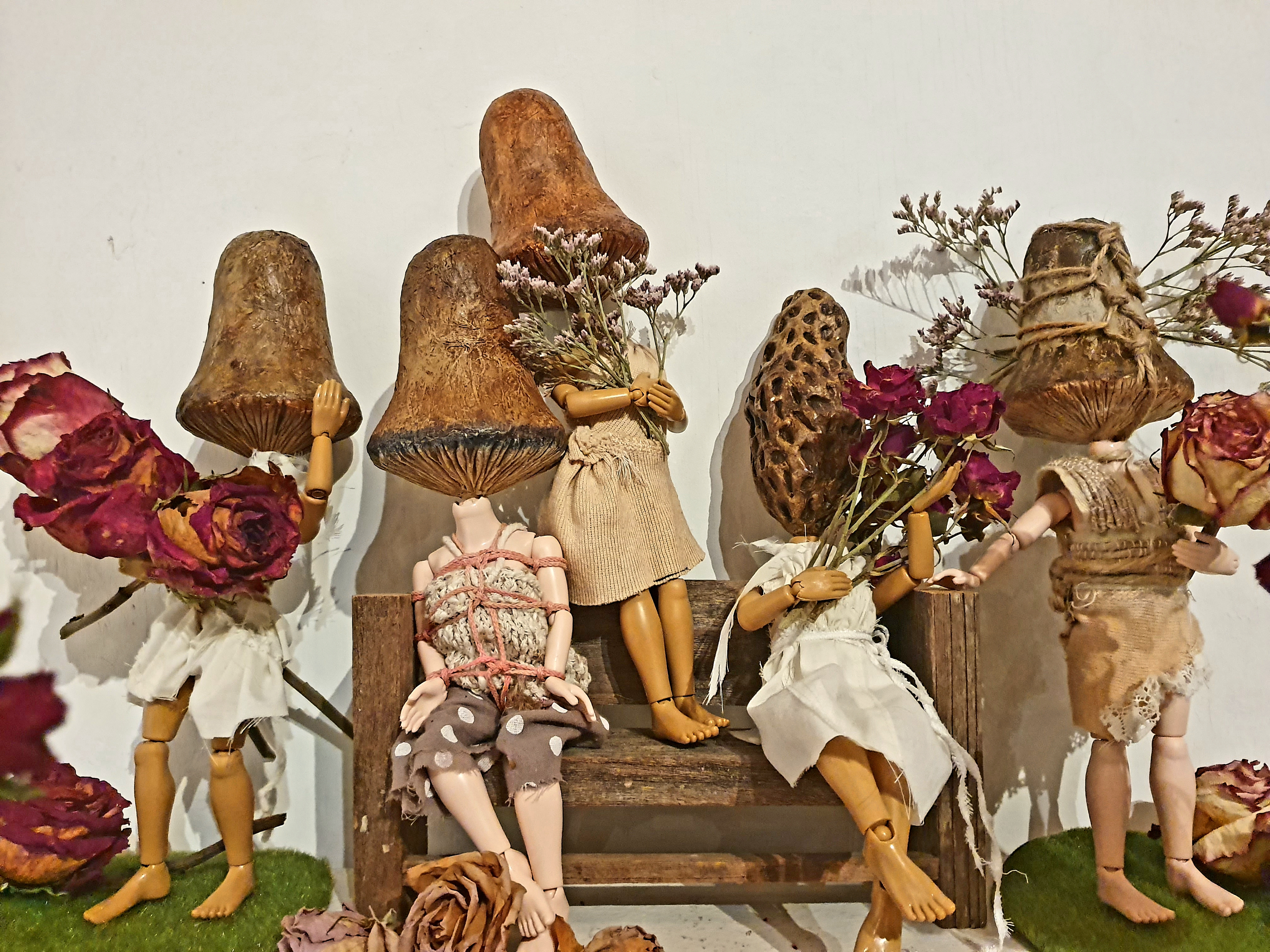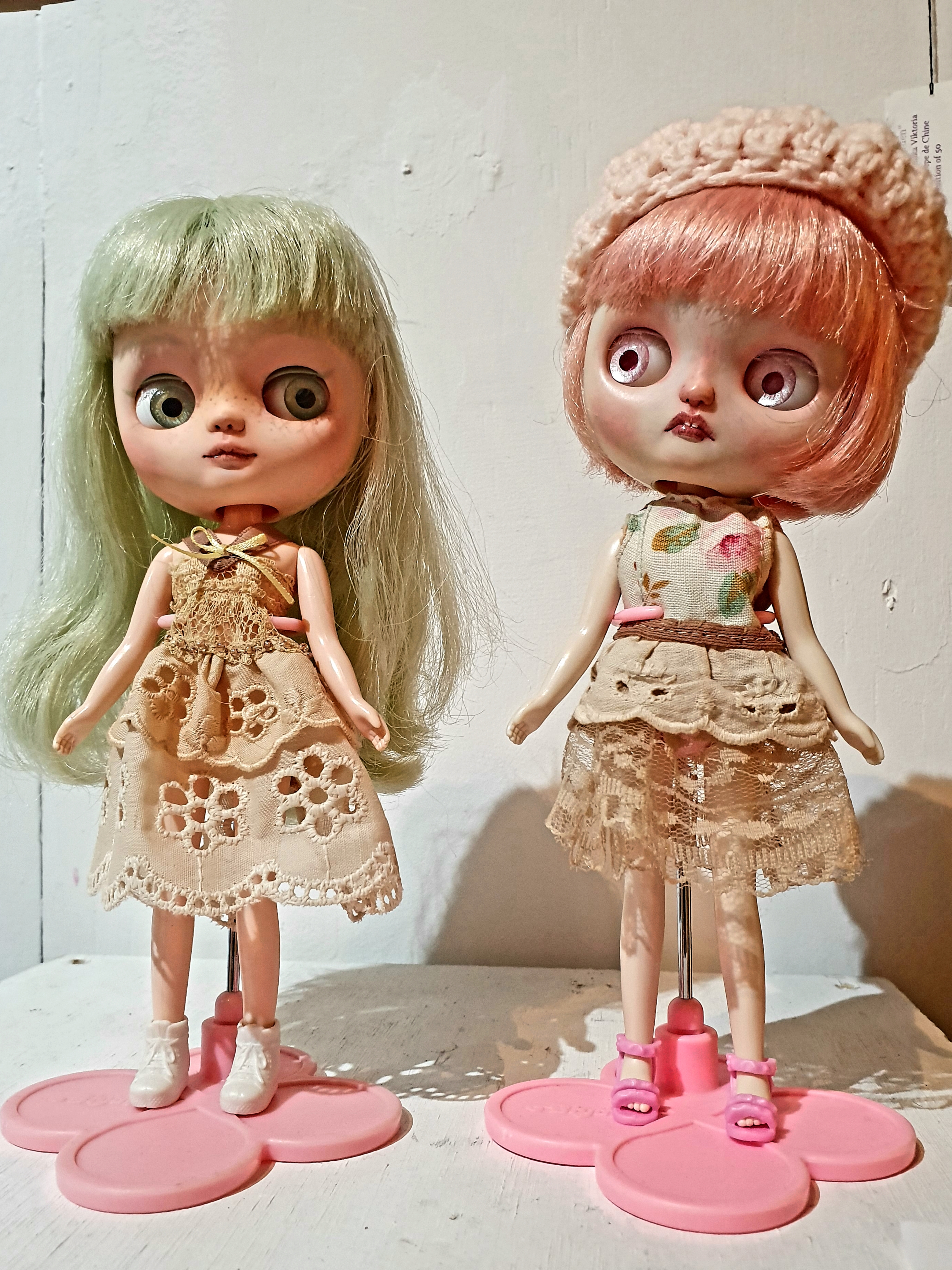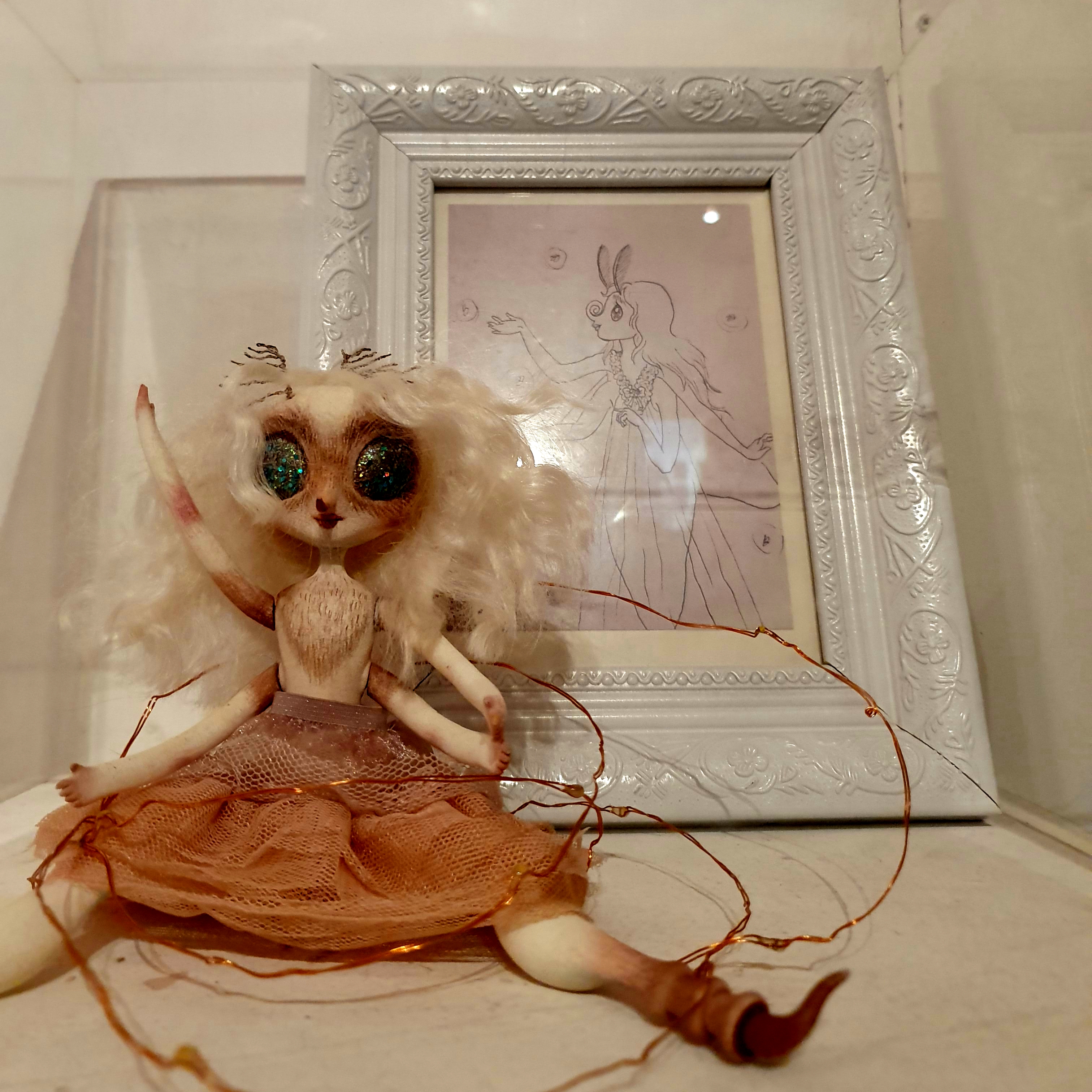 Andrew Mark Woodgate and his brand 'Yes/No/Maybe'
Melbourne artist and musician Andrew Mark Woodgate displayed a wide range of hand-sculpted and kit-bashed works from his 'Yes/No/Maybe' brand: large highly detailed monsters, pop culture inspired works, smaller figures, and more! All of which showcased Andrew's sculpting talents, and unique artistic vision.
With Andrew's Leech-ent resin figure (the large green figure shown below) a major hit of the show. Being admired by many of the attendees, and also selling multiple copies – including one to legendary Australian historian and culture writer Chris Mikul of 'Bizarrism' fame.
Word on the street is that Andrew may even be turning the Leech-ent figure it into a sofubi / soft vinyl figure at some point in the future too! So stay tuned for that.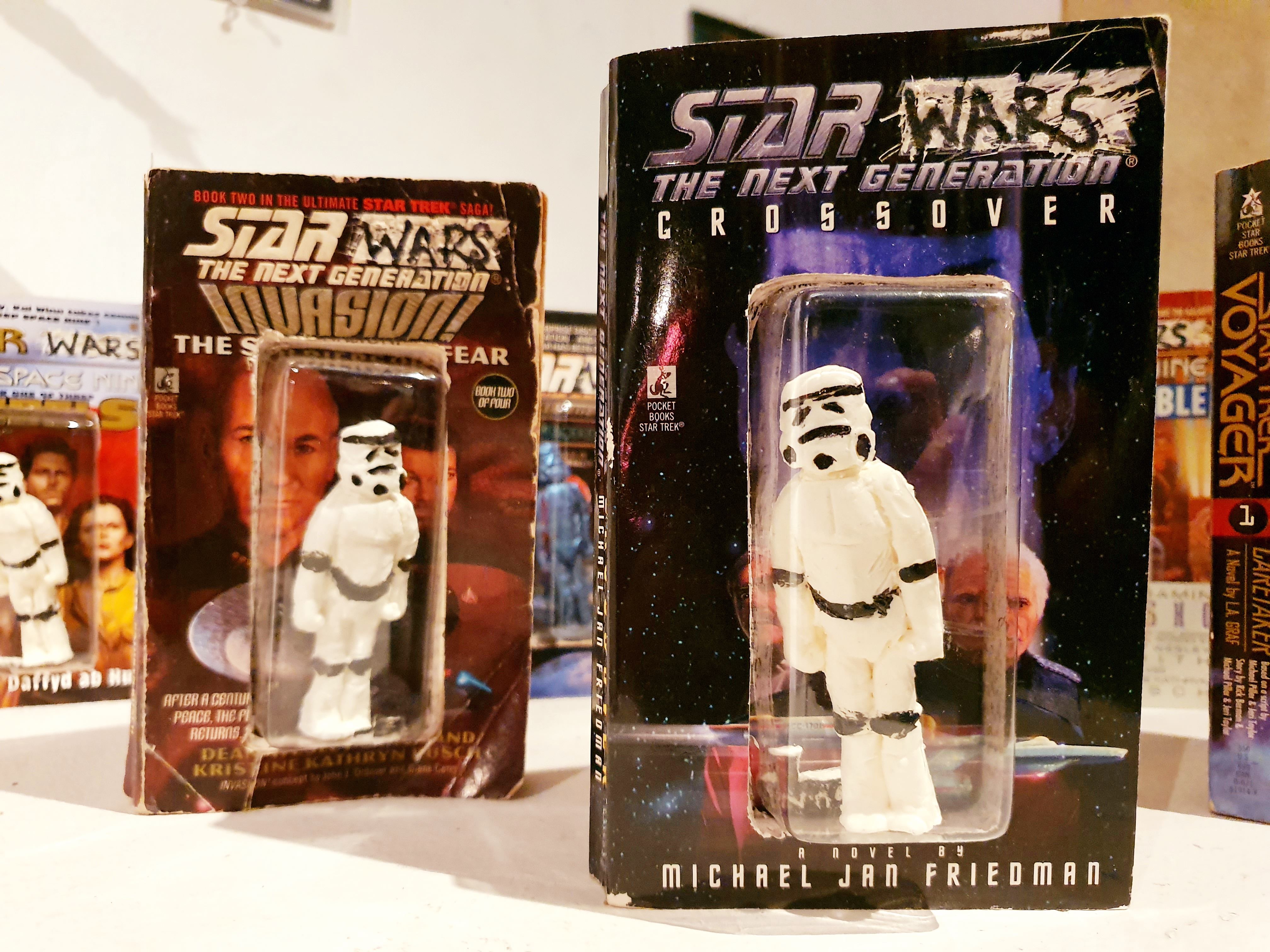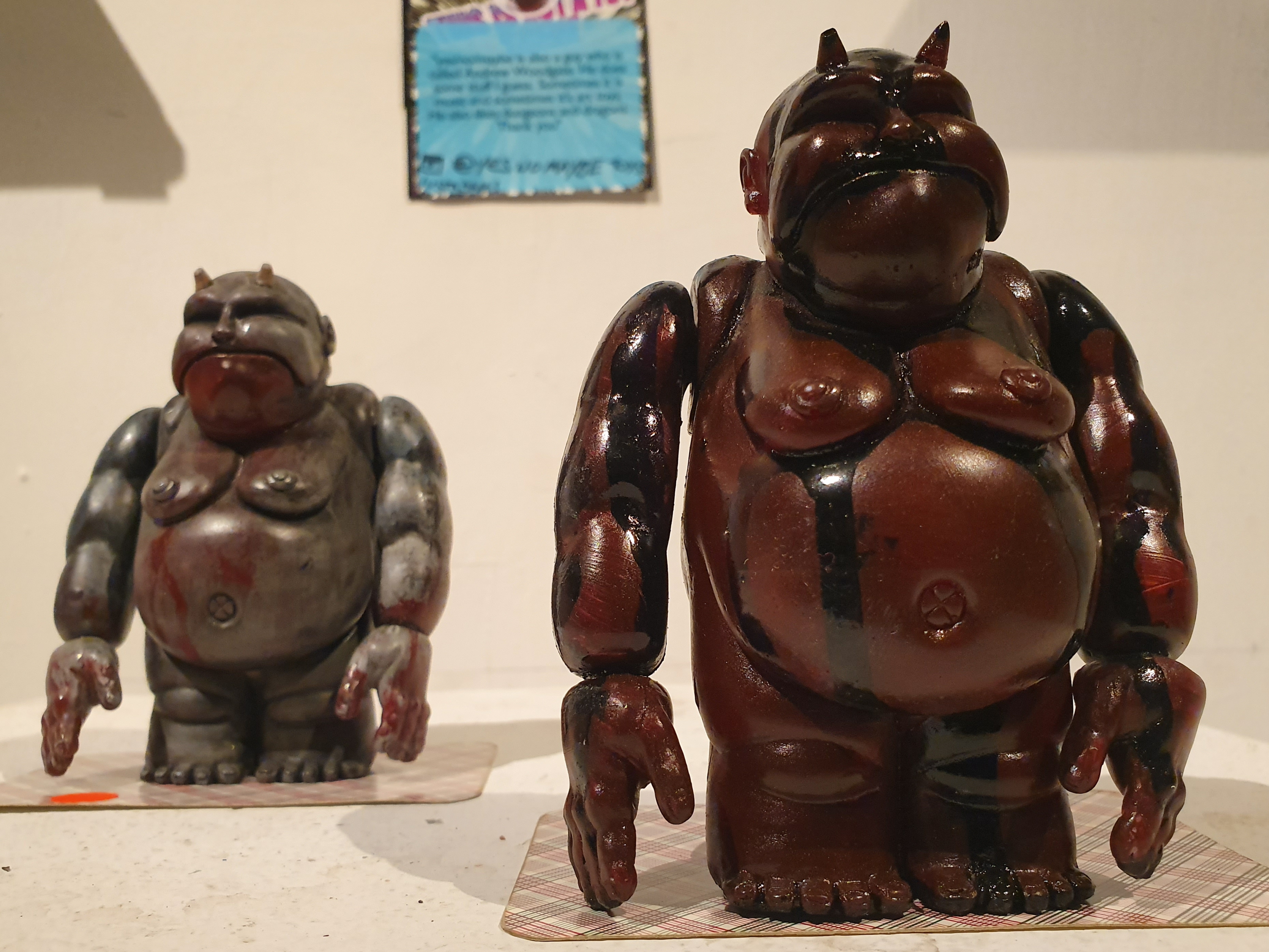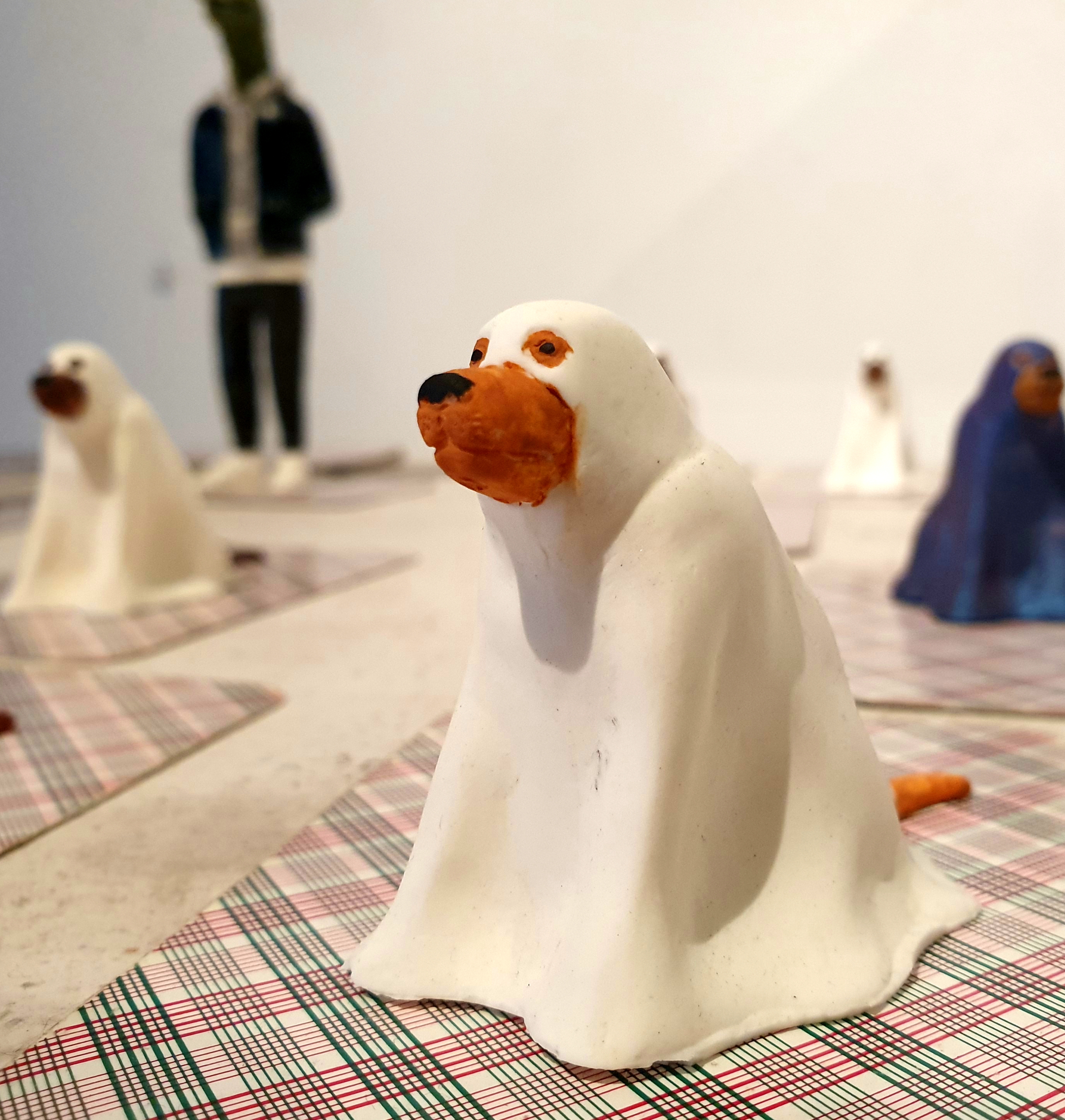 Peter Strong of 'Vector Punk'
Sydney based artist, designer and owner of 'Vector Punk' Peter Strong displayed an outre, pop art masterpiece – An oil painting, framed with a slew of random broken toys.
Sadly however, the intricate frame distracted from the painting it housed. And visa versa – the painting distracted from the intricate frame…
I really wish Peter had split the work into two: a normal frame for the painting, and a mirror inside the frame made up of toys. Ahhh well…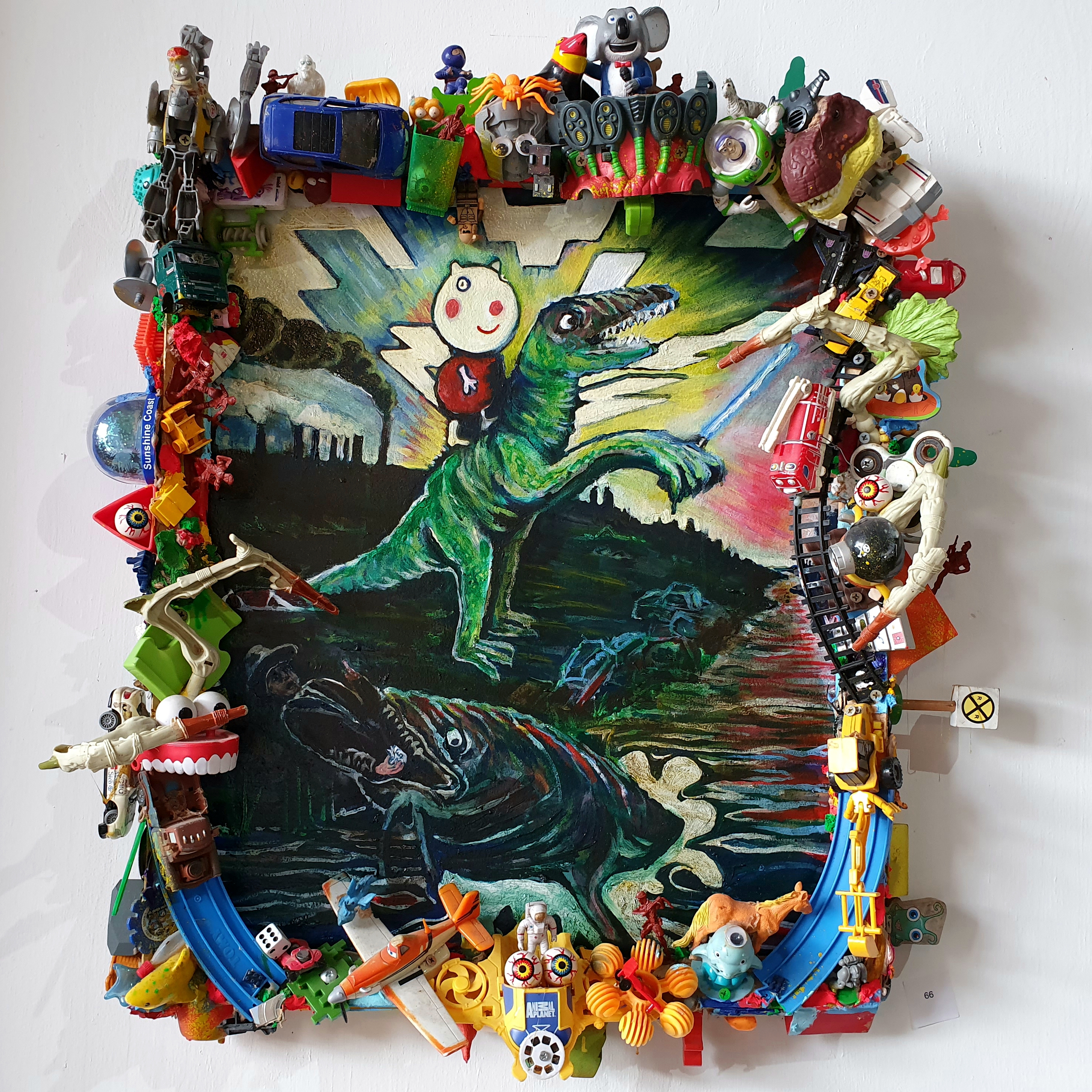 Cipta Croft-Cusworth and his brand 'Good Guys Never Win Toys'
Whilst not an Australian, Cipta and his 'Good Guys Never Win Toys' crew bought a slew of amusing, innovative and downright fun Australian themed releases to the show. Drawing from Cipta's many visits to Australia over the years, and his love for our culture. Such as children's musical act 'the Wiggles' re imagined as Stormtroopers, large figures of Australian native animals as superheros, rack-toy-esque surfers, robots piloted by Australian animals, and a slew of carded figures that draw upon Australian culture and politics – most infamous being the Pauline Hanson in a Burka figure.
With the large range of figures being purchased and admired by many in attendance. I even saw multiple attendees laughing out loud upon viewing them – and when you take a look, i'm sure you'll see why!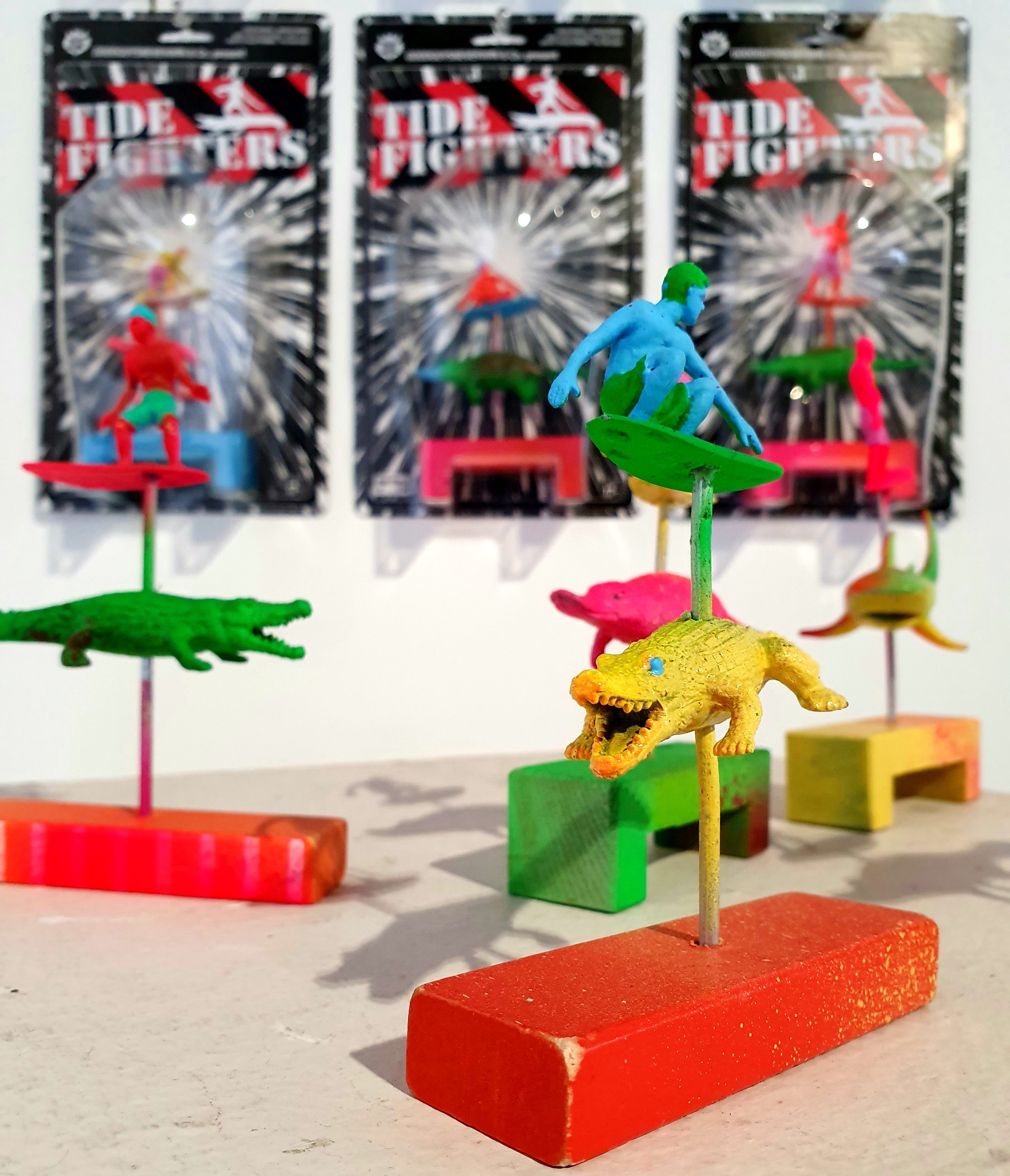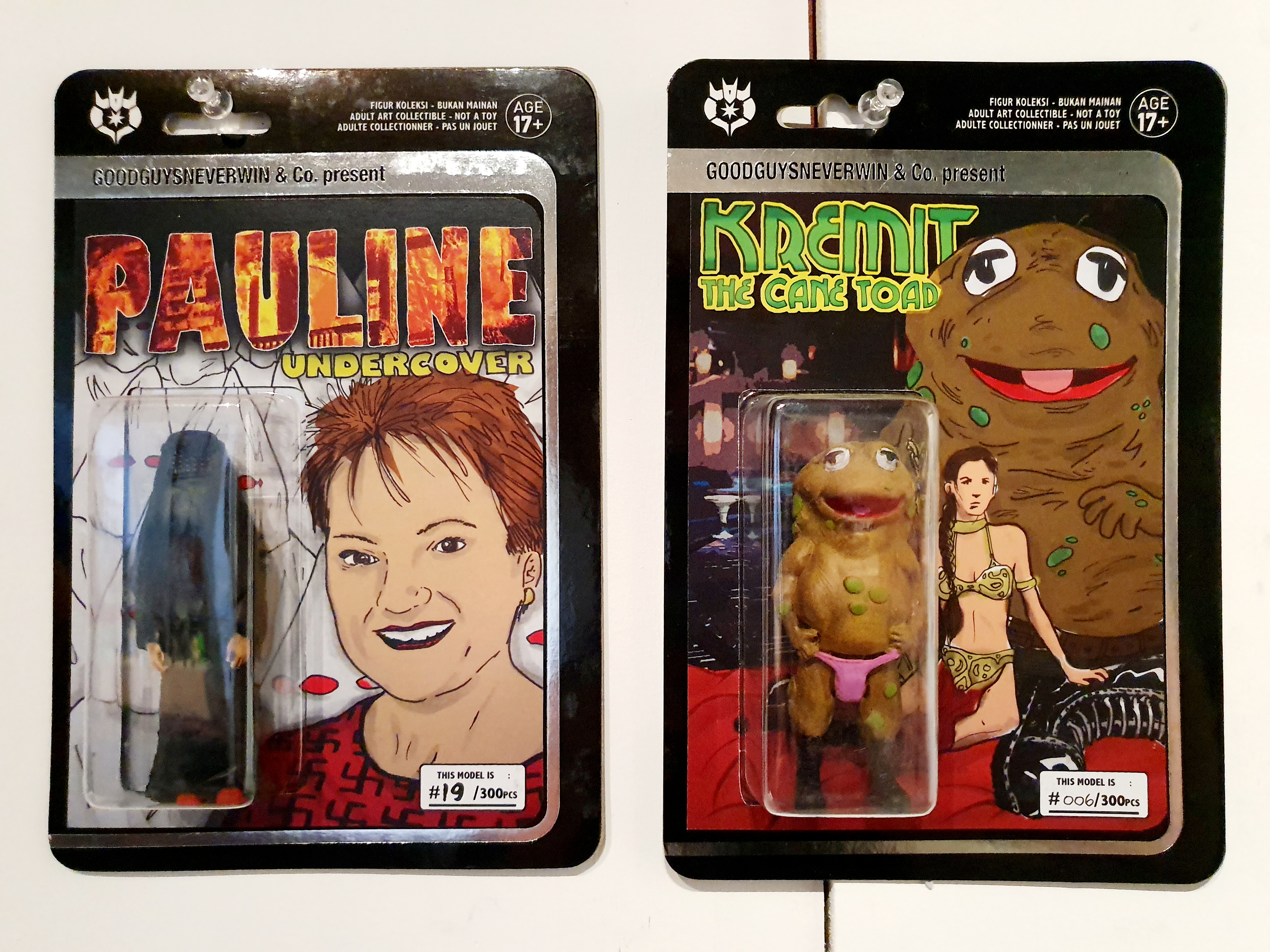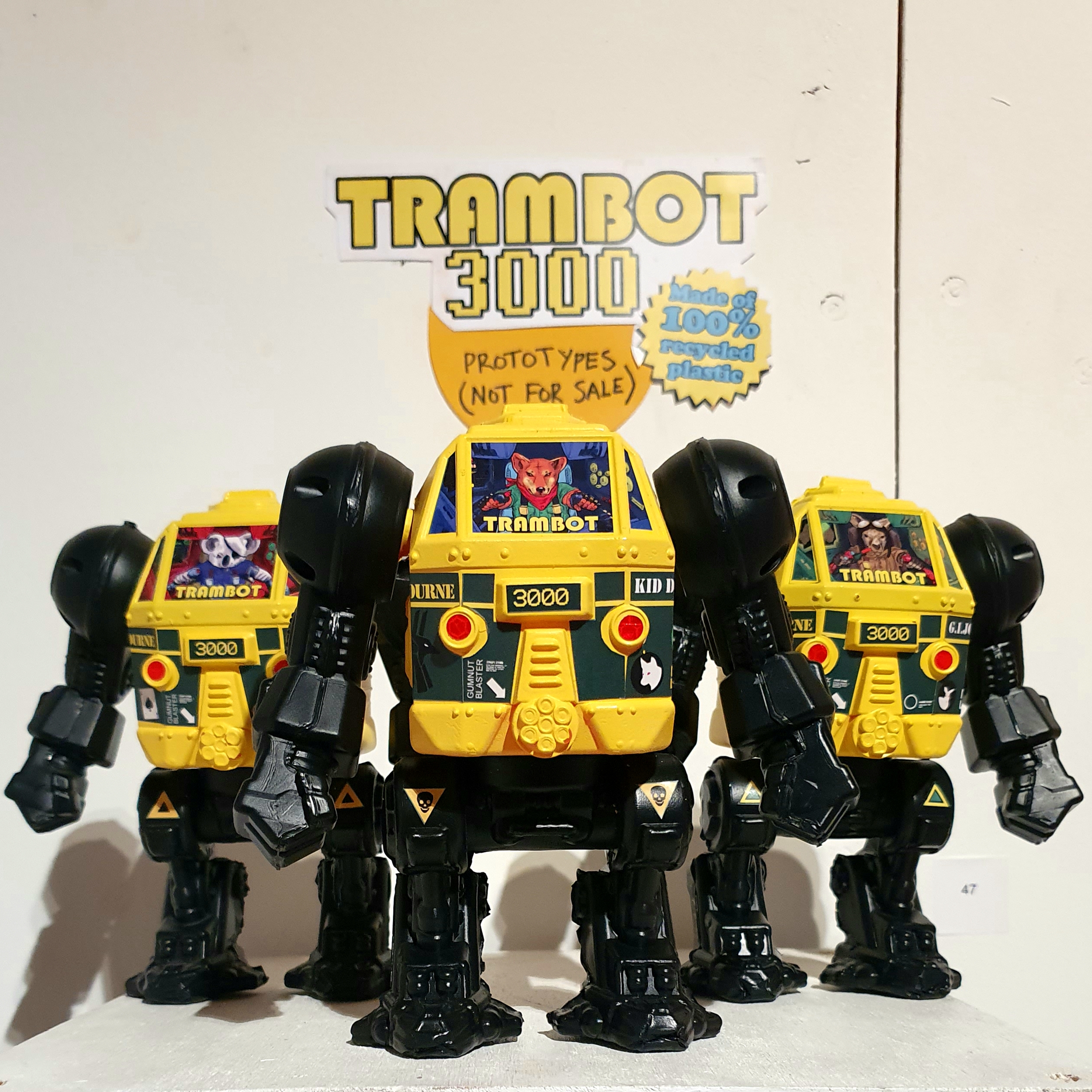 Cal of 'Cal's Customs', 'Zumps' and 'Resin Lung Toys'
Having recently re-branded from 'Cal's Customs' to 'Resin Lung Toys' after a year long break from the scene, Sydney based artist Cal debuted blank and painted versions of his latest sculpt – Creature Thang. An incredibly detailed, and full of personality resin monster that I just fell in love with!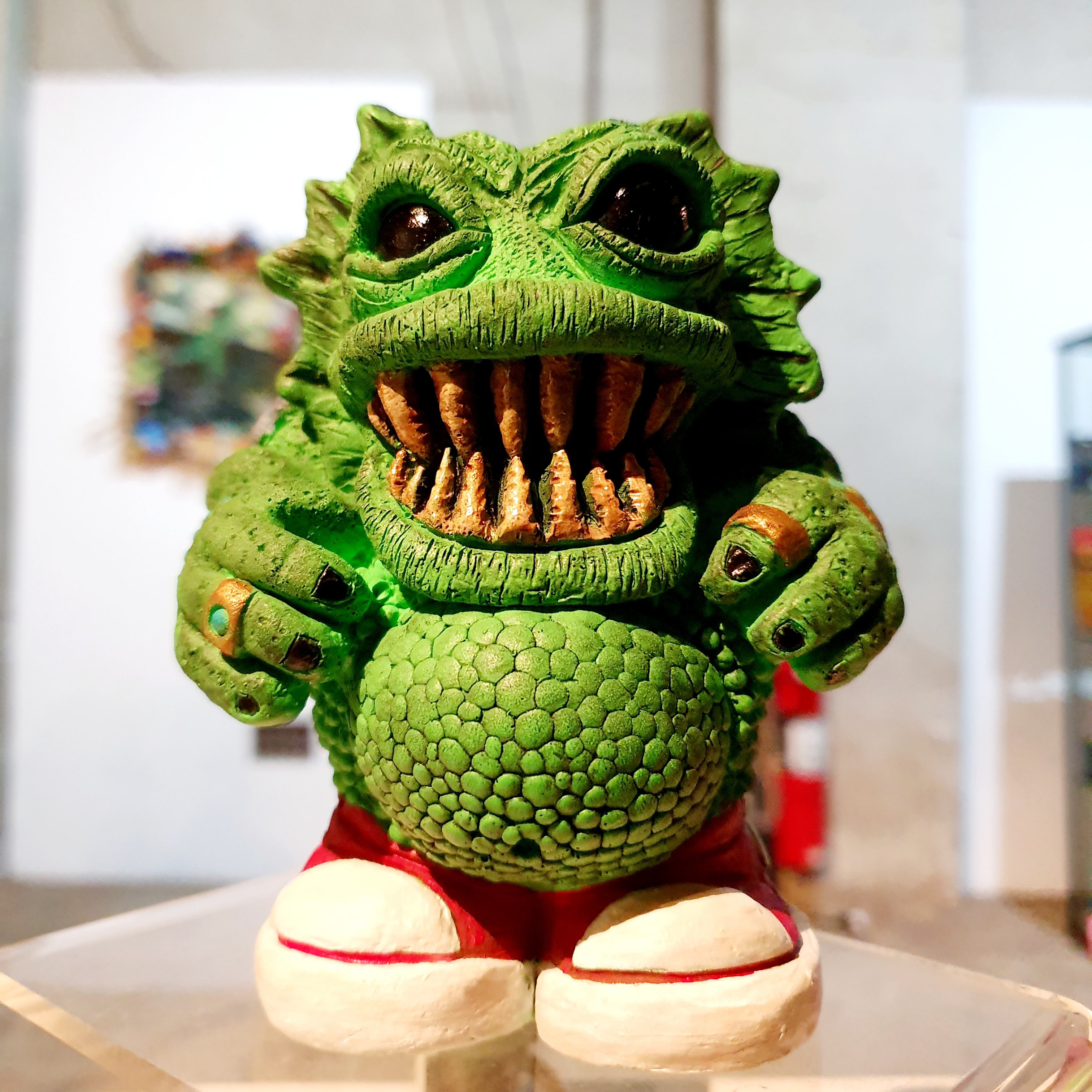 'Hexafoil' aka 'HXAFOIL'
Having been on the scene for only a short while, and with only 1 release under their belt – the much loved Health Kaiju resin figure. Sydney based brand 'Hexafoil' presented a bagged with header Health Kaiju figure, customed by fellow 'This is Not a Toy Scene' artist, Monika Viktoria of 'Moss Dolls.'
It was weird, cute, and perfectly packaged, and I can't wait to see what 'Hexafoil' do next!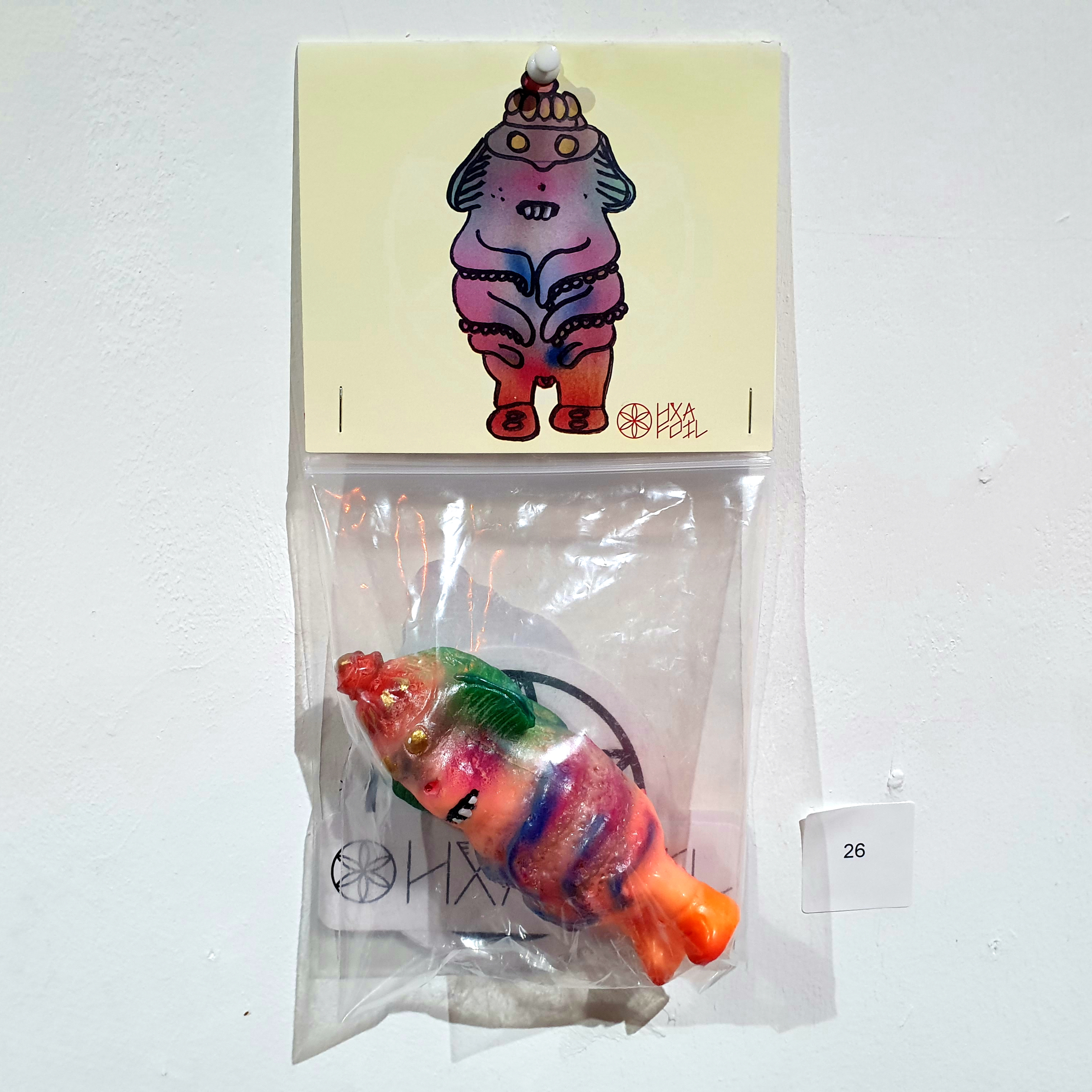 Links