"The world is dominated by the Homunculus. They have enormous heads and hands. They are peaceful people, but they feed on their sons and daughters born with physical or mental deformities, known as the Crooked.
Roova is a Homunculus, and he will be forced to contact the Crooked people, not before he does something he will never be able to undo."
Crooked is a story about incommunicability that mixes the horror of Ruggero Deodato's cannibal movies with a bleak fantasy setting, while simultaneously a story about fathers and sons.
Danilo Manzi Born July 5th, 1990, raised in Minori the province of Salerno, Italy. Graduated from the Academy of Fine Arts in Bologna, where he studied Comics and Illustration and Languages of Comics.
He works for several collectives (Borametz, Bohnobeh, Gravure, La Stanza, Interiors, Metastasi and Apnea Produzioni) as a draftsman, screenwriter, illustrator and video maker."
– From the Comic's Bio.
The Specs
Title = Storto (Storto) <Storto> aka Crooked (Crooked) <Crooked>
Date of Release = October, 2019
Publisher = Hollow Press
Artist = Danilo Manzi
Writer = Danilo Manzi
Number of Pages = 192
Format = Colour, Stitched binding, heavy stock front and back with a removable Dust Jacket
Print Number = First printing of 100 copies.
Print Format = full-color offset printing.
Paper type = A5 size on 170g paper.
Printed In = Italy
Language = Available in Italian or English print
Release Price = €19.00 .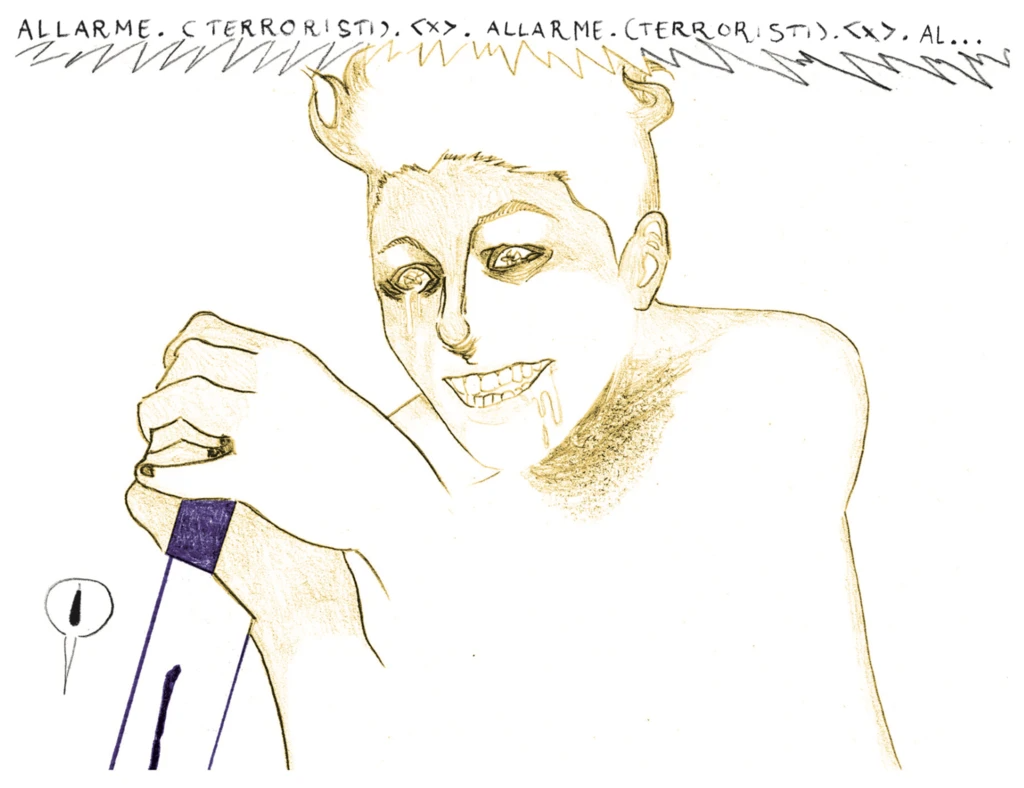 The Narrative
In a world run by homunculi like creatures, those who are considered defective are sent off to a breeding factory to be harvested for foodstock. When one such undersirable is born into the world the mother decides to hide away her deformed son, who lives a sheltered existence until a radical group of defects accidentally spring him loose.
While appearing to be defective, the protagonist known as Roova, is actually a hybrid that is able to take on the form of both Homunculus and defect. He decides to join the revolution when he is asked to take care of a young child.
The edition explores many different themes, while the central focus appears to be on the bond of family; scenarios such as loyalty, identity and exploitation of others comes under review.
Wrapping all these elements together, is the story and sacrifices of Roova as he struggles with outbursts, mentally and in body transformations, in order to fulfill the role of father figure. A role which was something he was denied – arguably acting as a catalyst towards his own destruction.
In addition, Manzi uses wordplay in the form of additional text captured within brackets, reflecting the format of the title "Crooked (Crooked) <Crooked>. Expressing both the feelings conveyed in the dialogue and an associated noun. This concept is not just playful, but gives an insight into the uncensored thought process of its subjects.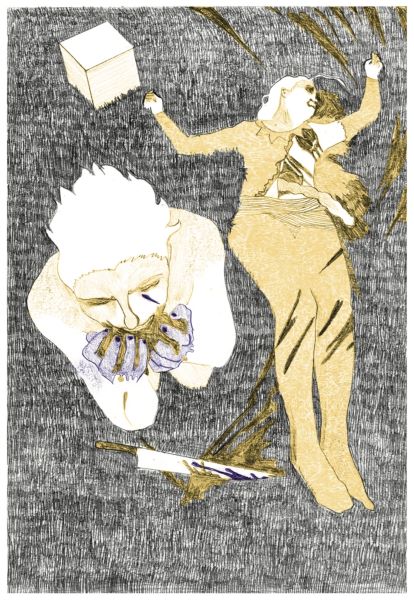 The Art
Manzi's art is unique and unlike any other working in underground comics at the moment. His forms are wonderfully distorted exaggerating bodies in a seemingly random direction.
While the distorted visions feel like the most defining characteristic of the creators aesthetic, the textural work is what gives the drawing a depth that makes it easy to get lost in each panel.
Without understanding the actual technique, the approach seems drawn largely in pen and pencil, with textures being added afterwards by pressing or etching a pre-existing template. The result is that there is no real black space to be found, and every shade contains a unique texture to it.
Additionally, there are a few full page panels with text on the opposite side that mark a strong statement such as "Devour the Mother and Father" which make a strong impact visually and narratively.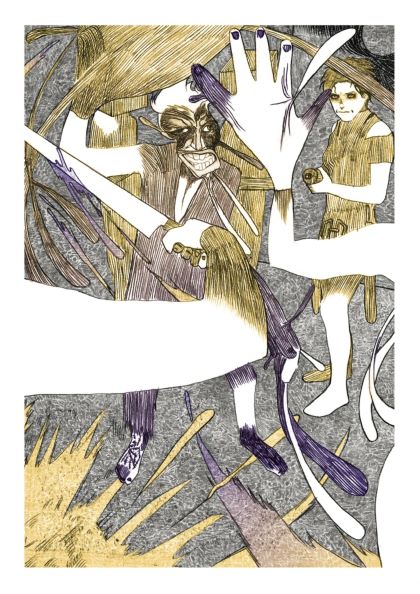 The Paper and Print
Hollow Press from Italy, has garnered a reputation for quality releases, as well as the option to purchase original artwork from each release. Consequently, the paper stock and presentation of Crooked is of the utmost quality.
The book certainly has a nice weight to it given the stock used for the paper.
Additionally, the book has a dust jacket for storage, which also acts to give some bonus art on the inside and subsequent image on the front cover. A nice reveal that adds that special touch that many collectors appreciate.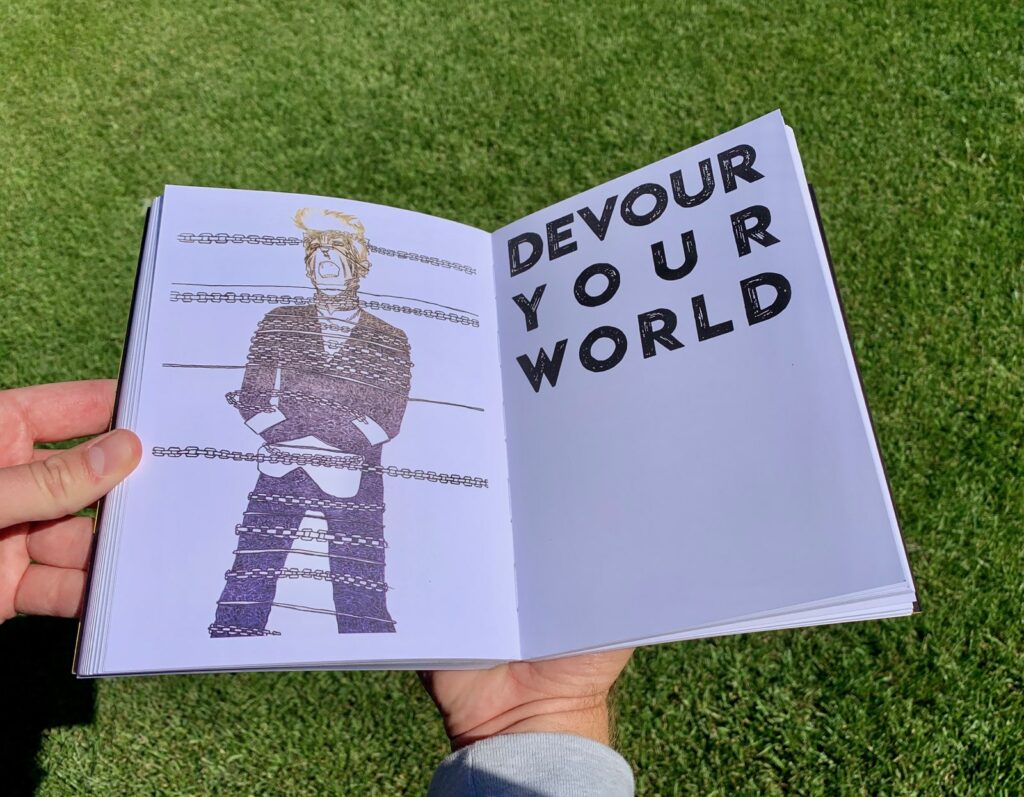 Summary
Crooked is an intriguing take on the body horror genre, complimented by a psychological exploration of themes of family and the evolution (devolution?) of species.
Consequently, it is a subversive experience which will likely leave the reader with equal amounts of intrigue and disgust.
While the art and narrative are experimental and unfamiliar in approach, the story itself stays somewhat grounded, making it unlikely that the narrative will become muddled to the intuitive reader.
As a result, the edition feels like experimentation in the best sense – one that still makes itself open to the reader to draw their own conclusions but not drowning them in abstract theories or deceptive narrative to try to give a false impression of depth.
Ultimately, Manzi's Crooked is a fun exploration of Freudian nightmares entwined with horrific distortions of body image.
If these two things appeal to you, "Crooked (Crooked) <Crooked>" will make for a deeply engaging experience.
If the narrative does not hold intrigue, owning some of Manzi's art in high quality format should appease collectors of obscure and underground comics.
Links