When I was a kid (late 70s/early 80s) Pomaire's pottery was everywhere – Farm animals, figures of typical characters, birds, whether as a chic ornament or as an expression of the man who works the fields, even as a lucky charm.
To me they were part of those ugly toys that children would eventually put in a corner of the row of action figures before disappearing into a fierce galactic battle between GI-Joe and the Star Wars figures, which took place in a domestic/everyday territory set in Chile.
In the popular culture of this country, clay figures occupy an important place – The elders would tell you about this as a pre-Hispanic tradition and they were right: popular pottery began to develop in different areas from the centre through the south of the country since even before the arrival of the Spanish conquerors.
I dare to say that from all the other clay designs, the piggy bank or "clay pig" was the object/toy that possessed the most mystique and respect. To this day there are both, four and three legs piggies available in the market.
Four legs when it is a piggy bank and three when it is a ritual figure, both always associated with good fortune.
Grandmothers – many raised in rural areas of the Chilean territory – could tell you stories so you wouldn't break it or to explain certain homey rituals where these figures had some participation.
"A family owned a farm at the Los Andes mountains, and during a full moon night in June – the beginning of winter here – a litter of piglets was born, but one of them had three legs.
The family sold all the little pigs, but the one that was born with 3 legs, they kept.
One day the little one began to dig the soil near a river with his "deformed" leg.
When the family went to look for him, they discovered with surprise that the three-legged pig had dug until a chest with treasure appeared.
…Since then, in certain areas, clay pigs with 3 legs are made to attract fortune".
Mysterious legends are also surrounding the four-legged pig and to these days when people are kind of short of funds, they would eventually light a magic cigarette and put it in a hole that the craftsman makes just below its tail.
Let the piggy butt smoke and fortune will come to you.
The manufacture of these objects takes place at different areas that goes from the central-north part of the country to the far south of Chile: Quinchamalí's Pig (Ñuble Region) to the one made in the Quebrada de las Ulloa (Bío Bío); from the Pig of Pomaire (Near Metropolitan Region) to the Pig of Pilen or the figure of Vichuquén (Maule). Different artisans from each area, have been making pigs with unique attributions.
No pig can be the same as the other.
A few years ago (2017), Daniela Greve, a political scientist, art producer and art collector, began to acquire the classic clay pigs, collect and intervene them – This was the beginning of "Chanchos de Greve". This was the trigger for Daniela, who in the midst of the Pandemic – with sanitary permits – started traveling to the town of Pomaire, about two hours from Santiago, to learn about the pig manufacturing process.
Daniela eventually commissioned local potters to produce more than 200 figures.
On March, 2021 Daniela started a project called "Chanchos de Autor" aka "Pigs of Author", whose mission is to summon different fine artists to freely intervene a clay piggy bank.
The basic concept is to create a connection between the cultural identity attributions of the pig of clay and our own cultural heritage through different visual artists imagination – To capture their vision and connection with the object.
The artist election features pieces by Víctor Castillo, Ciro Beltrán, Vicente Irarrázabal, Mauro Carvajal, Gonzalo Cienfuegos, Hernán Valdovinos, Carmen Piemonte, Andrés Rakos, Guillermo Grebe, Marcia Bravo, Francisca Lagos, Cristián Elizalde, Sol Guillón, among many others – Including myself.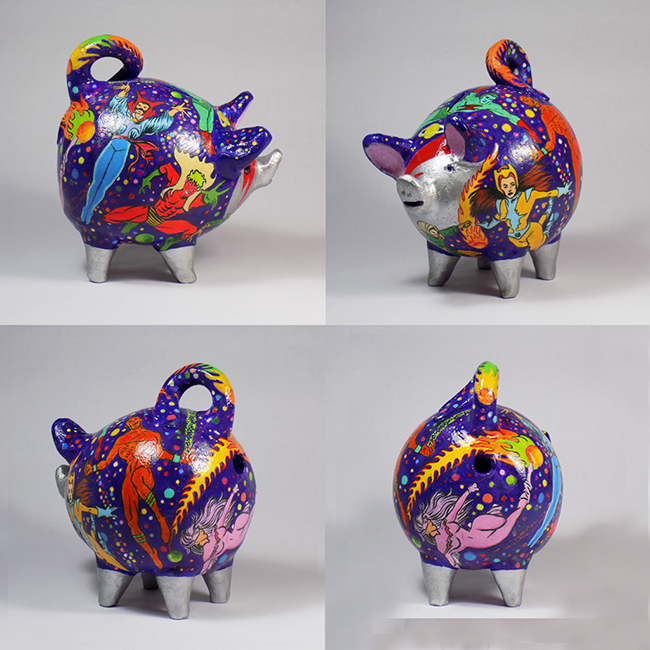 The first version of the project took place at the Ralli Museum in Santiago on March, 2022, to be display now at the Exhibition Hall of the Cultural Corporation of Las Condes, located in the Pueblito de Los Dominicos.
Also, since last May 2, another group of piggies are on exhibition – at the CEINA (Extension Center of the National Institute).
I spoke with Daniela Greve to delve a little deeper into her project and the news that are coming with "Chanchos de Autor".
Leonardo: When did "Chanchos de Autor" project officially begun?
Did you imagine that was going to grow as the way it is now – exhibitions in different places like museums and cultural centers, press, guided tours, lots of new names coming along?
Daniela: The project was born at the beginning of 2021, when I considered the idea of inviting artists to paint these pigs.
About 5 years ago I started intervening little pigs and created "Chanchos de Greve" and in the midst of a pandemic, at the march, 2021, I started with "Chanchos de Autor", which was something very small, thinking about making a personal collection.
At that time, I never imagined the success of the project. It is that it was growing rapidly and more artists wanted to intervene a piggy bank. So, I decided to make this a public collection, a collection for everyone.
From then, new challenges started to appear – Such as, for example, where to exhibit them, how to exhibit them, the moving of the pieces, etc. Now that a new litter of pigs is coming, these issues have already been resolved, so now I have time to be able to integrate new ideas into the Project.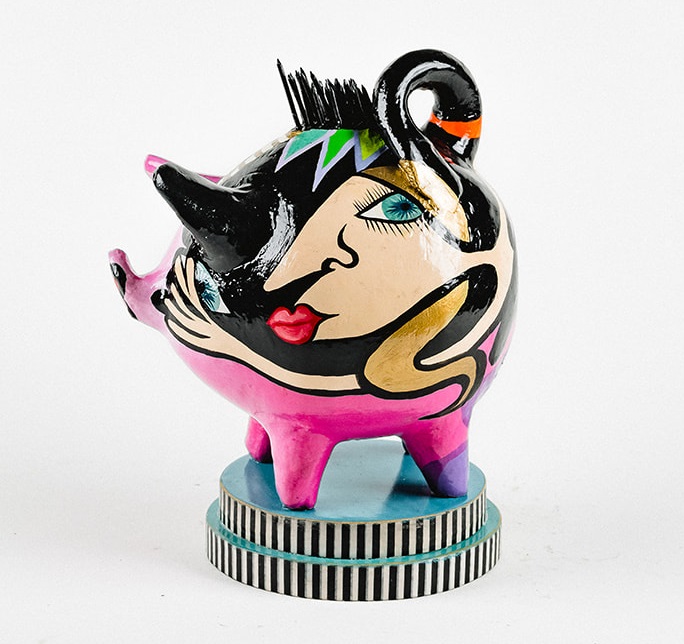 Leonardo: Through this project some aspects in relation to our cultural identity have been installed. How have you been able to seen the link we have with our heritage symbols?
Daniela: In the vortex of life today, where everything goes so fast, and has to be immediate, we do not have the time to stop and look at our heritage symbols. There is no interest, people do not pay attention to them: For the vast majority, the little clay pig it is a piggy bank made of clay, not more than that.
But now with the Project, we are giving this object a new, deeper reading. We are revaluing it, we realize that it is not just a piggy bank, it is a handmade product, produced by national potters, it is patrimonial, it is typical, folkloric, collective, popular, transversal…
Transversality is something that I always highlight, the transversality of the pig of clay makes it attractive, special.
I think that with the project we have rediscovered it and thus, re-signify it in its heritage value.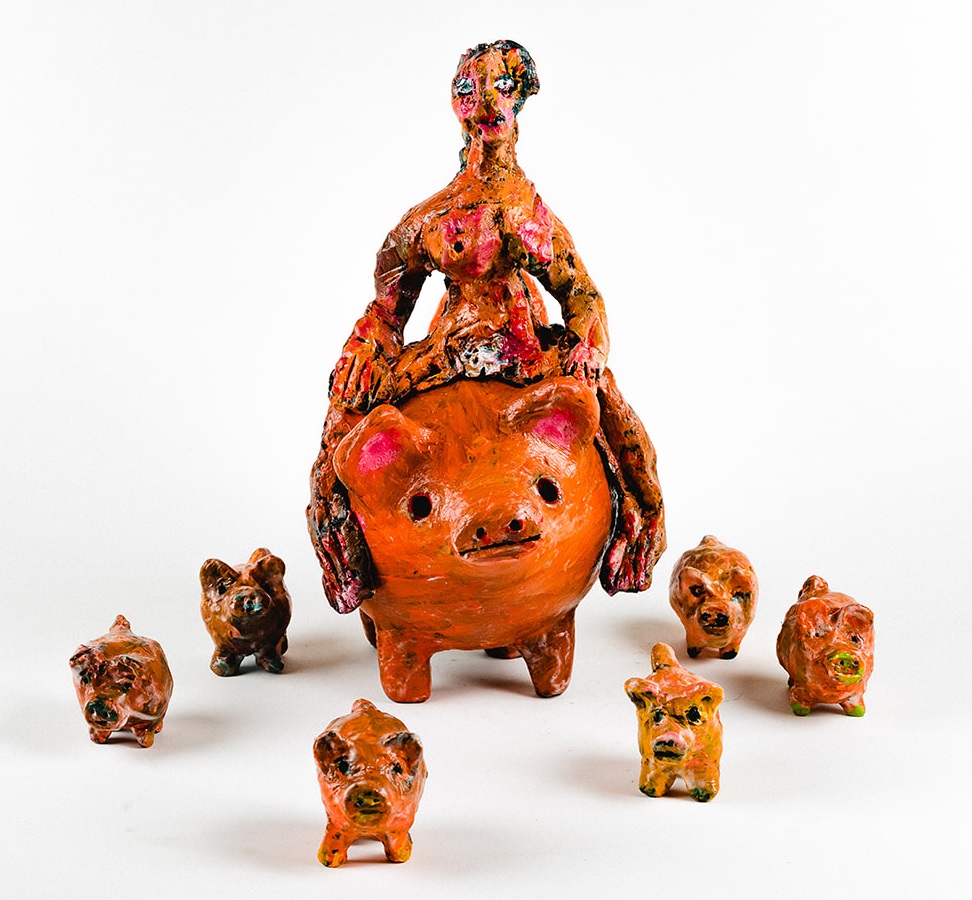 Leonardo: How did people received "Chanchos de Autor" when it was exhibited at the Ralli Museum?
Daniela: The visitor's response to the Ralli Museum show was incredible, it was really much more than I expected. Public enjoyed the exhibition, there was a lot of interest, we appeared in the newspaper, we did guided tours.
At the Museum they were very happy with the number of adult and child visitors. It was very positive and generated a lot of expectation around the project.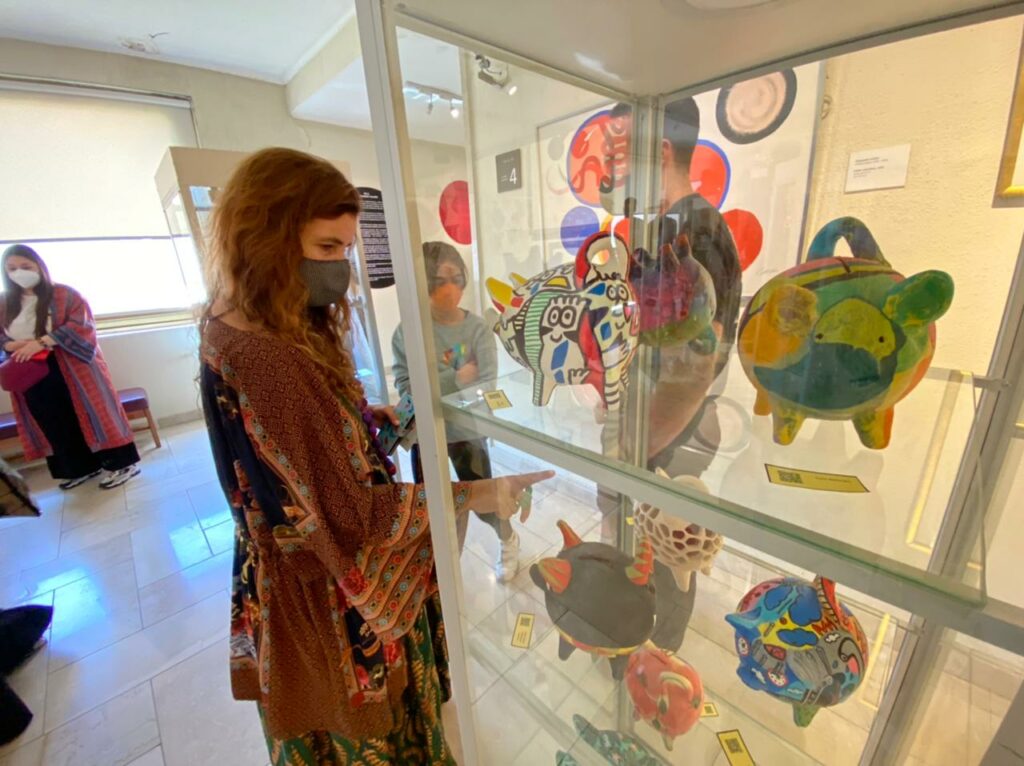 Leonardo: And the artisans who made the pigs, have they been able to enjoy the final art pieces?
Daniela: I don't think they have seen the results yet, that's why the exhibition will be open in Melipilla on June 10th – the county where Pomaire is located. The idea is that they can appreciate how the little pigs that they fabricated with their own hands became a very unique art-object.
The joyful thing is that, for this show, we opened 10 quotas for artists from the area, so that they can also intervene a little pig and join the Project.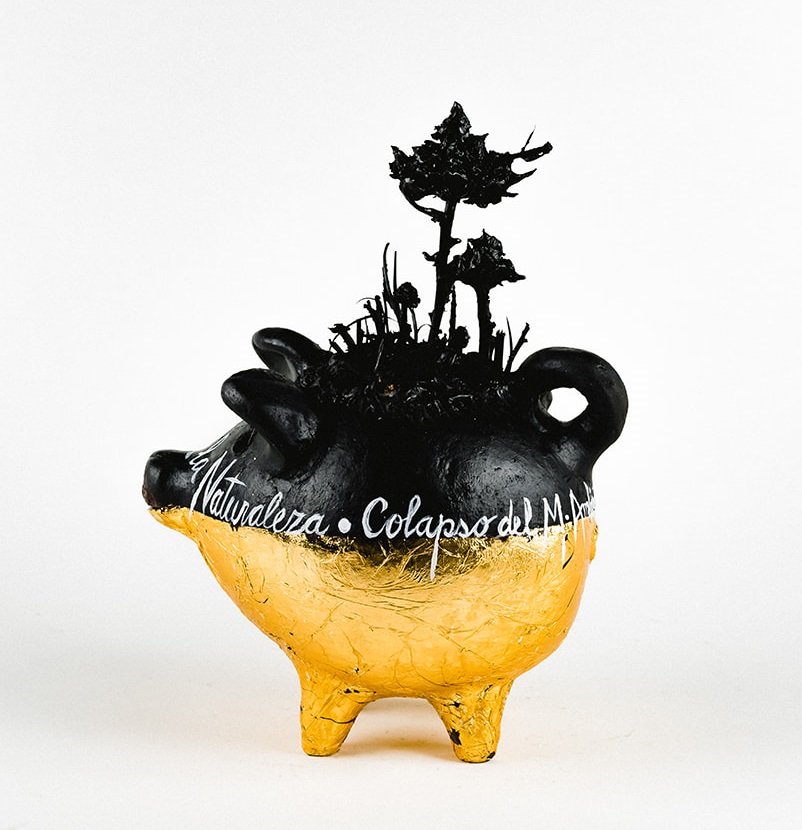 Leonardo: Was there any exhibition or project that has inspired you to develop "Signature Pigs"?
Daniela: Yes, we have all seen groups where cows and horses take part, and how they were installed on the sidewalks around a city. But a project where there is an intervention made by several artists to a clay piggy bank, I've never really saw it.
However, during the course of the project, some artist told me that in the past there have been artistic interventions to pigs of clay. But what differentiates this project from others and makes it unique, is the fact that the call for artists, as larger as this one, had never been generated.
Which I think is historic – Such a large group, with such number of artists. I think it is the largest group show that has been held in terms of the number of participants in our country.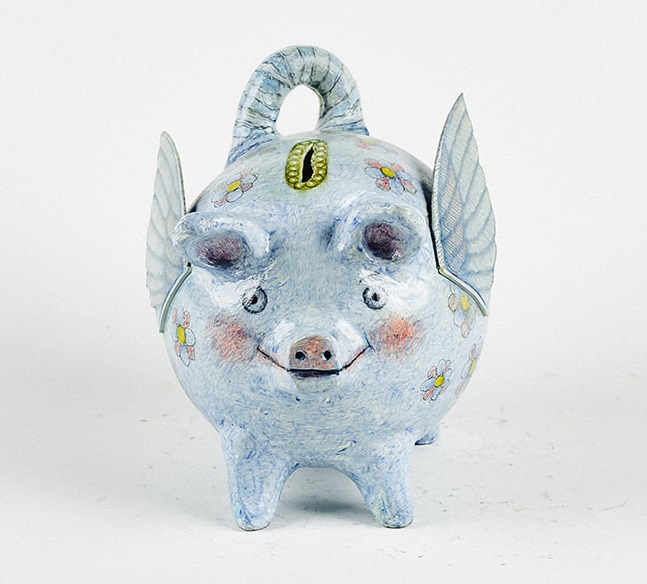 Leonardo: "Chanchos de Autor" is a project that crosscuts different generations of artists.
Could you tell us about if there any generational gaps perceived in the final result?
Daniela: I would say no.
As far as the invoice is concerned, I have not seen abysmal differences in the process.
As for the reasons and the use of colors there may be certain differences.
Regarding the form, there are no big differences.
But when it comes to substance at a thematic level, it does.
For example, in some pigs where political or anti-establishment issues are addressed, artists who come from an adult generation between 40 and 55 years old, addressed more contingent themes, or made allusions to them, integrated concepts and did not always maintain the style that identifies them.
The younger ones (a more graffiti-oriented generation) went more for the aesthetic side, very nice works, with a very well-done technique.
At the other side, the most experienced artists, kept their mark – Gonzalo Cienfuegos, Carmen Piemonte, Hernán Valdovinos – consistent to their style, to what characterizes them.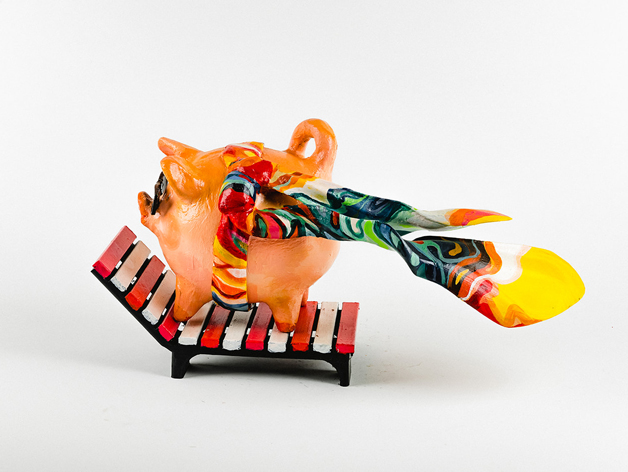 Leonardo: Would you tell us about what is coming for the future with "Chanchos de Autor"?
Daniela: Next month we have the Melipilla's exhibition, which already has a date.
After that one, we are going to Pomaire which is in September and I'm having some conversations with other important places from the artistic-cultural circuit.
At the same time, I already started the new litter of "Chanchos de Autor", with about 100 new artists, whom I am already contacting and they are receiving their pigs. The idea is to show the new ones at the end of the year or maybe in March (2023).
I am also studying the possibility of doing another project, with the same characteristics as "Chanchos de Autor", but with a new object. I wish I could be able to exhibit them abroad. For now, it is a dream, but I would love to be able to make it happen.
Links
All images supplied by Leonardo Casas.